Stir‑Fried Noodles and Samosas, Together At Last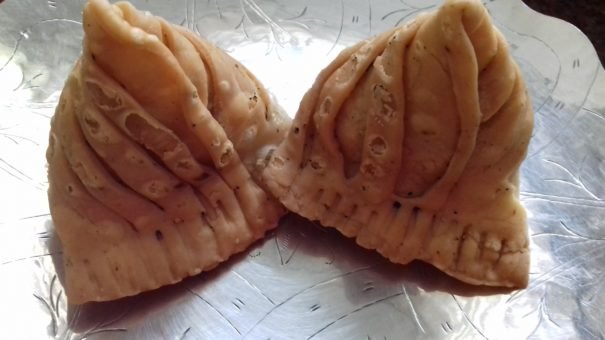 Stir‑Fried Noodles and Samosas, Together At Last
Samosas in Chennai
It was a pleasantly warm morning, and little fluffy clouds chased each other across a crystal blue sky, but I wasn't in the mood to appreciate any of it. My mother and I had spent the night in my grandmother's hospital room, and neither of us could face another canteen breakfast. So we were out and about, wandering around Navalur, in Chennai's Old Mahabalipuram Road, and our minds were on coffee and tiffin—a light meal—the hotter the better.
So when we found ourselves outside a sweet shop that advertised snacks, we went in. We found what we were looking for, along with the most unusual samosa I've ever eaten: noodle samosas.
The samosas were everything samosas are supposed to be: hot, flaky, and delicious. But instead of the typical fillings that I'm used to—spiced potatoes and peas scented with the heady scents of cloves and coriander seeds, or sweet golden brown caramelized onions, or even savory minced meat cooked with myriad spices and seasoning—the crisp cones were filled with a piquant curried noodle stir-fry that would have been delicious on its own. Packed into the crisp samosa, however, it took on a life of its own, with the noodles complementing the pastry perfectly.
Samosas are often automatically associated with Indian cuisine, but they did not originate in India. It is thought that Central Asian merchants brought the samosa to India along ancient trade routes around the 13th century. The mince-filled triangles were easy to make en route, and just as easily packed into saddlebags to be consumed while traveling. In The Oxford Companion to Food, Alan Davison writes, "The Indian version is merely the best known of an entire family of stuffed pastries or dumplings popular from Egypt and Zanzibar to Central Asia and Western China."
My mother and I had another noodle samosa each, and washed it down with good strong coffee, scalding hot. It had been an impossible night, and it was going to be another stress-filled day, but somehow I felt ready. The benefits of a good breakfast are widely known, but the most important benefit is that it can renew your interest in life, and that's precisely what those noodle samosas did for me.