Pretty Much the Most Heartwarming Story About Shit‑on‑a‑Shingle You're Likely to Hear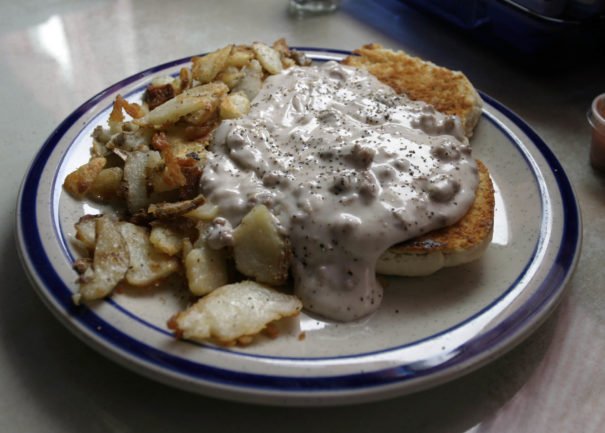 Pretty Much the Most Heartwarming Story About Shit‑on‑a‑Shingle You're Likely to Hear
Biscuits and gravy in Portland
Biscuits and gravy may be a bastion of Southern cuisine, but they have also been embraced in Portland, Oregon, the land of brunch lines and culinary trend-spotting.
Everywhere from greasy dive bars like The Trap to Instagrammy critical-darling Tusk has it on the menu. People queue up for an hour to order it at Screen Door. As a 4th-generation Portland native and historian of both breakfast and Portland's culinary scene, I intimately understand the fuss.
I grew up below the poverty line, the firstborn to two ex-military kids on the cusp of their twenties. My mom had herself been the firstborn to two teenaged parents from Oklahoma, and her childhood had seen struggle.
Between her role as Alpha Sister to four siblings and her stint in the Marines (she was a corporal), she had learned how to stretch a dollar in the kitchen with simple fare. This often meant our meals focused around a pound of dried navy beans flavored simply with a ham bone and a bay leaf, but occasionally, when the food stamps had run low, she fell back on perennial classics like chipped beef on toast, known affectionately in our household as shit-on-a-shingle.
My mom's version was as economical as it can get: ground beef crumbles simmered in a white sauce made with powdered milk, thickened with roux made from the hamburger drippings, served on a slice white bread. It was a study in beige. It wasn't glamorous, but it filled our bellies. I always really liked it, and not only because it came with a free pass to cuss at the dinner table. I enjoyed the soft, white warmness of it. Similar iterations came in the form of biscuits and gravy, made with leftover Jiffy mix biscuits and the same pasty hamburger gravy, and I ate it all with gusto.
When I grew up and started dipping a furtive toe into the world of fancy food, one of my first experiences was eating at Bread and Ink Café on Hawthorne. Back in the mid-90s the street was only starting to get hip, and Bread and Ink was the nice place with real napkins and white tablecloths, in a brick building that had once been a grocery store. It was a little out of my price range, but breakfast was an affordable luxury.
The first time I had biscuits and gravy there, I wasn't transported back to my mother's elbow or anything so melodious, because although she could ably feed her family, my mom never derived any joy from it. This B&G tasted like love, not making-do.
I had never known that shit-on-a-shingle could be decadent, but here it was: a broad plate of tender biscuits flecked with butter, blanketed in silky cream gravy scented faintly with nutmeg and black pepper, punctuated with sausage bits and needlessly gilded with melted cheese. This was manna from heaven, if heaven was the once-nicest joint in a formerly working-class neighborhood and God was Baron—the venerable gentleman with the jangling chain wallet and slight limp who's been waiting tables there for thirty years.
There are countless ways in which Portland has gotten too big for its britches, but Bread and Ink's biscuits and gravy are my favorite example.