Chris Gigley heads south in search of the Yellowhammer State's quintessential biscuit.
The biscuits in my North Carolina kitchen come out beautifully. Nice and crusty on top with only light browning on the bottom, and a delicate, fluffy center that just screams for a generous smearing of butter.
My wife agrees they're good. But then she says it.
"These are northern biscuits," she notes. "You know, baking powder biscuits."
Her tone has an edge to it, so allow me to translate: Nice try, Chris, but these aren't anywhere near as good as Alabama biscuits.
My wife grew up in Alabama and defends the state like her first born. There's no reasoning with her. You can't understand, she insists, unless you taste one for yourself.
Challenge accepted. I promptly decide to head down to Alabama to see if she's right.
But first I need a few suggestions so I post on Facebook asking all her old high school friends who still live there for advice. The first tip makes me want to gloat a little. It's a chain restaurant with locations all over the country. Take that, honey!
Then, I do some further digging online myself and start to feel discouraged. Suggestions I find actually include fast food joints. Are there any authentic biscuits left in the Yellowhammer State?
A few restaurants, however, catch my attention. The first is in Birmingham, my wife's beloved hometown. But based on its website, Alabama Biscuit Company seems to be a far cry from the old-school Southern breakfast place I have in my head.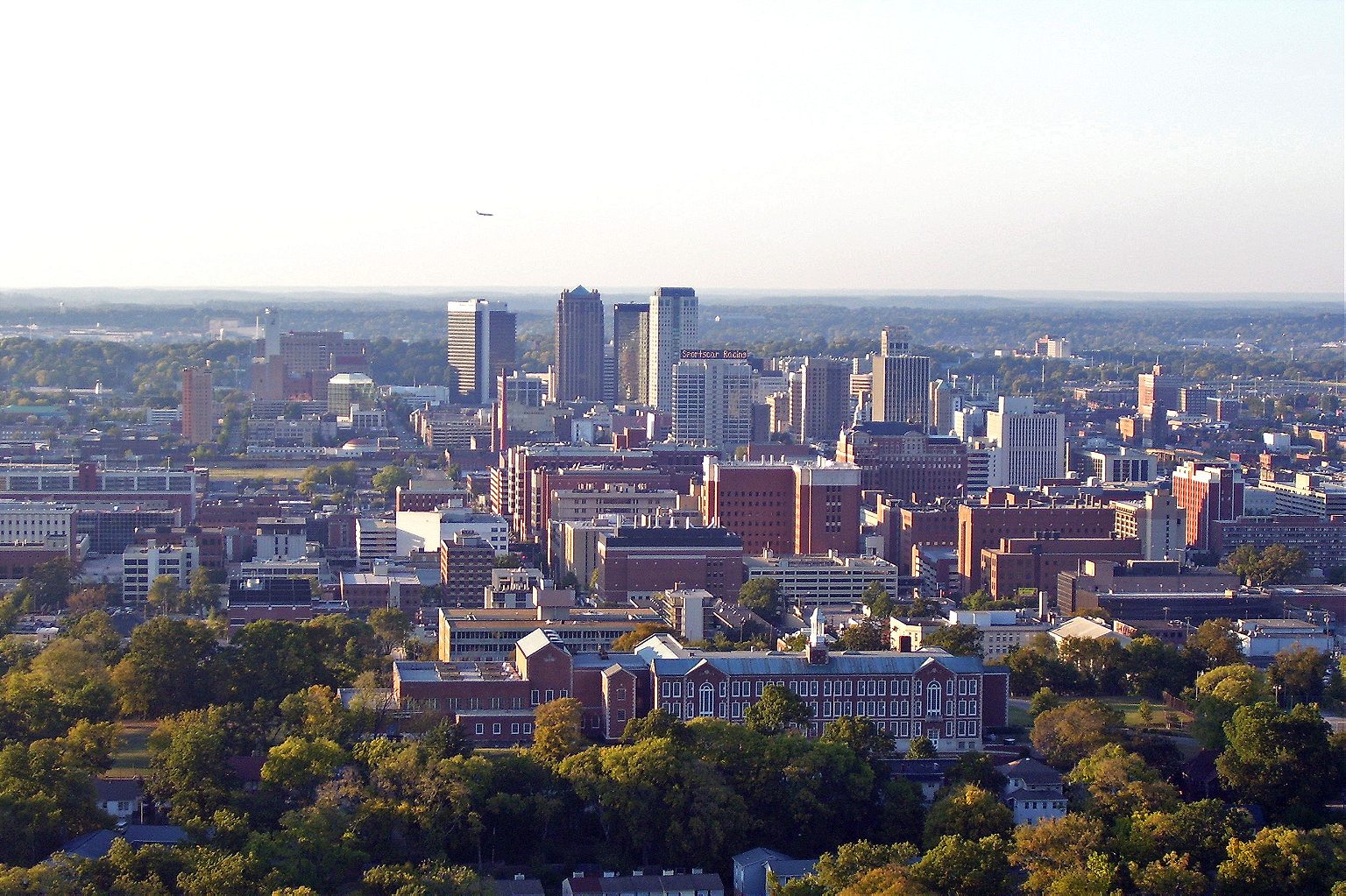 There's really no way around this: Alabama Biscuit Company is a hipster spot. One look at the menu confirms it. All ingredients have those "artisanal" details, like how the buttermilk comes from this local dairy farm. The organic blueberry preserve is "housemade." And it's not just flour. It's organic sprouted spelt flour.
Uh oh. I'm picturing a place crowded with foodies at all hours, so I do the seven-hour drive to Birmingham the day before so I can rise early, with the biscuits, before the Alabama Biscuit Company gets busy.
When I pull into the small, nondescript strip mall at around seven, only a few cars are parked outside. Alabama Biscuit doesn't look like much. And that's a good sign down here. Southern barbecue fans will tell you that the more spartan the decor, the better the food.
Inside, however, Alabama Biscuit turns cool again, with a renovated, industrial feel to it. The walls are covered in repurposed wood and contemporary art featuring Southern scenery. A bunch of servers that look like Abercrombie & Fitch models take orders at the counter; one of them fusses over a cold brewing system that looks like it belongs in a science lab.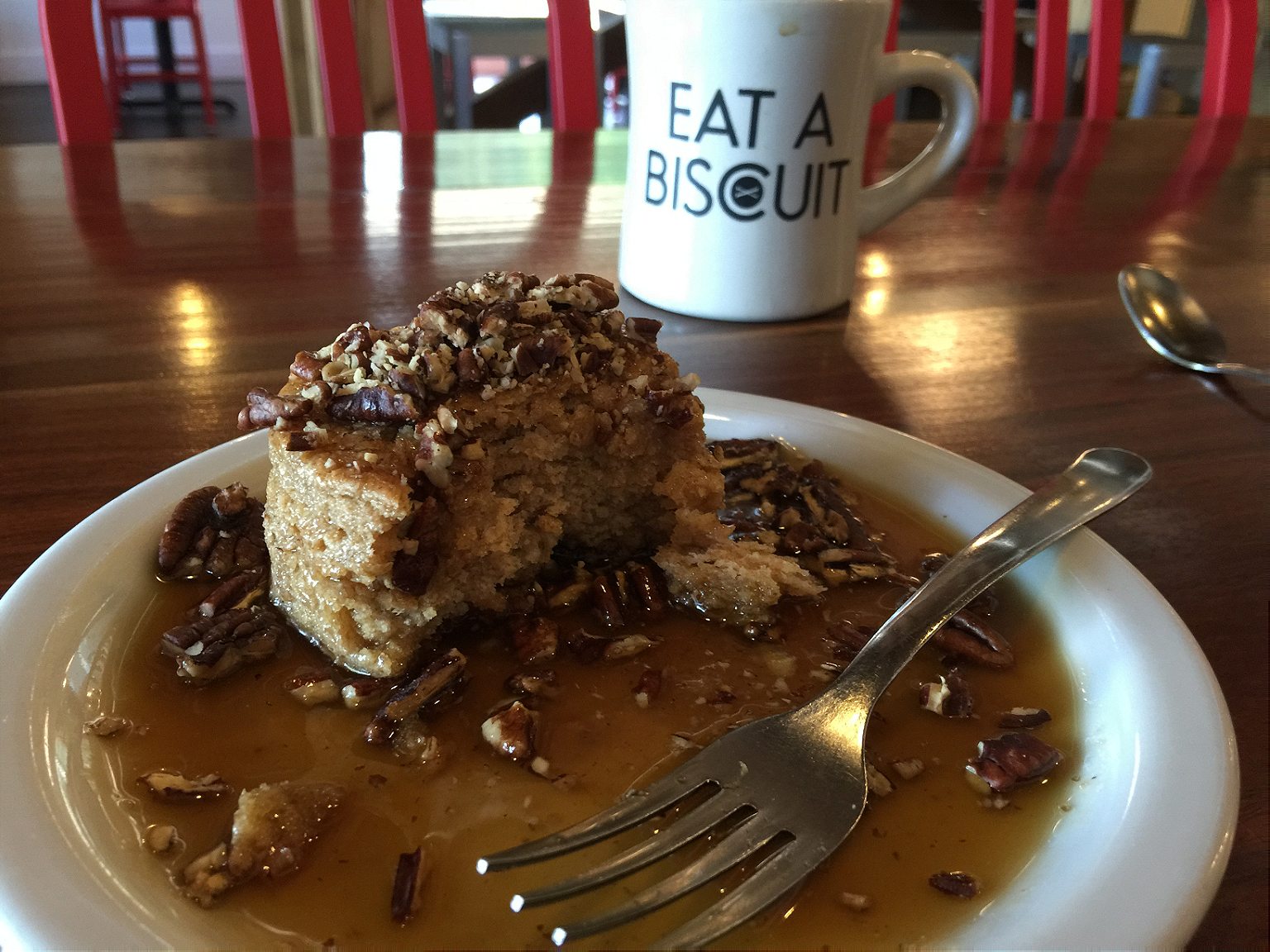 But just when all hope is nearly lost, it happens. One of the A&F models brings over the biscuit I ordered: it's called "the Alabama," topped with maple butter sauce and roasted pecans. I grab my fork and dive in. The biscuit crumbles, and I hurriedly scoop up the chunks and pecans and sauce and shovel it all into my mouth. I devour it in under a minute.
You'll probably need a nap after this, even with several cups of coffee (free refills) in your system. I did. And I got over the hipster vibe really fast; I could picture myself making this a regular morning stop if I lived here. If that makes me a hipster, well, I'll gladly grow a handlebar mustache and brew my own IPA.
But the true Alabama biscuit experience I've envisioned is much more like Debra Morrison's Debra's Lunch-to-go at the Montgomery Curb Market. It's a low-slung building near the capitol, where the tables are crowded with Zip-Loc bags full of biscuits and crockpots overflow with soups and casseroles Morrison makes every morning. When I visit, the air in the farmer's market is heavy with humidity, compelling hungry customers to mop their foreheads with their sleeves.
Morrison's most popular item is the "cat head" biscuit, which is sold sliced open and piled high with eggs, cheese, sausage patties, and whatever else she might have behind the counter.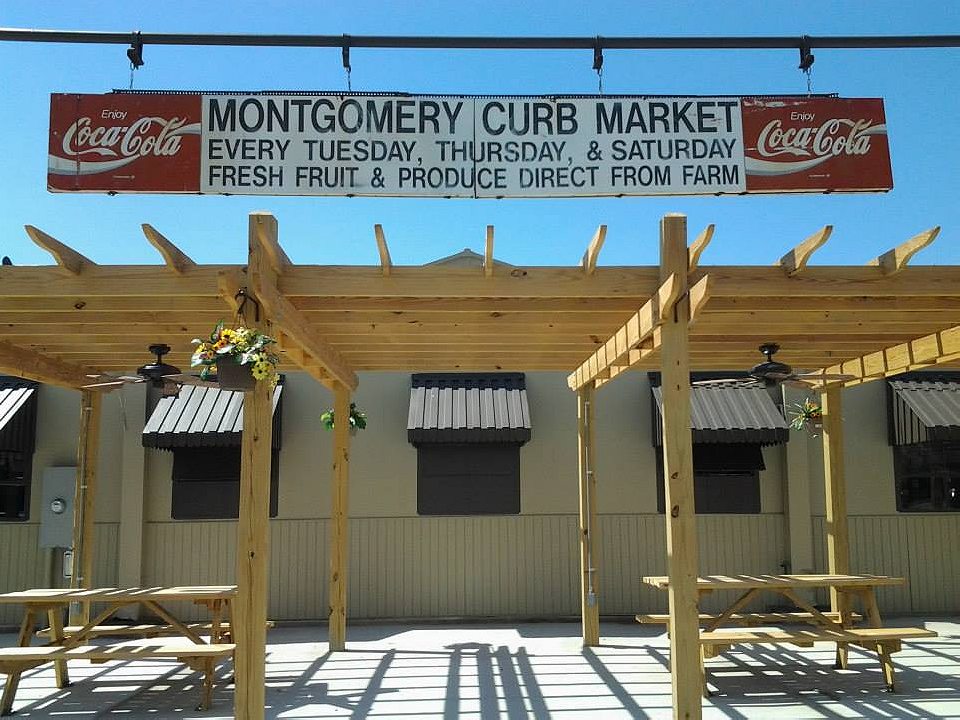 I miss Morrison, unfortunately. Her father passed away the night before I visit the market, but I'm able to speak to her later by phone. "The only real difference is using shortening [instead of butter] and making them big and fat," she says of her signature biscuits. "It does give them a different texture and taste because there's more bread. A lot of people like to eat them with catfish."
"Making biscuits was one of the first thing all of us girls had to learn," Morrison says. "There are really no measurements. You just eyeball it."
There is one bit of magic Morrison applies to her biscuits, in the wee hours of every morning after she pulls them from the oven. "I brush them with melted butter—not margarine—twice," she says. "The first time, I can hear the butter sizzle when it hits the pan. I let it absorb for two or three minutes and brush them again."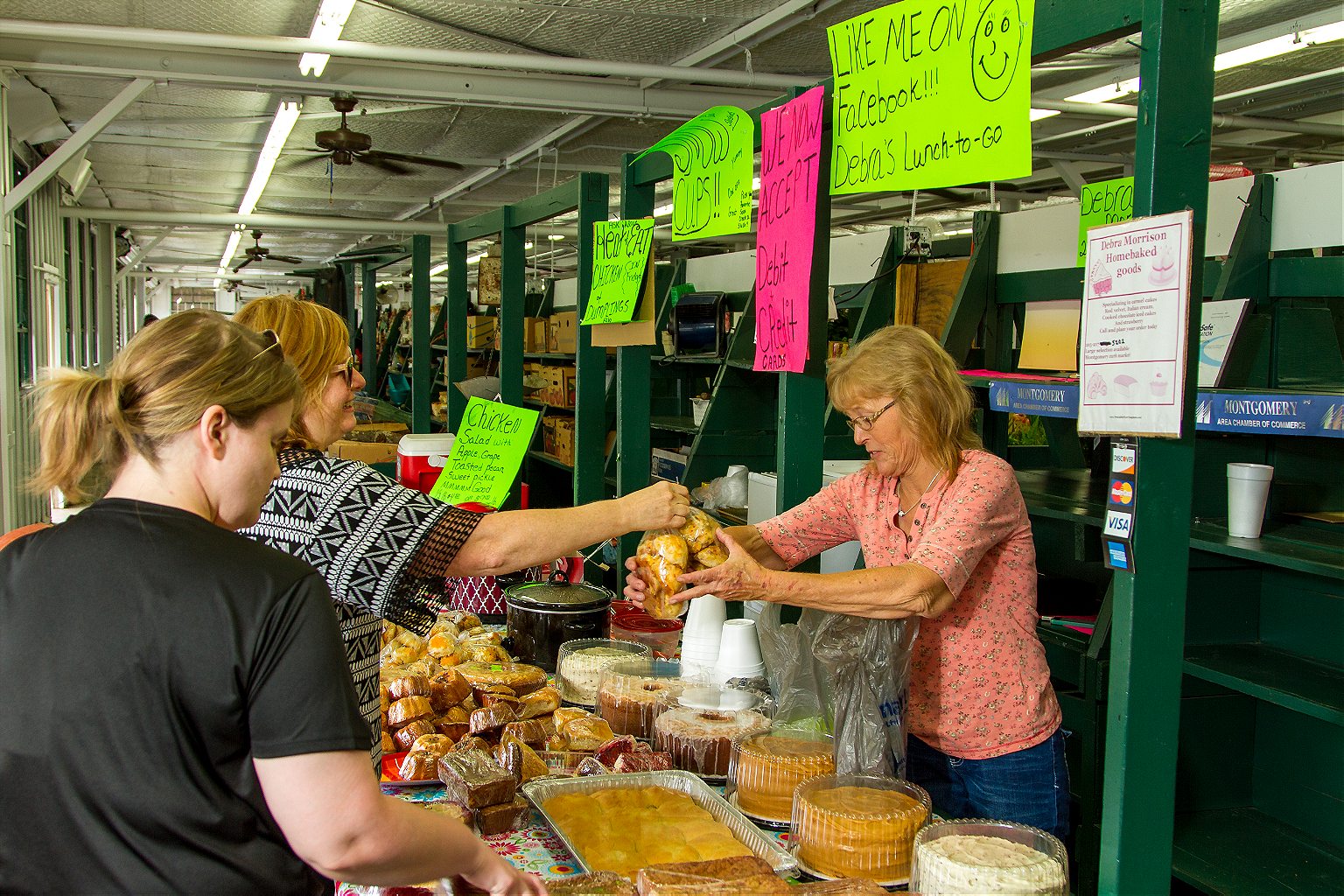 THEY SHOOT BISCUITS INTO THE CROWD WITH A CANNON
That afternoon I check out a Montgomery Biscuits game. The Biscuits are the minor league baseball team that plays in a gorgeous ballpark, Riverwalk Stadium, set at the bend of the Alabama River. The team's owners picked the name out of 4,000 suggestions from locals. The logo is an odd-looking biscuit with eyes peeking out from behind a script letter "M." The team's gift shop is called the Biscuit Basket, and which is it's decorated with old stoves and kitchen tools and bags of flour. They shoot biscuits into the crowd with a cannon. I had to go.
The stadium blends right into Montgomery's cityscape, mostly because it incorporates several old buildings that have stood for more than a century. That includes an old cotton depot the Confederate Army used as a military prison in 1862.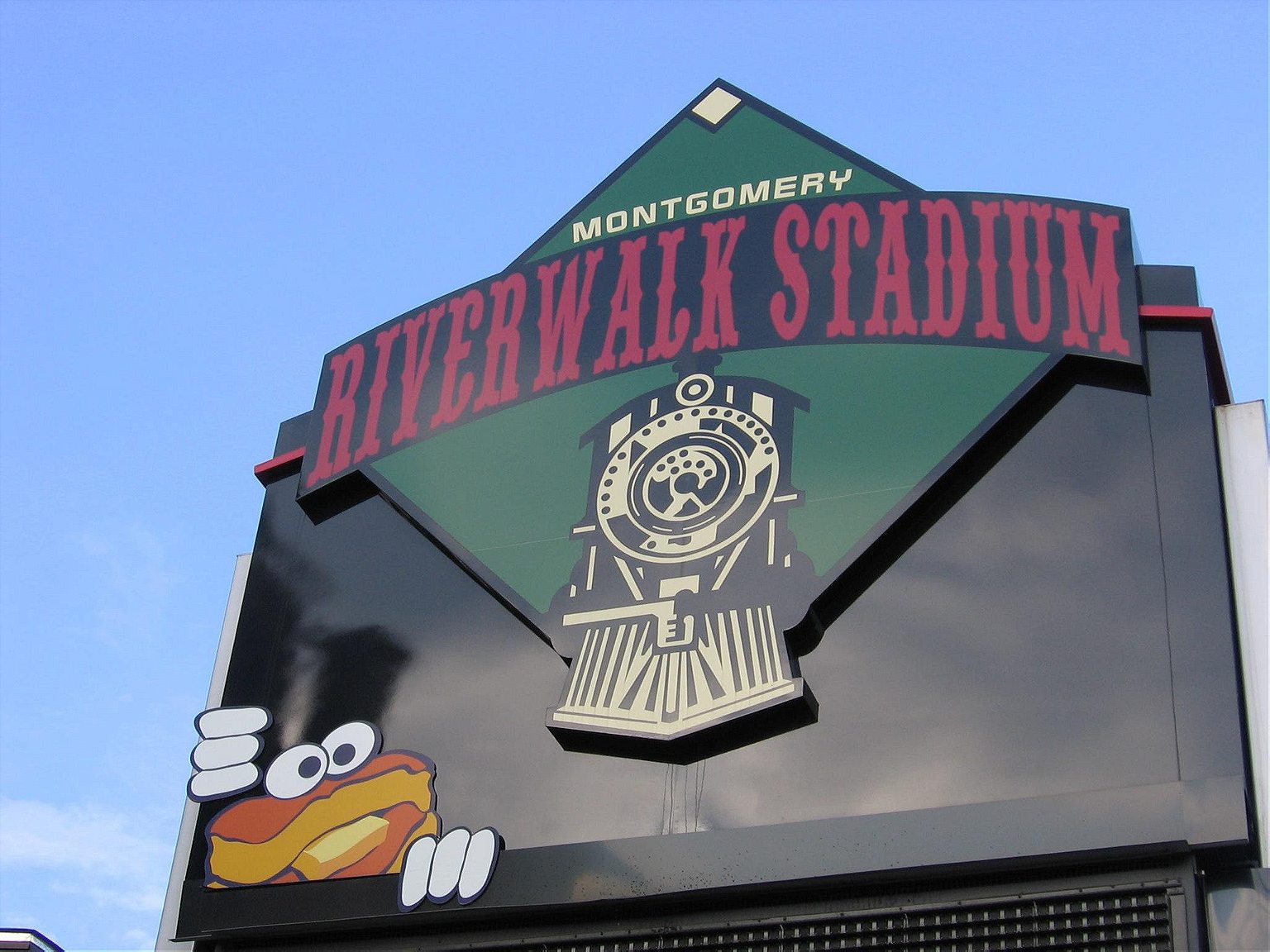 Despite heat so thick it blurs distant buildings and parked cars, fans stream into the stadium about an hour before game time so that their kids chase after batting practice home runs and plead for autographs as players do their pre-game stretching.
After a few innings, a group of spirited team employees sprint onto the field, one of them armed with the "biscuit cannon." It's alarmingly powerful. Before I can react, a paper-wrapped biscuit whizzes past my ear, and a kid dives for it a few rows back. The crowd goes wild.
Fortunately, the team also sells the biscuits from a small cart near the gift shop. They come two for four bucks with chicken or country ham, or two for three dollars plain. I go with chicken and almost dive right in when I see a couple of dispensers of Alaga syrup.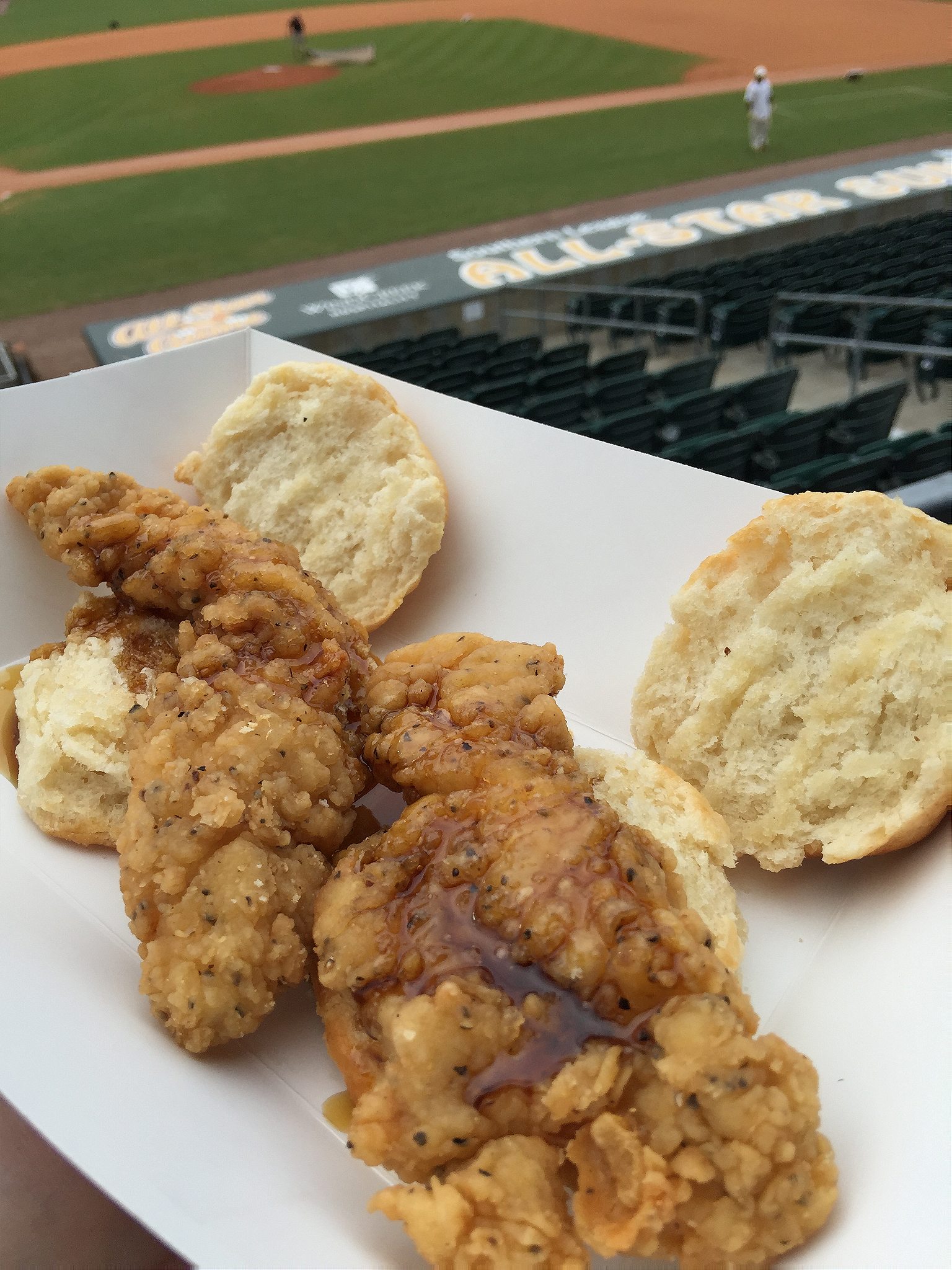 Alaga syrup is a local thing. It was originally produced by the Alabama-Georgia Syrup Company back in 1906, and locals have been using it mostly as a baking ingredient ever since. Think of it as somewhere between molasses and dark corn, but with a deeper flavor. Alabamans apparently drizzle it and the company's honey-based Yellow Label syrup on biscuits.
I walk over to the dispensers and squirt a few shots of the original on my chicken biscuits. I'm barely back at my seat before I gobble it all down, and by then it's too late: I could have used more syrup. After the game I go to the Piggly Wiggly to pick up two large bottles of the stuff. I won't make that mistake again.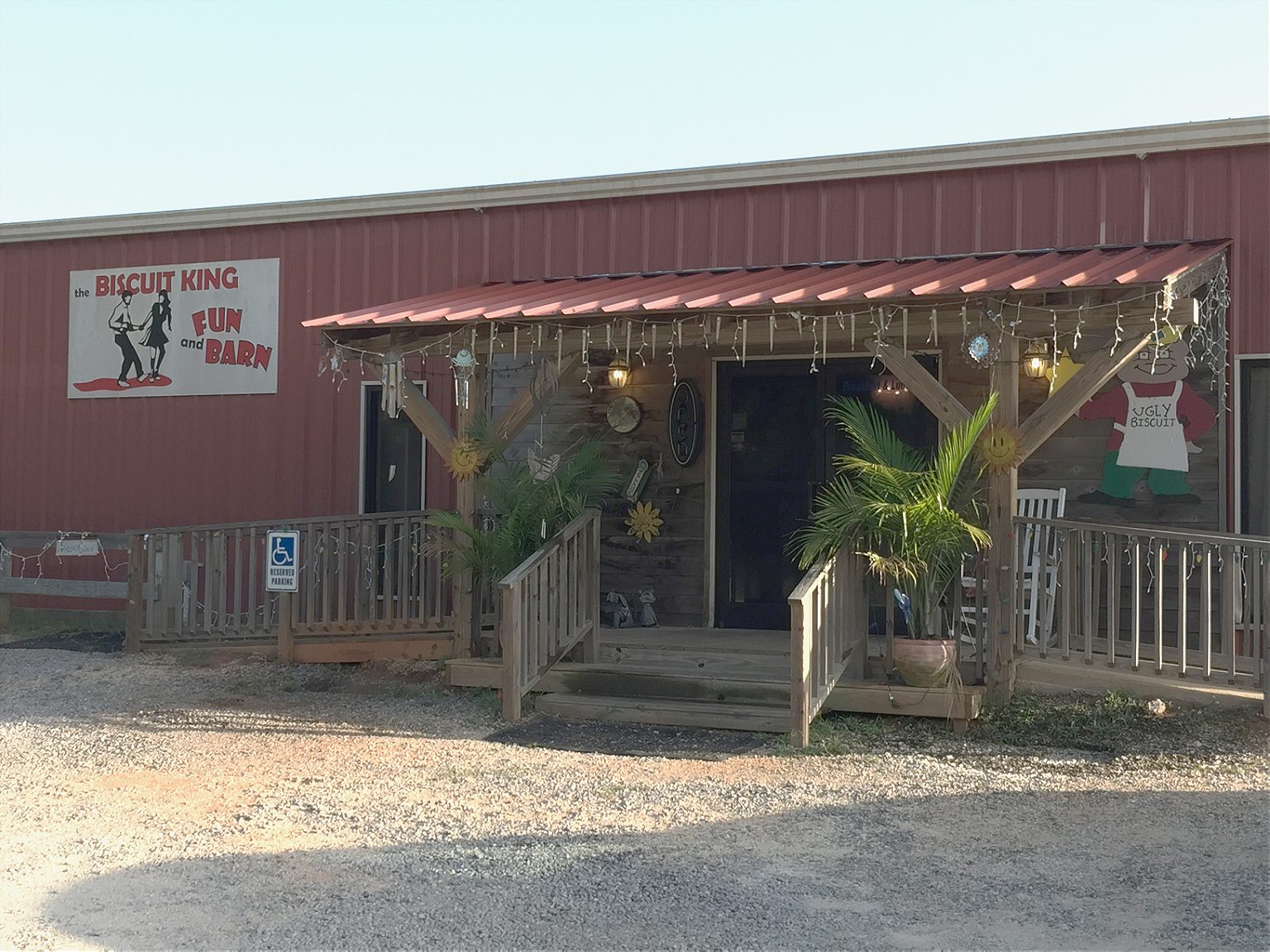 The Biscuit King restaurant is in Fairhope, across the bay from Mobile. I want to see if it lives up to its name. Going back to the old adage about barbecue joints, it looks very promising when I pull into the gravel parking lot the following morning. It's essentially a large, corrugated metal shack next to a country road. Drive too fast and you'll speed right by it.
Great Yelp reviews have helped to make it a big breakfast destination, particularly on weekends. That's why I arrive at six in the morning. The woman who works the counter is polishing off a cigarette on the front steps when I arrive.
The space is big and full of card tables and plastic chairs. It's all functional. Get in. Get fed. Get out. A table of old men grousing about work and the temerity of today's youth is my breakfast soundtrack. At the counter, I order the "Ultimate" biscuit because the beach revelers from Gulf Shores rave about its power to cure hangovers. I'm feeling pretty rough from being up this early.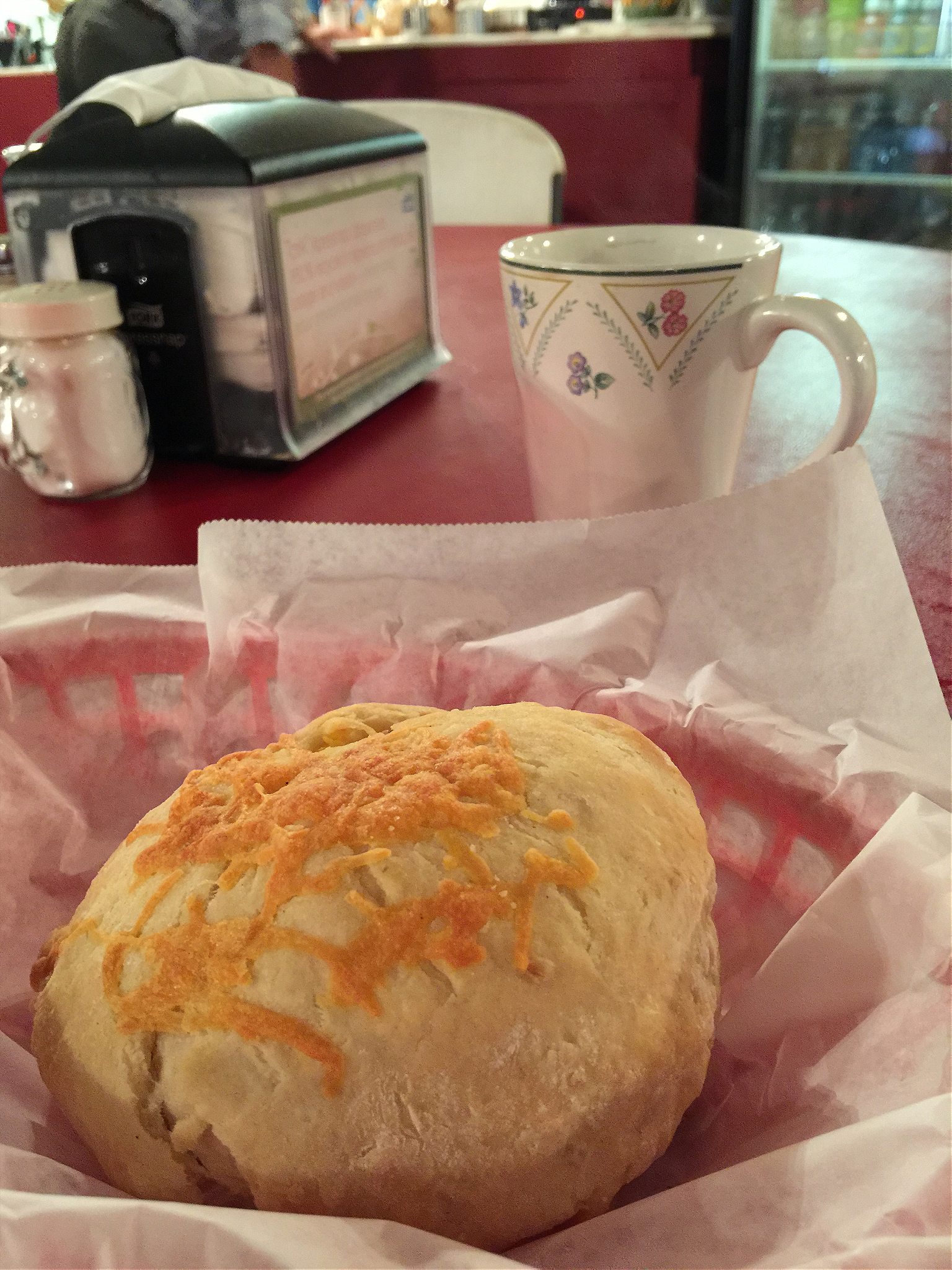 The Biscuit King is ready for the morning rush. It has a pile of Ultimates wrapped and ready to go at the counter, so I don't have to wait. I grab a mug of weak coffee and take my grapefruit-sized biscuit to an empty table. I unwrap it and—nothing. No ham. No egg. No cheese. No sausage. I take a bite. Nothing but savory biscuit.
Not until the third bite do I hit paydirt, and only then do I understand why this is so popular. It's an entire Southern breakfast in your hand. A southern Hot Pocket.
That's when it dawns on me. In my search for the quintessential Alabama biscuit that my wife told me about, I discover that it isn't simply that Alabamans bake a better biscuit. It's that they experiment to create all kinds of biscuits, and different ways to enjoy them.
And I have to admit—even to my wife—the results are pretty darn delicious.
Top image: Buttermilk biscuits with Sorghum drizzle. Photo by: Cindy Kurman