"Can You Pour Bourbon on My Doughnut?"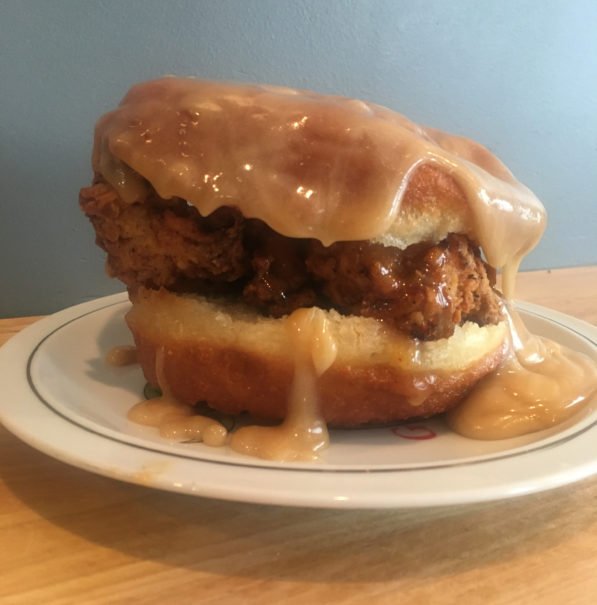 "Can You Pour Bourbon on My Doughnut?"
Doughnuts in Louisville
Two things had to happen once I decided to move to Louisville: I had to try bourbon and I had to try fried chicken. I did not expect to have both on a doughnut.
At 10:45 a.m. on a Saturday morning, the sign in the window of the yellow-and-pink brick building of Hi-Five Doughnuts on Main Street reads: Come & Get It. Once you walk past the pink door with images of sprinkles painted on it, the racks behind the glass window at the cashier have a spread of caramel apple doughnuts as well as beer-glazed doughnuts with mini chocolate chips and pretzels.
The wait was 15 minutes, but I knew what I wanted as soon as I walked in—the KY Fried Buttermilk Chicken Doughnut. But once it was time to order, I decided that wasn't enough.
"Can you pour bourbon on my doughnut?" I ask.
"We don't have a liquor license," the sweet cashier told me. "But we can add the bourbon caramel glaze. That's made with bourbon in it."
Done.
I took my seat facing the wall that I'd like to believe is a homage to Kendrick Lamar. In a scribbly pattern, the wall read "Doughnut Kill My Vibe." The shop sits in the changing Butchertown neighborhood in Louisville. Once a community of German immigrants in the meatpacking section of the city, Butchertown is now a hub for white-collar workers.
Doughnuts have been around for a long time. But the modern, American version made its way to the U.S by way of the Dutch in New York in the 18th century. Back then, the snacks were called "oily cakes." Later, doughnut production became automated when a Russian immigrant invented a doughnut-making machine in the 1920s. Doughnuts were given to the country's newcomers at Ellis Island. During World War I, women volunteers served doughnuts to American servicemen to remind them of home. Legend has it that the recipe from Krispy Kreme's doughnuts came from a Frenchman who sold his recipe to a shop in Paducah, Kentucky in the 1930s.
In the 1940s, the Doughnut Corporation of America led a campaign of 'Vitamin Doughnuts' fortified with thiamine, Vitamin B3, and iron. The campaign failed. Today, we know that doughnuts are about gluttony, comfort, and indulgence.
"Thank you for waiting," the cashier tells me as she places my dish in front of me. But she quickly apologizes and whisks my plate away, saying she forgot to add the bourbon caramel glaze. She comes back with a donut cut in half sandwich-style, with small pieces of fried chicken in between. The creamy glaze drips from the top of the ring-shaped sandwich and overruns on the plate.
A mixture of sweet, salty, booze, and deep-fried comfort, my breakfast was delightful and very much over-the-top. And I'd eat one again. The least I could do on a Saturday morning was treat myself to the simple pleasure of a doughnut.
Hi-Five Doughnuts:
1011 East Main Street
Louisville, KY 40206
Hours of operation: Monday and Tuesday: Closed
Wednesday – Friday: 6:30 a.m. – 2 p.m.
Saturday and Sunday: 7 a.m. – 2 p.m.