A Successful Introduction to Indonesian Wine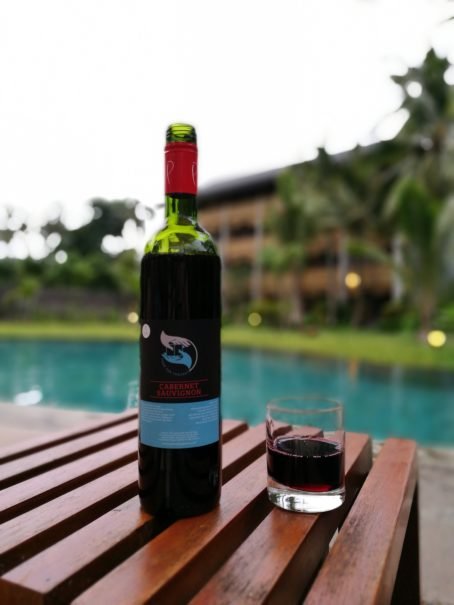 A Successful Introduction to Indonesian Wine
Wine in Ubud
In Ubud, we drank when the clouds came in. Every afternoon of my stay in the hub of traditional Balinese arts and crafts, the skies became overcast around 4 p.m. Like cigarette smoke weaving a singular sheet of haze across a crowded room, the clouds steadily drew in, blotting out the sun. The threat of an imminent downpour wasn't always real, but often persuaded me to postpone more cultural pursuits. There was always tomorrow.
Most days, that first afternoon drink was an ice-cold Bintang, the Indonesian beer that seems to feature on every drink list in Bali. On one particular day, though, we drank Indonesian wine. Specifically, a bottle of Cabernet Sauvignon, created in Bali by local producers Plaga Wines. I had spotted it on the way out of a restaurant at lunch, and made a snap decision: this would be the bottle by which we would get to know—and judge—Indonesian wine.
I hadn't expected to find locally produced wine in Indonesia, but there are good reasons a robust, if small, wine culture has grown up here in recent decades. First, many tourists—and there are many tourists in Bali alone—want to drink wine. However, high import duties on alcohol mean bloated retail prices on even the most ordinary imported wines. Since the early 90s, local entrepreneurs have been gradually plugging the gap in the market for affordable wines, and a number of wineries now produce their own vintages with locally grown grapes.
I was excited about trying the wine, and growing in confidence on its behalf. Of course, there was a chance—a chance one takes with all wine—that it would be irredeemable plonk. As the clouds thickened the sky into a uniform white, we retreated to our hotel, near Ubud's Monkey Forest. We set up with our wine and glasses by the hotel pool. The poolside seemed a good place to drink the wine, in the shade of palm trees and bordered on two sides by the hotel's bamboo exteriors.
We poured the wine, clinked glasses, and sipped. It was all over with the first taste. This was a good, solid wine, with deep, dark berry flavors that hung around through subsequent sips. It wasn't the kind of wine to gulp, but soon enough I was on my second glass. I definitely wouldn't be going for a swim.