Step right up for venison, cheap drinks, and drunken middle-aged revelry on Sweden's finest cruise.
During my first trip to Stockholm, I spotted numerous ships docked in the harbor downtown. They were huge, blindingly white, and romantic; they made me think of distant lands and luxury. Those ferries go to Finland, I was told. Over two or three days, the passengers eat, drink, and party. I was also told that every Swede takes such a ferry at least once. When I visited Stockholm this June, I took more ferries than some Swedes will ever do, for sure.
My husband and I were in Stockholm waiting for my British visa to be processed. We had plenty of time on our hands but not a lot of money. However, the cost of a cruise is surprisingly low: $17 USD for a private cabin on one of those huge, white, romantic ships. It was much cheaper than staying in the city and paying enormous sums for a hostel. Besides, there would be a party going on all night long. So over the next two weeks, we took five different cruise ferries and visited three different harbors. By the end of our fifth trip, I couldn't get used to solid ground again for days.
June, when the sun hangs over Sweden until 11 pm, is the perfect time for just such a mini vacation. Passengers take selfies in front of the endless sunset and thousands of green islands. I began with the longer cruise options. Despite my expectations of robust partying, the multi-day ferries to Estonia, Finland, and Latvia were a quiet affair. Some passengers were sipping beer in bars and watching the Euro Cup without much enthusiasm. Some were playing slot machines. Some were pushing baby carriages along the corridors, taking in views of the archipelago.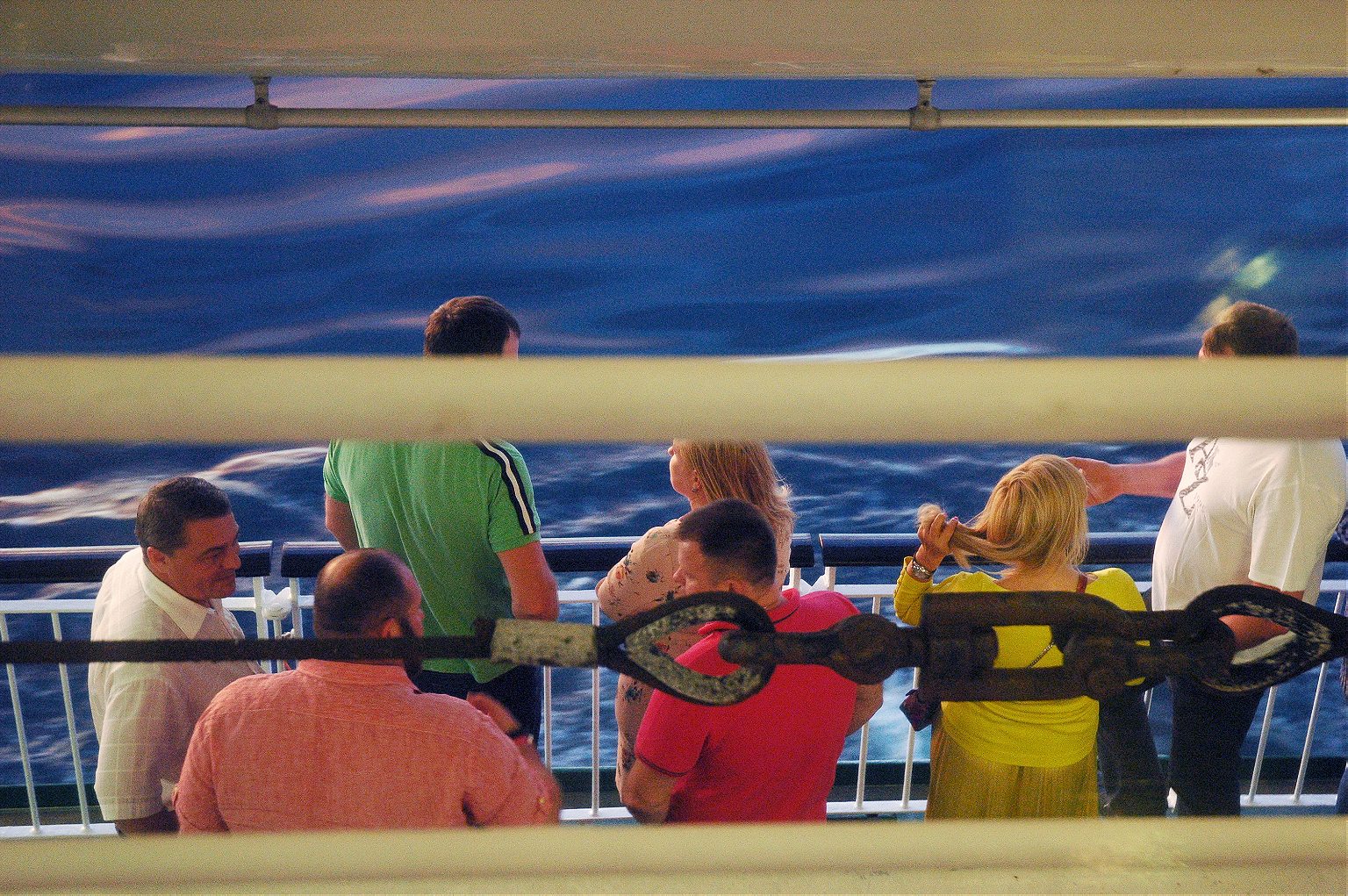 The ferries can hold up to 2500 people and feel like floating villages with a somewhat confusing population. Many passengers were, as you'd expect, Swedish tourists crossing to Estonia, Latvia, and Finland. But there was also a group of Chinese tourists on every ferry, as well as Russian commuters moving between St. Petersburg and post-Soviet Baltic countries. A friend of mine in Stockholm, a Croat named Juraj who has been living in Sweden for the last several years told me that one company organizes an annual cruise for expatriates from the former Yugoslavia. "My neighbor was a Serb with an ultra-right tattoo all over his arm, but he was fine with me," Juraj told me. "Everybody was just having a good time without any problems. It's only in the Balkans that ex-Yugoslavia people have troubles between each other. When we meet abroad, we are fine."
On a boat to Finland, I met an Indian family from Delhi that was on a trip to Switzerland and then decided to try "the best cruise in Sweden." There were also regular commuters using the ferry as a cheaper means of transportation, including a Finnish band that was returning from their tour in Norway and Sweden. The musicians spent the evening singing "Bohemian Rhapsody" in a karaoke bar and then lounged half the night in an empty cafeteria, singing German church music and "Goodbye, my Coney Island Baby" a capella. "Our band's name is complicated," they told me merrily. "It's like Kamikaze but more like Namikaze."
I'm OK about Russia, but Putin is a dick. Sorry for my French
I even met a fellow Ukrainian, a woman from Donbass. She left Ukraine after the fall of the U.S.S.R. and had lived in Sweden for the last 27 years. She "had a house and everything in Sweden," but missed Ukraine a lot. "I'm OK about Russia, but Putin is a dick. Sorry for my French," she said before going to sleep. "We were all OK, Russians and Ukrainians. Who needs all that is happening in Donbass right now?" When we landed in Riga, we spotted a freight of military transport being unloaded from a ferry. Most probably, it was destined for NATO drills that were scheduled in Latvia this summer.
There wasn't much evidence of the revelry I'd expected, but when there's nothing else to do, you can always eat. For 35 euros, about three times what you'd pay for something similar in Stockholm, you can purchase a ticket for an all-you-can-eat (and drink) buffet. The food, being Nordic, consists mainly of fish, and is served from morning to night, with just a small break so that the staff can clean and prepare more food. The passengers queue in front of the entrance before every seating and spend hours over their plates, chatting and enjoying the food, beer, and standard table wine.
People eat and drink a ridiculous amount. There is no shortage of options, including seafood in all forms: pickled, salted, raw, baked, and fried. There's also "Chinese food," which, strangely, includes sushi in Sweden. There are hot dogs and fries for the less adventurous and a whole table filled with meat, which once included venison. My husband had seconds of that one; I did not.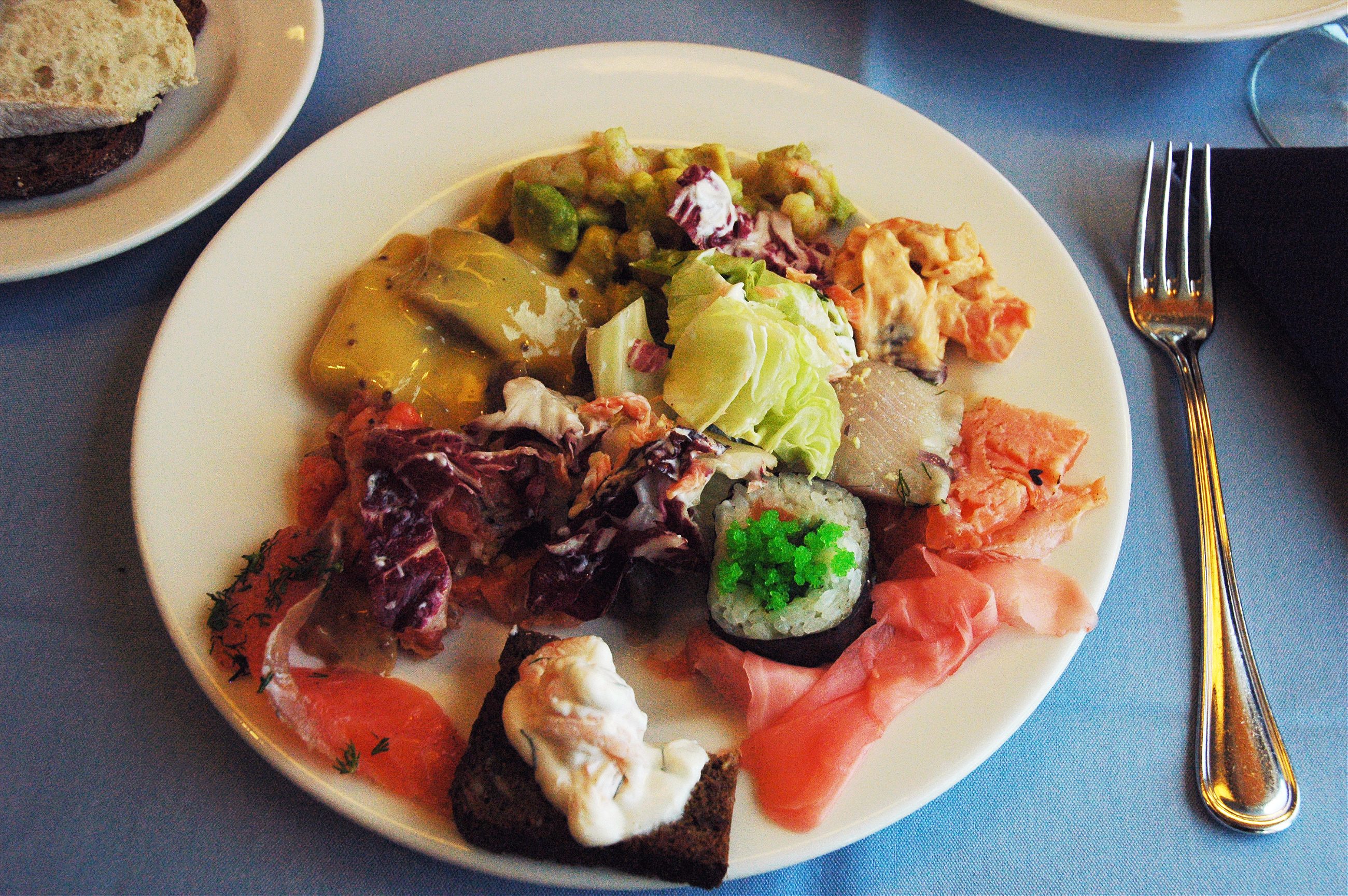 But I was not just after piles of herring. I wanted a party, and I was going to find it.
As opposed to the longer ferry rides that reach countries across the Baltic, the most crowded ferries are those heading to Mariehamn, the capital of the Åland Islands, an independent Finnish territory. There is nothing special about the capital itself; besides, the ferry arrives in the middle of the night, so no one disembarks to sightsee. But no one seems to care. The point of the cruise to Mariehamn is duty-free shopping.
Duty-free shops were abolished for intra-European Union travelers in 1999 and can only be operated in territories exempt from E.U. tax laws. There are few such territories in Europe and the Åland Islands is one of them. Every ferry that goes from Sweden across the Baltic Sea makes a stop in Mariehamn, despite the fact that it adds 13 hours to the return trip. These shorter cruises dispense with the added time of going anywhere else. The result is a frenzy of shopping for duty-free alcohol and other goods. All that and a buffet? It sounded like a good time to me.
When my husband and I showed up for one, some Swedes—almost everyone was an older Swede on this boat—had started partying before even boarding. While passengers rolled their suitcases to be checked by the police, a DJ was rocking the waiting hall and the beer was flowing freely.
I felt like a lunatic who harasses old ladies about their wigs
June is graduation season in Sweden and according to tradition, graduating students wear naval caps. Seeing a group of middle-aged party-goers in similar caps at a disco on board, I wondered if they were here for a school reunion of some sort. I bided my time at the bar, waiting for someone from the group to leave the dance floor. By the time I could catch anyone, it was past midnight and the party was in in full swing.
"Why are you wearing that hat?" I shouted into the ear of an older woman with lush, curly hair. "Is it a graduation cap? Are you having a reunion?"
"What?" she shouted back, while trying to pay for her drink. "My hair? No, it's not real! It's a peruk, a wig!" she shouted.
"No," I shouted back, "Your cap."
"Ah. It's just a captain's cap, you know, for fun," she said matter-of-factly and cruised back to the dance floor, leaving me feeling like a lunatic who harasses old ladies about their wigs. I pushed my way to a crowded bar and asked for another drink. It was cheaper than anything you could buy in a bar on shore: 45 SEK, or $5.30 USD, for a glass of beer instead of 59 SEK ($7 USD). The drink made me feel much better.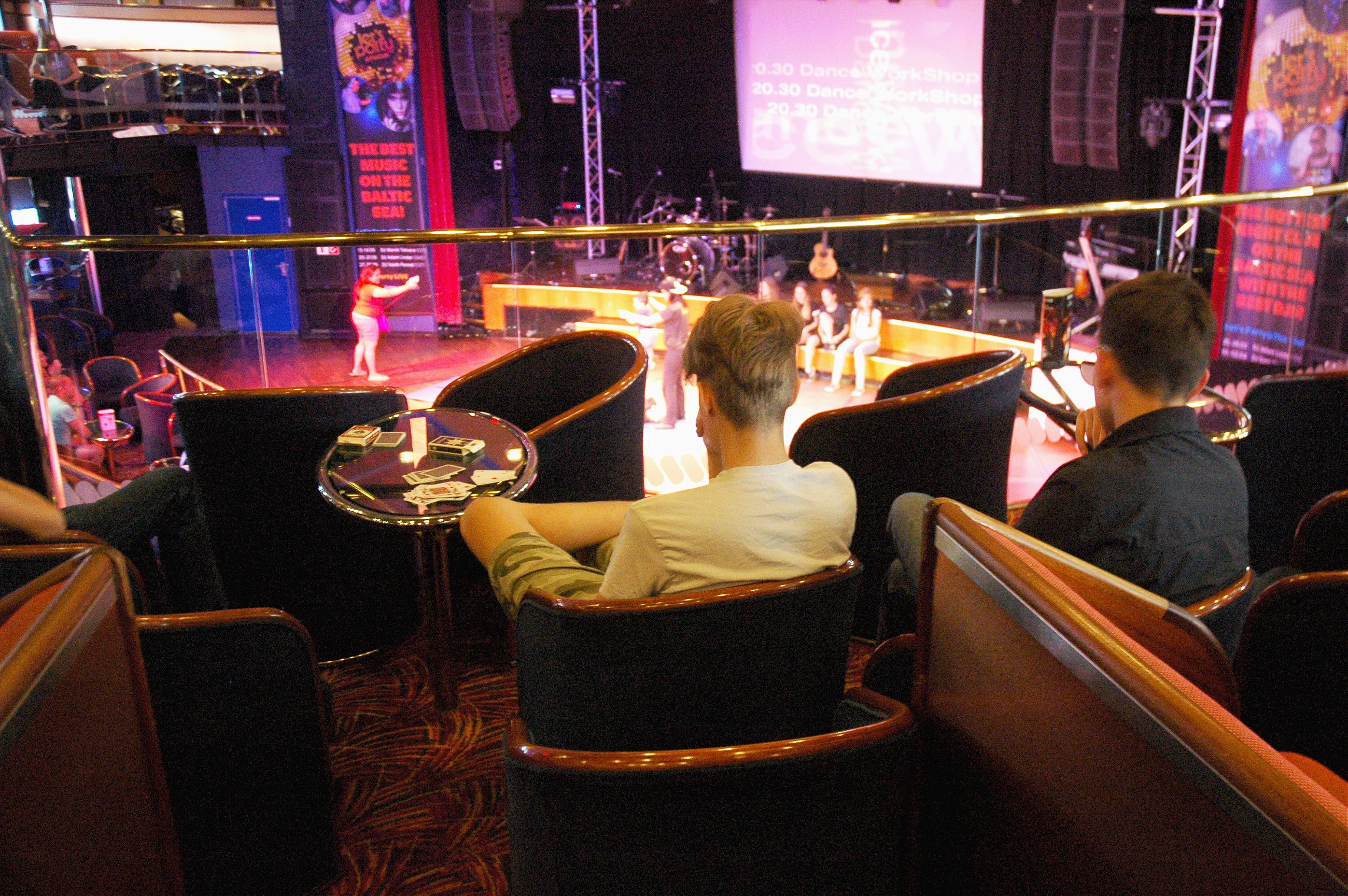 On the dance floor, the DJs were doing their magic like mad kings, sweating, dancing, and dishing out one new song after another. People were going wild, dancing, chatting, and drinking. "They had a younger DJ before, an 18-year-old or something, you know. He sucked," said a lady in her sixties who came here from Stockholm with her lady-friend. "They want to attract an older crowd these days and invited these new DJs. They are just great!" she said. As her friend dragged her away to the dance floor she added, "We were here last Sunday and here we go again!"
In the morning, everybody crowded in the cafeteria, where aged musicians droned out traditional songs for those couples who were in the mood for a slow dance. The rest sat, puffy-eyed, over their coffees and shrimp sandwiches, recovering after the previous night's blowout.
When we arrived back in Stockholm, I saw passengers pushing carts loaded with cases of duty-free beer and wine off the boat. My husband and I decided to take a break from seafaring and rented an apartment for a few days. The owner of the apartment happened to be a dancer who worked on cruise ferries between Norway and Denmark; she said she didn't make much money. It's all about ferries in Stockholm, in the end.