Residents aren't so sure they want to find out.

ILE-A-VACHE, Haiti—
Haiti's mango season is short but famously abundant. With thin yellow skin and juicy, fragrant saffron flesh, the indigenous variety Francis ranks among the world's finest and is the country's second-largest export. In the heart of remote Ile-a-Vache, an island off Haiti's southern coast, you'll hear the fruit drop from branches.
Hauled by mules, dinghies and hand-painted trucks along bumpy roads, some eventually reach Port-au-Prince and beyond. Bruised and battered, a third are rejected on arrival, and less than a tenth leave the country to sell for $5 at upscale American supermarkets.
"This land is our mother," says Pierre Alexis Kenold, a schoolteacher, seated under a hibiscus bush in the garden he fears he might be about to lose. "It nourishes us, gives us food, and sends our kids to school. It is all possible because of the fruit trees we planted."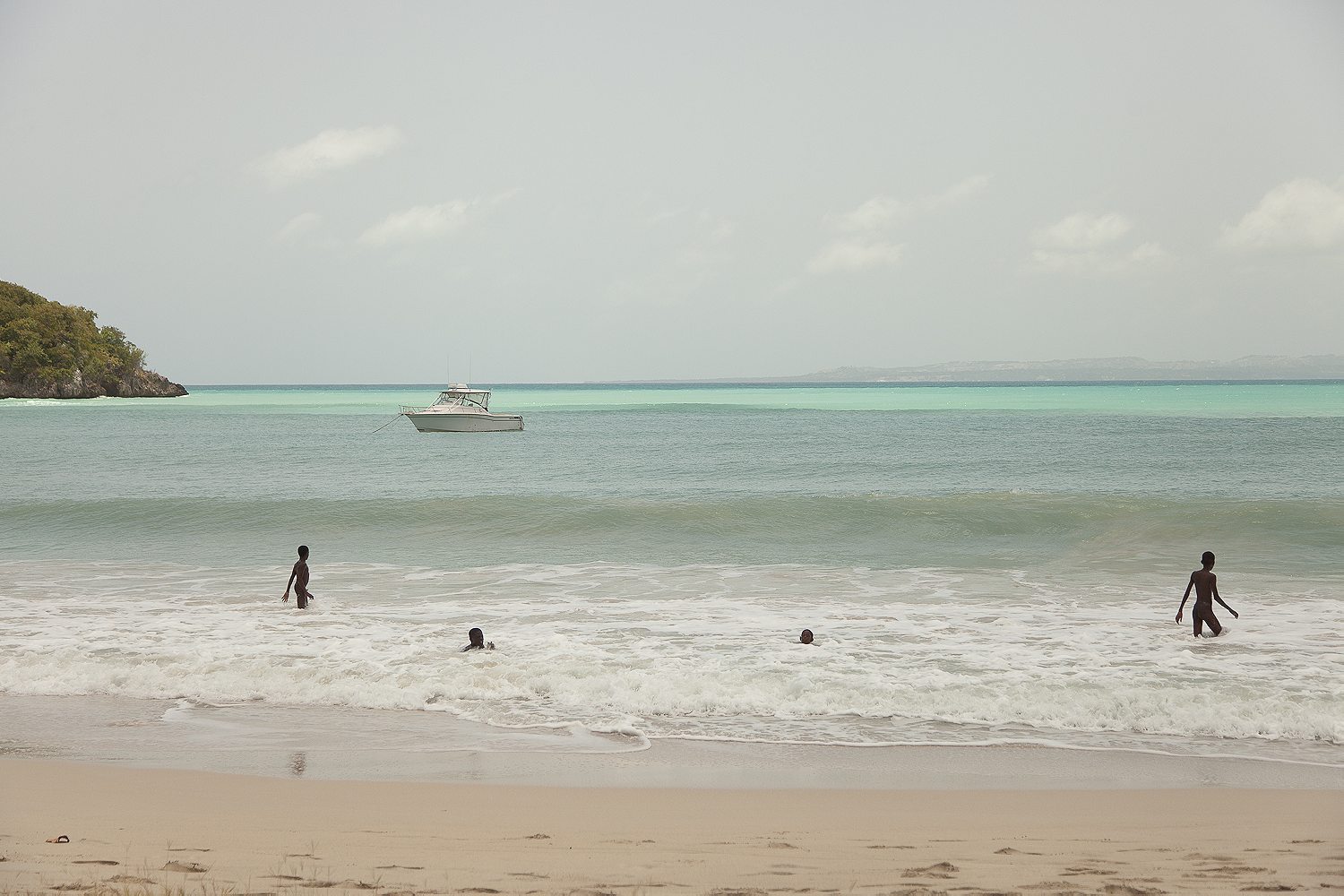 If the government has its way, the mango trees will soon yield to golf courses, swimming pools and other trappings of high-end resorts. Ile-a-Vache has been deemed the perfect place to become the next big thing in Caribbean tourism, revitalizing a crucial Haitian industry. It's a 13-kilometer drop-shaped island with pastel-painted, straw-thatched houses, hills grazed by goats and cows, and more than 20 beaches. The lagoon is fringed by mangroves and its shores are sprinkled with coral reefs, shipwrecks, and legends of sunken treasures. Centuries ago, this was the base of Captain Henry Morgan's buccaneering ventures.
Later, during the Belle Epoque, Haiti—La Perle des Antilles—was the place to be. Socialites, bohemians, artists arrived on cruise ships, fawning over Port-au-Prince's beautiful architecture, drinking rhum punch in its jazz clubs, and sunbathing under palm trees at the Caribbean's second longest coastline.
Until the turmoil under the Duvaliers in the 1980s, and an HIV-epidemic virtually killed it overnight, Haiti's tourism industry was golden. Reviving the sector makes perfect sense: Tourism is seen as both a silver bullet solution to Haiti's perpetually underperforming economy and an alternative to an ever more hopeless aid complex.
Today, construction sites interrupt Ile-a-Vache's raw beauty like gaping wounds. One site is destined to be a 2,500 room resort with an 18-hole golf course, helipads, and nightclubs, fueled by Chinese investors and Venezuelan oil slush funds (through the ongoing Petrocaribe oil program.)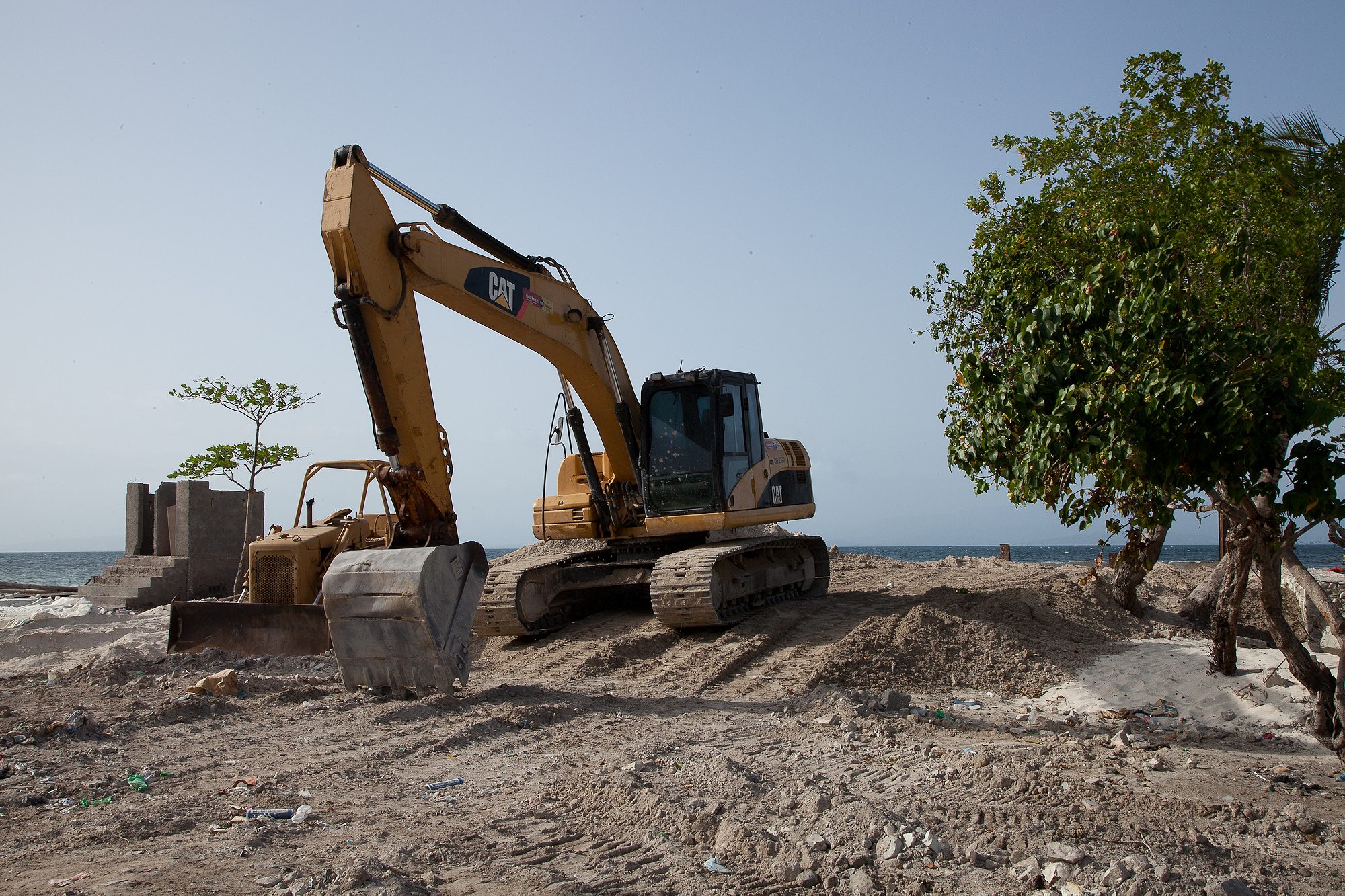 The idea that tourism could drive Haiti's recovery from the devastating 2010 earthquake started as a one-woman show, under the charismatic leadership of Stephanie Villedrouin, who became tourism minister in 2011 (she was replaced by Guy Didier Hippolite in March 2016). She pitched Haiti as the final frontier of Caribbean paradise. A weary kompa band was hired to perform at arrivals at Port-au-Prince's airport, which still lacks a control tower, and resort mega-projects were initiated across the island, with Ile-a-Vache as its flagship.
Miami and New York are only hours away, the coastline is just as lovely as the neighboring Dominican Republic's, and who could resist Haiti's vibrant culture, Creole cuisine, and colonial history? Capitalizing on all that, Villedrouin wanted first to lure the vast diaspora—one in eight Haitians live abroad—then everyone else.
Villedrouin was the first to admit that rebranding the country would take some work. Armed with a new hibiscus flower logo and European marketing consultants, she embarked on a global crusade to woo investors and visitors back. But today—amid renewed political protests and with elections initially scheduled for April 24 postponed yet again—Haiti's promises of a tourism renaissance seems to be more uncertain than ever.
Nevertheless, Ile-a-Vache was deemed sufficiently detached from the stigma of the mainland—here, as a Tourism Ministry memo put it, the diaspora could build second homes to resettle in their homeland "far away from the tumult."
It was a proven model. When Labadee, a semi-sovereign cruise resort, opened in 1986, tens of thousands foreign tourists visited the peninsula, which was pragmatically sold as "Hispaniola," without ever knowing they were in Haiti. With virtually no competition, Labadee became Haiti's most popular tourist attraction, funneling millions of dollars into government coffers every year.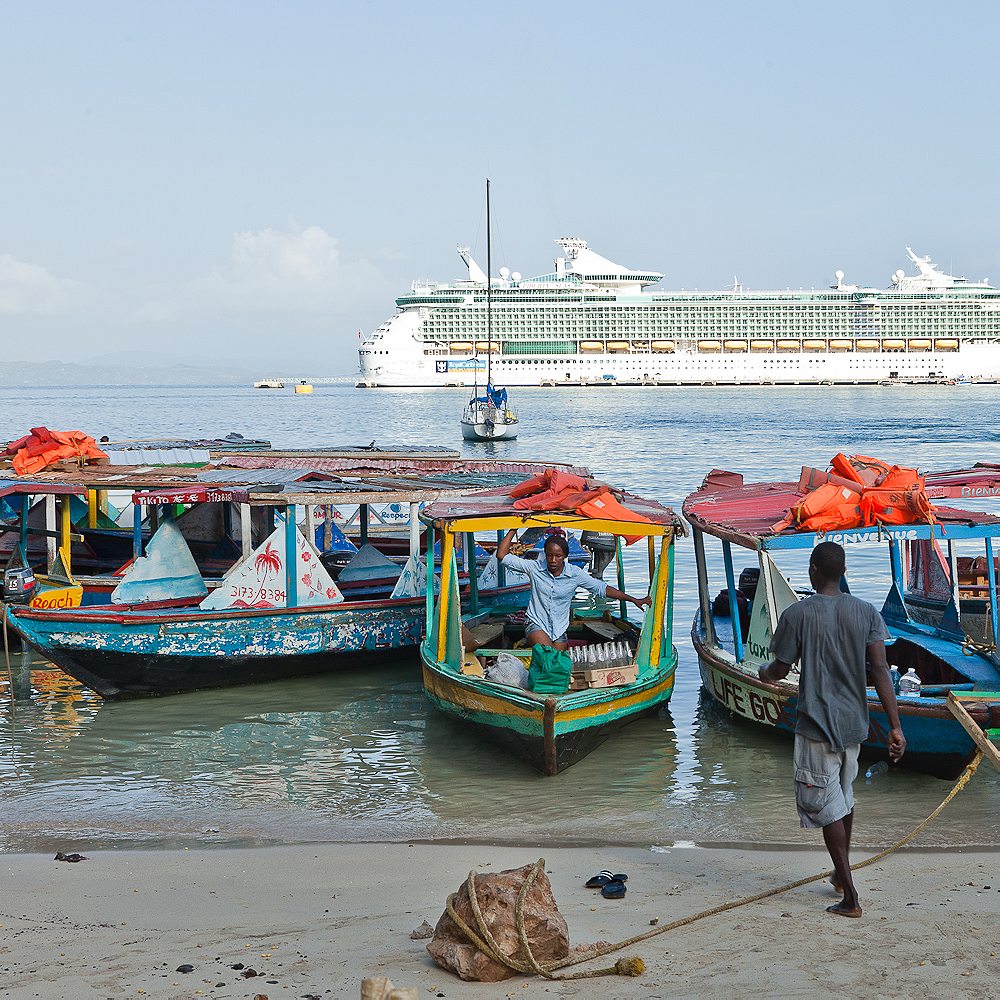 Nationwide, two-thirds of all Haitians depend on agriculture, but on Ile-a-Vache virtually everyone lives off the land. Unsurprisingly, the razing of groves of guavas, breadfruit, coconuts, avocados and mangoes to make way for development have been met with fierce resistance. The islanders surrounded the construction sites in non-violent protest. "Nou gen kasav, nou gen kafe, nou pa bezwen pwoje sa," they chanted: "We have cassava, we have coffee, we do not need this project."
It's less a struggle against tourism than one against the government's version of it, emphasizes school teacher Kenold, who was born and raised on the island and is a consultant for the pacifist resistance group Konbit Peyizan Ilavach, or KOPI (Organization of Ile-a-Vache Farmers) which has pledged to fight on behalf of Ile-a-Vache's 14,000 residents.
"They're completely excluding the farmers from everything," says Kenold. "They're getting rid of the land, the produce, the fruits that the farmers spent years and years growing. When the farmers no longer have rights on this land, their lives are ruined."
It seemed ironic to Kenold that the government handpicked Haiti's most peaceful corner to turn upside down. "There is a climate of terror on the island right now—there are a lot of policemen walking around all times of the day," he explained. "If someone is against the project, they are ready to arrest them, beat them and put them in jail just for that."
Kenold said KOPI's leader spent 10 months in prison probably because of his opposition to the development; and another member died in a suspicious motorcycle accident. Was that the tropical dream the regime had in mind?
Kenold, whose own house was searched by cops toting machine guns, refused to be intimidated: "This fight is not political and we're not fighting to bother the government. We're fighting because we feel like our island, our paradise, is being threatened."
Seated in the shade of a parasol next to the swimming pool of one of his luxury hotels in Port-au-Prince, James Boulos Laham, an investor from one of Haiti's old bourgeoisie families, said the islanders needed to see the long-term benefits. As skeptics dismiss Ile-a-Vache as a playground for the nation's elite, Laham, fed up with the idea of Haiti as a place to be "saved," was positive that tourism was a viable alternative to aid handouts. Tourism meant improved infrastructure, efficient agriculture, and political stability. And it'd be far better than sweatshops.
Wanna be a superhero? Invest in a hotel
"Wanna be a hero?" He joked in his sales pitch to potential investors: "Spend your holiday in Haiti! Wanna be a superhero? Invest in a hotel." Haitian resort tourism wasn't an easy sell, he admitted: "We're trying to get all these people to understand that what we are doing is not trying to come here and bulldoze Haiti to take over and monopolize this country, we're trying to work together to build this country back better."
A number of initiatives to win the hearts and minds of rebellious islanders—a soup kitchen, a community center, and a radio station—have been rolled out with limited success. Confronted with the islanders' resistance, Laham says he understands that the promise of a job tomorrow when people are hungry today is no easy sell. "Honestly, we're trying to make an omelet, and we will have to break a few eggs."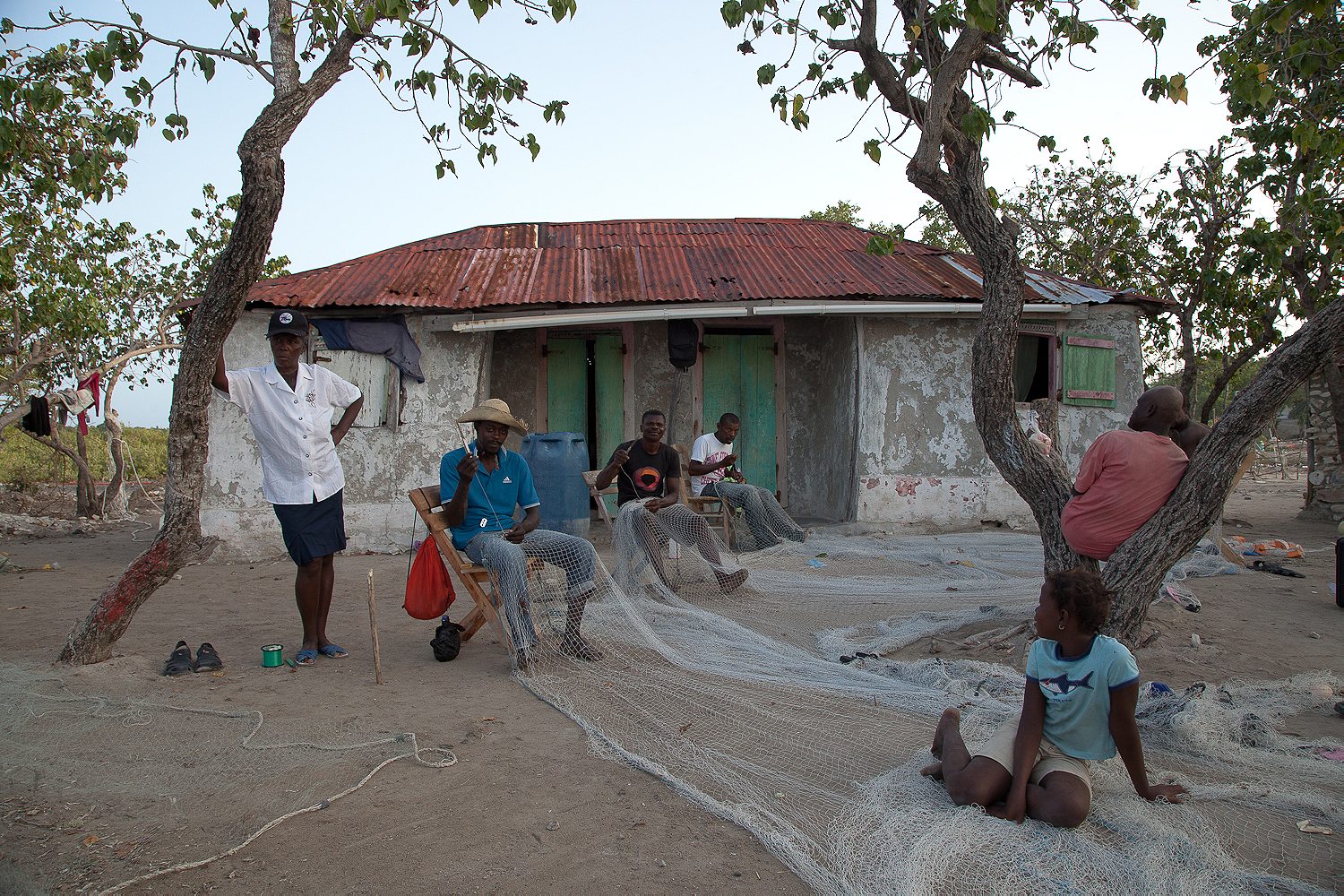 An excavator sat triumphantly on a sand mound where Yves Laguer's house used to stand. Behind it, a dredging ship obscured the horizon. Like every other market day, dozens of people huddled together in hand-painted vessels with names like "Jesus is Boss" or "Bondye" (God). To traverse the strait to the mainland, tarps were pulled over them to protect from sunshine and seawater during the 40-minute journey. This is the daily commute for many of the island's residents: when they to buy or sell produce at the market or even just top up their phones, they have to go across the strait to Les Cayes and they can only get there by boat. Most use the public (and overcrowded) boats, unless they own one like Laguer.
Laguer, who lost his home shortly after a 2013 presidential decree declared the land a "zone of public utility," tried to stay optimistic. Born and raised on these shores, he had always been a fisherman and being relocated to the mountains with his wife and 12 children wouldn't change that. He comes down from the hills every morning at dawn to head out at sea. Life has certainly become more difficult since the development begun.
"Before I could get into my canoe at night to make my money in the morning. Now If I go to the sea at night I will be risking my life because the commute is very long," Laguer said. "We belong here, my children belong here. We don't know nothing else. But the people in power decided to move me some place else, beyond my control."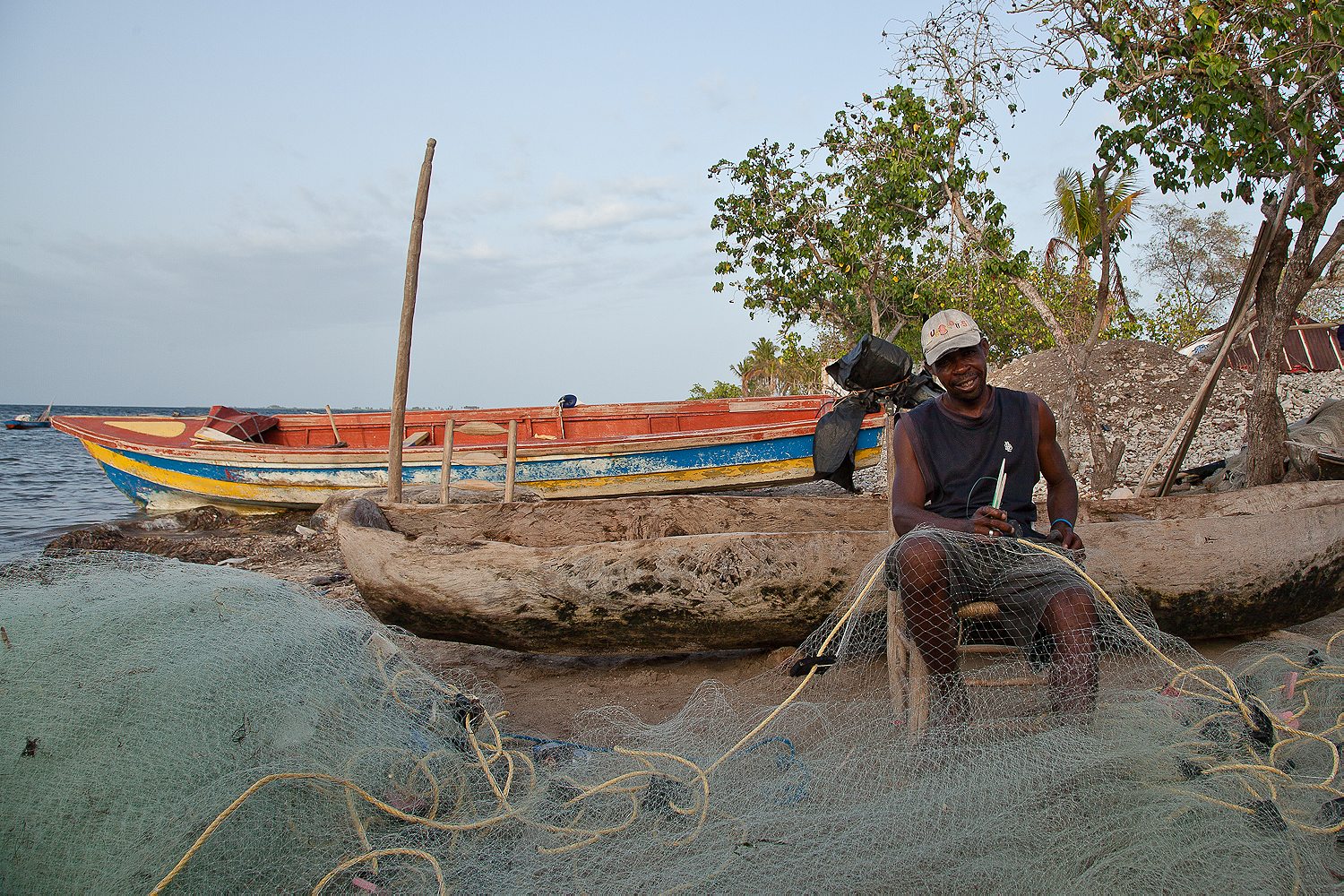 It has never been clear who owns what in Haiti. Land ownership divided the republic from its inception: Farmers assumed the land liberated from the French would be theirs to keep, and the revolutionary elite insisted on state-led distribution. Over the years and the anarchy of various dictatorships, a legacy unfolded of those with money and power grabbing what they desired. Today, Haiti's land registry accounts for about 5 percent of its landmass, and many records were destroyed during the devastating 2010 earthquake, leaving many unresolved disputes.
"They played me and took my money," said Laguer. The sum he received didn't even cover the new house. His brother in America had wired some cash to pay for doors, windows and a coat of paint. "The government is not in our interest. They want to take advantage of us: we get whatever is left," he said. "We are on our own."
Some of his friends had already joined the resistance activists, though Laguer hesitated. "I know where there is development, there is life," he explained. "I love the projects. I love the fact that we have tourists coming here. When they visit we have hope. But myself I haven't taken any advantage of that; I am always fighting."
Ile-a-Vache's new runway had already been scaled back several times. Yet, Geronimo Ruiz, a Dominican developer contracted by Haiti's government, was hopeful as he surveyed the empty site of a planned terminal. Tourism has long been the dominant export for his own country. When, or perhaps if, completed, he was certain Ile-a-Vache could easily compete with neighboring Punta Cana.
"This is the last untouched Caribbean island," he said. "So why not here? They have a long way to go but they gotta start somewhere. There is a lot of potential here." For now, Ile-a-Vache remains warped in time without running water or electricity.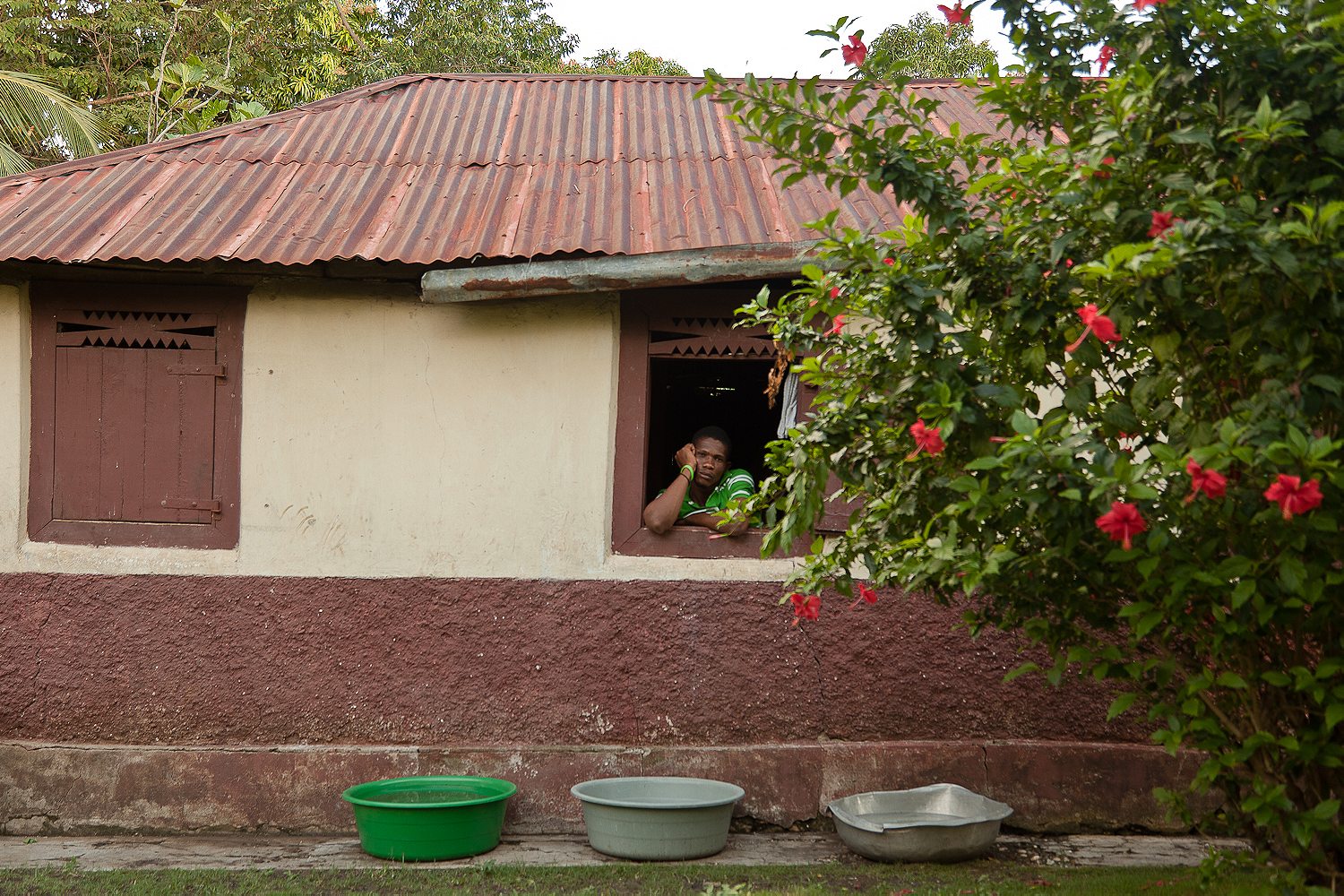 At night, under the full moon and the faint blueish light of a solar torch, the dancing grew fiercer. The musicians—flutes, maracas, drums—closed their eyes and swayed with the rhythms as they stepped up the pace. Almost 100 islanders formed a circle around them; singing, clapping and dancing, fuelled by endless bottles of moonshine and local beer. The music echoed to the next village.
Here, the magic of vodou was alive and well: far removed from horror movie clichés, Haiti's legendary religion resembled dancehall more than Hollywood tropes. Young women possessed, in denim shorts, tank tops and bold makeup, swirled ferociously. Gazes fixed in the distance, or perhaps on a transcendent point in space and time, their bodies trembled with naked feet furiously stomping the dust. Their skin glowed with sweat and when the music stopped momentarily spectators passed them towels as they stumbled off the floor.
The island's top vodou priest, Jeom Frichenel Sisius, was in the middle of it all, dressed up in a rainbow shirt as he summoned the lwahs, the spirits. From revenge to romance, haunted houses to diseases, he explained, there was nothing they couldn't fix. "The only things vodou can't do are radiography and mammography," Sisius boasted, proudly displaying an array of herbal, rhum-infused remedies kept in a carefully locked shed, skulls and bones painted on its wall. "When the people gets sick I heal them."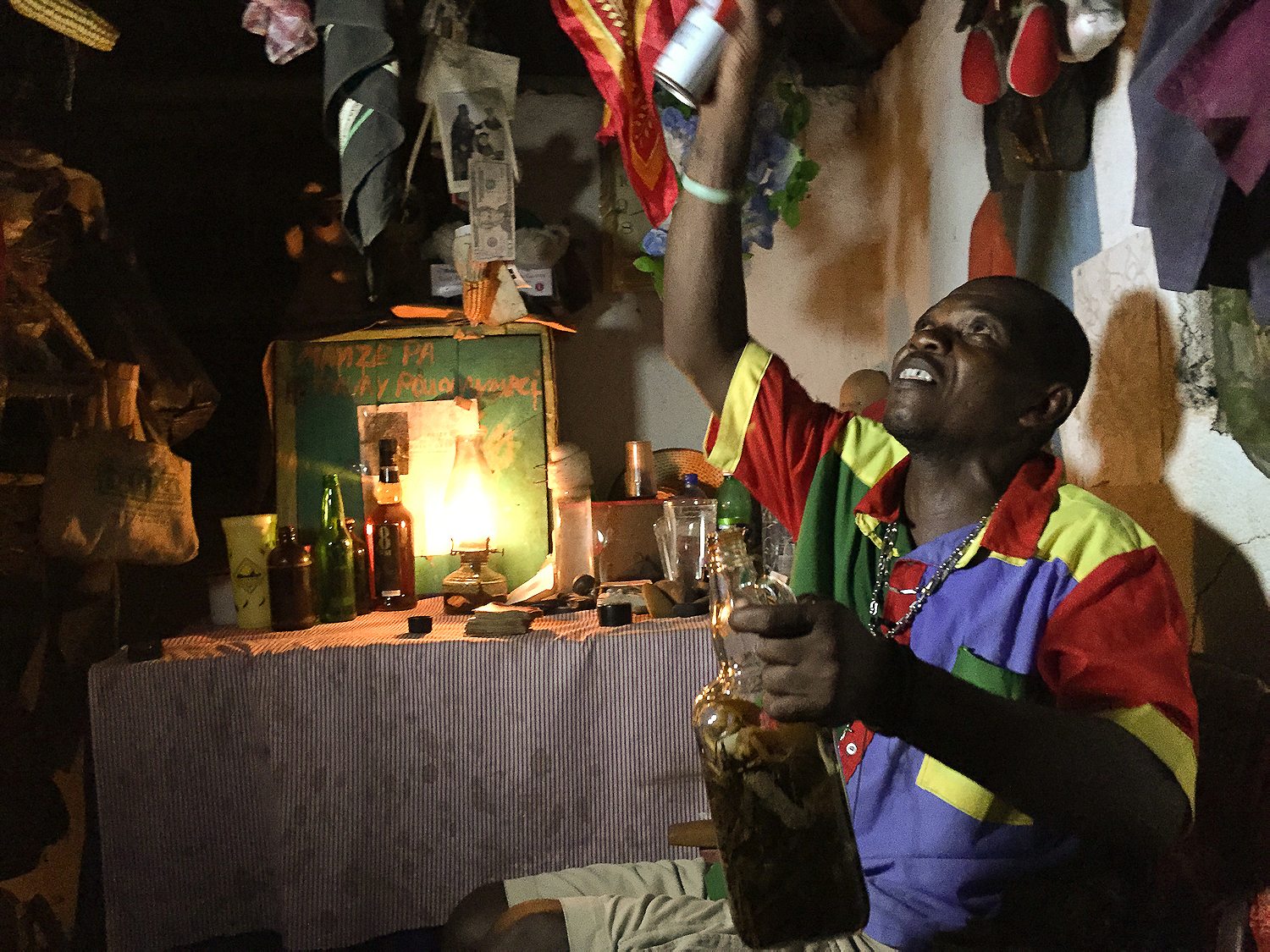 His island was yet to be connected to the grid, and with only one clinic for 14,000 residents, Sisius was a spiritual leader, doctor and midwife–who just happened to throw the island's best parties. Now Ile-a-Vache's isolation was about to end: construction sites had already mushroomed, fruit groves were bulldozed and there was a new hospital, courtesy of the Tourism Ministry. When we were there, it was scheduled to open in late March 2015. There are no power plants on the island so the hospital would run on generators.
"The government of Haiti is moving closer to fulfilling its vision of transforming Ile-a-Vache into one of the most beautiful tourism destinations in the Caribbean," the tourism minister had promised, though it had sounded more like a threat. "At the same time, it is raising the quality of life of the island's men, women, and children." For virtually all of Haiti's neighbors, tourism had boomed into a $1 billion industry, but as the islanders danced until the break of dawn, they weren't so sure they wanted things to change.
Reporting for this story was supported by the European Journalism Centre.