Can a bunch of surfer kids help the country's devastated tourism industry take off?



KABIC BEACH, Haiti—
The kids can surf. They come after school, a group of a dozen or more, to ride the waves in the azure waters off Kabic Beach, not far from Jacmel, the country's cultural capital. When they were younger, they learned to body-board on discarded planks of wood they found near the shore. Then came the foreigners who gave them real boards and taught them to stand on them, and now the kids make it look effortless, as though they've surfed since birth.
They are members of Surf Haiti, a small organization that teaches other locals how to ride, offers lessons to visitors, rents boards, and cleans up the beach. The group, which has 23 members ranging in age from 11 to 21, was formed in 2010 here on Haiti's southern coast. The mission was to help the local kids capitalize on tourists drawn to the beaches and palm trees, the varied surf breaks—beach, reef, and rock—and the uncrowded waves.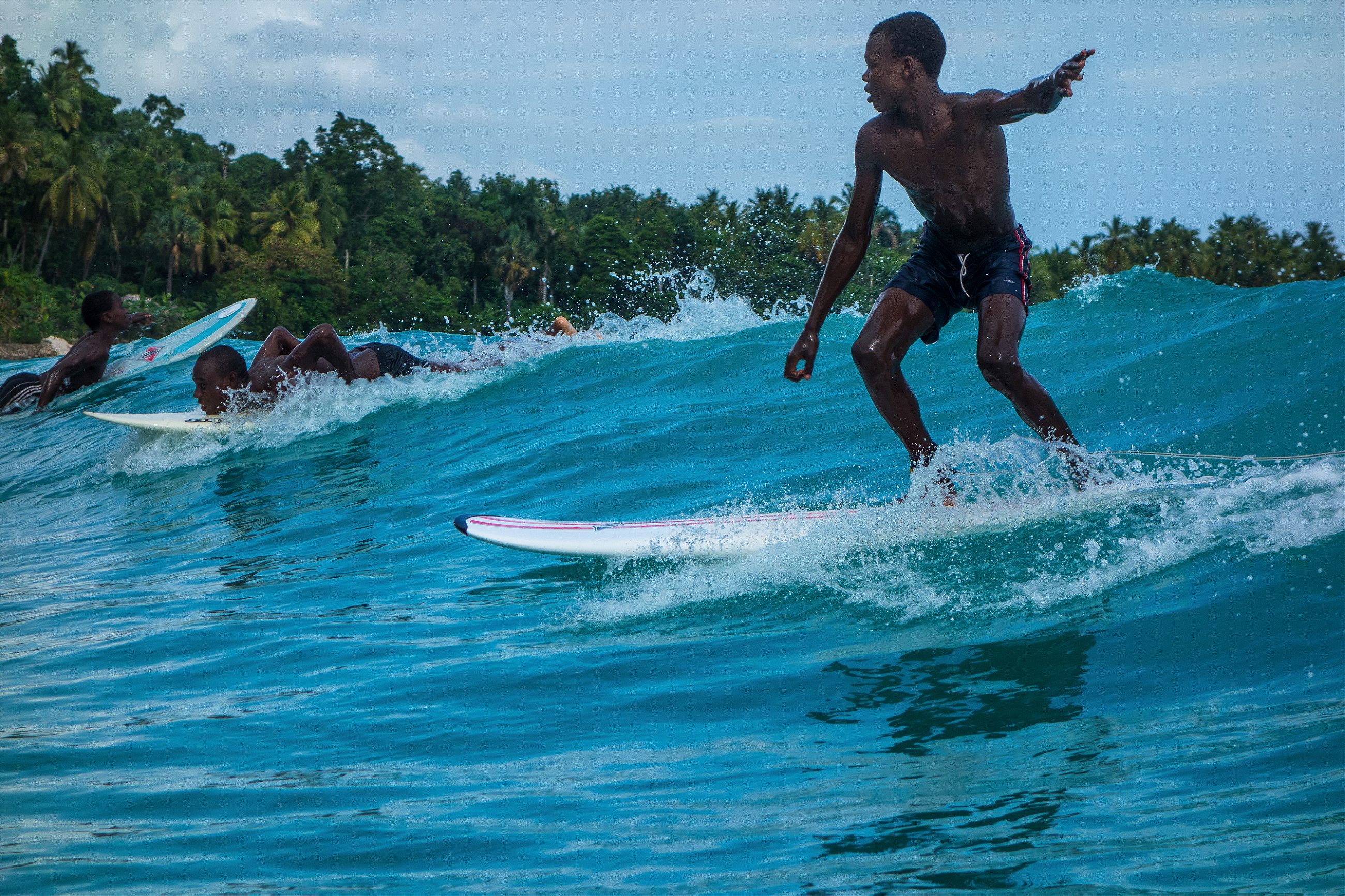 The only problem: The tourists haven't arrived.
Haiti, the poorest country in the Americas, still recovering from the 2010 earthquake that killed an estimated 150,000 people, is vying to tap the already crowded $28 billion Caribbean tourism market. The government recently doubled the tourism ministry's budget to $4.7 million and has launched a campaign to attract visitors, including the enormous Haitian diaspora, to explore the country's many untouched beaches and unexplored regions.
It's a lofty goal. Haiti doesn't currently have the infrastructure for mass tourism, and attempts to mark off specific areas for luxury resorts—namely on Île-à-Vache, off Haiti's southeast coast—have been controversial. Despite its natural beauty, few people think of Haiti as a vacation destination. Haitians, for their part, resent the country's reputation for poverty, violence, cholera, and corruption. The government's wide-reaching tourism campaign is aggressively trying to change the perception, and thereby the reality.
NOT LONG AGO SURFING WAS COMPLETELY ALIEN TO KABIC BEACH
Should tourism one day thrive in Haiti, among the first spots it will happen is here, in Jacmel and the beaches that surround it. A two-and-a-half-hour drive from the capital, Port-au-Prince, Jacmel is known for its artisanal culture and colonial architecture. It is home to a flourishing film school and hosts a raucous annual Carnival celebration; this year the Canadian band Arcade Fire played a free concert during the festival. There's a beach in the city and many more down the coast. The food is delicious. The locals are welcoming. And there's a legitimate surf break.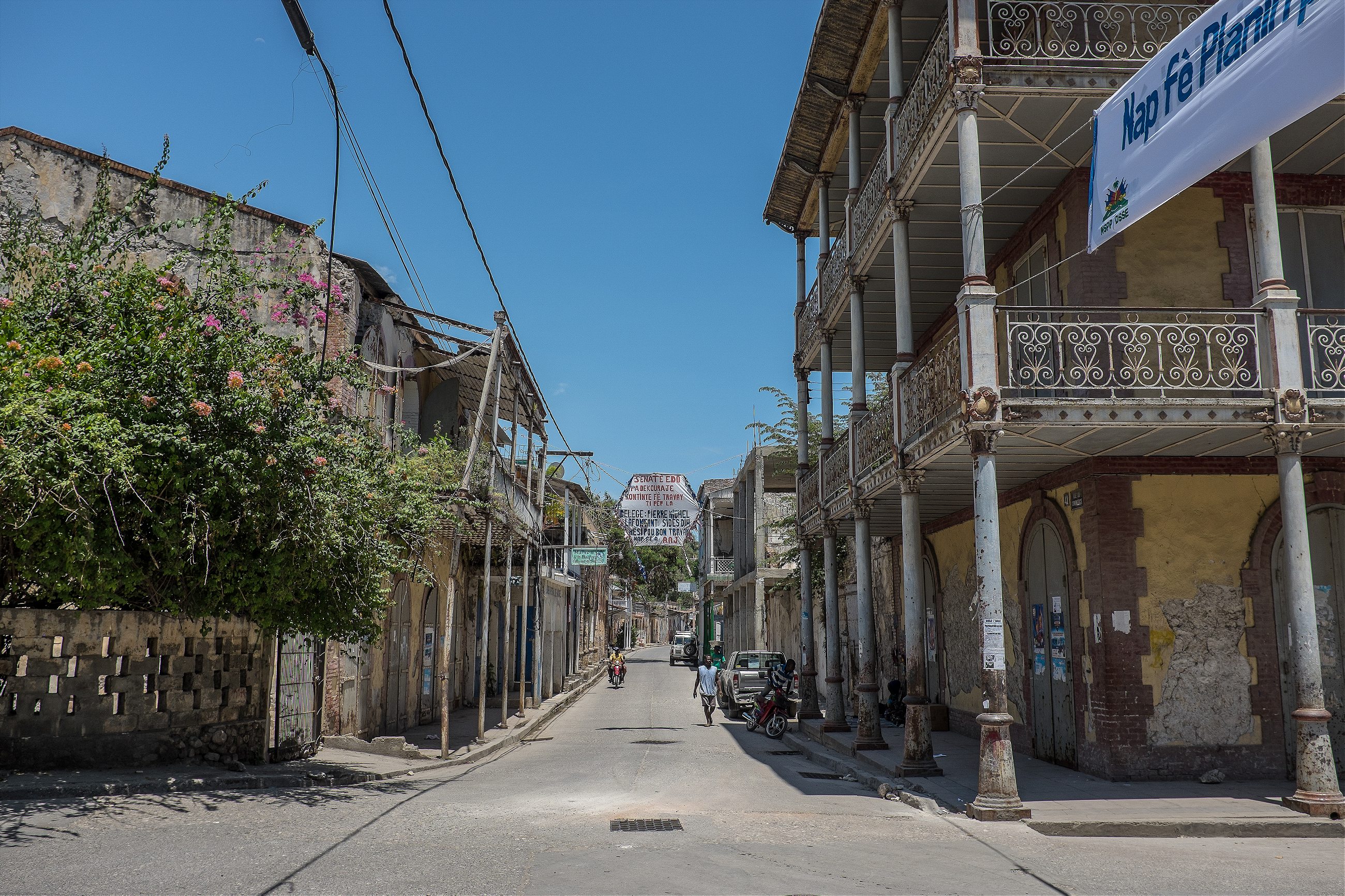 Not long ago surfing was completely alien to Kabic Beach. Ken Pierce, a doctor from Hawaii, first traveled to Haiti a few weeks after the 2010 earthquake as a disaster response physician. He later served as director at an orphanage in Cyvadier, near Jacmel. When he came to the coast, Pierce, who has surfed since his teens and had brought a board with him from his home in Kauai, asked around and nobody could recall seeing anyone surfing the local breaks. "The first time I paddled out at a spot near Kabic—now known as Pierce Point—the rocks were lined with kids and adults who were enthusiastically cheering for me," he says. "When I paddled in, I asked if they would like to learn how to surf. The response was unanimous." The next time Pierce went home, he brought back several boards and started teaching local kids.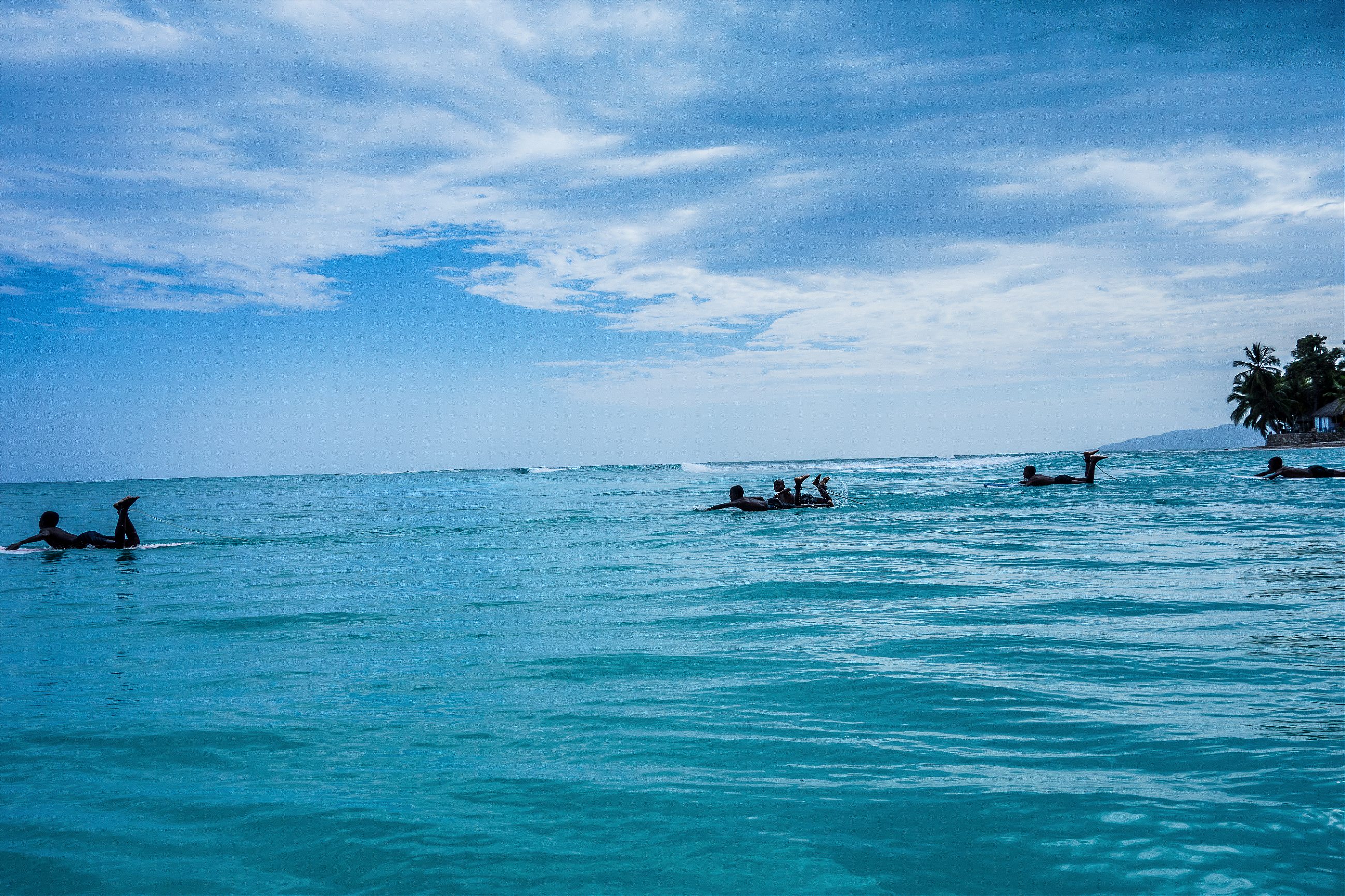 Soon after, he co-founded Surf Haiti with a fellow Hawaiian named Alan Potter. Joan Mamique, a 38-year-old Frenchman, took over Surf Haiti when Pierce retuned to the United States and now runs a guesthouse a short drive from Kabic Beach. These days the beach is a popular weekend destination for foreign aid workers living in Port-au-Prince and elsewhere. Mamique, who has the kind of baked-in tan usually reserved for Australians, has lived in Haiti for four years, working for a German NGO. For him, Haiti is an escape, a country still relatively untouched by commercial tourism. This, he thinks, will be its appeal to other adventurous travelers. "This island is like fucking Lost," Mamique says. He means that in a good way.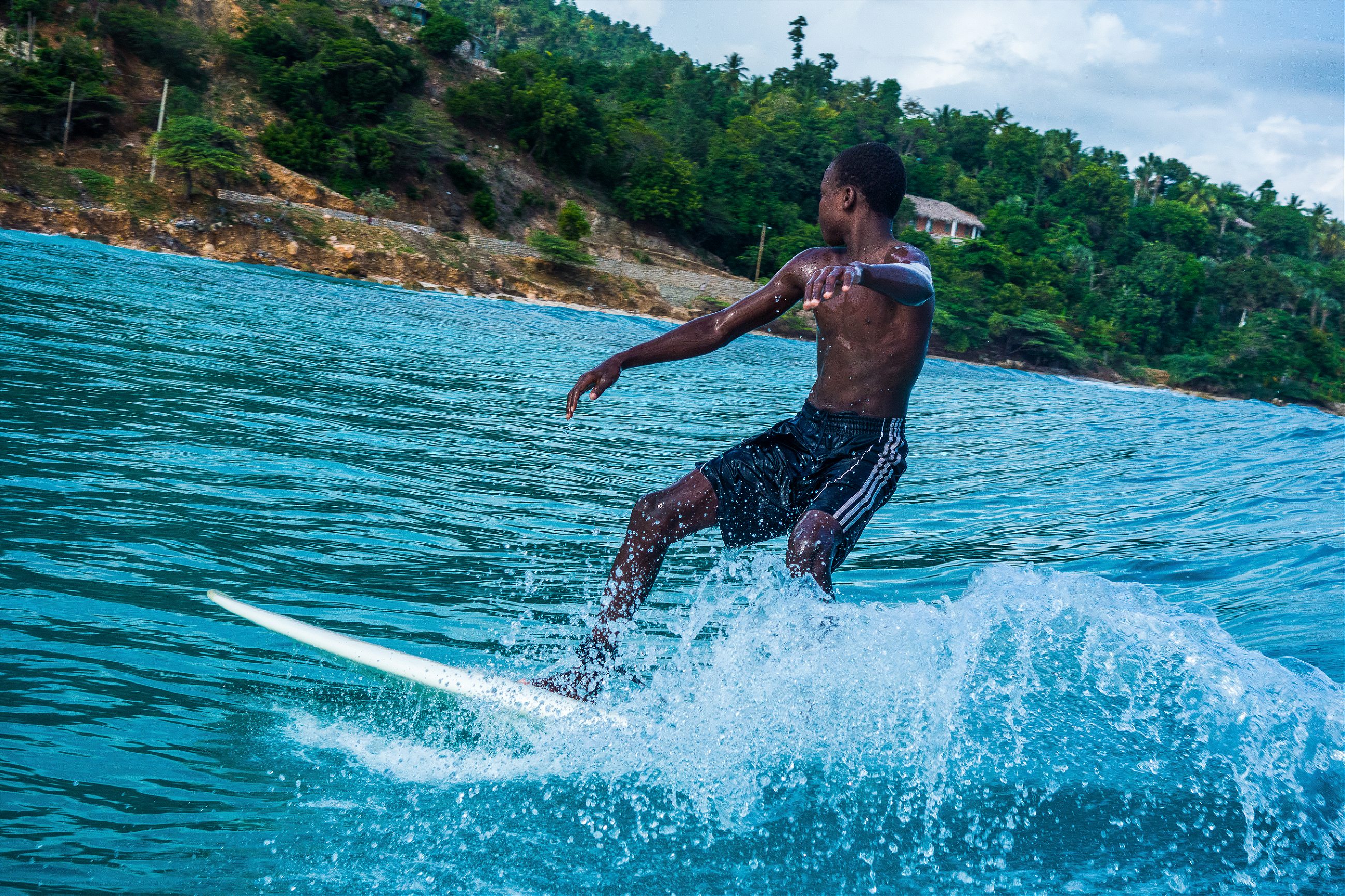 Under Mamique's watch, Surf Haiti turned into a small business. The kids began teaching lessons and renting boards to the foreign workers who came, providing the group with a small source of income. Not long ago, Mamique handed off Surf Haiti's organizational duties to a local named Christophe Andris, who grew up near the beach and now serves as the group's president. The aim was to make Surf Haiti a completely Haitian organization. Today Andris coordinates the lessons and rentals and teaches swimming lessons to local children. (Most kids, despite growing up at the beach, don't know how to swim.)
Andris hopes that someday the best Haitian surfers will travel abroad for competitions, to experience places other than this stretch of sand. Most of the kids have never left the area. He hopes Surf Haiti's members will be able to earn a proper living through surfing, and that the organization will help pay for their schooling. Every month, half of every dollar Surf Haiti earns through lessons and board rentals goes to the association for administrative costs, and the other half goes directly to the kids. It's not much, but everything matters in a country where 80% of the population lives on $2 a day. "Here, there isn't a lot of opportunities for kids. It's important for them to have something to do," Andris says. Eventually, Andris aims to host an international competition featuring both locals and competitors from abroad.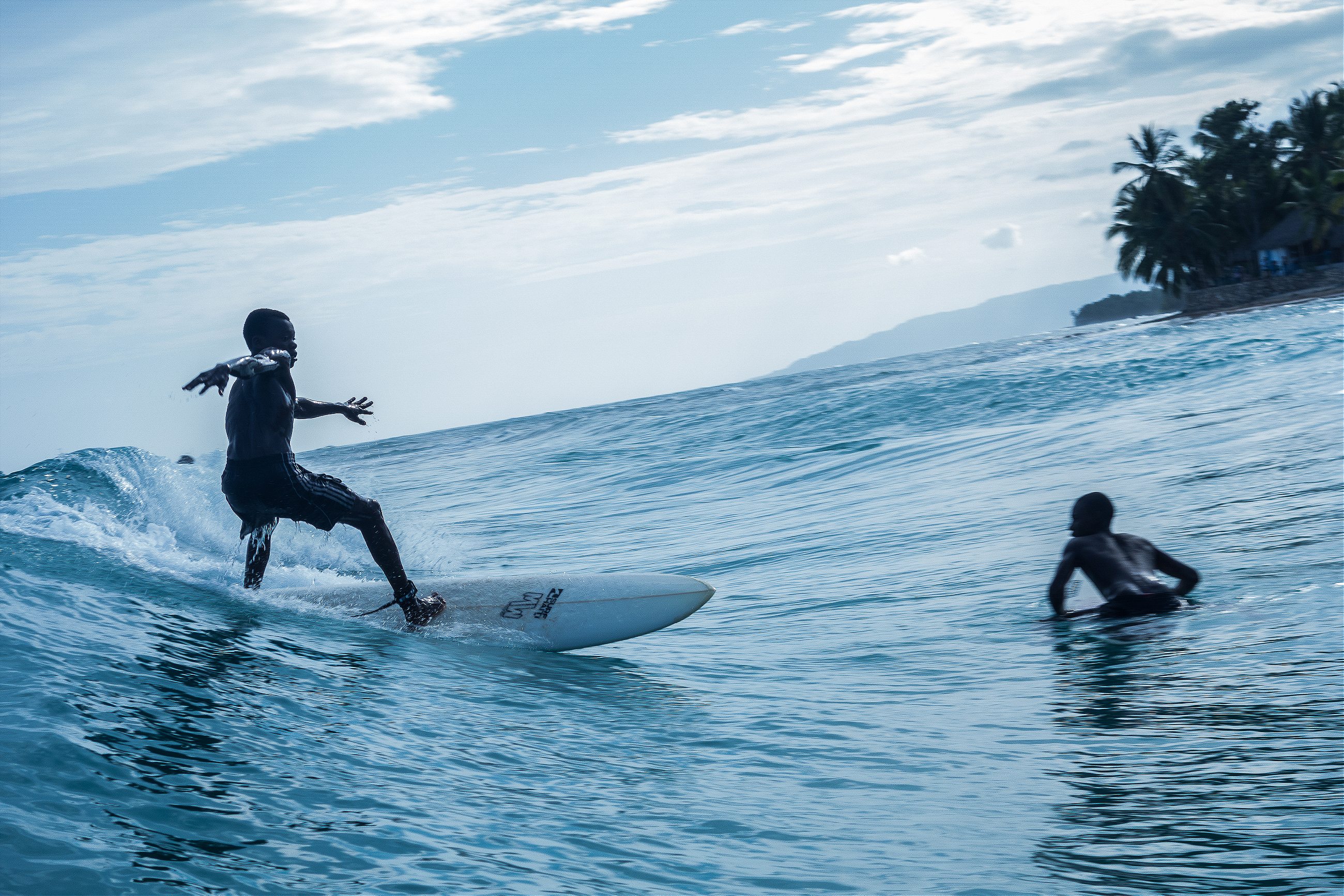 Haiti has a handful of surf spots on the south and north coasts, but many aren't reachable by road. The area around Kabic is the most developed. There are new hotels and restaurants serving lobster pulled fresh from the sea and cold bottles of Prestige, Haiti's national beer. Yet almost all the hotels are empty during my visit.
Nearby Jacmel is also largely void of tourists. The town was heavily damaged during the earthquake, and many buildings are still abandoned, including the shell of a high-end hotel on the beach. During my stay I spend a few hours one afternoon wandering around town, stopping in at small galleries and shops, walking along the stony beach that lines the city. A local artist named Kiki Antoine joins me and offers to show me around. It would be natural in Haiti for someone to ask for money for an unsolicited tour, but he doesn't—in fact, he scoffs when I offer.
HALF A CENTURY AGO, HAITI WAS A PRIME TOURISM DESTINATION
I ask Antoine what might bring tourists to Jacmel. The art and culture, he says, and the fact that it's safe. "It's a good city. There's no violence here. At night you don't need a guide," he says. When I ask him if thinks tourism will eventually flourish in Jacmel, Antoine shrugs. "Maybe," he says, "one day."
It wasn't always so. Half a century ago, Haiti was a prime tourism destination, with visitors including Mick Jagger, Jackie Onassis, and Graham Greene, whose novel The Comedians is set at a fictional version of the Hotel Oloffson in Port-au-Prince. Bill and Hillary Clinton honeymooned in Haiti in 1975, and the country was once home to a Club Med. But the chaotic reigns of François "Papa Doc" Duvalier and his son, Jean-Claude "Baby Doc" Duvalier, and the instability that followed, destroyed the tourism industry. The country's infrastructure fell into disrepair. And then the 2010 earthquake hit.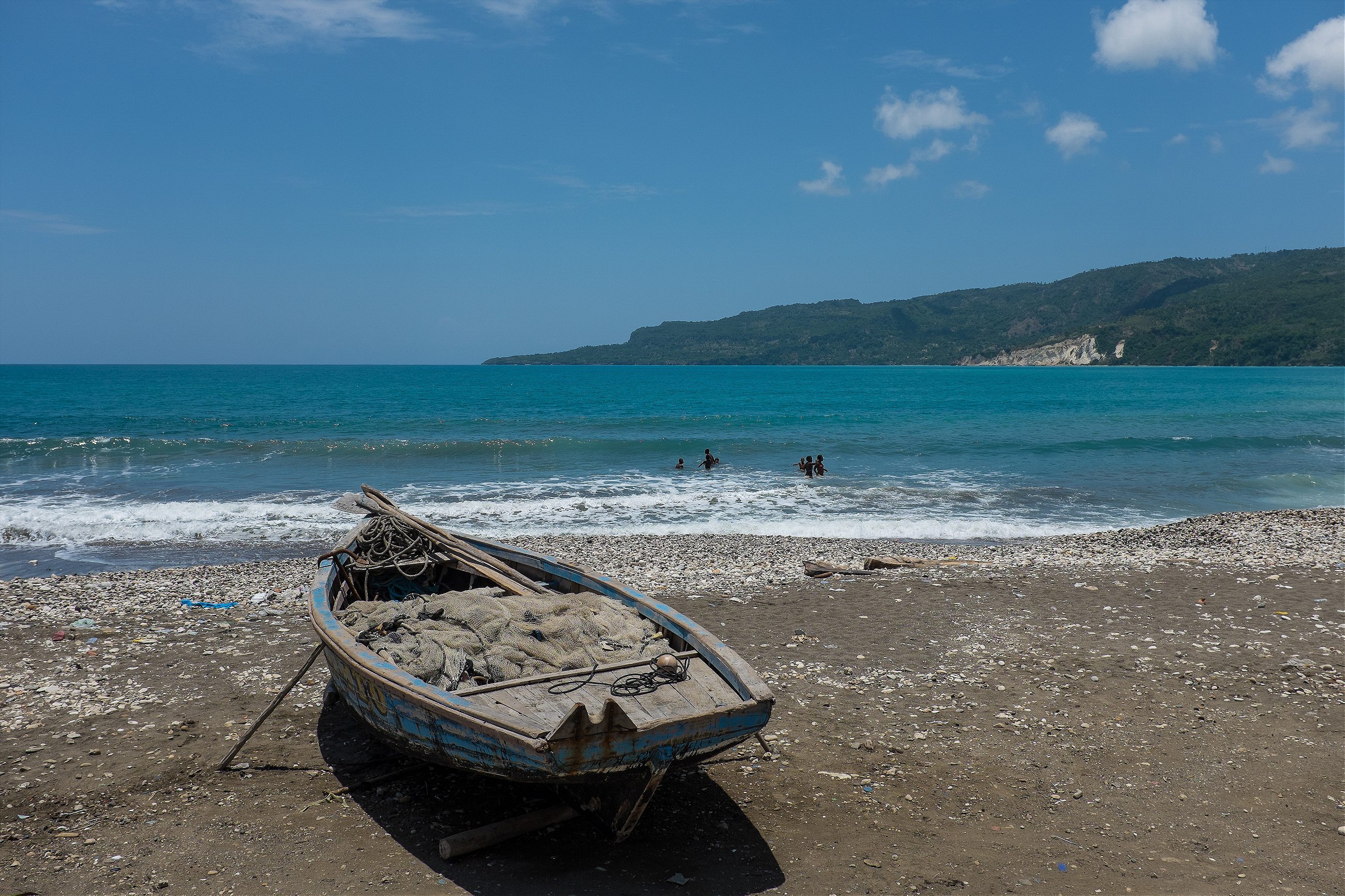 Although crime and violence have improved considerably in recent years, the tourism industry has another enemy: surprisingly high prices. The presence of U.N. employees and aid workers has driven up prices for foreigners; hotels, meals, and transportation are considerably more expensive than in many of the countries with which Haiti must compete for tourists.
Despite the challenges, changes are happening. Although scars from the earthquake remain, the rubble has been cleared away and much of the rebuilding has already been completed. The government has begun airport improvements in Port-au-Prince and launched a special police force for tourists last September. Luxury hotels continue to go up in the capital—a high-end Best Western opened last year, and a Marriot is currently being built—and several airlines now fly direct to Port-au-Prince from Miami, New York, and elsewhere. Package tourists have started to arrive from Canada.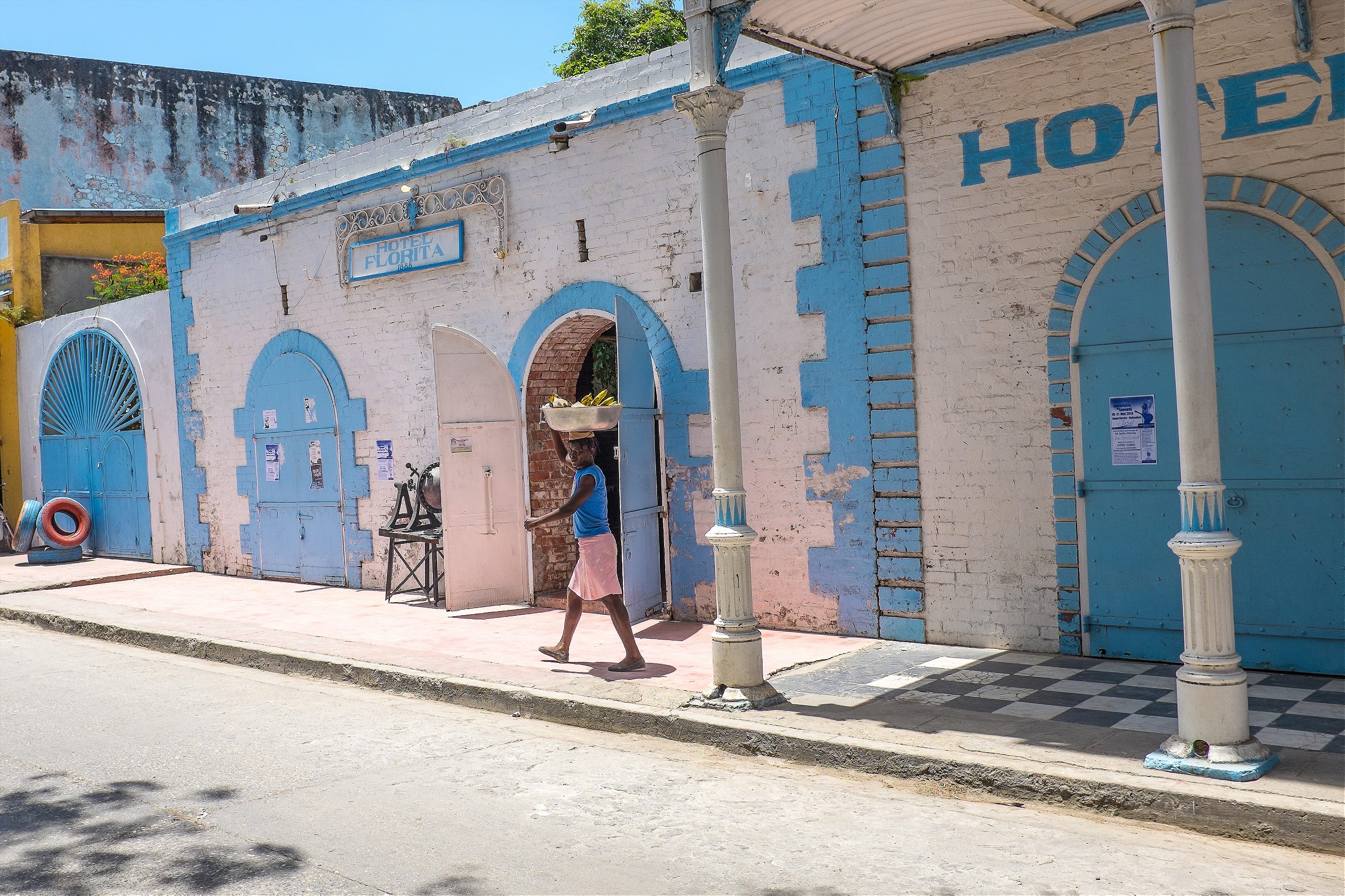 The country already makes about $200 million from tourism, mostly from cruise ships that stop at the north coast. Last year the government claimed a 17.3-square-mile area of Île-à-Vache, a former pirate stronghold, on which it plans to build luxury resorts. Islanders fear they will lose their homes to make way for the $250 million project, which will include 1,500 rooms, villa resorts, a golf course, and more. It's part of a larger plan to develop Haiti's south coast, including Côtes-de-Fer, a 2-mile stretch of beach on the mainland that, if the plan goes ahead, will feature 8,000 hotel rooms, a golf course, and an new international airport. (Haiti's tourism ministry could not be reached for comment.) As for surfing, the growing community of local and expat surfers presents strong potential for the future of the sport in Haiti. "There is fun, consistent surf in Haiti. There is surf for beginners and advanced surfers," Pierce, Surf Haiti's co-founder, says. "Surfing is in Haiti to stay." The challenge, Pierce says, is to create a comfortable, safe, and accessible environment for locals, expats, and tourists to come and surf. "Surfers are willing to endure some hardship, but they often travel with spouses and children and want to be assured of safety and basic amenities: clean water, safe food, safe housing, and transportation."
Out on the water at Kabic Beach, the debate about whether or not tourism will one day flourish in Haiti means little to the surfer kids.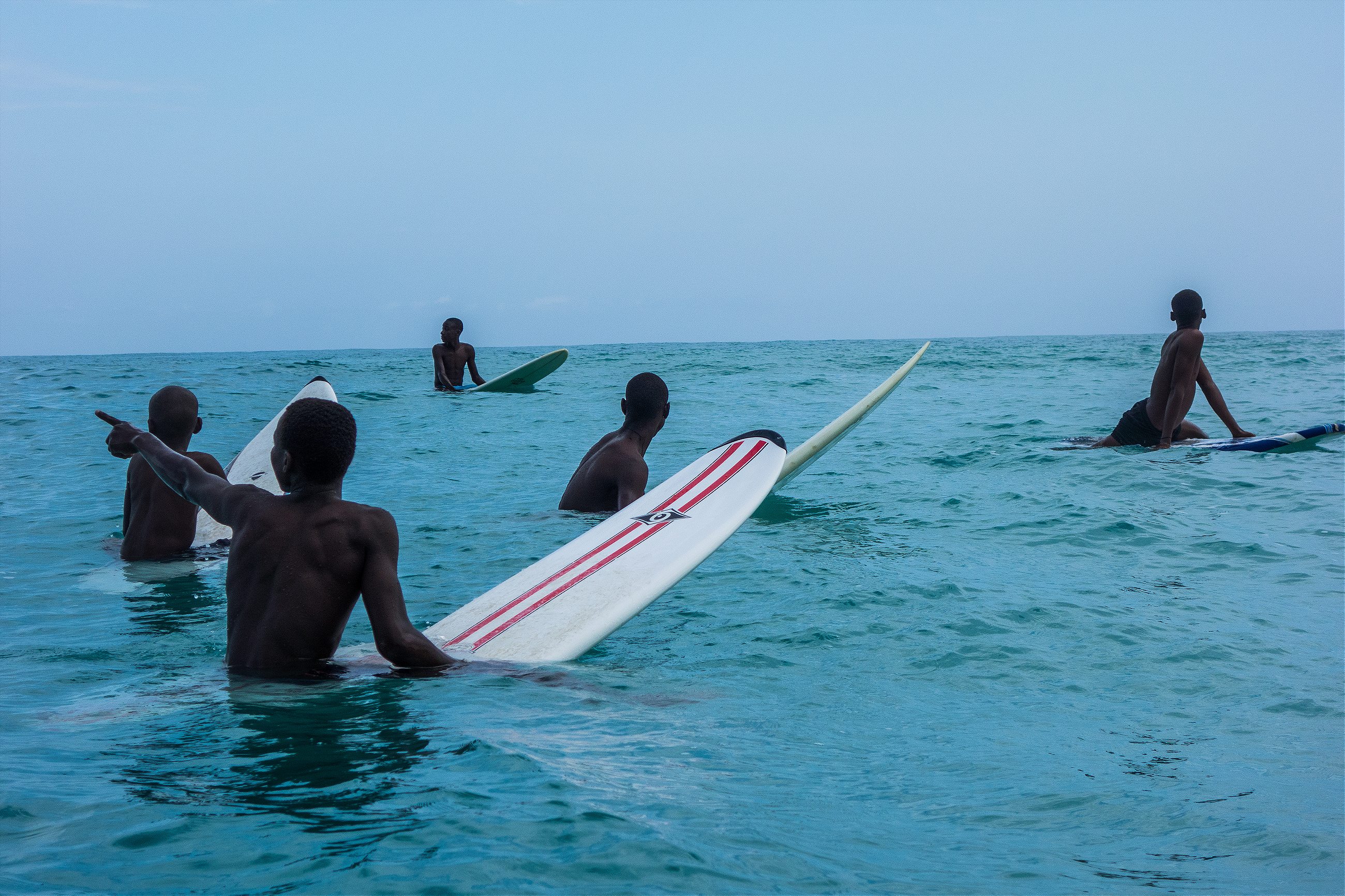 When I surf with the group over a couple of days, the kids put me to shame. They stand at will, on big waves and small, on long boards and short. They laugh when I struggle to stand or tumble in a wave. They shout tips and encouragement.
"Avant! Avant!" they holler—move up on the board!
"Vite! Vite!" Faster! Faster!
"Allez! Allez!" Go! Go!
When they surf, none of the struggles of their day-to-day lives matter. But Haiti is a tough place, and it has a way of reminding you where you are. Once, as I sit in the shade of a beachfront restaurant, one of the kids gets my attention by calling out, "Blanc" (literally meaning "white," the term used to address foreigners in Haiti), and then rubs his thumb and fingers together, asking for money. He then makes the universally recognized hand-to-mouth gesture for food.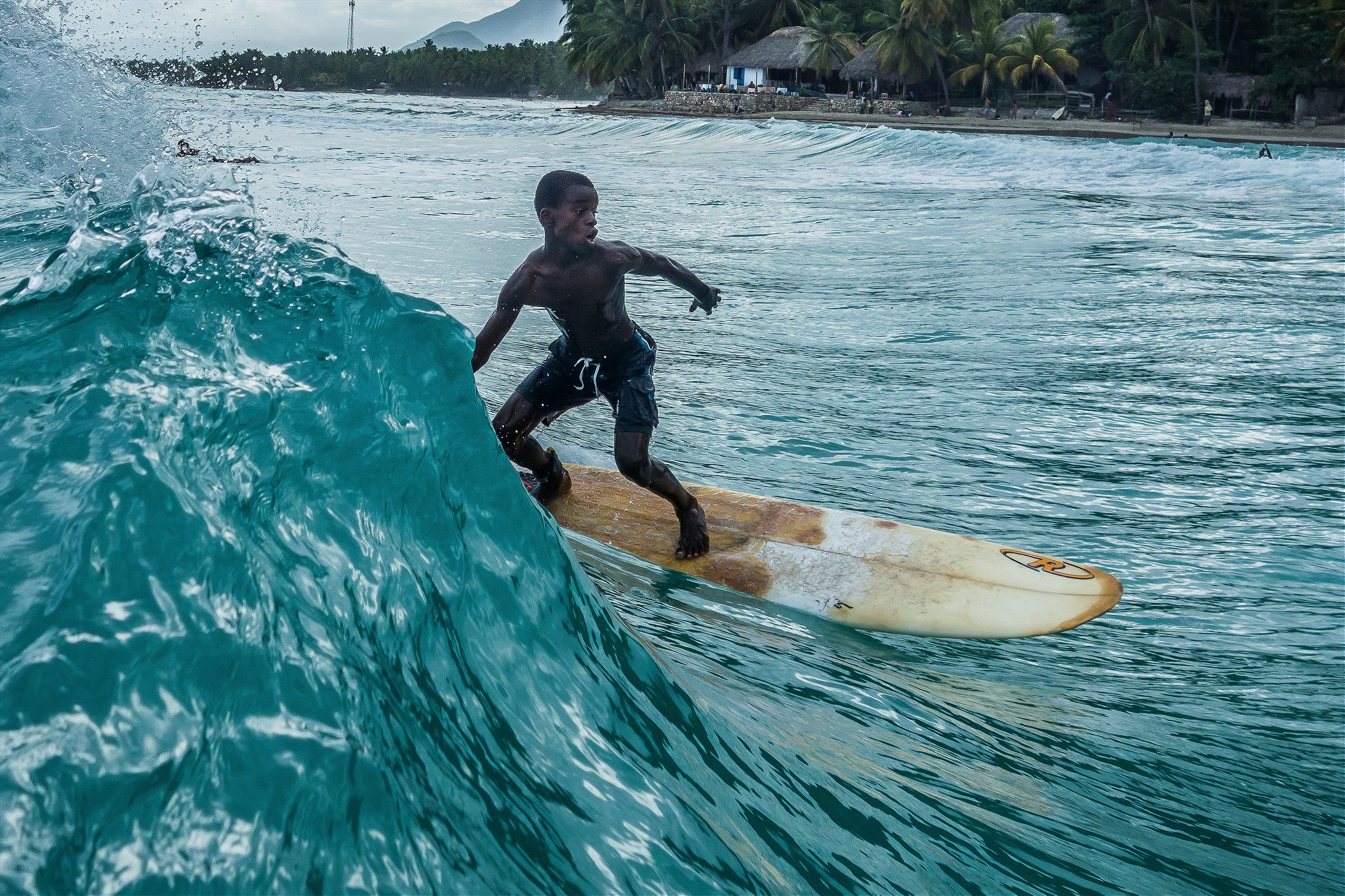 On another afternoon I sit down with a few of the kids. One of them, Samuel Jules, 15, learned to surf three years ago on a short board. He stood after two weeks of trying. Although many of his friends are surfers, at school, a short walk from the beach, the sport is considered an oddity. "Not many kids are interested in surfing. They know football, but they don't know surfing," he says.
Ronald Lafront, 16, says he wants to make his living through surfing—somehow. But when I ask who is the better surfer, Samuel quickly shouts, "Me." Ronald nods in agreement.
But that's enough talk for them. They answer my questions with one-word responses, glancing back at the water. A couple of moments later, they hop down to the beach, grab whatever boards are free, and paddle easily out into the waves.