New York City is about to elect an Italian-American mayor with an Afro-Caribbean wife. So we head to Canarsie, Brooklyn, where those two groups once clashed fiercely.
Bill de Blasio is thrashing Joe Lhota in the polls and will be the next mayor of New York City. He will not be our first Italian-American mayor—far from it—but he will be the first one whose wife is Afro-Caribbean (Chirlane McCray has roots in Barbados and Ghana). Where better, then, to have an early celebratory dinner than in Canarsie, Brooklyn, which just twenty years ago was an infamous battleground between Italians and the West Indians who were rapidly moving into the neighborhood?
If you want to know how that demographic battle ended, look no further than Footprints Café, wedged between a McDonald's and a tire shop on a busy street where Canarsie borders East Flatbush. Young women with long weaves and Jamaican accents walk in and walk out while young men with fitted caps and quick smiles watch them pass by. West Indian professionals with expensive purses and European cars stop by to have a drink at the bar, while dollar vans drop off teenagers picking up takeout for their families. The place is packed; there is always a wait. There will be no sympathetic smiles for your trouble: the staff seems to have married New York brusqueness with Caribbean inefficiency. But if you can suffer through indignities of the service, you'll be rewarded with one of the better Caribbean meals in the borough.
It should be said that Canarsie and neighboring East Flatbush are not destination districts in Brooklyn. I only found myself there because I was helping a friend take some furniture to her grandmother's house in Canarsie. It is, somehow, fitting because Canarsie is about family. Canarsie means row upon row of cozy brick houses with neatly manicured lawns and shiny cars in the driveway. It means children playing basketball in the street, women walking their dogs at sunset, and neighbors actually greeting each other after a long day at work.
This kingdom of families, bordered in the north by Empire Boulevard and East New York Ave and on the south by the Long Island Railroad Bay Bridge Branch, used to be largely Italian and Jewish until African-Americans began settling there in the 1960s. The tensions were real and immediate, and all the way through the early 1990's, the conflict in Canarsie began grabbing headlines. It started, as so many fights in New York do, with real estate. Specifically, West Indians would ask to look at houses in Canarsie, and realtors and landlords wouldn't show them. Eventually the courts began forcing real estate agents to work with minorities, and the neighborhood, in turn, started attacking the real estate companies. An Italian-American named Frank Scire, 20, who worked as a baggage handler at JFK, firebombed the offices of Fillmore Real Estate, which was under a court order to show houses to blacks. Civil rights protesters led marches through the neighborhood, and local residents shook watermelons at them as they walked by. But the West Indians persevered. Scire was eventually sentenced to 8 ½ years in prison, and the neighborhood arrived at a kind of peace with its future. Today, the majority of the 84,000 or so people in Canarsie are West Indian families who immigrated from Jamaica, Trinidad, Haiti, Guyana, Grenada, Panama, and the Bahamas.
Those roots help ground the neighborhood despite its low moments. The economic crisis hit hard here: a 2008 report from the Federal Reserve Bank of New York said that Canarsie had one of the highest of rates of subprime mortgages in the city and that lenders had initiated foreclosure proceedings against 12 percent of them. During the housing crisis, it was not uncommon to see entire blocks of homes boarded up with foreclosed signs.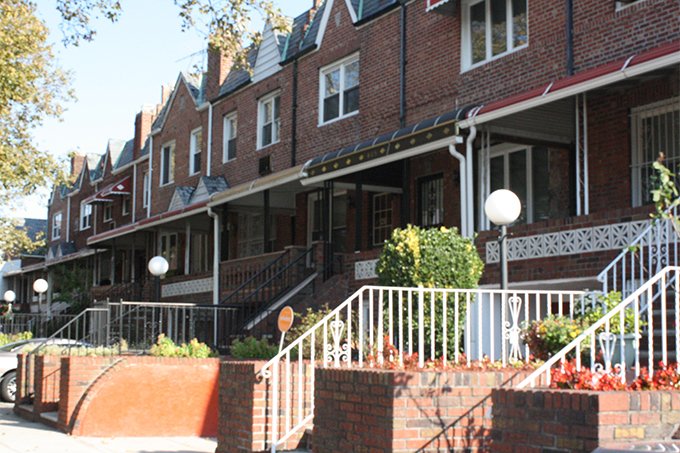 These days, foreclosures are down, homes are being renovated, and, as in so many old-line neighborhoods in Brooklyn, food helps keep the community going. At Footprints, that means traditional Caribbean dishes that aspire to upscale. Same goes for the interior of the place—this is not rustic Caribbean. It's a place with oversized mirrors, pleather banquet benches and live DJs at night. Its signature dish is called Rasta Pasta. The logo and name evoke Sandals all-inclusive Caribbean resorts more than anything. One Yelp critic called it "the Caribbean Applebee's".
Footprints is not here to please Yelp. It is here for the neighborhood.
But Footprints is not here to please Yelp. It is here for the neighborhood, and as such it seems a perfect distillation of the aspirations of New York's upwardly mobile West Indian community. That's why, despite the wait and the sometimes-surly service, the place is always buzzing. It has become a mini-chain of sorts, with another location in Coney Island and one in Lawrenceville, Georgia, home to a large West Indian population), along with the original Canarsie location.
The food, though, is better than the décor might suggest. The jerk chicken was marinated in a version of the classic jerk sauce—allspice and hot peppers are the eternal base—and then expertly grilled. Dark meat, glazed with jerk sauce, falling off the bone with each bite. The red beans and plantains seemed to carry coconut flavor without being too sweet. And then, of course, there are the drinks. I wanted to complement my meal with a distinctly West Indian drink but couldn't decide between the Sorrel or the Irish Moss, so I ordered both. Sorrel is a Jamaican—or Trinidadian depending on who you ask—fruit drink made from sorrel leaves, sugar, cloves, and ginger. Irish Moss has seaweed, sugar, coconut milk, vanilla extract and nutmeg, all combined in a milkshake-like consistency. It's a bit of Jamaican lore that Irish Moss, which was reportedly first brought to Jamaica by Irish immigrants, gives you more energy and increased libido. My report on that account is mixed: it didn't cause me to jump on top of the bartender, but it was somehow weighty enough to fend off the spice of the chicken and yet still be refreshing.
Canarsie, so used to being on the outer edge of Brooklyn, now has a demographic story that resonates all the way to Gracie Mansion.
Despite the richness of the food, it's unlikely that the place will become a magnet for people outside of Brooklyn. The East Flatbush / Canarsie location is about an hour by subway from Manhattan and more than a mile walk from the end of the L Train.
But Canarsie, so used to being on the outer edge of Brooklyn, will have at least a demographic story that resonates all the way to Gracie Mansion. Radio station WNYC recently spent a day on the campaign trail with McCray, the future first lady of New York City. She went to Canarsie to make her pitch not just for her husband, but also for what their family represents. "I am the grand-daughter of immigrants from the Caribbean," McCray said. "And I am also known as Mrs. de Blasio."
[Header image by Genial23, used under CC BY-NC-ND 2.0]