Tucked in the shadows of the Pentagon, somewhere between Arlington and Falls Church on Columbia Pike, you will find a little piece of Ethiopia.
Tucked in the shadows of the Pentagon, somewhere between Arlington and Falls Church on Columbia Pike, lies a little piece of Ethiopia. You might call it the Dama complex: the Dama Pastry & Cafe includes a coffee shop where women pull thick shots of espresso for a fleet of African cab drivers; a bakery where the soup comes with a side of politics and plenty of opinion; and a deeply-loved restaurant, where spicy beef tartar and slow-simmered vegetables help bridge the distance between two countries for a dining room full of immigrants.
Ethiopian immigrants first settled in Northern Virginia after the revolution in 1974, a coup that overthrew the monarchy and led to the establishment of the Derg, leading to years of bloody civil war. Including the descendants of Ethiopian-born migrants, there are some 460,000 ethnic Ethiopians living in the United States, and about 350,000 of those reside in Washington, D.C. and northern Virginia. Travel guides and food TV shows have nodded at this community, but they've mostly stuck to the obvious bistro-like, tablecloth, sit-down joints that serve the most emblematic exports of Ethiopian food, like kitfu and injera. For the real, informal heart of Ethiopian culture, skip those and follow the cabs.
Split Peas and Refugees
The cabs will lead you to the parking lot of Dama Pastry & Restaurant where taxis of all sizes and colors, from yellow and black sedans to blue mini vans, squeeze in alongside each other. Find a spot if you can, then squeeze through the small crowd that has gathered outside the doors, conversing over a post-meal smoke or debating last night's soccer match.
Get inside and start things off with the kitfo—minced beef tartar with spiced butter, served with homemade cheese called ayib—along with awaze tibs, a dish of cubed beef laced with onions and peppers and lashed with a slew of spices and awaze, a hot chili paste. Ethiopians cherish their raw beef dishes, usually minced or in thick slabs with generous layers of fat intact. To balance out the meat, add on the vegetarian combo, which includes red lentil puree, yellow split peas, ground roasted split peas and collard greens.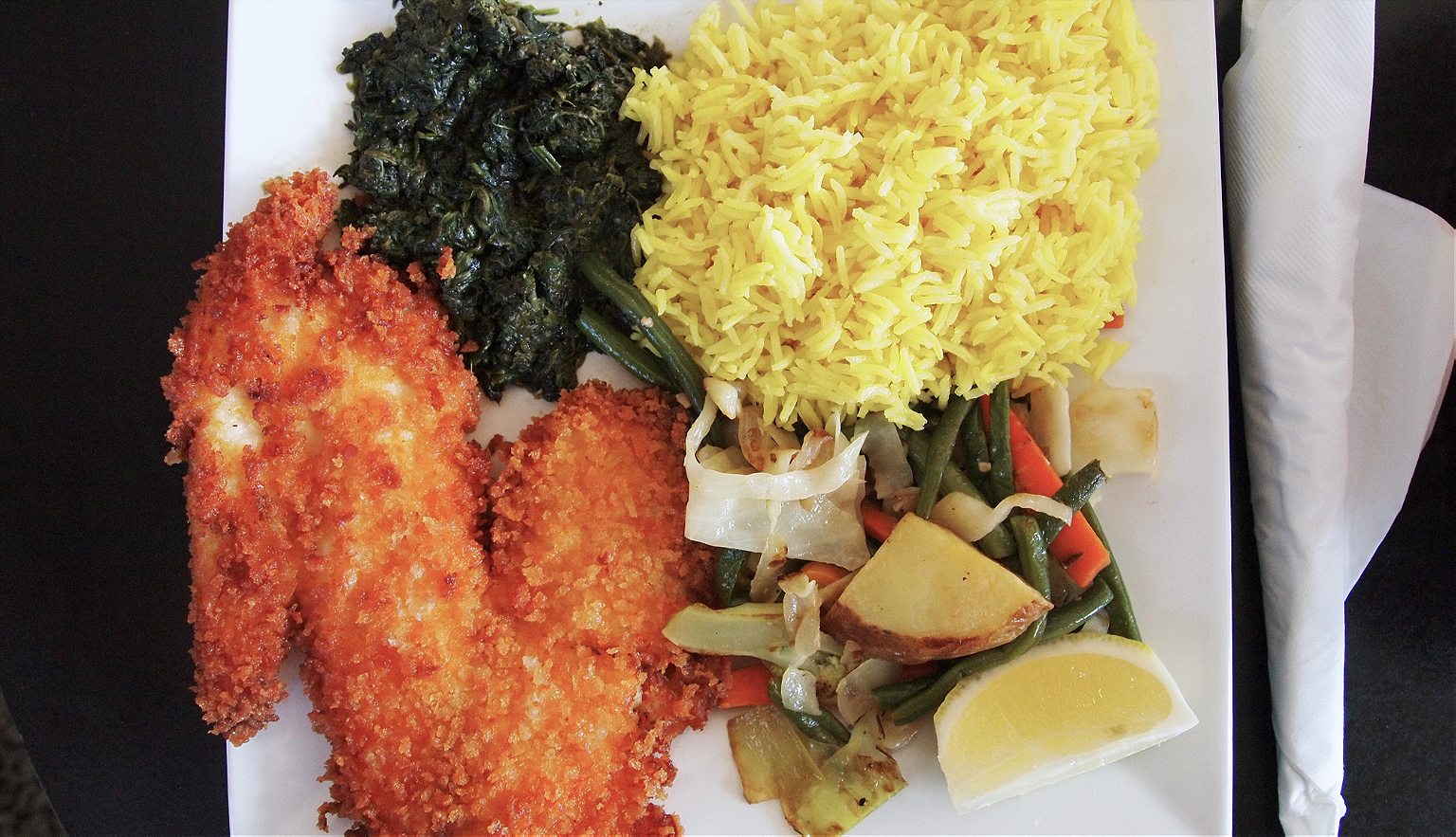 The platter arrives. The colors astound. Ruby red beef from the fiery awaze, shades of sunset orange, cornfield yellow from the lentils and peas, and sprinkles of pearl white from the ayib. Sharing, an important part of Ethiopian culture, is built in to the dish. The food is all laid out on a bed of injera—a spongy traditional bread— so that family and friends alike can dig in with their hands. It's more akin to an artist's pallet than a plate of food. The kitfo is a fine mix of meat and spices, and the homemade ayib adds a rich, creamy texture and just the right amount of salt. This is the rhythm of the restaurant: just as you're mopping up the last lentils, more patrons walk in, mostly in groups, and order their own platters of color on gigantic spreads of injera.
Dama was no instant success. Owner and pastry chef Almaz Dama, along with her sister Yeshi, were students at Howard University when the revolution in Ethiopia broke out in 1974. Some family members safely immigrated to the U.S. as refugees, but many, including brothers and cousins, lost their lives during the uprising and ensuing civil war.
"Life was not easy," says Almaz. "We studied during the day and worked odd jobs at night – as maids, bussers, waiters, and bartenders. Everything was different, and we had to adjust to survive."
For those that came to the U.S. as refugees after the start of the revolution, the road to settlement was smoother, as permanent resident status was easier to obtain. On the contrary, for international students like Almaz and Yeshi, who were residing in the U.S. with student visas before the revolution, jobs and permanent status were hard to come by. After years of saving, the siblings first opened a restaurant in 1983, a small cafe inside the Veteran's building in D.C., but the establishment struggled financially and closed four years later. After that, everyone went their own ways, until Almaz's younger sister Kelem opened Dama Pastry & Restaurant in 2000 at its current location on Columbia Drive.
The late Dama Nademo, the family patriarch and Almaz's father, was a respected businessman and humanitarian in Debre Zeit, Ethiopia. Among other things, he was revered for leading many Gurage tribe members out to the cities and providing them with good-paying jobs and educational opportunities. "When my father passed away, my uncle opened a restaurant in Ethiopia by the name of Dama, in honor of my father," says Almaz. "That restaurant was a success. So when we opened our own Dama here in Virginia, the Ethiopian immigrants were already familiar with the name and became regulars."
So it's not just about food. It's about history, culture, survival, revival. For a sense of the political salon that is Dama, head just next door to Dama Bakery for a cappuccino.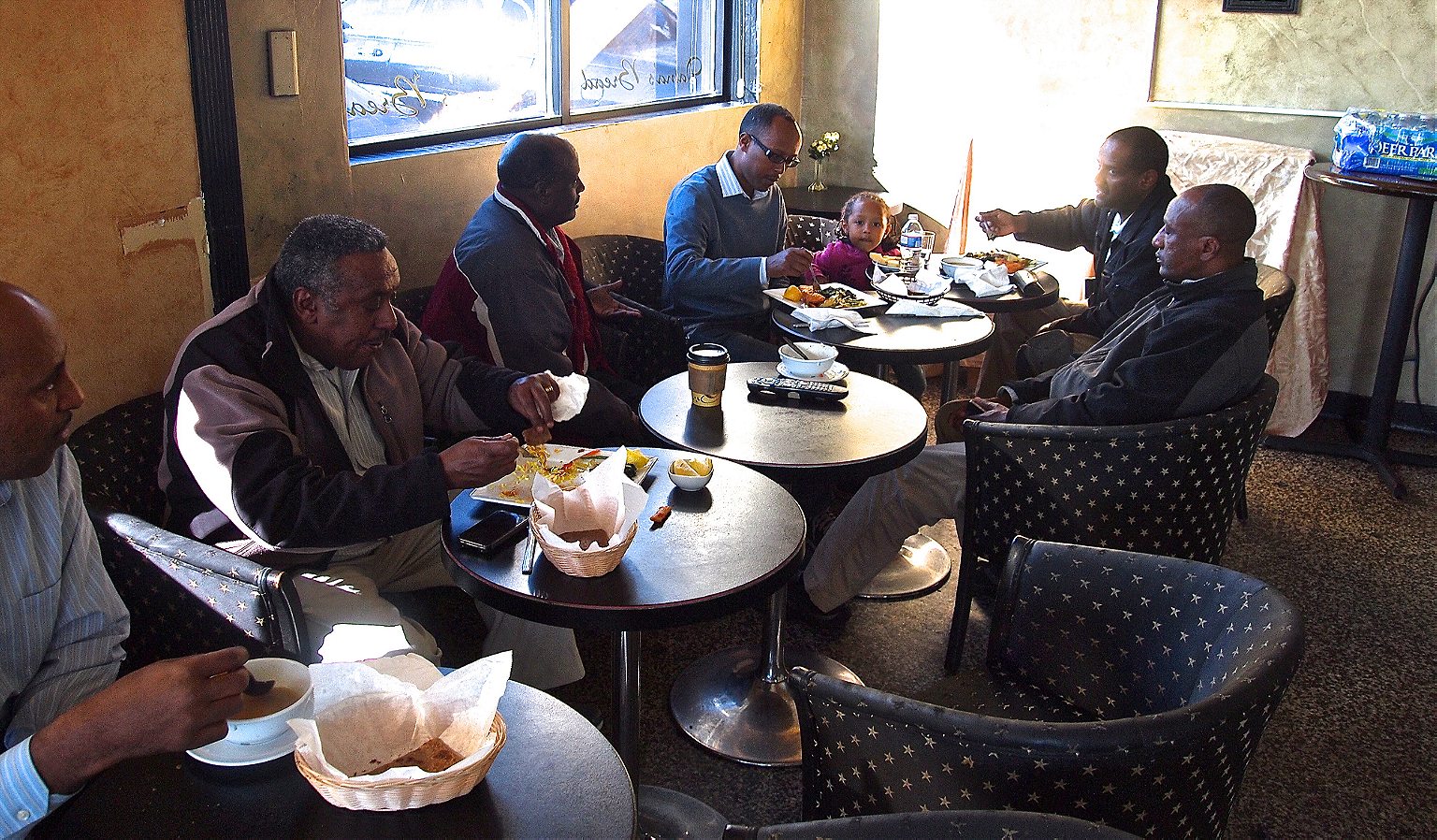 Fried Fish and Buttered Coffee
A 20-inch television hangs on the back wall of the Dama Bakery, flashing images of billowing smoke columns, mountains of crumpled concrete in Gaza. You don't need to understand Ethiopian to figure out what the cafe patrons are talking about: Heads swivel back and forth as animated voices fight to be heard. Bread and spoons in hand, the conversation this early afternoon is all Gaza.
No written menu and no tablecloth. That's how it's been for the past decade at Dama Bakery, the lesser-known (and less traditional) extension of the Dama Pastry & Restaurant. No matter: as so as you choose a table and take your coat off, the friendly Almaz Dama will greet you with her flashing smile. Fresh fish is today's menu: pan-fried salmon or tilapia, or perhaps Alamaz's famous fish cutlet. A moment of indecision and then she offers: "The fish cutlet is good, you'll like it." The lady has spoken. Cutlet it is.
First comes the vegetable soup, simple yet soothing in the way that onions, carrots and garlic that have been simmering for hours can be. There's a strong kick from the fresh black pepper, and eaten together with wholesome flat bread, the soup is an excellent meal in itself.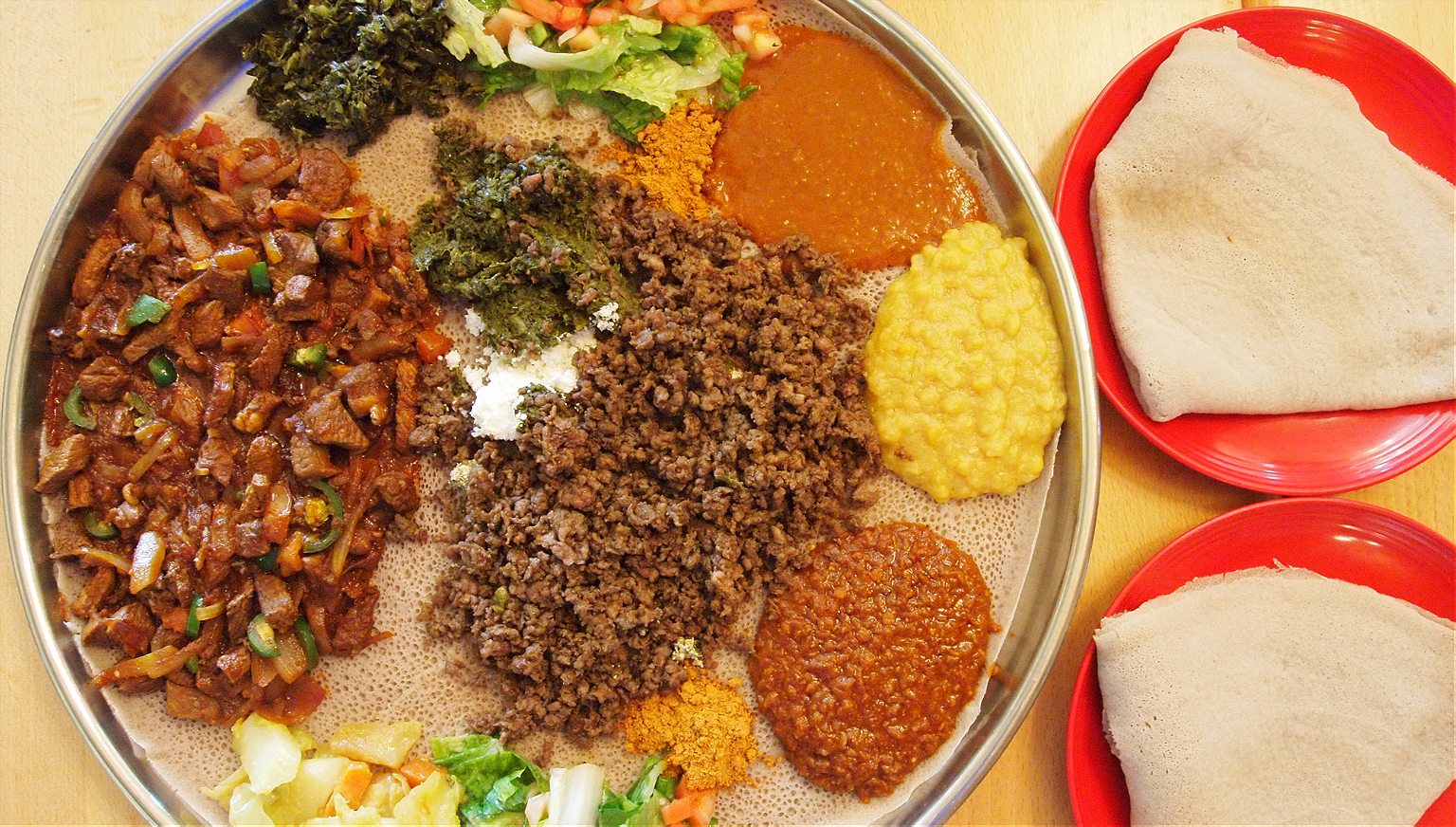 Then comes the cutlet. Fresh tilapia fillet, crusted with a generous layer of bread crumbs, fried to a crispy, golden hue—perfection. No tartar sauce, Tabasco or Sriracha needed. Just a dash of lemon across the still-steaming fillet, and it's all light, moist, and fresh. The sides of steamed carrots and string beans, steamed yellow rice, and lightly seasoned chopped collard greens surround the fillet in generous portions. Pretty incredible for working man's fare, a cabbie's lunch.
A group of four or five cab drivers enter jovially, exchanging hugs and kisses with Almaz and the waitstaff. They pull together a couple round tables in the corner of the dining room, chatting lively—again, about the Gaza shelling—as they await their food. Even for the solo eaters, it feels like a holiday family gathering.
"The cab drivers want to eat healthier, lighter meals. So they often come here, enjoy the food, and have a good time, relaxing before heading back out again," says Almaz.
"Driving and sitting all day makes it hard to digest heavier food," says Yiheyis, a cab driver who immigrated here in 2004. His plate is full of flatbread and stir-fried tofu. "Some cabbie friends do go next door when they want Ethiopian food, but some of us prefer the lighter dishes here."
After lunch, Yiheyis and his friend Teshome head over next door to Dama Café for coffee. Lattes are their drink of choice, but you might find, like I did, that the double-shot espresso is a more a perfect match with Almaz's delicate Italian rum cake. "Macchiatos are most popular in coffee shops in Ethiopia," says Teshome, a cabbie who immigrated to the U.S. in 2001. "But in our homes, we drink black coffee, three times a day, straight out of a jebena." Italian specialties like macchiatos and cakes were embedded in Ethiopian cuisine since Italy's occupation of the country in the 1930s, but the Ethiopians have made coffee and cake into their own ritual. It is now an integral part of their daily routine.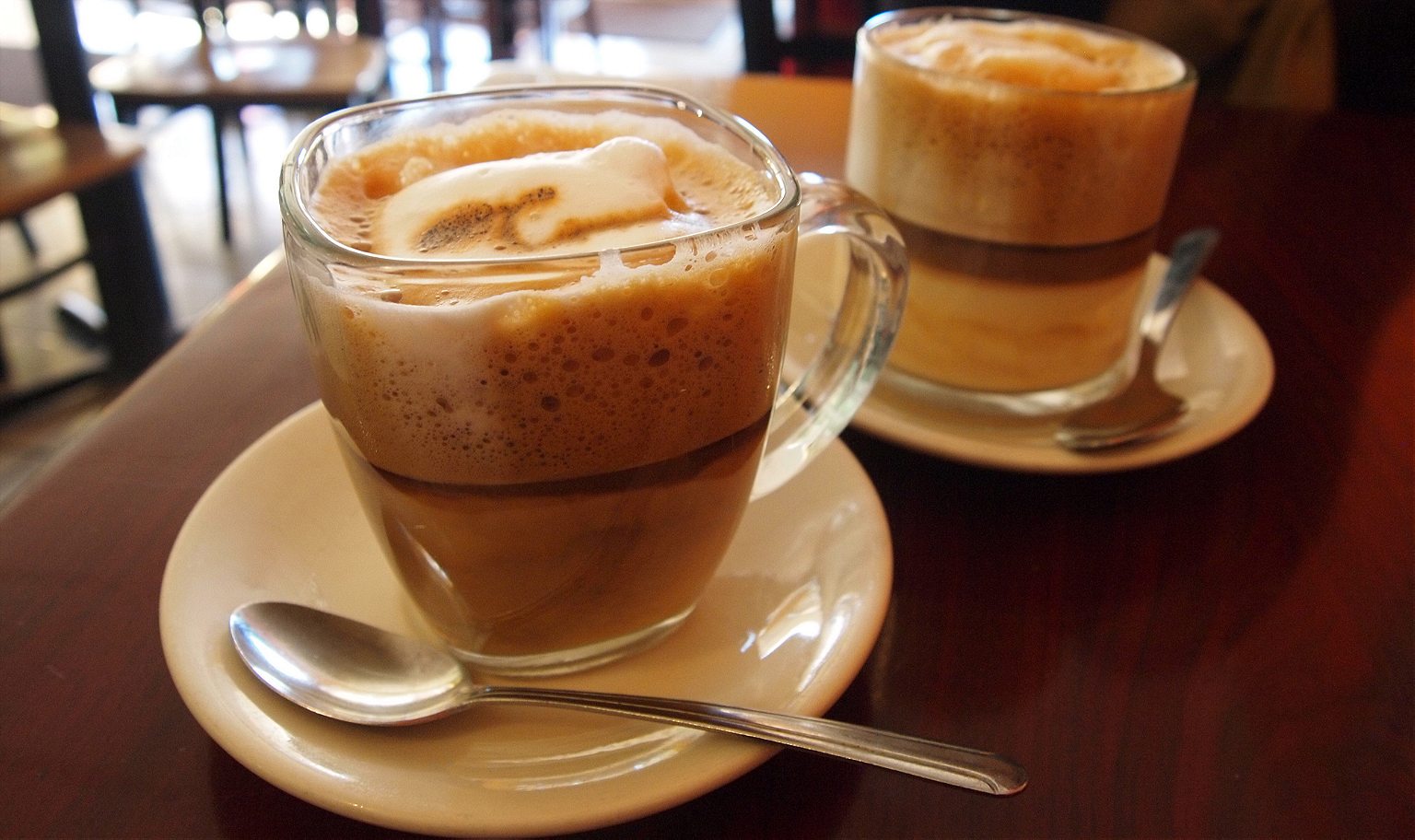 Dama's cakes are sprinkled with magic pixie dust—feathery bites of flour and sugar, knock-out punches of vanilla and rum. Baking runs in the family, as Almaz's father, Dama Nademo, used to bake for the Ethiopian Air Force. Almaz grew up smelling fresh cakes and pastries in the family-run bakery, as she spent countless hours there as a child. Her pastry passion continued here, as she studied under Chef Mesnier Ronald, a White House executive pastry chef, while at L'Academie de Cuisine.
"Coffee plays a huge role in our culture," says Teshome. "Ethiopia has some of the best beans in the world, and everything we drink there is fresh and organic. During the holidays, or when we entertain guests, we prepare a special black coffee with organic butter."
[Note: do not try this at home! Teshome warns that regular American supermarket butter would just ruin the coffee]
Asked why he returns to Dama, Yiheyis puts it simply: "We feel at home." Just as Dama Nademo had provided refuge and hope in Debre Zeit all those years ago, Almaz and her siblings are doing just that, right here in the heart of Northern Virginia.
Sung Chang is a DC-based lawyer and sometimes ruthless eater of offal. He blogs at I Am Not a Lawyer.