The Big Gay Bar on the Hill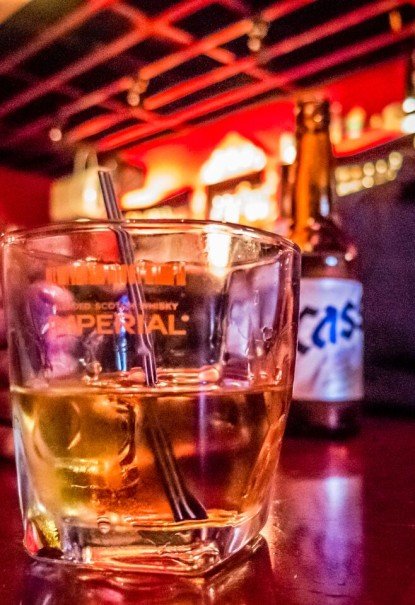 The Big Gay Bar on the Hill
Whiskey in Itaewon
Seoul's foreigner ghetto of Itaewon is in a constant state of flux. The old GI bars, cheap boozers, and brothels have almost all been replaced with upscale French bistros, Spanish tapas bars, and exorbitantly-priced microbreweries. More and more foreign factory workers, English teachers, and U.S. Army privates can't afford to be here, and they're being replaced with Korean and foreign yuppies, who can.
But, in the area known by the anachronistically offensive and bewilderingly uncreative name of Homo Hill, off Texas Street, life is the same as it's been for over 20 years: really gay.
At Only Homme, near the top of the Hill, I enjoy a Jack Daniel's on the rocks. Koreans tend to pack their drinks with ice, so I insist the bartender put in "only a little," and he listens. At 10,000 won a glass (about $9) he'd better.
Only Homme is a long, dark, railroad bar, with a length of small tables on one side and the bar on the other. The walls, tables, and rafters are all painted red, and above the tables are hung large mirrors in gilded frames. The bench is made of vermillion velvet. On the opposite wall, near the bar, two grinning Barbie dolls hang on strings, positioned as if falling through the air, doing the splits. The whole bar is lit with three frosted lightbulbs.
It is a quarter after midnight, and outside the crowd is beginning to grow. In the summers, the bars of the Hill—Only Homme, Soho, Queens, Oz, others—spill out over onto the road. It's narrow and the no one drives on it. Only Homme is open to the road, and the people by the window hang their arms out of it, greeting their friends.
An adorable Korean guy with a shock of dyed-blond hair tries to get people in his bar. A bearded Englishman smokes a cigarette alone outside. A group of Korean girls run laughing through a doorway. A large, bald, black American and a tall, white girl from New Zealand squirm their way onto a balcony. Groups of men mingle together, touching and laughing.
Across the street at Soho, a dance bar where they play an endless rotation of Beyoncé, Katy Perry, Lady Gaga, and, of course, K-pop, a group of drag queens arrives from Craftworks Taphouse. Craftworks (not on the Hill) has just finished hosting a drag show, a fundraiser for the Rainbow Teen Safe Space, an LGBT teen drop-in center local activists are hoping to open soon.
Although attitudes are changing, for most Koreans, being gay is not OK. This year's Pride parade, though the largest ever, was also met with the largest ever Christian counter-protests. Confucianism and nationalism have been important in keeping LGBT life underground, but the surge in evangelical Christianity over the past fifty years has been the biggest obstacle to progress.
But on the Hill there is no persecution, at least not for being gay. Christian protesters won't come up the Hill at night, and so everyone is relaxed, dancing and swinging, smoking on the balconies and looking to hook up. There are Koreans and foreigners, English and Korean is spoken, and all races mingle.
Apart from the male gay contingent there are women, most of them straight, friends, allies, and refugees from the bulging mass of testosterone that is the rest of Itaewon. And there are the straight men like me, who come up for a variety of reasons: to accompany gay friends, to chill somewhere a little different, to see a minority culture in a country so devoid of minorities.
At 2 am we decide to move on. We walk down the Hill to Texas Street, then onto Africa Street, and then to the Wolfhound, a largely straight Irish pub, where the double Jameson's are a more reasonable 7500 won. But it's just not the same as the Hill.