Relying on the Kindness of Strangers in Asia's Largest Spice Market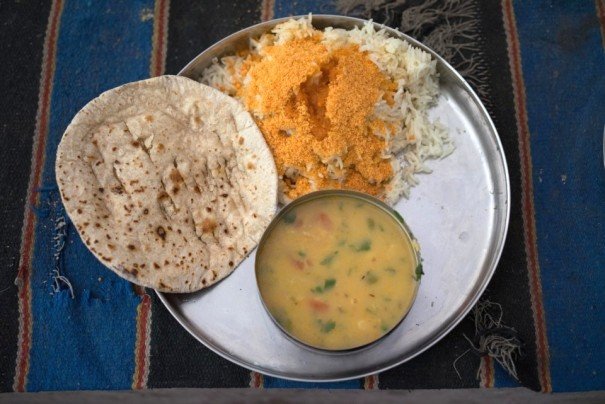 Relying on the Kindness of Strangers in Asia's Largest Spice Market
Masoor Daal in Old Delhi
"To fill our bellies, we look for work outside. Our fields no longer provide a livable life," says one spice porter—paladār in Hindi—on a hot and humid pre-monsoon Sunday in June.
I come to Old Delhi when I am not traveling the country, capturing the stories of women farmers. And I return, repeatedly, to document the spice porters, as they wish, in photos. Most spice porters of Khari Baoli are former farmers. They descend from a long line of agriculturalists. No longer able to make ends meet, they migrate to Old Delhi, following the trail of family members in search of jobs.
Gadodia Market building, the nerve center of Asia's largest spice market, located in Khari Baoli in Old Delhi, is where many porters not only work but also live. The men, from Bihar, Kashmir, Rajasthan, Madhya Pradesh, Uttar Pradesh, and Nepal, merge in the market, and from the market they heave the spices on their backs. They transport all types of spices, seeds, and herbs in and out of the Gadodia Market building. Each porter may work for one, or several, trading companies. Separated from family, newly dislocated youth or older porters, all create community, out of necessity. On Sundays, their only day off, each moves, cooks, cleans, and preens a bit slower, and hauls a bit less.
In the fall, I met a longtime porter—Rotash, a Rajasthani—whose father had worked in the market before him. He works with only two other porters for a trading company that sells tamarind. On one Friday visit, Rotash says, "Come on Sunday, we have no work, and eat breakfast with us. We'll cook for you, a simple Rajasthani breakfast."
The market is quiet on Sundays. The building, grand and decrepit, full of color and dirt, encloses a rectangular courtyard that houses older spice stores. The colored metal doors are tightly shuttered. Large and smaller groups of men cook a big meal in the outdoor makeshift kitchens. In between cooking, they bathe from buckets, banter, wash and scrub their clothes, nap, shave, and cut and trim their eyebrows, mustaches, and beards.
Mahesh cooks breakfast on this morning. Ghee covered and smothered the warm roti. Fried garlic, ginger, and green chili paste formed the taste foundation of the masoor daal that was laced with cut tomatoes and fresh cilantro leaves. Coarse gur powder, minimally processed cane sugar, sat atop a mound of boiled rice and melted into steamy sweetness. And I was grateful for the kindness of strangers, for the generosity of those who have less, and how, always, they give more.