To salvage a disastrous surf trip to Norway, Eric Greene laced up his Vans to climb gorgeous peaks and embark on a cross-country trip.
There's a lot on my mind as I bob in the frigid water—namely, that my two-week trip's itinerary is falling apart before it even starts. The Australian surfers I've traveled to Lofoten, Norway, to meet are back at the surf camp, scouring the Internet for immediate flights to France. They've been here a week, so the novelty of surfing at night has worn off for them. I'm a little jetlagged and a lot wave-starved, and floating alone on top of the black water offers some mind-clearing reverence.
This time last night, I was in New York City, sitting on the A-train en route to JFK airport to hop a flight to Oslo. From there, a smaller plane brought me to Bodø and an even smaller plane took me over an Arctic fjord to a place called Leknes on the Lofoten Islands archipelago. Now I'm sitting on a surfboard, dressed in six millimeters of neoprene and waiting for a wave to roll under the midnight sun. Problem is, there are no waves. Instead, every 20 minutes or so a pulse from the North Atlantic offers a shore-bound lump just big and fast enough that I can stand up on my board for a moment.
Like many surf trips, this one was booked on short notice. The plan was to meet a group of professional surfers and cameramen in Norway, where we'd spend a week exploring the coastline of this rarely surfed area. The second week would be spent on trains, traveling through Norway from top to bottom and ending in Oslo.
Mother Ocean had different plans about the surfing part.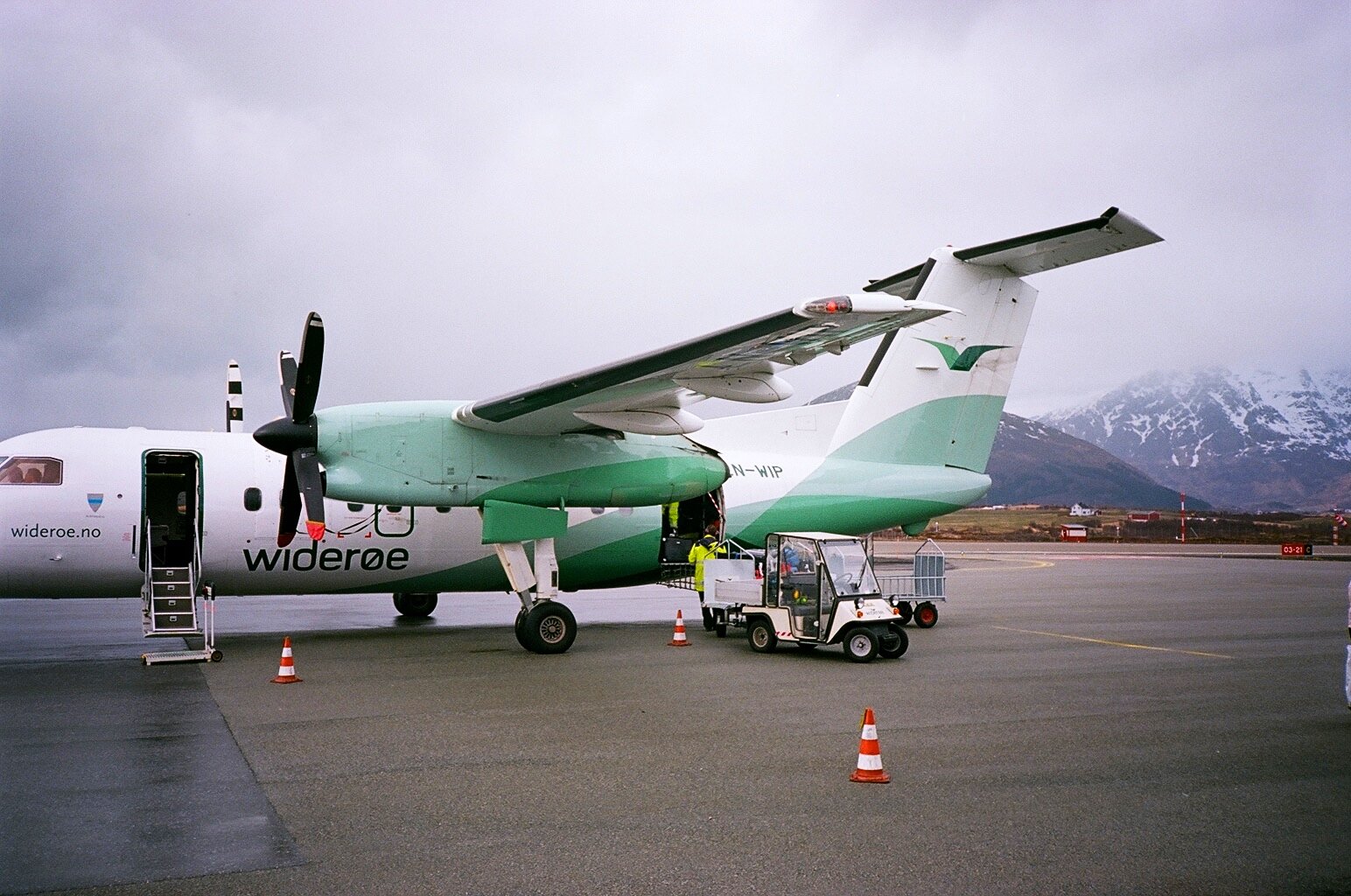 Exhaustion from the long trip starts to hit me here, so I decide to head back to land and the warmth of the camp. Paddling into another small lump, I glide toward the white sand beach and walk into the field to the red cabins Unstad Arctic Surf.
The camp is designed for traveling surfers, although it remains largely unknown in the surf community. In the morning, my hosts, Tommy and Marion, are brewing coffee and baking eggs when I climb out of my bunk. Both from the north of the country, they opened Unstad 11 years ago and offer seasonal accommodation, rentals, and surf lessons before the endless daylight turns to endless darkness and they relocate to Hawaii. There's supposed to be an annual longboard contest today, but considering the condition of the surf that seems impossible.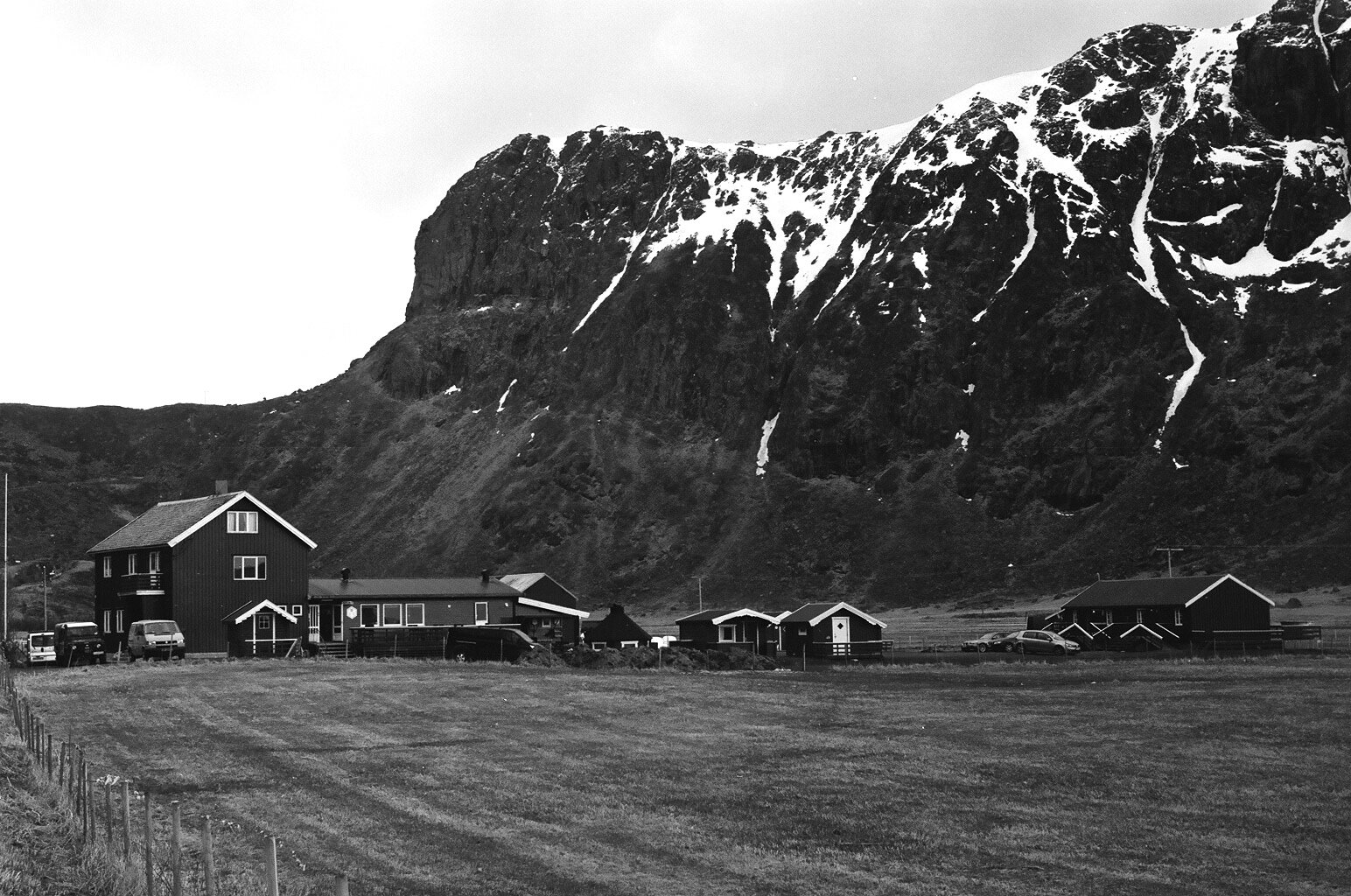 People have been surfing in the arctic for decades, and northern Norway has its own history of surfing pioneers. With the growth of global surf culture in recent years, more adventurers are traveling to remote spots in search of new waves and fewer crowds. Advancement in wetsuit technology now allows surfers to spend more time in colder water, leaving almost nowhere on earth unsurfable.
The Australians are panicked and suffering the early symptoms of cabin fever. As professional surfers, their livelihoods depend on quality waves, and though there were many waves when they arrived, there are now virtually none and the boys are crawling in their skin. The videographer has been working on a film for the past year that will highlight some of the world's best surfers in the coldest locations, but this trip has turned into a bust.
"We're leaving today," the videographer says when I join them in the kitchen. "We have to find waves. We're going to France."
"I found us tickets to fly to Oslo this afternoon," the photographer says. "We can figure out the next flight when we get there. Hopefully to France, but maybe Scotland." The photographer is on assignment for a mainstream Australian surf publication—one that has footed a heavy bill of travel costs and expects their lens man to return with something good.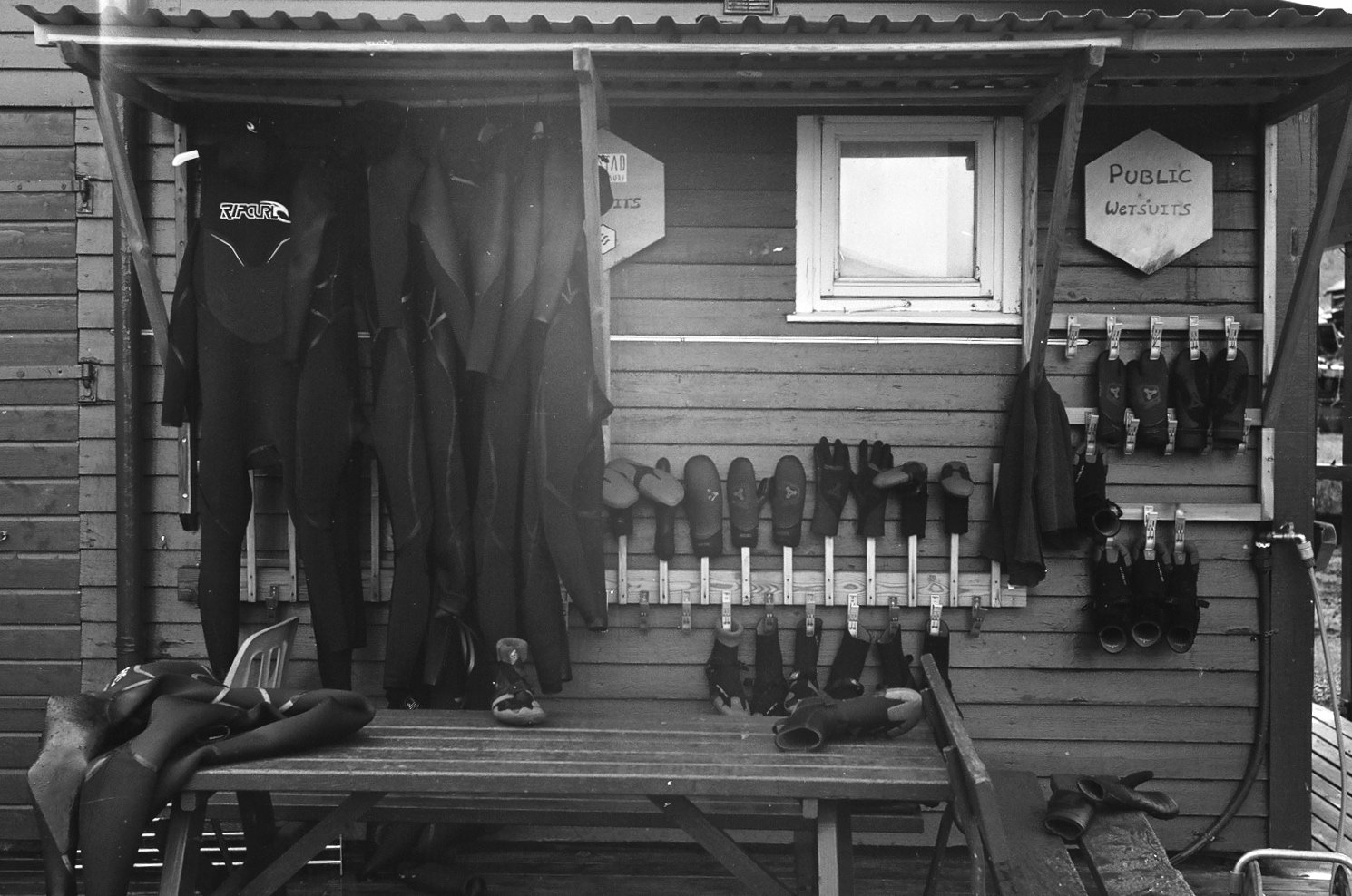 I contemplate the drastic itinerary change for a moment. I've just arrived and it's my first time in Norway. I've been to France many times. "I think I'll stay for a few days," I reply. "Maybe I can catch up next week if you find waves."
A few hours later they strap surfboards onto the roof of a rental car and drive to Leknes, where they'll board a flight to Bodø and another flight to Oslo, and on to wherever the waves are. I stand in the gravel driveway waving them off and watch the Volvo recede into the blackness of the mountain tunnel at the end of the valley. When they're out of sight, my eyes drift to the top of the snowcapped peak.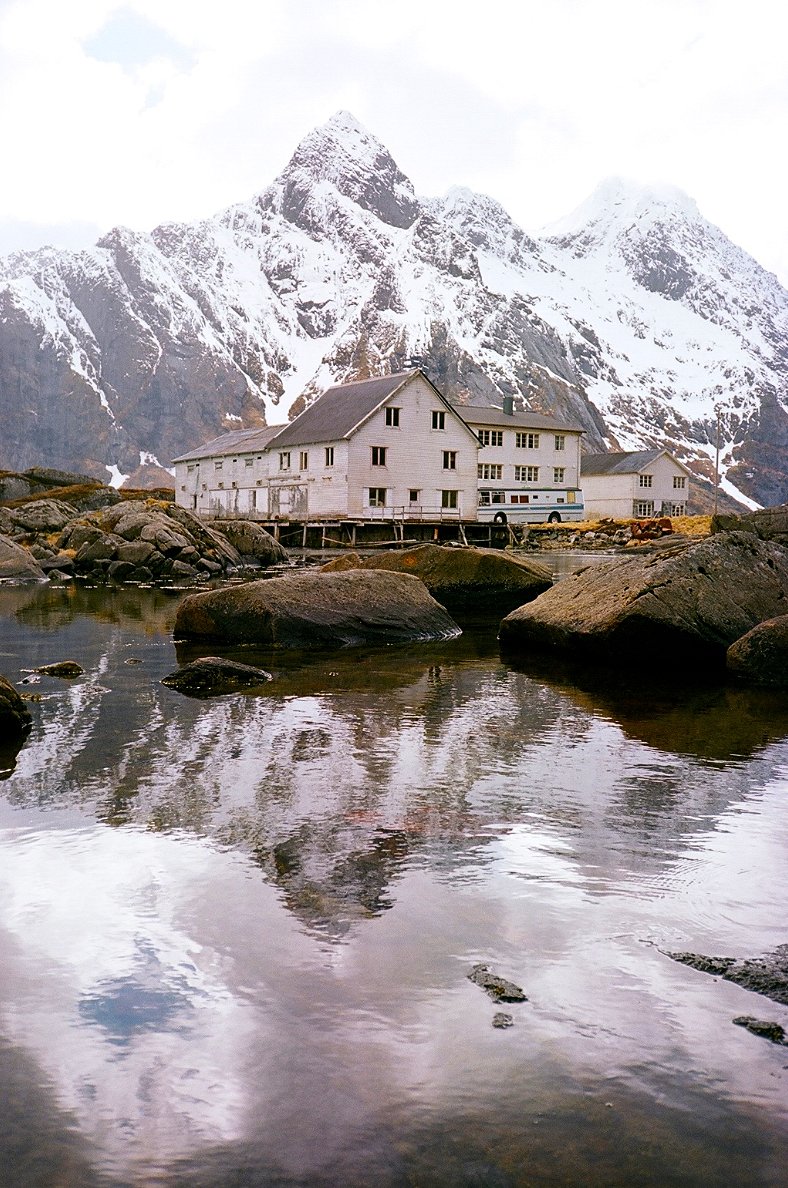 For the next four days, I hike mountains. I don't consider myself an avid hiker, which is obvious considering I live in New York City and the only attire I've brought to Norway is Japanese raw denim jeans and Vans sneakers. The elevation of the mountain range in Lofoten is around 1,000 feet, not necessarily a daunting task. I ascend, trudge back down to the valley, and start upward again on the other side, finding new viewpoints of what I'm convinced is the most beautiful place in the world. Every peak I conquer points me toward a different summit. I hike like a demon over black granite peaks and across knotted bays with out-of-place sand beaches.
I keep hoping that there will be waves over the next mountain, optimistic that the shoreline will eventually reveal a bay of beach break, a headland point break, or a deep-water slab, but my search is met with disappointment. It's painful to know that when the sea cooperates, there are waves around every corner of these islands. The most common phrase in surfing is, "You should've been here yesterday."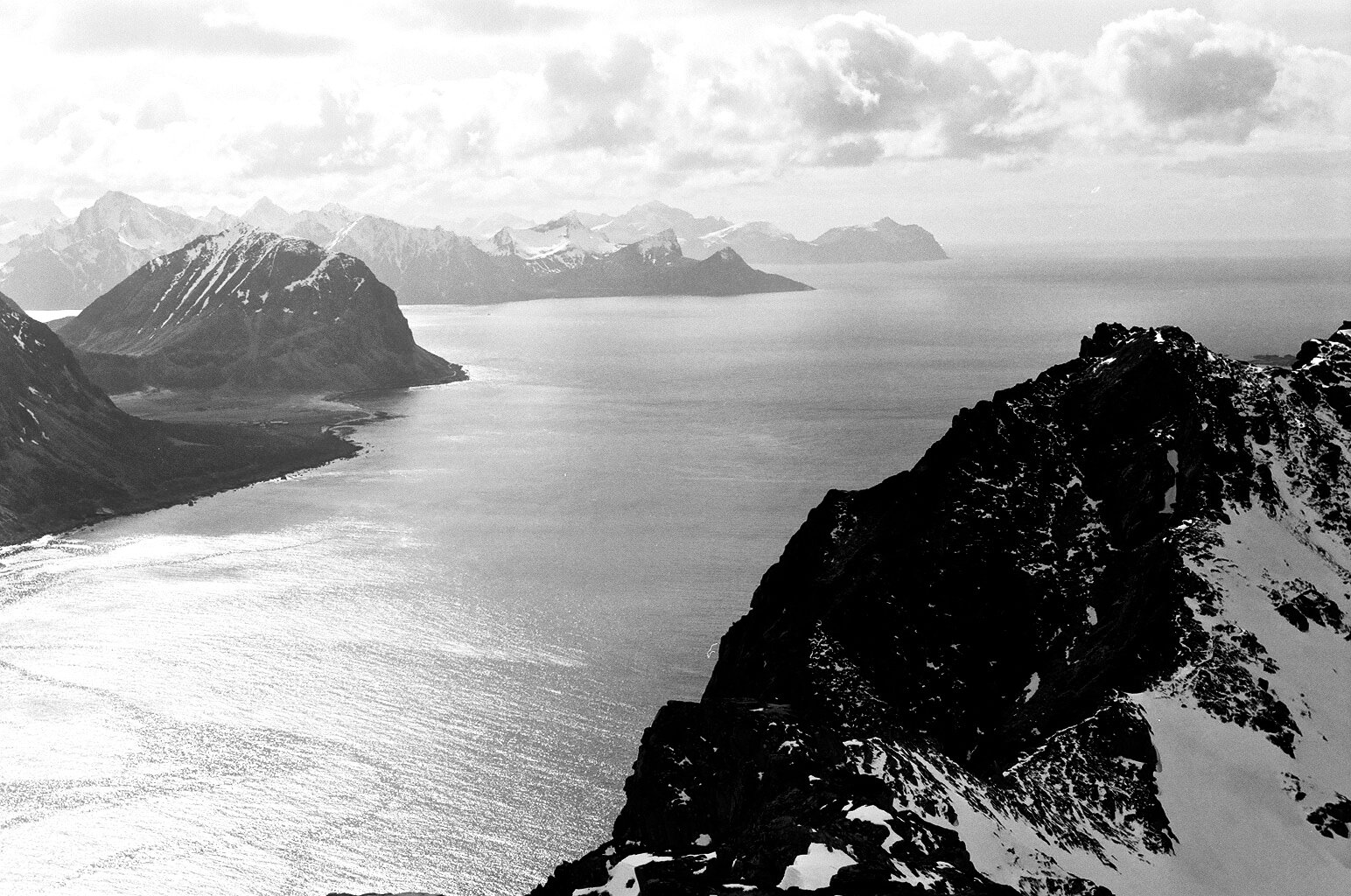 By the weekend, my feet are a mess of cracking blisters and my thighs are chafed raw from the thick denim, but I feel like I've accomplished something. The surf camp fills with visitors from the northern cities, here for the summer season opening celebration. A heavy metal band from Tromsø has come to perform (and surf). Thunderous music fills the main cabin and many stiff drinks are downed well into the bright night.
Waking up in a lonely bunk bed with a throbbing hangover is my cue to leave Lofoten and begin my overland journey south to Oslo. The planned week of surfing with the Australians to produce photos, videos clips, and a print story is a wash, but I'm still set on seeing this country, even if that means viewing it by myself from the window of a train for days on end.
Two of the camp guests with whom I stayed up far too late are packing longboards that never got wet into their 1970s Land Cruiser. They ask where I'm heading.
"The mainland," I say.
"We're heading to Bodø," the driver answers. "But the ferry from Moskenes doesn't run today, so we're driving north and taking another ferry before driving back down. Join us if you want."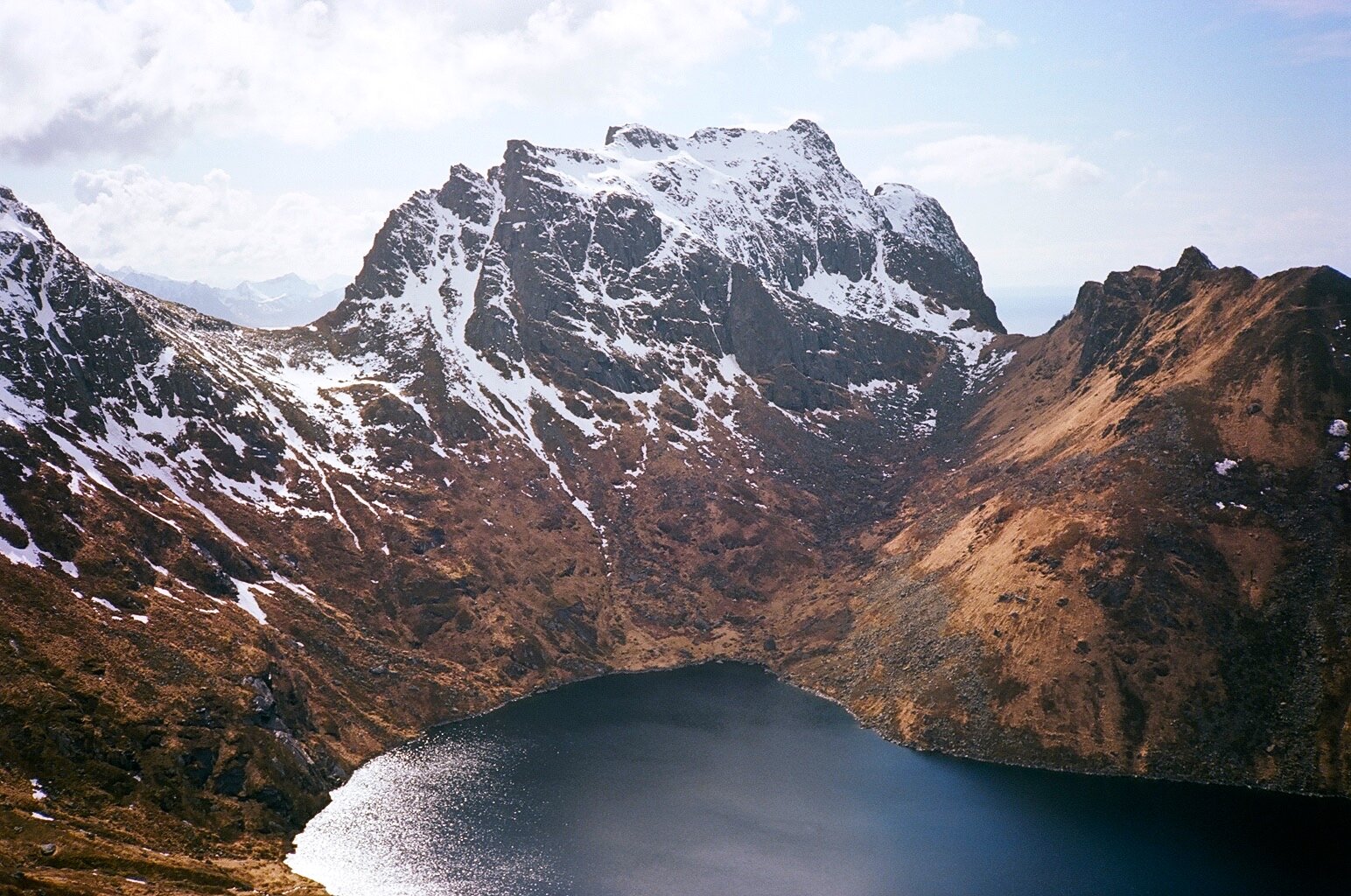 What was supposed to be a nine-hour drive turns into 11, but it's worth it for the scenic tour of the islands and the lengthy education about life in rural Norway. We drive along the edges of cliffs, over bridges and through tunnels to cross fjords, and wind around glowing arctic lakes and many more mountains. Much of the northern highway network was built under German supervision during World War II. The generations-old infrastructure is remarkable in the upper region of Norway, where cities with colleges, culinary scenes, and party venues dot the coastline all the way to the Russian border.
When we arrive in Bodø, a military city, my new friends drop me off at the train station, where we exchange Instagram handles and part ways. I board the empty overnight train and the exhaustion from a week of endless daylight, the 11-hour drive and ferry crossing, the hiking, and local practice of dinner at midnight followed by alcohol and hours of heavy metal music all hits me all at once as I sink into the seat.
The 730-kilometer Nordland Railway first opened in 1882 from Trondheim to Hell (yes, that's a real place). Construction continued north for decades, through German supervision during the war, and finally the track reached Bodø in 1962. The trip today includes luxury seating, complimentary WiFi, and passing views of dominant arctic remoteness.
The only thing I know about Trondheim is that there's a massive U.S. military cache here. As a midway point to the Middle East, several large caves burrowed into mountains outside the city are referred to as the "Marine Corps Prepositioning Program." Billions of dollars in weaponry, combat vehicles, and war supplies are at the ready for the next big mobilization.
But you'd never know about the caves when you step out of the train station into the colorful canal-lined streets of the small city. There's a stave church in Sverresborg, cafés on the Nidelva River, and a fjord in Østmarka. There's also a karaoke bar where you can stay up very late with college students and cover American glam hits from the eighties.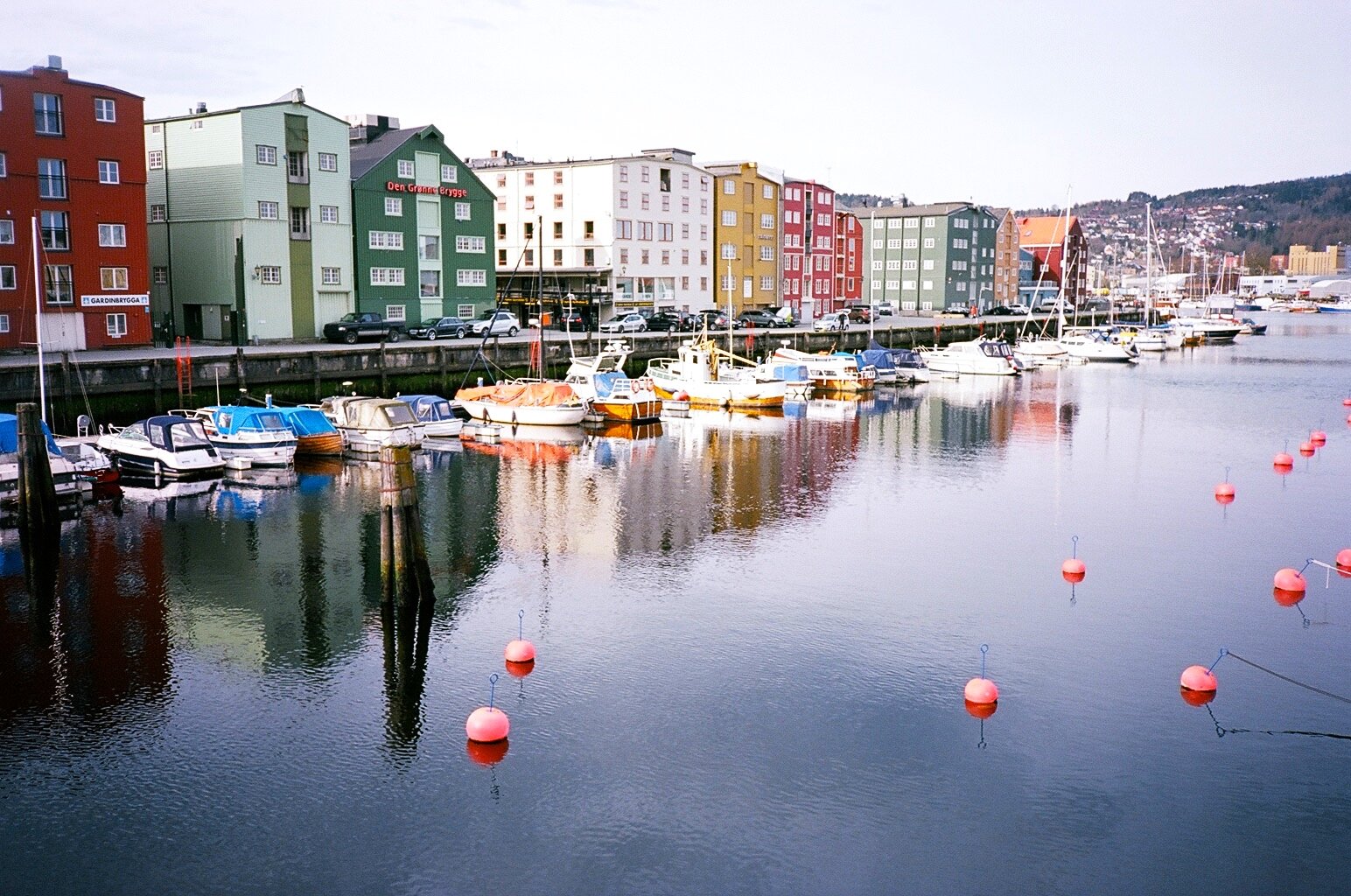 The Dovre Railway line reaches Oslo through the Dovrefjell mountain range and a handful of small towns with names like Dombås, Hunderfossen, and Lillehammer. Many passengers are commuters who sleep peacefully with eye masks and neck pillows. I stare out the window at the vast mountains, thinking about how I could be the first person to hike them wearing jeans.
After losing track of how many hours I've sat on trains, I arrive in Oslo. The once gritty sector of Grünerløkka is today a cool hub of lively cafés and small shops. It doesn't offer the crowd volume and vibrancy of Berlin's Kreuzberg or San Francisco's Mission, but it's a similar vibe of free-spirited residents and creatives who pretty much just relax all day.
I randomly meet some surfers at a bar and talk about surfing in Bali over $19 pints. Norwegians love Bali and surfers have a weird way of seeking one another out in non-surf metropolises. My surf trip to Norway has been a failure, but the adventure has given me a connection with the place. Getting skunked with waves is part of the game, so I make a promise to myself that I'll return for a second attempt.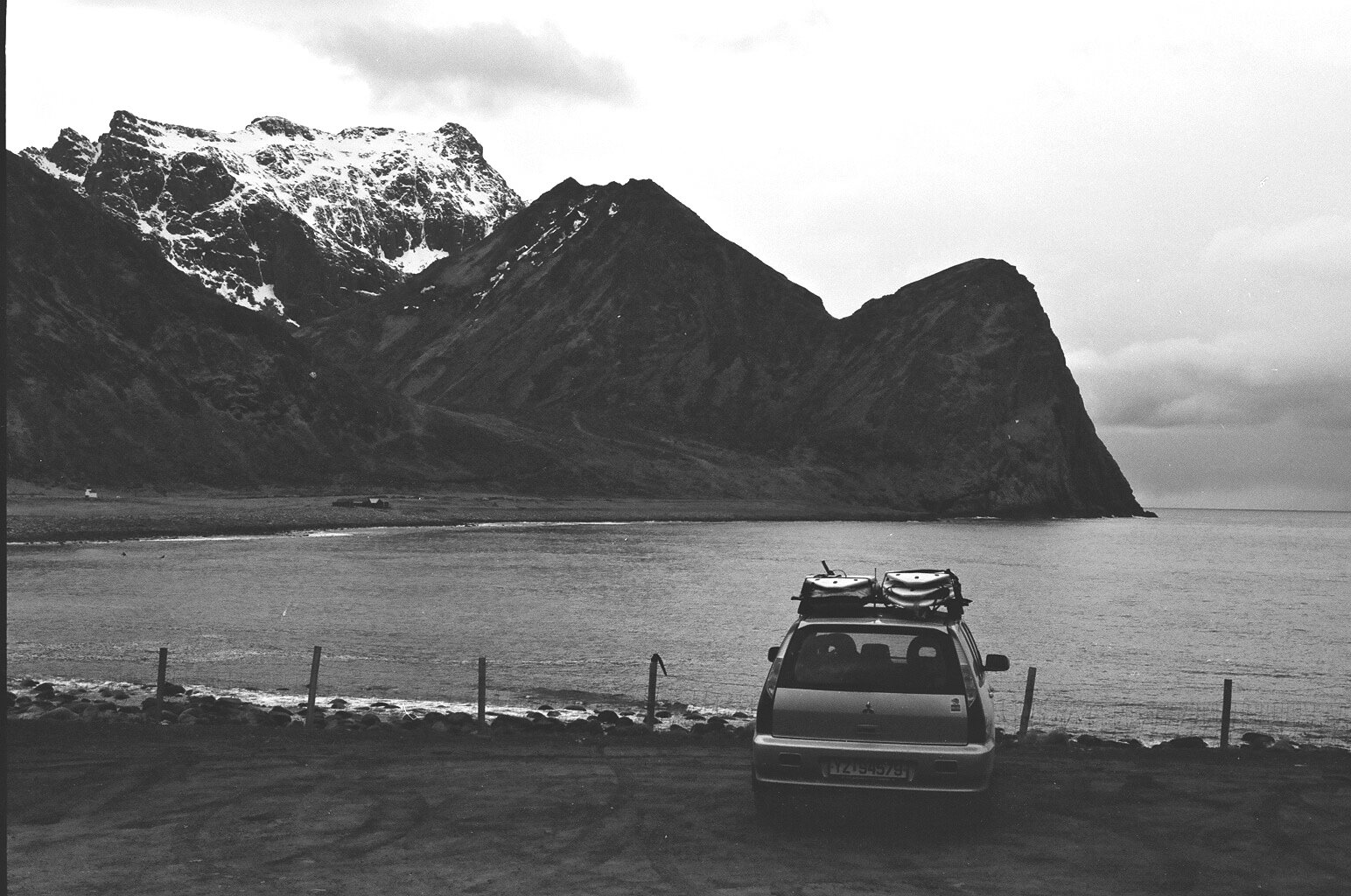 The airport shuttle bus is on time despite the heavy morning traffic, because that's the Norwegian way. On the drive to the airport I wonder if there will be any surf out on Long Island tomorrow. I message the Australians and let them know I'm heading home. I ask if they found waves and they tell me that they didn't make it to France after all because they couldn't get flights out of Oslo at short notice. In any case, the ocean has gone flat on all of Europe's Atlantic shores.
As they say, you should've been here yesterday.