By embracing the island nation's limitations, chef Gunnar Karl Gíslason and a network of Buddhist seaweed harvesters, arctic char smokers, and organic barley farmers are reinventing the local food scene.
REYKJAVIK, Iceland—
"Get in," said Gunnar Karl Gíslason, pulling up in a Land Rover Defender outside his groundbreaking Reykjavík restaurant, Dill. He wanted to take me to visit a few of the producers who helped put his place on the forefront of a rapidly changing local food scene, but he wouldn't tell me where we were going.
Before being named head of Danish food entrepreneur Claus Meyer's highly touted new restaurant in New York's Grand Central Station, Gíslason regularly drove around the countryside meeting micro producers. It was essential, he believed, that he understand the nature around him and meet the people directly immersed in it.
In Iceland, the elements have shaped the cuisine in ways that few other countries can compare. Fresh food was rarely available during the winter months. With just a few hours of sunlight each day few plants can grow, and the weather limits hunting and fishing. The cold and lack of drastic weather changes cause life to grow more slowly, infusing plants and shellfish with rich, deep flavors. Many of the old methods of preparing food, formed out of necessity, had the same effect, though sometimes to the point of overkill.
Every visitor to Iceland will learn about hákarl, the vile, ammonia-rich fermented shark meat that's served at every touristy restaurant. It's the culinary equivalent of fingernails being dragged across a chalkboard. But it gets worse with skata, fermented skate, which appears around Christmas. Skata's stench is so bad that people sometimes wear old clothes before eating, because they will have to throw them out afterwards. Some old timers swear by it, but young Icelanders avoid it like the plague.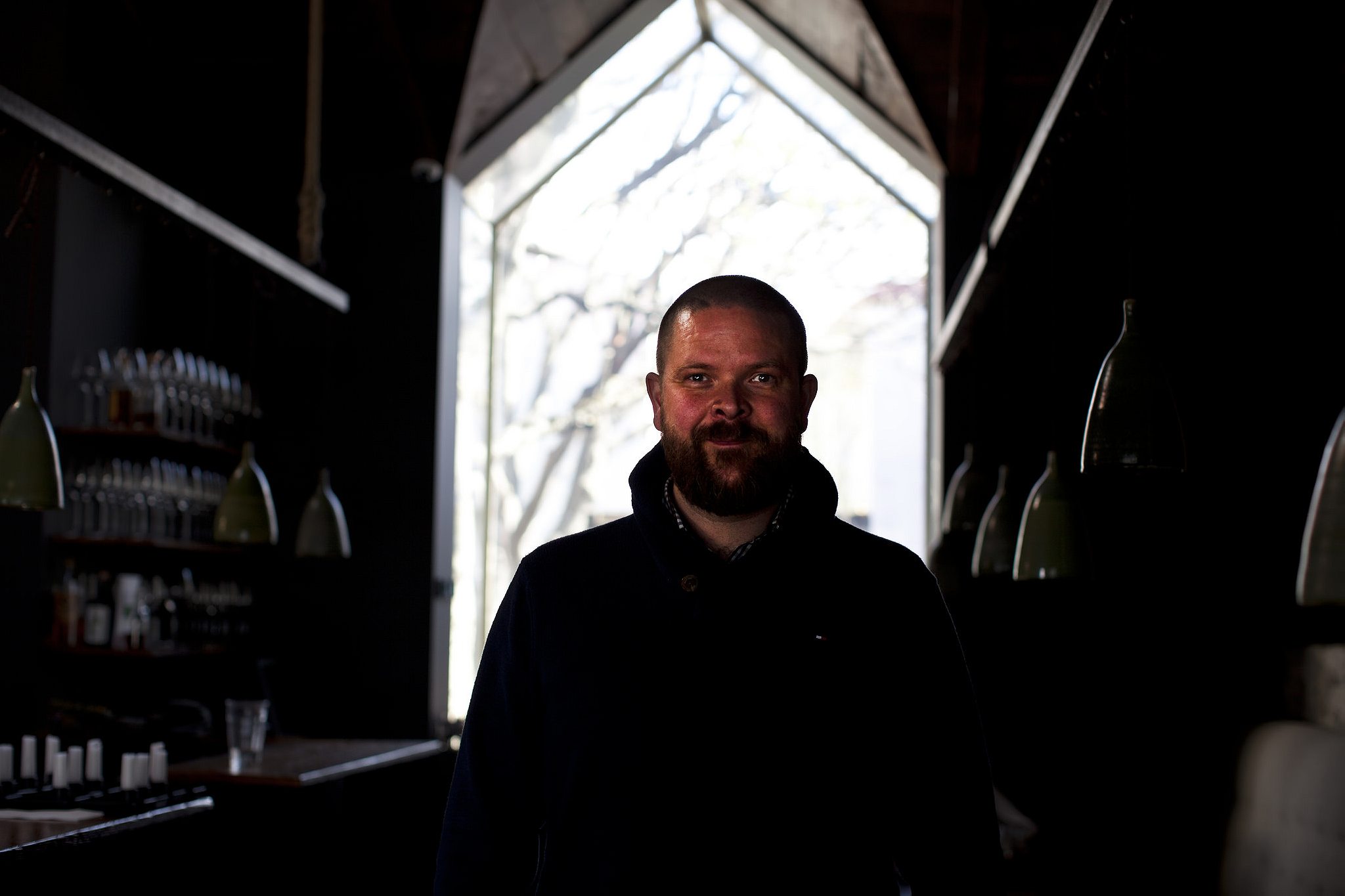 In the countryside, clusters of families survived in interconnected turf roof houses on subsistence farms that shared kitchens and used foods that had been preserved via smoking, wind drying, or pickling. Each had a bucket of whey where they would throw all of their leftovers in, effectively pickling them. Until a fishing boom in the early part of the 20th century, which brought newfound wealth and increased the availability of fresh products, Icelandic food was stuck in the Middle Ages.
The old ways of cooking and eating were largely abandoned. Recently, however, chefs like Gíslason have embraced Iceland's limitations, and in doing so have pushed the island's food scene to new heights. Between the winter, which lasts for about 8 or 9 months, and the summer, Dill's menu changes drastically. "I'll go as far to say it's not the same restaurant," Gíslason said as we drove north from Reykjavík. The summer menu is fresh, full of vegetables and wild herbs. It's sometimes altered on the fly based on whatever's at its optimal moment. "It's not something I really think about, but suddenly I will have three vegetable plates." Following in the tradition of Old Iceland, many of the ingredients produced during the summer have to last throughout the winter. Root vegetables that were buried in the ground, now infused with earth flavors, are dug up. Ramps, radishes, and other things that were preserved come out.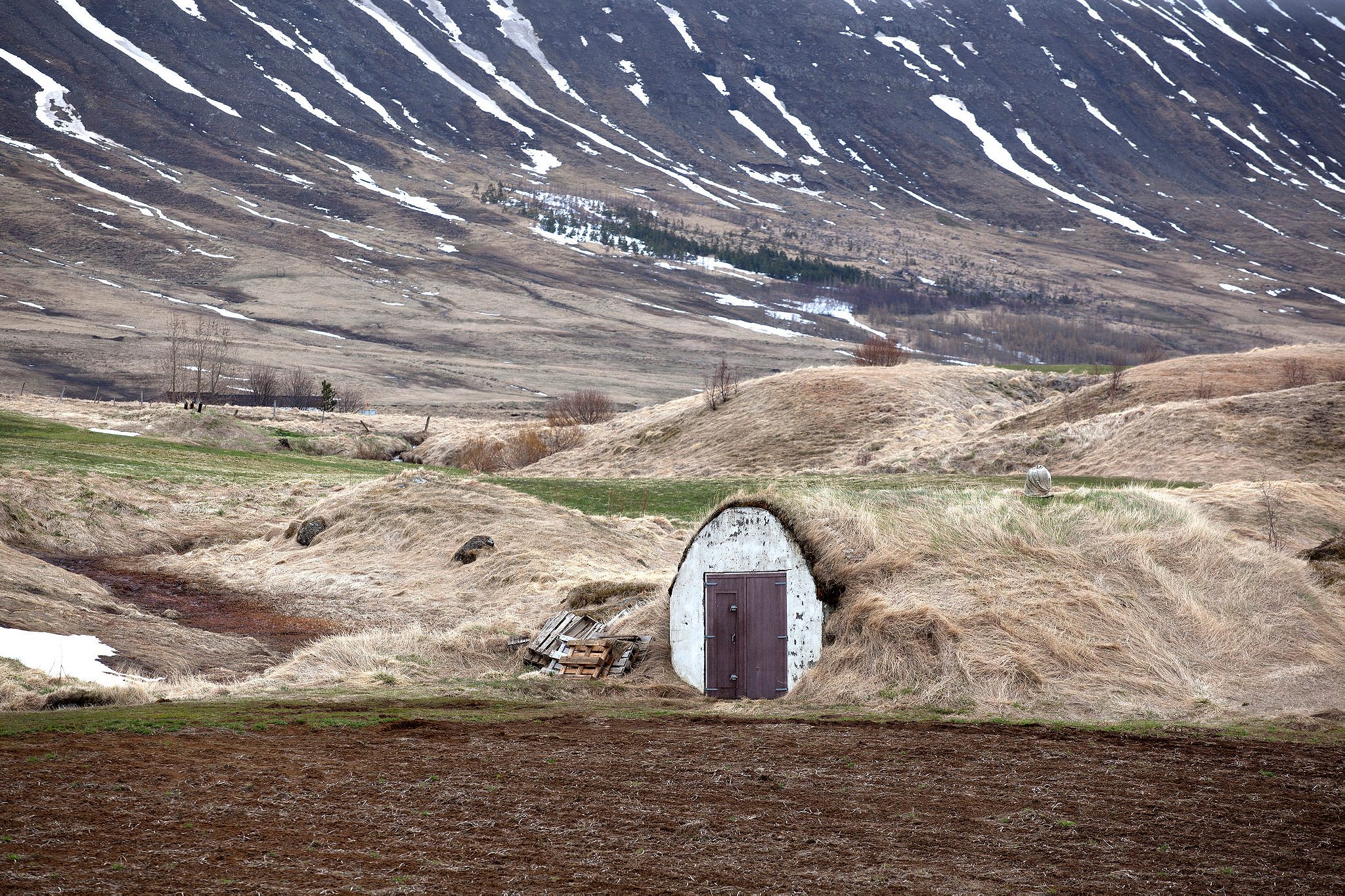 An hour outside the capital Gíslason still hadn't told me where we were going. I'm not even sure he even knew, instead following a vague hunch about where a few of his producers might be that day. Outside of Borgarnes, a laid-back country town beside Borgarfjörður and 75 kilometers from Reykjavík, we stopped for coffee to talk with Bjardi Pederssen, a sheep farmer, at his guesthouse. Pederssen had just delivered the last lamb and was getting ready to take the flock into the mountains, where they would stay, fattening up on Angelica and mountain herbs until September.
We continued on, passing between mountains and fjords, where the winter snow was still melting and the first signs of green were appearing on the volcanic soil. We eventually reach Stykkishólmur, a.k.a. Stykkish, a small fishing town and ferry port on the northern side of the Snæfellsnes peninsula.
"Every time I'm here Símon is doing something interesting," Gíslason said. After a series of phone calls and wrong turns we found Símon Sturluson, Iceland's best-known harvester of blue mussels. Sturluson is thin with gray hair, wearing a fleece jacket and jeans, resembling Paul Newman in the 1980s. We followed him to a dingy in the harbor that would take us to his island, which he had bought from a friend during one particularly heavy drinking session. During the 20 minutes trip to the island we saw puffins and a curious seal in the water; the area is as pristine and full of marine life as any place I've ever seen.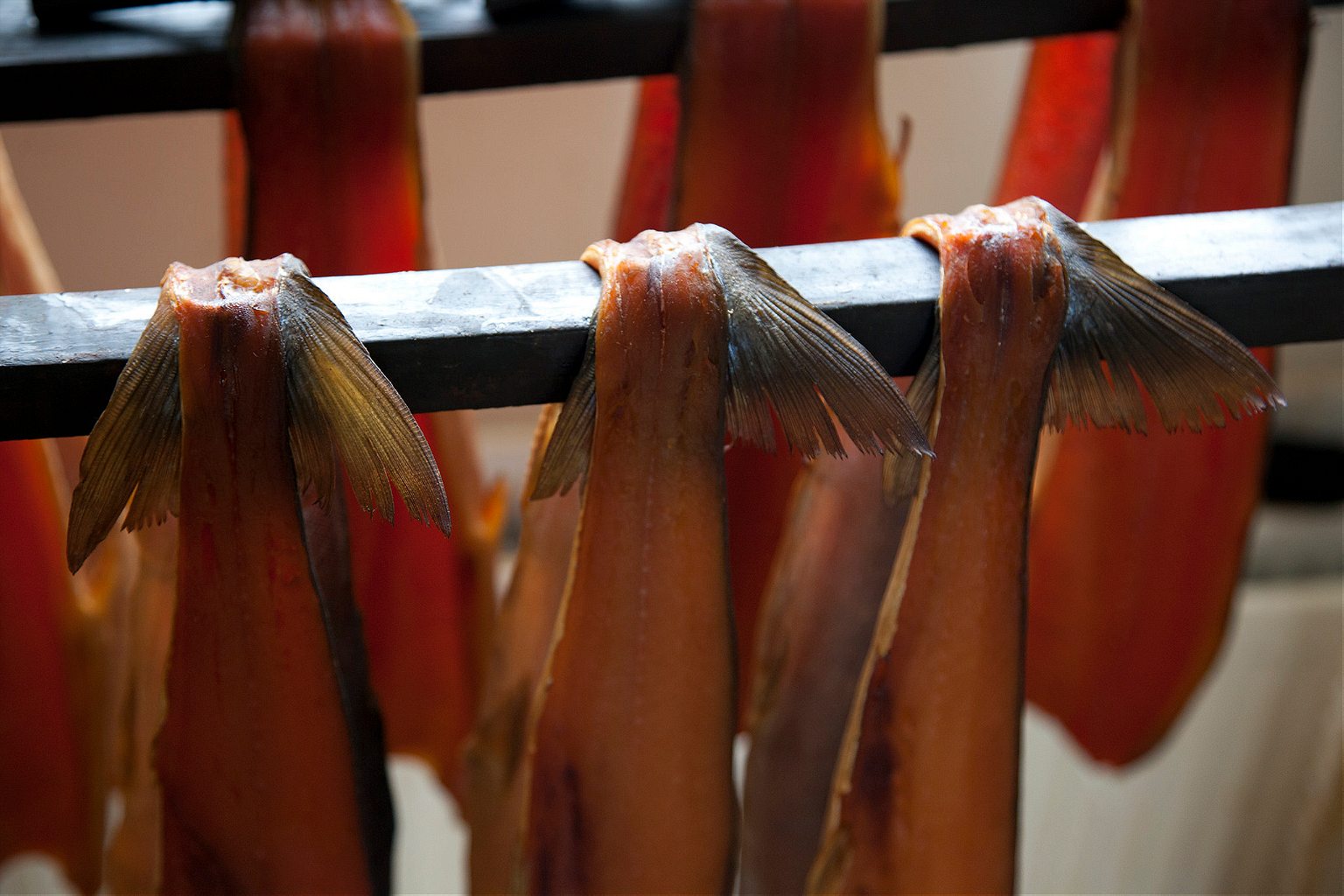 The introduction of blue mussels into Icelandic restaurants has been one Gíslason's proudest achievements. Their celestial blue shells thrive in Iceland's cold waters and the flavor is stronger, maybe even sweeter than other mussels. Yet, no one was eating them. Gíslason began serving them in 2010 and soon they began appearing on restaurant menus all over the country.
We tied the dingy to a rock and climbed up the steep green hillsides. We checked a few lines for mussels and then Sturluson and his partner needed to check on sheep, whose tending I was beginning to assume was a pastime for every Icelander. Several lambs were born that day and the umbilical cords were still hanging out of the mothers. Sturluson tagged their ears. Eventually he'll move them to another island.
But the main reason for our visit to the island was the Kittiwake, a type of seagull. It was egg-collecting season. Sturluson tied a rope to use as a harness and scaled down a cliffside. Hundreds of kittiwakes were squawking and flying about. The lower he went the steeper it became, until the descent was straight vertical. He wasn't tied to anything, his friend holding the rope with his weight was the only thing keeping Sturluson from falling, maybe 150 feet, into the icy water below. Sturluson passed the eggs to his friend via a long pole with a felt pouch made from an old ski hat. One thought kept popping up in my head: He's fucking nuts. I was afraid of dying just taking photos of him hanging there.
He only collected a few dozen, which were placed into two supermarket cardboard egg crates. He insisted that I eat an egg raw, then cracked one open and slurped it down himself. The window for collecting the eggs is a matter of weeks. The kittiwakes will lay more, though Sturluson only collects the first batch. The eggs need to be picked before the fetuses develop, and the harvesting needs to be timed so precisely that they are there the day that the eggs are laid.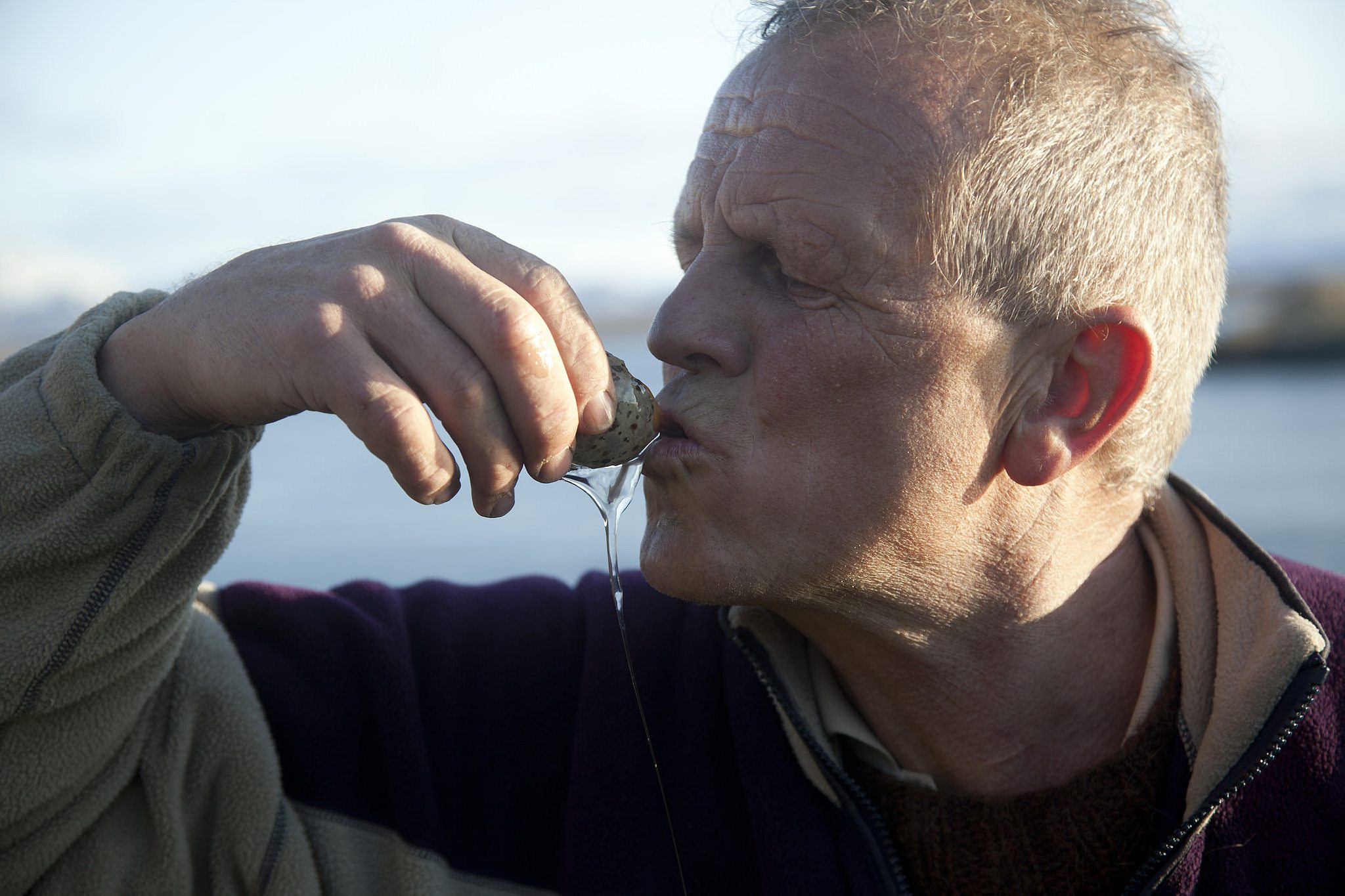 I've known Gíslason since 2010, when I traveled to Reykjavík to write about the city's restaurant scene, which had become newly affordable because of the sinking value of the krona. Dill was the only truly interesting restaurant I found. It was a year after it opened and it was already getting great reviews and had been written up in the New York Times Magazine, which aligned it with the New Nordic movement. Despite launching months after the country's economic crisis, the restaurant, then set in the Alvar Aalto-designed Nordic House, seemed to be doing well, although it was long way from Gíslason's original vision for Dill.
Before opening Dill, Gíslason spent three years in Denmark where he worked for Chef Erwin Lauterbach at Michelin-starred Saison. That stint was followed by several other two star restaurants, followed by a head chef position at Vox, a modern Scandinavian restaurant inside the Hilton Nordica hotel. He left Vox and was hired to open his own restaurant, but before launching it burnt down and Gíslason eventually made his way back to Vox.
Dill was always in his mind, but he imagined it differently than the way it would eventually turn out: A small bistro set in an old, decrepit house with mismatching chairs. He might even be the only one working there, both cooking and serving the food. There was plenty of money flying around Reykjavík at the time and he was able to find some investors, but as quickly as things seemed to be coming together they fell apart. The economy crumbled and investors pulled out.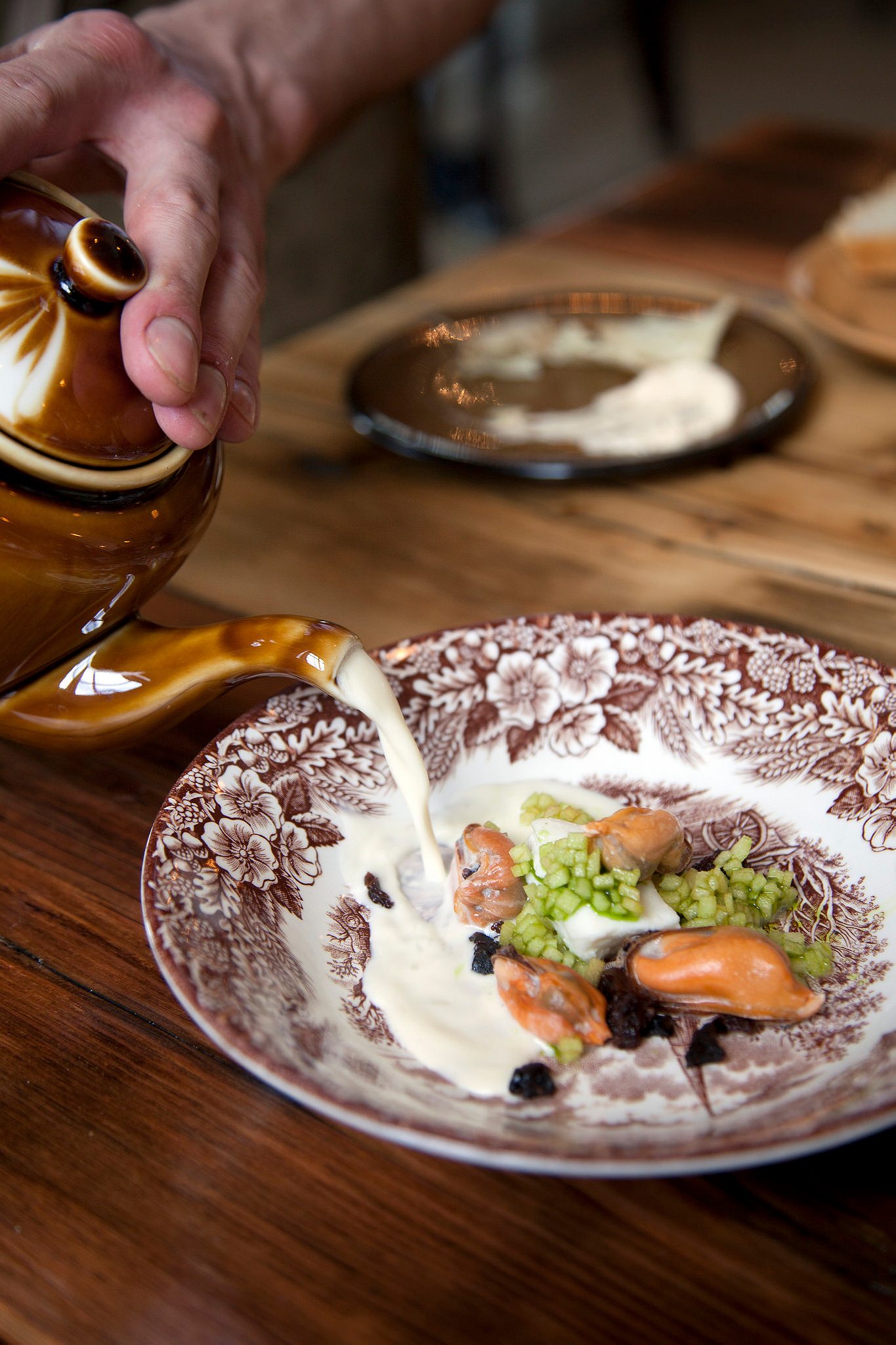 But Gíslason pushed on. After a tasting one night he met someone from the Nordic House who suggested he open the restaurant there. Within days the two parties were holding meetings. There was no money, but his producers believed in what he was doing and often just gave him products for free. As unlikely as it was in that particular economic climate, the restaurant blossomed.
In late 2013 I went back to Reykjavík to write about skyr, Iceland's high protein yogurt, accompanied by Siggi Hilmarsson, the Icelander that set off the trend in the United States. The lingering effects of the financial collapse were slowly fading and Dill was better than ever.
Gíslason had all sorts of projects lined up and was energized. He opened a gastropub, Sæmundur í Sparifötunum, in an old biscuit factory that also houses the Kex Hostel, and was getting ready to move Dill to the city center. Hilmarsson and I hung around with him long after Dill closed one night drinking Björk and Birkir, the liqueur and schnapps that he created from birch with his sommelier and began serving as an aperitif at the restaurant, and which Foss Distillery had began bottling.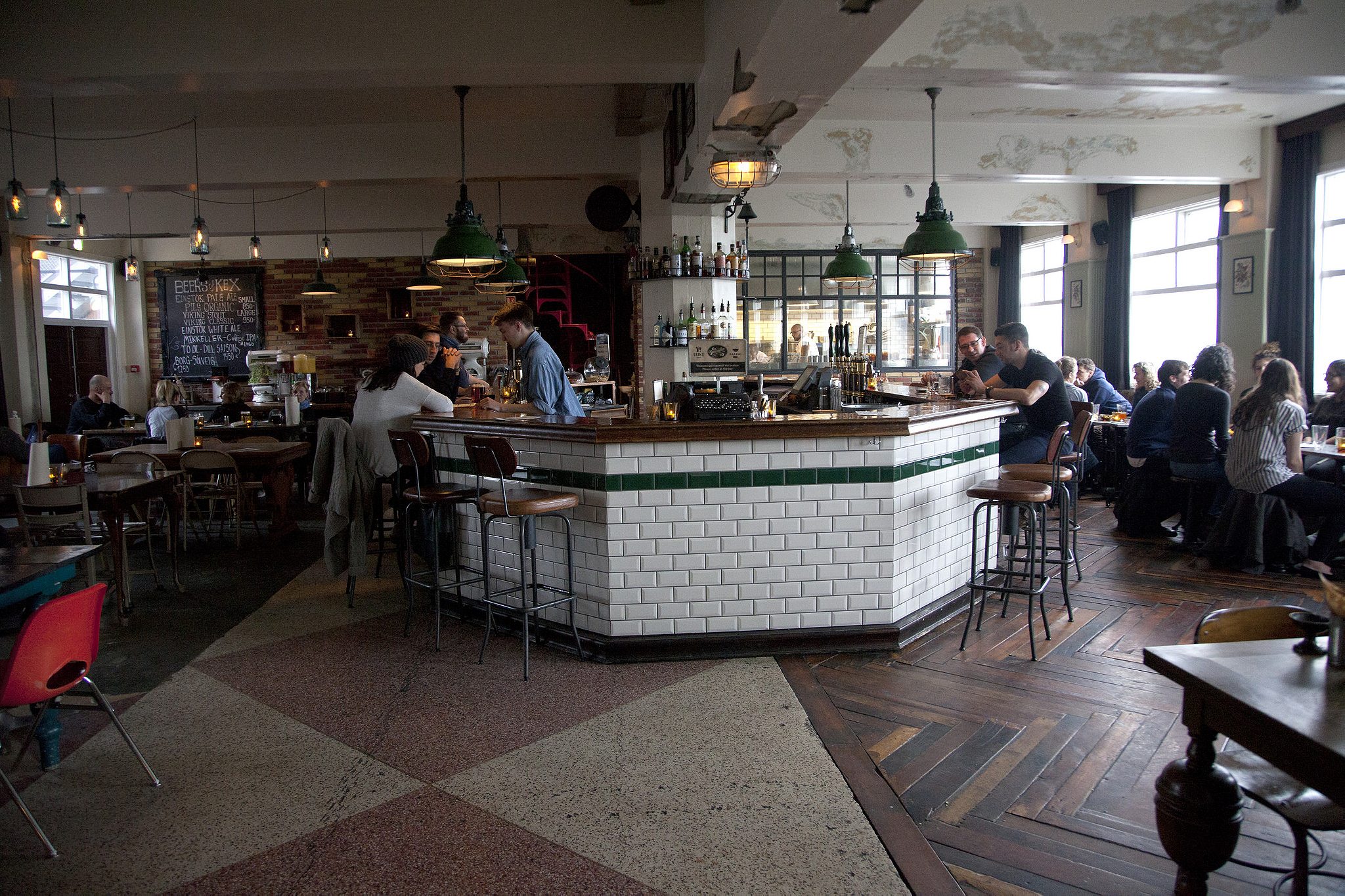 From our meal that night it was apparent that his cooking had evolved. It wasn't really New Nordic anymore, some broad declaration of modern food from the entire region. Now it had become uniquely Icelandic. Gíslason was rescuing forgotten traditions of preservation and fermentation that were specific to the country. On the menu one description of a root vegetable actually read "Smoked in shit."
He explained that a couple of years before a friend who made salted cod invited him to his house in Akureyri. He kept talking about the tradition dying out. Those that still were making salted cod were injecting it with seawater, speeding up the process to months for what should require a year. Then they went out on a boat with a rod and went fishing for cod. The friend brought out rotten skate wings, skata, the ancestral yet putrid way of preserving and preparing skate, and made him eat it. Afterwards they went to pick seagull eggs off a nearby cliff.
Then there was Gíslason's friend Gylfi Yngvason, on the shores of Lake Mývatn, who still smoked arctic char the old way, burning bricks made of manure and hay for several days because it's more flavorful than the less time consuming ways that have become more common. He began to see how all of these traditions had nearly disappeared, yet there were reasons they had survived for so long. He wanted his book with Jody Eddy, North: The Nordic Cuisine Iceland, to make people to think about that.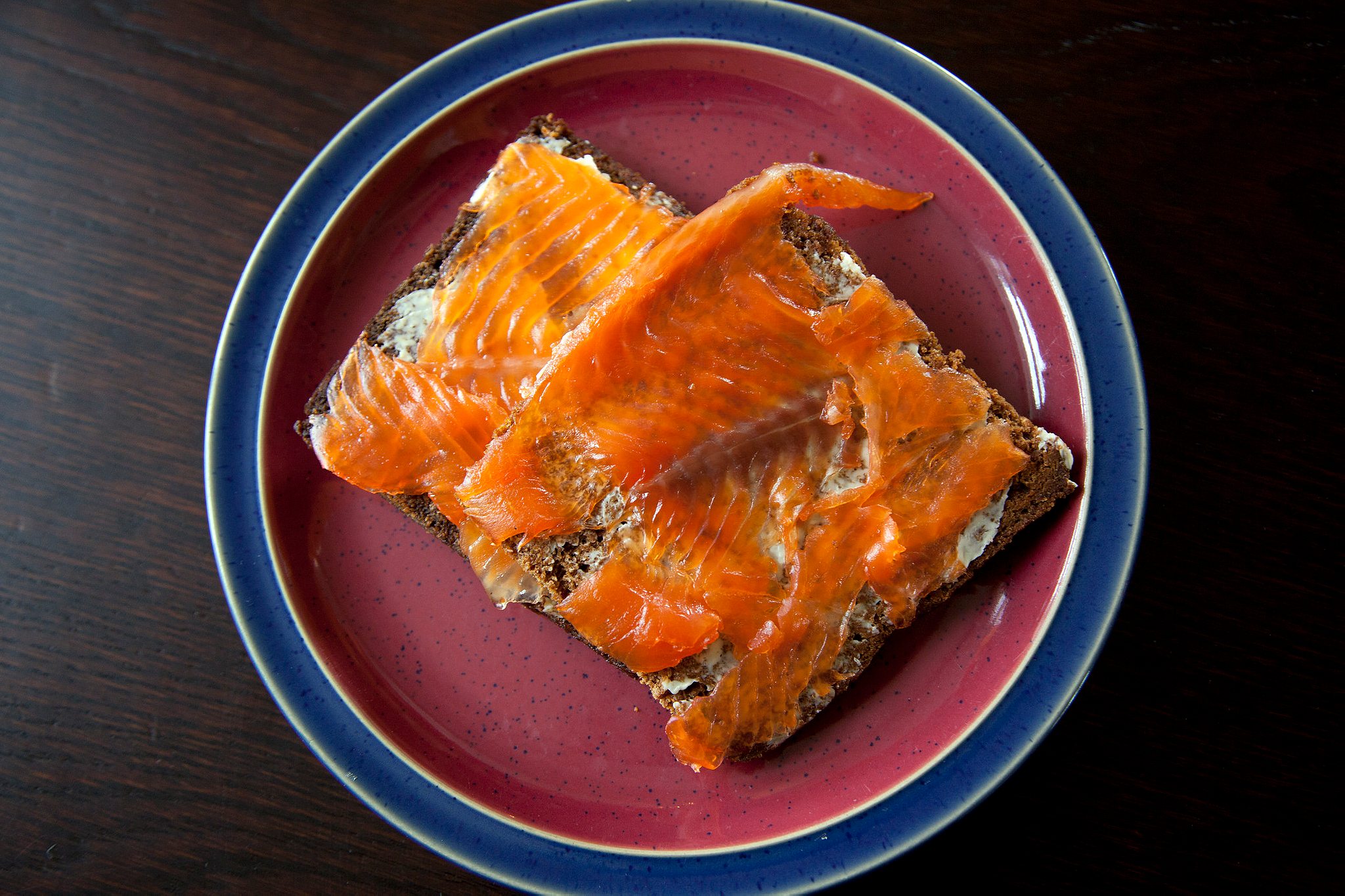 Last year I saw him in New York, just after the book came out. It sounded as if things were really changing far beyond Reykjavík, so I went to Iceland to explore the breadth of what was happening. When I arrived I found the new Dill was in a dark, high-ceilinged room with an open kitchen. While it wasn't an old house with mismatching chairs, Gíslason said it was closer to his original idea than what Nordic House, with its rules and restraints, allowed. He could do whatever he wanted in the new place. It's now tasting menu-only and open only for dinner four days a week. Since opening the new space, Gíslason and his partners have gone on to take over the entire corner building, opening two other spots: Hversigata 12, a quirky pizzeria and cocktail bar on the second floor, and a branch of Danish cult beer bar Mikkeller & Friends on the third. It's the weird culinary funhouse Reykjavík never knew it wanted, but has redefined the scene there.
Dill was having a special natural wine pairing with his friend Solfinn Danielsen, who owns the wine shop Rødder & Vin in Copenhagen. It was the most alive I had seen Gíslason's cooking yet. Perhaps it came from researching the book, but he had grown closer to the products. Not that he wasn't connected before, but now it was deeper and more personal, running all the way down to the memories of the dried fish he ate with butter at his grandmother's house in the Westfjords and the summers he spent in his youth working on farms in the north and east. There was butter whipped with lamb fat and a flaky new sea salt that he had been making himself. Thinly sliced beets were wrapped around liver like Chinese dumplings. There was catfish that had been wind dried for more than a year, then shredded apart to resemble cotton candy, which melted in the mouth in the same way.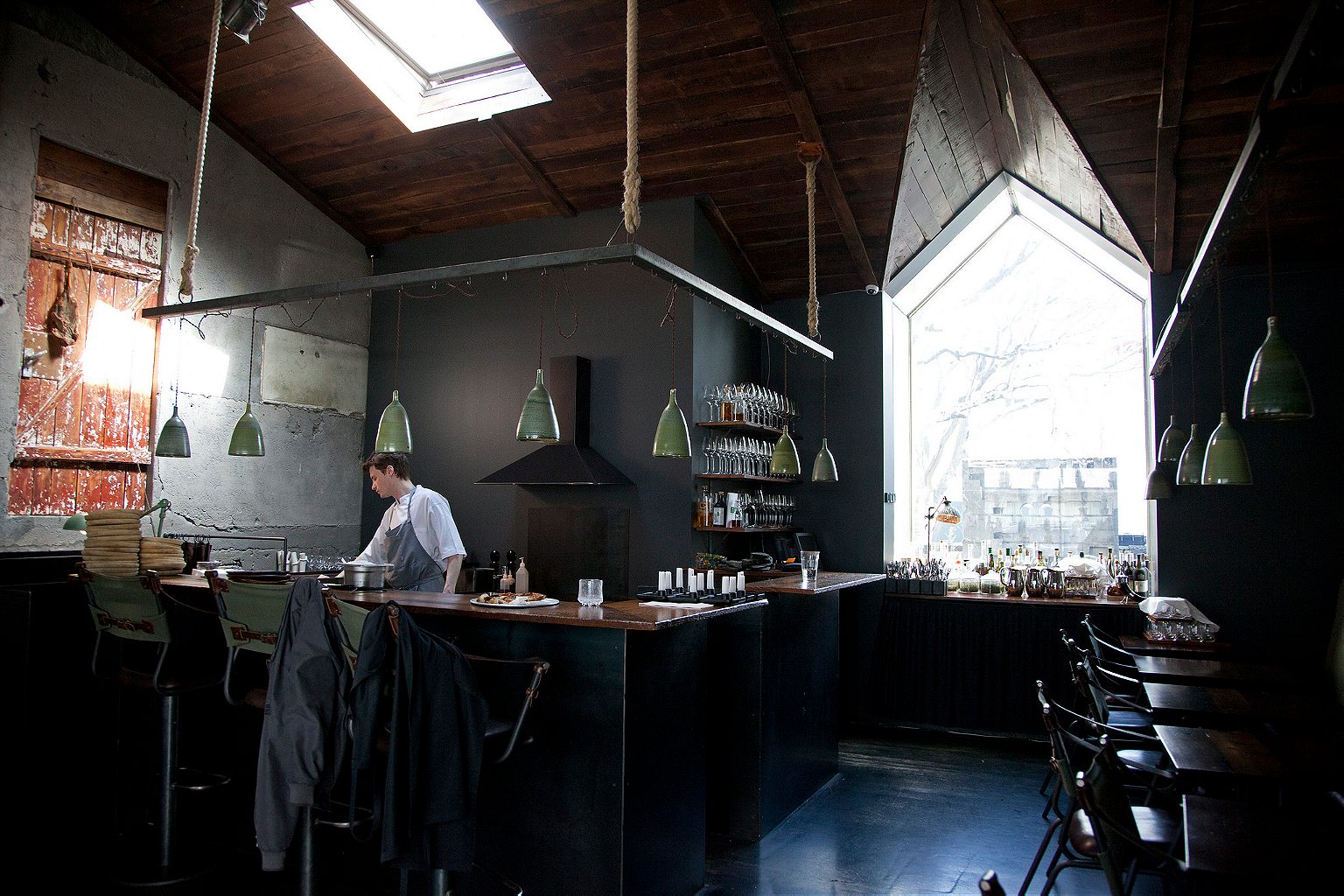 Various friends of the restaurant were there for the pairing and everyone was discussing how things in the country were evolving and how far they still have to go. The dairy industry was one example. You can actually get better skyr in the U.S. now as most dairy in Iceland all goes to one company. Geothermally heated greenhouses are helping more vegetables grow here than ever before, but most grow the same things and few have really understood how they are different. The tomatoes are more acidic, so chefs needed to find new ways of using them.
"In some ways we are five years behind everywhere else," said Tumi Ferrer, one of the owners of café and roaster Reykjavík Roasters and a former Dill employee.
"That's the guy you have to go see," Gíslason told me one day. If I was going to understand where Icelandic cuisine was headed my first stop on a larger tour of the country should be a small warehouse in Hafnafjordur, a 15-minute drive from the capital. The man Gíslason insisted I meet was named Eyjólfur Fridgeirsson, a Zen Buddhist who harvests dulse, a red alga that has been eaten for centuries in Iceland.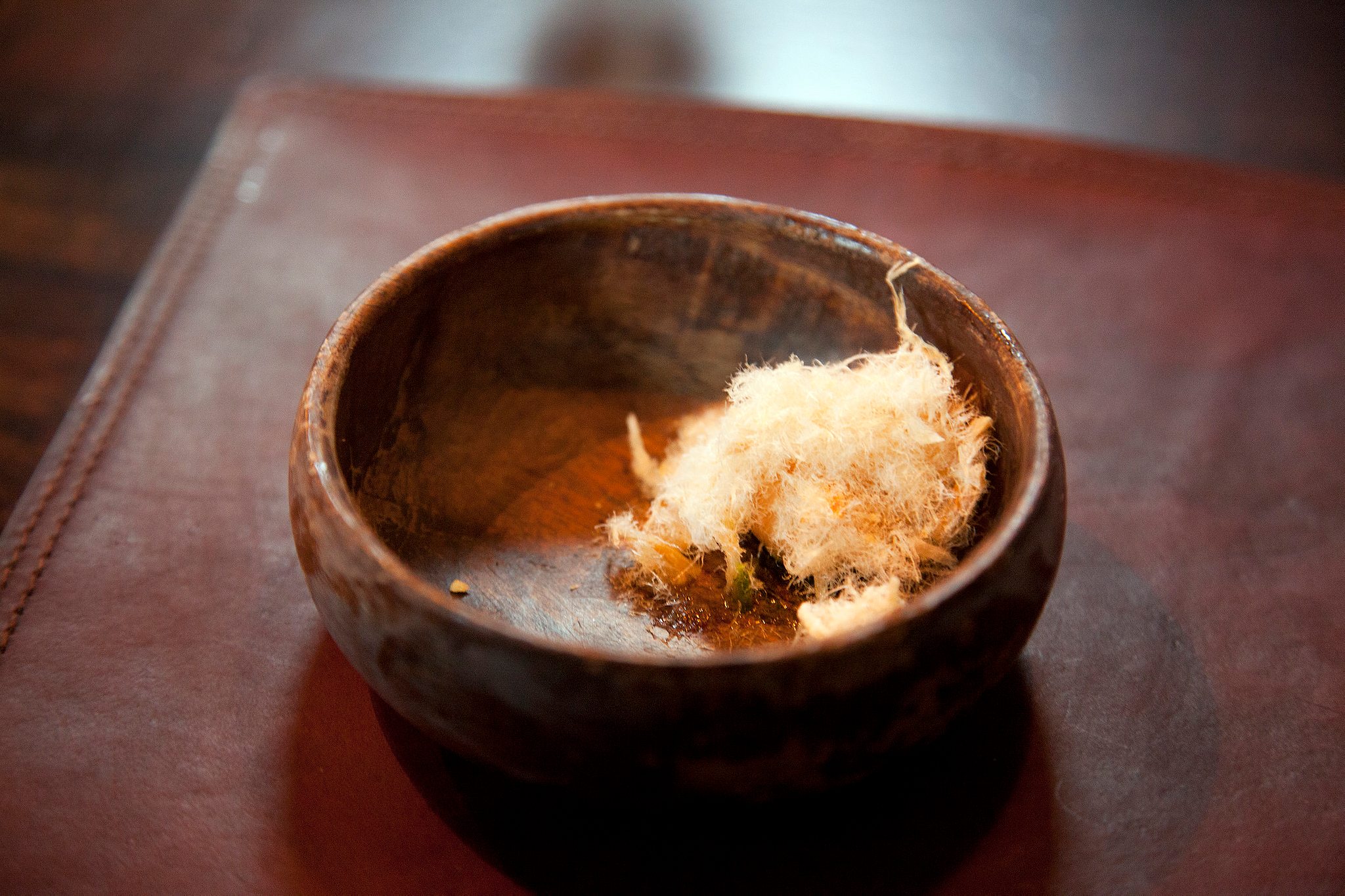 Fridgeirsson and Gíslason are family friends and have known each other for years. They bonded over Fridgeirsson's exploration of the possibilities of different Icelandic seaweeds. When Gíslason opened Dill in 2009 he began using Fridgeirsson's dulse in stews or to infuse the taste of the sea in butter. It soon inspired other Icelandic chefs to do the same. Japanese restaurants began using it in miso soup. Gíslason sent some to René Redzepi, who now buys it regularly to use at Noma.
At one time Icelanders were eating more than a dozen different types of seaweeds. The Vikings brought Irish slaves with them to Iceland, who carried the knowledge of using dulse. It was rich in everything that the island's diet lacked, such as iron, dietary and soluble fiber, protein, iodine, and potassium. While in the rest of Scandinavia it was not commonly used as food, in Iceland, where the climate can be more intense, there were many uses for it. It went in breads and into stews, or it was dried and burned and used as salt. Or it was simply dried and eaten straight.
It became essential to the health and wellbeing for the people who lived in the inhospitable landscape. During the worst of times, it saved entire families from starvation. In the past century, as the country moved out of the Middle Ages and into modern a Nordic nation, dulse fell out of fashion. It was considered the food of the poor in the newly wealthy country, hungry for imported foods. But in 2008, after Iceland's banking collapse, with foreign goods now more expensive, native products began to experience a resurgence.
About a decade ago, Fridgeirsson, who studied marine biology in Moscow and had been working as a consultant and teacher, was living at a Zen monastery in California, where he noticed different kinds of seaweed being used in the traditional Japanese food there. He began thinking about Icelandic seaweed, which was abundant but never used in cooking.
When he returned to Iceland in 2005 Fridgeirsson decided to do something about it. He traveled to the coast and collected different plants, drying them and just to see what would come of it. He started the company Íslensk Hollusta, the Icelandic version of Whole Foods.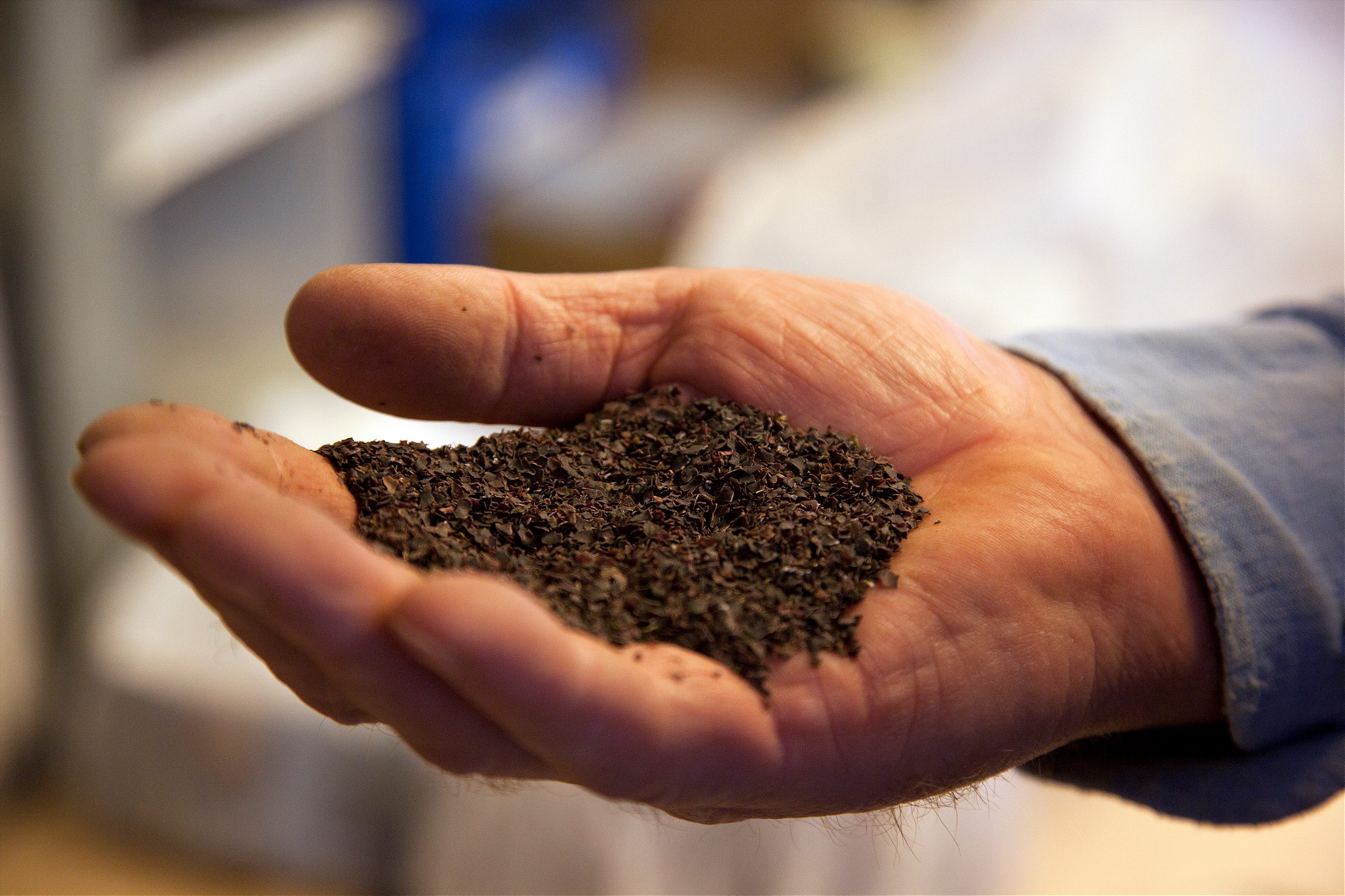 Shortly thereafter dulse took off. Even though Fridgeirsson didn't invest in any kind of marketing campaign, the business and product line has continued to expand. Dulse is sold fresh, pickled, or as salt, where it is dried on rocks in the same way the Vikings once did. He dries sugar kelp and makes a soy sauce from other seaweeds. Spices and teas are made from Angelica and arctic moss. There are jams and juices made from blueberries and a rub made of crowberries to put on lamb.
Fridgeirsson sees endless possibilities of what can be done with the plant life in Iceland. "The secret is just here," he says with a shrug. "Being careful and putting my mind to it. As a good Buddhist, just putting loving care in what I'm doing." Fridgeirsson takes everything and dries it himself. He lets it ferment a little bit before packing it, so the flavor gets stronger, but he insists that it's the simplicity of the product that stands out.
A Norwegian man who wanted to process dulse of a quality on par with Fridgeirsson once visited him to try and understand his method. Fridgeirsson was more than happy to share. The man marked down the exact temperature of the warehouse and measured certain processes down to the second, but Fridgeirsson wasn't overly concerned with those things. He said that he just knows the right mantra. That you have to pray for the dulse. It was really just so simple that there was no secret to it. That cannot be it, the Norwegian thought. There has to be more. Something else to it. He left and later they heard he had spent three months visiting different Buddhist monasteries in Thailand.
I spent the next few weeks driving around the country on my own, stopping to explore anything interesting happening on the culinary front. There are small but powerful changes everywhere. In the village of Suðureyri in the remote Westfjords, where mismanaged fisheries left towns nearly empty, I met a man named Elías Guðmundsson. He bought up several historic buildings that weren't being used and opened a restaurant, café, guesthouse, and cooking school, plus started a food tour that includes tastings of local foods and a visit to a processing facility, to help promote what he claims is Europe's most sustainable fishing village.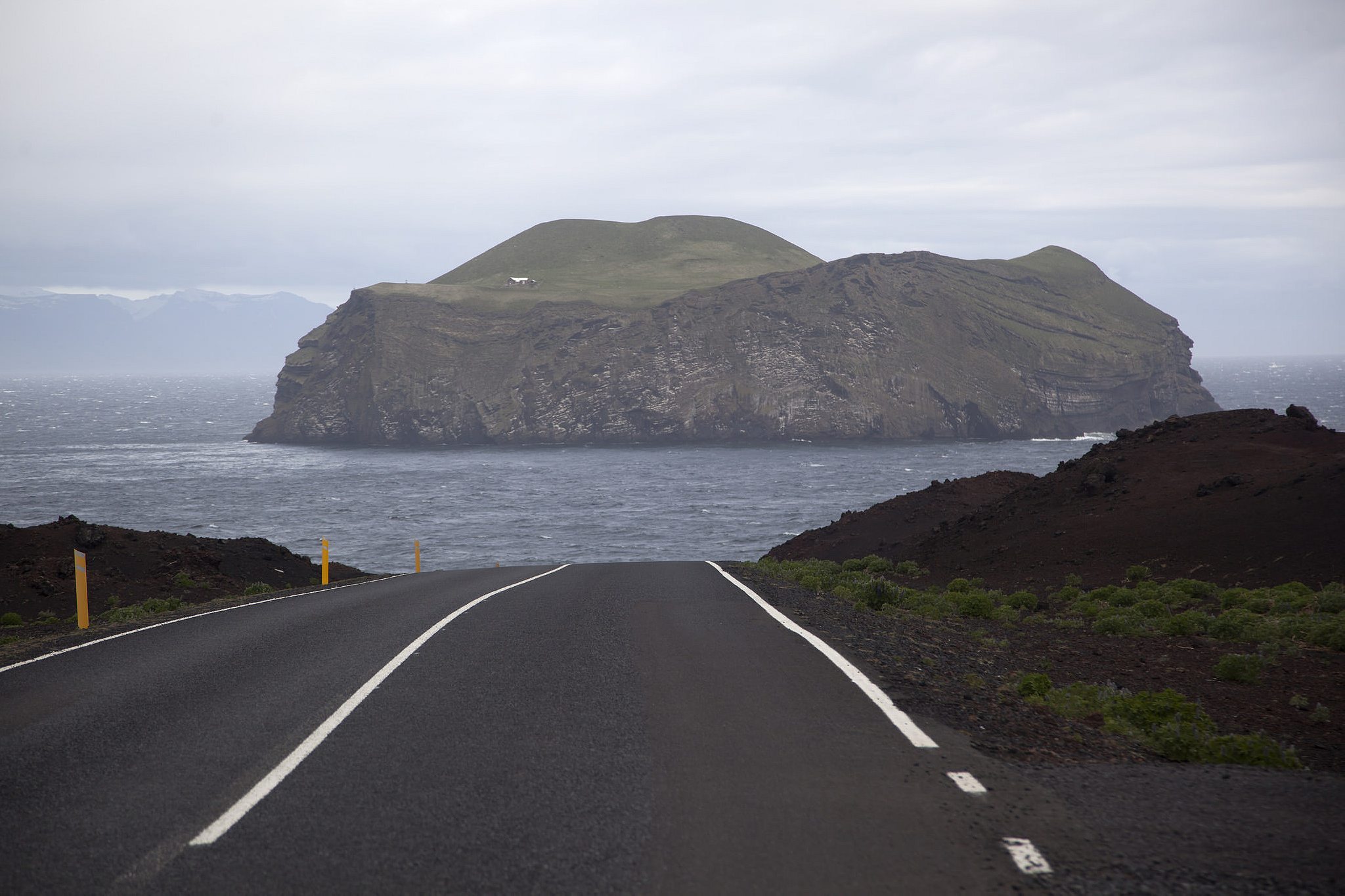 Suðureyri, totally isolated from the country until a tunnel was built in 1996, went bankrupt from irresponsible fishing trawlers, but as the years went on, out of necessity, those that remained began finding alternative solutions to their problems. They began using smaller boats and traded nets for hooked lines. They found new ways of using all parts of the fish, such as turning livers into cod oil, selling the skins to Denmark as cattle feed, and sent the heads to Nigeria to use in soup. They now have an advantage over the competition and their cod filets are now in Whole Foods in the U.S. and organic markets in England.
In Vestmannaeyjar, on the tiny volcanic island of Heimaey off the south coast I met Gísli Matthías Auðunsson, a chef that opened a small seasonal restaurant called Slippurinn in an old machine workshop in the shipyard. After a stint at Dill he spent his winters working in New York, cooking at top Scandinavian restaurants like Skál, Aska, and Luksus. He has as good of a background as any chef in Iceland, yet he decided to open the restaurant in 2012 with his family on this tiny island he grew up on, serving food to the people he grew up with (though he recently added a bistro in Reykjavík called Matur og Drykker, where he works the rest of the year).
"Our philosophy was always that we didn't want to be fine dining," he told me as we walked along a beach looking for wild herbs. "I like the idea of New Nordic, but it tends to lean more towards higher end restaurants. That I don't like. We cannot influence enough people."
His food is honest, not trying to be anything it isn't. He presents the ingredients around him, an array of spectacular fish and wild plants, in a way that everyone on the island, from a fisherman to a tourist, can appreciate. Forgotten recipes from the island, buried during the 1973 eruption, like a long lost halibut soup with mussels, green apples, and dried fruit, are revived and even made his grandmother cry upon first tasting it. There are sauces made from whey and celeriac that has been salt baked. Arctic thyme, rhubarb, and angelica find their way into cocktails.
Everywhere I went there was a person or a small group redefining what Icelandic food and ingredients can be. Many are alone. Trying to break free from the inside. Tiny isolated islands of change, surrounded by mountains and snow. They are Iceland, literally and figuratively.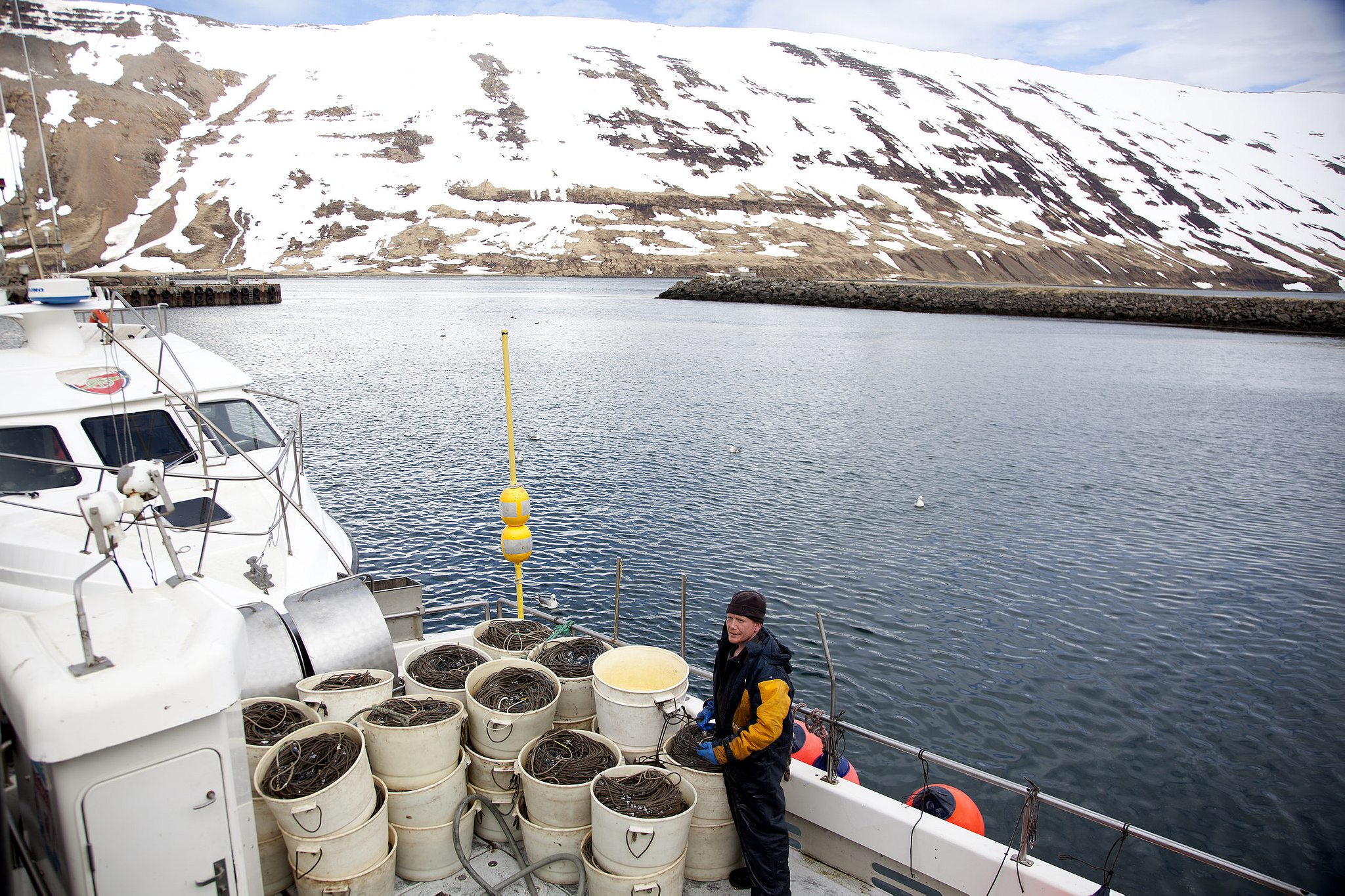 Outside of Egilsstaðir, I met farmer Eymundur Magnússon and his wife, Eygló Björk Ólafsdóttir, at their organic farm Vallanes, which has single-handedly revived Icelandic barley. The grain grew wild and was an important part of the diet since settlement, but after a long cold period it stopped growing and had been forgotten for decades. When he brought it back only grandmothers had any idea of what to do with it and his neighbors, who all raised sheep and cattle, thought he was crazy.
"I was never afraid to try the impossible," he said. "I don't listen to those voices."
Over the past decade their barley has become prevalent all over the country. Old recipes with it have been rescued and new ones created. Chefs like Gíslason use the barley, promoting the farm's name right on the menu.
I arrived during a freak early summer snowstorm, which was delaying planting in the already short growing season. Last year's summer was three weeks longer than usual and they had their best year ever.
"We're just trying to do our best in this cold country," Magnússon said, as we drove down dirt tracks along bare fields waiting to be planted.
Elsewhere there are things growing all over the 360-hectare property. They have planted more than one million birch trees, creating their own private forest. There are a dozen small greenhouses growing everything from herbs to mushrooms to beets.
We stopped at one overgrown field that he hasn't done anything with yet. He is not in any hurry though.
"I try to imagine what it might look like," he said, staring off on the horizon. "I picture it in ten or 20 years. Then you have time to make mistakes."
[Top image: Seagull egg collecting on a tiny island off Stykkishólmur, on the Snæfellsnes peninsula. Photo: Nicholas Gill]