Stranded on a floating glacier? This crew of Icelandic volunteers is here to save you.

FLJOTSDALSHERAD, Iceland—
The engine revs as I hit the gas. The rental SUV, a lumbering Mitsubishi Pajero we've dubbed "Cool Runnings," responds to my frenzied efforts with the steady, plaintive spinning of snow-bound tires. We're two Americans and two Canadians on a winter road trip around Iceland, and we're hopelessly stuck. It's 6 p.m. in January, which means darkness arrived hours ago. The only light around us is the mocking glow of the gas gauge noting the tank's impending emptiness. In one skittering second we've joined some fairly questionable company: tourists in Iceland who require emergency rescue.
Every year 600 to 700 people, most of them tourists, are rescued from Iceland's unforgiving countryside. Swept away by the Arctic nation's beauty, they underestimate its terrain and rapidly shifting weather. In 2013, a group of five campers, dubbed "the Glacial Picnickers" in an English-language magazine in Reykjavík, the capital, had to be rescued when the iceberg they'd selected as the perfect lunch locale was pushed out to sea by a strong wind. That same year a French couple was rescued after they drove past a warning sign into a sandstorm. The storm promptly blew out their vehicle's windows, subjecting them to all of its might.
These unfortunates as well as my group were all saved by the Icelandic Association for Search and Rescue, or ICE-SAR. ICE-SAR is not part of Iceland's military; in fact, the Kentucky-sized country has no standing army. Nor is it a part of any municipal police force. ICE-SAR is staffed by volunteers, self-financed, and effective.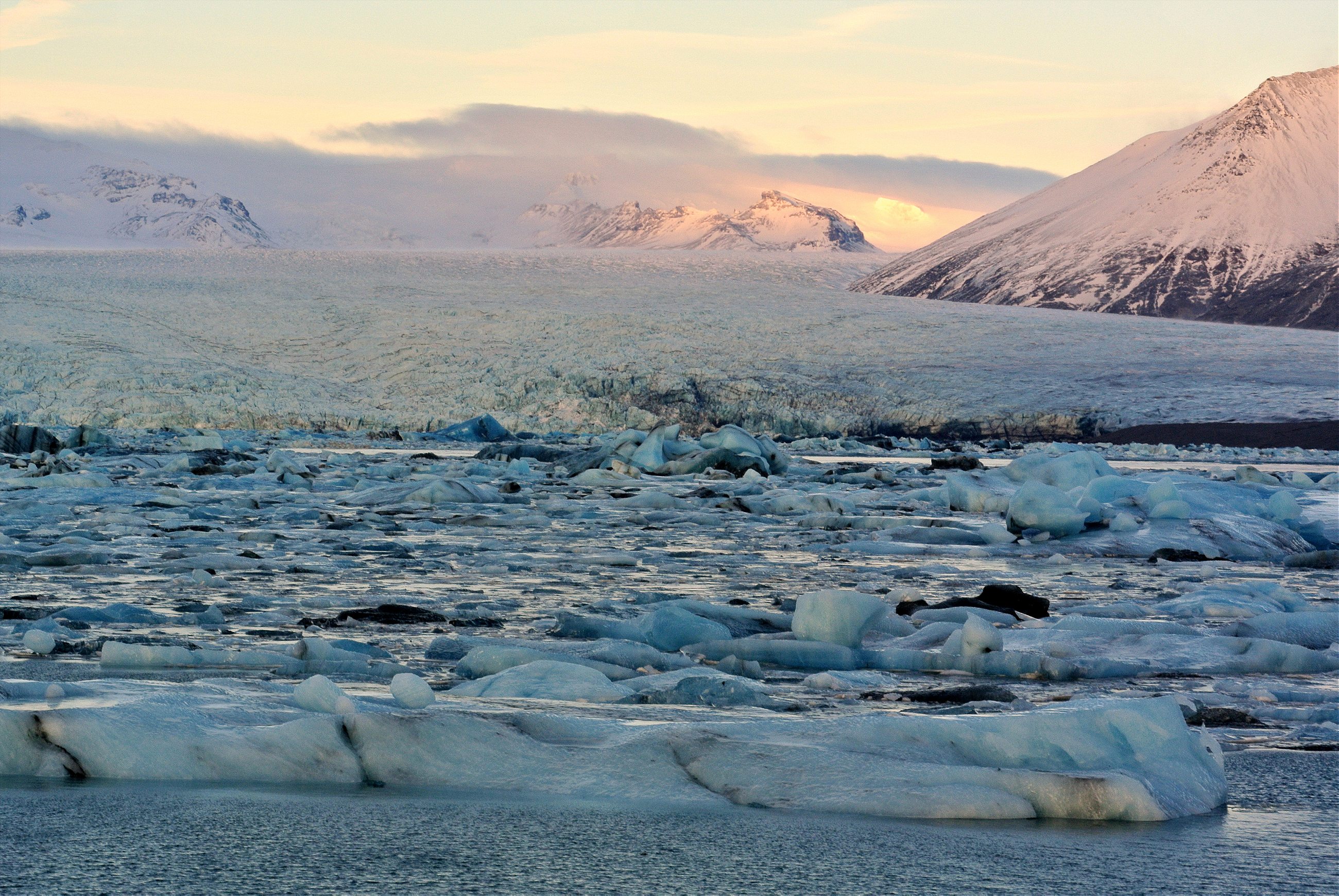 "ICE-SAR started out of necessity," says Olof Baldursdottir, one of the group's public relations officers. "Iceland is a big country with a small population that is scattered around the coastline. We have a small police force and a small coast guard; we don't have an army or anyone else who can step up when something happens. In almost every town and village, the teams are doing what needs to be done in their area."
In the Westfjords, a large peninsula in northwestern Iceland, this might mean avalanche rescues. On the 120-mile road between the extremely popular Jökulsárlón Glacial Lagoon and the town of Vik, this might mean battling sandstorms. Eighty percent of the country is uninhabited, and there are any number of ways to get lost or stuck.
Where our SUV failed us, on the mountain road between Mývatn in the north and Egilsstadir in the east, the culprit was snow—the kind of thick, fast, heavy snow that in my hometown of New York City prompts predictions of apocalyptic doom. When Yivar, a burly, red-headed Viking arrives with his ICE-SAR team, he's wearing a tank top, an open fleece jacket, and a pair of polarized sunglasses perched atop his head. Despite the fact that I'd managed to drive the SUV into a hidden stream, on a closed road, a few feet from a 300-foot cliff drop, he declares the situation not so bad. "You can still see the road," he shrugs.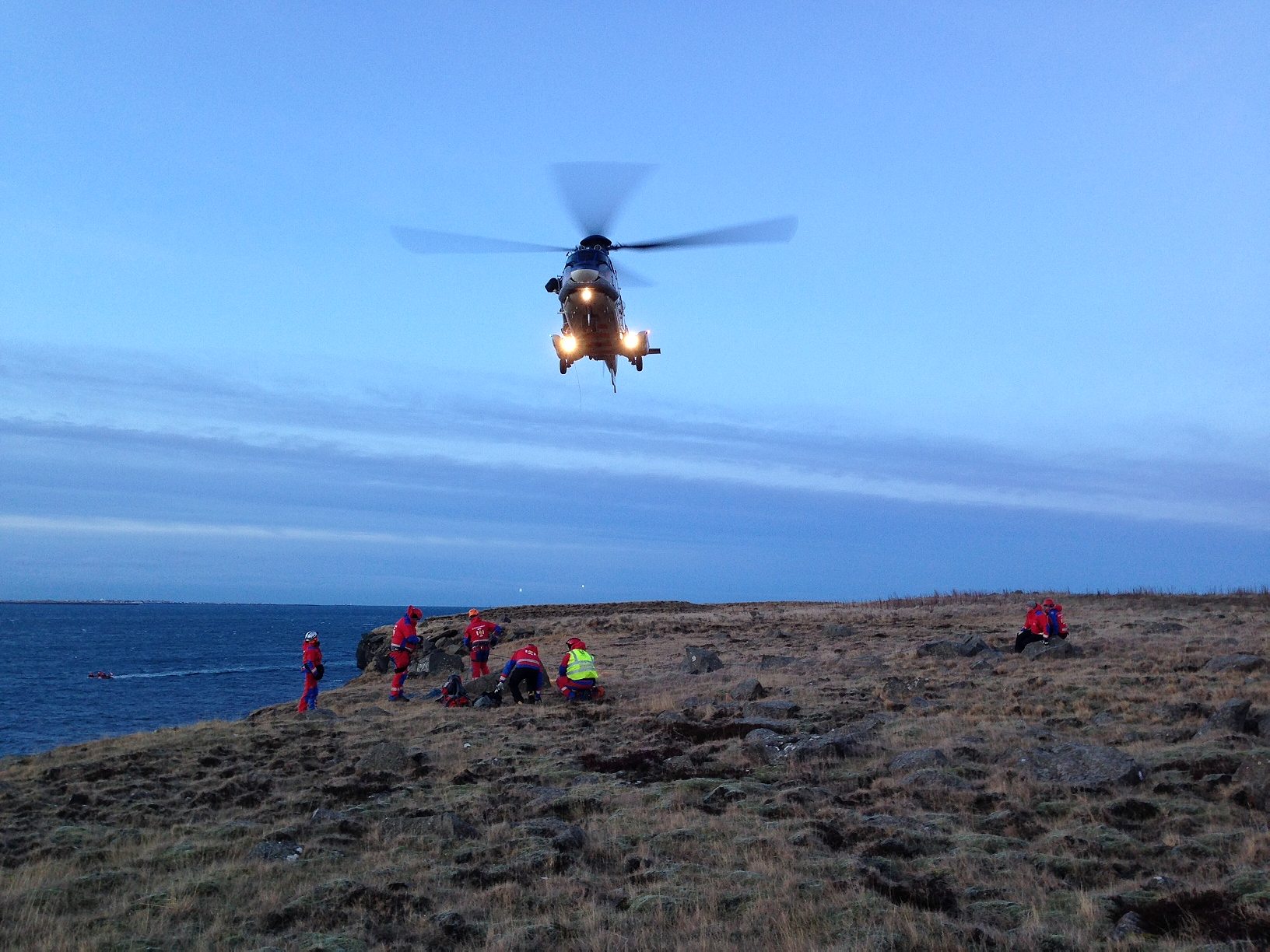 ICE-SAR dates back to 1918, when the wives and daughters of the Westman Islands, an archipelago off of Iceland's southern coast, grew tired of losing their sailor husbands and fathers to the sea. They began organizing and coordinating rescue efforts, forming what would become the first rescue team. In those early days, ICE-SAR primarily focused on rescuing sailors from stranded ships. The scope expanded with need, driven in particular by the country's growing tourist industry.
Today, there are 100 ICE-SAR search and rescue teams capable of handling everything from high-mountain glacier rescues to volcanic eruptions. In the wake of the recent Bardarbunga volcanic eruption, it was ICE-SAR that evacuated the area and blocked access to danger zones. In 2010, when a magnitude-7 earthquake struck Haiti, ICE-SAR sent rescuers to Port-au-Prince. They also maintain a network of huts, scattered across Iceland, where travelers can seek refuge during emergencies.
"Anyone can sign up to be an ICE-SAR volunteer," says Baldursdottir, with an emphasis on the word volunteer. But that doesn't mean they're dilettantes or that just anyone can be a rescuer. It takes up to two years of training before a volunteer qualifies to go on rescues. Training is rigorous and time-consuming, especially on larger teams, and not everyone finishes. When Baldursdottir declares that she would call many of the volunteers "highly trained professionals," you believe her. However, you don't have to be the peak of physical fitness to join ICE-SAR. Volunteers fulfill a range of roles including drivers, fundraisers, mechanics, and youth group organisers.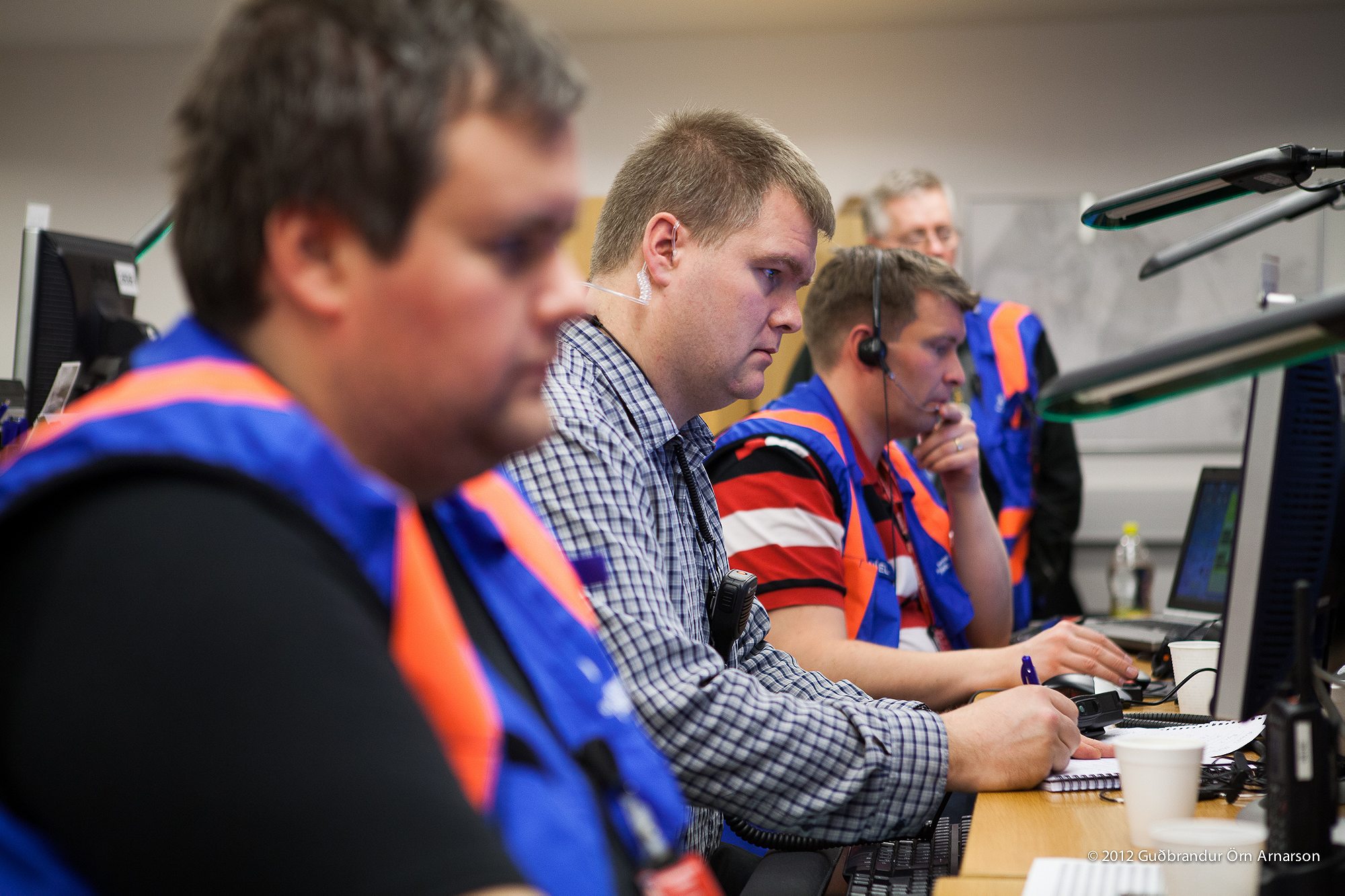 Regardless of role, ICE-SAR team members are unpaid. It's how they keep services free. Each team is financially independent, so hard numbers on maintaining a team are scarce, but the cost of an armored vehicle like the one used to rescue the French tourists often begins at $55,000. When one factors in the cost of first aid equipment, dressing the team, and the gasoline to operate the vehicles, it becomes apparent that operational costs are significant.
Much of the funds come from selling fireworks—yes, the nation's search and rescue organization raises funds by selling controlled explosives. Fireworks sales are only legal from Dec. 28 through 31, and again on Jan. 6. Icelanders set the sky ablaze on both New Year's Eve and on Threttándinn, or Twelfth Night. ICE-SAR also sells little plastic key rings of an ICE-SAR rescue worker wearing their iconic blue-and-red jumpsuits. The icon's name, Neydarkall, can mean both "distress signal" and "emergency man" in Icelandic. In 2011, ICE-SAR raised some $700,000 this way. "People also collect bottles and soda cans and things to recycle. They do whatever it takes to keep the team running," Baldursdottir says.
Why not simply charge for their services? In the U.S., eight states have laws that allow them to bill a person for the cost of a search and rescue mission. New Hampshire, which has roughly four times the population of Iceland but is one-quarter the size and handles far fewer search and rescue operations than Iceland does, sends bills to hikers who are injured due to their own negligence. From 2006 to 2011, the state's agency billed $83,025 for 38 missions.
ICE-SAR refuses to charge out of fear that the risk of a large bill will dissuade or delay people from seeking help. Waiting too long to call for help might put rescuers in more danger than necessary. "We want people to call us when they feel threatened by the situation," says Baldursdottir. "They shouldn't be thinking about money when they are in danger."
Instead, ICE-SAR is focusing its efforts on reducing demand through education. Since 2000 tourism has grown an average of 7 percent annually. In 2012, Iceland played host to 672,000 visitors, roughly double the island's population. While some teams are only called upon a few times a year, other areas are facing a growing need for their services because tourists aren't always sufficiently cautious—attempting to cross glaciers in nothing but T-shirts and sneakers; tackling treacherous roads with two-wheel-drive vehicles; or going off-road at all, which in addition to being dangerous is against the law.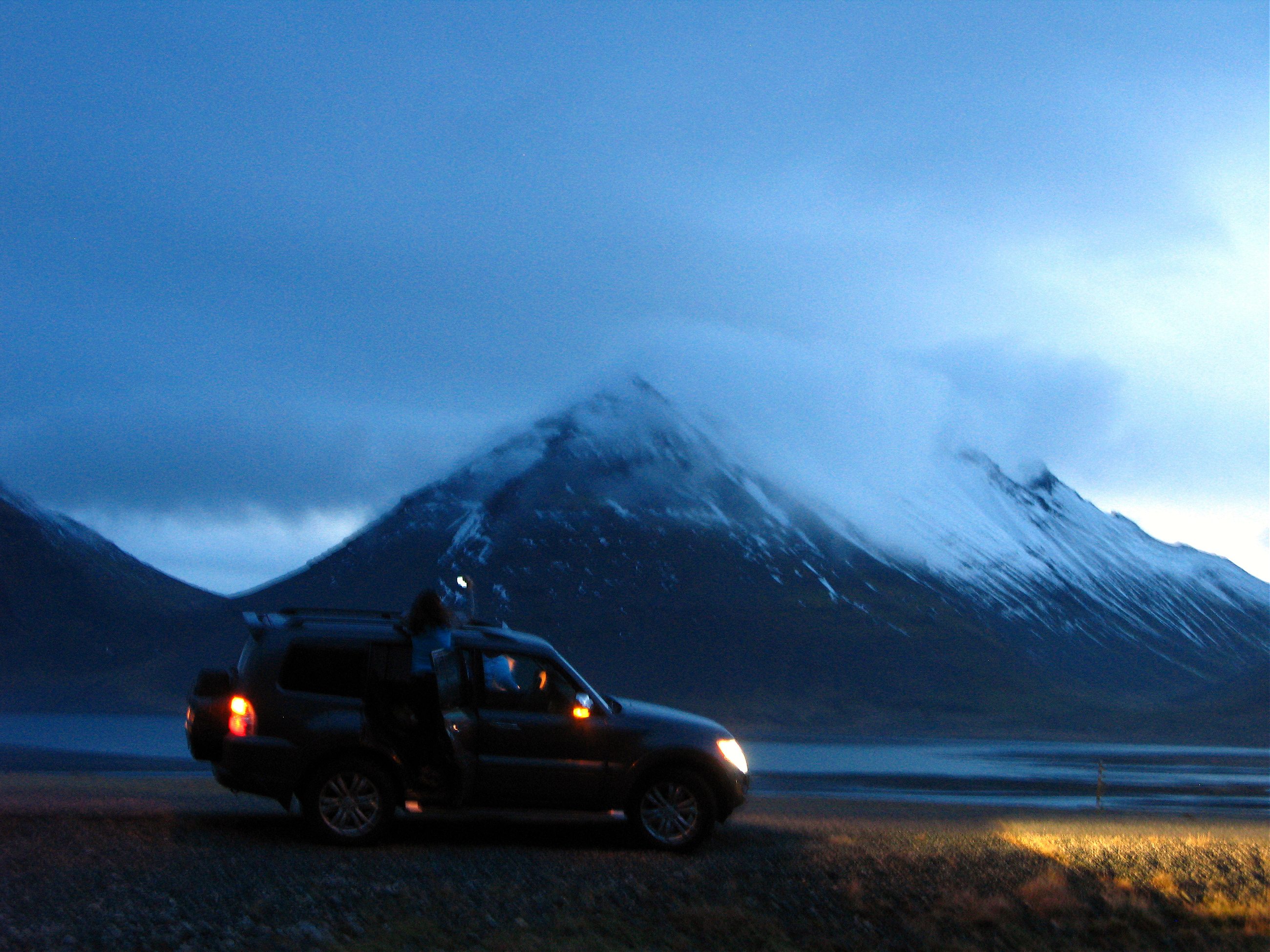 "There is a lot of pressure on the volunteers," Baldursdottir says. "They're going out several times a week, and they have families, school. It's a lot of strain on many of the smaller teams out in the country—they're busy and getting busier."
The country doesn't have the ability to physically cordon off every mountain road in winter or place a caution sign on every risky fjord, so it's vital that tourists learn to follow the rules. The country has launched a program entitled Safe Travel, which includes a website where tourists can learn how to drive safely, check weather conditions, and register travel plans.
Baldursdottir admits that it isn't always easy to get visitors to understand the risks and to act accordingly. "It's like trying to describe the color blue to a blind person. It's a different environment, and it's difficult to explain to someone," she says. "The Icelandic countryside is a different world, a different situation. But there are certain things that they can do that can minimize the risk. We want them all to leave here in one piece and happy."