28 Cups of Coffee, 35 Bathroom Visits, and 6430 Calories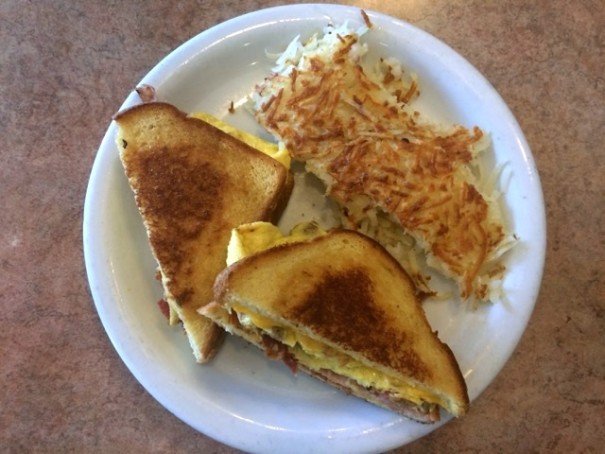 28 Cups of Coffee, 35 Bathroom Visits, and 6430 Calories
The Grand Slamwich at Denny's
I've always associated Denny's with travel. The first time I ate at Denny's, I was coming back from a trip to Alaska, and on road trips I would count how many Denny's between my departure and my destination (Seattle: 17, Albuquerque: 28). But when I ate at a Denny's with my friend Will, we stayed in one booth for over 24 hours.
We sat down at 7:21 am, and both ordered a breakfast and coffee from a server named Stephanie. Her sandy blonde curls bounced on her shoulders as she asked how our morning was going, and stared disbelieving at our answer. She spoke to her manager, who okayed our attempt, but gave us a couple caveats: no sleeping, and we had to order something every four hours to keep a check open.
Our first coffee arrived shortly before our breakfast plates. Will ordered a stack of pancakes and I went with the Grand Slamwich: over 1,500 calories in a single sandwich, with warm, toasted potato bread slathered in American cheese housing bacon, sausage, and fluffy scrambled eggs. Soft yet crunchy, sweet and salty, it was the perfect first meal to a very long day.
We talked for a few hours about ex-girlfriends, Nirvana, open mic nights, and anything else that sprang to mind as we kept a close eye on the clock, counting down the minutes. At hour five, Will brought out his Farkel set; a dice rolling game with absurdly high scoring potential. We played a few hands before Stephanie's shift ended, and she wished us good luck before leaving.
Will went with a classic burger and fries for lunch, and I ordered biscuits and gravy. Ever since my first taste of that delicious combo in an Alabama hotel, I've been firmly hooked to warm flaky dough covered in near-scalding fresh-from-the-pan gravy.
Around hour 14 Will and I started to run out of things to talk about. We started feeling the extra calories and caffeine coursing through our veins around hour 18, so we cut back on the coffee refills, and started getting salads instead of fries to steady our systems for the six hours we still had to endure.
As a night owl, I've seen the sun rise countless times, but after 23 hours in a small, vinyl booth, it was more beautiful than anything I have ever experienced. The vibrant gold orb passed through luscious purple clouds to form distinct rainbows above the sprinkler heads that dotted the manicured turf separating the parking lot from the freeway.
7:21 clicked into place on the large clock above the kitchen, and as we paid our final bill, Stephanie clocked back in for a new shift and congratulated us on reaching our goal.
We had a combined 28 cups of coffee that day, with 35 bathroom visits, and 6,430 calories between us. Our 27 games of Farkel had a grand score of 194,530 against 197,010, and as it turns out Denny's doesn't have unlimited coffee. They make you order a new cup after the 8th refill.