A Vienna guide from schnitzel to paradeiser.


The Living is Easy. Vienna had a heyday of empire and intrigue like few other cities—around 1913 alone, Hitler, Freud, Trotsky, and Stalin all lived here. The city is still flecked with palaces, museums and opera houses, not to mention the world's oldest and grandest zoo, in the Palace of Schönbrunn. All this architectural formalwear might make the city seem sterile in comparison to its edgier Danube neighbors, Prague, or Budapest. And maybe it's not as cool as Berlin, as romantic as Paris, or as cosmopolitan as London—but very few cities can combine a bit of each of these qualities as successfully as Vienna does, all while being one of the world's most liveable cities. Viennese revel in the comforts of living here, from their omnipresent cafes to their near-pristine lakes and rivers—you can even swim in some parts of the Danube (try that in the Hudson, Thames, or Seine).


Mix high and low culture. Vienna is not just a citadel of high art, classical music and fancy twee chocolates (yes, Mozartballs). It also gave the world the drum & bass godfathers Kruder & Dorfmeister. The only German-language number one hit in the U.S. (Falco's "Amadeus") was an Austrian creation. The city runs club nights for students at its historic City Hall and, for a while there, rock concerts in former gasworks (Gasometer). Flex, which is wedged between a U-Bahn tunnel and the Danube canal, is known as one of Europe's best nightclubs, and hands out both earplugs and sparkling water gratis. The city has brought the world Klimt's Kiss, but also the art of Hermann Nitsch, whose media included bodily fluids and performance, and Manfred Deix, a merciless and puerile caricaturist. It hosts the exclusive Opera Ball, where the rich and famous congregate to waltz and honor the rich and famous. But equally sought-after is the Life Ball, Europe's largest charity event which "combines Viennese ball tradition with fancy-costume queer balls".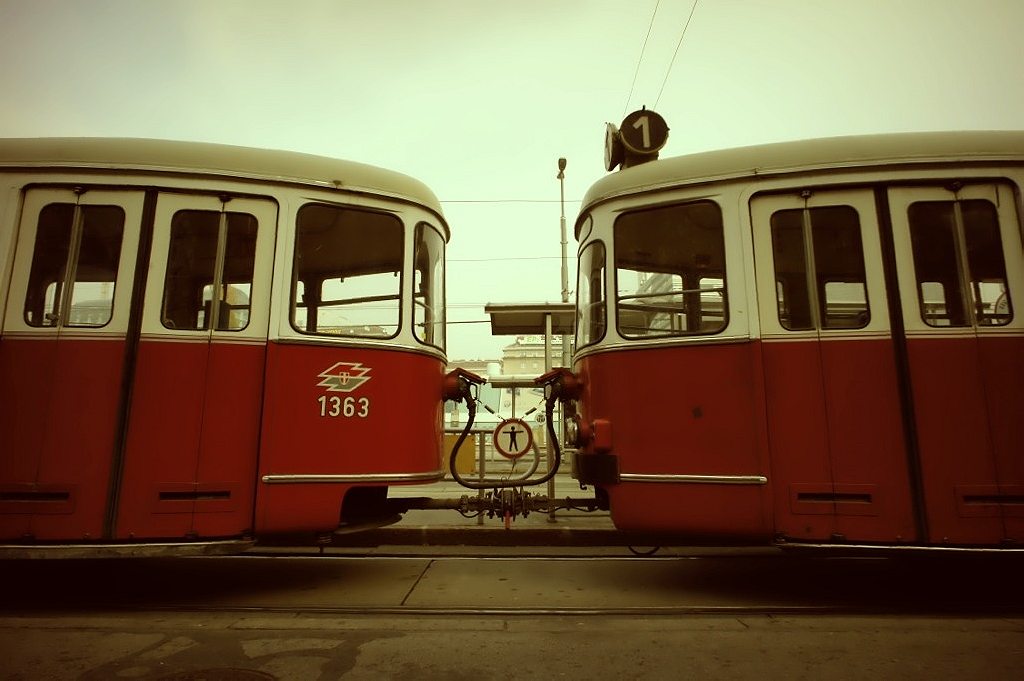 Take the 1 Tram. Divided into concentric spiraling districts much like Paris, Vienna always expanded in rings headed out from the center. The inner city (First District) is ringed by a large avenue that traces the former medieval city walls, and the 1 tram follows almost the whole circle (it used to go all the way around, but now branches off part of the way). But it's still a good way to access many points of interest along the western part of the inner city, from the big-ticket museums to the cobbled pedestrian streets with their pokey shops selling obscure books, stamps and pipes. It's like a Get On Get Off tour without the plasticky tour bus vibe. (There is also the visitor-oriented Vienna Ring Tram, which ambles all the way around the Ring in about 25 minutes—but you can't get on or off.)

Get high (up). Vienna is almost unbearably picturesque from above. It's nestled in between hills heavy with vineyards, and bisected by the Danube, which from a distance does in fact look blue. It's a good idea to get your bearings from an overlook to start with. But how to get altitude? The 38A bus from Heiligenstadt takes you to the top of the Kahlenberg, where the Austrian and Polish armies held back the Ottomans at the siege of Vienna. Alternately, you can head to the Prater amusement park and take in the view from the Ferris wheel made famous by The Third Man.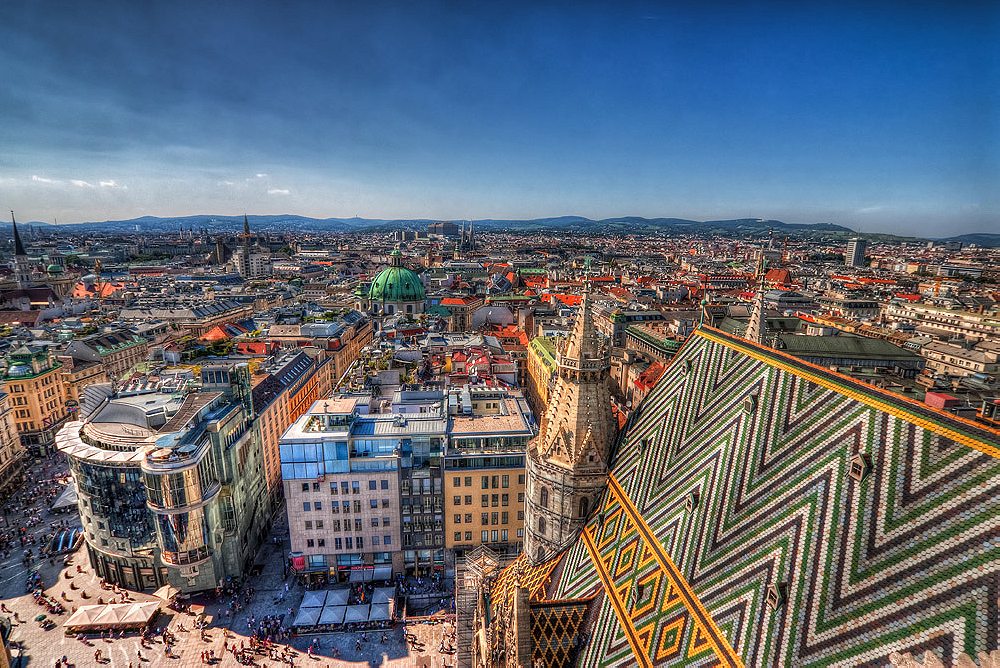 Move beyond schnitzel. Schnitzel–a veal cutlet flattened with a mallet, then fried in fine breadcrumbs–is the Viennese dish, and if you must have it, you can find it on most restaurant menus, or head to one of three branches of Figlmüller, the king of schnitzel restaurants, or try the innovative Skopik & Lohn. But street food is also big here: at the Wurstlstand kiosks that stay open late on nearly every corner you can buy not only beer, gum and cigarettes, but also the iconic Kaesekrainer–a mighty bratwurst of pork and beef shot through with piping-hot Emmenthal cheese. A wealth of other sausage options, covering the old-Empire geography from Germany to Turkey—can be served sliced, currified like in Berlin, with a side of horseradish and pfefferoni–pickled green pepper–on a paper plate or in a baguette, which they impale on a large metal spike to hollow it out before stuffing the sausage inside. It's less messy than a chili dog, and frankly it's a bigger serving. For those who might be more inclined to go the Kebab route, late-night (and daytime) revelers make the trip to Lale Turkish restaurant at Schwedenplatz, which has a little window for takeaway.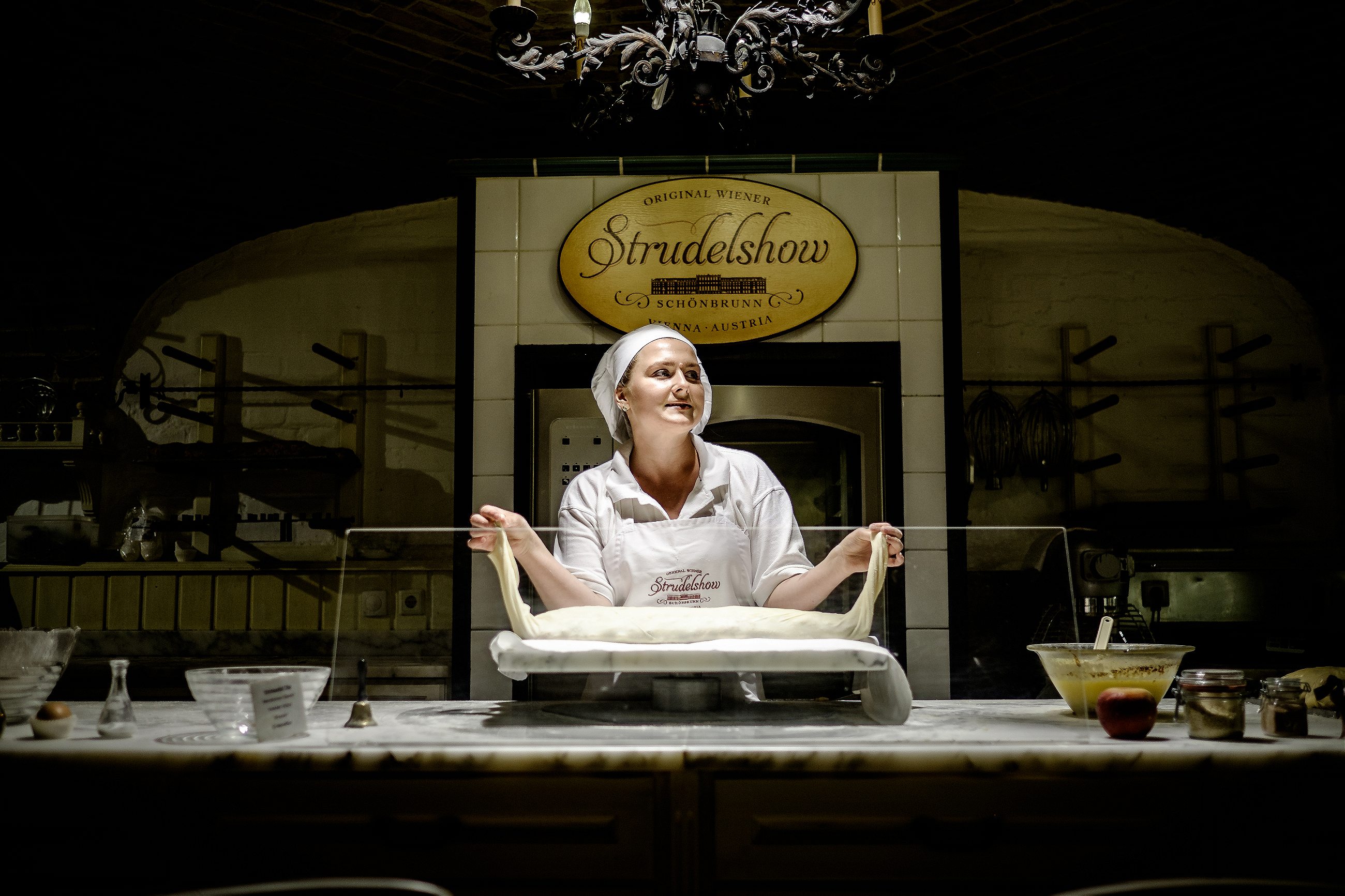 'Wien' is how you spell 'wine' when you're drunk. Vienna is wine. The Roman military settlement on the edge of the empire in the Danube Valley, Vindobona–thought by some to refer to white wine of the region (it translates roughly as 'white base') was a Celtic settlement before the Romans crashed the party. To supplement the then-subpar Austrian wine given to soldiers, the Romans began bringing grapes in from the warmer climes of the empire. Now, Vienna is the only major city in the world that produces significant amounts of wine within city limits. There are some 320 vintners around the Kahlenberg in the leafy 19th district and in the Grinzing area, which is under UNESCO consideration for its role in Vienna's culture. It's also where many of the wine taverns retain their medieval and Roman foundations—and wine presses. Most wine made in Vienna is white—the famous Grüner Veltliner as well as Rieslings and blends, but there are some decent reds (Zweigelt, Blaufränkisch) too.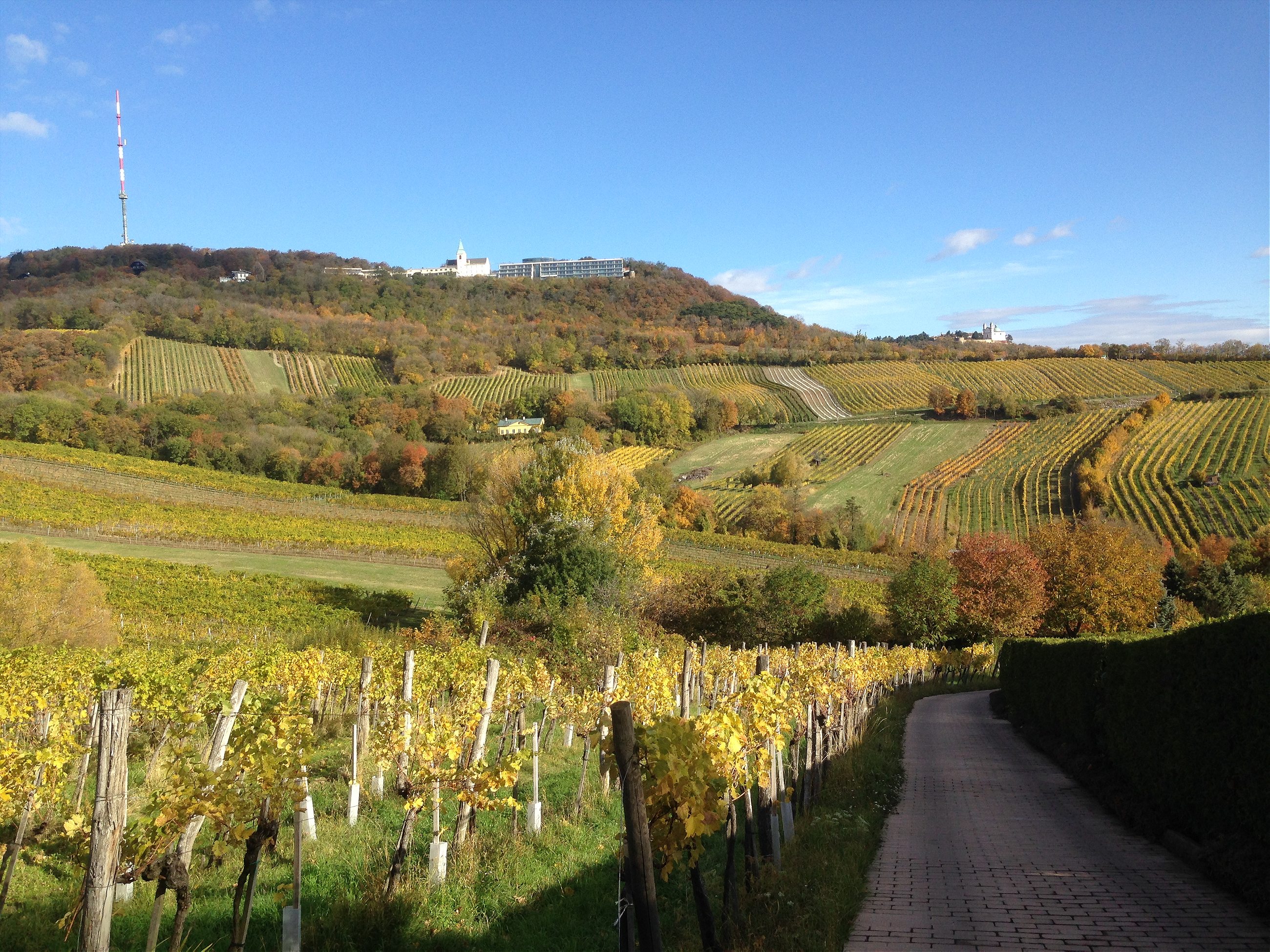 Autumn is for tasting. From September on, local vintners set out tables in the vineyards around the 19th district so people can taste while looking at the city below. These 'Heurigen' or 'Buschenschanken' also serve simple food to go with the wine. Feuerwehr Wagner stands out among these–interiors of wood and wine presses, with blankets for chilly nights and the best Schnitzel outside of the city center. Weingut Cobenzl, halfway up the Kahlenberg mountain, functions as a kind of Austrian wine repository, with a grill restaurant and a petting zoo. Zum Martin Sepp is a Grinzing institution that now sells their wine in New York's Meatpacking District (although their wine is not from Vienna, but northeast in Lower Austria's Wine Quarter). The WEIN&CO stores around the city are a good place to get all sorts of Austrian wines, brandies, and other specialty products such as pumpkin-seed oil (the pride of Styria–Arnold Schwarzenegger's native province).
Note on booze measurements: Wine is served in 1/8 or ¼ liter sizes; they don't call it large or small. Beer is either a 'Seiterl' (large-ish) or a 'Krügerl' (very large).

Public transport only looks free. Because the U-bahn and public transport system has no barriers or turnstiles, it may seem like it's run on a city-wide honor system. But don't be tempted into avoiding the fare–the whole grid is lousy with undercover ticket inspectors. Pleading ignorance doesn't work, nor does giving them a fake address. If you don't have the cash to pay the fine, they will march you off the train and escort you to the nearest ATM. Buy a ticket.

The importance of closing shop. Opening hours in much of the city–and most places outside of Vienna–remain old-fashioned, so there is sometimes very little to buy after weekdays 6pm and on Sundays. A handful of larger pharmacies ('Apotheken') will be open and the city has  some later shopping in the central districts, but don't count on being able to pick up a pair of pantyhose or some extra razors outside normal operating hours of 9-6. The evening off ('Feierabend') is an important freedom for Austrians. Basic supermarkets in transport hubs such as Landstrasse and Praterstern, and in regional train stations, are open on Sundays.
That said, nightlife starts late and ends late. People start getting ready to go out around 11pm or midnight, hitting the clubs until 5am or so. Some only close when the last person leaves.


Mind those manners. Austrians have a reputation–sometimes deserved–as some of Europe's most impatient drivers, but they also place a lot of value on old-fashioned etiquette. Handshakes are important; don't be the person with the limp handshake. Greet people when you are out walking in the countryside. Don't put your feet on bus seats, don't spit, don't chew gum loudly or litter, and maintain public decorum, not least because older women in fur coats will not hesitate to shame you in public. Perhaps most importantly, it is the height of rudeness not to make eye contact when someone makes a toast–make sure to look into everyone's eyes when a 'prost' is made. But it's not all formalities: the Viennese have a special kind of humor based around the concept of 'Schmäh', which is translated best as an affection for bullshitting and dark humor. And once ice is broken, the Viennese will not allow you to go home, and they are generous in getting rounds in. When they say they want to invite you, ('einladen') they also mean to treat you as in, pay for you. People rarely split the bill, but instead take turns paying.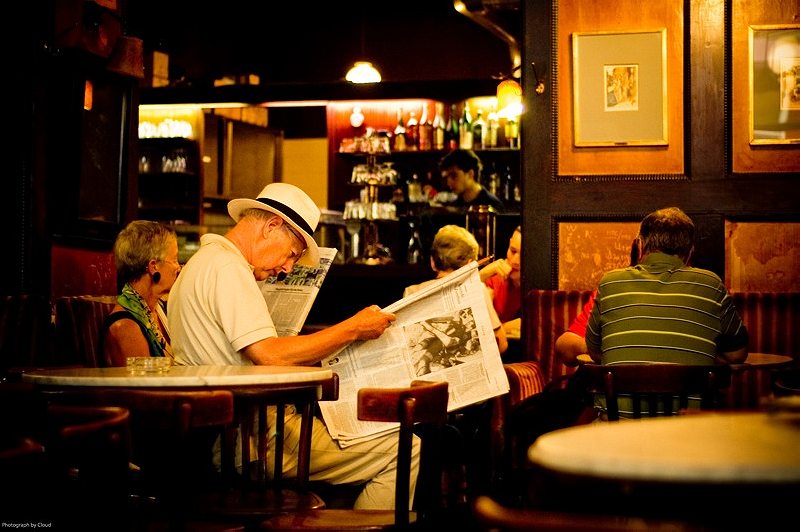 Sit and sip. Cafe culture is so central to Vienna that it is listed as an 'Intangible Cultural Heritage' by a UNESCO sub-agency. In Vienna's coffee houses, the declaration says, "time and space are consumed, but only the coffee is found on the bill." Austrians will spend entire afternoons chatting, eating, and reading newspapers—often with bored dogs at their feet. Freud and Trotsky had their preferred cafés (Café Landtman and Café Central). Among the best in the city center today is Café Hawelka–which is small and smoky, a cave of a café, a dive bar of a coffeehouse. There are also venerable institutions such as Cafe Alt Wien and Cafe Sperl, and more modern hangouts such as Cafe Europa and Cafe Stein. If you're into mid-century vibes, try Cafe Prückerl. Most Kaffeehäuser serve beer and wine too. Another favorite is the Kleines Café, which is small but has great personality, tucked away in a peaceful corner of the 1st district.
Tipping: round up bills for restaurants, cafes and cabs. 10-15% is plenty.


Feel the smoke. It is everywhere; in cafes, bars, clubs, on the street, and some cabs will smell of smoke too. Regulations state that larger cafes and restaurants must have both smoking and non-smoking sections, with the smaller ones entirely non-smoking; but no one really pays attention. If you are going out for an evening, you will end up smelling like the airport smoking shame-corner.


In summer, you swim. Austria may be better known for its skiing and alpine peaks, but it does summer very well–when it is gloriously hot, but not stiflingly so. The Viennese have a deep affection for baden–swimming. There are beaches along the Danube with water skiing, kitesurfing, and sailing. There is the Amalienbad, the famous spa, or the high-altitude Krapfenwaldbad with a wide view over the entire city. You can even go night swimming, with or without alcohol.
And a note on 'body culture': Many Austrians are snappy–if a little conservative–dressers, but they also love to take their clothes off. Nudist beaches and camps (Freie Körper Kultur or 'free body culture') are common all over the county, and in most public swimming places, as many women as not will be topless.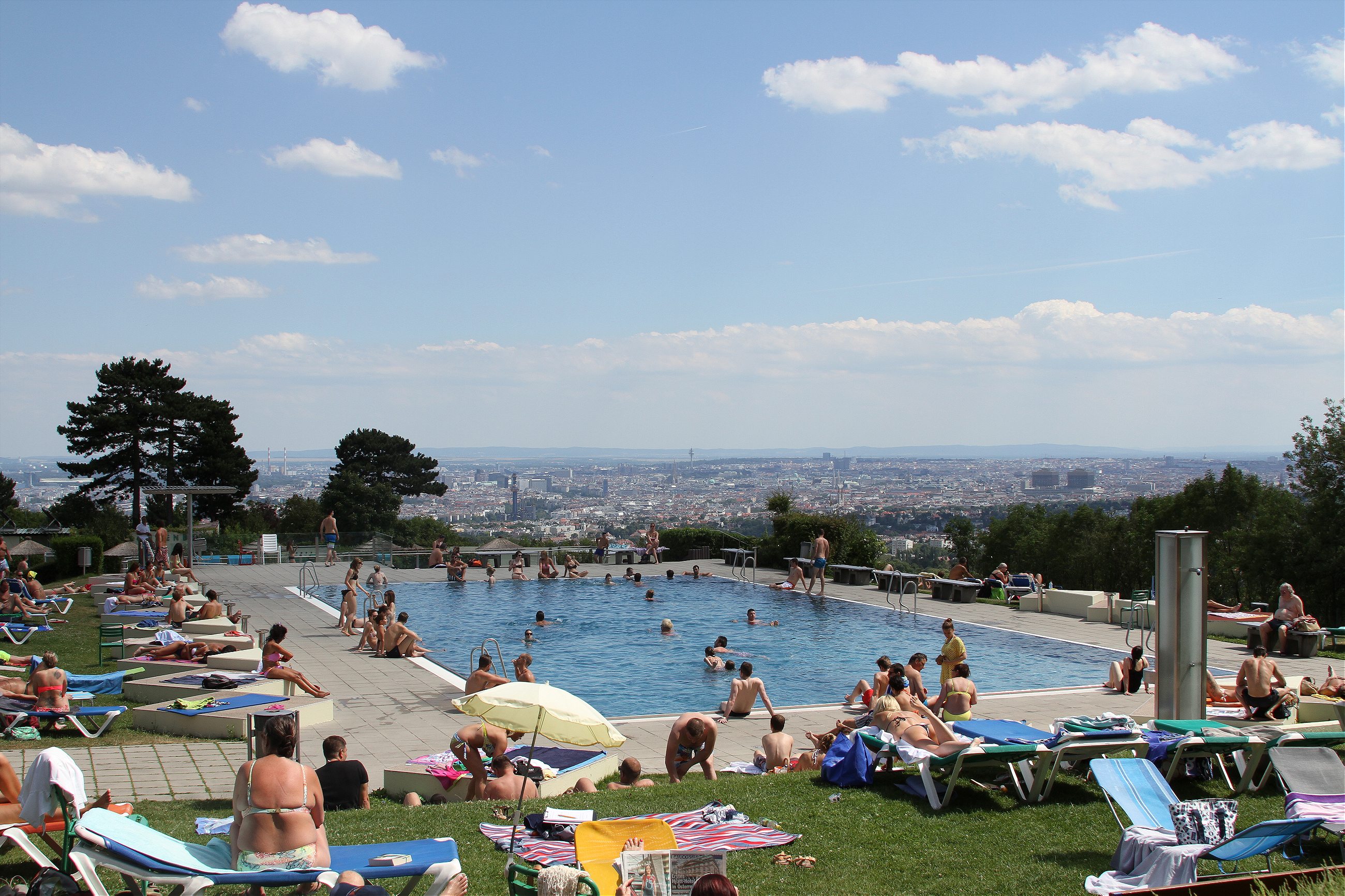 The Wiener Prater is awesome. It's like having a carnival and Disneyland in town all the time; it's free to get in so you can just walk around to see the sights, and there are rarely lines. The Prater theme park (where the big ferris wheel is located) is only a small section of the people's park, which was set up by the emperor as a place for the working class to play, and today contains large fields, sports facilities, a horse-racing track, a couple of baseball diamonds, the main soccer stadium, and a five-floor nightclub with swimming pool. The theme park, comprising 20 square blocks and open to the public, has old-school ghost trains, mazes, water slides, halls of mirrors, and pony rides. It's worth going for the Vaudevillian kitsch alone. There is also the Schweizerhaus restaurant, where at the first whispers of spring locals go for enormous servings of pork knuckle and rotisserie chicken.


Speak localese. You'll get by in Austria with Hochdeutsch ('German' German), but there will be other words—for tomatoes, potatoes, or emotions—that just aren't used in Germany. Viennese is a famous dialect, and has far more exotic influence than most German cities—from Yiddish, Slavic, and Turkish, and makes the language more complex and colloquial. Pick up a couple words like Bim for tram and Paradeiser for tomato, and you'll be a Wiener in no time at all.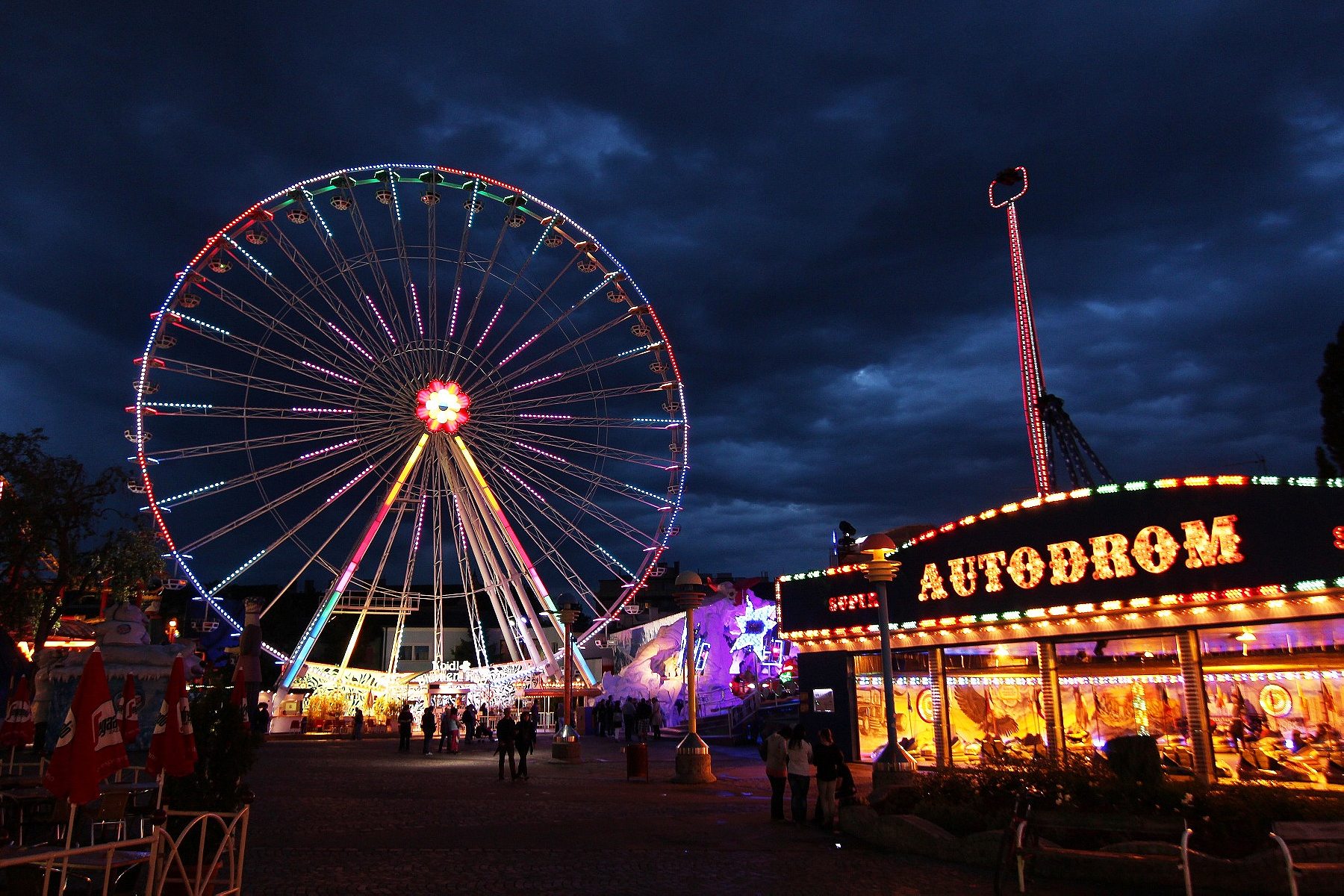 Top image: The Danube at night. Photo by: Thomas Leiser