Historic lanes and lots and lots of noodles.
In Penang, life revolves around makan—the Malay word for "eating" or "food." Every week, my mother would save 20 cents to buy a bowl of wonton noodles from the tok tok mee vendor when he pushed his cart by her school, making a "tok tok" sound by striking a wooden block.
These days, tok tok mee is a rarity. George Town's lanes are filled with cocktail bars and plush cafés selling 17 ringgit (US$4) iced Milo, a chocolate malt beverage sold far more cheaply at open-air hawker stalls. As my mother likes to say, "That's extortion!" But beyond the artsy cafés, the older layers of George Town are alive and well. Gazing out at the ferry terminal on the Malacca Strait, I can imagine it's the turn of the 20th century. My great-great-grandfather disembarks with other sailors, carrying a wooden suitcase full of spices from another voyage to Sumatra. When I hear the Malayan Railway clock chime, I can picture the 1950s, and my grandfather packaging pills at the nearby George Town Dispensary.
On this tour, we walk many of George Town's old lanes, which are often named after the people and communities who settled in them over the past 300 years: Chinese, Tamils, Armenians, and the local Malays and Peranakans—the descendants of Chinese immigrants who started coming to Malaya in the 15th century and married Malay women, creating fashion and food distinct from Malay and Chinese cultures. 
We'll start with breakfast at Pasar Chowrasta (Chowrasta Market), between Lebuh Tamil and Jalan Chowrasta. Built in the late 1800s, the market was recently renovated and is easily recognizable by the steel-rod sculpture next to it, "Laborer to Trader," depicting a sulking laborer carrying bricks and a smiling trader selling kueh, glutinous rice pastries.
Despite its Tamil roots, the market, like most in Penang, sells all manner of food. Try the koay teow th'ng, flat rice noodles with fish balls and fish cakes in chicken stock and minced pork-flavored soup, and curry laksa, a thicker, spicier version of assam laksa, the Peranakan noodle soup with lemongrass, turmeric, ginger flower, and mackerel. Grab a few preserved nutmegs to nibble on during the rest of the morning's walk.
The street after Jalan Chowrasta is Lebuh Campbell, once a major shopping district before the advent of department stores. Numerous boutique hotels in the area recall Penang's eclectic history, such as Campbell House, where the rooms contain furnishings such as opium beds and silk headboards.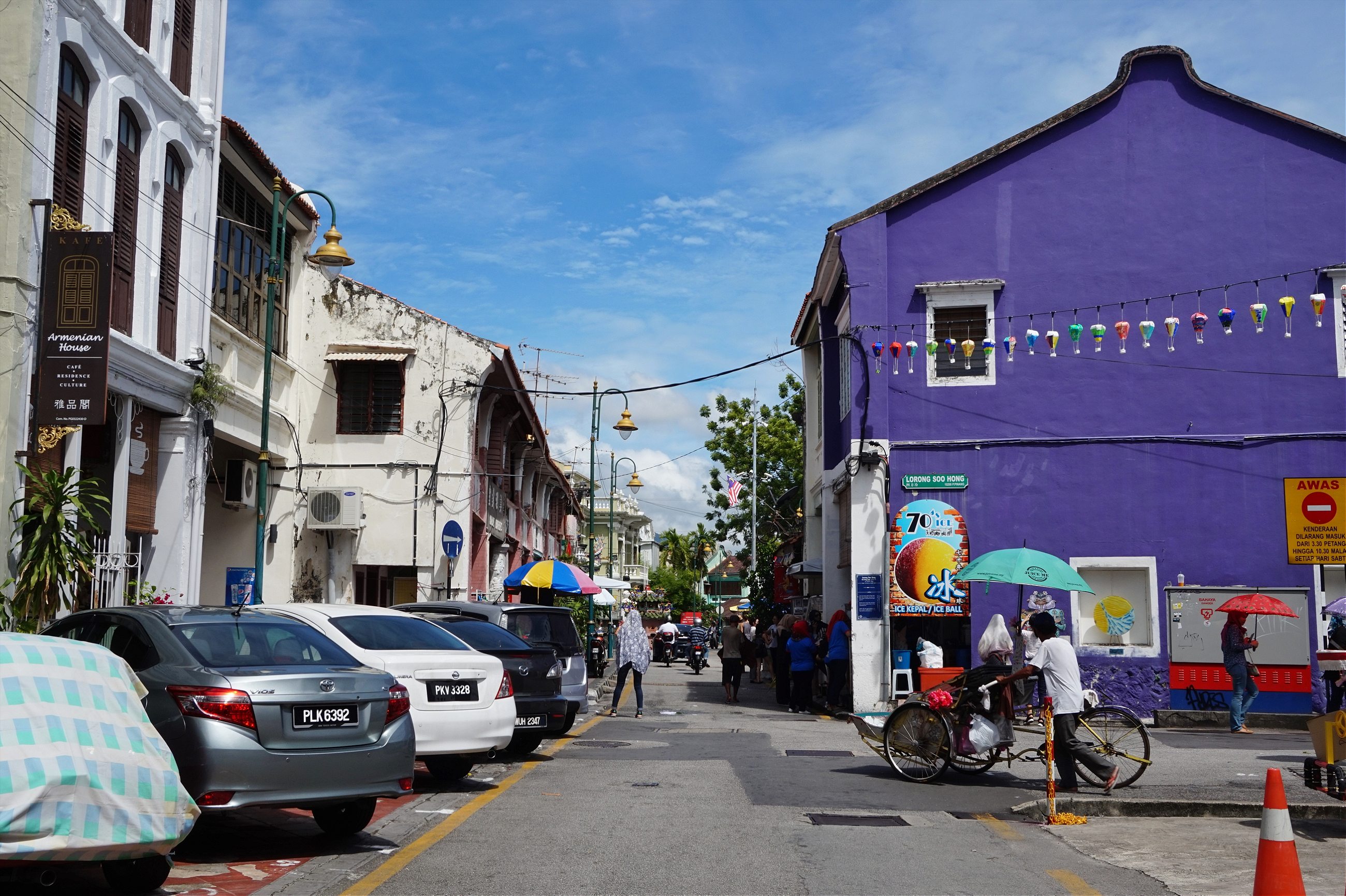 Walk down the street towards Chinatown at the corner of Lebuh Cintra, and windowshop colorful double-story shophouses containing jewelers, tailors, and other retailers. The street is also referred to as sin kay, which means "new street" in Hokkien, to describe new immigrants from China who settled there in the 19th and 20th centuries.
By 10 a.m., a line has usually formed outside Hameediyah Restaurant. Since it opened its yellow and green storefront in 1907, Hameediyah sells what is perhaps Penang's best South Indian food, especially nasi kandar, aromatic steamed rice with curry and side dishes such as hard-boiled eggs and okra. Wash it down with a steaming cup of teh tarik. Literally translated as "pulled tea," teh tarik is a sinful mixture of black tea and condensed milk. Watch the vendor pour the mixture in swift movements back and forth in two cups from a high angle, never spilling it.
Still hungry? Make a quick detour to Kek Seng, on the other side of Pasar Chowrasta, along Jalan Penang. The kopi tiam chain is known for delicious, cheap hawker food. Have a bowl of aromatic, savory assam laksa, then walk over to Penang Road Famous Teochew Chendul. It's never too early in the morning for sweet pandan-flavored rice noodles and red beans doused in coconut milk and ice.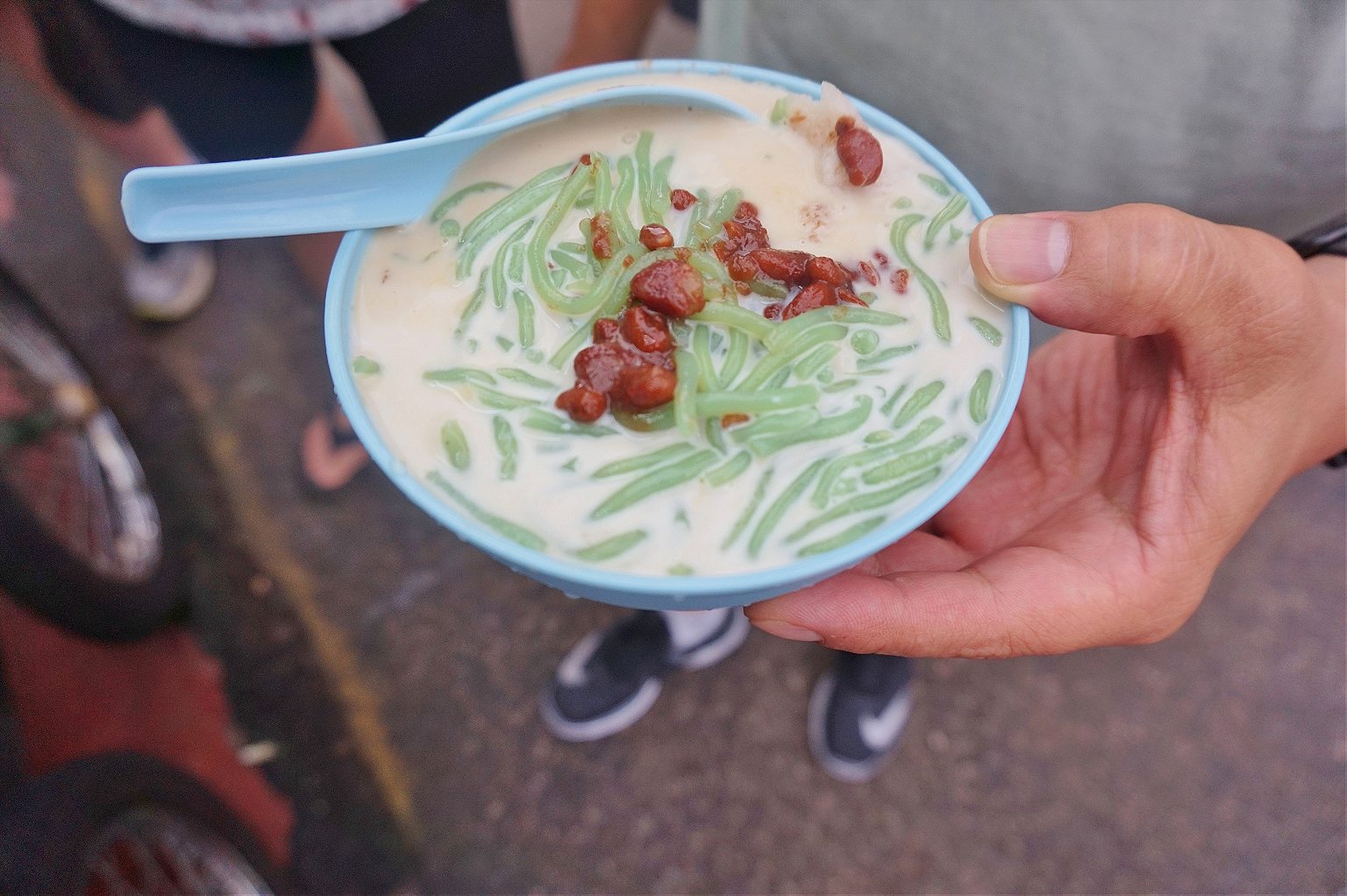 Get back on Lebuh Campbell and peek inside Campbell Street Market, another market selling meats, poultry, and colorful dried snacks. Keep walking until Campbell turns into Jalan Buckingham, named after London's Buckingham Palace. Peruse the sundries shops, bakeries, and cafés furnished with antique chairs and tables. Masjid Kapitan Keling spans most of Jalan Buckingham. The mosque, which has a grand, cream-colored façade and black ivory domes, was built by Indian Muslims in 1801.
Walk down Jalan Masjid Kapitan Keling (formerly Pitt Street), pass Lebuh Armenian, named after the Armenian traders who lived here, and towards Cannon Square, a leafy residential area. Look out for the steel-rod sculpture named "Cannon Hole," depicting a trishaw driver falling into a hole in the ground. The sculpture commemorates the 1867 Penang Riots, when coalitions of Chinese secret societies fought over the monopoly of opium and arak farms. According to legend, a cannon fired during the riots left a hole in the minaret of the Acheen Street mosque, where a hole remains.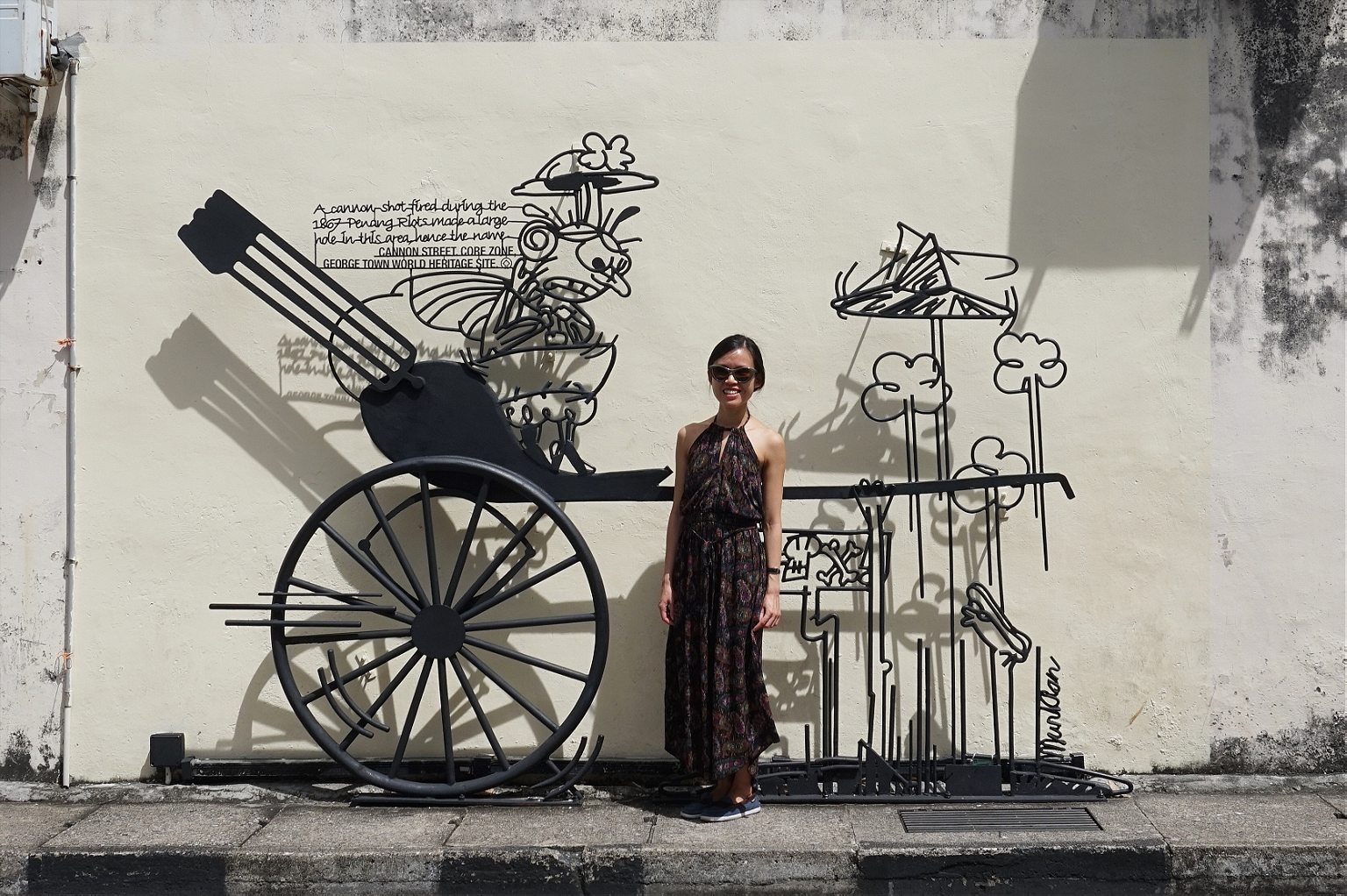 Nearby are the kongsi, or clan houses named after the surnames of Chinese immigrants. When new immigrants arrived in Penang, they looked for the kongsi bearing their surname, where they could find employment referrals and advice on adjusting to life in Malaya. The clan also recorded lineages when immigrants married and had children. The most famous is the Khoo Kongsi, whose founding director, Khoo Thean Teik, was also leader of the Khian Teik, one of the secret societies involved in the Penang Riots.
For a quieter experience, visit the nearby Yap Kongsi on Lebuh Armenian. The temple's shiny green roof is unmissable. Next to the temple is the green-and-white clan house built in "Straits Eclectic" style, a distinct architectural style that blends European and Chinese elements. Continue walking down the street to Lithuanian artist Ernest Zacharevic's mural of two children on a bicycle. Make a left on Lebuh Pantai (Beach Street), where you'll find the Cheah Kongsi's spacious, grassy compounds.
Walk towards the large 1950s-style ad on the side of a shophouse that reads "Ghee Hiang." In operation since the 1850s, the Beach Street location is the biscuit company's first outlet. Try the tau sar pneah, a crumbly Fujian-style oven-baked pastry made with ground green beans.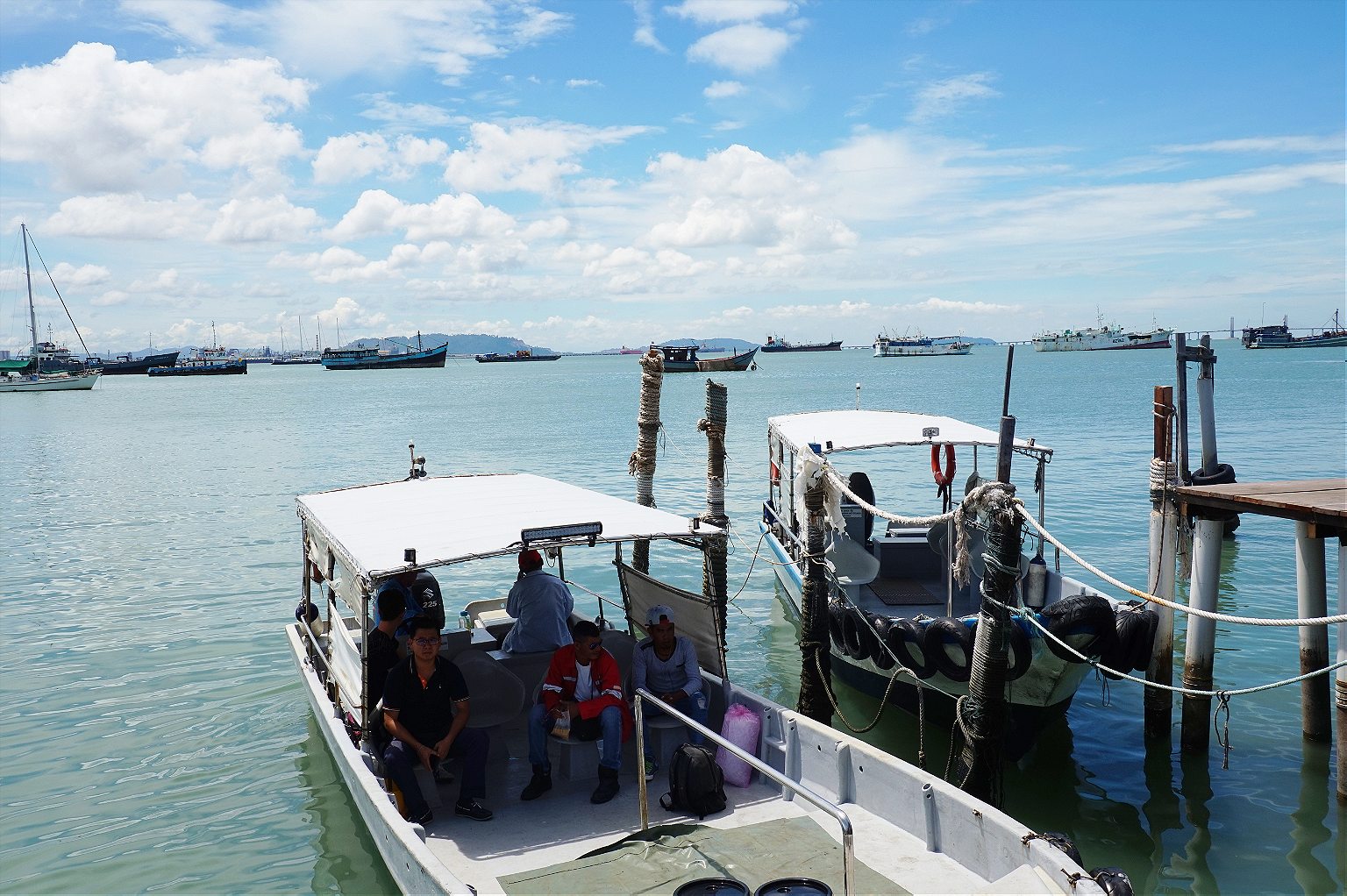 Get on Gat Lebuh Chulia and head to Pengkalan Weld (Weld Quay), where red and yellow lanterns lead the way to the "clan jetties". In the past, these stilt homes were built to house Chinese laborers working on the port. Though many owners still live in the houses today, some have been converted into souvenir shops. Chew Jetty is the most-visited, so check out Lim Jetty or Tan Jetty instead for equally impressive views of the Malacca Strait.
Continue along Pengkalan Weld, making a left at Gat Lebuh China by the Malayan Railway Building. At the Beach Street corner is the George Town Dispensary (also called George Town Chambers on some maps). Completed in 1923, the cream-colored building with bright copper-colored panels still operates as a pharmacy today.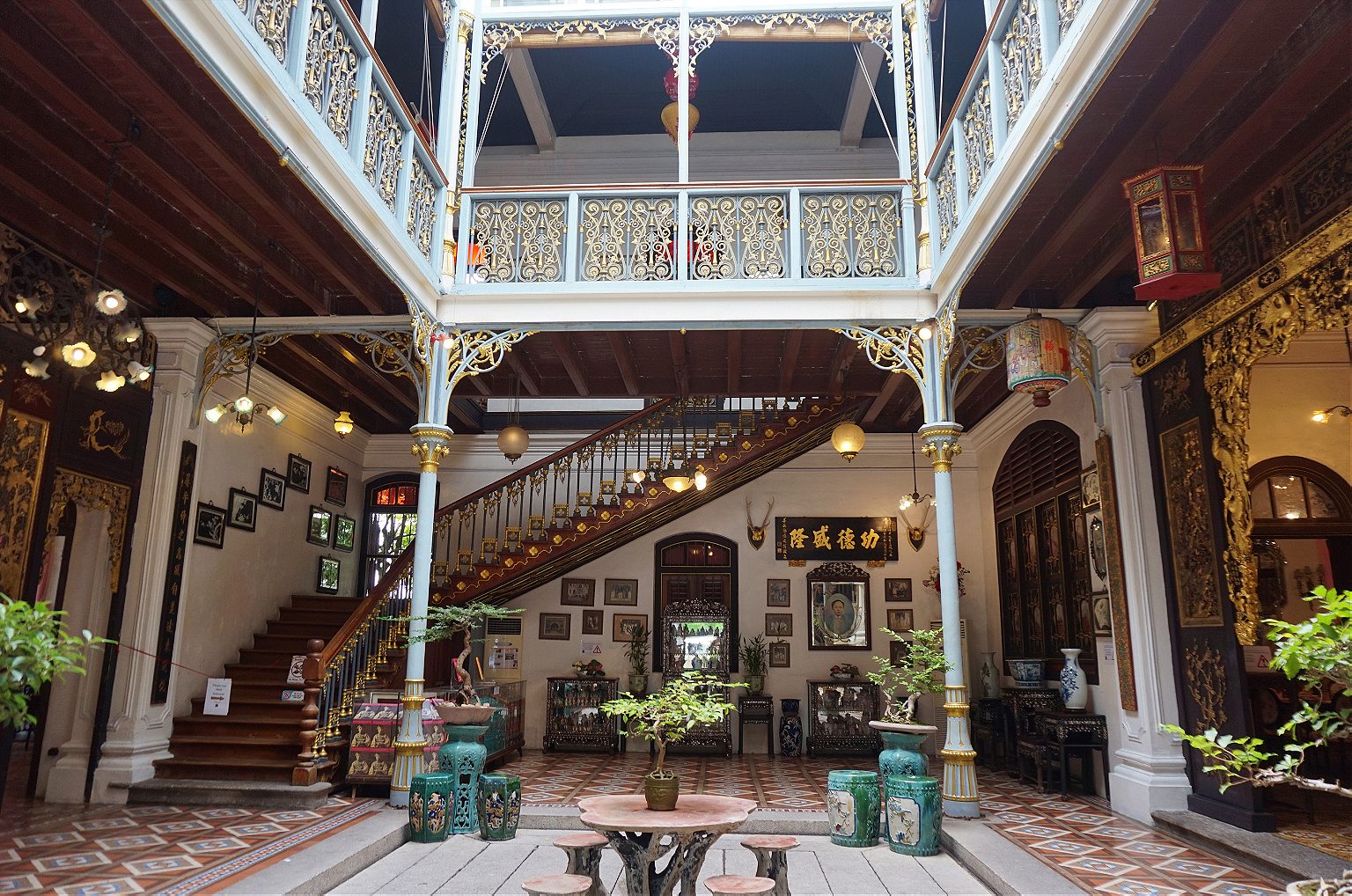 Beach Street was Penang's old financial district, and the historic buildings still house banks. Make a left at Lebuh Gereja (Church Street), where a cheerful turquoise-colored house stands out. The Pinang Peranakan Mansion houses antique furniture and objects including tiffin boxes, vases, and beaded slippers owned by wealthy Babas and Nyonyas. Ask the elderly lady dressed in a gorgeous sarong kebaya—a patterned blouse fastened with brooches and a colorful floral-patterned sarong—for a guided tour. She is a walking encyclopedia and will tell you all about Peranakan customs, from weddings to food preparation.
There are two options for lunch. If you've worked up an appetite, walk three minutes to Auntie Gaik Lean's Old School Eatery on Lebuh Bishop. Once a jewelers' store, the shophouse has been repurposed into a restaurant serving modern Peranakan fare. Order the perut ikan (fish stomach) and egg belanda (tamarind fried egg).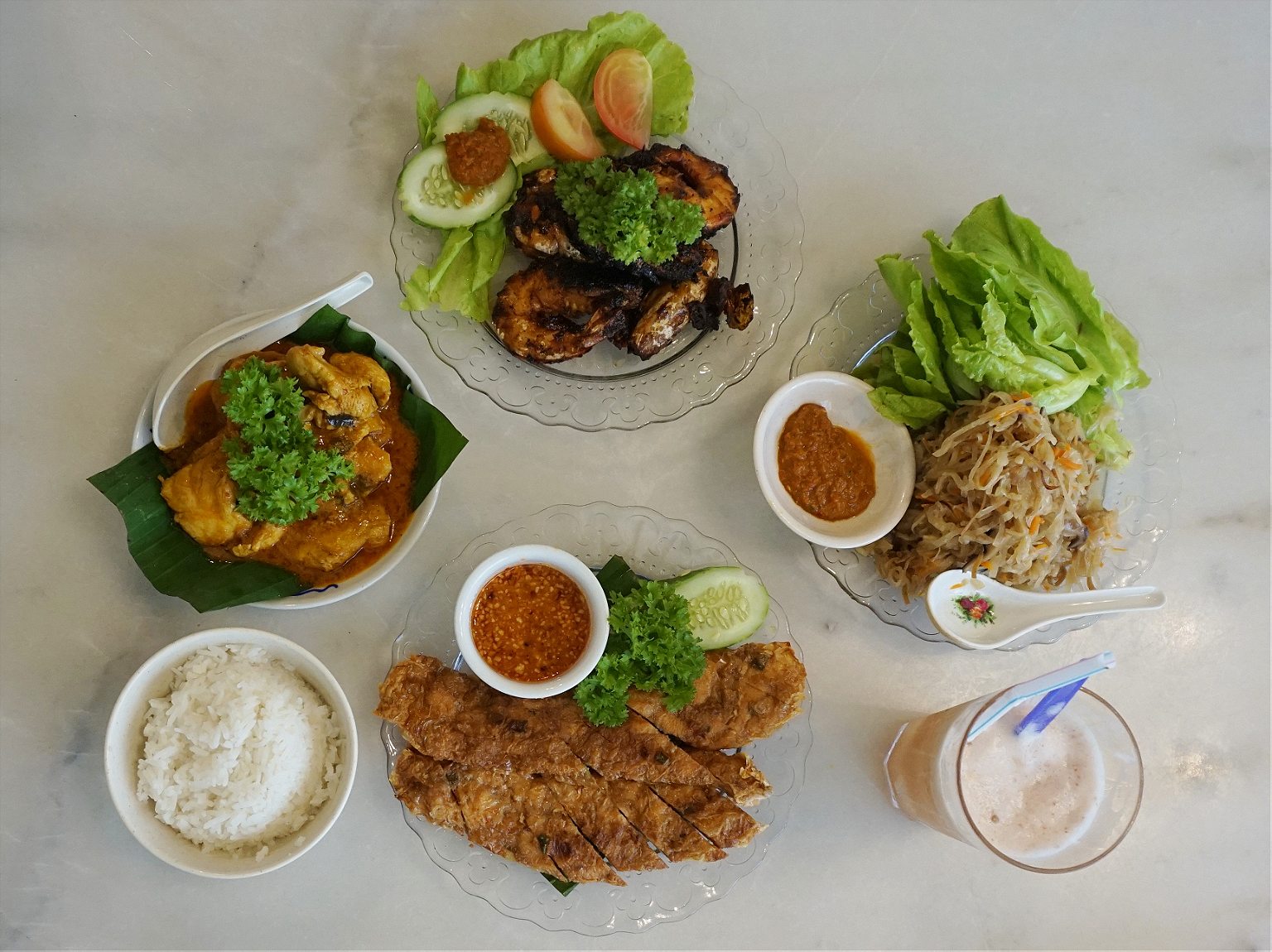 Or, head up Lorong Stewart and make a left at Lorong Love, where you'll find numerous "heritage hotels", such as You Le Yuen, housed in renovated former shophouses. They say wealthy Chinese men kept mistresses in Love Lane's houses, hence the name.
Turn right to Lebuh Chulia, where you'll find Moh Teng Pheow Nyonya Koay and Canteen and rows of multi-colored kueh behind a glass display. As I child, I loved peeling off the different layers of kueh lapis (layered kueh) and eating each one by one. Moh Teng Pheow also serves delicious nasi lemak (Malay-style coconut rice with fried chicken, fried anchovies, cucumber slices, hard-boiled egg, roasted peanuts, and sambal) which my mom swears tastes just like the nasi lemak sold from carts in her youth. Don't forget to order a few sweet and savory coconut and pandan kueh to go. You won't want to go hungry in the afternoon.