A writer spends a day eating through her grandmother's hometown in Penang.

Air Itam, MALAYSIA—
Although in Malay, this small town's name means "Black Water," what makes it famous is not the water but its hawker food. The vendors in Air Itam sell the most blissful noodles I've ever tasted.
Walking by Keat Seng Restoran (which, although using the Malay term for restaurant, is not a restaurant but an assemblage of open-air hawker stalls) last month, three Hokkien words catch my eye: koay teow th'ng. Koay teow (flat rice noodles) with fish balls and fish cakes submerged in hot soup flavored with chicken stock and minced pork is a dish unique to Penang, and it was just what I needed on a sweltering morning.
I walk up to the elderly yet strong Malaysian-Chinese man dipping his sieve into the vat. Beside him, a young Malay lady serves koay teow th'ng in bowls to hungry patrons.
"Satu mangkuk?" One bowl? She asks me in Malay.
"Chi wah?" The old man asks the same question, but this time in Hokkien.
"Dui, yi wan." I reply in Mandarin. Yes, one bowl. It was a knee-jerk reaction, a result of having lived in Taipei for nine years and speaking Mandarin rather than Taiwan's version of Hokkien and having long lost the ability to speak in Penang Hokkien. I am a Penangite who is unable to speak either Malay or Hokkien. Shameful.
The lady brings a steaming bowl of koay teow th'ng to my seat. The marble tabletop is plastered with Malay-language advertisements for shampoo and beauty products.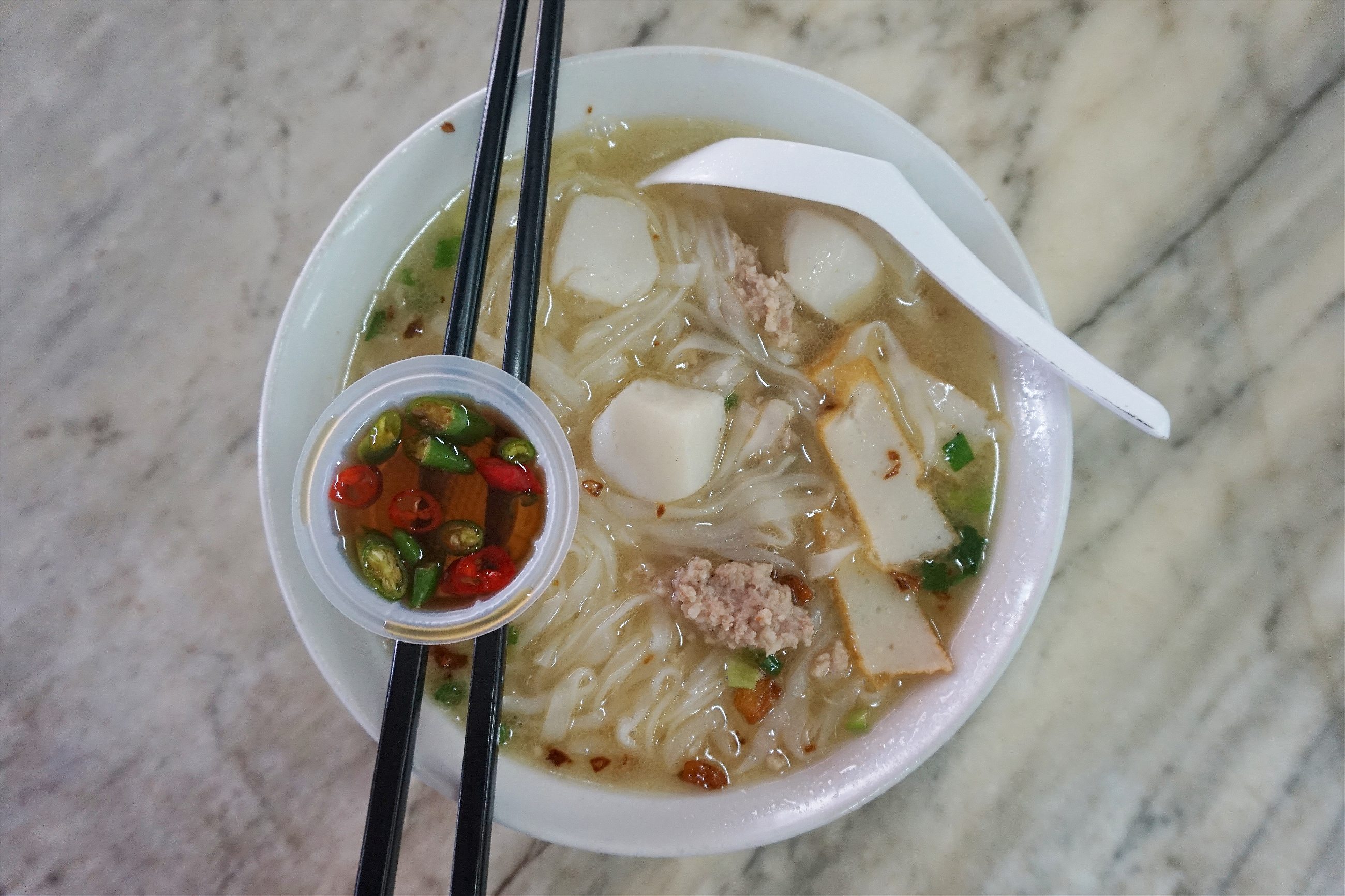 Down the road from Keat Seng is Reservoir Garden Baptist Church, where my mom spent her Sundays, and nearby is the small, single-story house where she grew up. A five-minute drive away is Maha Mariamman Temple, a late 19th-century Hindu temple that still holds boisterous celebrations during the Hindu festival of Thaipusam, and a stone's throw away is Kek Lok Si Temple. Completed around the same time as the Hindu temple, this ornate Buddhist temple on top of a hill has become a tourist spectacle.
"It's not the same as before," Penangites often say these days. Sometimes, they're referring to the influx of tourists. Sometimes it's the growing conflict between Penang's different ethnic and religious groups. But most of the time, it's food. Each time I visit Penang, family friends tell me stories about hawkers who have retired after 60 years in the business, and young people who either don't not know how to cook or who do not want to be hawkers. It made me think of my grandma, an amazing home cook, now living in Seoul with my parents.
Like a scuba diver heading to the Great Barrier Reef before it disappears, on my latest trip to Penang, I made it a mission to spend an entire day eating at family-run hawker stalls that have been in continuous operation since my grandma's childhood, before these places are gone, too.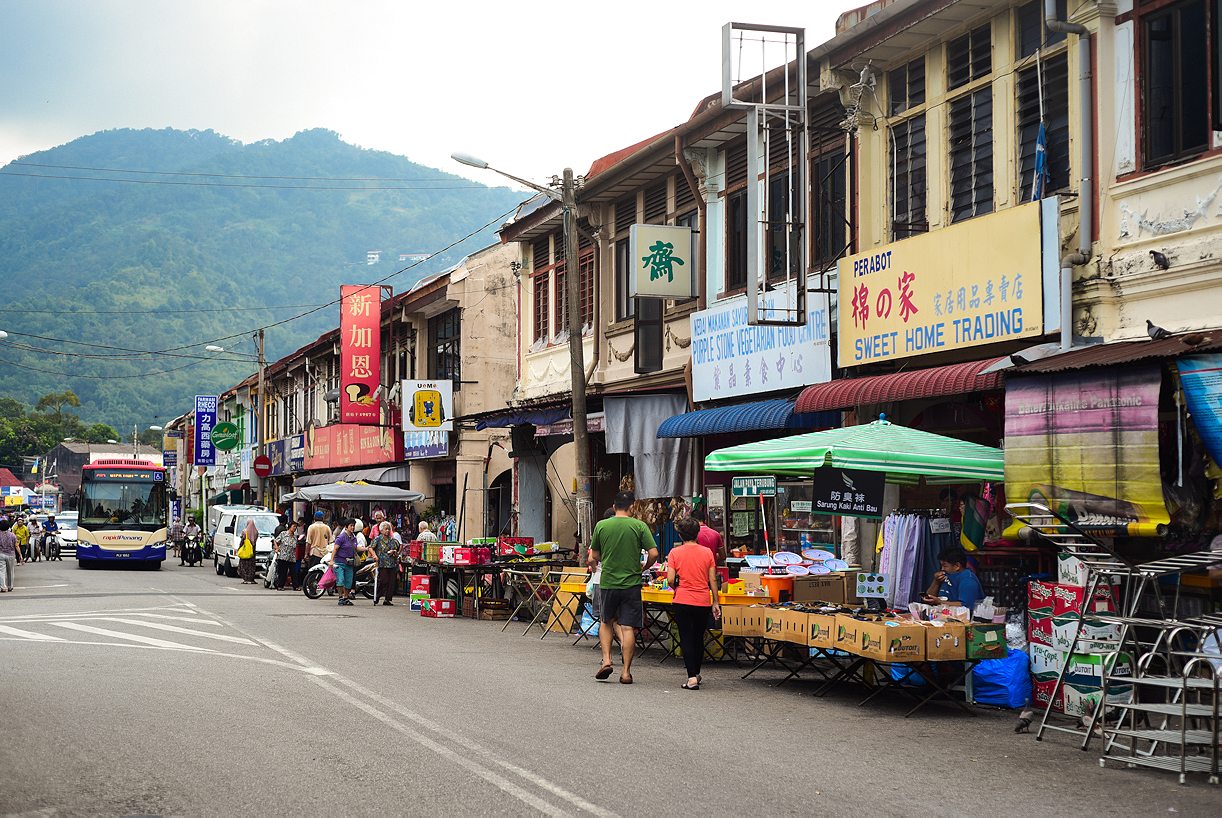 I stir the minced pork in my koay teow th'ng, letting the flavor cling to the noodles before diving in with my spoon and chopsticks. Everyone at Keat Seng Restoran is similarly engrossed in either slurping noodles or dipping noodles in chili prior to a slurp, and not checking their phones. My favorite way to eat a fish ball: pierce one chopstick in the center of the fish ball and slosh it in vinegar and chilli padi. I wonder if my mom and my grandma did the same thing when they ate at Keat Seng decades ago.
The clear broth has a trace of sweetness from chicken stock and is beautifully balanced with savory, tangy vinegar and chilli padi dipping sauce. The noodles are fine and silky. The fish ball and fish cake are bouncy, without any hint of a gross rubbery texture.
It's 11 a.m., and koay teow th'ng is already my third meal of the day.
For breakfast, I had char koay teow with a side of yam cake and otak otak—a type of fish cake—and a glass of iced barley (a white and translucent-colored concoction of barley that's been boiled, water, and rock sugar with barley seeds added for extra texture) at Sister's Char Koay Teow. My grandma likes to say that her inspiration to make her own char koay teow came from watching the two Lam sisters cook at their little stall on Macalister Road. Sister's Char Koay Teow now operates out of Lam Heng Café and has become an institution among experts in the sacred art of frying (or eating) char koay teow.
However, when I arrive, I learn that one of the sisters recently passed away and her son has taken over the wok. The crab meat topping is springy as ever and the prawns are succulent, but, to my slight dismay, the rice noodles aren't as charred as I remember. Instead, they are coagulated and sit clumpy in my mouth. It's not the same as before, I think.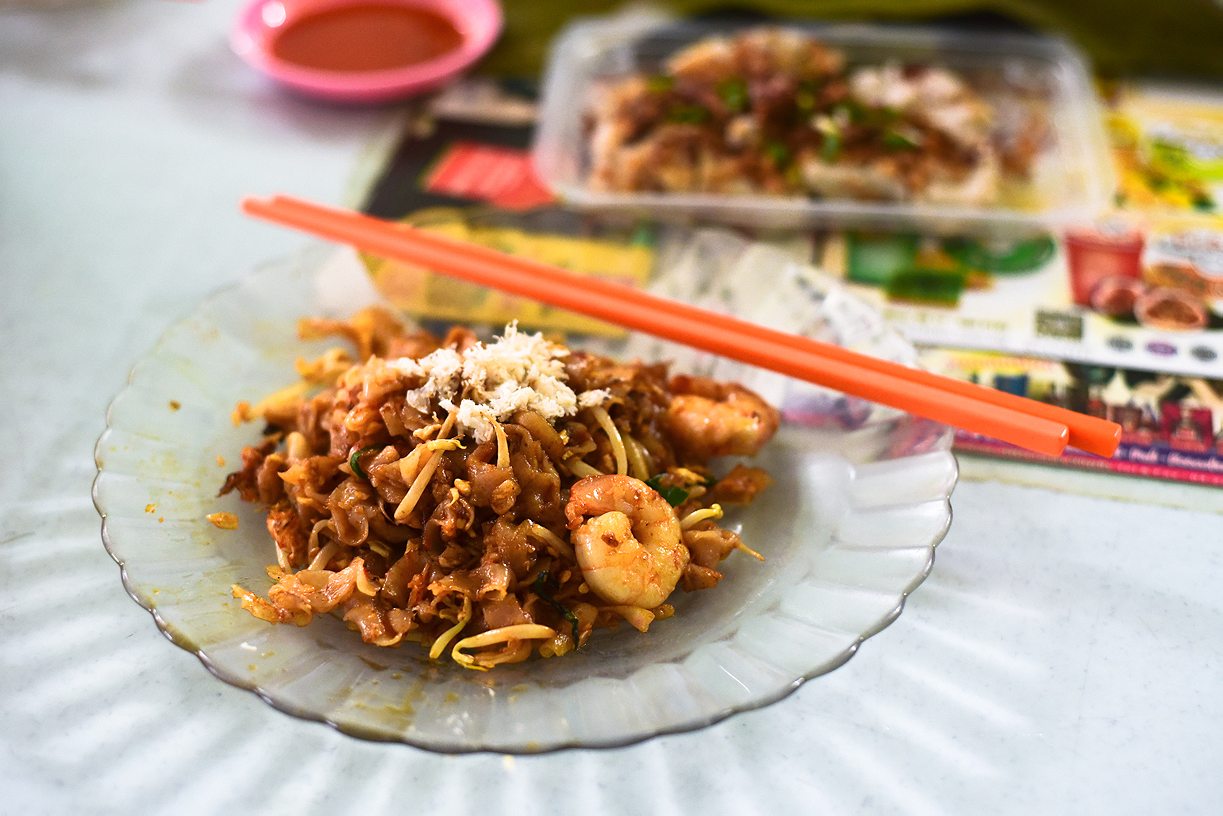 My quest is redeemed, though, with the cendol I had at Penang Road Famous Teochew Chendul. Since 1936, the Tan family has operated this stand. They now have their own sit-down kopi tiam—a term that fuses the Malay word kopi (coffee) with the Hokkien word tiam (shop) to describe open-air coffee shops – where they serve the refreshing sweet concoction of pandan-flavored rice noodles and red beans soaked in a bowl of coconut milk and ice.
Around Air Itam and the larger area of George Town, signs in hawker stalls proudly display the year the stall opened for business to feed Penangites. Like the proliferation of "Famous Ray's" and "Ray's Famous" pizza parlors in Manhattan, many stalls now brand themselves with "famous" in their name. Usually, this happens after one of their dishes makes it to a "world's best food" list or when a famous person like Jimmy Choo, the Penang native of eponymous women's shoe fame, eats there.
George Town is filled with mosques, temples, and churches that leave no doubt how important religion is to the residents. Similarly, hawker stalls are where foodies go to pay homage to local cuisine. Food is a religion for Penangites. To be from Penang and to dislike hawker food is a punishable sin. I learned this lesson growing up abroad.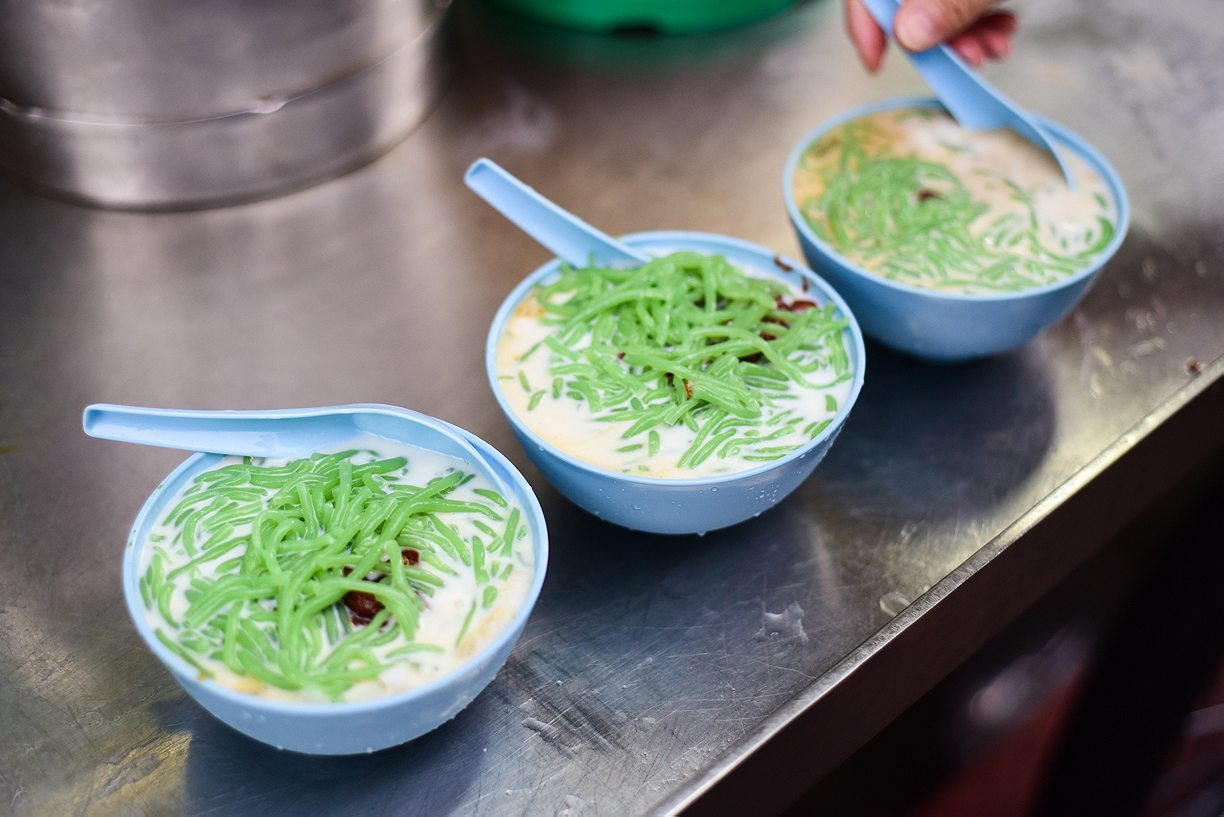 In 1990, my grandma checked in her mortar and pestle at Kuala Lumpur's Subang Airport to bring with us when my father was posted to Hong Kong. The cooking utensil, made of solid granite and which she used to grind and crush chili peppers, lemongrass, tamarind, scallions, and shrimp paste to make sambal, weighed 20 pounds. In those more innocent days of air travel, airport security thought nothing of it. Or maybe they understood that Malaysians moving abroad needed to bring such vital tools.
Grandma made sure we ate like Penangites as we moved from country to country.
We were an unusual expat family. Whenever my dad, who works in the pharmaceutical industry, was posted to a new country, it wasn't just my mom and me who followed; my grandparents came with us, too. My dad, a city boy from Kuala Lumpur, jokes that he "rescued" my mom and her parents from "Black Water," but after 27 years of eating sambal, he's addicted.
Grandma made sure we ate like Penangites as we moved from country to country. As a Penangite and a Peranakan, she had good reason to be proud. The Peranakans are the result of intermarriage between Malay women and (mostly Hokkien) men from southern China who immigrated to the Malay Peninsula from the 15th century onwards. Their descendants are called Nyonyas (for women) and Babas (for men). Over time, Peranakans set up communities in the British-governed Strait Settlements of Penang, Malacca, and Singapore and developed a distinct culture that blends east and west.
Peranakans thus blend Chinese, Malay, Thai, Indonesian, Indian and European influences into their cooking, throwing in ingredients that traveled around the world as part of the spice trade. Centuries later, these are no longer experimentations but staple foods.
Take Penang assam laksa, a popular dish with Peranakan roots cooked at home and in hawker stalls, for instance. It derives its name from the Sanskrit word "lakh" which means "one hundred thousand" and refers to the numerous ingredients in the dish, including Chinese noodles, chili, lemongrass, turmeric, ginger flower, and mackerel.
A good Nyonya woman must acquire four skills: embroidery, beadwork, cooking Nyonya food, and making Nyonya cakes, often referred to in their Hokkien name, kueh. While my grandma was often too busy gambling to learn embroidery and beadwork, she more than compensated with her cooking (although my grandpa married her for her mahjong skills as much as her laksa).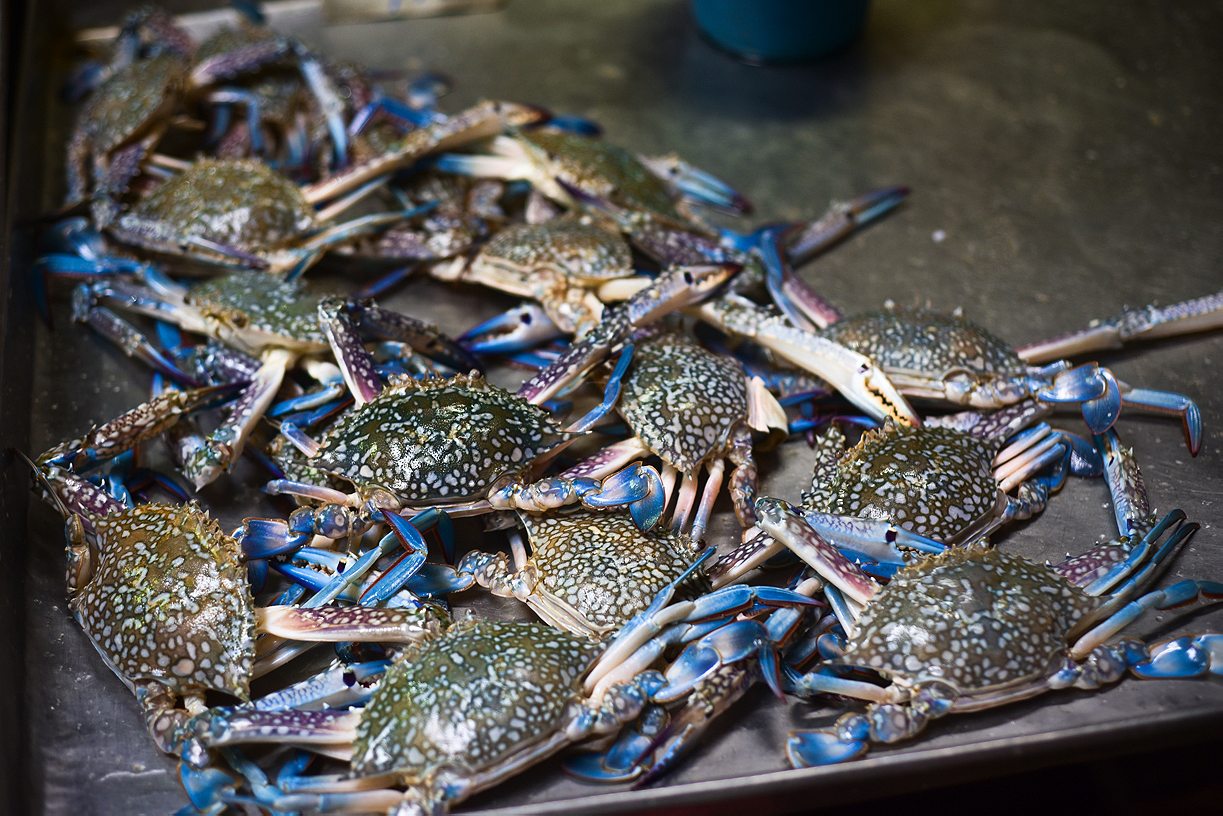 Sometimes, cooking Penang hawker food outside Penang was a gargantuan feat. The fish balls sold in Taipei were different. Grandma insisted that sweet and rubbery Taiwan fish balls simply could not, ever, be incorporated into a good laksa. We needed the less chewy, more savory Penang variety. In 2011, CNN named Penang assam laksa number seven in its list of the world's 50 best foods. Grandma was right to not use those Made in Taiwan fish balls.
At the end of any trip home to Penang, grandma loaded her luggage with frozen fish balls and fish cakes, tropical spices and rice vermicelli. Upon her return to Taiwan or Hong Kong, she cooked for days, furiously grinding spices with her mortar and pestle, being sure to make as much noise as possible. The wafting scent of chili peppers and tamarind during Taiwan and Hong Kong winters transported us to a sweltering Air Itam hawker stall.
But right now, there's no need for me to imagine. I was really in Air Itam, and my next stop is Sister Curry Mee. I place my order with one of the two elderly Lim sisters, who have run the stall and cooked curry mee for more than 70 years. A mix of rice vermicelli and thick yellow noodles topped with tofu puffs, shrimp, cuttlefish, blood cockles (a type of cockle native to Southeast Asia that has a reddish appearance), and pigs' blood cubes, and soaked in bright red curry, the curry mee is an absolute frothy delight except for the burning sensation it ignites in my throat.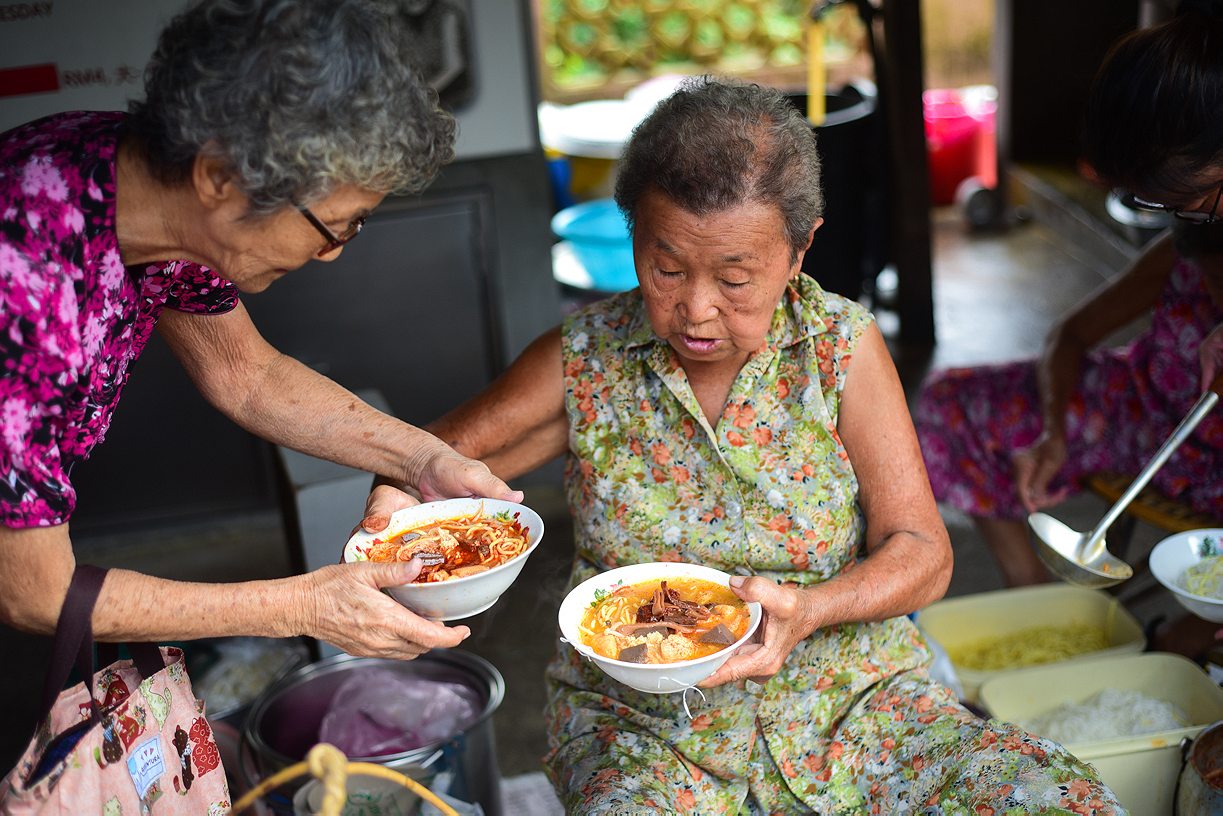 Shaking off possible heartburn, I head to my next and final stop, Penang Air Itam Laksa, the magnum opus of Penang hawker food. Posters announce that the renowned Penang Air Itam Laksa, another family-run business, has served "the one and the only one" laksa since 1955.
The stall is right outside Air Itam Market. In addition to hawker food, the market, which dates from the end of World War II, was a gathering place for the neighborhood's housewives who chatted and haggled during daily shopping trips. Houses back then didn't have refrigerators so ingredients had to be bought fresh. This tradition continues today with crabs, fish, durians, and other seafood and fruits that are transported from the coastal parts of Penang such as Balik Pulau to Air Itam Market nearly every day.
My mom's and grandma's stories of Penang enthralled me. Grandma was the self-appointed "bicycle queen" of Air Itam from the 1950s to 1970s. Neighbors recall seeing her fly on a bicycle—sometimes with my mom in the basket—to Air Itam Market every morning to buy groceries, which she used to cook lunch for my grandpa and mom. Then it was off to gamble.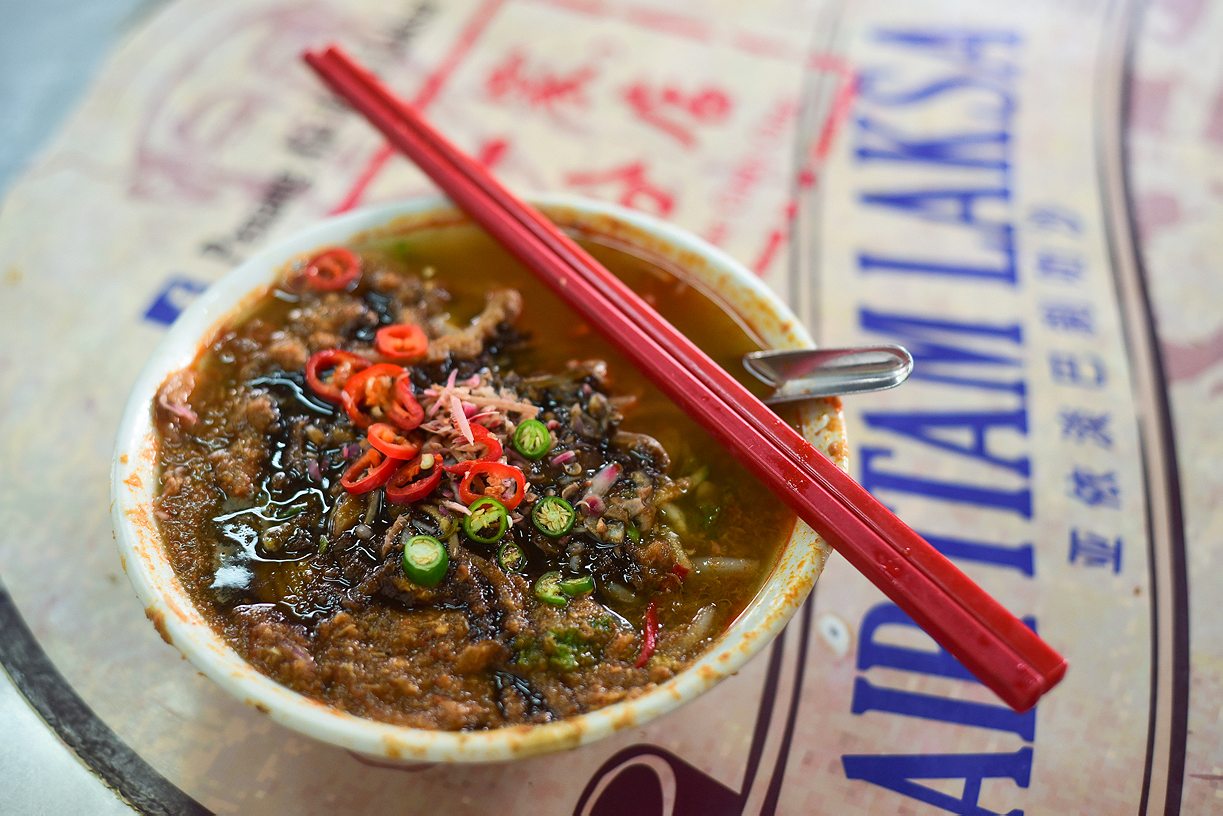 On my way to the market, I pass a row of old shophouses with retractable, wrought-iron gates and signs in English, Bahasa, and Chinese advertising confectionaries and biscuits. There are sweet types shaped like buns, which I don't like, and square-shaped salty, crunchy crackers, which I do. Nearby are colorful fruit stands. Bananas and pineapples dangle from hooks affixed to the roof of these shophouses. It's durian season, so durians are sold in all fruit stands, though in Air Itam, the lingering smell of sambal masks the strong roasted onion odor of durians.
I smell the shrimp paste before I see the stall. "Chi wah laksa," I say, recalling how to say "one bowl" in Hokkien. The rice noodles cooked in a thick broth made with mashed mackerel and tamarind and mixed with onions, chili, and vegetables is the most flavorful meal I've had all day. It is pungent, sweet, savory, and spicy all at once, like the laksa my grandma used to make.
It's mid-afternoon and as the hawkers stack up chairs and pack their woks, I stumble out of Air Itam Market in a noodle-induced stupor.