Get lost in this maze of a city.
With its congested traffic, pollution, noise, and tourists, Kathmandu can feel frenetic. But a quieter and less hectic atmosphere is only a 25-minute drive to the south, in the maze-like city of Patan—one of the three cities in the Kathmandu Valley.
Nepal's third-largest city (and my hometown) is made up of bahas, or courtyards, connected to one another other by narrow alleyways. Anyone taller than five feet will have to bend down to walk through them. Mind your head.
In Patan, ancient monasteries, temples, and other monuments—some of which have existed for centuries—blend seamlessly into residents' everyday lives. They've become so familiar, in fact, that they're sometimes underappreciated and neglected. Once you get to Patan, make sure to wander around slowly to fully appreciate its beauty.
Patan can also be an overwhelming city to navigate, and exploring it in a day or two is almost impossible, so take your time. You may only see a small part of Patan, but you'll feel like you have experienced a lot. After almost three decades of my life here, I am still discovering new parts of this ancient hometown of mine.
Head to the Square
Start your day with a morning visit to Patan Durbar Square, known locally as Mangah. The square is home to a former royal palace—a UNESCO world heritage site—and the Patan Museum. If you like people-watching, sit on one of the benches along the museum's walls as the square becomes busier throughout the day. The museum faces two ornate temples: the grand Char Narayan Mandir and Krishna Mandir, which, along with many other buildings in Patan, are being rebuilt after they were damaged during the 2015 earthquake.
The temple stairs or the falchas (pavilion-like resting places) are no longer standing because of the earthquake, so locals like to sit on one of the courtyard's benches or on the other side of the square, on the edges of the fountain in front of the big bell, and catch up with friends after a long day of work.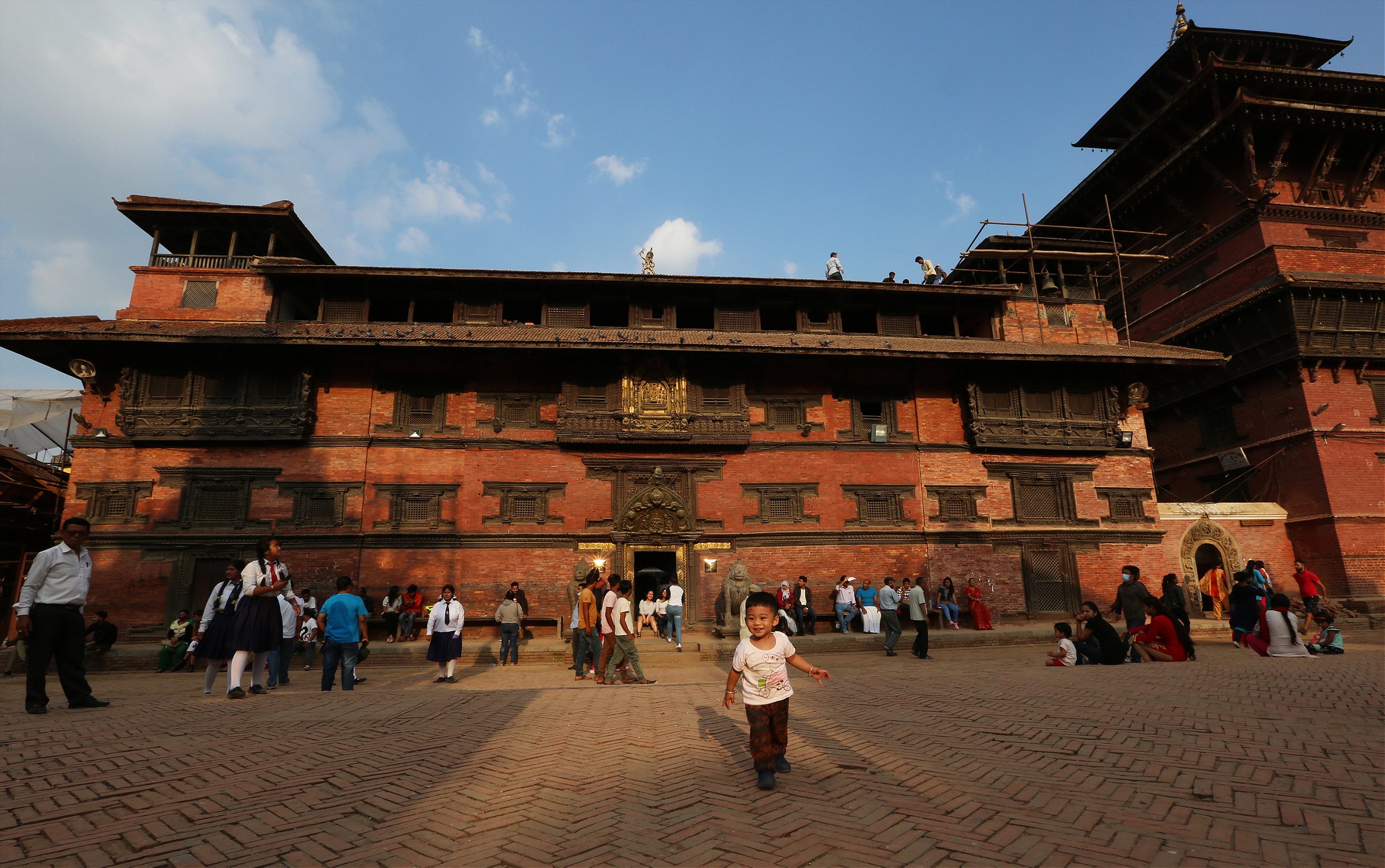 Patan Museum
Take some time to walk through the Patan Museum before you wander through the rest of the city. (The entry fee is 250 rupees for visitors from SAARC countries and 1000 rupees for other nationals. The museum ticket is valid for the duration of their visa's validity). The museum has over 1,100 artifacts, including a large collection of sculptures of Buddhist and Hindu deities on display.
If museums aren't your thing, you can visit the three courtyards in the Patan Museum complex. My favorite is Sundari Chowk ('Beautiful Courtyard'), a smaller courtyard that lives up to its name. In the center is the Tusha Hiti, a structure that features an ablution spout adorned with stone carvings and a bronze spout that features the Hindu gods Vishnu and Laxmi on a Garuda, the mythical bird Lord Vishnu rides on.
If you get hungry, walk through the Mhamadu Galli alley behind the Krishna Mandir, where you'll smell a buttery scent that has been welcoming the sweet-toothed for over 100 years. The alley has two sweets shops at each end, both of which belong to two brothers. This is where locals get their special Saturday breakfast servings of jeri, deep-fried swirls of dough dipped in syrup, served with swari, a thin layer of deep-fried flatbread.
[Read: History of Kathmandu Valley, explained in 11 dishes]
Kwa Baha
Coming from the museum, walk through the Mhamadu Galli behind the Krishna Mandir, and take a right towards Hiranya Varna Mahavihar, known as Kwa Baha or the Golden Temple. The Buddhist monastery dates back to the 12th century, and like other temples, it is a place of daily worship and a gathering spot for members of the community, who take turns looking after the site. Many locals start their early mornings by making rice and flower offerings, but the monastery is officially open to tourists from 9 a.m. to 6 p.m.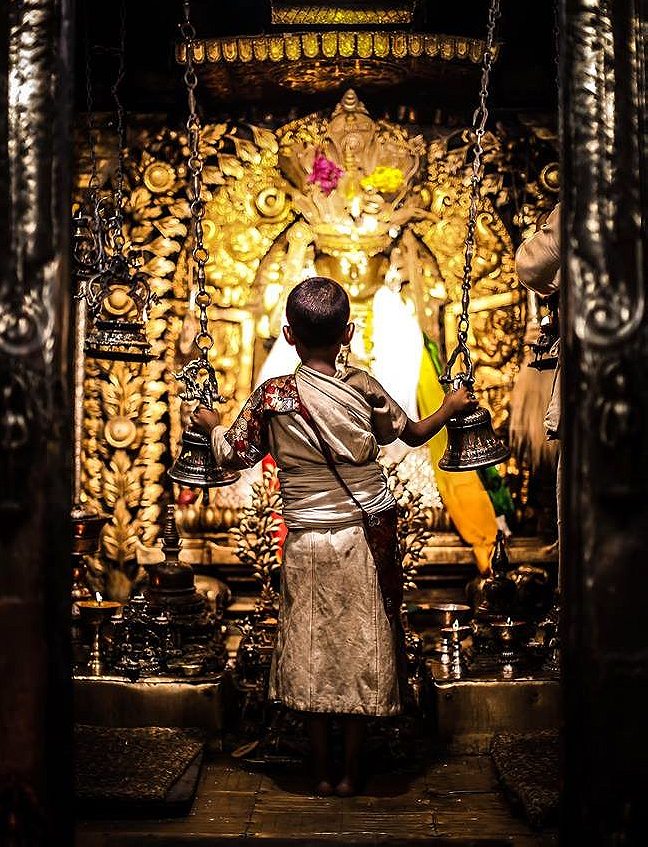 On your way to Kwa Baha, you'll notice various curio and craft stores, selling everything from handcrafted statues of Buddhist and Hindu gods to singing bowls and paintings. One of the stores worth visiting is Yala Mandala, an artisan hub with a café, a gallery, an artists' collective, and a handicraft store. The café has a lovely garden area with pomelo trees. Drop in for breakfast or check out some of their events, which usually feature local artists and musicians.
Nagbahal
From Kwa Baha, you can ask locals to point you to the alley that leads to Nagbahal, a neighborhood named after the two serpent gods. The neighborhood is also the starting point of a spiritual journey known as Dipankha Yatra. The journey, celebrated by Newars—the original inhabitants of the Kathmandu Valley—is announced by priests based on an astrological calendar. During the journey, thousands of people walk to 131 religious sites along the festival's route throughout the Kathmandu Valley over the course of two days. Nagbahal is also the site of the Samyak Mahadan—a procession, and then assembly, of more than a hundred statues of Buddha's incarnations—that takes place once every five years.
If you want to take a break to grab a bite, think of the palace square as your starting point. Don't be afraid to ask the locals for directions if you get lost in the alleyways. Once you're back in the square (about a five-minute walk), go behind the Krishna Mandir, where you'll find a hole-in-the-wall restaurant with a terrace called Honacha.
A third-generation family joint, Honacha is one of Patan's oldest restaurants and is popular for its varieties of woh (lentil patties), spicy potato curry, and chhwela (spicy marinated buffalo) and other Nepali dishes. The menu, which is delivered verbally to diners, hasn't changed much over the years. Getting a seat can be a challenge, so be prepared to share tables and benches with other customers.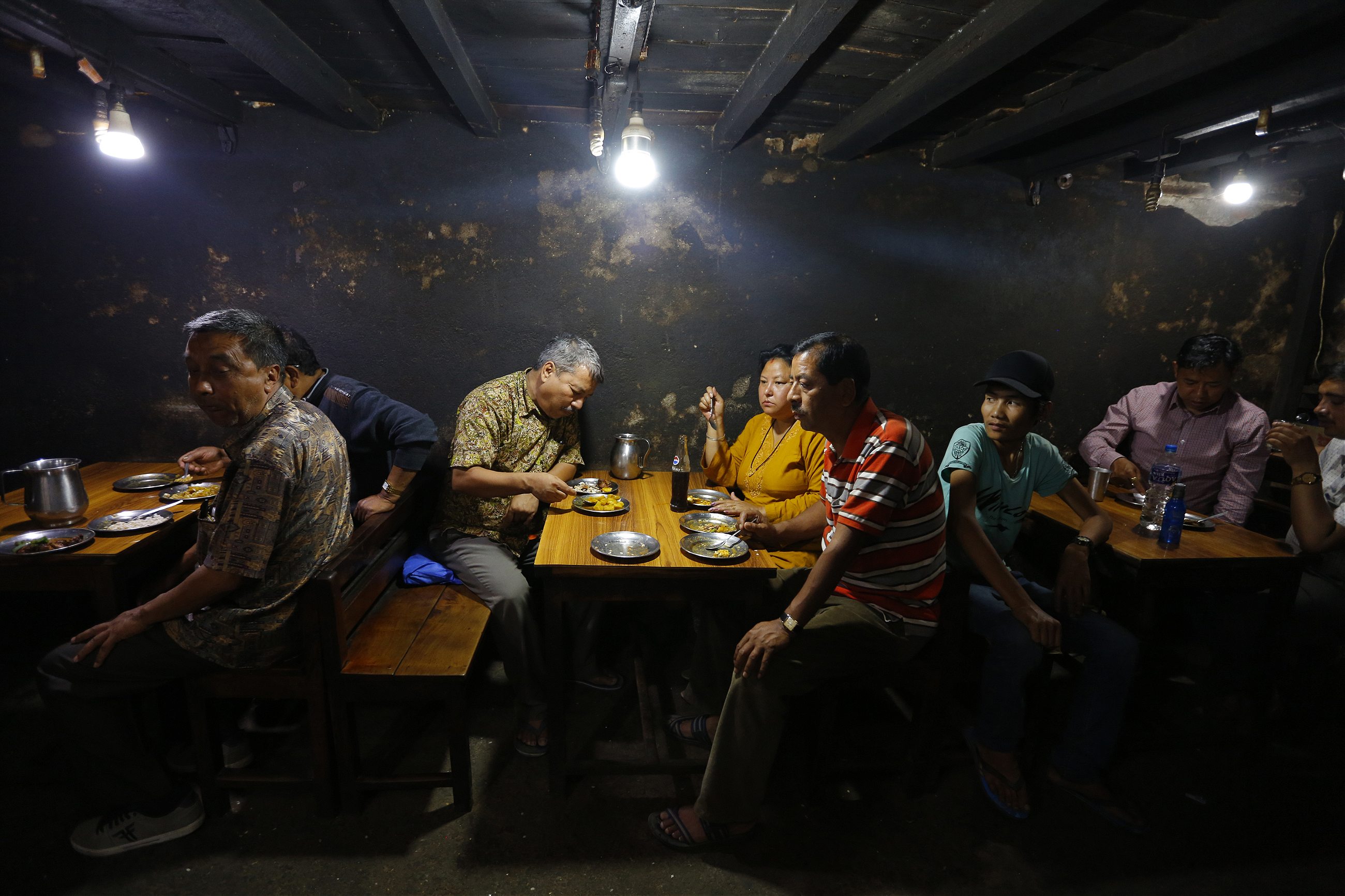 You can also eat at the Nandini Food Court, in Swotha, a square less than a minute's walk northeast from the Krishna Mandir. At Nandini, which serves a less spicy version of Newari dishes, you can try the khaja set, a platter that comes with small portions of beaten rice, chhwela, marinated spinach, gundruk (dried, mildly spicy fermented greens) potatoes, potato and bamboo shoot curry, and a miniature woh. You could also try the yomari, steamed rice-flour buns stuffed with either chaku (molasses) or khuwa (a sweet milk solid).
If you can handle the spice levels of Newar cuisine, then Kwacha is the place for you. From the Swotha Square, walk about 10 meters (32 feet) north and you will come across a narrow alley on your right that leads to the Bhairab temple. Once at the temple, turn left and walk down the alley—Kwacha is the second restaurant on that lane.
There is a vibrant menu at Kwacha, mostly for non-vegetarians. A spicy plate of chicken gizzards, sukuti, duck chhwela, fried fish, or more adventurous options such as buffalo brains, stuffed lungs, or the sapoo mhicha, a bite-sized pocket of buffalo tripe stuffed with bone marrow. You can also order some chhyang, local rice beer, and call it a day well spent.