Waterfalls, canyons, pancakes, old diners, and Twin Peaks-style logging towns.
Johannesburg, as beautiful and strange as it is, is hard to stay in for too long. Every now and then it is wise to leave the city, and there is perhaps no better place for a weekend trip than Gauteng province's pastoral neighbor, Mpumalanga, a province in South Africa's east that borders Swaziland and Mozambique and is known for its dramatic natural features—canyons, waterfalls, and national parks.
The region is probably best known for Kruger National Park, but there are more exciting and affordable things to do in the area. During apartheid, the local Maluleke people were forced off their land to accommodate Kruger; Mpumalanga province stretches over the southern half of Kruger's territory. Although the land has since been returned, it's still under park custodianship.
Mpumalanga, or Land of the Rising Sun in siSwati—one of South Africa's 11 official languages—is a region that has supported human life for a long, long time. The Barberton greenstone belt (essentially, a very old and unusually well-preserved chunk of the earth's continental crust) on which the area is built, geologically, dates back 3.5 million years; many natural scientists believe the area is where human life began. The area is rich in minerals, natural water, and arable land. So, when the Voortrekkers—the Afrikaner farmers who migrated east from the Cape Colony in the 1830s—made it out here, they wanted to monopolize land ownership. Although the province is also home to production plants for chemical, agricultural, and mining companies, there are still vast tracts of Mpumalanga that remain, by and large, unspoiled. Here are some of the best places to see, things to do, and liquids to imbibe when you're in this sprawling South African province.
Getting there
Unfortunately, public transport doesn't extend to the nooks and crannies of Mpumalanga province, so rent a car and make the towns of Sabie, Mbombela, or Graskop your base. Watch out for potholes en route, and don't pay more than 20 rand (US$1.40) to enter the waterfall or other viewing areas.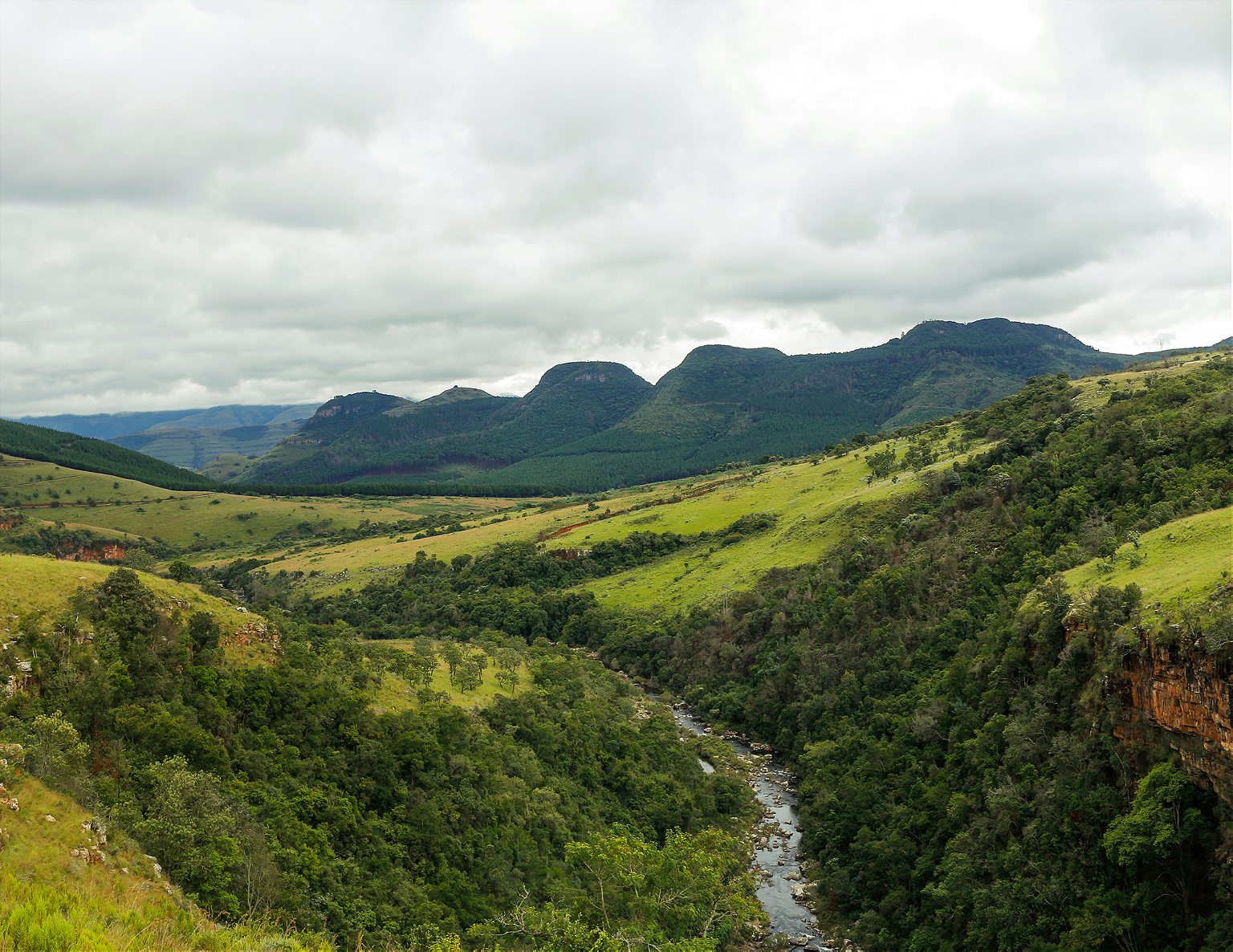 Sabie
Sabie has a mysterious, small logging-town atmosphere, reminiscent of David Lynch's Twin Peaks. The forestry plantations engulfing the town are dense, beautiful, and hide many natural sites of interest.
Mpumalanga is famous for its bounty of natural water (streams, lakes, rivers) and waterfalls, and Sabie is located near the region's tallest waterfalls. Lone Creek, Horseshoe, and Bridal Veil Falls are about 5 to 10 minutes outside town. At Lone Creek, after a gentle walk, you can easily get up close gto the falls. Berlin and Lisbon Falls are further away, but their drops are the longest in the province.  Mac-Mac Falls and Mac-Mac Pools are both outside of town, but are worth the 15-minute drive. The Falls clock in at an impressive 65 meters (213 feet) and are one of South Africa's national monuments. The natural rock formations next to Mac-Mac Falls have allowed pools to form (at a safe distance from the powerful waterfall), which makes it a perfect picnic and swimming spot.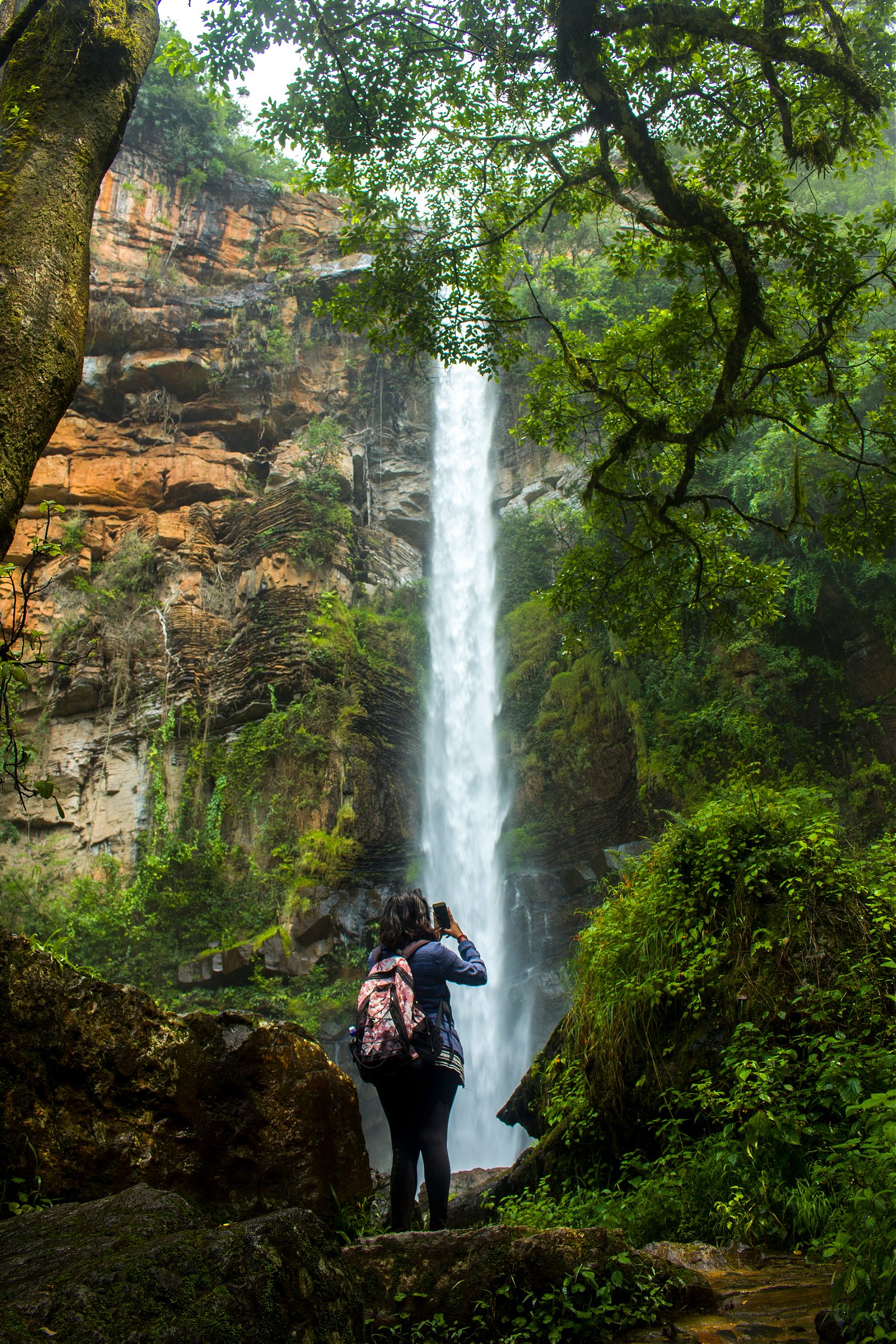 If picnics aren't your thing, go back to Sabie and grab a bite at Smokies, an old-logging-train-turned-diner. Their potjies, small cast-iron pots filled with roasted vegetables and meat, are renowned for their succulence. If you're looking to explore further north to see natural rock formations and lookout points such as Bourke's Lucky Potholes or God's Window, overlooking the Blyde River, then stay at Merry Pebbles, a caravan park and resort on the edge of the Sabie River that looks like it was built in the 70s and has remained untouched since.
In Mpumalanga, the humble pannekoek (pancake) gets a revamp at Harries Pancakes restaurants dotted around the province. One of the best in the franchise is in Graskop, another small town closely related to the forestry industry. Their thick pancakes can be filled with savory things, such as the tomato lamb bredie, or with decadent chocolate for the sweet-toothed. The classic combination of a cinnamon-sugar pancake with lemon juice drizzled on top is next-level here, and goes perfectly with a cup of Sabie Valley Coffee.
The cultural exchange and mixing of peoples in the area has led to a special kind of country cuisine: dishes such as pap en sheba, chakalaka boerewors roll, and oxtail and samp form the basis of quite a lot of restaurant and pub fare—and the greasy vetkoek or pancake meal is also pretty popular. There is also the hyper-local mampoer—a spirit based on the marula fruit that varies between 50-80 percent ABV. It tastes like what I imagine jet engine fuel tastes like. You can find variations of mampoer around the province, but one of the best (or is it actually the worst?) is Hakkiesdraad peach mampoer.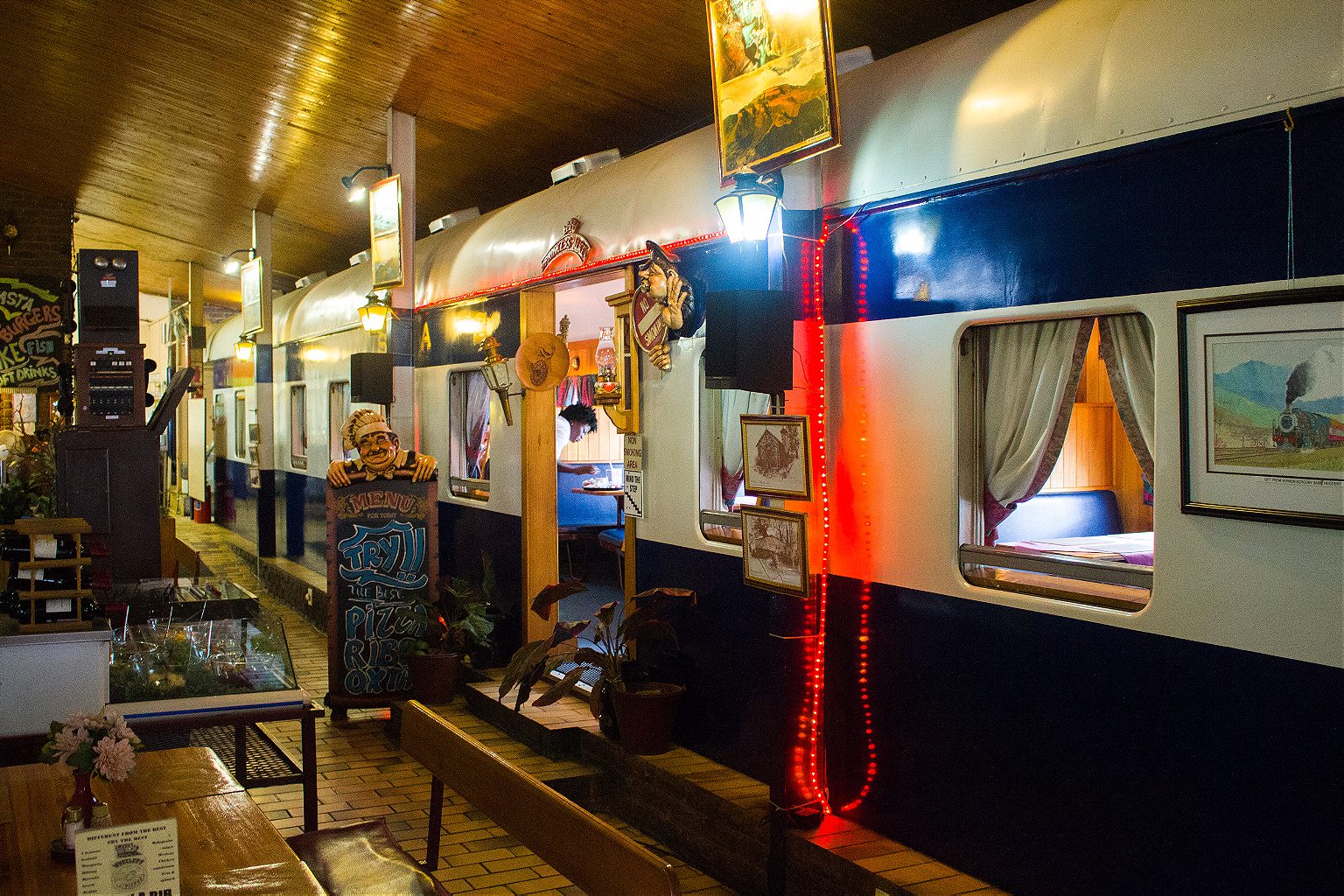 Pilgrim's Rest
The town of Pilgrim's Rest lies the heart of what's known as the Mpumalanga's Panorama Route, named for the sweeping views and dramatic landscapes visible from the road. The route starts in the capital of the province, Mbombela, and snakes its way up to the towns dotted around the Motlatse (or Blyde River) Canyon—one of the world's largest—such as Graskop, Pilgrim's Rest, and White River.
Pilgrim's Rest is a provincial heritage site, and, although it functions as a modern town, most of its restaurants, houses, and hotels have been reconstructed in the architectural style of the early 1900s, when the area was the site of a major gold rush. Pilgrim's Rest memorializes the era of Afrikaner pioneers and Voortrekker tenacity; the museum on its one bustling street tells this story in detail. It's worth noting that the gentle hills surrounding Pilgrims Rest have held gold in them for centuries and there are mining works in the hills that predate Alec Patterson (and his trusty wheelbarrow) striking gold in the area in 1873.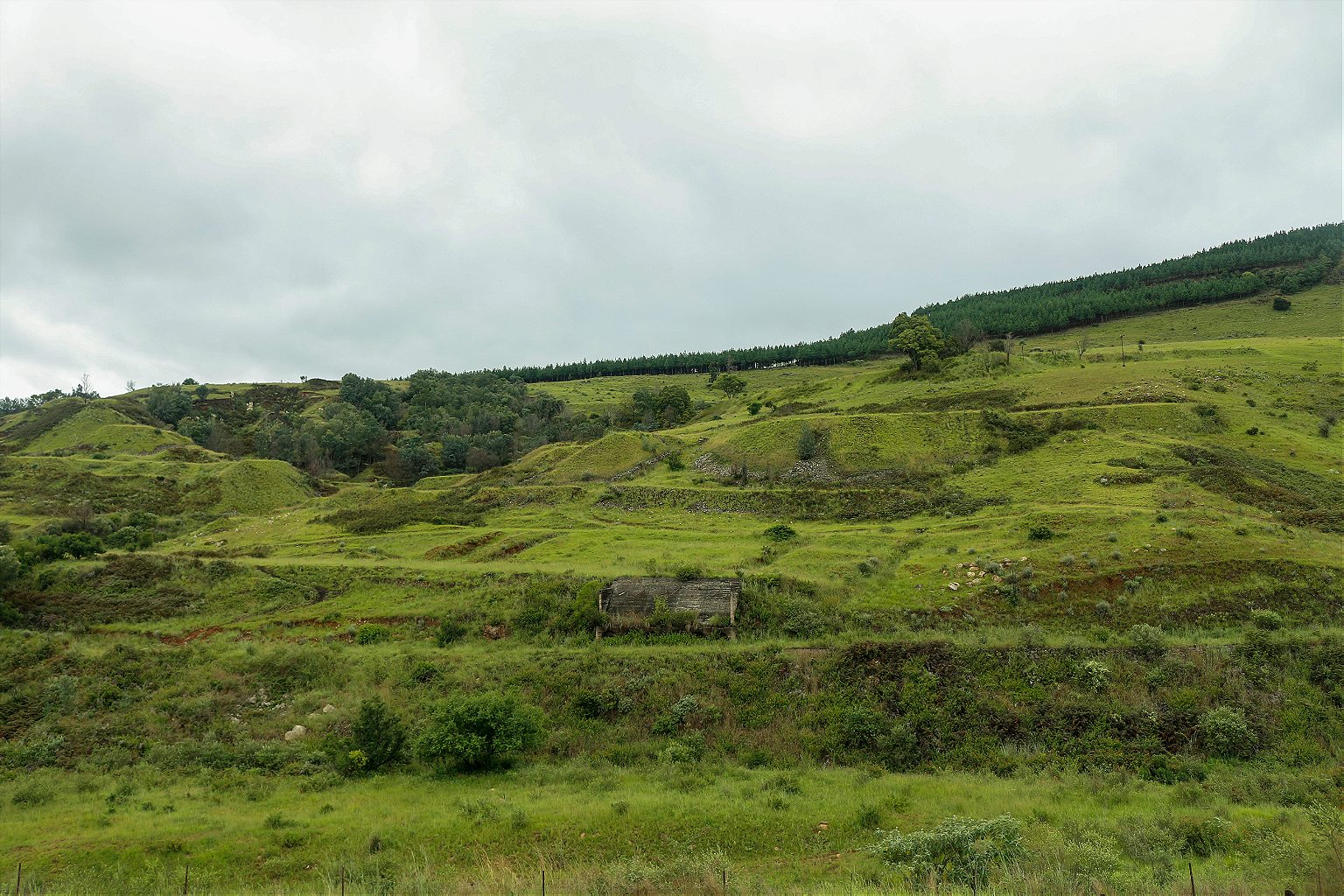 The town is more of a living museum now, and a bit of a sad one at that. Poverty in the area, and the wrongful eviction of tenants in 2012, have put a damper on this once-booming attraction, but thanks to action taken by residents and business owners, the local government has stepped in to improve infrastructure and housing. The main source of income for local residents is tourism, so support and cooperation between the municipality and residents can help regenerate Pilgrim's Rest for all to enjoy.
Finally, may be an attempt to attract visitors, but there are persistent whisperings of ghost sightings in the town, and one look at the crumbling, spooky-looking 1800s graveyard, one can see why the pilgrims might be a little restless.
Kaapschehoop
Another place where spirits (of the supernatural kind) are popular is Kaapschehoop, a town set on the Drakensberg escarpment above Mbombela. In high school, one of my friends, boasting about her (underage) drinking at the Salvador pub in Kaapschehoop, swore that she saw a Victorian-era ghost and her dead child floating ominously above the smoky bar. The pub is on the main road of this little town and is about 30 minutes' drive from Mbombela, and you can even take a guided Ghost Tour exploring the history of the missing Kruger millions and murders committed over gold.
I prefer to watch the wild horses that roam the Lowveld escarpment and to walk to the excellent viewpoint on the edge of town. The escarpment walk takes you through a maze of unusual rock formations that lead to a sheer cliff-face and a view that stretches into the Northern Drakensberg.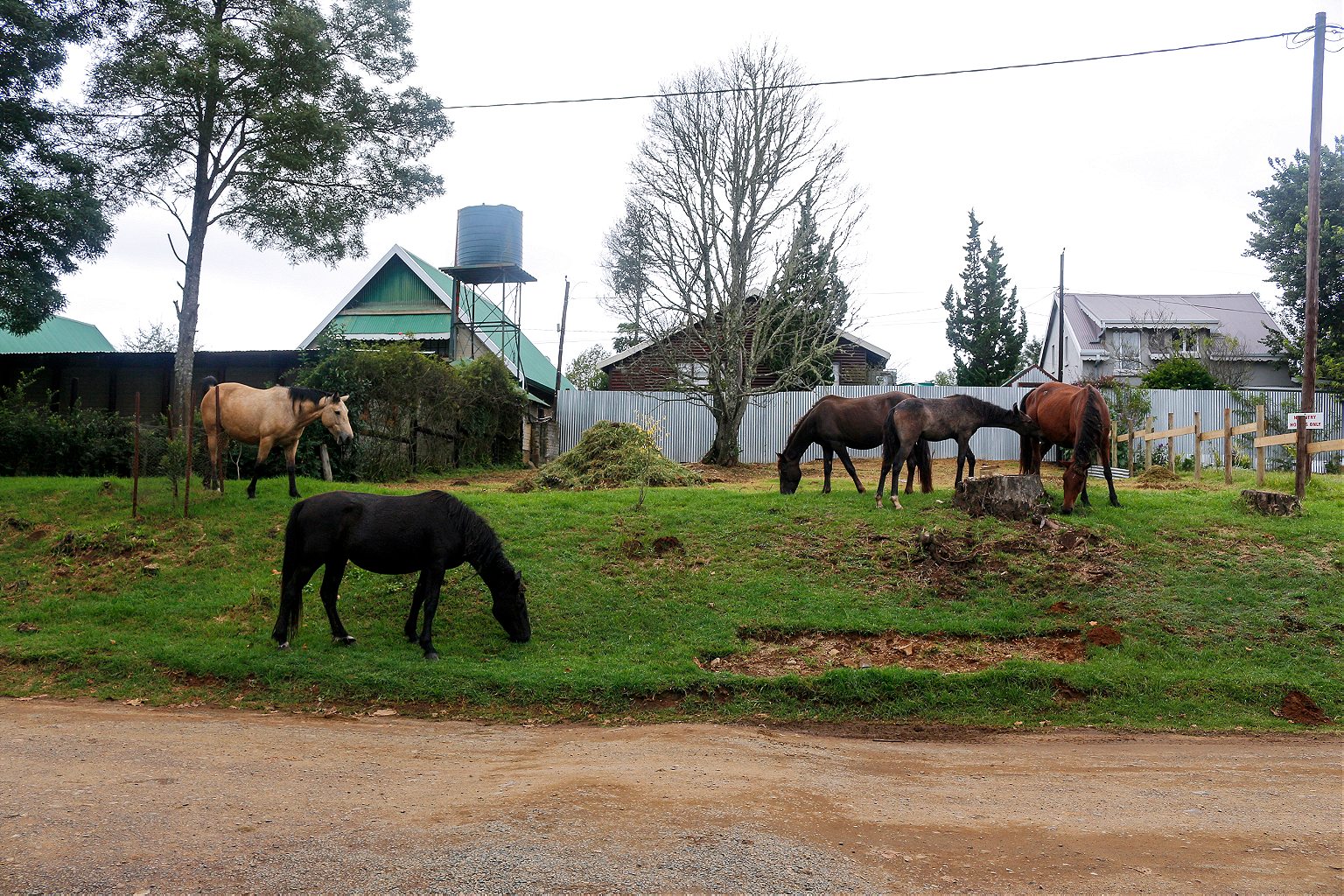 When you've completed the 30-minute walk, there's another day trip surprise across the road from Kaapschehoop—the Battery Creek Falls. Get a walking permit at the Salvador pub, and then take a steep walk down an opening in the canyon. This leads to a lush natural forest, where may spot blue swallows, a local endangered bird species. You can take a quick dip in the water once you've navigated your way to the falls, and head back to town for some Afrikaner cuisine at Die Plaaskombuis on 42 Du Preez street.