A colossal mixture of food on one plate is Johannesburg's comfort dish.
Imagine all your favorite things on one plate. For me, that's sweet butternut mash, a spicy chakalaka (vegetable relish), umnqusho (slowly cooked dried corn kernel sometimes prepared with sugar beans), creamed spinach, and tenderized cubes of lamb or beef in a hearty stew, topped with a perfectly braised T-bone or deep-fried, golden piece of chicken
It sounds like a lot, but in South Africa, this is affectionately known as an "i-plate": a colossal mixture of food usually served at any and every special occasion including weddings, funerals, birthday parties, christenings and thanksgivings. The name simply means "a plate" and its contents may differ ever so slightly depending on which province of the country you are in. But the meat is always the star of the show, and everybody knows what you mean when you say you're craving a plate. In Gauteng province, where Johannesburg is located, it will probably be served with pap—maize porridge—whereas in the Capes, it will more likely be served with samp—stamped or chopped dried corn kernels.
Somewhere in the collective memory of black South Africans who grew up in the townships is a recollection of that one time at a mcimbi when an auntie, a mum, or a gran (pick a matriarch) chose the best cuts of meat, stashing a plate of it away for her favorite kids. A mcimbi is a Nguni word for an event or gathering that involves the slaughtering of an animal as a sacrifice to the ancestors and and an invitation to the whole extended family and community to share in the labor of cooking, serving, and eating the sacrifice. I have fond memories of being ordered to go play outside while the women in my family toiled away in the kitchen chopping carrots, counting cabbages, peeling potatoes and carefully stirring through pots of meat. With all protocols observed, all the children of my family would be summoned to go sit in the assigned bedroom of the house and wait for the assembly line to begin dishing out. My mom would always come in and check on me to ensure that I was satisfied and full, and I always was.
But in more recent years, the more permanent migration of black people from townships to the suburbs and inner cities (places which apartheid had previously reserved only for black laborers and whites), has limited their ability to practice these customs, giving rise to a growing movement of mobile spaza shops (convenience stores) caravans (shipping-container convenience stores) and informal restaurants that serve a "taste of home" on a plate.
On this particular Monday afternoon in the still ungentrified section of Joburg's CBD (Central Business District), Jeppestown, my colleague and I venture to find a plate that will cure our weekend hangovers. It's almost springtime in August (in this hemisphere, summer is November to January) which is that time of year when everybody suddenly starts counting calories and watching their waistlines. But I can't be bothered to watch mine today, because it's just one of those days that only a plate can fix.  
We park in front of Five Stars on 277 Main Street. This place doesn't have a website or a Facebook page. It's on the corner of Main and Albrecht Street. The street is lined with shabby, Victorian-style buildings housing Pakistani-owned liquor stores and supermarkets, which selling much of the same things from bicycles to blankets to bars of soap. The pavements are lined with street vendors stocked with airtime, fruits and vegetables, chips, and sweets, with every corner punctuated by a group of suspicious characters lurking or playing dice.  I'm immediately amused by the name of a restaurant in a place with nothing resembling a five-star rating. But I also admire the cheek (a term that corresponds, roughly, to audacious sass). It's characteristic of Johannesburg, where people aren't afraid to disregard or defy tradition.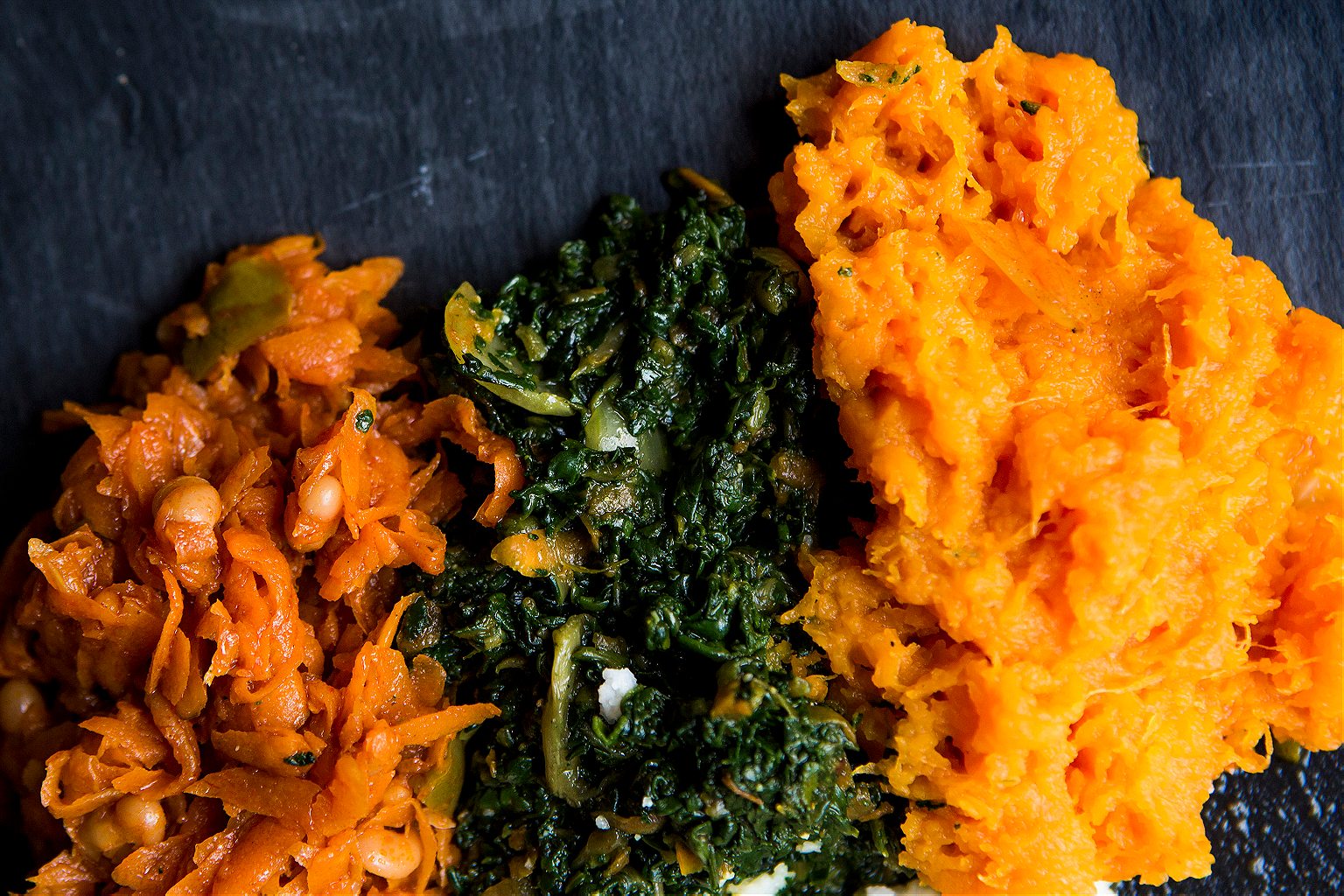 When we walk in, we immediately smell of flanks of meat sizzling on the fire grill.  Three dark wood tables laid are laid out on the left side, squarely facing the Coca-Cola refrigerators. A group of schoolgirls are seated at one of the tables, eagerly devouring their shared meal. Three big ladies stationed in the kitchen furiously peel and grate piles of potatoes (for the deep-fried potato chips), carrots (for the chakala) and cabbage (for the cold slaw). I'm immediately reassured by the cleanliness of the operation and tantalized by the freshness of the ingredients. We fall in line, and to help me decide what combination of meat, starch, and salad I want for my plate, confused by the menu outlined on the blackboard above us, I watch to see what the regulars order.
Peeking through the steel steel burglar bars that separate the dining space from the kitchen (a reminder that we're in the rough part of the neighborhood), I manage to get a good view of what is in the food warmers placed around the guy taking our orders.
Each bin is filled with the mandatory chakalaka, creamed spinach, mashed butternut, deep fried chicken wings, pap, or samp. Following the instructions of his customer, he plates a scoop of spinach and with another swipe, of the chakalaka and then pap before passing it to the chef behind the grill who tops the plate off with a slab of steak. The stuffed takeaway box is then topped with a few serviettes, plastic utensils and wrapped in a plastic bag precariously holding everything together.
I'm next, so I settle for the steak and chicken combo, with a side of chakalaka and chips. Sitting on the table next to the students who are a lot quieter now (probably a case of itis), I begin to wonder about the kind of lifestyles our ancestors lived. How much exercise or physical activity could justify the consumption of so much starch and meat?
The skinny-little-kid version of myself who spent countless hours playing on the streets has no problem tackling such a dish. So as I dig, I begin to wonder what she would think of my plate. The steak is salty, a little bit on the charred side, but satisfying. The chicken breast is flavorful but slightly dry, probably from pre-cooking and cooking. The chakalaka is great, not too oily or spicy, with a sweetness that counters salt in my meat.
But the star of today's plate is an unlikely contender, the crispy potato chips dusted with a red spice (until this moment I thought I didn't even like spice).  Most importantly, I found the fix I was looking for. I give it three and a half stars.