Getting from the airport to town, ridesharing wisdom, and minibus hand signals.
The most common form of transport in Johannesburg is probably also the one you, as a visitor, are least likely to use: minibus taxis. The small, pillbox-shaped buses are used by millions of working and middle-class South Africans for everything between daily commutes to long-distance travel. There are no route maps, no fare cards, and getting a taxi to stop requires a system of hand signals based on your destination. It's all pretty daunting for the uninitiated, and there are other ways of getting around Johannesburg. (But if you do want to ride the minibuses, we've got you covered.
O.R. Tambo Airport
Fortunately, your options will start at O.R. Tambo International Airport. The busiest airport in Africa, it has had three names in its time, each telling their own piece of South African history. It was originally completed in 1952, in the early days of formal apartheid, when it was named after Jan Smuts, a South African leader who served as prime minister twice in the first half of the 20th century. After winning the country's first democratic elections in 1994, the African National Congress (ANC) renamed it the more neutral Johannesburg International Airport.  Later though, in 2006, the ANC-led government would re-name the airport again, this time after O.R. Tambo, who had served as party president for the 30 years the ANC was banned in South Africa and other leaders, including Nelson Mandela, were imprisoned.
The airport is clean and modern, after an upgrade ahead of the 2010 Fifa World Cup. Another  new addition built in time for the World Cup: The Gautrain, Johannesburg's high-speed rail passenger rail service connecting the airport to Sandton, the city's commercial center. At about US$12 and less than 15 minutes, depending on your final destination, it's probably the cheapest and fastest way to get out of the airport.
If you'd like more door-to-door service there are also taxis (called meter taxis) and ride-sharing apps including Uber and Taxify. There is no official pick-up point for rideshare users, so you'll probably need to contact your driver over the phone (a challenge if you don't have a local cell-phone number).  If you decide to use a meter taxi instead, be aware that, despite having the word 'meter' in their name, they usually charge a flat fare depending on where you are going (and how much the driver thinks you can afford) and aren't well-regulated. So make sure to negotiate a price before starting your trip. Depending on where you're going, and how far it is away, a ride should cost you between US$26 and US$48.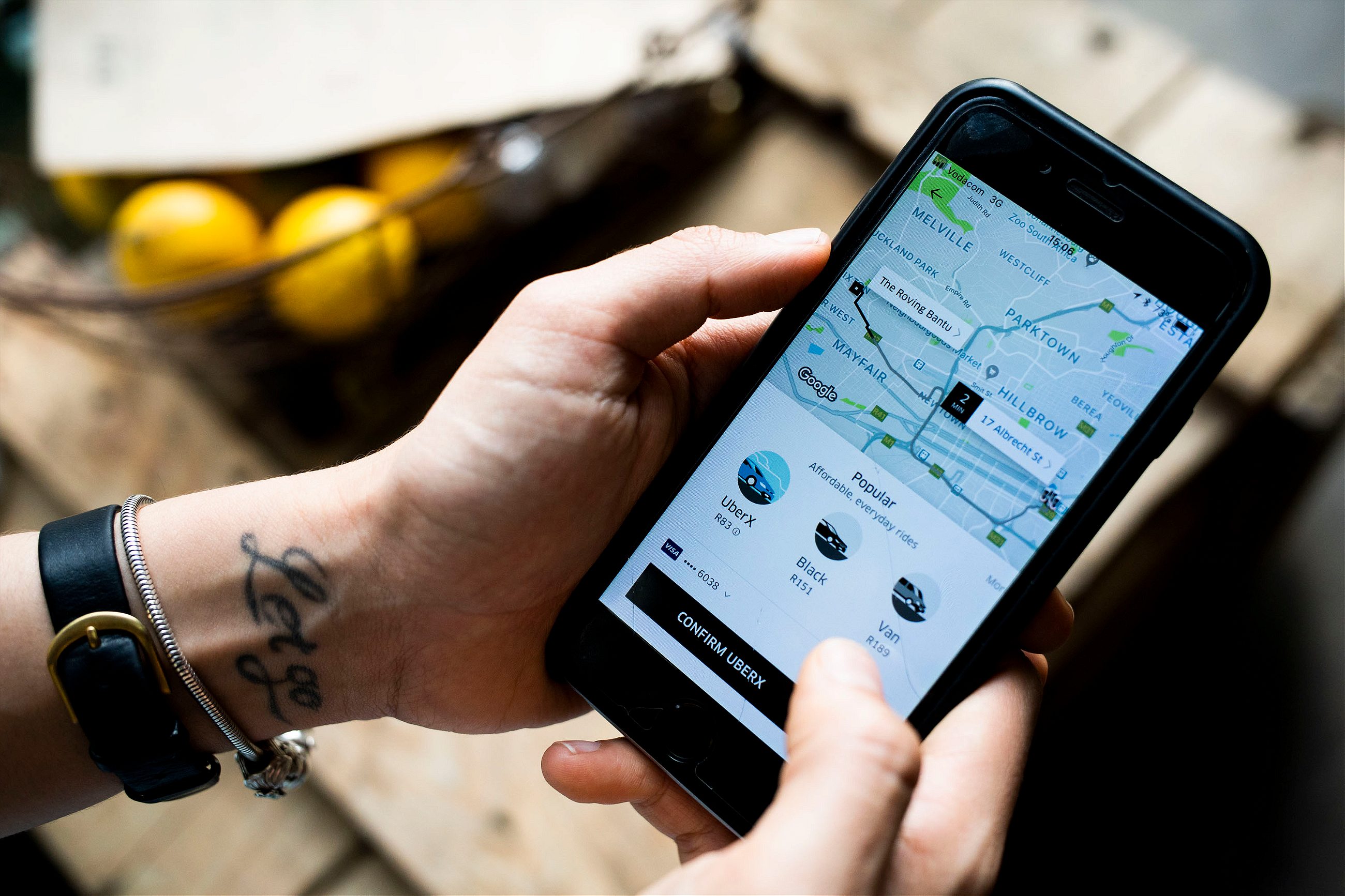 Apps vs. Taxis
Once you've taken the Gautrain into Sandton you have some more choices. From Sandton station the train runs north through the suburbs and into Pretoria, the region's other big city, and south into Johannesburg city center. At each station there's a small network of Gautrain buses which service train passengers.
At this point, a lot of people might elect to take a meter taxi or an Uber and this is where things get challenging, no more so than at the Sandton Gautrain station.
Ride-sharing apps, in particular Uber, have disrupted existing taxi industries around the world and Johannesburg is no exception.  What is different is the level of protest waged against Uber including, in some cases, violence against Uber drivers and passengers by meter taxi drivers. For this reason, though meter taxis can be found at Sandton station you can't arrange an Uber pick-up, you'll have to arrange to be picked up by your driver down the block. In some cases the Uber app will not allow you to set a pin near a station where meter taxis have clashed with their drivers.
Outside of train stations, ride-sharing apps are convenient, affordable and—unless you're planning on driving long distances—probably less expensive than renting a car. If you want a meter taxi service that's a bit more reliable, you can try Zebra Cabs, identifiable by the white and black stripes that decorate their vehicles.
Buses
There are two bus services in Johannesburg: the city's old Metrobus system, which is unfortunately not very reliable, and the newer Bus Rapid Transit system known as Rea Vaya. Rea Vaya was built for commuters and connects the inner city and surrounding areas to Soweto, the nearest township. Notoriously, it does not go to some of Johannesburg's posher (and whiter) areas some of which have fought to keep the service out.  However, changes are coming and Rea Vaya is set to expand its service to commercial areas, including Rosebank and Sandton. Unlike a lot of other public transport in Johannesburg, the routes and fares are published online. You'll need a Rea Vaya fare card which can only be purchased in larger stations for about US$2. Fares are determined by distance travelled, between about 50 cents and US$1.10 per trip.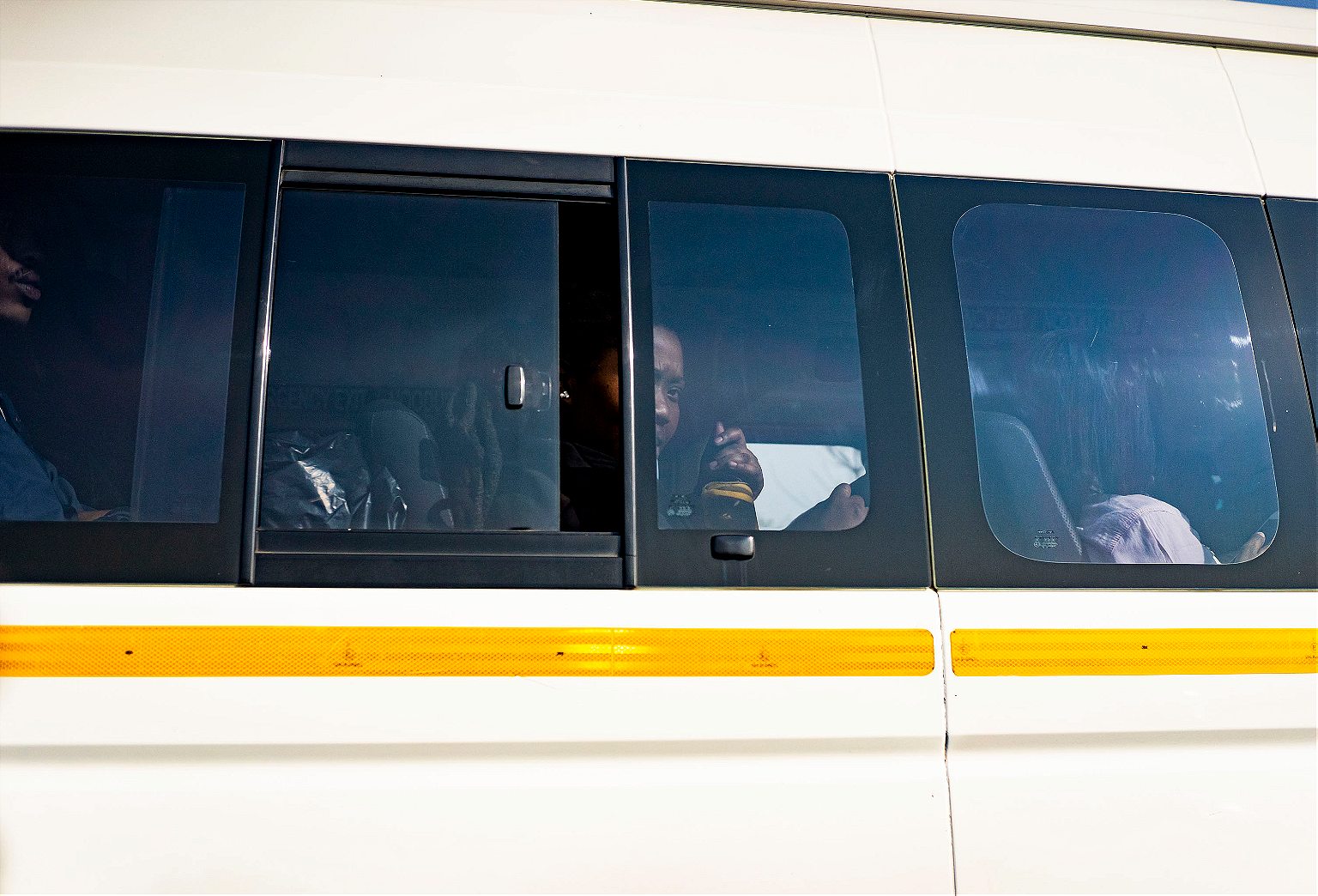 How to ride minibuses 
So, you've surveyed all the other transit options in Joburg and you really want to use a minibus taxi despite the potential challenges, or maybe even because of them? Here are the do's and don't's, all of which you're probably going to need to avoid the many potential pitfalls and successfully use a minibus.
First off, you need to know a route to where you want to go. There are no published minibus taxi routes, you can't Google it. Instead, you're going to need to ask minibus taxi users themselves. That means people who work in your hotel, in the shops or random strangers on the street. Fortunately, Johannesburg is a city founded by migrants, and Joburgers are usually pretty generous in their willingness to help newcomers to navigate the city.
Once you've figured out your route you need to hail the taxi. There are  a couple of ways to do this. If at the start of the route, you'll climb into a parked taxi at a pre-arranged location and wait for it to fill. This could take five minutes or an hour (or even longer) but chances are the driver isn't moving until he has a full load of paying customers. You can also catch the taxi mid-route on the road. Waving your hand to get a minibus to stop won't help you, whistling at will either be ignored or get you yelled at. Instead, you'll need hand signals.  There are dozens of potential signals so, again, you might need to ask a local for the correct one. But for most trips, there are only two that matter. A single, index finger pointed up if you're heading towards the city center or 'town' and a single, index finger pointed down if you're trying to catch a ride that is heading away from the city center.
When climbing into the taxi, watch where you sit. Minibus taxi drivers in Joburg don't usually collect and count their own money, the passengers sitting in the front seat do so. If you take that front seat next to the driver you have already agreed to collect money from other passengers as its passed toward the front, count it, calculate the change which you will then have to pass back. If you make a mistake with the count be prepared to receive the disdain of your fellow passengers and, possibly, a shouting-at from the driver.
Stopping and getting off a taxi requires further etiquette. Shouting "Stop!; is considered rude and some drivers will ignore you out of principle. Instead, there are a few options for different situations. If your stop is near a traffic light, known as 'robots' locally, say in a loud, clear voice "After robot". If there is no light but you need to be let off at the curb say, "short left". If the driver has missed your stop and you're in desperate need to get out, say "thank you driver!" in a clear voice with increasing urgency the farther he takes you out of your way.
Jump out of the taxi and slide the door shut without slamming it (this is another thing minibus taxi drivers hate) and you're good.