The best pierogies in Hamtramck. Period.
Growing up, Polish cuisine was my ultimate comfort food. On my mother's side, staple dishes like gołąbki (stuffed cabbages) and czernina (duck blood soup) made appearances during every holiday and family reunion, or on a special Sunday after Catholic mass.  
During those years, my Grandma Byarski upheld a long legacy of pierogi greatness, spending hours rolling, stuffing, boiling, and frying the dumplings. Now in her late 90s, she's lost the ability to craft the complex dish, which requires nimble hands and hours of standing.
There are nights when I literally dream about her pierogis—dense and delicious with the perfect amount of shortening and flour in the dough. A ratio that I, to this day, still can't master. Thankfully, I know exactly where to go to find pierogies, just like the ones grandma used to make.
It's a chilly Saturday night when I begin the short trek from Detroit's east side to Hamtramck. For those outside of metro Detroit, Hamtramck can be a bit of an enigma. The city inside of a city is almost entirely encompassed by Detroit, with only a small strip bordering Highland Park. With a population of a little over 20,000 in only about two-square-miles, it's easily one of the most diverse cities in Metro Detroit.
While best known for its large Polish population, the last couple of decades have been marked by a big influx of Arab immigrants. Today's Hamtramck is a densely populated, mixed bag of cultures and ethnicities.
In the center of town, a handful of popular Polish restaurants boast long wait times and considerable crowds. But down a mostly abandoned stretch of Joseph Campau Avenue, littered with body shops, derelict buildings, and overgrown lots, you can find the best pierogies in Hamtramck. Period.
Krakus, a greasy spoon on the city's north end, finds a home between a Muslim funeral home and an Islamic Activity Center, marked by an abandoned car wash sign and cones assembled for road tests.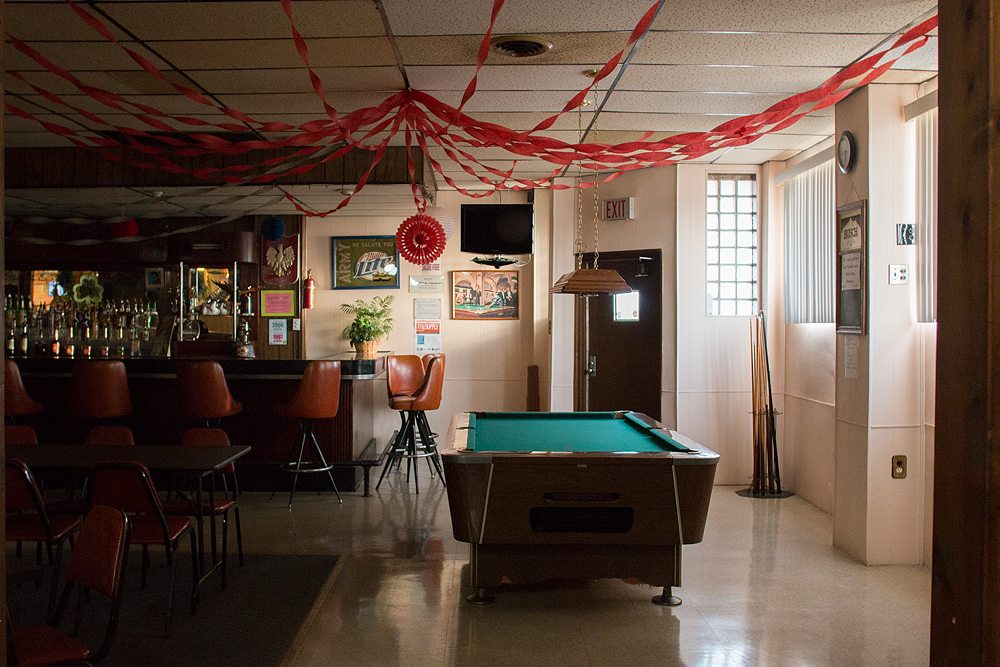 It's a little after 5 p.m. on a Saturday when I arrive. As I pull open the heavy metal door, the smell of simmering cabbage and boiled potatoes fills the cozy, wood-paneled room. The scent conjures memories of family reunions hosted in church basements and rented gazebos; skinned knees and sandy feet running back for a late lunch of cabbage soup and kielbasa. I settle into a chair at a wobbling table against the wall. Behind me hang a dozen mismatched framed photos of Polish family crests. A few feet away a wooden sign reads, "Non-smoking area available." There have been few changes to the decor in the decades since the restaurant opened, but if you're here for the ambiance, you're in the wrong place.
A single waitress bounces around to the occupied tables. A handful of families trickle in behind me and make their way into the dining area, some speaking broken Polish, others greeting tables as they make their way back to their seats. Two men sit at the bar at the conjoining banquet hall where on Saturday nights authentic Polish bands play after 8 p.m.  
After about five minutes, the waitress makes her way over to our table and sets down two folded pieces of laminated paper: makeshift menus with "Witamy" scrawled on the front. Options are limited, but all the must-haves are there.
It's been a few months at this point since I've had real Polish food—minus the occasional kielbasa, So, I go all out. One "Polish Plate," served with kielbasa, stuffed cabbage, sauerkraut, mashed potatoes, and, of course, potato pierogies. And a separate plate of my favorite: potato and cheese, AKA ruskie pierogies. (Not Russian. A common misnomer.)   
While I wait for my food, I watch two women in white hair nets through the serving hatch. They weave their way around the kitchen like a silent, well-calculated dance. Most Polish dishes are labors of love, with lengthy lists of steps and procedures to get the flavors and textures just right. After about 15 minutes, I spot my plates being propped up on the metal shelf. I scoot my chair closer to the table, preparing myself for what's about to happen next.
The plate is truly a sight to behold. The crispy, golden pierogies line the outside of plate like crown jewels. Pieces of kielbasa, sauerkraut, and a massive stuffed cabbage surround scoop of smooth mashed potatoes. But distractions be damned. I skip right to the reason why I'm here, slicing a steaming ruskie pierogi in half and plopping it in my mouth before it can even cool.
The tender dough squishes between my teeth with the perfect amount of stickiness to contrast with the salty, crisp skin. Velvety potatoes coat the inside of my mouth while the soft flavor of onion and mild white cheese transport me back to my grandmother's kitchen.
A quick gasp of air and I'm on to the second half. This time I add a bite of sauerkraut. The simple foods come together to form a combination almost indescribable: fresh but fermented, sweet and salty, creamy with a sour bite. I glance up at my dining partner, speaking through a stuffed mouth, "These are it."
It doesn't take long for me to demolish almost the entire plate of pierogies, leaving behind a full dinner of sides—including the whole gołąbki. After some deep breaths (and at least one, "Oy vey!") I peel myself from the table to grab a box and pay.  For a little over US$20 with tip, I not only ate until it hurt, but I left feeling connected to a part of my past which now lives in distant memory. Not too expensive for a trip down memory lane. Oh, and tomorrow's lunch.