From Coney Island hot dogs to vegan soul food, the meals that make Detroit.
Around the turn of the 20th century, Detroit went from an economy historically made up of lumber and fur barons with opulent riverside mansions to the epicenter of the American automotive industry. With that, came waves of migration from around the globe, drawn to the concept of Henry Ford's US$5-a-day wages on the manufacturing line. Immigrants and Americans from every corner of the country trickled in to settle in Metro Detroit, bringing with them a tapestry of food that would come to illustrate the region's working-class ethos. Detroit's iconic food might come from the Greek, Polish or Italian diaspora, Lebanon, Mexico, Chinese-Americans, the American South, Vietnam, Iraq, and waves of more recent refugee populations.
While the region's global influences are hard to sum up in a single dish, it's clear that dining in Detroit has, historically, been influenced most by the need for sustenance easily consumed on-the-run—perhaps on lunch break from the factory, on the cheap, something that contains maximum calories to get a person through grueling hours of hard work.
But the history of Detroit is best defined by the people who've settled there, who made it their home and came to redefine it. With these forces in mind, here's a glimpse at the dishes that define the history of the Motor City.
Coney Island Hot Dog
American Coney Island is Detroit's classic tourist destination, brightly decorated in red, white and blue, where friendly, efficient servers can often be seen bringing the spot's signature dish by the armful to tables full of locals and out-of-towners alike. The downtown restaurant has been around since 1917, opened by Gust Keros, who started off selling chili-covered hot dogs just outside its current location. His brother, Bill, immigrated to the United States shortly after the opening and started his own restaurant, Lafayette Coney Island, next door, using a different recipe for the chili sauce. Today, the two establishments carry on a decades-long rivalry, with fans either gravitating toward the original American or the somewhat more gritty simplicity of Lafayette's old-school diner vibe. In perhaps a coming full circle, Lafayette is now owned by Yemeni immigrants, who took over more than 25 years ago.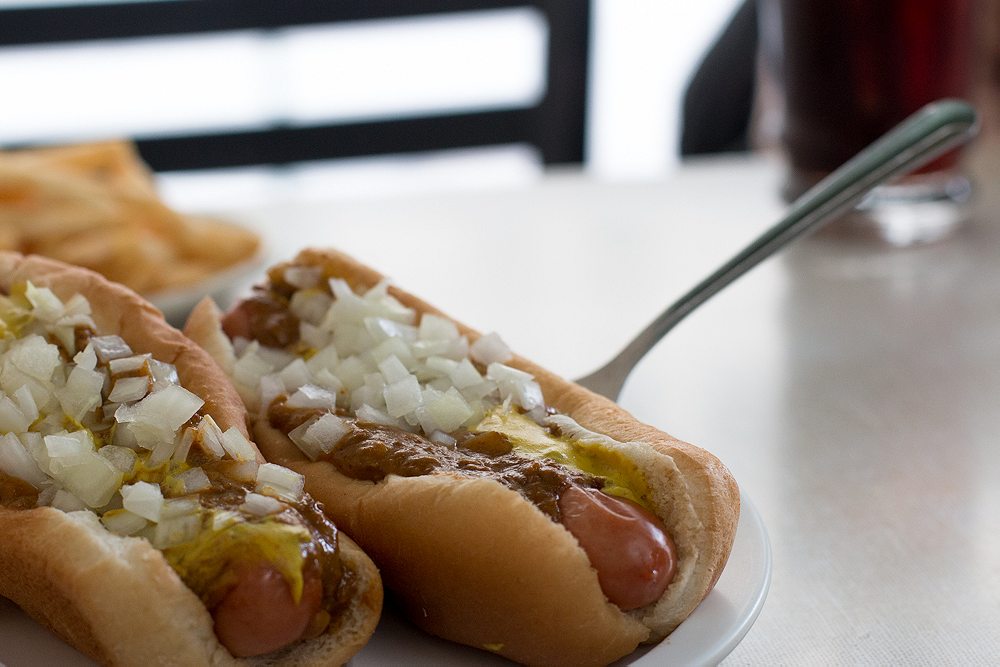 Paczki
Poles followed other immigrant waves around the turn of the century and settled on the city's eastern side, as well as the small city of Hamtramck, which is surrounded by Detroit. Many took jobs at the Dodge Main plant that straddled the two cities and opened a number of Polish groceries, jewelry stores, clothing boutiques, bars and restaurants in the area. Poland, for a long period, was a poor country and its cuisine was battered by decades of communism.Hamtramck historian Greg Kowalski says that Polonia restaurant in Hamtramck originally opened as a meeting hall for the Communist party in 1929 and served a limited menu for visitors. The eatery eventually went on to reformat as a proper restaurant, serving mainstays like kielbasa, city chicken and other cheap, but hearty meals. While the Polish restaurants served a variety of dishes popularized within the immigrant and more assimilated Polish-American community, one speciality has managed to draw generations of Polish food fans to the area every winter: the paczek (paczki in the plural). Essentially a large frosted doughnut (sans a doughnut hole) filled with apricot, rose hip, plum or other fruit fillings, the paczek is consumed on the Catholic Fat Tuesday. Around Detroit, it's referred to as Paczki Day. Traditional bakeries begin preparing weeks in advance, shipping the decadent pastries across the country. Lines of fans gather before dawn and many locals take the day off work to consume the gut-busting sweets and hit up Hamtramck's many dive bars.
Almond Boneless Chicken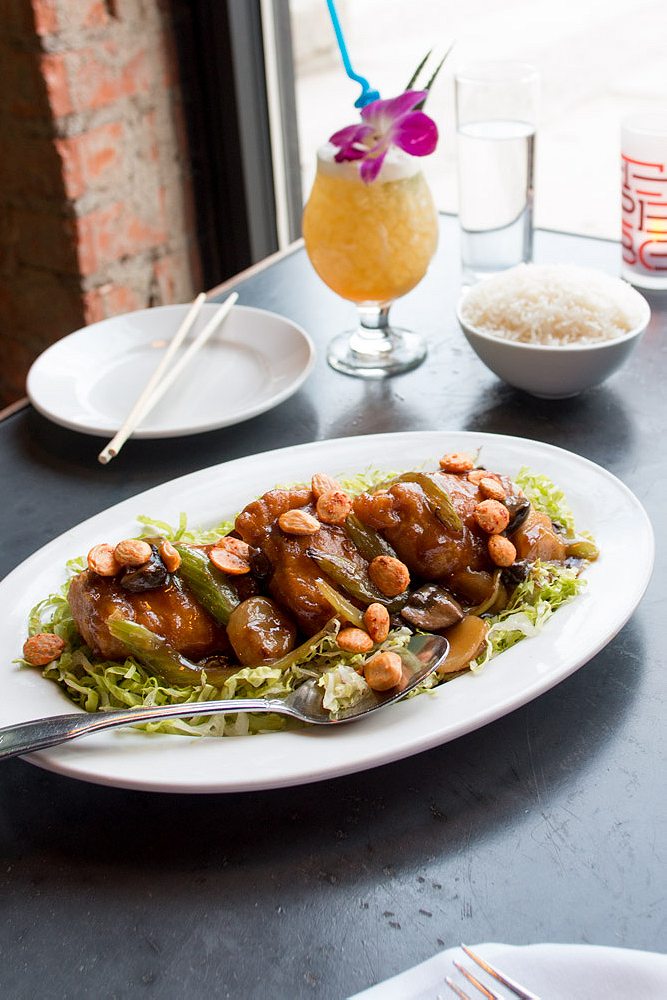 The Chinese Exclusion Act of 1882 barred hundreds of thousands of Chinese immigrants from entering the United States legally, but a loophole in the law noted that some Chinese business owners could obtain special merchant visas. In 1915, a federal court added restaurants to the list of qualifying enterprises, marking a proliferation of Chop Suey shops across America, including in Detroit. The city's Chinatown began on Third and Michigan Avenue with a small number of restaurants and shops, with the first Chop Suey lunch counter opening in 1905. Around 1940, a Chinese-American from Ohio, Harry Chung, opened Chung's Chinese Restaurant and introduced diners to a Detroit regional staple: Almond Boneless Chicken. Known locally as ABC, the dish mirrored a lot of Chinese-American entrees: there's nothing particularly Chinese about it. Made up of a fillet of fried chicken, it's battered and deep-fried and smothered in a heavy coat of brown gravy. It's usually topped with scallions, shredded iceberg lettuce and thinly-sliced almonds. The city's Chinatown district was eventually displaced in the 1960s to Cass Avenue and Peterboro—and Chung's went right along with it. By the early 2000s, Chinatown, like much of the city's neighborhoods had fallen into disrepair and vandalism. In 2016, that intersection underwent dramatic redevelopment. A former Chinese grocery store opened as the Peterboro restaurant, where a number of Chinese-American dishes—including a twist on the classic ABC—are served alongside craft cocktails. The city's Chinese population, like other Detroiters, fled for the most part to the suburbs following the Detroit uprising of 1967.
Square Pizza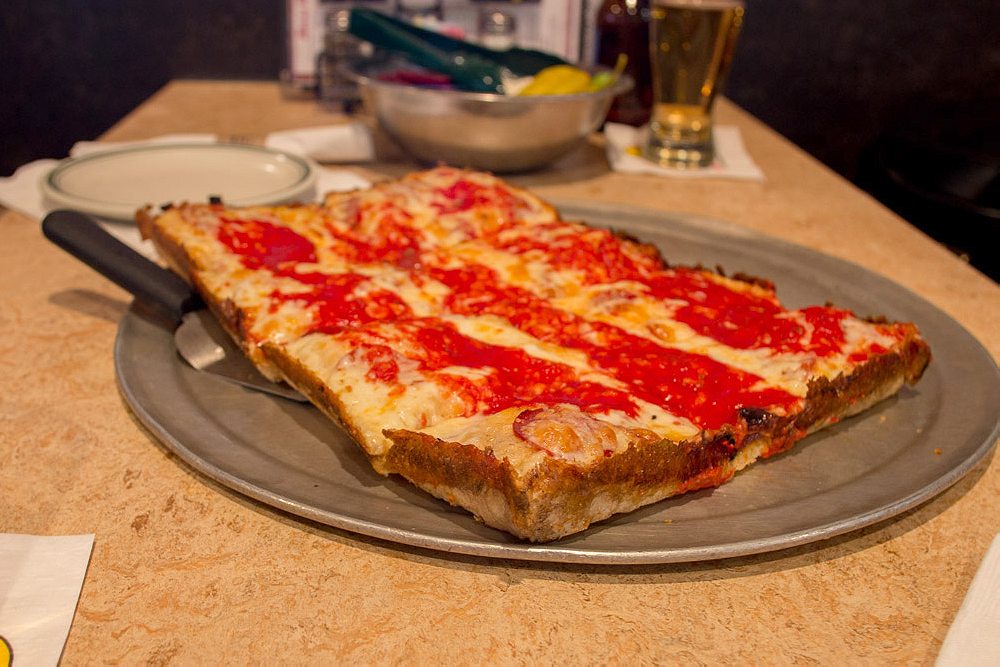 The lore surrounding Detroit's ubiquitous square deep-dish pizza is about as legendary to the city's food culture as that of the Coney. Despite the debate over which pizzeria does it best, what cannot be disputed is that its birthplace was Buddy's Rendezvous at Conant and McNicoles. Buddy's started as a speakeasy by Gus Guerra in 1936. After World War II, Guerra, in search of a dish to keep customers longer, decided to add a Sicilian-style pizza to its offerings. What characterizes a genuine Detroit square are the blue steel rectangular-shaped pans (which in a previously life would have been used in a factory) in which they are prepared. These industrial vessels never rust and, like a seasoned cast iron skillet, are never really scrubbed down, thus leaving behind bits of pizzas past to linger in every crust. Rather than starting with a tomato sauce base, toppings here are placed directly on the dough, followed by a generous layer of cheese that caramelizes against the pan, creating a crisp, flavorful crunch. More toppings follow and at last comes the tomato sauce. Over the decades, the recipe was taken up by a number of other pizzerias, often opened by folks who previously worked at Buddy's. In recent years, the Detroit square craze has traveled far and wide, springing up in New York, Austin, Los Angeles and elsewhere.
Botana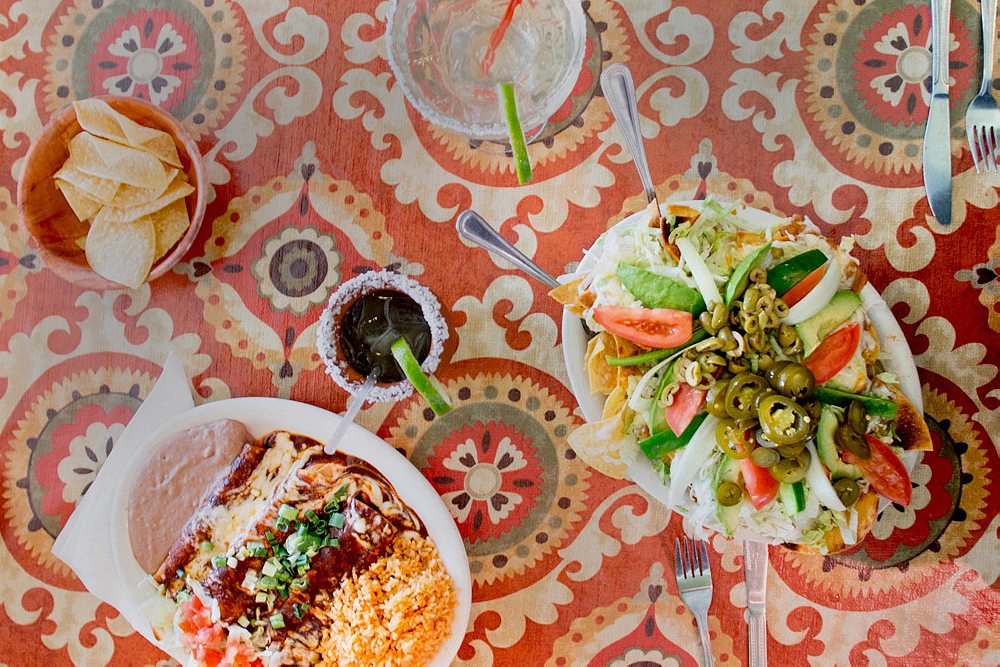 The Mexican-American diaspora in Detroit can also be traced to the city's early industrial boom. Newer waves made their way here, most recently in the 1990s and 2000s from Mexican states like Jalisco, Puebla, and Oaxaca following the North American Free Trade Agreement. What's developed over the years on the city's southwest side is Mexicantown, home to a number of eateries with menus that cater to both Americans (and Canadians from nearby Windsor) and immigrant tastes alike. Many of the longer-established restaurants rely heavily on Tex-Mex influences: lots of cheese, refried beans, and Spanish rice. Most distinct to Detroit in these establishments is the botana. In Spanish, the term is used to describe a generic snack, but in the Motor City, it is a dish with an over-the-top filling that to the untrained eye resembles a plate of nachos. The difference here, as is the case with the Coney, is in the specific types of toppings found on a Detroit botana dish. It starts with warm corn chips layered with chorizo, pinto beans, melted Muenster, diced onions, avocados, green peppers, tomatoes, and jalapeños. Detroit News reporter Louis Aguilar says the inspiration comes from the Coney and a Canadian specialty, poutine, and was created by Armando Galan, who first opened his namesake restaurant on Vernor Highway in 1967. That business was eventually sold to another family and he opened Los Galanes on nearby Bagley (which historically was known among Chicanos as La Bagley). Both restaurants, along with other Mexican eateries, carry the storied botana on their menus.
Pho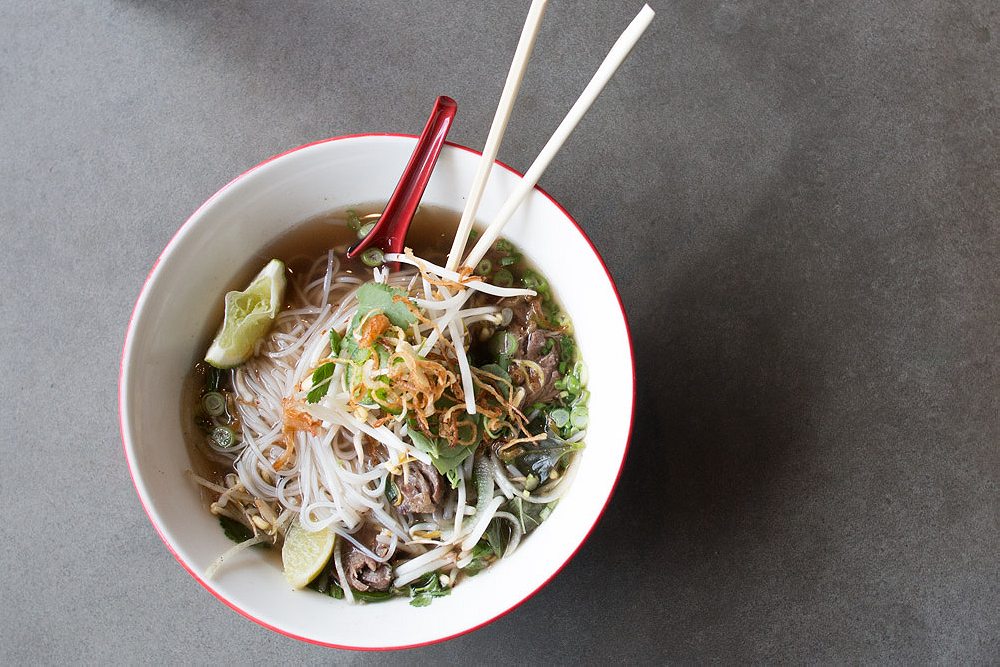 As refugees from Vietnam began settling in cities across the United States four decades ago, the Detroit suburb of Madison Heights became a destination for many of the newly-arrived immigrants in Michigan. Today, the area is home to some of the best pho in the region, as well as bakeries, markets and other Vietnamese and Asian-immigrant-owned businesses. While pho can be found in every city in America, it is especially appreciated during Upper Midwest winters, with Detroiters frequenting the many noodle shops for comfort from the frigid cold. Pho is made with a beef broth—often punctuated by ginger, star anise, cinnamon, cloves, fish sauce and other spices—and thin rice noodles, topped with a choice beef cuts or chicken. Accompanied with a plate of bean sprouts, Thai basil, chili peppers, and culantro, the brothy noodle bowl is as therapeutic as it is nourishing. Que Huong at 13 Mile and John R is one such mainstay. The casual spot also serves banh mi, nuong cha gio (cold rice noodles without the broth) topped with shrimp, pork, an egg roll and veggies.
Shawarma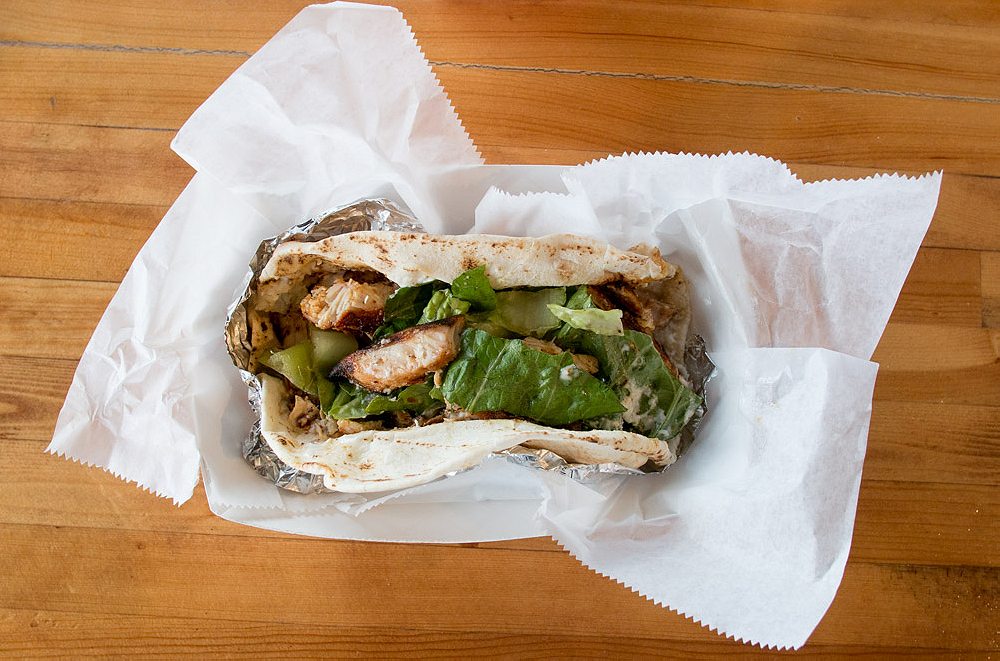 Although Detroit's booming auto industry marked the beginning of Arab immigration to Michigan, it was accelerated by Henry Ford's preference toward hiring Arabs against Jews and African Americans. As a result, Ford's headquarters in Dearborn, which neighbors Detroit, has grown to become home to one of largest Arab-American communities in the United States. That has also resulted in a huge number of Middle Eastern eateries, spanning from Lebanese restaurants that specialize in familiar dishes like kabob, fatoush and hummus, to newer Yemeni diners that focus on traditional entrees like haneeth (slow roasted lamb or chicken). Detroiters have varied allegiances to their favorite Middle Eastern eateries, but Al Ameer, founded in 1989 in Dearborn, has gained a national reputation for what the James Beard Foundation says is its "welcoming introductions to the pleasures of Lebanese cuisine." Al Ameer won a James Beard "America's Classic" award in 2016 for its mama (a spread of dishes that include falafel and hummus), but it's also known for a regional favorite: shawarma. Prepared on a revolving spit and made with lamb, chicken or beef, the shawarma sandwich can be found at sit-down establishments, modest diners and on the deli counter of any number of independent grocery stores. It's perhaps most popularized by Bucharest Grill, opened by a Romanian immigrant about a decade ago, now popular among bar crowds for its late-night service.
Vegan soul food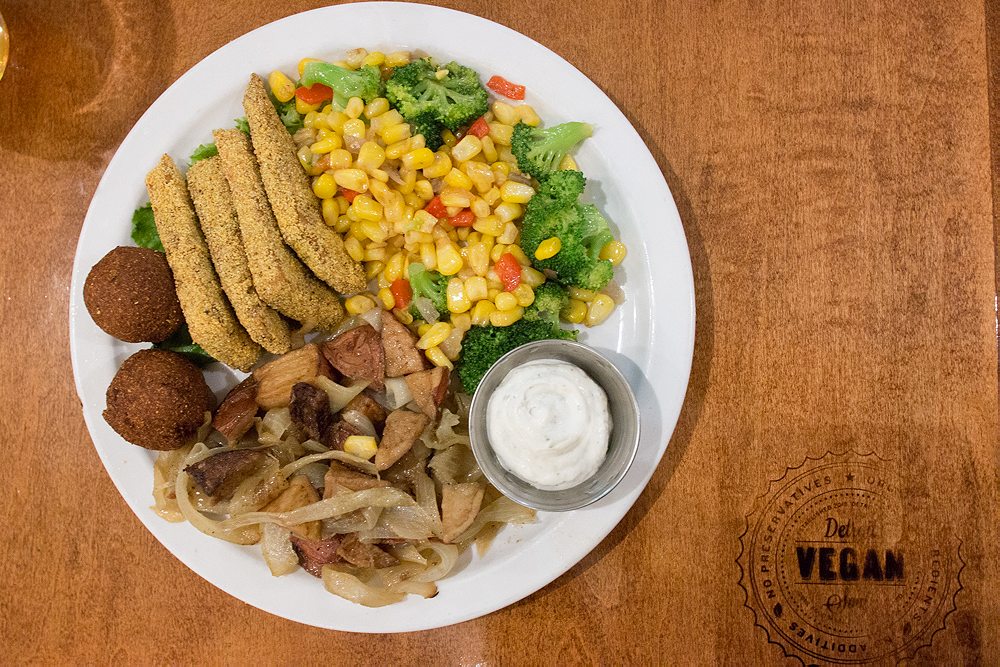 Soul food encompasses so many iconic dishes, making it difficult to pinpoint a particular dish that best represents Detroit's interpretation of the cuisine. That said, Detroit Vegan Soul is perhaps the most distinct iteration of soul food to date. The Motor City's ties to Southern cooking—in this case we refer to African American culinary traditions—go back to the Great Migration of the 1910s when black Americans (many from Alabama) flocked to Detroit for better opportunities. Though heavily segregated, Detroit's Black Bottom neighborhood became a hub for black commerce in the early 20th century. And at the center of black culture, politics, and empowerment for many families was the church. The influence that the church played in developing the distinct sound of Motown, and the societal impact that the black clergy had in the Civil Rights movement is well known. What was also important was the role of the church kitchen, where soul food was often a focal point for gathering after Sunday service. New Bethel Baptist Church on the city's west side, for example, was a hub for the civil rights movement for decades (Motown singer Aretha Franklin's pastor father Rev. C.L. Franklin also presided over the congregation), and its kitchen helped feed members of the movement.
While slow-cooked ham hocks, gelatin-rich oxtail and collard greens with smoked turkey legs and other traditional soul food dishes make for a delicious family feast, over the generations, many African Americans have realized that it's not the most healthy. So a new generation of black restaurateurs have taken to paying homage to Southern cooking, but with a healthier twist, thus feeding a new wave of resistance. Opened in 2013, Detroit Vegan Soul became an instant hit in its West Village neighborhood eatery. Among its most popular dishes, its signature "catfish," made with cornmeal-batter tofu and accompanied by a broccoli/corn medley, redskin potatoes and onions and hush puppies (made with onion, cornmeal, unbleached/unbromated all-purpose flour and sea vegetables).
Whole Senegalese chicken
Metro Detroit has long been a destination for immigrants seeking asylum from political unrest and violence in their home countries. While refugees from Syria and Iraq continue to be among the largest and most steady groups of refugee arrivals to Michigan, several African nations—mostly from the Democratic Republic of Congo and Somalia, but also a smaller number from Sudan, Burundi, Ethiopia, Rwanda, Senegal Ivory Coast and Uganda—have found home in the Motor City's northwest side, sometimes referred to as Africa Town. That, of course, is beginning to have an imprint on the region's food scene. Nadia Nijimbere and Hamissi Mamba, who fled to Freedom House, a temporary shelter for survivors of persecution seeking asylum in the United States and Canada, several years ago is soon opening Baobab Fare, a Burundi eatery. On the city's northwest side is Maty's African Cuisine, a casual new Senegalese establishment whose most popular dish is its whole chicken. It's dipped in a pungent sauce made with mustard, black pepper, special seasonings, vinegar and onions. Each whole bird is deep fried and char-grilled, locking in a crisp, charred finish and stuffed with garlic, onion and parsley for a flavorful meat inside. The restaurant has fast become a favorite among local foodies looking for an introduction to the cuisine, as well as folks in the growing African diaspora.
Halal burgers
A new generation of Muslim-Americans brought up in Metro Detroit are staking their claim on the classic American burger by infusing halal traditions with gourmet burger sensibilities. A growing number of eateries owned by second or third-generation Americans are offering halal-adherent burger menus to offer the area's Muslim community more variety in dining. From gas station restaurants (Taytee's Burgers in Dearborn) to fresh, local takes on the likes of NYC's famous Shake Shack (Brome Modern Eatery, also in Dearborn and soon in downtown Detroit) or California's In-N-Out (California Burgerz in Hamtramck)—are tapping into this trend by serving organic, grass-fed beef patties and disparate topping combinations. One newer foray into the halal burger craze is Royale with Cheese in Detroit's Midtown neighborhood. Paying homage in name to that iconic scene between John Travolta and Samuel L. Jackson in Pulp Fiction, the spot specializes in dishes like the Kruncher, a patty loaded with fiery jalapeño-flavored potato chips, roasted green chili quest, southwest corn relish and Cajun aioli.