Lebanon's sophisticated food landscape incorporates countless cultures.
As empires rose and fell, wars came and went, and waves of refugees trickled in to stay over the course of centuries, Lebanon's already sophisticated food landscape expanded. A meal today might bring the culinary traditions of Syria, Palestine, Morocco, Armenia, Turkey, and beyond to the Beiruti table.
Perhaps the strongest of all these influences is that of the Ottoman Empire, as evident in what many commonly think of as Lebanese mezze dishes. That's not to downplay the unique spin the Lebanese have on adopted cuisines, some so radical the local version will have very little in common with the original (moghrabieh, Lebanon's very own variant of couscous, is one such instance). It also shouldn't dent the great pride Lebanese take in their own concoctions—look no further than manakish and, of course, tabooli. That said, the influences are certainly there, and they offer insight into the layered cultural and political history of not only Lebanon but the broader region, too.
Beiruti cuisine isn't merely shaped by external influences: ancient local recipes have been handed down from generation to generation and community to community within Lebanon. Dishes traversed villages and towns before finally settling in the capital, brought in with economic migrants or the internally displaced.
The history of the city, therefore, is best written not in decades but in peoples. With those influences in mind, here's a look at the dishes that define the city's vast and gorgeous culinary landscape, and where to try them.
Manakish (flatbread with cheese or za'atar)
I arrive at Hamade Bakery in Hamra on an unusually warm December morning. It's not yet 8:45 a.m., but there's already a stream of customers standing in front of the unassuming bakery, impatiently waiting for their manakish. "One za'atar, one jebneh (cheese)?", Adnan Omairat, Hamade's director, suggests when I tell him I'm not sure which to order, a common dilemma. He fashions the dough into circles before flattening and swirling them around with his hands. Employing the care and consideration a painter would use on a blank canvas, he decorates the fluffy bases with cheese and za'atar before placing them in an oven.
A Beiruti might describe a man'oushe to a foreigner as "Lebanese pizza." The description, however, does this traditional Lebanese go-to breakfast (and occasionally lunch or supper) no justice. A good man'oushe will melt in your mouth. It will fill you up, with or without accompanying vegetables, and yet will almost always leave you wanting more.
While cheese is a favorite man'oushe choice, it's za'atar that takes the crown. In decades past, Lebanese homemakers would collect wild thyme from the fields to put together za'atar mix made especially for manakish. They'd then spread the dough out with their hands before punching indentations into the base with their fingertips to stop it from puffing like bread. Finally, the dough would be slathered with the za'atar and drizzled with olive oil and sesame seeds before being baked.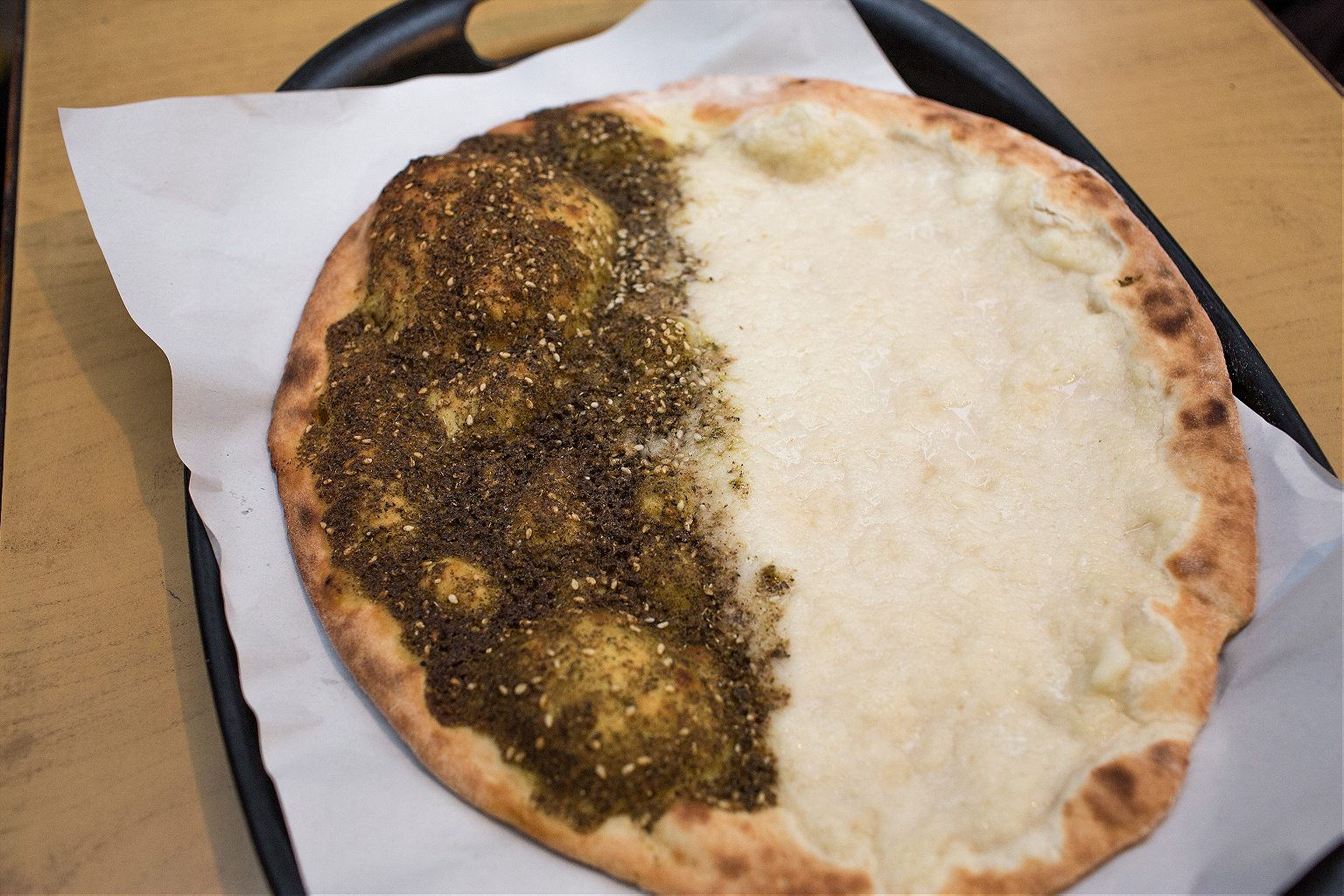 Manakish can also be adorned with kishk, a Lebanese mountain food consisting of dried yogurt and bulgur wheat; minced meat, chopped onions, and tomatoes (this combination is popular in Baalbek and Anjar); and spinach or eggs and qawarma (lamb confit), both of which are native to smaller villages.
The exact origins of manakish are disputed. In his book The Culinary Heritage of Lebanon Chef Ramzi Choueiri has said manakish is a relatively recent Lebanese phenomenon perfectly suited to modern life due to their low cost and the ease with which they are made (some bakers use a concave inverted wok, known as a saj). But za'atar and pita have both been traced back to biblical times, so some foodies, by extension, speculate the Lebanese have been eating manakish for centuries, rather than decades.
Along with falafel and ful, manakish is considered the poor man's food in Lebanon—it's extremely affordable, with most za'atar manakish selling for some 1,000 Lebanese lira, or $0.66. Affordability isn't the main reason manakish are so popular, Hamade's Omairat argues. "People have been eating and loving manakish for hundreds of years because it's unbelievably delicious," he says matter of factly, as he hands over my manakish in a white paper bag, simultaneously taking another order.
Menti/Shish Barak (meat dumplings in yogurt)
Varouj's reputation precedes it. The tiny Borj Hammoud restaurant, which serves an array of Lebanese and Armenian mezze dishes, isn't like its more upscale counterparts, Mayrig, al-Mayass, and Onno. Bright lighting illuminates the restaurant, which has just five tables. There's no menu—the sole waiter recites a list of available small plates—and guests are expected to say "yes" or "no" as quickly as he pelts the food names out. Deliberation is unwelcome. In the absence of a menu, the final cost of the full meal is determined by the owner. It's the food and the restaurant's authenticity which people are drawn to, rather than the ambiance.
I choose Varouj for its menti. Of Central Asian origin, the yogurt-drenched, meat-filled dumplings are typically on the menu at Beiruti-Armenian restaurants. Baked until crisp and served with a cool, garlic-infused yogurt, Varouj's version doesn't disappoint.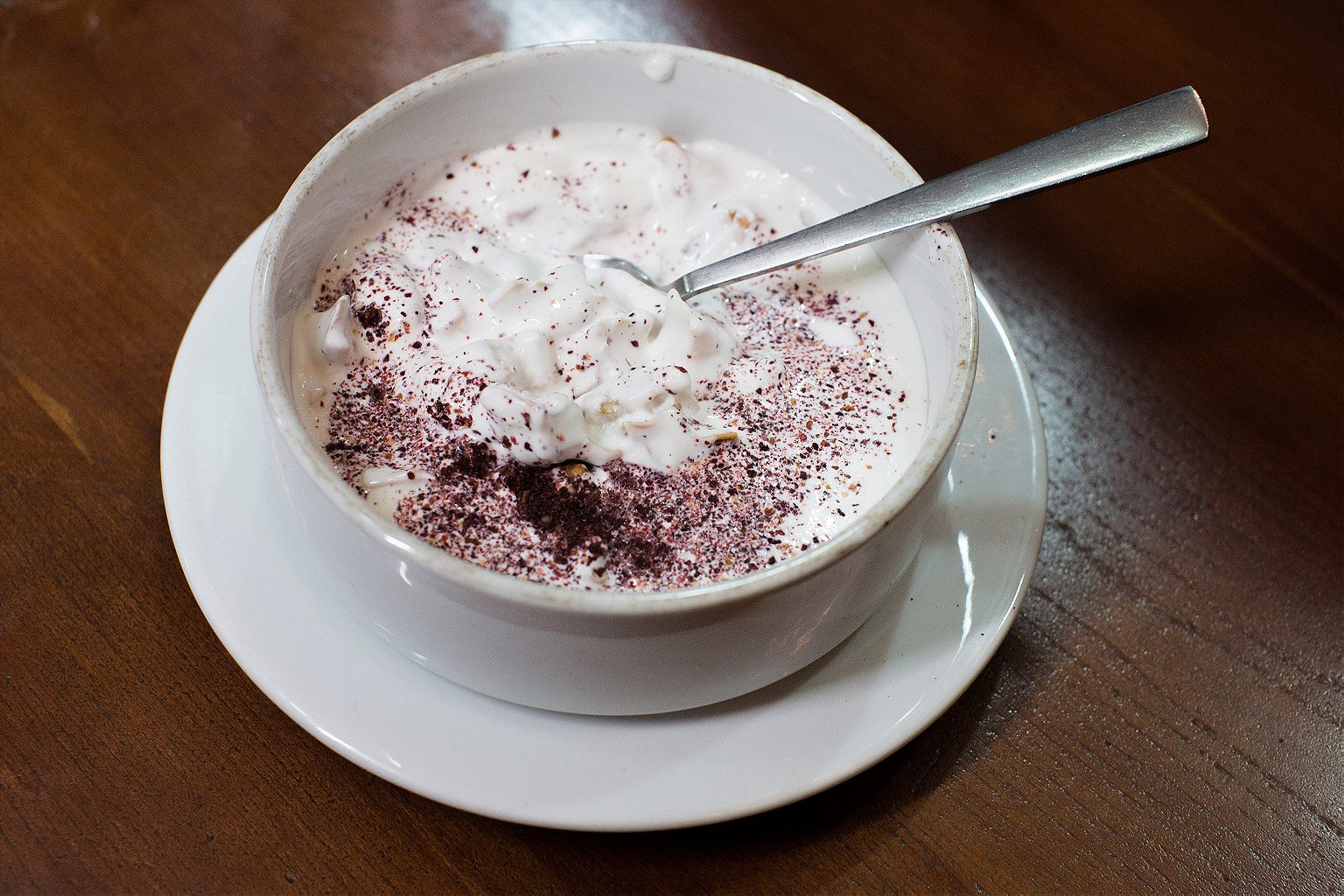 Kevork Ajopian, who runs the establishment, takes a "sit down and enjoy the food" approach. His father, Varouj, is said to have had the same attitude with customers in the 38 years that he served as the restaurant's patriarch (he still watches over his patrons from an imposing painting hanging on one of the venue's walls). "I have nothing to add," Ajopian says with a poker face when I ask about the history of Varouj. "We serve the food, and you eat it. What more is there to say?"
The venue is nestled comfortably in the municipality of Borj Hammoud, Beirut's Armenian quarters. The town, one of the most densely populated in the region, is predominantly home to Armenians. With the fall of the Ottoman Empire and the beginning of the Armenian genocide, Armenian refugees fled to Lebanon, many settling in shacks across Borj Hammoud and later building homes there that have survived to this day.
Lebanon was the first Arab League state to recognize the Armenian genocide, and about 4 percent of the country's population of roughly 6 million is Armenian (the number diminished after the civil war sparked a wave of emigration across all communities). Traditional Armenian restaurants like Varouj, which also draw on regional influences, particularly Syrian, contribute substantially to Borj Hammoud's economy.
A Lebanese spin on menti, shish barak is thought by some to be an Ottoman cuisine. Its roots, however, may date back to pre-Islamic Persia, in the form of joshpara, a similar meal. Like menti, the meat dumplings are drowned in generous portions of yogurt. A striking difference between the two variations is that shish barak is treated like a stew and served with rice. Mint or cilantro and garlic give the tortellini-style dumplings a telling kick. Preferably prepared with goat yogurt over cow yogurt, shish barak is sometimes sprinkled with seven spices and pine nuts.
Fattet Hummus (chickpeas, croutons, and yogurt casserole)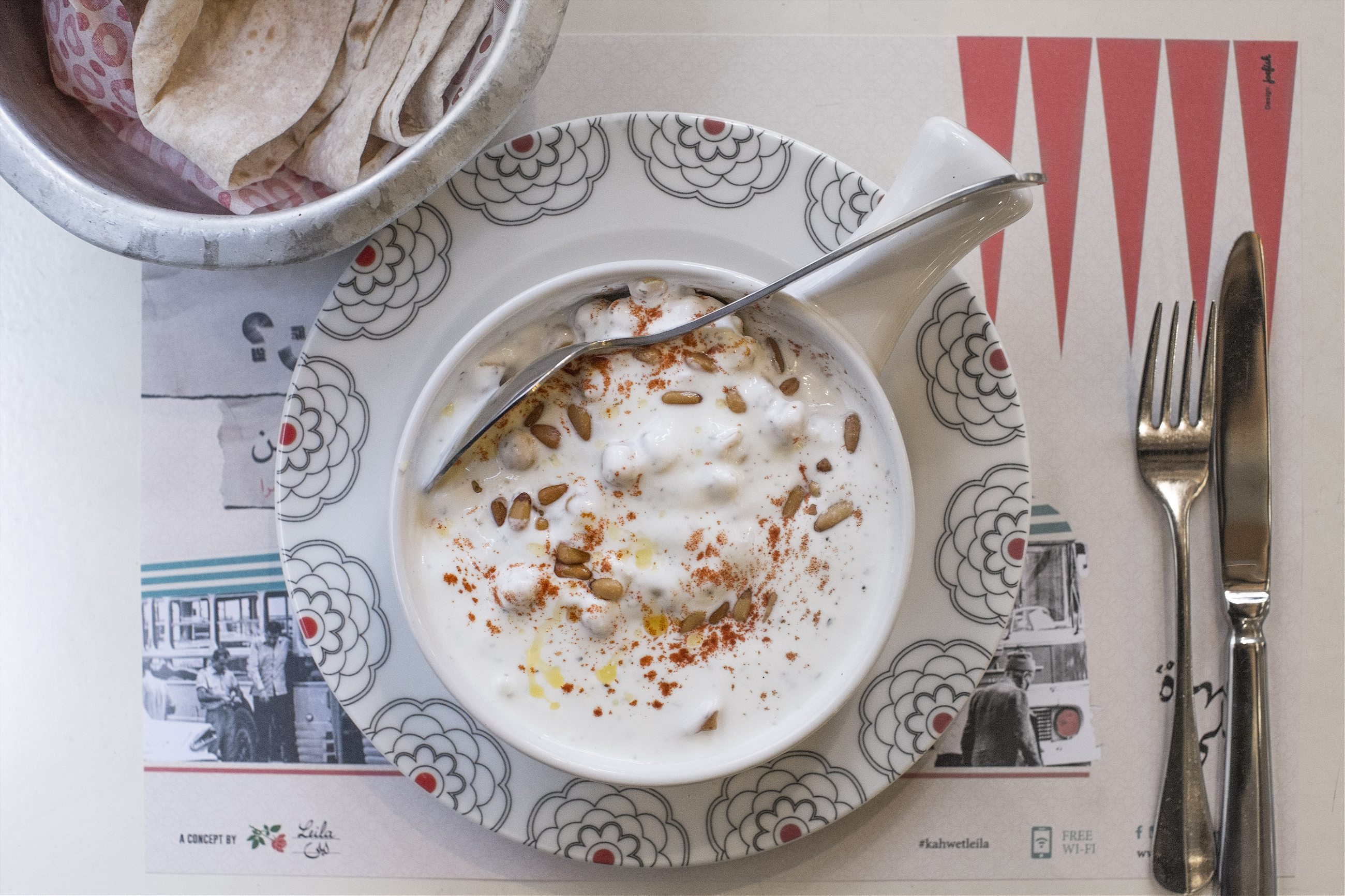 Thought to have been invented as a way to make use of day-old bread, fatteh is the ultimate Levantine comfort food. The root of the word means 'to crumble,' referring to fatteh's telltale bottom layer of toasted or fried bread. The hummus variant of fatteh—an amalgam of ground meat (optional), tahini, chickpeas, and pita that's blanketed with yogurt—is said to be native to Ras Beirut. The history of the original dish has been traced back to Damascus, although regional versions of fatteh can be found in Egypt, Jordan, and Palestine.
The staple ingredient of fattehs varies and can include eggplant, spinach, meat or chicken. Often served for iftar during Ramadan, at large family gatherings and on special occasions, the meal is topped with pine nuts and seasoned with cumin and a sprinkle of cinnamon or cardamom.
Members of the Al Soussi family, well-known Sidonians who make some of the city's finest ful (fava-bean stew), moved to Beirut in the mid-1900s from the south to expand their culinary reach, bringing local recipes along with them. As the family's food business grew, so too did the cuisine it specializes in: the Al Soussi restaurant in Mar Elias offers a wide range of traditional dishes including fatteh and bayd bi qawarma (eggs and lamb confit).
"People come mostly for the fatteh and the bayd bi qawarma," says Ahmad Soussi, who moved to Beirut from Sidon to help his family relocate its restaurant in 1975, when the civil war broke out (he was 12 at the time). "We don't have a secret as to why we're so popular," he says as he assembles my fatteh from scratch, "we just use the best produce in town. The hummus, the laban, the tahini, it's all TOP," he says, kissing the tips of his fingers like an Italian would before spreading them out like a star.
Bayd bi Qawarma (eggs with lamb confit)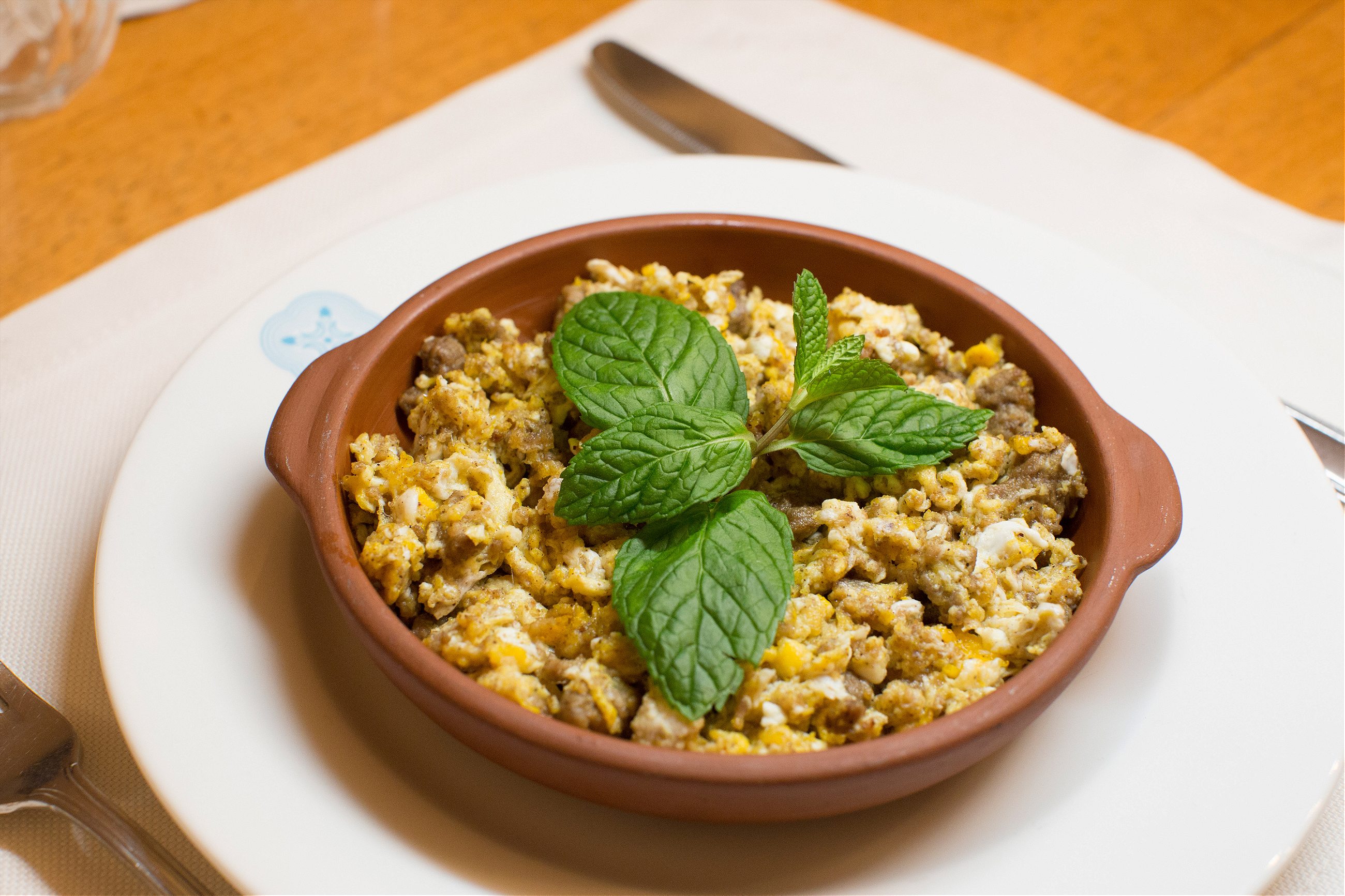 Like the dozens already at the restaurant—at 8:30 a.m. on a weekday, mind you—I am indeed at Soussi for the fatteh and bayd bi qawarma. Seated alone at a plastic table, I'm offered a generous portion of both, as well as fresh vegetables and warm, soft pita bread. The elaborate spread is enough to feed three. I'm skeptical at first. How would these dishes compare with my teta's (grandmother's) or my mama's?
"See what I mean?" Soussi says as I sprint through both plates. "I told you—TOP."
It is said that a well-stocked Lebanese larder would contain barrels of bulgur wheat, rice, dried legumes, flour, potatoes, kishk, and qawarma. According to food author Sonia Uvezian, for centuries, villagers would prepare the confit by feeding a fat-tailed baby lamb mulberry, grape leaves, wheat, and grass over the spring before slaughtering it in the fall. The carcass' fat would then be melted down, and small pieces of meat were seasoned and fried before being stored in tight containers and sealed with clay. The confit would keep for months, providing the villagers with food for the winter. The tradition of frying eggs with qawarma emerged in these rural areas of Lebanon, where the meal was served with lemon juice and bread to unexpected guests at all times of the year.
Samke harra (spiced fish)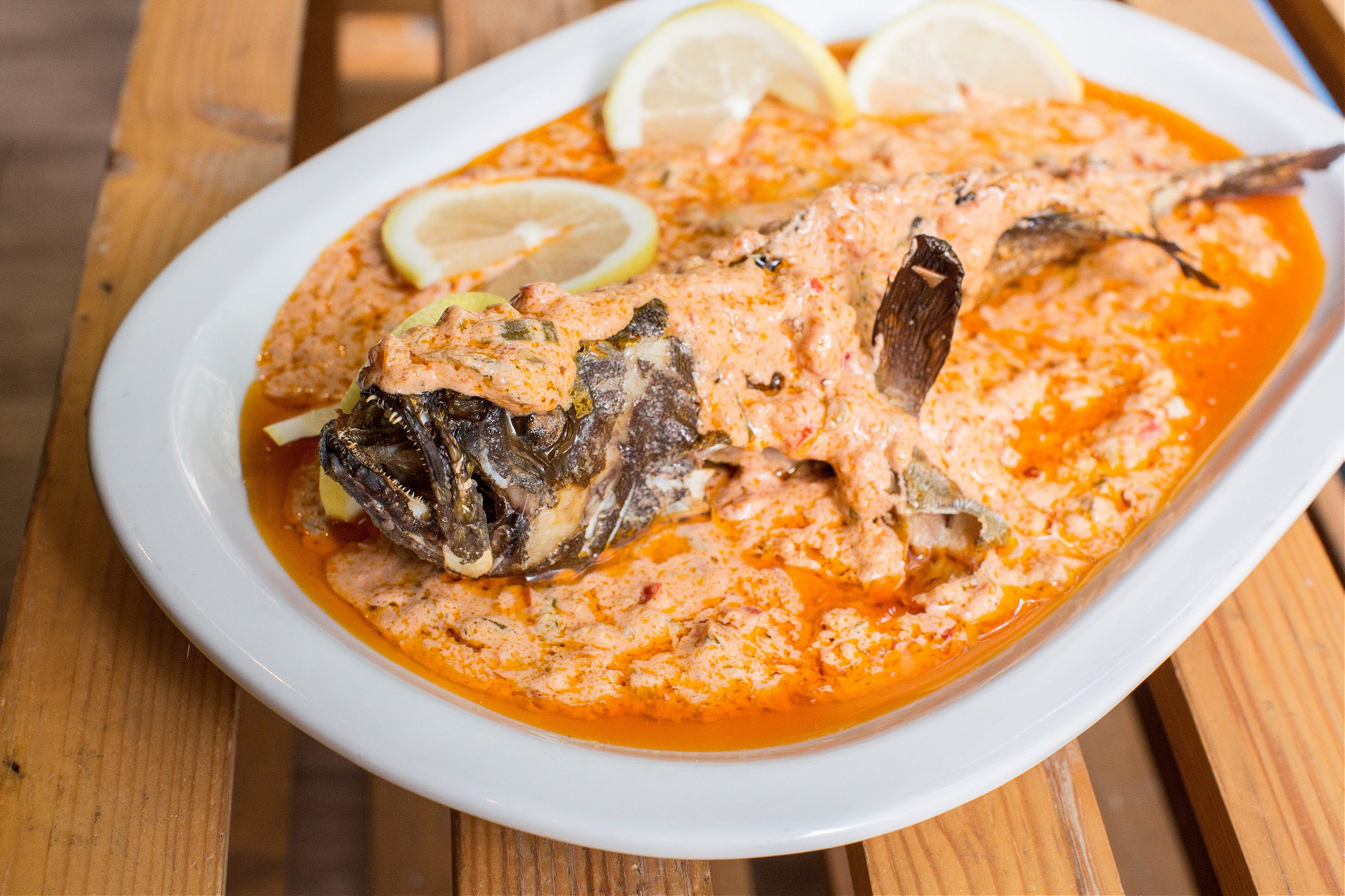 To sample samke harra for myself, I head to Le Pecheur (the Fisherman) at Ain Mreisse, an area lining the Beiruti coast that's home to a string of fish restaurants. Le Pecheur, which opened just before the turn of the century, is filled with pictures of old Beirut, paying homage to the city's fishermen. My friend and I are served an entire fish, head intact—it's more than enough to fill the two of us up. The scaled and cleaned haddock is adorned with green bell peppers, chili peppers, onion, coriander, parsley, tomatoes, walnuts, slices of lemon, pomegranate molasses, and tahini sauce.
Beiruti cuisines have traveled from all over the country. Samke harra, which hails from the northern city of Tripoli, is one such dish. Usually served on special occasions or at buffets, the samke is, as a rule, white-fleshed (it's mostly sea bass, dogfish, cod, or grouper). The skinned fish is first marinated in lemon and then blanketed with spices and tarator—a tahini, lemon juice, and garlic paste. It's more often than not prepared whole, but is sometimes offered as fillets, too, especially in restaurants.
Samke harra is more than just a fish feast. It evokes the role fishermen have played in Lebanon's complicated political history. In 1975, the fishermen of Sidon went on strike to protest the threat of monopolization, culminating in violence that led to the assassination of a local politician. The demonstrations were considered one of the earliest signs of the start of the Lebanese civil war.
Today, the menace of privatization lingers, and pollution in Beirut has made it increasingly challenging for the capital's fishermen to make a decent living. During peak season, thousands of Lebanese fisherman take to the coasts to earn their wages. While some sell fresh catches to markets, others make direct sales to passersby. One of the affected coastline areas is al-Dalieh in Raouche, which is open to the public but has been hurt by pollution, glitzy resorts, and high-rise apartments.
Seated on Le Pecheur's terrace, I can see the city's coast and skyscrapers from a short distance while dining on our fairly expensive samke (95,000 lira, or $62.70 USD). My friend orders a crisp Kefraya white wine to pair with the fish and I'm immediately struck by Lebanon's inequalities, and the manner in which they're manifested in the city's food landscape.
Moghrabieh (Lebanese couscous) and makhlouta (mixed-grain soup or stew)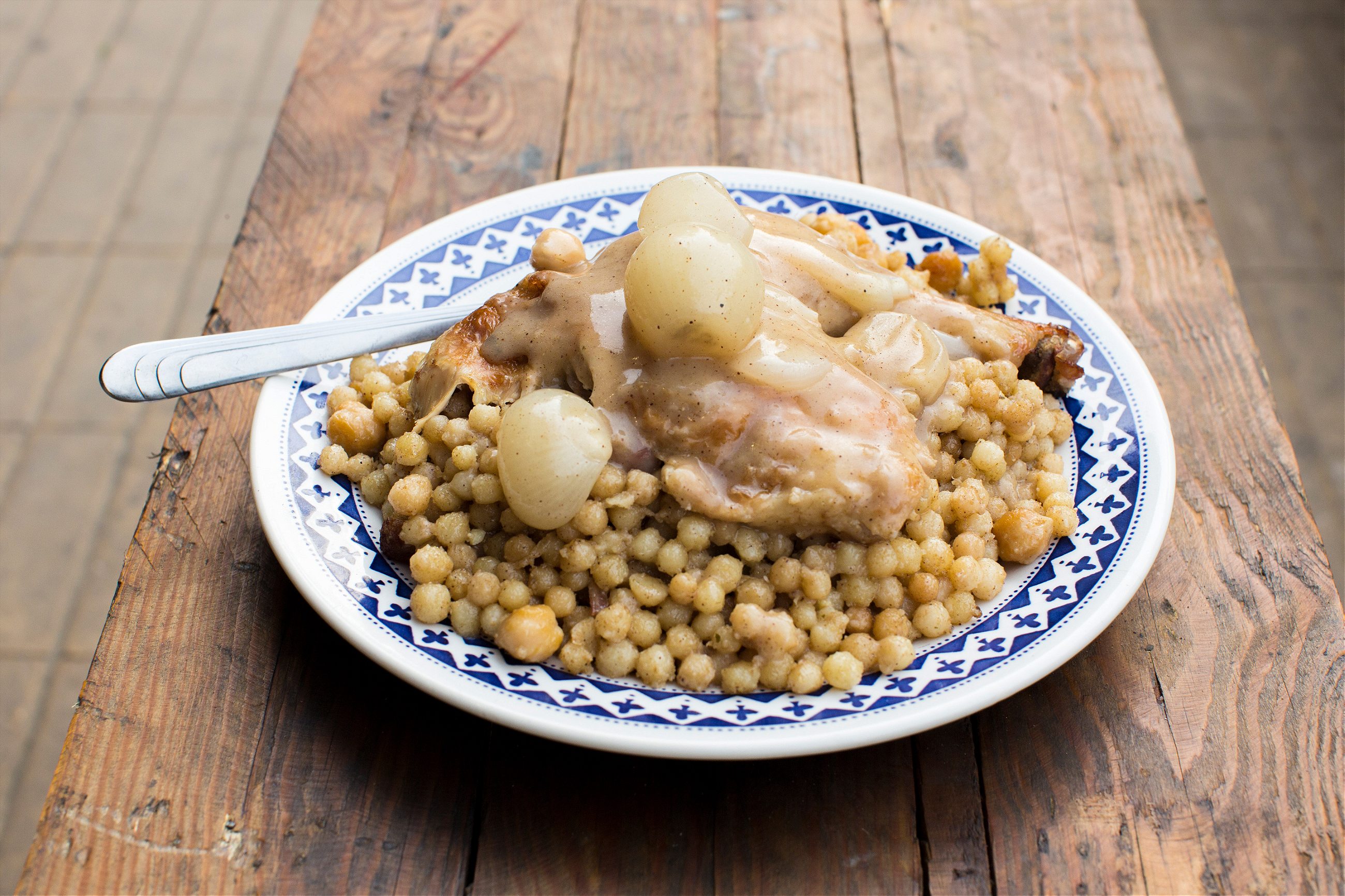 My earliest memories of the Lebanese take on Morocco's staple, couscous, are of Sunday feasts at my late grandparents' home in the port city of Sidon. Aunts, uncles, and cousins would make their way to the south for the weekly family get-together if moghrabieh was on the menu. It was one of teta's specialties.
The literal meaning of the word moghrabieh is "from Morocco," a nod to its birthplace. The meal is thought to have journeyed to the Levant in the 13th century—in Palestine, it became maftoul. According to culinary connoisseur Chef Ramzi (as he is known by all), it arrived at the shores of Lebanon by way of several Lebanese families who emigrated from North Africa to resettle in Lebanon at the start of the 19th century. A virtually unknown personality, Hajjeh Fahda of Beirut's Zqaq el Blat neighborhood was the founder of the Lebanese version of the dish.
Fahda was something of a pioneer. Moghrabieh has next to nothing in common with the Moroccan couscous tagine. The dish has adopted its own striking variation in Beirut in particular (it takes on slightly different forms in other parts of the country), and its semolina pellets are far larger than what you'd find in North African couscous. Sized at about a quarter of an inch, they look more like white-colored peas than the tiny grains we're used to. Moghrabieh can be served with chicken, beef or lamb (occasionally, chicken and beef are combined), or without any meat at all. The pearls of semolina are usually drenched in a sauce comprised of boiled chicken, baby onions, and chickpeas. The final product is then spiced with cinnamon, caraway, anise, and pepper.
This hearty meal, often prepared in winter, is more home-cooked than sought after at restaurants. However, Socrate, a restaurant in Hamra, serves the magical food a Lebanese mother or grandmother might make in a gourmet setting. Moghrabieh is, of course, on the menu.
Named after the Greek philosopher Socrates in a not-so-subtle effort to appeal to students and professors at the neighboring American University of Beirut, Socrate opened in 1964 before temporarily closing during the civil war. When I was a student at AUB over a decade ago, I mostly bought manakish from al-Wataniya bakery in Bliss Street for lunch or dinner—nearby Socrate was reserved for when I could afford to spend a little more for lunch and couldn't make it home to visit my family in the south. Moghrabieh was always at the top of my wishlist. This uniquely Lebanese cuisine (whose origin is indeed non-Lebanese), without fail tastes like home.
A not too distant relative of moghrabieh, makhlouta translates to "mixture," referring to the combination of legumes and beans contained in the vegetarian soup or stew. The winter staple is comprised of lentils, chickpeas, onions, bulgur wheat, white beans, kidney beans, and sometimes even potatoes. That said, there's no strict rule when it comes to makhlouta's ingredients: cooks will use whatever they can find in their pantry.
Like moghrabieh, the meal is commonly made in the Lebanese mountains when the temperatures drop. Makhlouta may have made its way to Beirut, specifically, with the Christian community, some of whom consume it during Lent.
Kebab halabi or kafta karziyeh (Aleppian kebab or meatballs in sour-cherry sauce)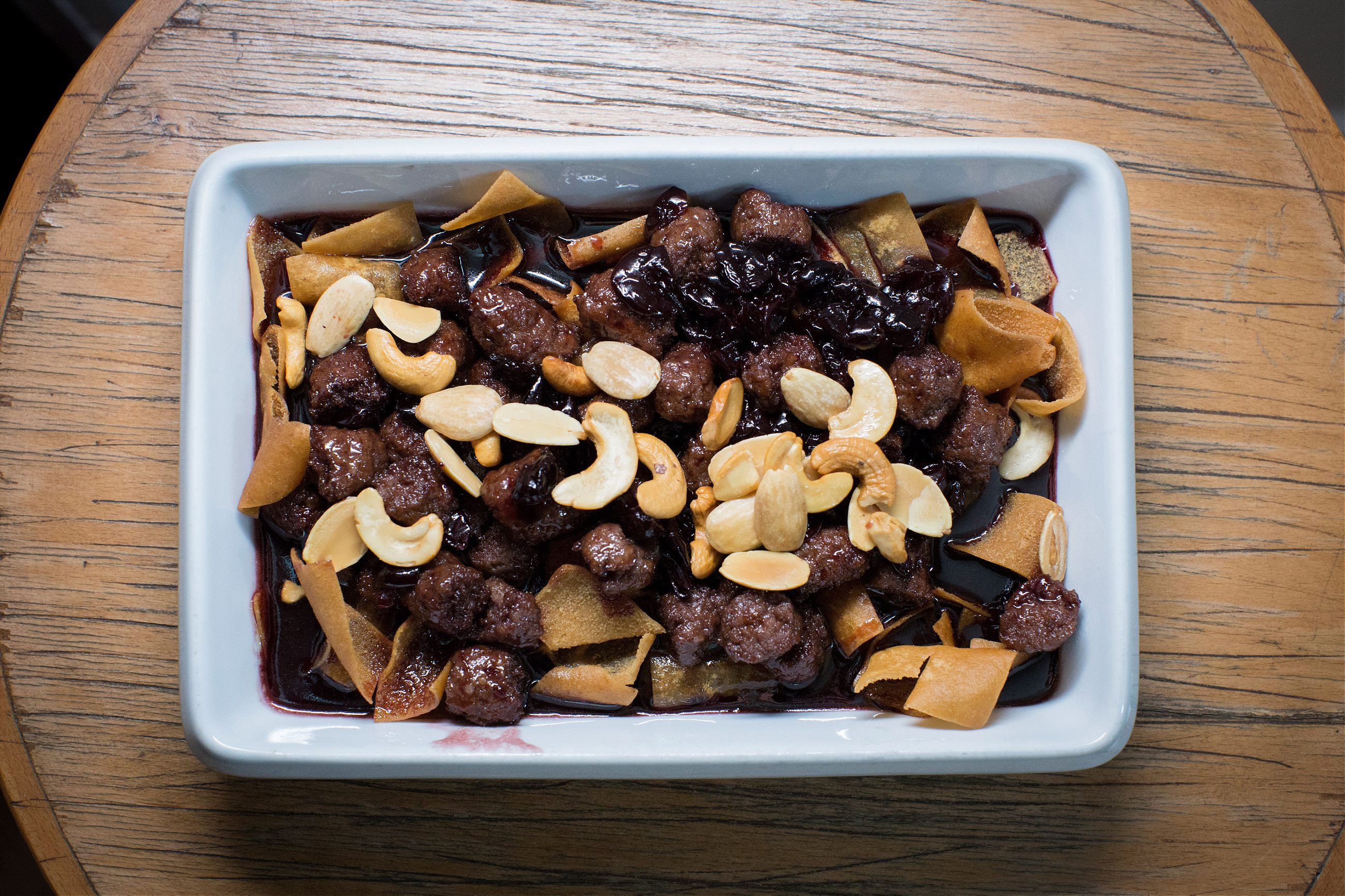 Hummus, tabooli, fattoosh, and stuffed vine leaves are among the more common mezze dishes you'd find in a Beiruti spread, so it's unsurprising they're all available at Socrate. With the knowledge that moghrabieh will more than fill me up, I only have room for one appetizer.
To most Lebanese, picking one of the more than 20 small plates that are available at the restaurant would be a near-impossible feat (each dish deserves an entry). One, however, does stand out. Lebanese mezze dishes are of varying flavours and textures, but are overwhelmingly savoury.
Kafta karziyeh, which hails from Aleppo, is perhaps the only one that incorporates both the sweet and the sour. Referred to as the "crown jewel" of Aleppian food, kafta karziyeh made a name for itself in Beirut with the Armenian community—it's frequently served at Armenian places, including Mayass and Mayrig.
Aleppo, which stands on the ancient Silk Road trade route, has a particularly sophisticated cuisine. (The sweet and sour nature of kebab halabi is said to be a result of Aleppian exposure to Chinese cuisine during trade expeditions.) But this dish is strikingly minimalist, consisting of a basic combination of cherry sauce and meatballs.
In Aleppo, small sour cherries known as washneh are used. Elsewhere, they are replaced by other types of sour cherries, or sweet cherries when in a pinch (although this is strongly discouraged). The meatballs are scooped up with pita bread, or served with white rice and pine nuts or pilaf.
Kibbeh Arnabieh (Kibbeh with citrus sauce)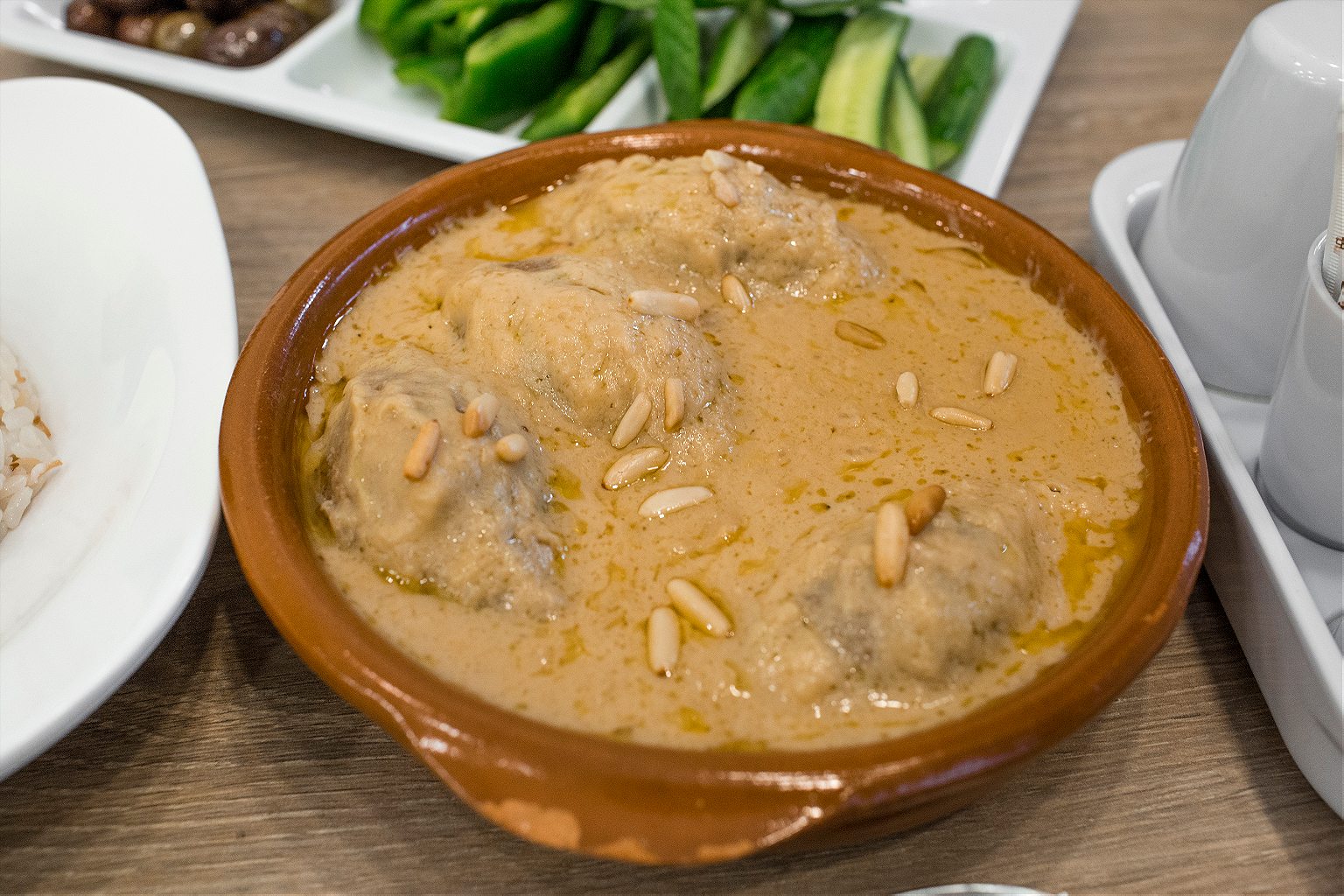 In deciding which dishes to include in this piece, I asked at least 15 Beirutis about the foods they associate with the capital. Kibbeh Arnabieh was almost always choice number one.
Lebanon has numerous takes on kibbeh, a meatball croquette made of bulgur wheat, pine nuts, onions, lean beef, and spices. Among those variations is pumpkin kibbeh, kishek kibbeh and kibbeh with yogurt—but it's kibbeh that's drenched with citrus sauce, a dish native to Beirut, that's the local favourite. Zouhair, of Ras Beirut, said he waits for the bousfeir (Seville oranges) season every year so he can have kibbeh arnabieh asliyeh— the real thing.
Chef Ramzi states that while kibbeh arnabieh has been affiliated with Tripoli, then Sidon, and then the Lebanese coast due to the Seville orange juice used in the recipe, its origin is "somewhere between the city of Beirut, Ras Beirut, and the hills of Ashrafiyeh."
Mostly made during the bousfeir season, the sauce contains citrus juice and tahini in equal measure—maintaining this balance is crucial to the outcome of the meal. Out of season, the citrus juice can be obtained from oranges, grapefruit, lemons, or afandeh (mandarins).
Knafeh (shredded pastry with cheese filling)
Native to Nablus, Palestine, knafeh is a cheese-based dessert that's beloved by the entire Levant and often served as breakfast. Tens of thousands of Palestinian refugees settled in Lebanon during the Palestinian exodus of 1948 (known as the Nakba), bringing with them distinct culinary traditions. The Nabulsi style of knafeh consists of melted cheese topped with shredded filo dough, and is served warm with qater, a sugar syrup containing rose water.
In Lebanon, the filo dough is often replaced with a semolina and butter crust. Lebanese knafeh is served in ka'ak, a dense sesame bread (some Palestinians understandably consider serving knafeh this way— as if it were a sandwich— a form of culinary sacrilege). Akawi cheese, a white brine cheese that originates in Acre, a city located at the northernmost tip of Haifa, is the cheese of choice for knafeh, as well as manakish, in Lebanon. Back home in Palestine, knafeh is also made with sheep's milk cheese.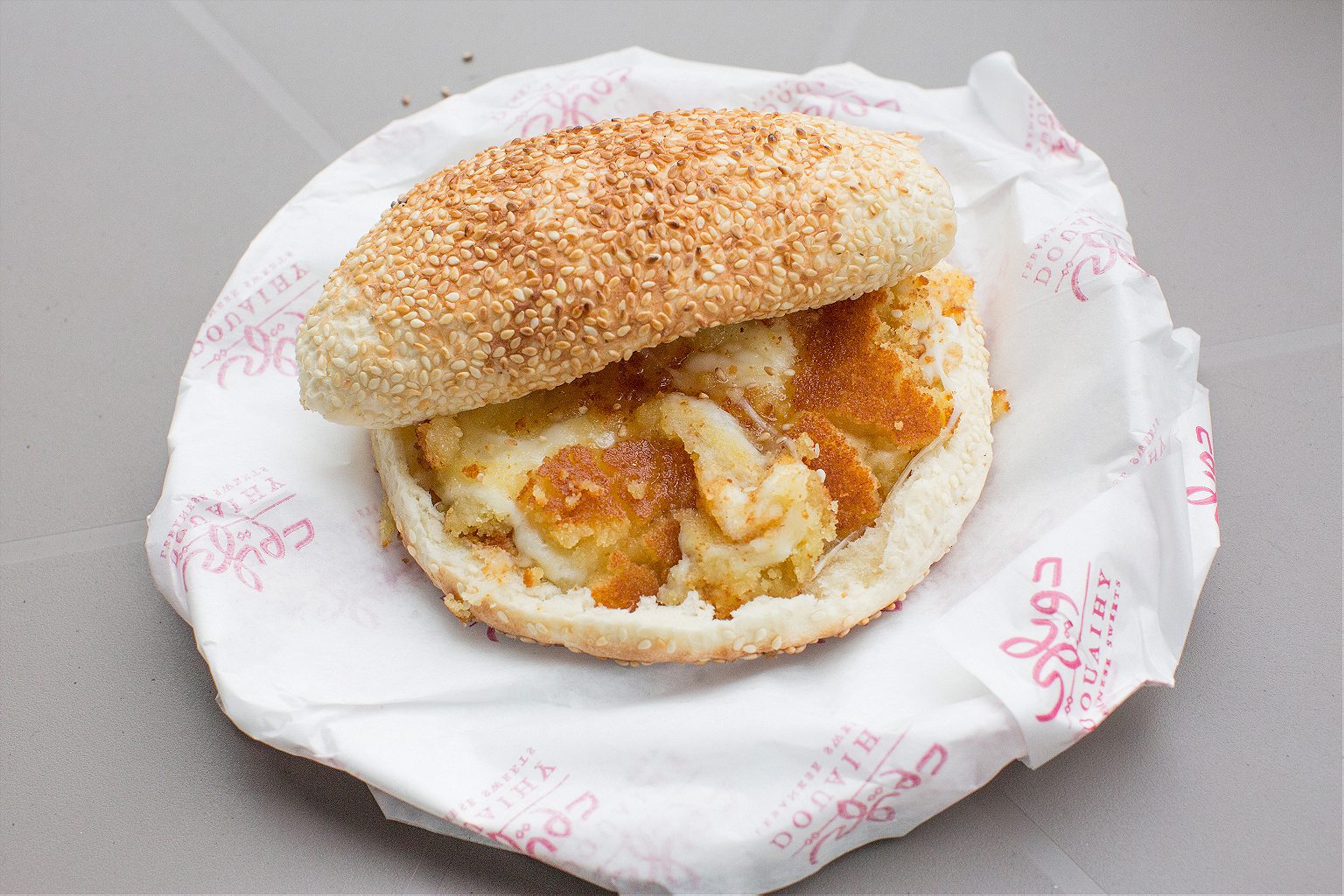 I've had my fair share of knafeh over the years, and I can't say I've ever been disappointed by either variant or that I prefer one over the other. While Amal Bohsali in the Koreitem neighborhood which serves Nabulsi knafeh and Nemer el Wadi in Tareek al Jadeedi are considered knafeh institutions in Beirut, I take a friend's enthusiastic recommendation and make my way to La Cigale at Sassine Square in Achrafiyeh to sample a more expensive, high-end version of it for breakfast.
The posh sweets shop is empty, but I'm warmly greeted by a gentleman in a meticulous uniform who asks me a question in French. The irony of ordering the Lebanese take of a Palestinian dessert in a French patisserie isn't lost on me (a lingering legacy of the French Mandate of Syria and Lebanon that lasted from 1923 to 1946 is the use of the French language, which is alive and well in parts of Beirut).
Admittedly, the knafeh, though prepared in a slightly pretentious patisserie, is some of the most delicious I've ever had: the ka'ak is fresh out of the oven, the knafeh's crust has an ever-so-slight crunch, the qater sweet but not sickly sweet, and the cheese, ah, the cheese…
Mughli (spicy rice pudding)/Mfata'a (tahini rice pudding)
While on a mission to track down Beirut's best mughli and its distant cousin, mfata'a, I quickly learn that mughli is by far the more popular rice-based pudding, and as such, easier to find.
Mughli, which is usually offered as a treat marking the occasion of childbirth, is particularly popular among Lebanon's Christian community during Christmas festivities. The country hasn't had an official census since 1932, in part due to underlying sectarian tensions, and at the time it was estimated that Christians comprised some 53 percent of the population. While that figure has likely dwindled as birth rates fell and various conflicts sparked waves of emigration, Christian traditions continue to contribute to Lebanon's unique social fabric.
The pudding is thought to have emerged during the 18th century in the Fertile Crescent, the area spanning Mesopotamia, the Levant, and the eastern Mediterranean. At the time, the birth of a baby boy was treated with such ruckus, Lebanese villagers would have a drummer call attention to the family home, as documented in Sonia Uvezian's Recipes and Remembrances from an Eastern Mediterranean Kitchen.
Fellow villagers would join in, some playing the nay, or the long-reed flute, to lure more well-wishers to the blessed household. The birth of a daughter was treated quietly by comparison—mughli would instead be offered as a "spice drink" or tea (known as finjan irfee or 'cup of cinnamon'), rather than a pudding. Today, drummers and nay players have been replaced by Instagram and Facebook posts, and the birth of both boys and girls is marked with the pudding and treated with equal levels of enthusiasm.
I'm given plenty of recommendations when I ask Beirutis where I can find the city's finest mughli—keeping in mind that it's almost always better homemade. Unsurprisingly, I'm directed to Antabli, a chain of traditional sweet shops that specializes in puddings and ice cream. The chain opened its first branch in 1925, and its latest in 2009, at Beirut's glittery new souk.
On a Saturday afternoon in early December, the mughli at Antabli is plentiful, sold in sturdy plastic containers for 5,000 Lebanese lira, or $3.30 USD. At first glance, the mughli looks a lot like chocolate pudding. You wouldn't guess it's rice-based, either—its consistency is smooth, roughened only by the crushed pistachios, almonds, and dried coconut with which it's topped (the green is meant to signify the sprouting of seeds in soil). The pudding's earthy brown tones come from cinnamon, aniseed, and caraway, used generously to give the mughli its distinct flavour.
I ask the seller at Antabli if mfata'a is available and he says it sold out earlier that morning. That's because the lesser-known dessert is made in smaller quantities due to niche demand, according to Adel Antabli, the chain's owner. "It also doesn't keep as well as mughli, and it takes longer to make," he adds.
Mfata'a was consumed widely by the city's Sunni Muslim community in the 1800s and early 1900s, and is said to have originated in Ras Beirut under Ottoman rule. The tahini-based rice pudding is laborious in terms of preparation—so laborious, many sweet shops in the city have chosen to stop making it altogether.
After Antabli, I stumble upon Souk el Tayeb, a weekly farmers market held at the mall whose stalls stock homemade dishes. One Beiruti lady says she knows of a man—Abu Abdullah Makari—who specializes in mfata'a, as he's seeking to revive its popularity. My quest, it seems, shall continue.