A Great Little Bar in Northwestern Lebanon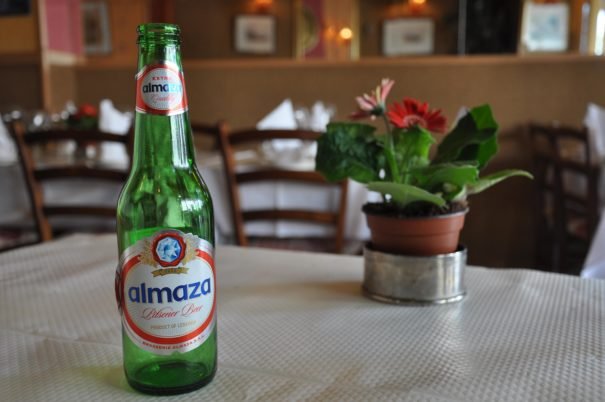 A Great Little Bar in Northwestern Lebanon
Almaza Beer in Tripoli
As I passed under a stone arch bearing a simulacrum of the Hollywood sign and entered the narrow cobblestone walkway that hosts the few remaining pubs of Tripoli, I felt my nerves—on edge from a day navigating northern Lebanon on buses and shared taxis—finally calming.
I had trekked for three hours that afternoon from Beirut to Akkar in far northeastern Lebanon, where I had befriended a number of Syrian families when I was volunteering in a refugee camp near Halba last year. One of those families had just gotten word that they would be resettled in Italy, and I had gone to congratulate them on the news.
After my visit to the camp, I planned to meet a friend from the States who was performing with a circus troupe in Tripoli, a coastal city mid-way between Halba and Beirut.
There have been clashes in Tripoli in recent years between supporters and opponents of the Syrian regime. Although the situation has now calmed, many Beirutis continue to regard it as a no-go zone. Furthermore, as a predominantly Sunni Muslim and conservative area, Tripoli is not a place most people think of for night-life.
But in the seaside community of Al Mina, on Tripoli's edge, home to a small Christian enclave, there is a row of pubs tucked away in the old city. My friend Mali and I decided to do a small pub-crawl there.
We began the evening at Timmy's, where a stream of mostly young and well-heeled patrons buzzed a bell, to be ushered in by a silver-haired maître d' who greeted many of them with cheek-kisses like old friends.
After a round of drinks in belated honor of St. Patrick's Day, we headed around the corner to Mike's, a cozier establishment with a row of bookshelves under the television on the back wall. The young man behind the bar, Wahib, turned out to be one of the proprietors. He was happy to tell us about the history of the neighborhood as we sipped a pair of submarines—a mix of light beer and tequila.
Raised in a Greek Orthodox family, Wahib was one of the few young men from Mina who had not departed for Beirut or abroad. Most of his patrons now are foreign aid workers, or Lebanese from towns farther down the coast. Years ago, he told us, there were 16 bars in the area, but their numbers had slimmed to five.
When Mali suggested that we should complete our pub crawl, Wahib—reluctant to lose a pair of customers—offered to give us a tour and bring us back, which he did, even buying a round of shots at the cheery restaurant-pub next door.
Back at Mike's, Wahib's brother entertained as with card tricks while we had one more round and congratulated ourselves on having successfully bar-hopped in Tripoli.