Following Agatha Christie to the Valley of Wine and Cannabis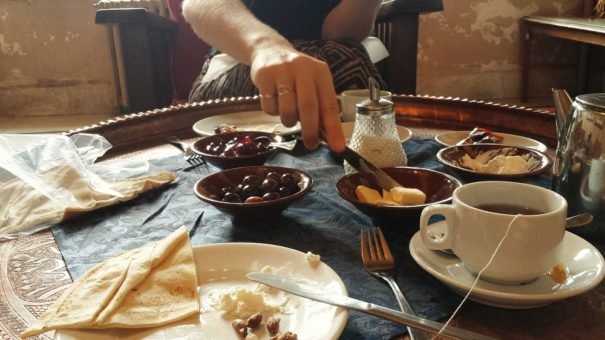 Following Agatha Christie to the Valley of Wine and Cannabis
Continental breakfast in Baalbek
Our journey is a throwback to simpler times, when the English literati's bucket list included a kind of Grand Tour of the Middle East, from Jerusalem to Baghdad. Heading north out of Beirut, the road has not changed much. The steep climb into the stubborn fog of Mount Lebanon follows the long-established route to Damascus.
At an altitude of 3,370 feet, the winding highway opens onto views of the clear summer of the Beqaa Valley, renowned for its production of fine Syrah and cannabis.
We're riding in a "service"—one of Lebanon's informal shared taxi vans—heading to Baalbek and its megalithic Roman ruins, just five miles from the Syrian border. Posters of Bashar al-Assad proliferate, greeting visitors as they walk to the ice cream parlor.
The prime real estate that a hotel occupies in a city, and its status as a de facto taxi stop, are good indicators of its historical significance. We had no address for the hotel to which we were heading, but fortunately for us, all traffic through Baalbek passes the 143-year-old Hotel Palmyra, and our service also makes regular stops there.
The Hotel Palmyra's storied Livre D'Or—guest book—lists celebrated names like T.E. Lawrence and Agatha Christie, but the city and the hotel are less in demand these days and reservations are no longer needed. The Palmyra, having closed its own dining room, now falls back on recommending its old friend: the Al-Ajami restaurant, which dates back to 1924.
After entering the damp, historic lobby, the staff show us a loft in the modernized annex down the street, and two other options, including Jean Cocteau's former room in the Palmyra's original building. We opt for the third pick: the guestroom adjacent to Chez Cocteau, which has a balcony, sans railings, with a view of Baalbek's Roman Temple of Bacchus.
The next morning, the hotel serves its version of the continental breakfast on a low Moroccan-style engraved brass table. Ahmad Kassab, who has worked at the hotel since 1954, emerges from the back room with a procession of labneh, olives, plum jam, and butter. Lipton tea helps us pry open our drowsy eyelids. Hands gravitate towards quartered pita slices to mop up the breakfast spread.
A glimpse of the ruins of Baalbek beyond the lobby's sugar glass windows arouses curiosity, then excitement. The paint may be flaking away and the hotel restaurant may be out of commission, but the hotel, and its service to Baalbek, its people, and its inquisitive visitors, endures.