Don't wear a fucking kaffiyah. Thanks.
Beirut inherits, and then destroys, the meek. It's the last Levantine city: a place that, for all its chaos, still tolerates its tolerant spaces. The city has much to offer, but it exacts its price, too. It's a concrete jungle. It can be too hot and humid in the summer, and too dreary and chilly—especially indoors, as perverse as that sounds—in the winter. Once you get over its charming chaos—if you're the sort of person who sees the charm in chaos to begin with—the average day is a siege of the soul. At its best, Beirut will liberate and exhilarate. At its worst, it'll push you to the brink of decency, fuel your hedonistic impulses, and ensnare you in escapism.
And Lebanon—a state smaller than Connecticut or Yorkshire—is loaded with different terrains, climates, cultures, and histories. You may wish to try skiing and swimming in the same day, thereby embarrassing yourself and eviscerating everything enjoyable about a day at the beach or in the mountains. If you feel like a leisurely day, or even half-day, feel free to try just one or two of these stops. But if you're feeling ambitious, try to complete a Lebanese Loop: cram some—or all!—of these spots into a dawn-to-dusk race. You might fail to see all that Lebanon has to offer, but you'll probably have a good time trying.
Cradles of Civilization: Jeita Grotto, the Lycus and Adonis River Walks, and Byblos
Just a hair north of Beirut, in the lands around Jounieh and Byblos, you'll be able to experience some of Lebanon's natural beauty—while observing how incessantly and intensely the peoples of this place have been making their mark on a once-pristine land since pre-Biblical times.
Swing by Jeita Grotto—a karst cave, running for at least six miles and formed mostly of limestone. Jeita is home to breathtaking cliffs, columns, mushrooms, stalactites, stalagmites, ponds, and shelters. It's beautiful and easily accessible, and open year-round, except for a six-week stint during most winters, with about 750 meters (2460 feet) of walking in the upper grotto and 400 meters (1312 feet) of boating in the lower grotto on offer.
Afterwards, walk along the Dog River—the ancient Lycus, where conquerors have been vandalizing the beshrubbed crags for more than 3,000 years. Inevitably styling themselves as liberators, improvers, and enlighteners, they have—with a somewhat boyish admiration for these stelae—left their predecessors' inscriptions untouched. Egyptian Pharaohs, Roman Emperors, Ottoman Sultans, French kings, Allied troops, and Lebanese leaders have all snatched up—but not eradicated—past glories to magnify their own. (Only the brattish Napoleon III erased an ancient Egyptian carving to make his mark in 1860.)
Driving further up the coast, you'll reach another river: the Abraham River, known to the ancients as the River Adonis for the god whose blood they believed colored these waters red. (It's actually dyed by topsoil runoff and chemicals.) You can scale the hills above the river to Afqa Grotto to take in a waterfall and another set of caverns some 1200 meters (4000 feet) above sea level. Pitching up for a picnic, you can enjoy cool breezes and a still-pretty landscape, dotted with olive trees, maples, and oaks that have somehow survived logging since pre-Biblical times—only to now come under threat from a planned project to dam the river.
Byblos—known as Jbeil in Arabic—is layered with the imprints of civilizations, empires, and polities that have existed in the area known as Lebanon over the past 7,000 years or so. It's one of the oldest continuously inhabited cities in the world—and may, although this seems increasingly unlikely, be the oldest outright. Wandering around, aimlessly, you'll take in Phoenician temples, including Temple of Obelisks and Baalat Gebal; a Roman amphitheater, with its orchestra and auditorium; a Crusader castle; St. John the Baptist's Church, which Muslim leaders converted into a stable at one point; fragments of a medieval city wall; Sultan Abdulmajid Mosque; and an old, outdoor market with cobblestone streets, cozy shops, and a few decent lemonade stands. And if you tire of the history of human machinations, or are just more inclined to discover the flora and fauna of an area, try the Byblos Fossil Museum—which holds some especially interesting vestiges of the area's marine life. If you visit in the late summer, tack on a few hours at a nearby beach and try to get tickets to the Byblos International Festival—an annual musical shindig thrown near historical sites, the old harbor, and a little promontory. (There's also a wax museum. Whatever.)
You may wish to be careful with the food in Byblos. While some of the restaurants are good, many are tourist traps trading on the town's views and your desperation—not their cuisine. If you want to eat in the area, drive to Mhanna sur Mer—a new outpost of a venerable restaurant serving up seafood and coastal variations of Lebanese mezze.
Treasures of Life: St. Anthony's Monastery, the Cedars of God, and the Valleys of Qadisha and Qannubin
Something splendid seizes the soul in the upper reaches of Mount Lebanon, which rises to nearly 3,100 meters (10,000 feet). Take in the Cedars of God—a small cluster of mystical trees, including some that are thousands of years old. While the forest might seem unimpressive from a distance, you'll succumb to the majesty—and scent—of the cedars once you're inside.
After a leisurely walk through the preserve, take a trip through Qadisha and Qannubin. Once inhospitable, and always rugged, these valleys have served as refuges for Christian hermits and monks—and, at times, Muslim mystics and Sufis—for millennia. They now serve as a refuge for people trying to escape Beirut, too. Hiking through history, you'll spot Phoenician burial sites, Christian caves and carvings, and the burial place and museum of Gebran Khalil Gebran, a man revered by the Lebanese as much as he is loathed by poetry snobs.
On your way back to Beirut, visit one of the monasteries in the area—the most picturesque and historically significant one being the Monastery of St. Anthony Qozhaya, which has been built upon and adjacent to a cave used for prayer as far back as the sixth, and some say fourth, century A.D. Sunsets here are true treasures, with the sky turning all kinds of purples, reds, oranges, and yellows. Chat with a monk. And then ask, nicely, for some non-transubstantiated wine.
Baalbek: The Temple of Jupiter and the Tastiest Meat Pies Around
Baalbek's ruins are wondrous. Having stood for thousands of years, and captivated American and European pilgrims and tourists since the 19th century, the Temple of Jupiter—and the three, thousand-ton stones upon which it sits—still astounds architects, engineers, and logisticians. In addition to some of the best-preserved Roman temples, plazas, and theaters in the Mediterranean world, Baalbek—also known by its Hellenic name, Heliopolis—is home to Phoenician ruins, Mamluk Mosques, and old Arab walls. While exploring ruins untainted by the hordes of giddy tourists that trample Rome and Athens, try to spot signs of ancient pagan worship—and hedonism, including some of the earliest bacchanalian feasts on record. And make sure to take in the largest known monolith on earth: the Stone to the South, which weighs more than 1600 tons. (Do me a favor, though. Don't buy the Hezbollah paraphernalia—yellow shirts, talismans, and jujus plastered with pictures of bespectacled clerics, mysterious martyrs, and lanky foreign presidents—outside of the ruins. Instead, spend your time and money on some of Baalbek's tasty meat pies—served with fresh yogurt, spices, and lemon, of course.)
Be careful with a trip to Baalbek. While Western embassies tend to exaggerate risks relating to travel in different parts of Lebanon, they do so because it isn't always easy to provide a nuanced assessment of risks in each area. (That said, the guides are good. They speak as many as six languages and have a host of facts and tidbits committed to memory.)
Zahle: The World's Most Pleasantly Egotistical Village
To hear Zahlewehs—residents of Zahle, a town straddling Mount Sannine's foothills and spilling out into the Bekaa Valley—tell it, their pretty town, with its characteristic red-tile roofs and narrow, winding alleys, is the Eighth Wonder of the World. Their strong sense of self is tied to their even stronger sense of place. Zahle is Zahle; the rest of the world is distant, irrelevant, and referred to simply as "Beirut."
When it comes to food and drink, though, they back up the bragging. You must try the mezze. And you'll want to drink the araq—a grape-based, anise-flavored spirit that Zahlewehs call "Lions' Milk" or the "Virgin Mary's Tears." Casinos—restaurants, really—on the banks of the Berdouani River serve some of the best mezze in the Levant, with Casino Mhanna as the prime example. Its people—the family and staff who've worked here through the generations—have mastered the mezze, which they unleash as a splendid symphony of tastes, textures, and tipples. (Casino Arabi is excellent, too. It claims, credibly, to have created the contemporary mezze. And if you're the sort of person who prefers a great view to the best food, then climb up to Monte Alberto—a restaurant that overlooks Zahle and the Bekaa Valley and still serves decent mezze.) For quicker, simpler eats, try Massaad—a small, seemingly unimpressive sandwich place in the borough of Haouch el Omara. If you opt for Massaad, just order the chicken taouk tabliyeh, or platter. (Note that one of the Massaad boys has now set up a chain with franchises in Beirut and other Arab states. None of these spots come close to the real thing, but they're still tasty.)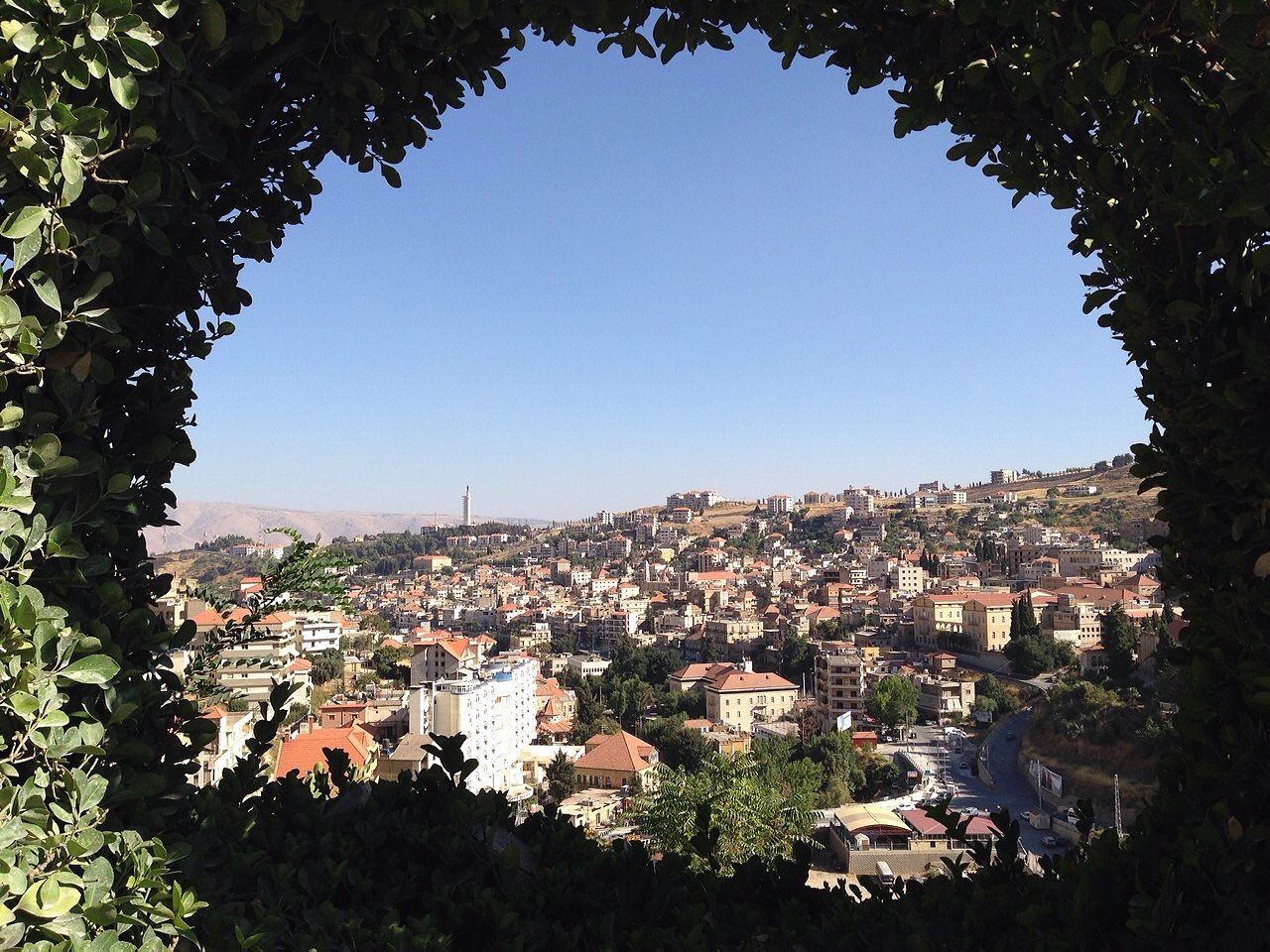 A lunch in Zahle is a perfect complement to a trip to Baalbek or the Chouf. It's also a great dinner option for those of you who're trying to race 'round Lebanon in a day. But please remember: you're entitled to your own taste, except when it comes to Lebanese food. Sit down, tell the manager that a Zahleweh said to take care of you, and STFU while you're GTFOing. Eat, smile, and be happy.
How to Do It:
If you're willing and able to navigate shoddy roads, cope with aggressive drivers, swallow your pride, and lose your faith in humanity, then please feel free to rent a car. You'll be in control of your day and, therefore, more likely to discover places and engage people at your own pace. Otherwise, you can hire a driver for the day using any one of a few reputable cab companies or van rental providers.
While Lebanese folks are generally hospitable, friendly, and respectful—and, as an added benefit, accustomed to dealing with visitors and tourists—please try to be careful. Jokes aside, travel always involves a certain amount of risk. Try to travel with friends; it's more fun, anyway.
And, one more thing: don't wear a fucking kaffiyah. Thanks.