Consumed widely in the 1800s and early 1900s, this labor-intensive tahini and rice pudding is getting harder and harder to find—but one family is keeping it alive.
Tucked away in the bustling Basta area of Lebanon's capital is a no-frills sweet shop that specializes in just one dessert: mfata'a, or rice and tahini pudding. On its window is a sign that boastfully reads "Tastiest Mfata'a in Beirut." Inside, seven days a week, Abu Abdullah Makari and his partner are surrounded by dozens of plates of the curious looking, saffron-colored sweet dish.
Makari has one culinary goal: to revive the prevalence of mfata'a, a uniquely Beiruti concoction whose popularity has waned, partly because it's so labor-intensive to make. Consumed widely in the 1800s and early 1900s, mfata'a—not to be confused with the Egyptian dessert of the same name—is said to have originated under Ottoman rule in Ras Beirut to commemorate the Prophet Ayyub, or Job, known in Islamic scripture for his steadfastness and patience after being tested with an illness and prolonged suffering.
Patience is a key ingredient at Makari Sweets. In the middle of the shop is a large metal urn with a ladle, used to stir the pudding on low heat for hours until it thickens to a paste-like consistency. The dessert is a mish-mash of rice, tahini, and turmeric, sweetened with cinnamon and generous portions of sugar before finally being topped with pine nuts.
The word mfata'a means 'unsewn' or 'come apart' in Arabic, referring to the manner in which the ingredients are stirred so thoroughly and aggressively that they lose their individual consistencies and blend seamlessly into one another. The pudding is part sweet and part savory—if you're not partial to the taste of tahini, you most certainly won't like mfata'a.
Not anyone can prepare this special dish. It requires commitment
"Only mfata'a experts can make real mfata'a," Makari, 64, says with gusto. "Not anyone can prepare this special dish. It requires commitment. I would know—I've been doing this for more than 22 years." According to Makari, depending on how large the portion is, mfata'a can take up to four hours to prepare; the rice must be soaked for two hours before being heaped into the urn. The smallest portion requires at least 60 minutes of constant stirring, he says.
I found Makari Sweets through word-of-mouth during a reporting trip in December for a feature on the culinary history of Beirut. I'd asked more than two dozen young and old locals in Downtown Beirut, Hamra, Furn el-Chebbak, Sassine, and other neighborhoods around the densely-populated city if they'd ever heard of mfata'a, drawing many a quizzical look, even from patisserie and dessert shop owners. The only three individuals who were familiar with the dessert—two older men and a lady from Ras Beirut—said Makari is one of the last-standing shops to specialize solely in the dish.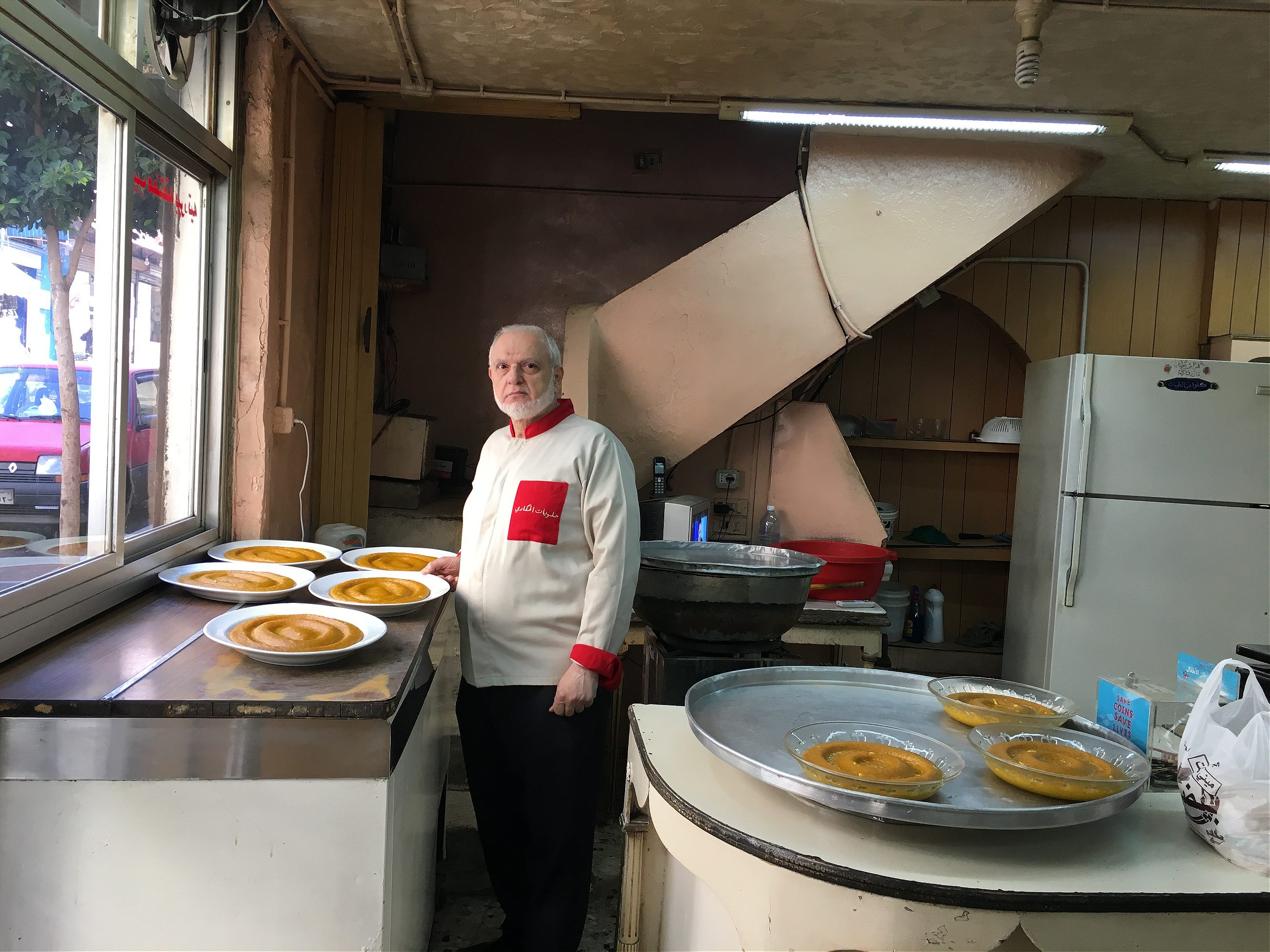 "My mum used to make it for us as a special treat during Ramadan," said Omar, a boisterous 48-year-old Beiruti taxi driver who drove me to the shop, sandwiched between local businesses along a busy thoroughfare. "She stopped making it when she became too old to stand at the stove for hours to stir it by herself."
Three of Beirut's major sweet shops—Hallab, Ikhlas, and el-Baba—say they don't make mfata'a due to low demand. Sultan, a patisserie in the Dahiyeh suburbs of Beirut, a predominantly Shi'a district, serves mfata'a—but only one of its employees has the expertise to make it (he was on holiday when I visited, so I, begrudgingly, left empty-handed).
Antabli Sweets, a popular Lebanese dessert-shop chain famed for its puddings and ice cream, sells mfata'a, but demand for it has dwindled. The time-draining nature of its preparation means other sweet dishes take precedence, according to the chain's owner, Adel Antabli.
Mughli, a spiced rice pudding and the culinary cousin of mfata'a, is generally sought-after and, unlike mfata'a, keeps well. Mfata'a is virtually unknown, dries out sooner, and is therefore made in smaller quantities, he adds. Makari argues that the dessert only dries out quickly if it isn't made correctly.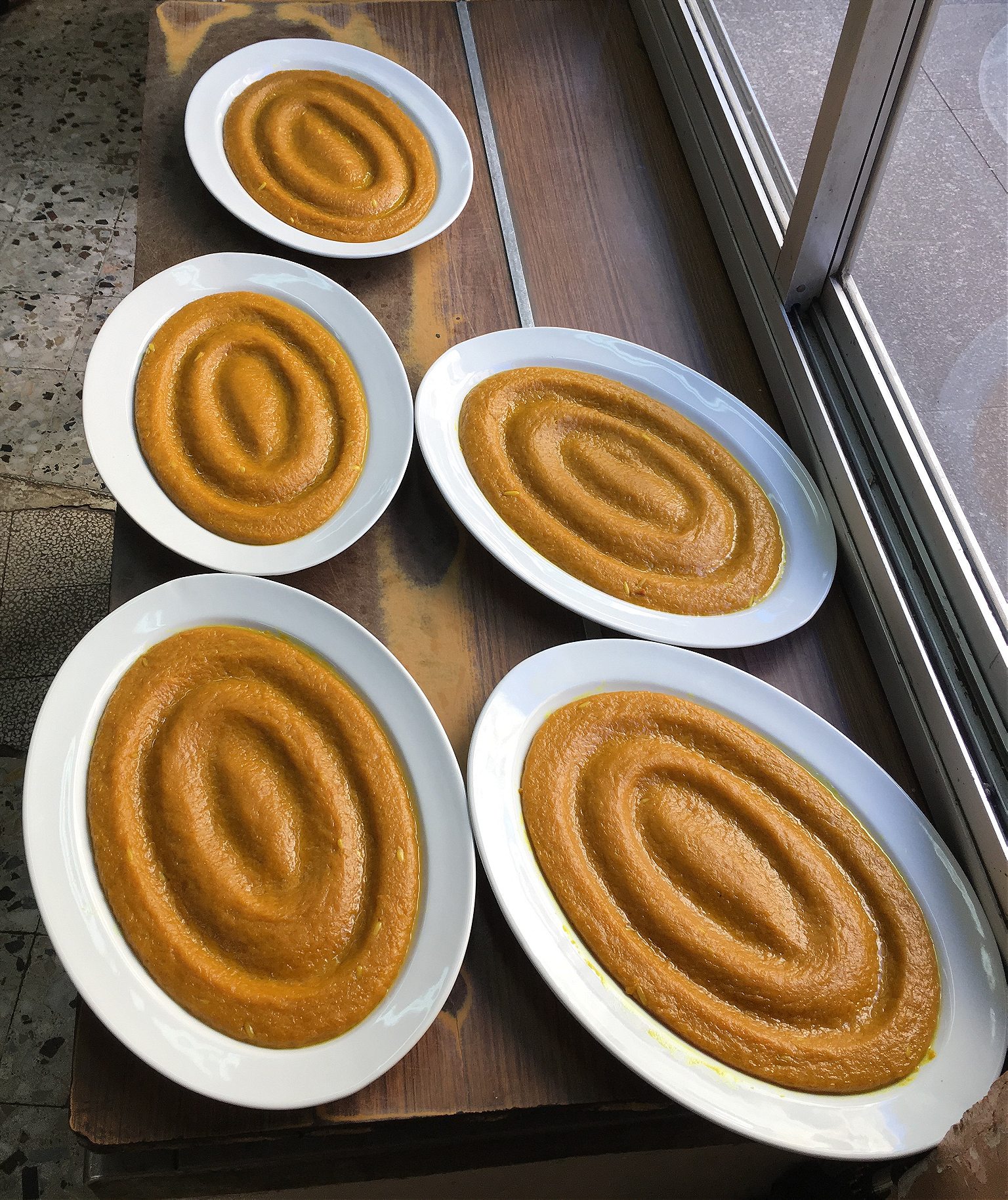 Makari, having learned how to make mfata'a from his father and uncle, has passed the recipe down to his sons—they now run their own dessert businesses at the Beiruti areas of Barbour and Malla—in the hopes that they will continue the tradition. "This is a family trade," the father proudly says. "My ancestors started it and my sons will carry it on." This particular branch of Makari Sweets opened in 1973 and only shut its doors briefly during the most violent outbursts of the civil war that raged from 1975 to 1990.
According to the mfata'a mogul, whose family has been in the dessert business for over a century, the dish is known mostly to Beirut's Sunni Muslim community. "Younger Lebanese who haven't lived in areas where mostly Muslim families live won't have heard of it," he says. This is somewhat unusual in a city that, for the most part, shares culinary traditions.
"The older generations in Ras Beirut would make mfata'a at home and distribute it to neighbors and relatives," Makari explains. "When my father first started selling it in his dessert shop, he was worried people would be offended because it truly was a family dish, made at home."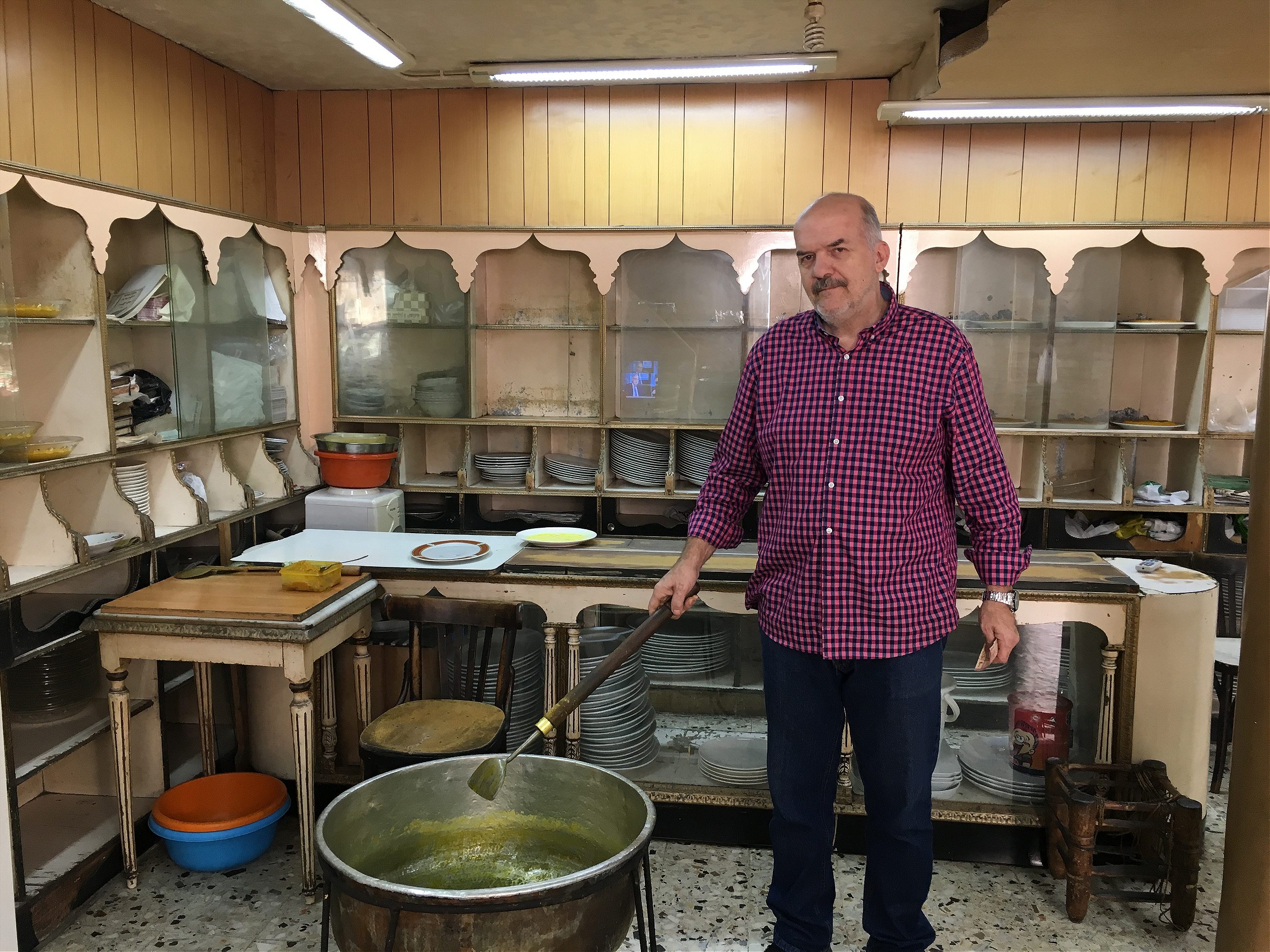 In decades past, Ras Beiruti families would take batches of the dessert to the public beach area of Ramlet el Bayda once a year to remember the Prophet Ayyub, and eat it as they watched their children fly kites and play in the sand. The tradition made its way to the south of the small country; in the port city of Sidon, some shops still offer the pudding on request. Today, mfata'a isn't associated with any particular occasion and is made and consumed year-round, although few make a point of preparing it on the Wednesday of the final week of Sha'aban, the lunar month preceding Ramadan, when Muslims fast from dawn to dusk. (By comparison, mughli is commonly prepared to celebrate the birth of children, and people enjoy it all year round.)
Makari opens his shop at 8 a.m., and makes up to four fresh batches of mfata'a—or 100 plates—per day. He doesn't close until his final orders are taken, usually at about 6 p.m. Mfata'a lovers travel from all areas of Beirut and beyond to pick up the dish, sometimes in large quantities for private occasions. Depending on the plate's size, Makari's mfata'a sells for 10,000 (US$6.6), 15,000 or 20,000 Lebanese pounds—you even get to keep the porcelain plate. Makari's small institution reached such acclaim in the area that it once attracted former prime ministers Najib Mikati and the late Rafiq al-Hariri (a visit by Lebanese politicians to Beiruti establishments often serves as a brag-worthy badge of honor), as well as tourists from Egypt, Jordan, and the Arabian Gulf.
Makari attributes the pudding's diminishing popularity—among the youth, at least—to changing tastes and cultural shifts. "These young ones who are busy with their phones won't have heard of mfata'a because they don't see their parents making it at home," he says. "It takes too much time to prepare. Besides, they'd rather eat something quick and unhealthy."
"I don't worry about that, though," he says, as he poses proudly next to the morning's freshly made batches. "The Makari family will keep the dessert alive."