Dreaming about Amman's favorite sandwich.
In Jordan, Friday morning is the start of the weekend; time to reflect, to lounge in bed a little longer, or to go for a run. It's also a holy day, and after Friday prayers, families get together to feast on manakish za'atar (dough topped with thyme), mansaf (lamb cooked in dried yogurt), hummus with falafel, or even a lavish barbecue.
My Friday memories are all about falafel, that essential Levantine dish of deep-fried ground chickpea fritters, fava beans, fresh coriander, and  parsley — which gives it a greenish color — and a mix of spices such as cumin, black pepper, and paprika. Growing up in Amman, my three sisters and I would wake up to the smell of the freshly baked pita bread and falafel that my father had brought home, after lining up to get it fresh from one of our favorite restaurants. My family looked forward to this Friday breakfast ritual all week. We would pair my father's fresh falafel haul with my mother's homemade pickles, home-grown olives, fresh vegetables, and a cup of black tea.
I now live in Abu Dhabi, but fortunately, my job as an onboard food and beverage manager on Etihad Airways regularly brings me back to Amman, a three-hour flight away. I usually spend my three-to-five day jaunts in Jordan with family and friends, and visiting my favorite sights: the vibrant downtown area, the ancient streets, my former neighborhood, my favorite running trail along King Abdullah II street. Of course, my hometown tours include eating my way through some of my favorite Ammani dishes. This means getting my falafel fix, and it has to be from Falafel Al Quds.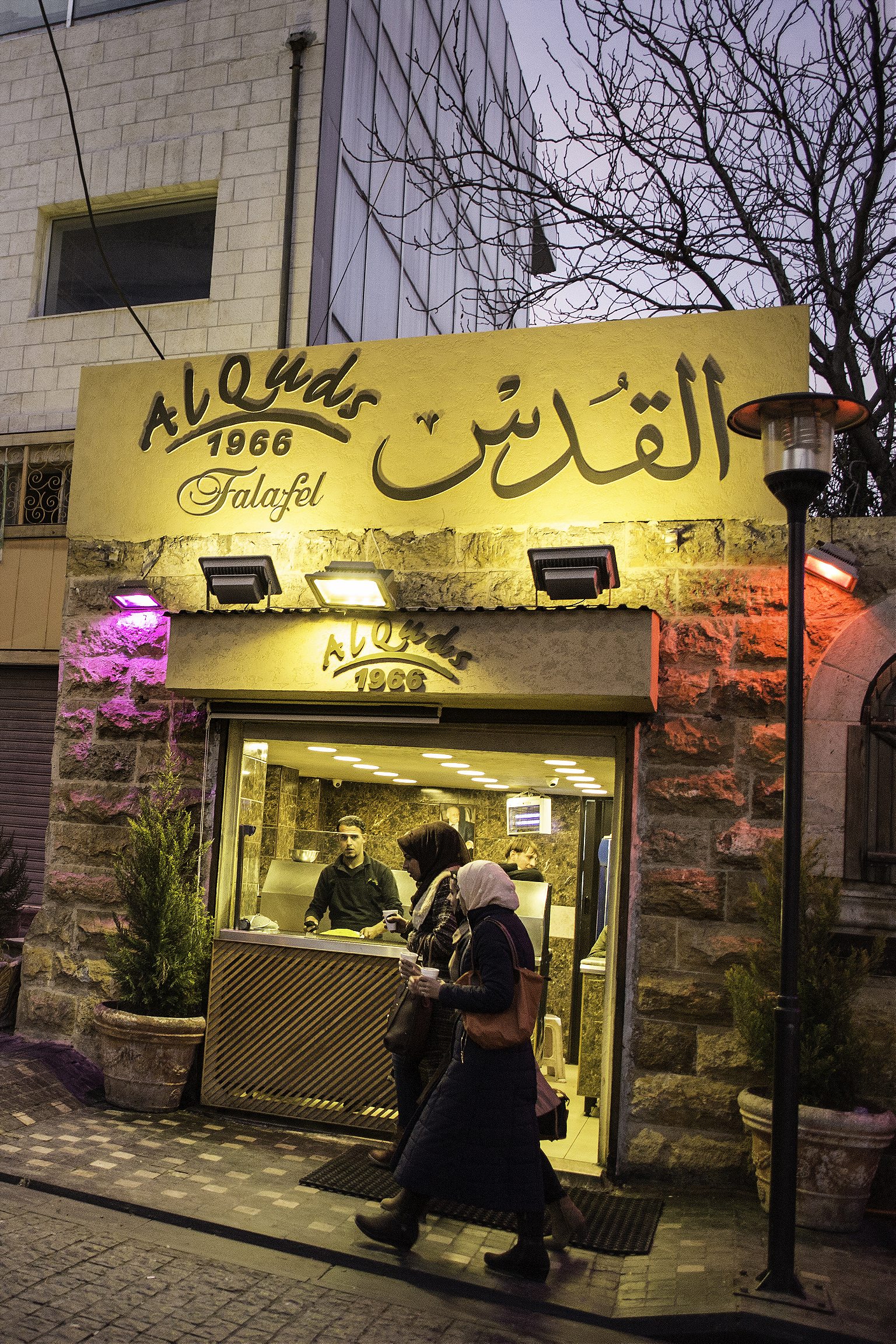 Walk down Rainbow Street, a narrow but bustling strip lined with cafes, shops, and restaurants, and you can't miss Falafel Al Quds: the old, brick storefront, the sizzling deep-frier, and the arresting scent of falafel luring pedestrians into its orbit. Founded in 1966, this tiny space (no seating) is one of the city's oldest falafel joints, and Ammanis' go-to spot for simple but ridiculously good falafel sandwiches.
Owner Adib Rasas took over the business from his father, Hani. They haven't changed their falafel recipe in over 50 years, barring the slightest tweaks and improvements. Straight from the frier, the falafel is wrapped in a toasted sesame roll, with pickles, fresh tomatoes, and their special tahina sauce (sesame paste, water, lemon juice, and a secret ingredient.) Unlike in other falafel joints, the Al Quds sandwich does not come with a smear of hummus. (They also never sell the falafel on its own, a rule they've stuck to despite the fact that Jordanians love to snack on just-out-of-the-frier falafel.) Over the years, Ammanis' appetite for their signature sandwich has remained undiminished, the demand for this no-frills comfort standing firm through Amman's ever-changing food trends and tastes.
My cravings for this sandwich are especially strong in the winter. I reminisce about driving to Falafel Al Quds on rainy days in my winter clothes to pick up a warm sandwich and a cup of tea, and then strolling the city, sandwich in one hand and tea in the other. I think of the crispy bite of the falafel, the sour bite of the sauce, the crunch of the pickles, and the burst of tomatoes. This is the dish I must have when I visit Amman—on any day of the week.