Two neighborhoods in the city's heart reveal the Ghanaian capital's past—and future.
Whether it is a quick 30-minute stroll or an intensive half-day trek, you won't run out of things to do in Accra's Jamestown and Osu neighborhoods. From fishermen singing work songs as they mend their nets along the piers to plates of coconut rice and slow cooked lamb among haunting historical buildings, there is a unique intermingling of depth and lightheartedness  in these two unforgettable parts of the city, both of which are accessible by foot.
As a Ghanaian and longtime resident of Accra, who is constantly floating between these two areas, this is how I would pass the time.
Jamestown: Architecture, Art, and History
John Evans Atta Mills High Street. Start here. Your walk through Jamestown should begin at either end of this major road, which slices through the town. A stroll along this major artery will immerse you in Ga culture, an ethnic group from the Greater Accra region: that means the smell of deep-fried seafood in the air, loud music, and chatter from open-plan houses.
Jamestown is located close to the Atlantic coast and is the historical epicentre of Accra. It was where the city started  as a small trading town before swallowing the surrounding settlements. The development of the predominantly coastal community is intertwined with the creation of the modern state of Ghana. Though it is mostly inhabited by the Ga, Jamestown is quite cosmopolitan. People from far and wide take up residence there, as in most of Accra.
The brooding artist culture and rich cultural history of Accra is everywhere in Jamestown. Spellbinding murals are interspersed with Victorian-era architecture, while the red-and-white lighthouse overlooks the city, a relic of the era of slavery and British colonial rule . The creative drive to artistically represent history here is undeniable, but the presence of a new street-art scene is just as notable.
This can be seen at the popular CHALE WOTE Street Art Festival, which draws more than 300 artists from all over the world to Jamestown. Some make the pilgrimage from thousands of miles away to lay siege to the community for one weekend in August to participate in Accra's vibrant art scene.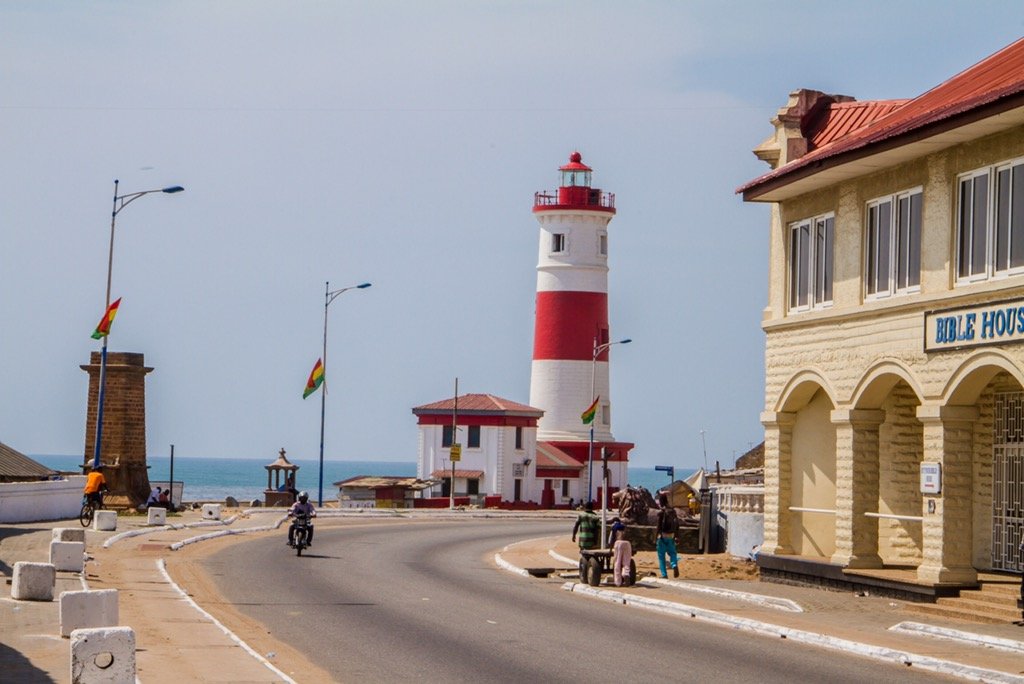 The James Fort Prison and the Ussher Fort. Two iconic edifices bookmarking the history of colonialism and slavery are located along the High Street within 1,000 feet of each other. Take a tour of the Ussher Fort, which was built by the Dutch in 1649. The James Fort Prison, which has seen better days, built by the British in 1673, operated as a prison until 2007 when it was closed down due to its deteriorating structure.
Deo Gratias Studio. One of Accra's oldest photo studios, which is  sandwiched between the two forts on the High Street, Deo Gratias was founded in 1922 by J K Bruce Vanderpuije. It's one of the largest archives of photography in Accra. The studio's portrait collection documents life in early 20th century Ghana.
Off the High Street, onto Brazil Lane, an adjoining street will take you deeper into the neighborhood. This very narrow road is lined with riveting mural houses overlooking the sea.
Brazil House on Brazil Lane. This is the ancestral home of the the Tabom, a group of self-liberated enslaved people who resettled in Accra in the 18th century. Today, Brazil House is an art gallery and the workspace of ACCRA[dot]ALT, organizers of the CHALE WOTE Street Art Festival.
Next to Brazil House are the earthen brown walls of Franklin House, which used to be a minor fort for trading slaves, complete with dungeons and an auction block, all of which are still visible today. This roofless villa also reveals a hidden fact about Jamestown: the community sits above a network of tunnels that were used to transport the enslaved to captivity. One of the mouths of these tunnels is in plain sight at Franklin House.
Jamestown fishing harbor. This should be your final stop on a walking tour of Jamestown. Enjoy the panoramic view of the rocky seafront lined by large wooden canoes painted with bright colors as you stroll along the pier.
A thorough tour of the history of Jamestown can be booked with Accra Walking Tours to unveil the history that hides behind the hustle and bustle of everyday life in Jamestown.
Osu: Food, Fashion, and Oxford Street
With dozens of shops, nightclubs, restaurants, galleries and craft stores dotting the tightly knit suburb, Osu is the hub of culture and entertainment in Accra. Osu typically attracts millennials, but the neighborhood has something for people of all ages and dispositions.
Oxford Street.  This is an awesome starting point for your exploration. The main road that bisects Osu, it is mostly bookmarked by arts and craft stalls selling authentic African handmade crafts, such as straw hats, brass rings, and necklaces. This partly pedestrianized road is a great place to pick up a customised bead bracelet or a dashiki as a souvenir of your time in Accra.
Tea Baa.  Located away from the buzz of activity on the Oxford Street, this cozy, design-focused tea bar has an extensive selection of chilled, flavored teas to quench your thirst after a tiring hike through town.  And then there's the food. Try the slow-cooked lamb or honey-soy chicken with a jug of sugarcane lime tea. African-art inspired décor with polished gourds, Bwa masks from Burkina Faso, sturdy hardwood furniture, and board games make it easy to get comfortable and feel at home.
ANO Gallery of Contemporary Art. If you're feeling refreshed, art lovers should also check out this emerging art space and research center with a strong focus on contemporary Ghanaian art,  run by Nana Oforiatta Ayim. ANO shares a compound with Elle Lokko, a concept and design store specializing in ethical clothing brands from all over the continent. Like Tea Baa, Elle Lokko and ANO are located Off the Oxford Street, on Lokko Street in Osu.
Osu Night Market. It's an open-shed market, lit by orange fluorescent lights, filled with dozens of seafood vendors offering the freshest catch from the sea. The menu is mostly Banku and Kenkey, two corn based staple dishes of the Gas, served with either smoked, grilled or fried fish, shrimps, octopus, oysters, and crabs. Osu Night Market is the best place to get great-tasting Ghanaian street food. Beware of shitor (pronounced SHEET-o)—the pepper sauce served with most meals at the night market—if extreme sizzling spice isn't your thing. The many restaurants in Osu boast a wide variety of menus: you will find everything from Italian seafood to Thai soup. Just be sure to come hungry.
Pro tip: Remember the people and the sun. Jamestown and Osu are receptive to visitors from all over the world. However, one should pay attention to and respect the people who live there. Photography is allowed but it's advisable to seek permission to take photos to avoid offending anyone. Also, it's hot. Really hot. These places are sparsely shaded so do what you have to do to protect yourself from the sun if you plan on spending long hours walking.