Practical information, cultural cues, and city orientation for travelers to the crown jewel of Ghana's coastline. Visit Accra, and read this guide first!

Akwaaba! Welcome—that is—to Ghana. Here, people pride themselves on their hospitality. If you stand anywhere too long (and we mean anywhere: gas stations, street corners, in front of someone's heavily-fortified, barbed wire-topped gate) someone will offer you a seat, or some shade, or tell you you're invited to their meal. People—and especially school children in pristine uniforms—will want to say "good morning," or perform a full-on salute. Greet them in return.

Plan for traffic. Accra is suddenly huge. Over the past 20 years, the capital has sprawled, literally, to the regional borders. Some neighborhoods are farther away than they may seem on Google Maps. Hundreds of brand-new suburban developments mean that people leave home before 6 a.m. and leave work after 8 p.m. to avoid spending hours in gridlock. Unless you fancy leaving your accommodation before dawn, choose carefully. Generally speaking, avoid anything north of the Tetteh Quarshie Interchange (a traffic nightmare shaped like a four-leaf clover named after the man who first brought cocoa seeds to Ghana in 1876). It's also best to stay away from neighborhoods west of Mallam or east of the Spintex Road. They're home to some lovely hotels and guesthouses, but also the city's worst traffic snarls.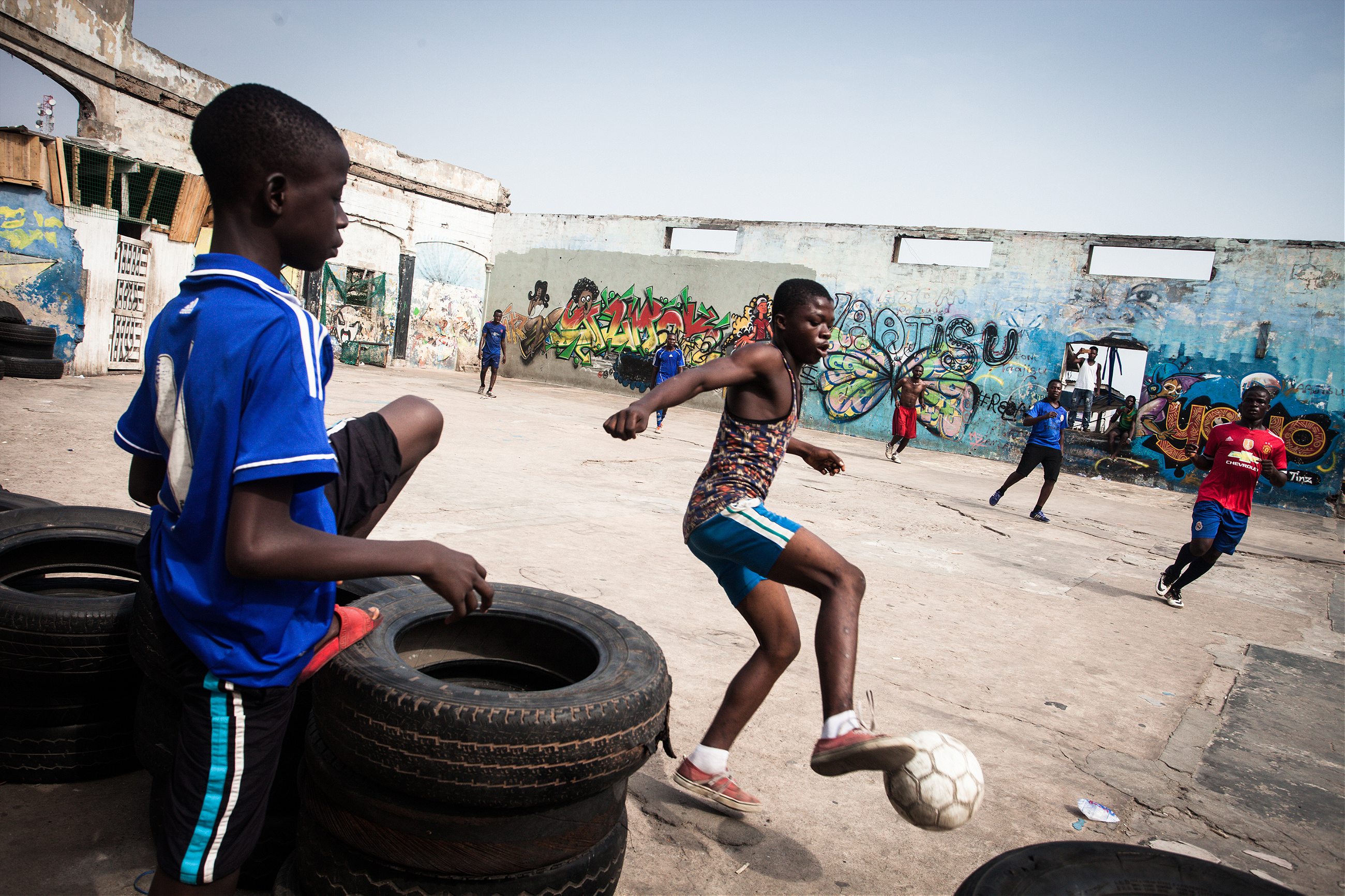 Prepare for the noise. Unless you're staying in a hotel with sealed windows, you'll likely be woken up early in the morning by a loud church service (and these happen every day of the week); a call to prayer from a mosque; roosters greeting the dawn; or just your neighbor getting up at 4 a.m. to beat the traffic. If you stay by a major road, you will hear the tro tro mates soliciting (more on that later.) And people will play music, or sing at full volume, at any opportunity. It's a joy to behold. And also, sometimes, deeply irritating.

Acquire some Ghanaian English. It's a relic of colonialism, blended with transliterations from Ghana's dozen or so major languages. All newspapers are referred to as the 'Graphic' after the government-owned daily. All bottled water is 'Voltic' after the leading brand. All detergents are 'Omo,' (after the Unilever brand) all toothpastes are 'Pepsodent,' (also Unilever—we have to talk about multinationals dominating markets in Africa.) All beverages are 'tea.' Everything is excessively formal. A few Ghanaian English phrases you are likely to encounter:
● "Small chops" —hors d'oeuvres, snacks, light refreshments.
● "Dash me" —give me a little something extra (usually while bargaining at the market).
● "One mother, one father?"—pretty literal, usually asked after you introduce a sibling.
● "I quite remember"—a classic rhetorical flourish beloved by middle-aged uncles.
● "Excuse me to say"—literally translated from local languages, almost like "forgive my bluntness" and usually uttered before something disparaging.
● "Only your" as in "Only your shoe"—usually high praise about your style.
● "Go and come"—usually in response to a "goodbye" and from someone who's expecting you back.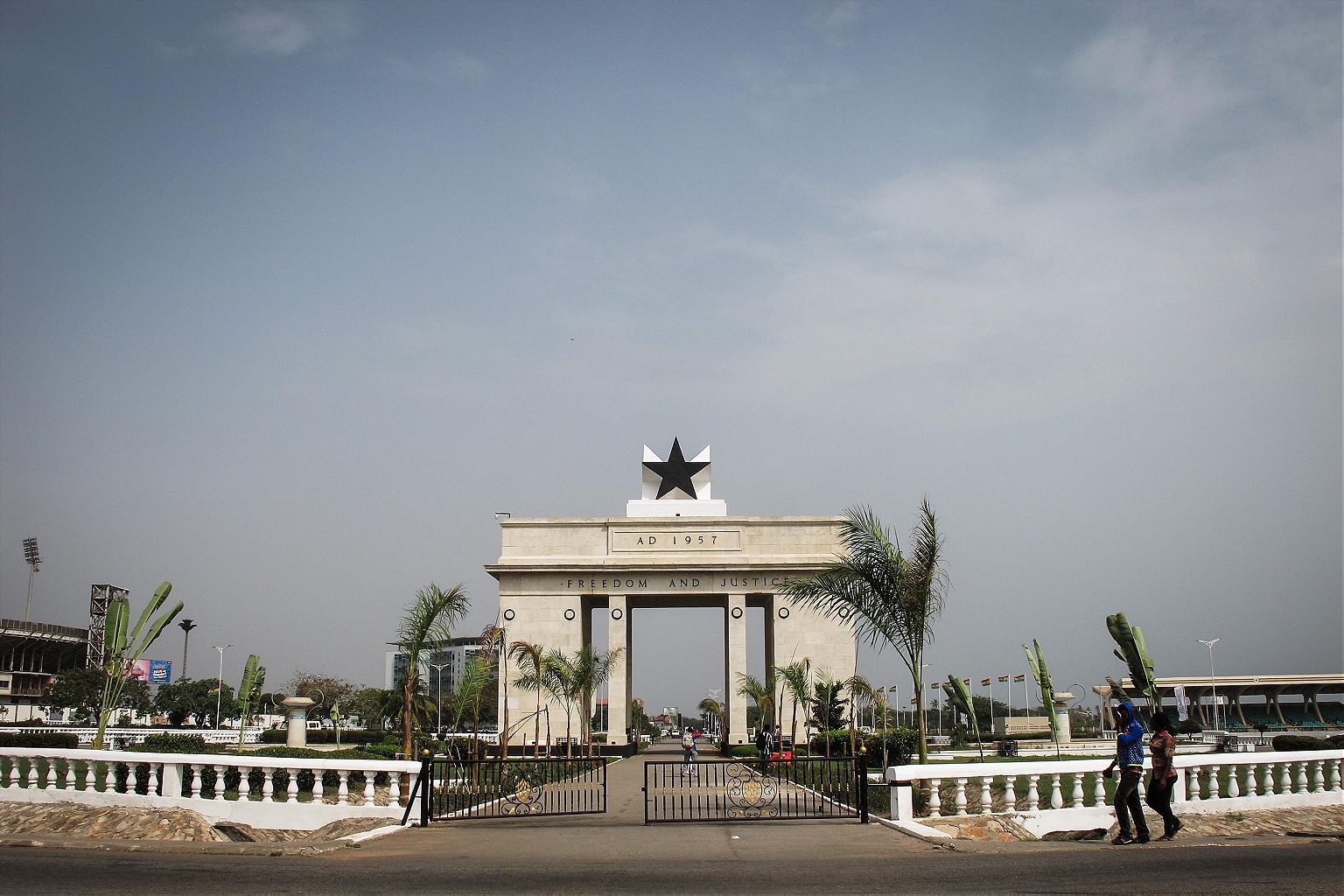 Branch at the mango tree. There is a uniquely Ghanaian way of giving directions, based on the fact that there aren't always street signs and most buildings have a technical address based on the land registry, rather than a street address (we're working on it; the government just introduced a digital address system). 'Branch' means turn. Instead of street names, people will send you to a landmark, like a mango tree. Said landmark may or may not still be there. If you're going to 'Oxford Street' (actually the Cantonments Road, but locally nicknamed after the one in London) taxi drivers will ask if you're going to 'Total,' after the gas station nearest the Danquah Circle roundabout; 'Penta Hotel' which is no longer there, but further down the street; 'Papaye' (more on this legendary culinary institution later); or 'Shoprite' after the supermarket in the mall at the other end of the stretch.

Keep up with "Kumkum Bhagya" and "Osofo Dadzie." Ghanaians take their soap operas seriously. In some neighborhoods, people will bring their televisions outside so everyone can watch. They are the small-talk topic of choice. There are local classics like "Osofo Dadzie" and "YOLO." There are also a plethora of telenovelas and Korean dramas dubbed in English or Twi, a local dialect. The current hit is the Indian show "Kumkum Bhagya," which is so big the stars recently toured Ghana.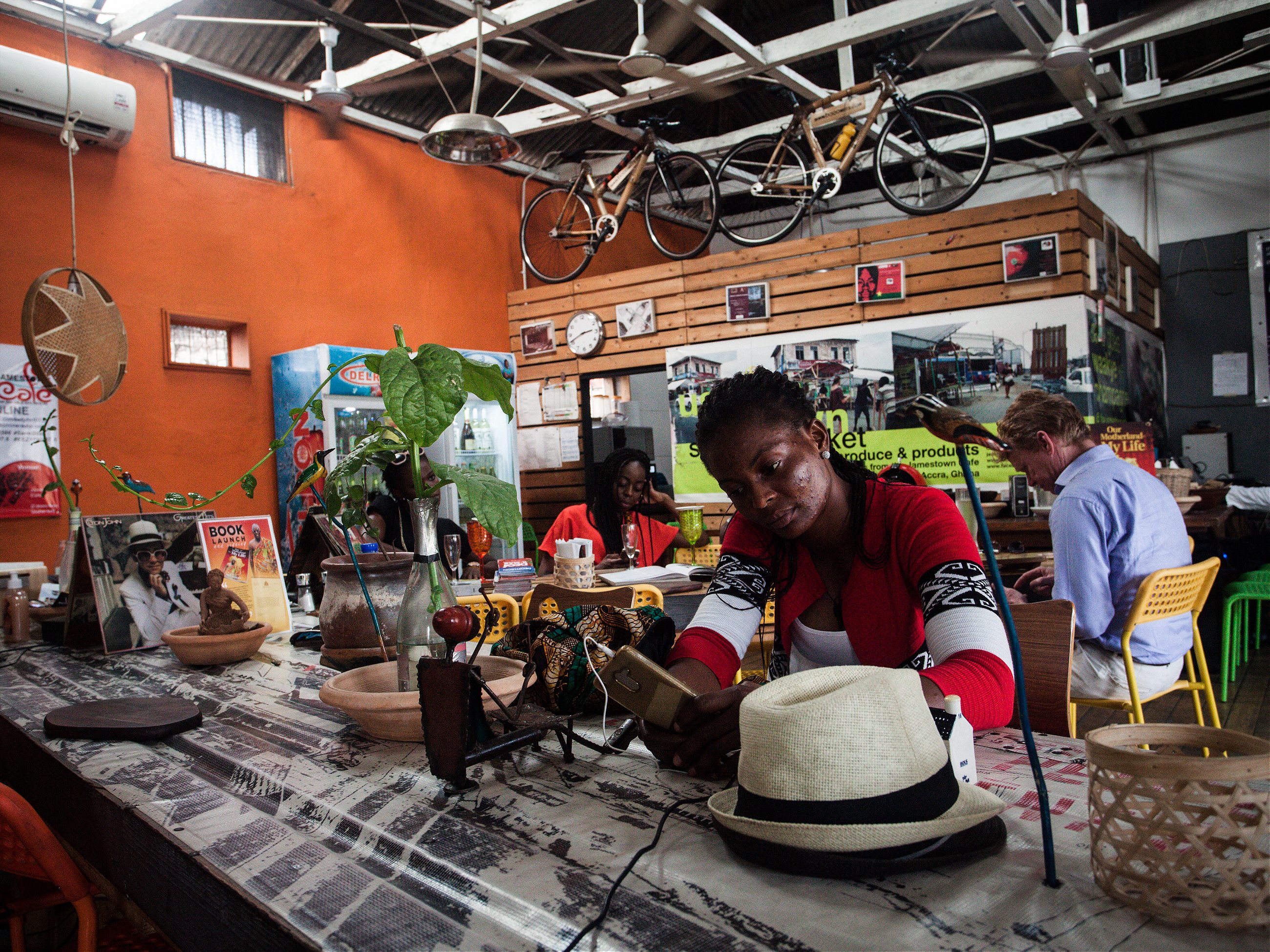 Get connected. Event listings are weak, so the best way to find out what everyone's doing on Friday night is social media. Follow institutions like the Alliance Francaise, Goethe Institute, or venues like the jazz bar +233 to find out what's on. Add local friends on WhatsApp (Ghana's finest source of gossip and viral videos of Congolese uncles dancing.) Listen to Joy FM or Citi FM or national broadcaster GBC for grownup news, and YFM or Live FM for information about what the kids are up to.

Yaa nshonaa. ("Go to the beach," in Ga, one of our local languages.) Accra is by the sea, but most of the shore is heartbreakingly choked with trash. The exceptions are Labadi Beach, Kokrobite Beach (a longer trip from Accra), and Titanic Beach in Tema, named for that one time a ship ran aground. (What can I say, gallows humor is a national pastime here.) If you can't be bothered with the trek—or the nature—most of the major hotels have lovely pools open to the public. Our favorites are the Mövenpick (they also do a lovely, if overpriced, Sunday brunch); the Kempinski (although the vibe is very 'obnoxious dude who pulls up in a Maserati'); the faded but iconic African Regent; and the charming old heap that is the Golden Tulip.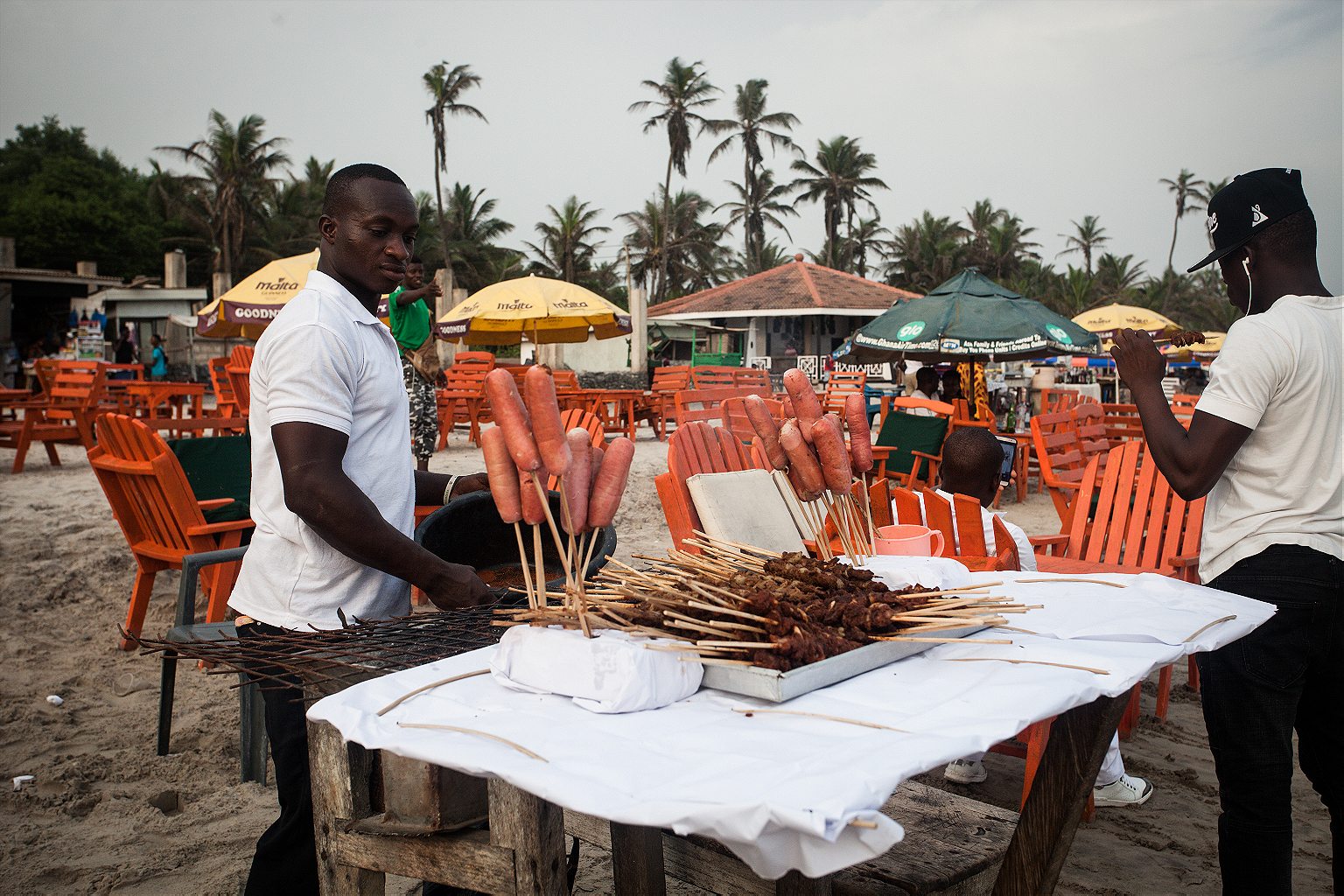 Go chop. Which means go eat. As soon as we fly in, we usually stop at Papaye, a fast-food place in Osu—a busy district east of the center—that will sell you a mound of rice and half a chicken (grilled, fried, or rotisserie) with coleslaw and a searing black chili sauce called shito for the equivalent of US$4. (Don't judge us. The flight gets in late and we don't eat airplane food.) A few days later, once we've built up the constitution for street food, we go to Osu night market for kelewele (ripe plantain seasoned with ginger and chili and fried to caramelized perfection) grilled tilapia (fresh from the fishermen on the shore just 10 minutes away and slathered in a green pepper sauce), and banku (a delightfully toothsome ball of fermented corn dough and fresh cassava.) We also make sure we go to Azmera at least once. It's a high-end buffet place with food from all over Ghana's 10 regions, fresh palm wine and sobolo (hibiscus and ginger tea, thank me later.) Accra has dozens of 'chop bars' for food close to what grandma used to make. Notable among them: Heavy Do in Kokomlemle and Bush Canteen in East Legon. Then there are the 'spots' specifically known for one dish, like Philipos, (also in East Legon) for banku and tilapia. If you want to spend a stupid amount of money on a decent linguine with prawns, we suggest Bistro 22 in Labone.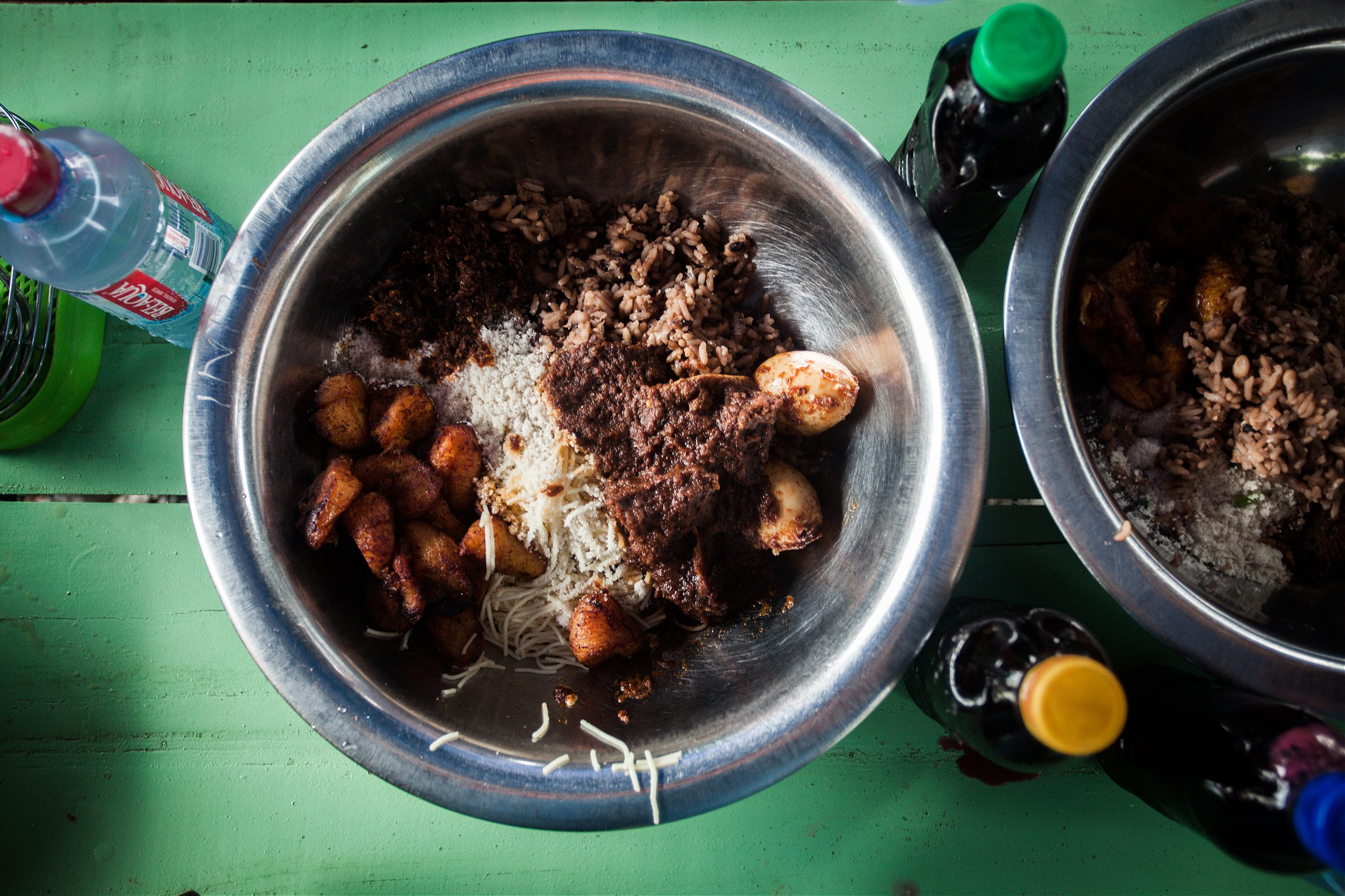 Join café society. Accra is full of young entrepreneurs, kids running start-ups from a single laptop, and returnees (people born or raised abroad who have… returned.) All these self-employed millennials can be found in the city's cafés. The OG Accra café is the chic-kitsch Cuppa Cappuccino in Airport residential, which does a legendary cappuccino with a giant head of foam. Café Kwae in Airport city has great fresh juices and looks like it's in Brooklyn, if you're into that kind of thing. Tea Baa in Osu has refreshing teas and legendary events. There are branches of Vida e Café everywhere, but the coffee is acid reflux-inducingly bad. Café Mondo comes highly recommended.

Pick tro tro. Get a tro tro (a private minibus that runs a set of routes) at least once for the adventure of it all. We apologize if you end up next to a chicken or some such thing; it happens, just make friends. Take change, and if you don't, know that it might take the "mate" (the guy who solicits passengers and takes fares) a while to get your change. Know that for the rest of the ride, he will refer to you by the amount of change he owes you. Other transport options include shared taxis (great if you want to talk politics) or 'dropping' taxis, which will take you directly to your destination and are generally pricey (ask a local how much you should be paying and bargain, hard.) You'll find Uber almost everywhere in Accra, but the GPS and phone networks are not always reliable, so you will have to call your driver and give directions.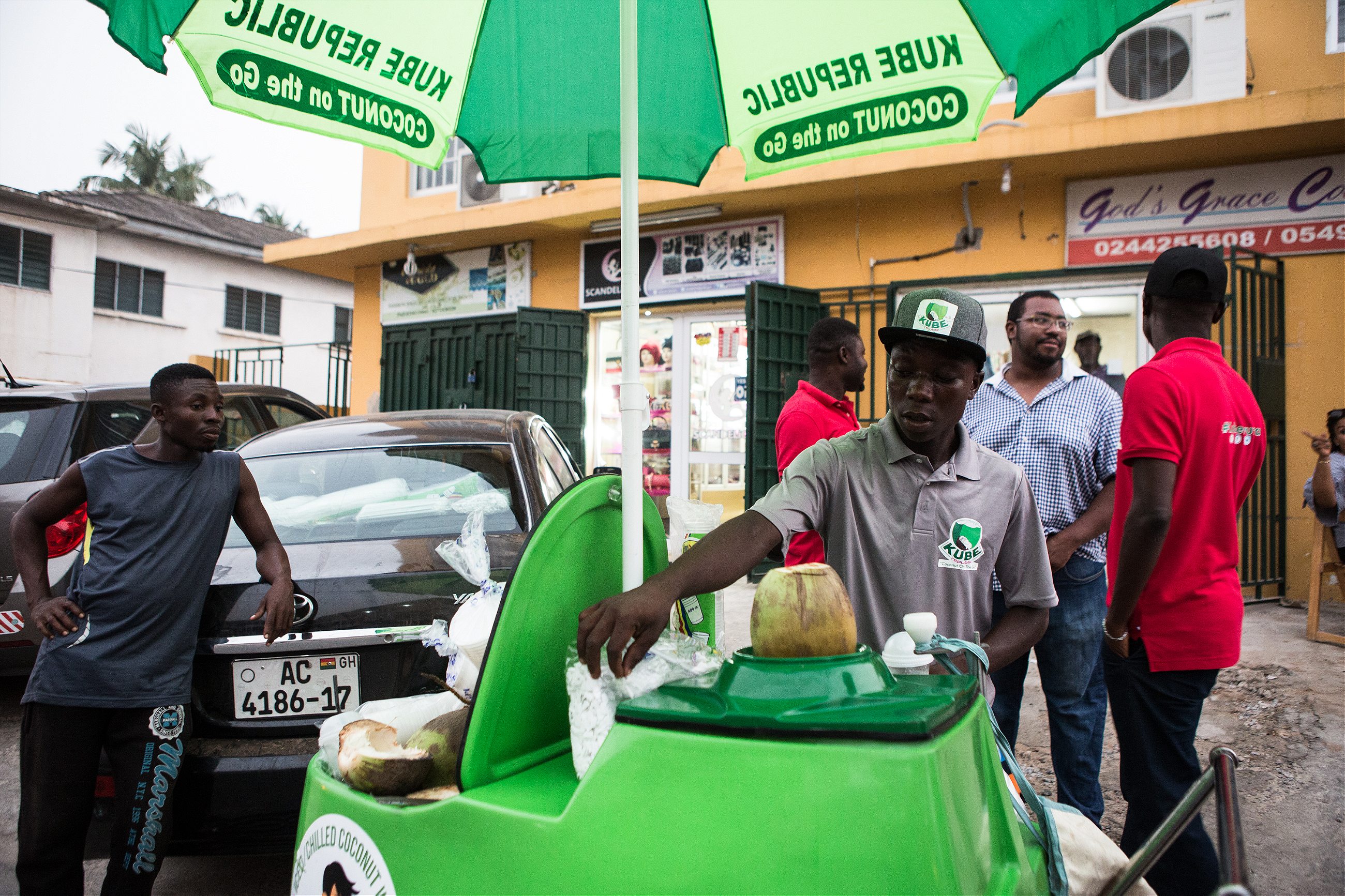 Learn the hand protocol. What you do with your hands matters. Never use your left hand to do anything: it's impolite. A nod and a thumbs up is actually an insult here. Learn the national handshake: shake, clasp, snap each others' fingers (middle finger, thumb.) If you're flagging a taxi or a tro tro, pointing down with your index finger means you want a dropping taxi. A circular motion usually means you want to go to 'Circle,' another legendary traffic interchange near the central business district. Circle is a hub for 24-hour, industrial-scale chaos. You really only need to go there if you want to buy cheap clothes or an iPhone X acquired by questionable means.

Find a seamstress. Pretty much everybody here gets clothes made. It means you can choose the style and the material, but you absolutely must ask for recommendations before choosing your tailor. Even high-end designers like Christie Brown carry few ready-to-wear items and require a fitting. If you're short on time, Elle Lokko (in Osu) and Woodin (several branches) will sell you ironic t-shirts and cute dresses.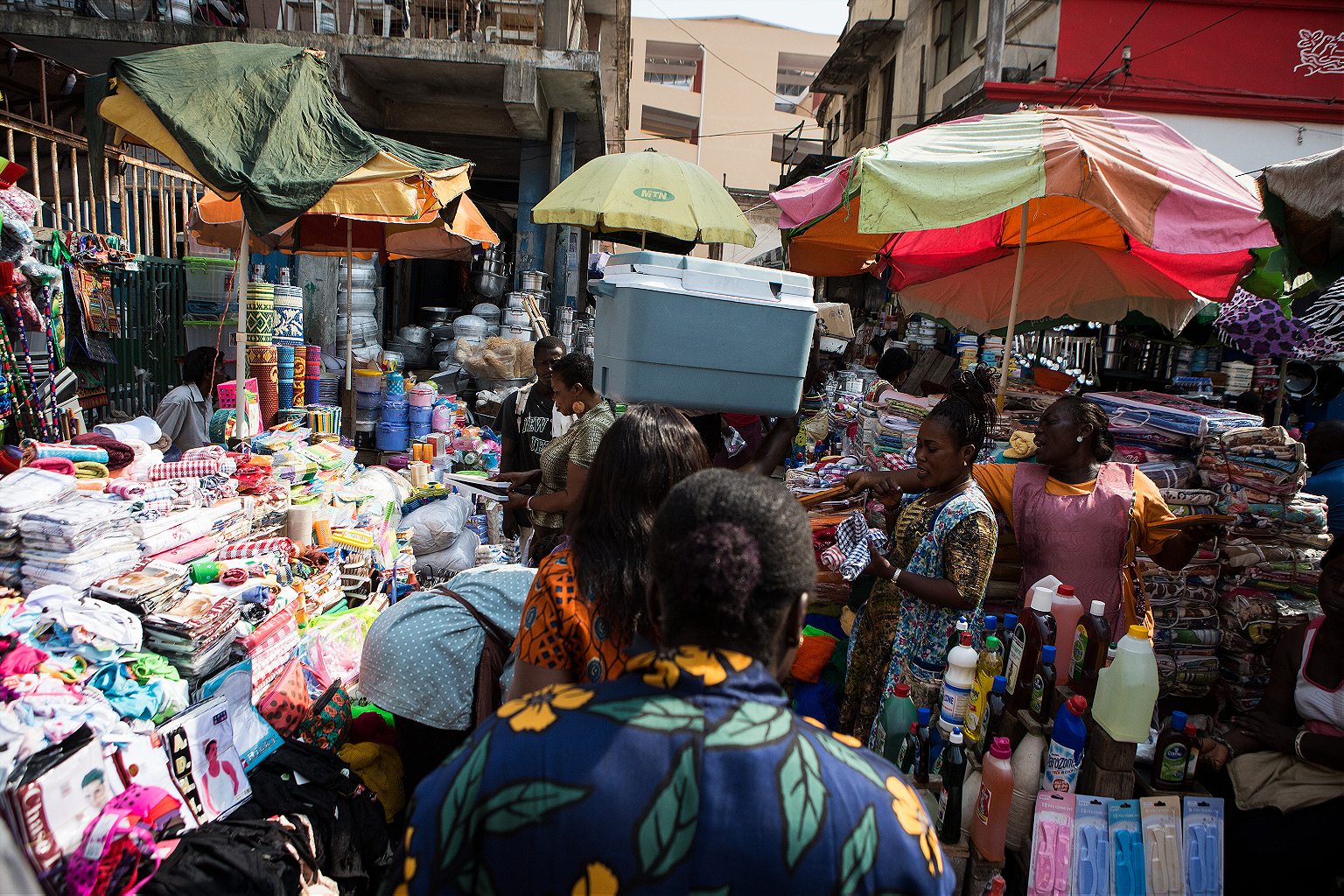 Go marketing. Get your fruit and veggies from the aunties in the covered market next to the Total station at 37 (opposite MaxMart). Ask them to dash you a little something extra and they'll usually throw in a couple more mangoes. Get the cloth for your seamstress at Makola. In our humble opinion, if you are shameless about haggling, Accra's many markets are a way better deal than the supermarkets or malls.

Quaff pure water. The most affordable drinking water comes in a plastic sachet. (Back in the day, people would sell little sandwich baggies of ice-cold filtered water, the most delicious water we have ever tasted.) Buy your pure water, bite off a corner (or snip it off with scissors if you're fancy like that) and drink. Please don't swallow the little bit of plastic.



Make traffic lights your corners stores. Plantain chips! Yoghurt! Credit! Pure water!—the sing-song call of the hawker. You can buy anything and everything—from mobile phone credit top-ups to furniture—at many traffic lights. Our favorite junctions for on-the-go shopping are the 37 Roundabout, Opeibia House (named for the office building), Kawukudi Junction, Kaneshie at first light, and Dzorwulu Junction. If you're not buying, don't make eye contact with a hawker and reach for your wallet at the same time, you shameless tease.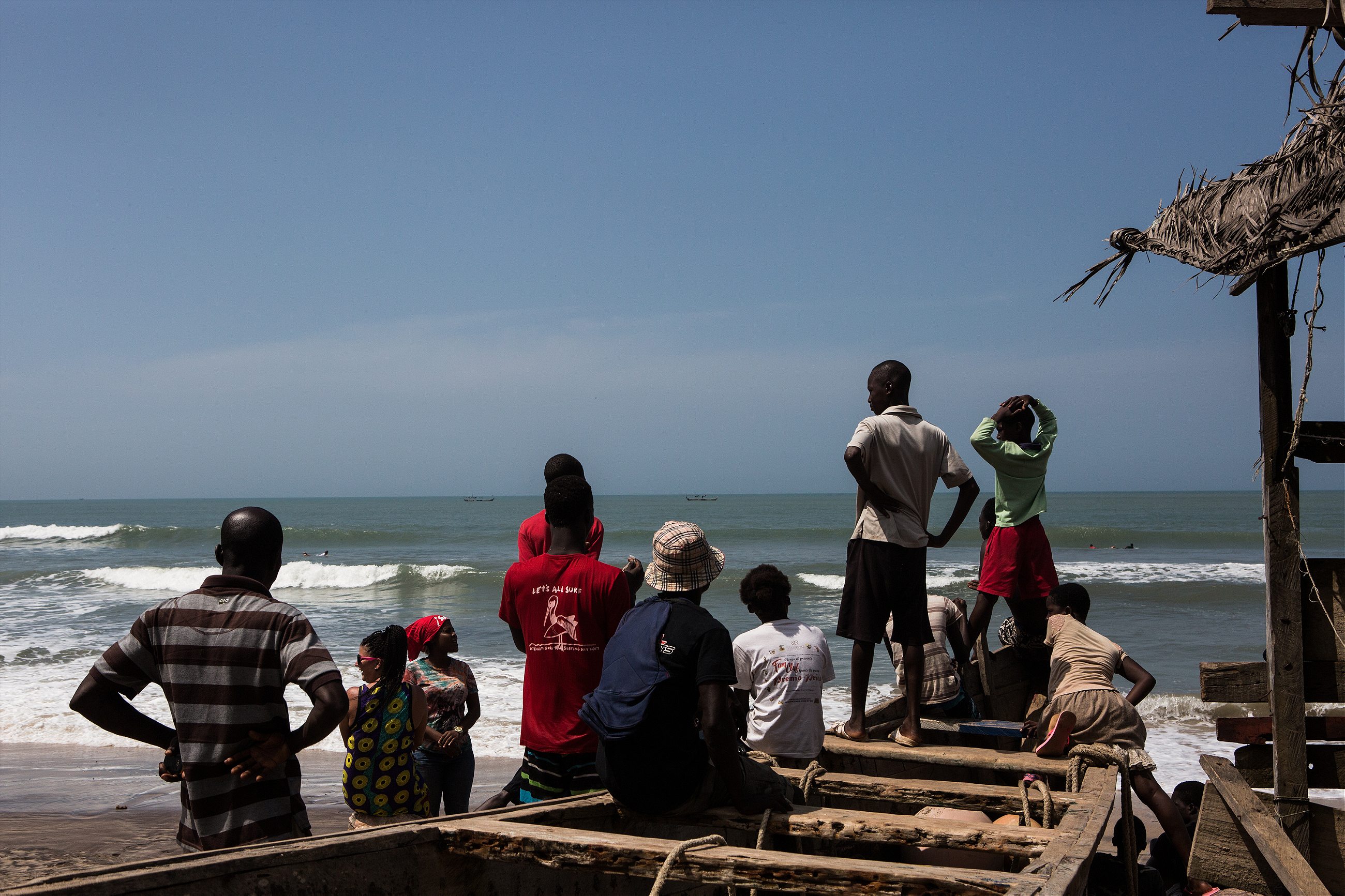 Make your own fun. All the cool kids go to Republic in Osu. It's owned by two brothers who make their own akpeteshie (liquor distilled from palm wine or sugarcane) back in their village, cart it to Accra and turn it into cocktails. They are the best cocktails in Accra. There are hotel bars and rooftop restaurants that will happily take 65 cedis (about $15 USD) for drinks that taste like cough medicine (I'm looking at you, Skybar 25!) Don't waste your money. If artisanal akpeteshie is too fancy for you, further down Oxford Street you'll find Container, a shipping container (obviously) surrounded by lawn furniture and what seems like the loudest sound system in West Africa. They'll happily sell you a Star beer and a khebab (if you like street meat of uncertain provenance). To find it, just look for the self-appointed parking attendants/security guards waving rags and torch lights opposite Papaye. Please tip your self-appointed parking attendants/security guards.

Accra stay by plan. That's a common expression meaning that Accra will keep going, with or without you. People move here from all over Ghana—all over West Africa, really. It's kind of an 'If I can make it there, I'll make it anywhere' situation. People here have to hustle. Hard. And sometimes in the most absurd conditions. There will be flickering power cuts, known as dum/sor ("off/on" in Twi) in a bit of classic Ghanaian humor.) There may be water shortages. There might be a storm that shuts the entire city down. Your 8 a.m. meeting will start at 10 a.m. because a fuel tanker overturned on the Accra-Tema motorway. Do not let these things derail you. Most people just make an off-color joke and get on with their day as best they can. Accra stay by plan.