Is waakye that's not sold beside a gutter authentic waakye?
I wake up with a smile on my face on Wednesdays, because I know I have a date. It's a brunch date, because the object of my affection is not available until 11 a.m. But I don't cheat with an earlier snack. This meal deserves my undivided attention.
It's easy enough to find waakye for breakfast. Waakye (pronounced watch-ē) is the quintessential Ghanaian dish. Often served on a large green plantain leaf, this dish is piled with rice, beans, spaghetti, a special stew, fried plantains, and a variety of other toppings that vary according to taste. But Adabraka waakye is special.
It seems that everyone in the Adabraka-Circle-Asylum Down area of Accra has caught on to this awesomeness because even though they start serving at 11, people are waiting in a long, winding queue by 10 a.m. There are even groups of people who wait in their cars or in their offices nearby who have booked spots in the queue, and no one ever orders just for themselves. The worst part is when a person just ahead of me pulls out a list. Chances are he is buying waakye for everyone in his office, his neighbors, his friends from church, and perhaps his descendants as well. At 11 a.m., the lady in charge opens the square hole through which we all order. That's when I finally catch a glimpse of my beloved dish in all its glory.
Here, heaps of black-eyed peas and rice are scooped steaming hot from covered pans. Millet leaves, more popularly known as waakye leaves, leave a reddish tinge. And then there is the real star of the show: the accoutrements.
There is boiled spaghetti (talia); cassava flakes, called gari, both dry and moist; stew; shito, a hot sauce; boiled eggs; fried fish; meat; sausages; wele, or dried beef; a salad of chopped tomatoes, onions, carrots, cabbage; and my favorite: fried plantain. Most people get everything, top it off with salad, and call it a 'balanced diet.'
The secret to waakye stew is a mystery that waakye sellers hold close to their chests. No matter how much you try to mimic the recipe, it never tastes like theirs. I always get talia, stew, shito, a boiled egg, meat, wele, and fried plantain. The salad doesn't excite me that much; neither does the gari, whether dry or moist.
The gentleman in front of me is taking his sweet time ordering for his entire village, but I can wait.
Love is patient, isn't it?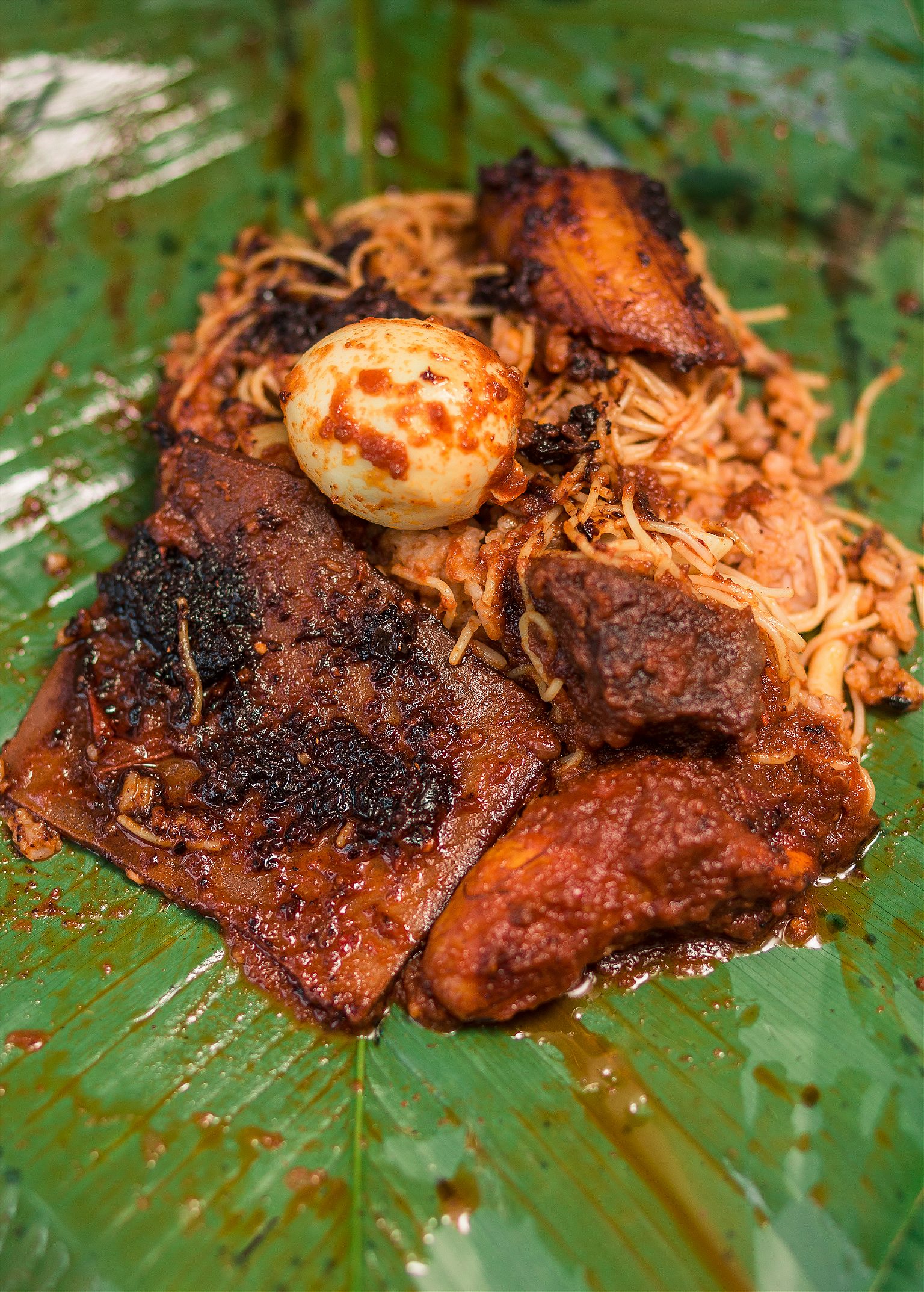 While I wait, I am sucked into a sensorial whirlwind. I can see a lady, not older than 20, lifting eggs from a stack of crates into a huge cauldron of boiling water, the kind you see in illustrated children's books. I can also smell the fish frying in hot vegetable oil. An older woman, about 50, is slicing plantain into a bowl filled with salty water. A small boy plays by a surprisingly clean gutter. It is said that waakye that is not sold beside a gutter is not authentic waakye.
Growing up, I didn't care for the dish. That changed in 2014. The guys in the office were getting food and none of my regular options were available. I grudgingly agreed to go with their choice, not expecting much to come out of it. Oh, I had no idea how wrong I was. It was love at first taste, really.
Three years later, my heart still does a little dance every time I see this magical mixture of flavors and textures.
My stomach rumbles in anticipation. It is finally my turn.
'Waakye 2 cedis, talia 50 pesewas, wele 1 cedi, 1 egg, meat 2 cedis, plantain 1 cedi 50 pesewas," I say, telling her the portions I want by the amount of money I would like to pay for each accompaniment.
'Pack, rubber, or ahaban?' she asks me, inquiring how I'd like my food wrapped. I always choose ahaban, the green plantain leaves traditionally used by street vendors to package their goods. If you really want to enjoy your waakye, ahaban is your best bet. Not only is it more eco-friendly, it makes the food taste even better.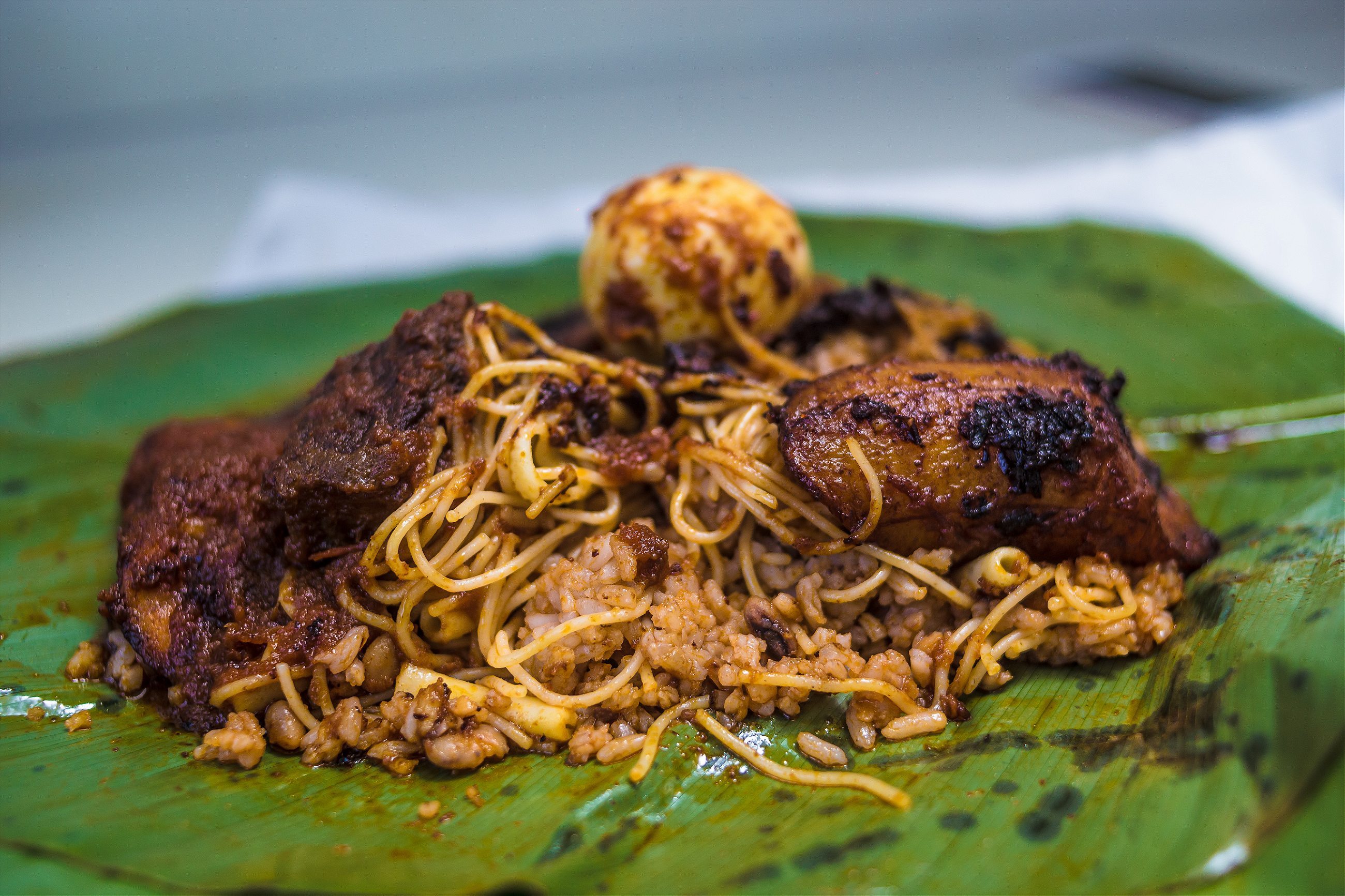 The lady pulls out three green plantain leaves and bends them into the shape of a cup. She puts two ladles of waakye in it and proceeds to include all the accompaniments I requested. On the days that the avocado seller is around, I usually buy a medium sized one to pair with my meal. Today, I am not so lucky. The lady angles her spoon to pour the stew and shito over everything and proceeds to wrap it up nicely. She covers it in paper and then puts it in a blue rubber bag. I, in turn, hand a 10 cedi note to her and wait for my change.
We are finally united. I jog back to the office and eagerly reach for a plate and open up the package. I wash my hands and sit down. No fork and knife business, because Ghanaian food is best enjoyed with the fingers. Just before I dig in, I smile at the feast laid before me.
You are finally here and you are worth the wait—every single time.