When You Don't Want the Day to End, Keep Driving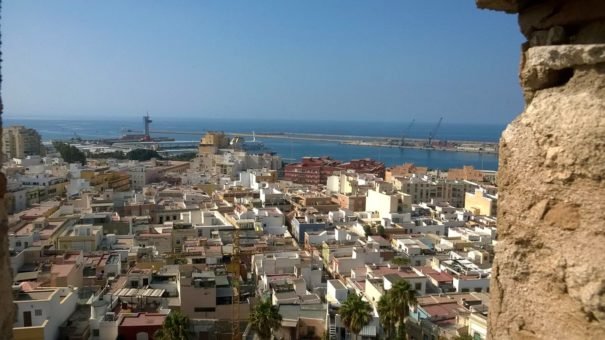 When You Don't Want the Day to End, Keep Driving
Cañas in Almería
It was five o'clock in the afternoon and while some were already drinking cocktails, we were sitting in a bar drinking cañas, small glasses of ice cold pilsner beer, on a street of low-roofed buildings leading up to the Alcazaba, the huge Moorish fortress that dominates the city. It was one of those typical Andalusian bars with tiles that reached halfway up the walls and a sign above the door reading tapas y raciones, or snacks and meals. It had small windows that were shaded by wrought iron grilles. There were a few plastic chairs and tables outside on a rather scruffy sidewalk.
Most people had fled indoors for a couple of hours' siesta and it would be another hour at least before they came out again. In the meantime, it was just us, the owner, and a few youths playing video games and slot machines.
I don't remember what beer it was exactly, Victoria from Malaga, or maybe it was Alhambra from Granada, typical local beers that are served with tapas, fish by the coast or sometimes a plate of simple olives. It went down smoothly, icy cold in contrast the heat.
We'd set off that morning with a vague intention of having lunch in the Alpujarras region, and we did, outside Bar Los Cazadores in a small village named Albondón. They served us the typical plato alpujarreño, a robust dish of fried eggs, fried potatoes, chorizo and morcilla, a sausage made from pig's blood. It was one of those days that you don't want to end, so we chose not to let it and kept driving, and ended up near Almería.
We took a detour to Las Salinas near Roquetas de Mar, with its long sandy beach with the obligatory camper van parked up along the edge. It should have been beautiful but was somewhat marred by scattered rubbish.
We continued along the coastal road carved into the mountain, round the corner and there it was: Almería, gateway to Africa with its cranes and mountains of salt. There was the ferry waiting to go. And where would it go? To North Africa: to Melilla, Nador, or maybe Al Hoceima.
That's how we ended up with a couple of cañas and a now empty dish of olives in a bar in the middle of Almería under the shadow of the Alcazaba.
The owner was clearing away the remnants of the late Spanish lunch and was now wiping a cloth along the glass fridge filled with the usual tapas, including meatballs and a few clams. He served us more cañas and another dish of olives. They say that the tradition of tapas began as a way to ward off the flies. Put a plate of something on top and the beer is safe.
Time seemed to take on an almost eerie stillness. Or maybe that was just the heat.