A SxSW music showcase of the finest punk/rock/ranchero-punk/trucker jazz sounds from Central America and Spain.
Ah, the perils of #sxsw. A thousand people stand in a line down 6th Street waiting for a packed Wu Tang show that they'll never get into. And in an upstairs bar just around the corner, six bands Austin ought to know better absolutely thrash the stage for just a handful of listeners. They scream and jump and punish the snare, summoning every demon of rock they can, and make no notice of the crowd size. I know which place I'd rather be on a night like that, and that's where I was, at the R&K Latin rock showcase a week ago today. King Cayman, from Madrid, singing while demolishing a drum kit and screaming through his guitar, a one-man band who comes off as the world's most intense subway busker. The Mexican Juligans mixing ranchero and punk, through a megaphone. Sierra Leon hitting the downbeat so thunderously that it made the dozen or so who were there to feel it shutter and wish they could be reborn, even if just for five minutes, as members of that band, that night.
Mike Magers, our eternal fellow traveler, was there to capture the energy with his camera. Valerio Farris wrote short sweet profiles of the bands before SxSW. We are combining those two on this page as an after-action report, with an extra note about the laws of rock karma: The energy these musicians put into the universe last Tuesday will come clattering back to earth and melt minds and draw throngs at some show of theirs some time in the future, when they expect it least and need it most. What goes up must get down. —Nathan Thornburgh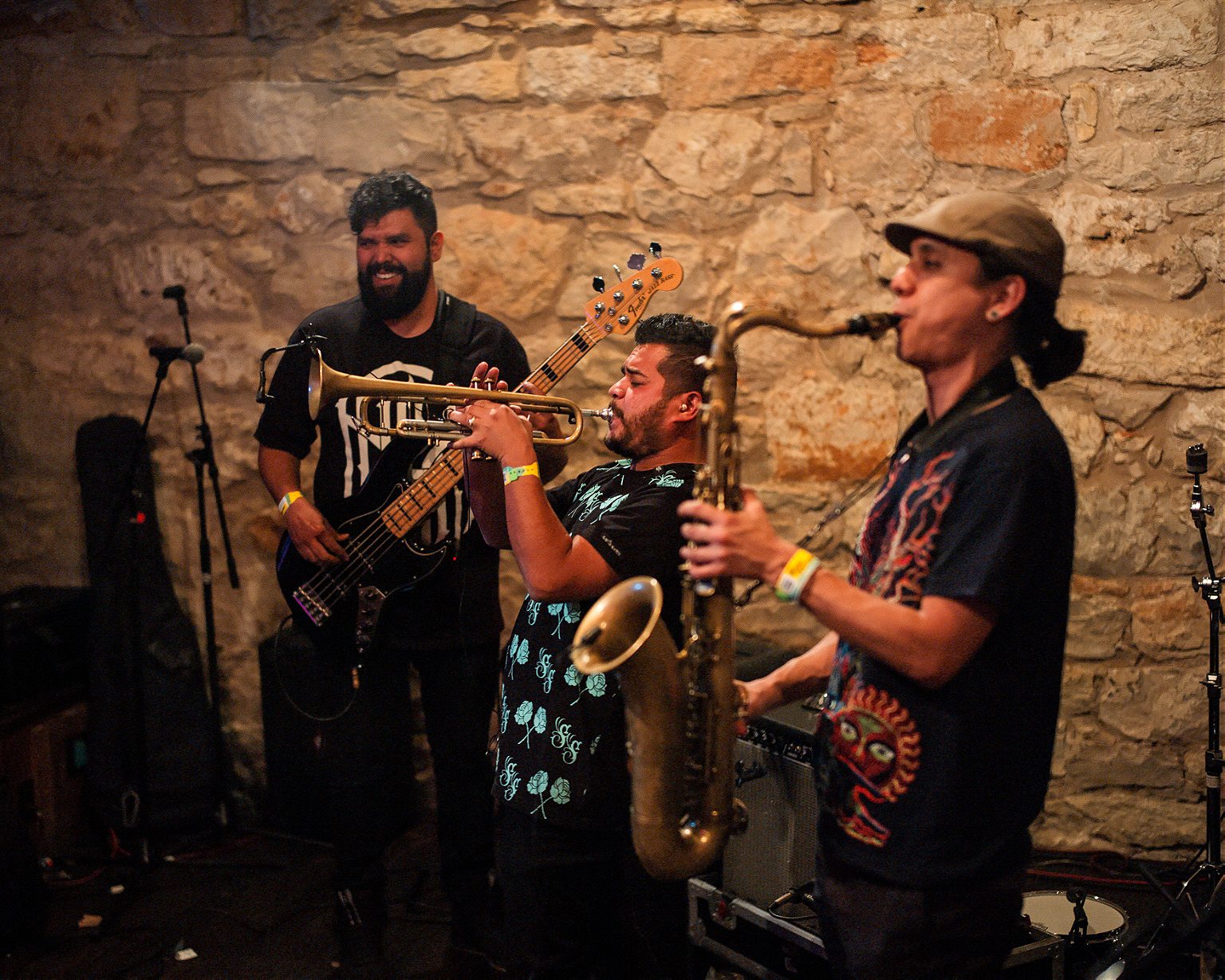 Troker
Mezcal-fuelled trucker jazz
The music of Guadalajara-based jazz sextet, Troker, brings to mind dusky purple winds blowing through open car windows, rural roads with no destination, sun-worn skin and sun-worn leather. Their name is a tribute to life on the road, the trucker lifestyle. "We wanted a name that identified us, that had strength," says bassist Samo González. Troker combines elements of jazz, progressive rock, groove, and traditional Mexican music. Think Pink Floyd and John Coltrane sharing a mezcal at sunset (Frank Zappa might also be there). Their performances are immersive—a hazy wave of electronic beats melt into the moans of a trumpet to create an energy just as suited for a dive bar as an amphitheater. "There's a lot of emotion… we are always trying to take our music or our compositions to their limits."
The group wants to change the way international audiences think of Mexican music. Given the political climate and increased tensions along the U.S.-Mexico border, González is aware of the power music has to shape opinions. "There are so many immigrants in the United States, and at the end we're all humans able to be free and say anything we want with music, to show that on this side too we're working, doing interesting things. Governments are one thing, but the people are another."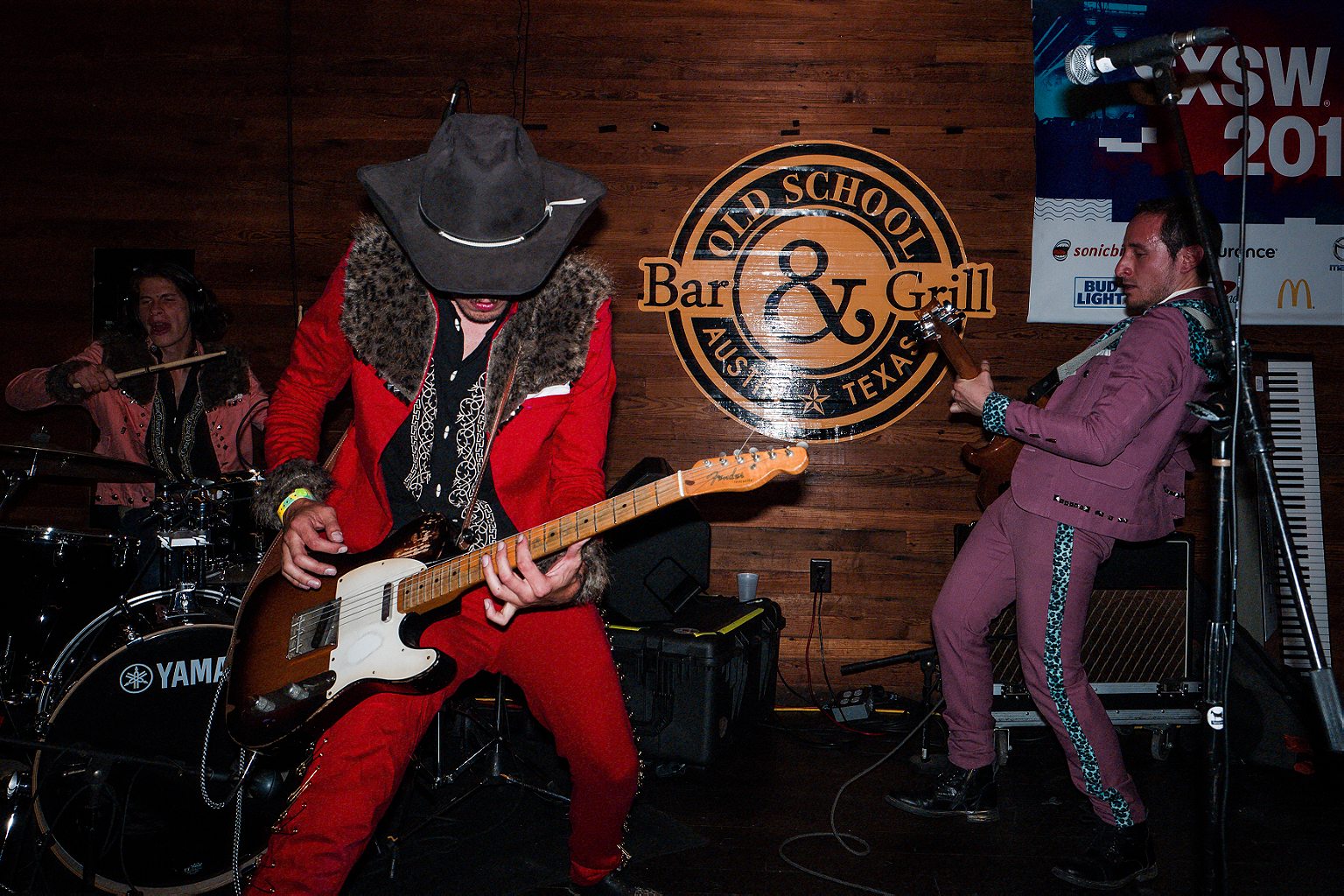 Mexican Juligans
Rancho punks
"We have one objective: get on and off the stage with the attitude of a hooligan and the desire to party and cause destruction," says frontman and vocalist Jan Markowski. "I don't think that Mexican Juligans is a punk band in their sound, but I think that on stage we are very punk. It's a spirit and and essence, you know?"
Self described "rancho punks," Mexican Juligans marry a no-fucks-given-burn-this-place-down attitude with influences of ranchera, rural Mexican folk music. What emerges is a headrock sound that feels more manic than mariachi. "When we say we play rancho punk, it's not like we have accordions and trumpets. Nothing too Mexican. We have a completely rock musical base: two guitars, a drum kit, a bass," Markowski is hesitant to position the group on either end of the musical spectrum. "What we do musically is adjust so that the guitar can play the arrangements of an accordion, for example."
The band made their way across the border—in their own bus—to perform songs from their new album "400 Conejos" and revel in the DIY dogma Austin specializes in. "I prefer that our show be a disaster, that it lasts twenty minutes but is chaotically spectacular rather than perfect without a single error and totally boring."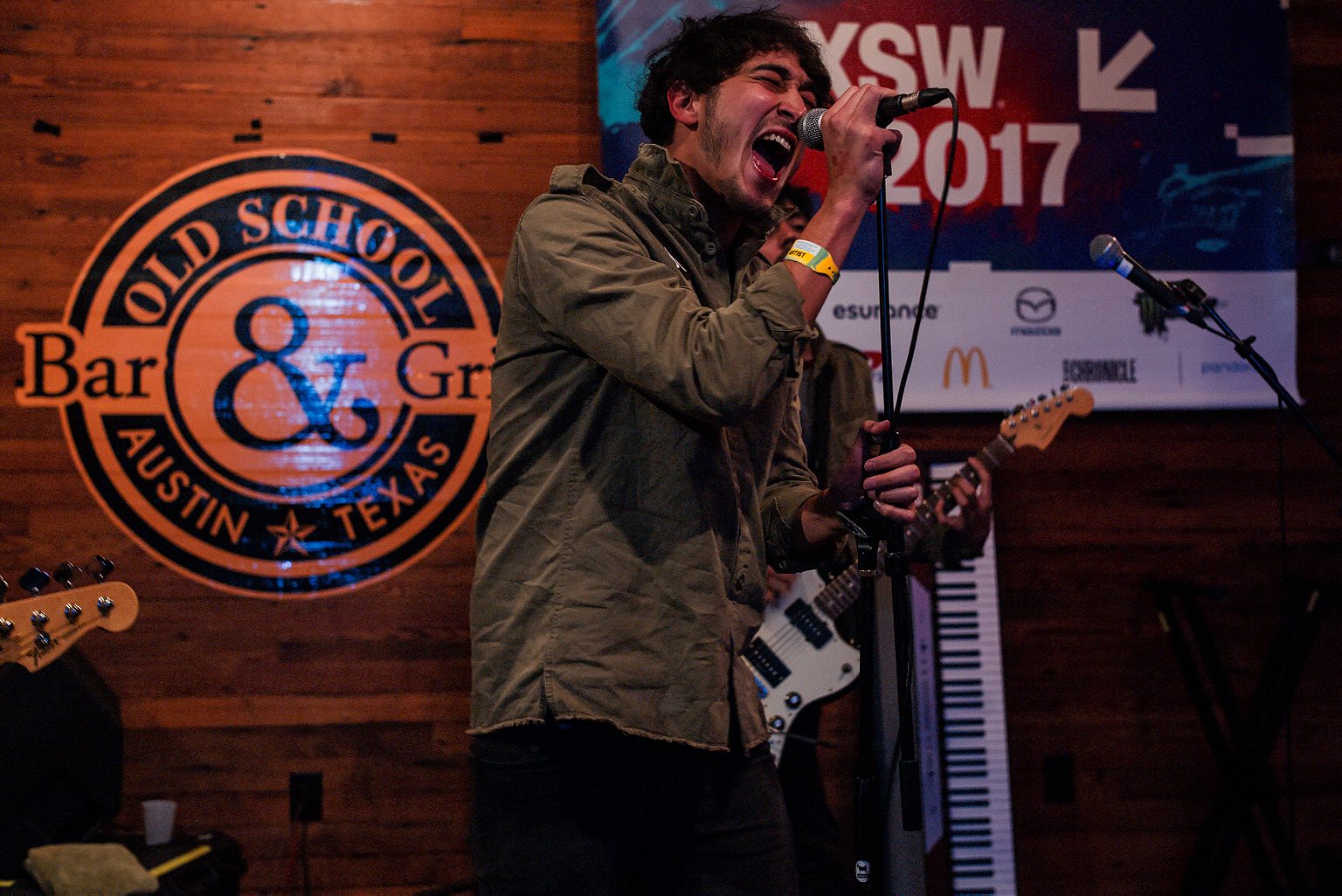 Aurum
Rancid-inspired garage rock
Antonio Altamirano was in high school when a friend made an under-the-radar MySpace page for the cover band he and his classmates had formed. The page, which featured Altamirano and band mates covering songs by groups like Jimmy Eat World, began to attract a digital following. Thirteen years and four albums later, Aurum's success is only growing. With a fifth album due out later this year, the Guadalajara-based band heads to Austin for their second appearance at SXSW.
"People kept coming and telling us how they couldn't understand anything we were saying but they liked the way it sounded," Altamirano, the band's lead singer, remembers from the band's first SXSW experience. "Now we know how the festival works, and we want to enjoy it even more this year." Aurum describe their music as alternative rock. "We all really liked the American punk rock music of the late 90s, like Rancid," says Altamirano. "But I think that over the years we've been mixing many things from more classic rock and other genres. But our roots are definitely in American punk rock."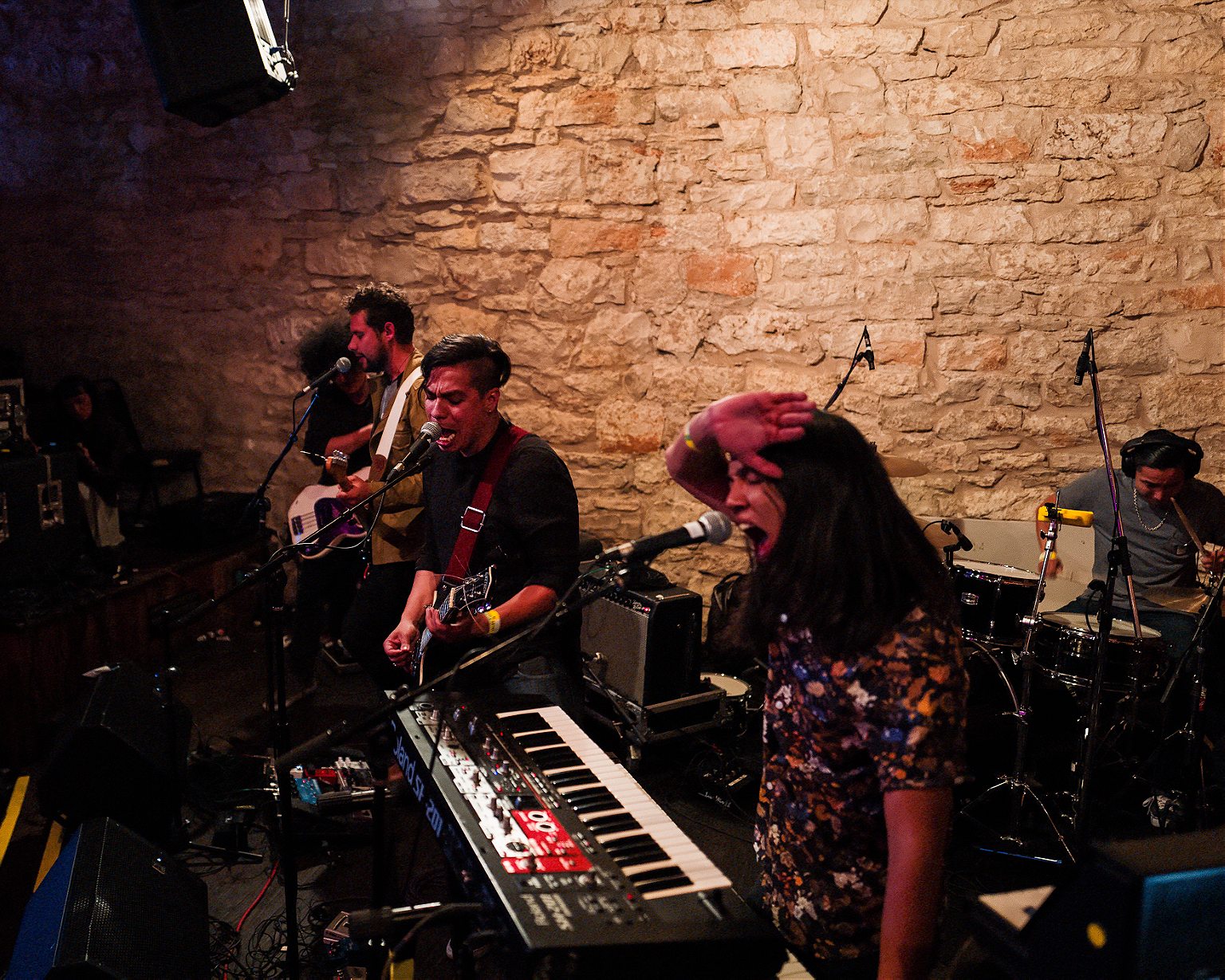 Sierra León
High-energy progressive electronic rock
Eight years after they first formed the band in Tepic, a city in midwestern Mexico, Sierra León continues to hold tight to the values that formed them: good friends, good music, and great shows. "I think that in the end we are always trying to maintain the idea that we started with: keep living together as friends and doing the things we love. More than anything, being excited by what we do," says Manuel Castellon, guitarist and vocalist.
Drawing from the musical tastes of each of its members, the band's sound is most easily described as progressive electronic rock. And while the group of five has worked to create a cohesive and representative sound, it's when they perform that they truly express their commitment to artistry. "So many things can happen during our shows but I think what's always at a max is the energy. We've never had a single show where we don't end up sopping wet like someone poured a tub of water over our heads," Castellon says.
Sierra León believe music is an agent for unity. "I think that to be a lover of music in this moment and recognize that great music exists almost everywhere, you realize that we're all the same, we all deserve the same opportunities and the same treatment," Castellon said. "In the end, it's the artists who build bridges."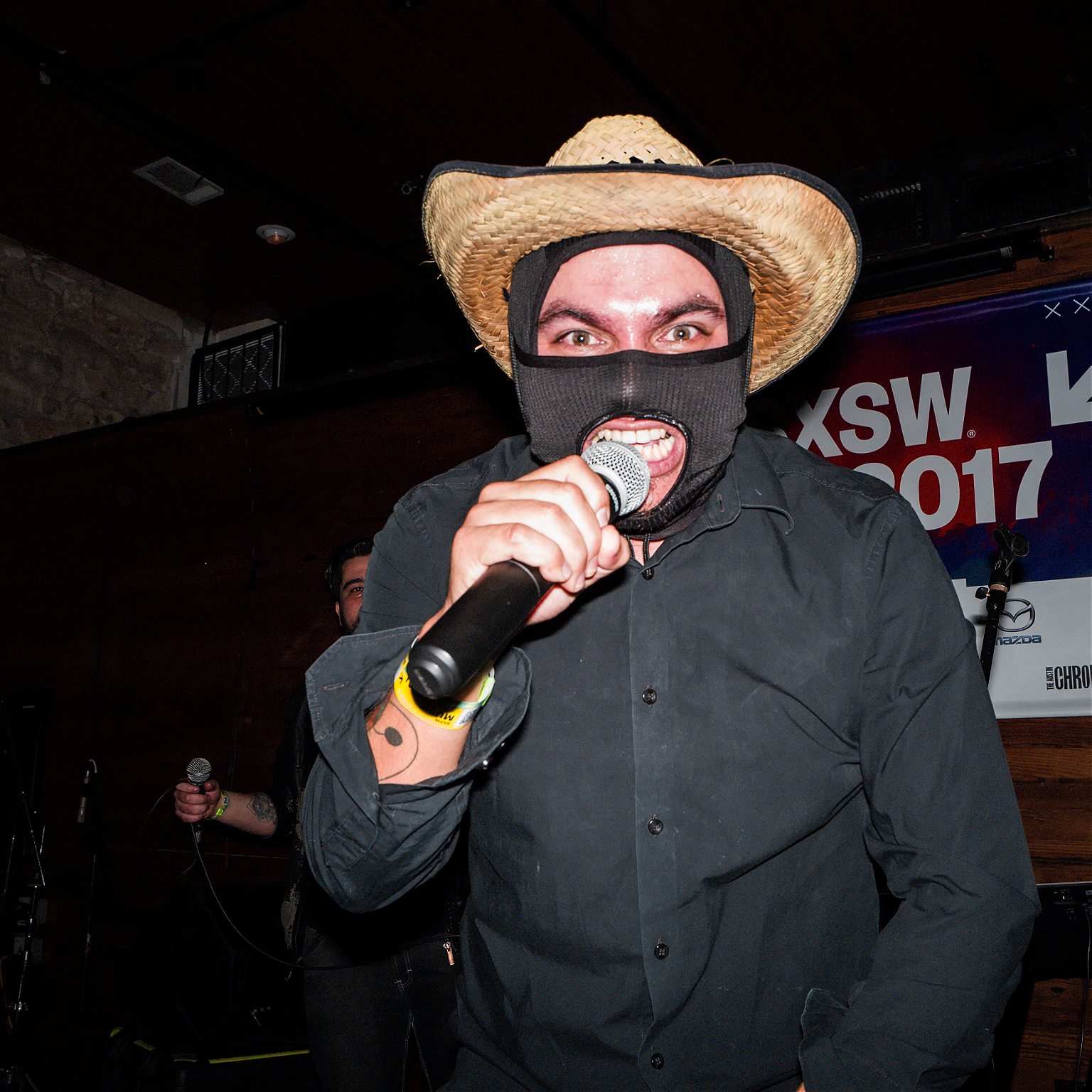 Mr. Blaky
Sounds of Sinaloa via Paris and Poland
Mr Blaky resists categorization and convention. In his trademark black ski mask, the performance artist brings to the stage frenetic energy, genre-defying musical styles, and social commentary.
"This is a project that began in France eight years ago. I was studying for a doctorate in social change and development, and from that came the idea to make music that came from the doctorate and would be something different," he says. "I mix funk, with rap with rock with electronic music with traditional rhythms from the North of Mexico."
Mr Blaky's performances are eccentric, colorful and creative, but they also dip into political themes. "Mr Blaky represents parties, friends, love, family, sex, listening to music, making music. On the other hand, we can't forget to keep in mind the other side: the darkness that is also part of life and surrounds us at all times, like war, homophobia, xenophobia, racism." His message is particularly relevant this year as travel and immigration bans weigh heavily on foreign artists visiting the festival.
Unlike many Mexico-based music, Mr Blaky doesn't produce out of a big city like Mexico City or Guadalajara. He works out of the northwestern state of Sinaloa—a place that factors heavily into his sound. His multi-genre stylings are shaped by the places he has lived and worked, from Sinaloa to Paris to Poland.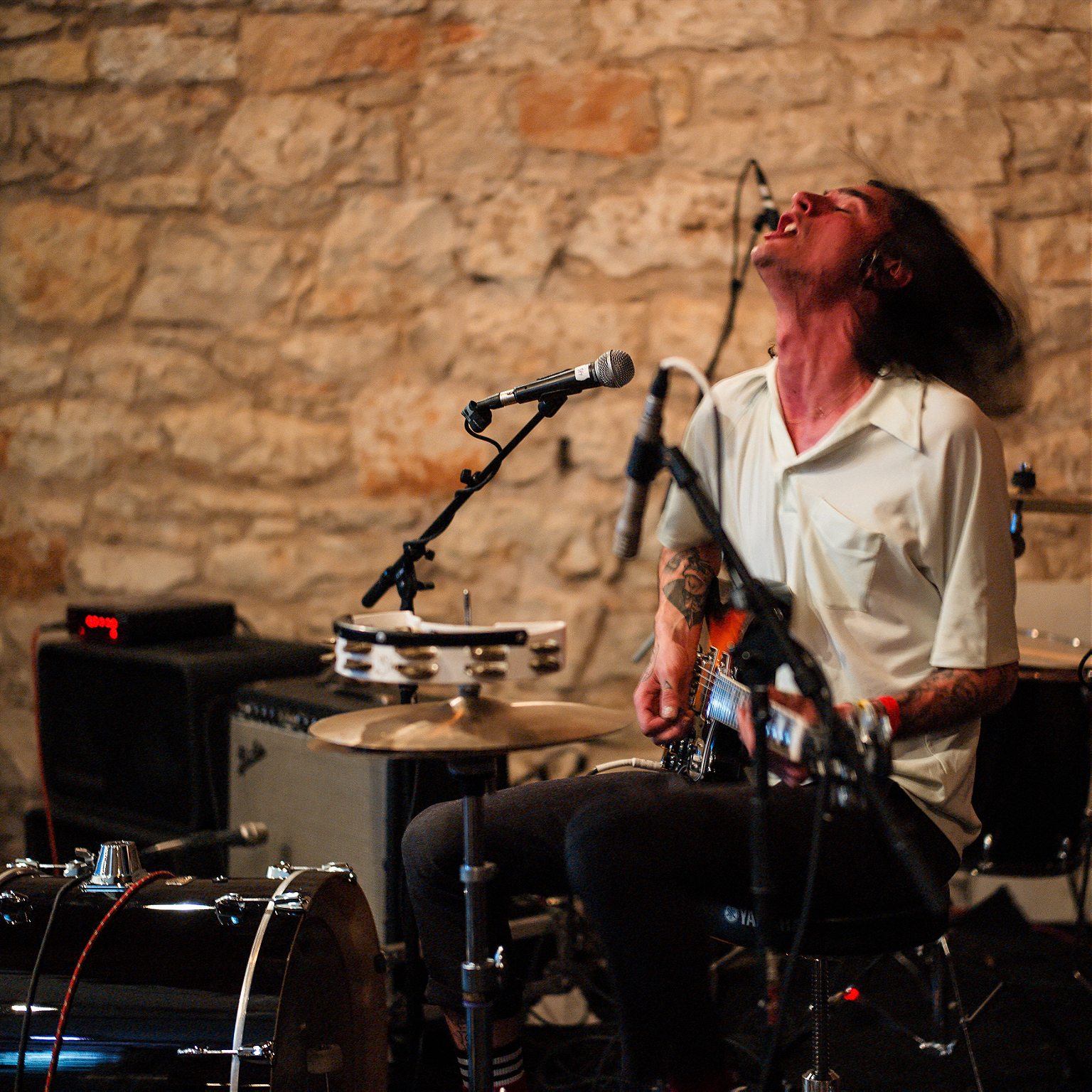 King Cayman
Raised on hardcore punk and skating
King Cayman places his choppy and frenetic music firmly between lo-fi and punk: sharp drum beats and angsty vocals with a rolled-out-of-bed aesthetic. When King Cayman performs, he seems like he's somewhere else. His whole body convulses with the force of his beat, his expressions lost in a sweaty mess of hair. His spidery limbs flail with surprising control across his drum set and an electric guitar. (He will occasionally shake a tambourine.) King Cayman is Madrid-based Daniel Treviño's solo project. He came to the U.S. and SXSW for the first time to perform songs from his EP and some new tunes from his upcoming fourth album, "Death."