A One‑Item Brunch Menu Actually Sounds Like a Good Idea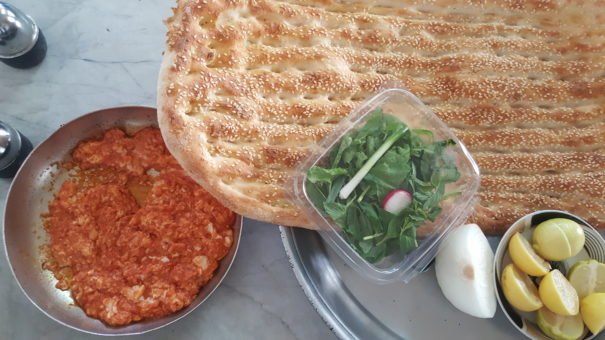 A One‑Item Brunch Menu Actually Sounds Like a Good Idea
Omelet in Tehran
My friend Hasan and I walk in to see rows of men mopping up tin bowls with bread, while others nurse black tea and puff away on a hookah. I feel uncomfortable being the only woman, until I spy two other heads wrapped in a scarf similar to mine and breathe a sigh of relief.
We're in Niavaran in northern Tehran, an upscale, old-money neighborhood. Just up the street is Niavaran Palace, the one-time residence of the former monarchs, and this out-of-place dive seems trapped in that same era. It's anything but upscale, but therein lies its undeniable charm. The no-nonsense metal chairs and tables get the job done; the kitchenette with a samovar, copper kettle, and traditional tea glasses drying on the dish rack flood my mind with memories of my grandmother's kitchen.
Brunch is now a thing in Tehran, and trendy cafés serve up various Italian coffees alongside Western favorites like waffles and crepes. But Tehranis flock to Amoo Hooshang (Uncle Hooshang) for his two-item menu: omelet for breakfast and gheymeh stew for lunch, both served with a generous helping of nostalgia. In Iran, omelet means eggs scrambled with tomatoes and/or tomato paste, and it's eaten with warm bread, raw onion, and fresh herbs. At Amoo Hooshang's, you take it with doogh, a salty yogurt drink, from an old-school glass bottle, no less. It's hardly my morning beverage of choice, but the tradition is doogh first, tea last, so I follow suit.
As we wait, I notice Amoo Hooshang leaning against the kitchen sink. His long, white hair extends down below his wool skullcap, giving him the appearance of a dervish. Every so often, his eyes doze off, and at 10:30 a.m. and still no caffeine running through my veins, I can empathize. He pours himself tea from the samovar, and in the fashion of elderly Iranian men, transfers it from glass to saucer, places a sugar cube between his front teeth, and sips it.
No sooner does our breakfast arrive than I smother a morsel of piping hot barbari bread with omelet, top it with basil, and savor the medley of flavors as I slowly chew. After washing it down with fizzy doogh, I'm ready for my long-overdue caffeinated libation. We catch Amoo Hooshang's attention, and he gently nods. He places two teas with rock candy in front of us and meanders over to one of the patrons sitting under a sign stating that smoking is strictly forbidden. No words are exchanged, but he lights the man's cigarette and then his own.
We get up to pay, and the man in front smiles, "You have to ask Amoo." At long last, Amoo Hooshang breaks his silence, his voice coming from the bottom of a well, as they say in Persian. "12,000 tomans." About USD$4.
As we leave, I gaze at the luxury high-rises and hip cafés and wonder how much longer places like Amoo Hooshang will be around. Tehran has developed faster than it can handle, leaving its dwellers teetering between craving modernity and desperately longing to hold onto tradition. Maybe there's room for both.