Dizi, a beloved lamb and bean stew, has gone mainstream and upscale in Tehran. But it will always be the meal of the common people.
Walk the streets of downtown Tehran at dawn, before the speeding, horn-blaring yellow taxis takeover the city, and you'll find certain kitchens already hard at work. Within the cramped spaces, men—and a few women—are busy slicing tomatoes, washing herbs, and mixing spices, beads of sweat slowly gathering on their foreheads. Despite the heat, they drink cups of burning hot black tea as they work. Neatly aligned on the fiery oven tops in front of them are dozens of small green pots. In a few hours the food within the pots will be ready to serve, and soon hungry diners will arrive looking for a decent cup of tea, conversation, and dizi, one of Iran's most beloved dishes.
Dizi is a lamb and bean stew cooked in clay pots and left overnight in the oven. Its full name is aabgoosht dizi—literally, "meat stew in a clay pot." By the standards of Iranian cuisine, which is known for its laboriousness, dizi is relatively simple: chickpeas, white beans, onion, lamb (the neck is preferred), and lamb fat. Potatoes, tomatoes, and spices are added at the end. Eaten with flatbread, it has a warm, soft texture, with the buttery, moist taste of lamb complementing the more neutral beans. Cinnamon and lime powder give the dish a sweet yet tangy finish. Dizi is cooked in green-glazed clay pots from Meybod, a desert city renowned for its clay and pottery workshops. (In northeast Iran stone pots are used, but most dizi lovers insist it tastes better when cooked in clay pots.)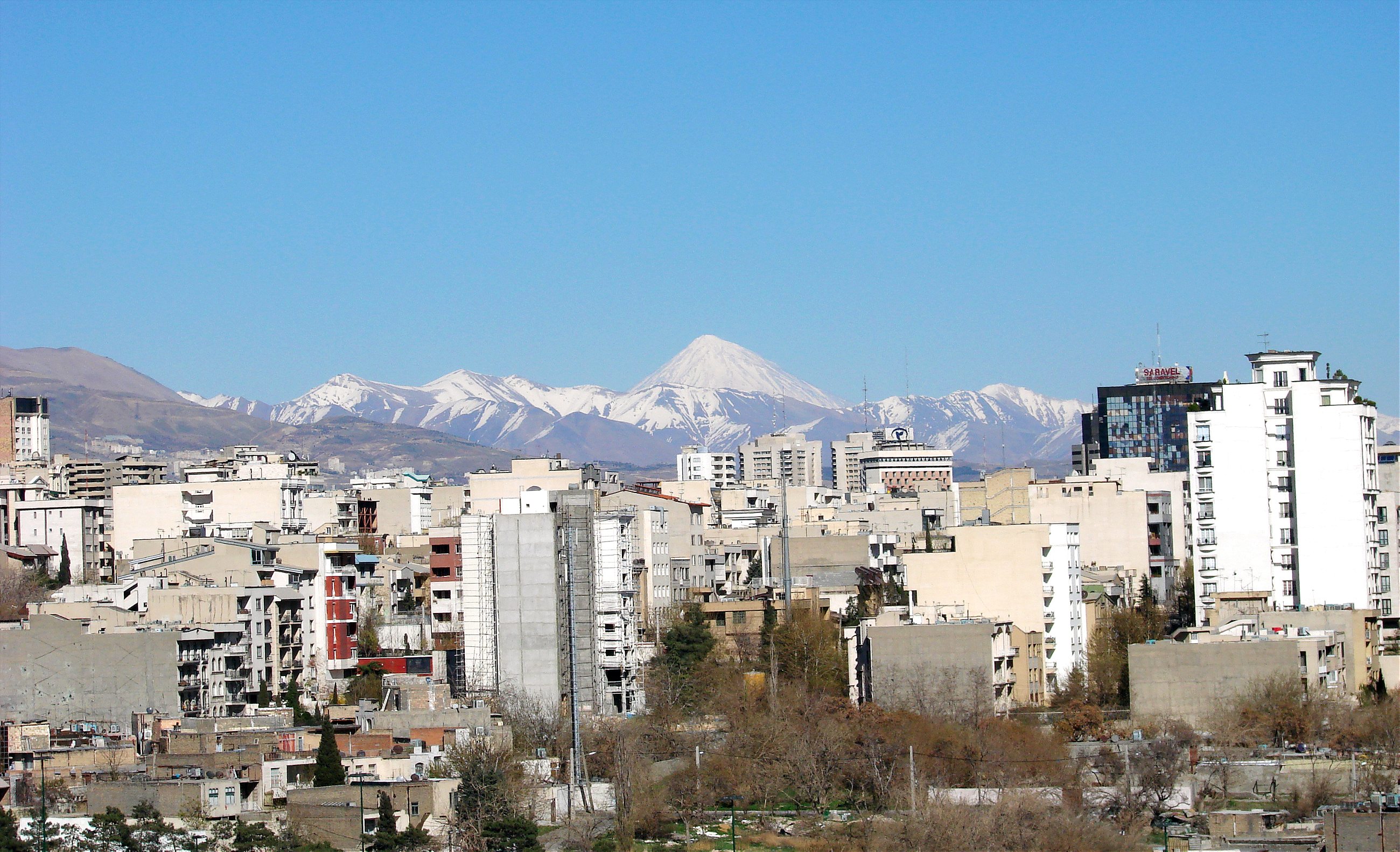 Javad Vahedi Kamal, who has been eating the dish for the greater part of his 62 years, is one of Tehran's most skillful dizi chefs. He runs Karimkhan Dizi, a tiny basement restaurant below Karimkhan Bridge in downtown Tehran, with his wife and brother-in-law. Vahedi Kamal speaks of dizi as it was his own child, calling it the "kindest dish," one that is "faithful" to those who love it. Vahedi Kamal is originally from Sanglaj, one of the city's historic quarters, and he speaks with a strong south Tehran accent. As far as Persian dialects go, this one is know for being blunt and honest—the language of hardworking men and women who have no time for frills.
Karimkhan Dizi seats 25 diners, and like many dizi restaurants, begins the day at 7 a.m., serving breakfast before switching to dizi for lunch. The space has tables and wide wooden beds and carpets; diners take off their shoes and sit around the sofreh—the spread on the ground on which the meal is placed. There is a small blue-tiled pool of fish in the middle of the restaurant, which gives the place a cozy, serene ambience, not unlike eating at an old uncle's house. Birds fly about the restaurant and sometimes swoop down at the tables. "For a while, the Health Ministry would come and nag about the birds, but I told them that whoever doesn't like to eat with birds should eat elsewhere," Vahedi Kamal says.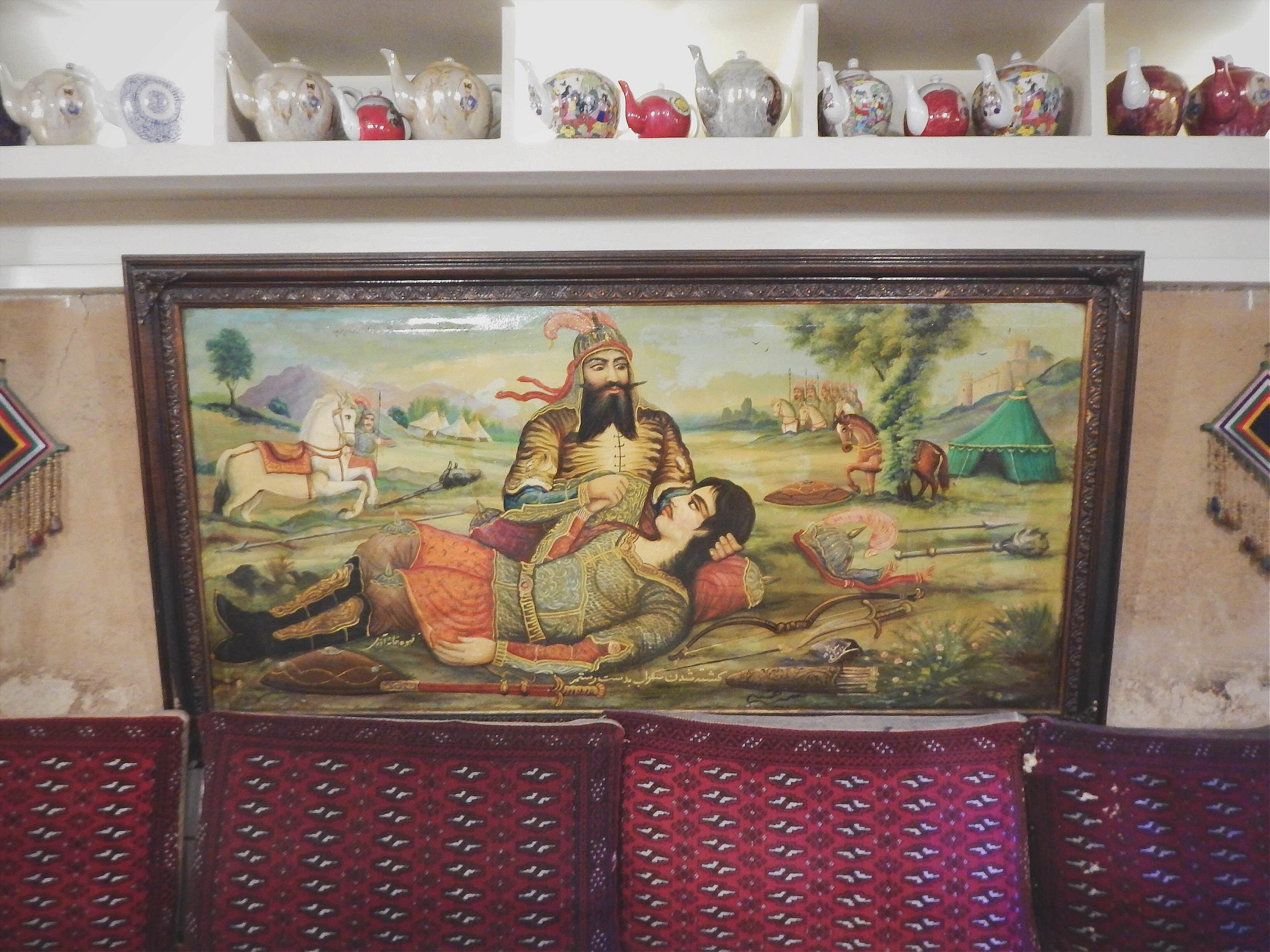 In Iran, dizi is more than a dish. It is a ritual, one with its own history and rites. There are photos of early twentieth century Iranian teahouses with men sitting around dizi pots, stuffing themselves. A sense of camaraderie and openness is associated with dizi, unparalleled in Iranian cuisine. It is the food of laborers and commoners, and it is valued for being a dish to share and enjoy in the company of others. This imagery is reflected in the artwork that adorns dizi houses. Larger than life warriors like Rostam from the Book of Kings, or dervishes—those who submit to a life of truth-seeking and worship—are portrayed in colorful scenes.
Today, dizi is a common restaurant food, most famously served at Iranshahr Dizi House, a restaurant in downtown Tehran. But in the past, it was most often served at teahouses and corner stores, where it fed tired men finishing a hard day's work.
Dizi is a collaborative dish, the diner plays a significant role in the final result.
Growing up, dizi for me was the better variation of my mom's aabgoosht – the meat stew she made when she otherwise had no time to cook. She would throw in some beans, lamb, and potatoes into a slow cooker. The result was, to put it simply, boring. Iranian cuisine is nothing if not colorful and vibrant in appearance and taste, and my mom's aabgoosht just didn't cut it. Every once in a while my family would visit our favorite dizi restaurant, and we couldn't believe that the dizi we ate and my mom's stew were in the same food family. "Why can't you do it like this, Momma?" we would moan. (She blamed it on not having clay pots.)
Dizi is a collaborative dish, the diner plays a significant role in the final result. The meal is eaten in two steps. First, the broth is poured into a bowl into which pieces of bread are dipped. This is the telit, which literally means "dip." When the sizzling pot is brought to your table, the stew water is transferred into a bowl. Experts avoid burning themselves by holding pieces of bread, double layered.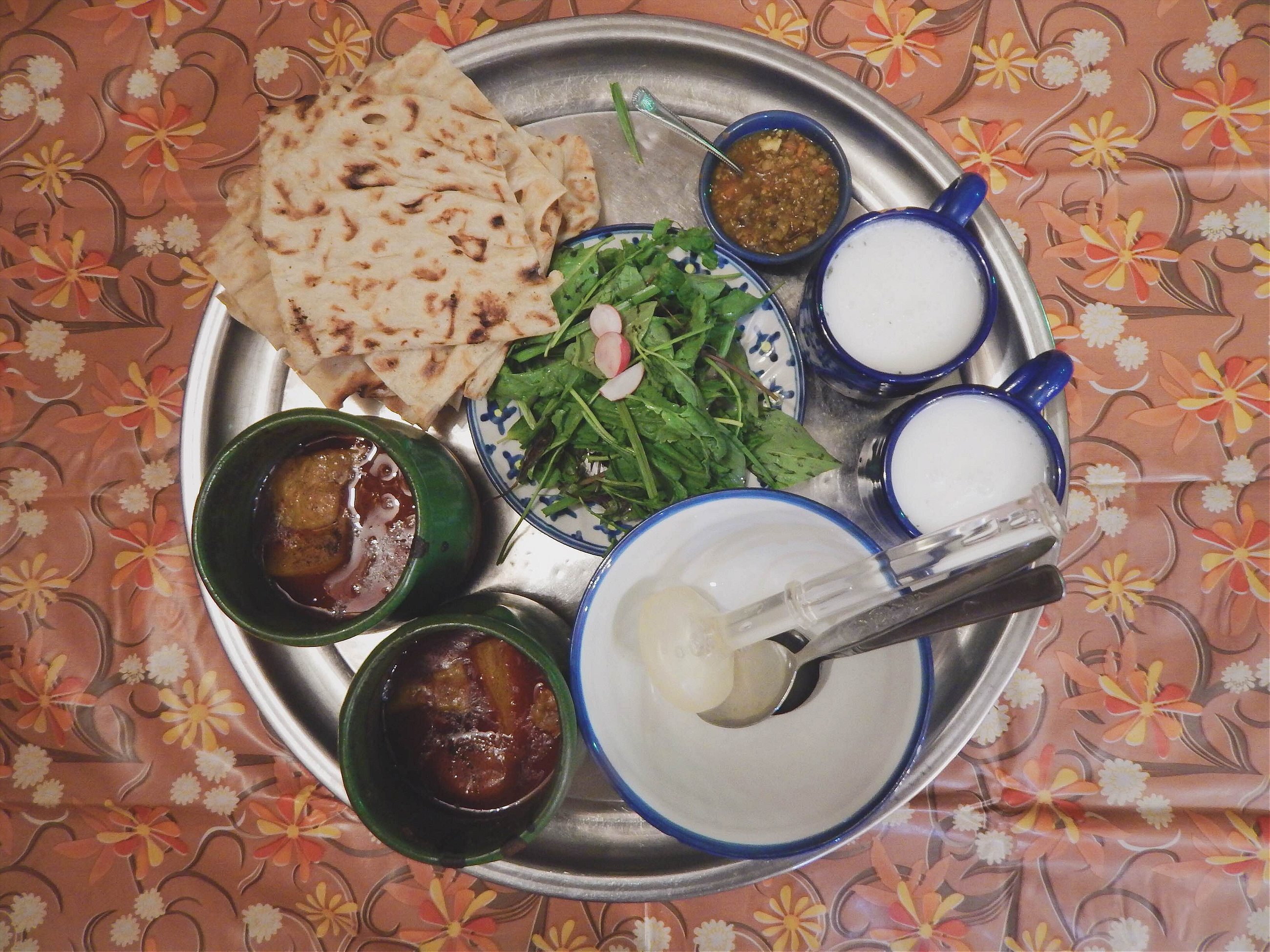 The remaining ingredients are mixed together in the pot using a wooden masher, and the result is called koobideh ("mashed"). If you leave in bones or too much water, the koobideh will have the wrong texture. In some restaurants, waiters offer to do this step for you, but any proud dizi lover knows that that's only for newbies.
Koobideh is eaten with bread, alongside torshi (pickled vegetables), sabzi (fresh herbs, such as basil and mint), and piyaz (fresh onions). The beverage of choice to wash down dizi is doogh, which is made of watery yogurt sprinkled with ground mint and petals from the Mohammadi rose, a fragrant flower grown in central Iran.
Hundreds of restaurants in Tehran alone serve dizi, but most are mediocre. Like any dish, dizi requires more than just proper ingredients. For one thing, it is customary for many restaurants to use beef—blasphemy! The meat must be tender lamb, fresh, and never frozen. Add the potatoes too early and they will overpower the entire dish. Sprinkle the spices at the wrong time and the whole thing could be ruined. Don't properly soak the beans and they will be hard to the chew and even harder on your stomach.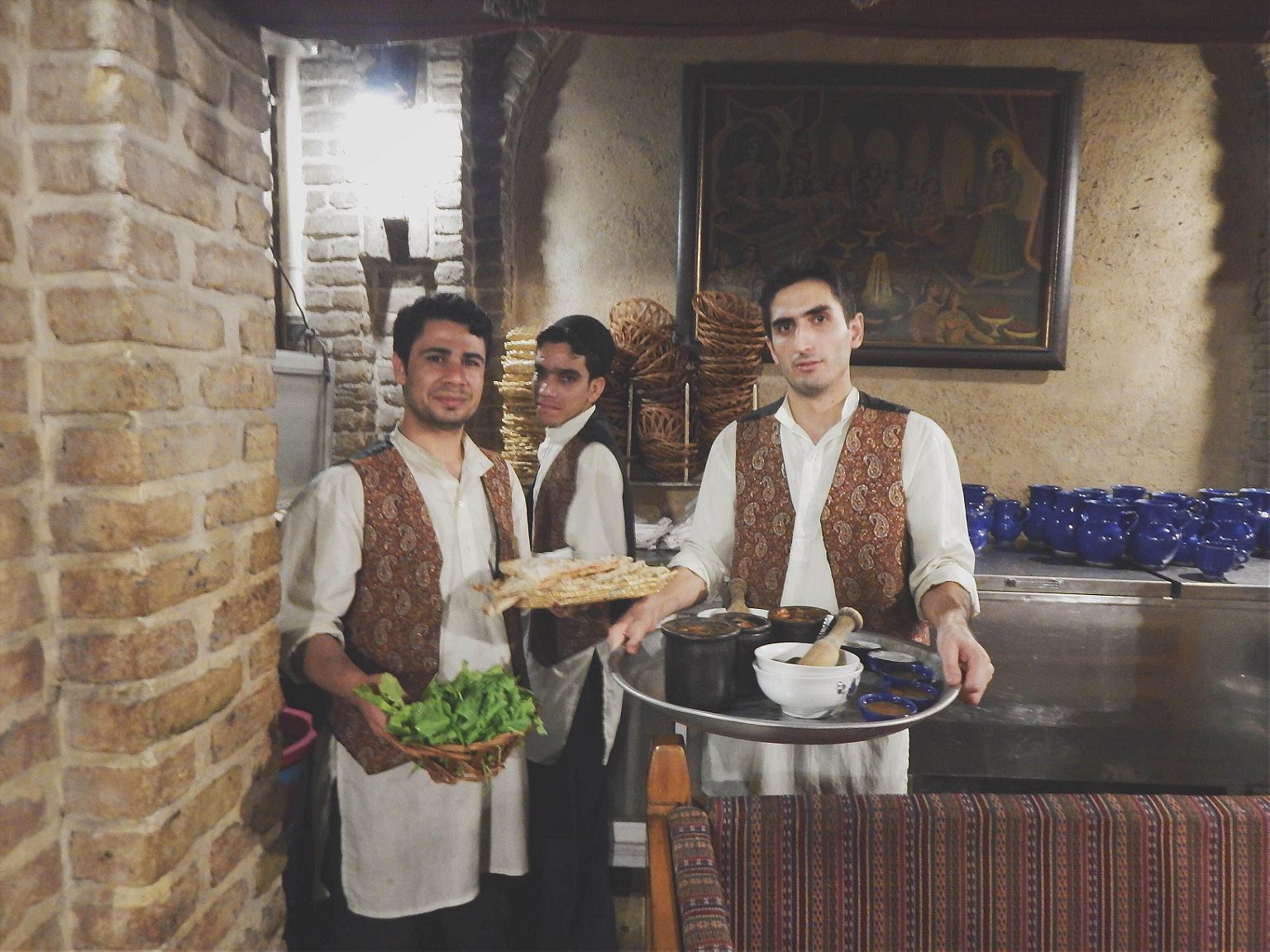 Mehdi Azeri runs Tehran's internationally renowned Azeri restaurant. When we meet, I ask him why throughout Iran dizi is made primarily by men. "Because it's a no-fuss dish!" he quips. He notices the frown on my face and tries to elaborate. "Think of ghormeh sabzi"—a labor-intensive stew of herbs and lamb eaten with saffron rice—"think of your other favorite stews or rice dishes. They require so many steps, so many different ingredients," he says. "Men don't have the patience for that. But dizi is simple. It is kind, there is no fuss. Put the ingredients in the pot and if they are on the fire long enough you'll have a great dish."
While diners at Azeri—including a Greek president, a Swedish count, and numerous ambassadors and foreign ministers—have always enjoyed the restaurant's impressive artwork on the walls, boisterous atmosphere, and live music, it is your defacto "touristy" place to eat dizi; a regular Tehran resident with medium income would never eat there, for many reasons, one of which is that it charges almost four times the amount of a regular dizi pot.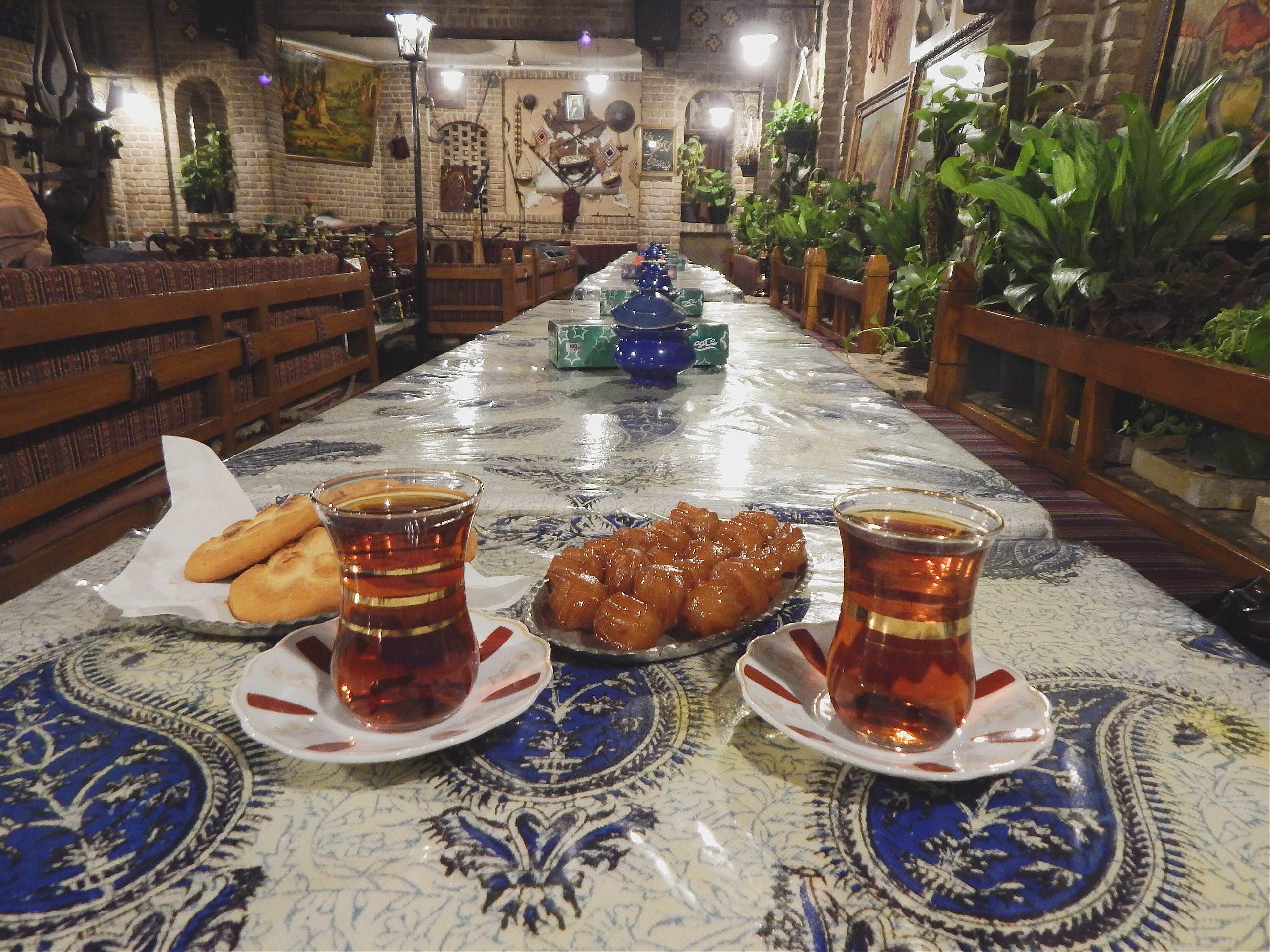 One of Tehran's finest dizi houses can be found in a quiet, second floor nook of the Tehran Bazaar. It is called Mash Abbas Dizi, owned by Gholamreza Qanbari. His father first opened a dizi shop here in 1946. The restaurant has no artworks or paintings. In the hole-in-the-wall kitchen, Qanbari is always hard at work preparing breakfast and dizi lunch for the bazaar's visitors. He is soft spoken and dressed like a Tehran office worker in glasses and a dress shirt. Qanbari cooks the onions, lamb, and beans together in the pot for eighteen hours before adding the spices, potatoes, and tomatoes in the morning. The dizi that patrons eat at lunch would have been in the oven since 2 p.m. the previous day.
Qanbari's approach varies from other chefs—dizi, after all, is open to interpretation. Vahedi Kamal first soaks and then half-cooks the beans before leaving them in the clay pot to simmer with the lamb for a few hours. The oven is turned off at night and fired up again in the early morning to add the potatoes and spices. More traditional dizi houses like these serve at most 50 dizi pots a day, and that is the primary meal. At Azeri on a typical night 300 pots are served (800 on weekends), as well as kabab and fish. Says Azeri: "I added those for the foreigners who weren't willing to try local foods."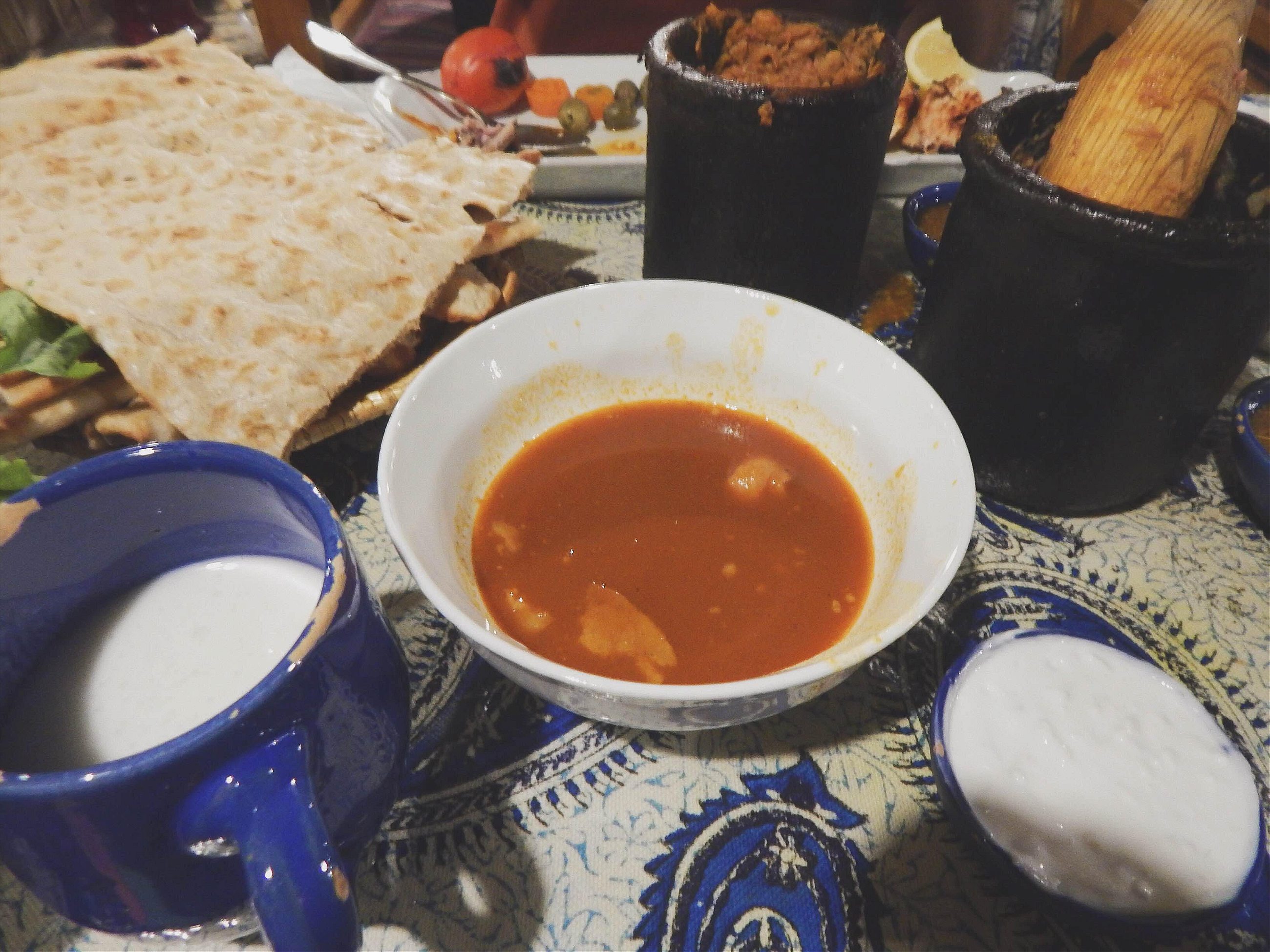 Aside from Azeri, which serves mostly tourists and wealthy residents of northern Tehran, authentic dizi restaurants are not open for dinner—the stomach simply cannot bear beans and lamb fat at supper.
Hundreds of new restaurants have opened up shop in the past decade in Tehran. But my mother and I mostly find ourselves back at Karimkhan Dizi or Mash Abbas whenever we contemplate eating out for lunch. As we sip our last cup of tea with mint and sugar cubes to wash down the dizi, Mrs. Vahedi Kamal will always approach us to say goodbye. She has the hands of a woman who cooks for hours each day, bruised with small cuts, softened by hot water and permanently stained by spices. She gives us hugs and wishes us "good health and a prosperous life," embodying the spirit of Iran's kindest dish.