Not Bursting with Flavor, But Goes Nicely with Impeachment Celebrations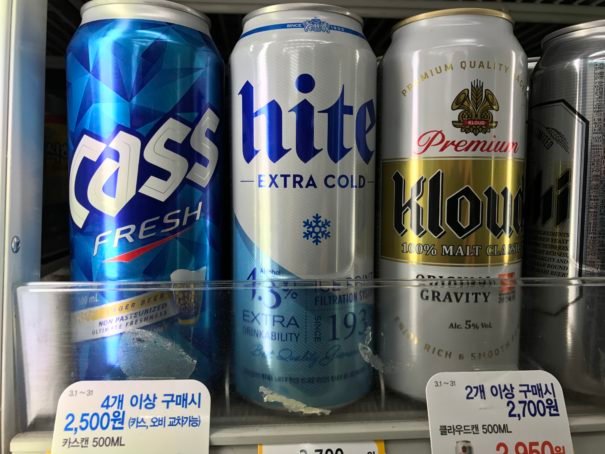 Not Bursting with Flavor, But Goes Nicely with Impeachment Celebrations
Beer in Seoul
The long, grassy square in front of Gwanghwamun gate was filled with people raising candles and waving signs. Some were sitting on the grass enjoying beer or soju and snacks. At the very front was a stage where rock and pop artists performed. "Alright, it's a glorious day," one singer crooned.
The cause for celebration? South Korea's President Park Geun-hye had been removed from office that morning following her impeachment over a massive corruption scandal. It was the first time a Korean president had been removed by democratic means, and it was due in large part to the protesters at Gwanghawmun, who came out in the hundreds of thousands for candlelight vigils.
I was drinking a large can of Hite beer, mingling with the cross section of society reveling in their victory. Two men in their 40s, Kevin and Kyu, invited me to sit and eat street food with them.
The contrast between their youth and the scene in front of them couldn't be greater. In the 1960s and 70s, activists who protested against the authoritarian abuses of Park's father, Park Chung-hee, who rose to power by military coup, could be arrested and tortured. In 1980, Park's successor, Chun Doo-hwan, sent the military to suppress an uprising in Gwangju, causing hundreds of deaths. After the sacrifices of so many, South Koreans finally won democracy for themselves in 1988. These past few months, the power of people exercising their democratic rights was on full display.
While Korean beer isn't bursting with hops and flavor, it does have a nice smoothness that makes it cool and satisfying. Hite is the best-selling beer and has fueled American and Korean soldiers out on the town and democratic activists through the past half-century. Today's Hite Brewery got started in 1933 as Chosun Brewery.
That night, with the music, the spirits, and the historic occasion, the beer couldn't have tasted better. After three months pressing the legislature for Park's impeachment, then three months more waiting for a ruling by the Constitutional Court, the mood of Gwanghwamun changed from one of anxiety to celebration.
A traditional Korean music troupe played the zither and banged drums and danced in a circle. Park's critics posed for pictures in front of a papier-mâché statue of Park in prison garb. When the music stopped, Koreans gathered in the middle of the square held fireworks in their hands and set them off in a shower of red, yellow, and green.