In impoverished Moldova, a revered wine industry finds itself on the frontlines of a clash between superpowers.


PURCARI, Moldova—
When you imagine one of the poorest nations in Europe, you might picture a dystopia: widespread chaos, grinding poverty, pervasive bleakness. That's just what you see in districts of Chisinau, the compact capital of Moldova: all neglected Soviet apartment blocks, dangerously cracked streets, and advertisements promising work abroad. But much of Moldova, a small nation slipped between Romania and Ukraine, isn't like that. Drive south for a short distance and the picture changes: The landscape is rumpled by gentle hills, just high enough to ensure sweeping vistas in all directions.
We're driving to Purcari, a 200-year-old winery at the very edge of the country, where some of Moldova's best wine is produced. I don't claim to be a wine expert, although I do enjoy drinking it. But wine is Moldova, and I certainly want to understand Moldova, so here I am.
Many of the villages we pass are pretty, trailing along main roads, full of colorful, well-kept houses, which are striking against the soft green and brown shades of the hills: powder blue, lemon yellow, mint green. Swirling, mesmerizing folk patterns sashay up and around the doorways. Wrinkled women totter down tree-lined avenues; geese and chickens wander along village roadsides. You would believe this to be, if not exactly a successful country, then at least not a failed state.
Moldova has a gross domestic product comparable to Ghana or Nicaragua.
But, as I've learned in Chisinau and Soroca, this impression is a little misleading: Many of those pretty houses have no permanent residents. Moldova has a gross domestic product comparable to Ghana or Nicaragua, and around a fifth of the population have left in search of work abroad over the last 25 years, mostly to the European Union—neighboring Romania has been an EU member since 2007—or Russia. Remittances from workers abroad account for a quarter of the total the country's GDP, among the highest proportions in the world. Euros go a long way in Moldova, a place where a city bus ride costs 10 American cents, and a beer rarely more than a dollar.
As we drive, my guide, Gabrielle, born and bred in Chisinau, tells me about her experiences traveling in Europe. I spend a lot of time in formerly communist Europe and am used to people complaining about international misconceptions, stereotypes, generalizations. But most Europeans she meets, she says, have either not heard of Moldova or, if they have, know exactly nothing about it.
But this isn't the case if you go north or east, to the other former Soviet republics, where Moldova is known for one very good reason. In Russia, in Ukraine, in Latvia, and Uzbekistan, Moldova means wine, and good wine. Look at the emblem of the Moldavian Soviet Socialist Republic, in existence from 1945 to 1991: Below the obligatory star, hammer, and sickle, is a cornucopia of the grain and fruit for which this small, fertile republic was known. Right in the center sits a fat bunch of grapes.
After a two-hour drive, we arrive at Purcari, just outside the small village of the same name, and are welcomed by Ionut, our guide, who is from Moldova; confusingly, not the country in which we are now but the province in northern Romania that bears the same name (sometimes called Moldavia in English, which—even more confusingly—is what Russians call the Republic of Moldova). Moldova shares a language, flag, and culture with Romania and formed part of the pre-World War II, pre-Communist Kingdom of Romania. I've met few young people during my time there who do not hold a Romanian passport, which Moldovans who can prove Romanian ancestry can apply for and which grants access to live, travel, and work not only in Romania but in the whole EU.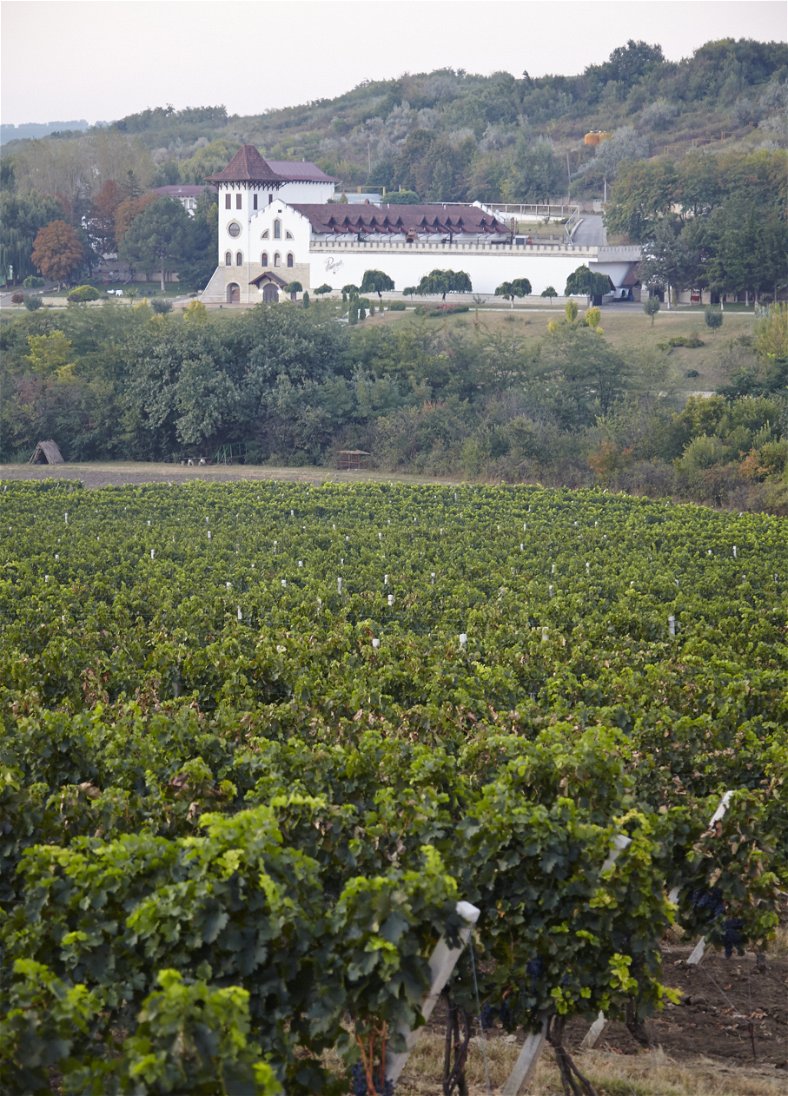 The "chateau" at Pulcari is a carbon copy of many that can be found in Transylvania, hundreds of miles away in Romania, across the Carpathian Mountains: white-painted walls rearing up against the hills planted with vines, with an orange roof like a straw hat jutting out over the edges. The landscape on the other side of the valley is a kaleidoscope of early autumn, deep reds sitting alongside faded greens and scorched oranges. Ionut gestures to an unremarkable line of retreating trees not far off and says, "Beyond there is Ukraine." I notice a series of chimneys on the horizon exuding a constant stream of white fumes. It's a power plant in Transnistria, he tells me. A long sliver of territory across the Dniester River, Transnistria is a strange shadow state, recognized by the rest of the world as part of Moldova but outside the government's control since 1990, when the mostly Russian-speaking residents there unilaterally declared themselves independent. They were fearful of impending Moldovan independence from the Soviet Union and a possible reunification with Romania that would make them an even smaller minority.
Ionut gives me a tour of the production facilities. Founded in 1827, the winery briefly shut down production after the collapse of the Soviet Union but began production again in 2003 as the Vinaria Purcari Co. Ionut has a colorful, hyperbolic way of speaking, which is intensified by his voice, which is at once mumbling, deep, and loud, a kind of amplified murmur. He is extremely proud of the winery and drops in snippets of promotional information at regular intervals. He stresses, for example, that the grapes are picked by hand, unlike some of their other Moldovan competitors; if machines are used, they often inadvertently crush the grapes, aerating the wine earlier than it should be. He refers frequently, and only semi-jokingly, to "jealous neighbors" who covet the wine made here.
We go down to the cellars under the chateau. As we walk past rows of cobweb-laced bottles, Ionut tells me that Purcari was the only Soviet supplier for "Her Majesty the Queen," as well as, until 1991, a provider of wine for the buffet service of British Rail, the then-nationalized railway service. I make a doubtful sound; wine from a remote hamlet in an obscure Soviet republic served to the monarch and intercity commuters? He holds up the bottle in the darkness and shines a light on it, and the English-language text visible through the dust and gloom identifies it as being from the "Moldavian" village of "Purkar." I learn later that the Queen was partial to the 1990 vintage.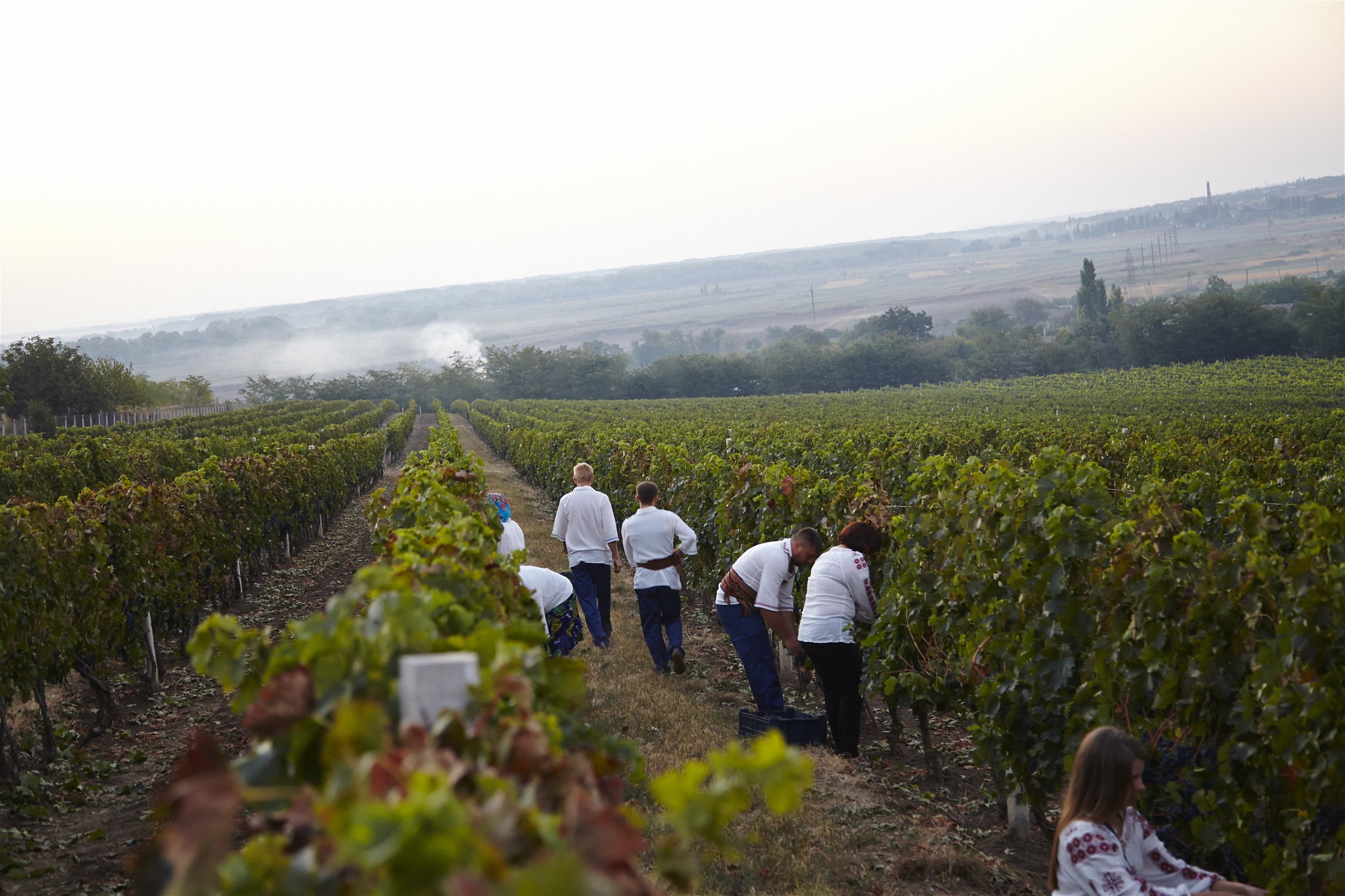 Wine from Purcari is regarded, at least by those here, as the best in Moldova. Just 20 or so miles from the Black Sea and a short walk from the Dniester River, it benefits from warm breezes and a benign microclimate that moderates both Moldova's hot summers and cold winters. I'm also told by the chief winemaker that Purcari is roughly equivalent in latitude to Bordeaux. In 1871, at the first international competition in which Purcari competed, it was mistaken in a blind test for a new French wine.
But Purcari has to deal with the same geopolitical forces as all other wine producers in Moldova. The country is in a liminal, nonaligned space where the EU, the U.S., Russia, and Romania all tussle for hearts and minds. It's not a member of the EU or NATO, but neither is it a member of the Kremlin's rival economic organization, the Eurasian Customs Union. Its highways are a good place to observe this unofficial struggle in progress: Newly paved roads in the countryside are annotated by signs reading "paid for by the American people"; the EU has an association agreement with Moldova, signed in 2014, and visibly funds a number of infrastructure and anti-corruption projects.
Russia made Moldova pay a price of that deal. After the agreement, Moldova's most reliable export market placed an import ban on Moldovan wine. This was a blow for both sides: Moldova lost a valuable export market, and Russian consumers lost a beloved product. Vladimir Putin had himself spent his 50th birthday, in 2002, in the wine cellars in Cricova, north of Chisinau. In the wake of the Russian ban, Moldovan wine producers scrambled to reorient to Europe.
As we drove south from the capital earlier, I noticed one poster showing up again and again along the road: a stern figure above a red, five-pointed star that is a throwback to the Soviet era. They were advertisements for Igor Dodon, the candidate of the Socialist Party of Moldova—a left-wing but also socially conservative, authoritarian, and pro-Russian party—in the first round of the presidential elections, which were coming up the week after I visited the winery. Dodon, favored to win the election, argues that the shift to the EU has destroyed necessary ties with Russia, not only economically but socially and politically.
Many, especially Moldova's large ethnic Russian population, agree with him. But almost all the people I meet—mostly young, urban, highly educated—are pro-EU and often in favor of reunification with Romania, from which Moldova separated in 1940. As one tells me, "We are the same people, same language, same traditions. It's just politics."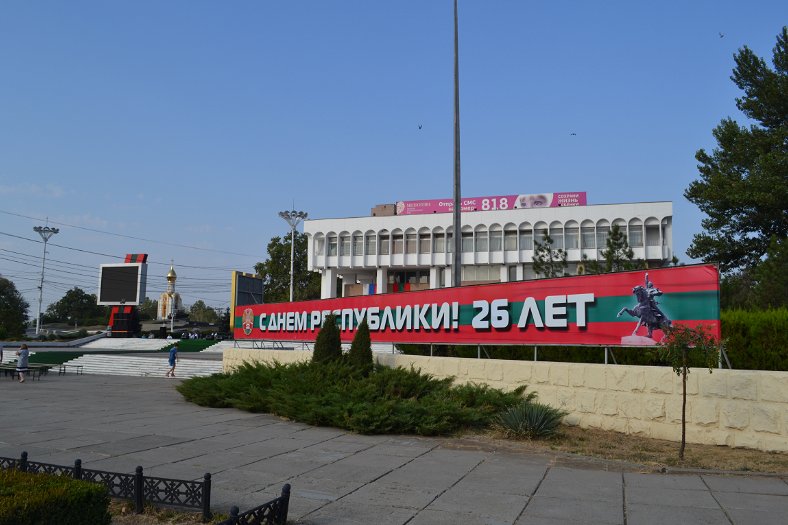 At the winery, a semicircle of glasses is laid out, and we begin to taste a variety of Purcari's showcase wines. Ionut compliments them as we go through, murmuring things like, "elegant" and "whoa, whoa, whoa." As we pass from one glass to the next, he reels off flavor profiles ranging from melon-flavored chewing gum to pepper to black cherries to liver. At his prompting, these tastes do flash across my tongue in retrospect. He's fond of soccer references: one wine brings to mind "short passes between Hagi and Maradona," a pointed reference to Gheorghe Hagi, a world-class Romanian soccer player of the '80s and '90s. Finally, we try ice wine, made from frozen grapes harvested in the harsh Moldovan winter. After the complexities of the reds and whites, it's a rush of simplicity: like something huge and sweet dissolved in just a little water.
Before I go, I meet the production manager. He seems rather uncomfortable speaking about Purcari's and Moldova's forced shift in export priorities after the Russian sanctions, but he does tell me that the biggest export market is now, indeed, the EU, and specifically Romania. He also mentions Britain, Greece, the Czech Republic, Poland, and a slew of African and Asian countries. He also confirms that export to Russia is not possible at present, although he is aware of a large amount of pirated "Moldovan" wine there.
He says that if the "east-directed parties" win the presidential election, it will be good for Moldovan wine but just for a few years. Russia will begin importing Moldovan wine again, and a lot of small wineries will see demand rise. But long-term, it will be a disaster, because although Russia and the EU technically have similar standards for wine production, only the EU reliably enforces them. It's unclear if Dogon would immediately end the association agreement with the EU. But even if he did not, many wineries would most likely look toward Russia if given the option, the manager tells me, because the market is more familiar and the Moldovan wine reputation more established.
The light is starting to wane over the landscape as I leave, but those chimneys across the valley, across the Dniester, are still clearly visible, pumping out their fumes. I feel so drained and befuddled from all the half-glasses of wine that I can barely speak as we drive back. That evening, as I'm browsing the net back in Chisinau, Russian-language adverts pop up at the corner of my screen, paid for by the Dodon campaign, instructing me that Moldova's pivot to the West has failed its population. This November, not long after I left, he was elected president.
Top image: Andreas Welch.