AOC is cooking some of the most exciting food in the world's hottest eating city. R&K's blow by blow.
It's not often you walk into a restaurant with a Michelin star located in a Danish mansion and find that it smells just like home. But walk through the doors of AOC in central Copenhagen and the smell of wood smoke and rendered pork fat hit you like a triple shot of aqvavit—a familiar and hunger-rousing welcome for anyone who has spent time in the American South.
But make no mistake, the meal behind the smell is no crude slab of hickory-smoked pork shoulder; it's a perfect rectangle of marbled pork belly, cooked sous vide, vacuum-marinated in a jet-black paste of charred onions and molasses, then lightly smoked on a Big Green Egg (another heart-warming embrace in a foreign country). The belly is anointed with pickled radish seeds then scattered with foliage, as if a stiff Danish wind blew the forest floor onto the plate just before leaving the kitchen.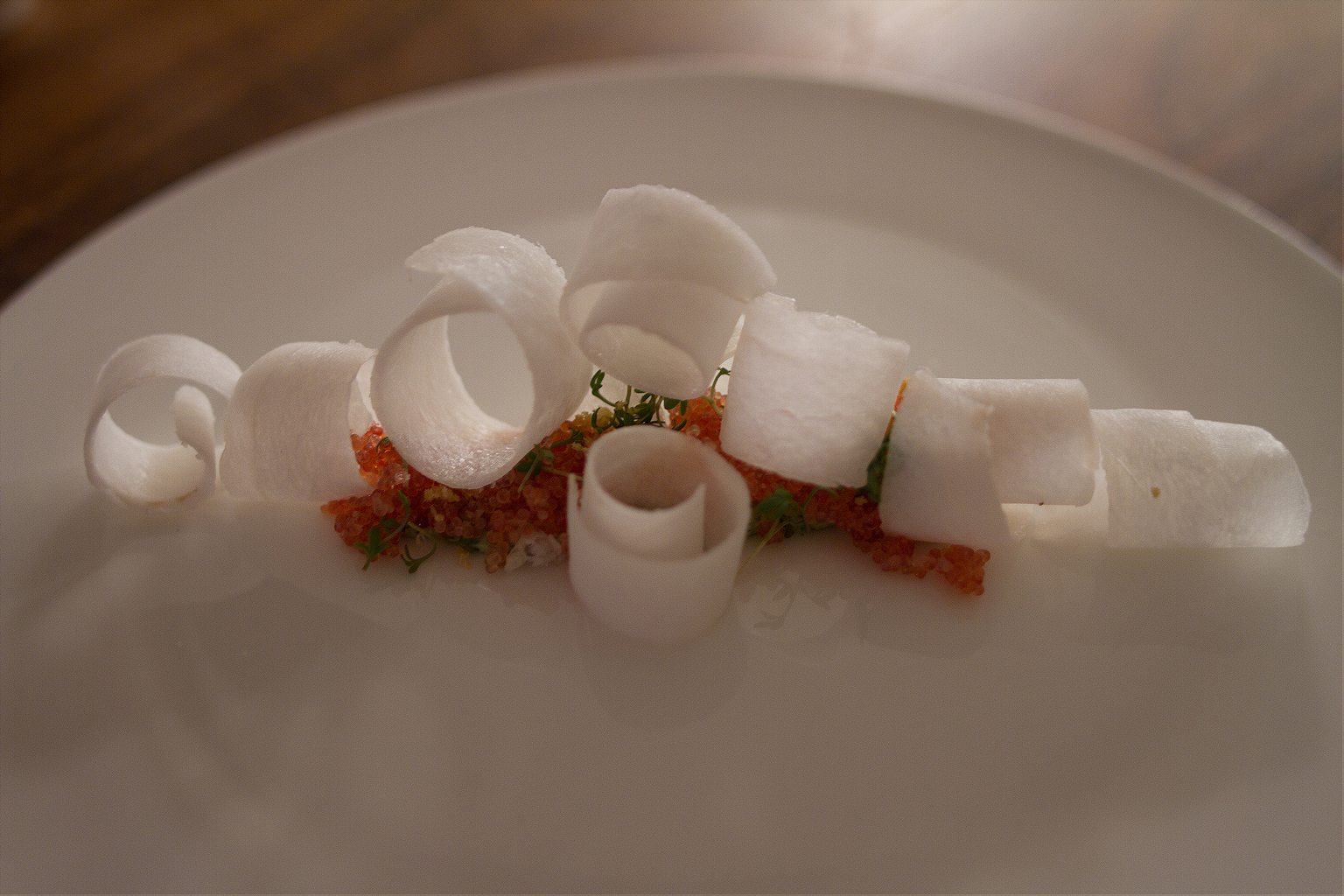 AOC is serious stuff. Ancient arches and low lights and a 17th century cellar shape the dining room into the most elegant basement you've ever seen. Servers can walk you through the minutiae of the menu as if they've spent a lifetime preparing the dishes themselves. The sommelier Christian Aarø has won the award as the best wine guy in Denmark so many times that he's now taken himself out of the running.
Most importantly, the chef Ronny Emborg is a heavyweight, a guy who has mixed his time at elBulli and Mugaritz and his Danish roots to create a cuisine that would live comfortably in the company of the Spanish juggernauts. There are more than a few of the Nordic / Noma touchstones— rocks standing in as serving vessels, impossibly precious bites of foraged roots and leaves—but the cuisine is too unique—too diverse—to simply be pinned down as New Nordic. I could say a lot about Emborg and the way that he cooks, but the dishes speak for themselves: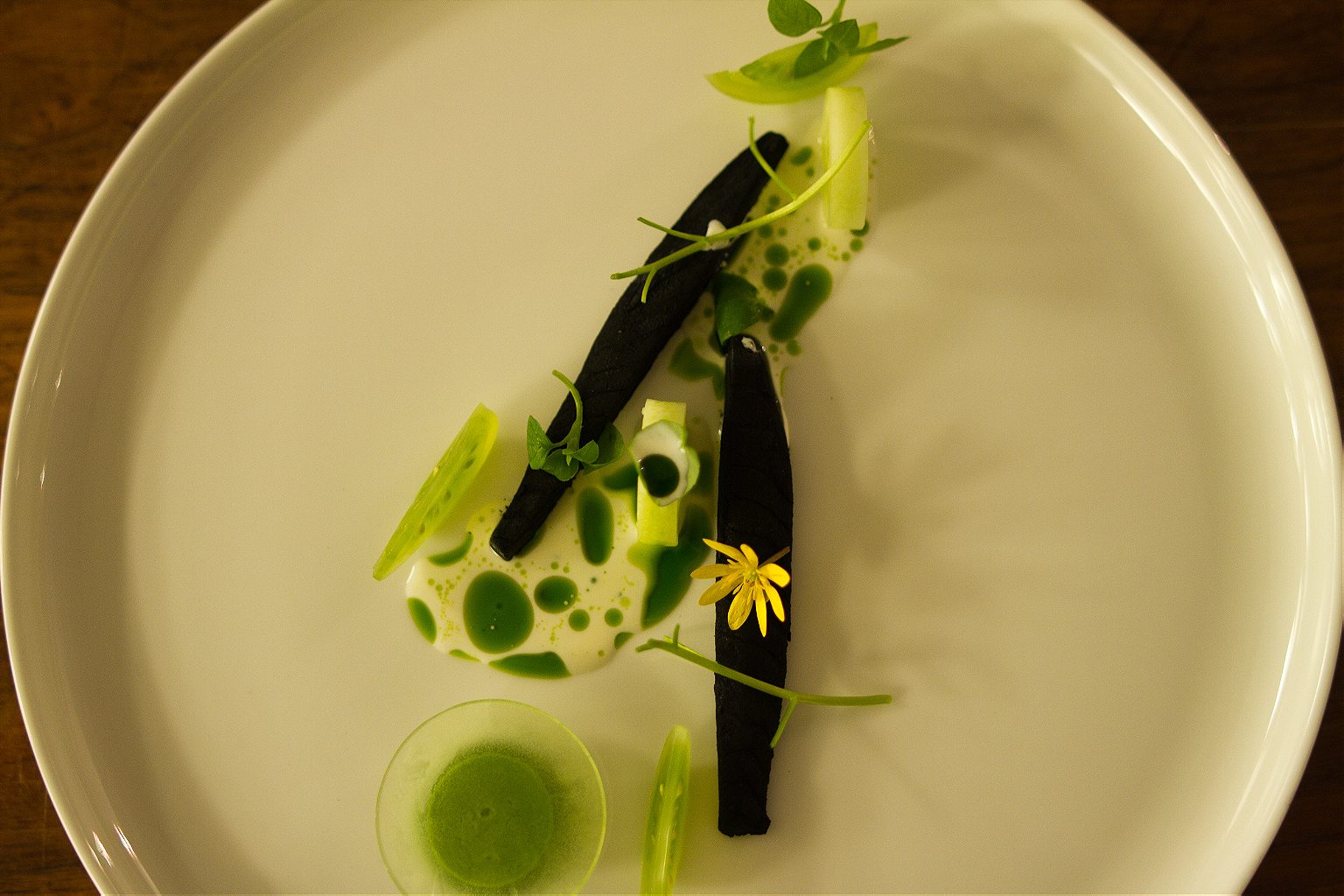 Halibut is frozen and shaved into ivory curls, then laid across a trail of creamy egg yolk, Danish caviar and fresh horseradish. Take a bite and let the eggs pop, the horseradish burn, and the frozen fish melt across your tongue like some sort of polar awakening.
Mackerel loins are rolled in hay ash until they look like licorice, then set afloat in a tie-dyed sea of buttermilk, parsley, and green tomato water—the fat of the fish playing perfectly off the smoke of the ash and the bracing bite of high-acid tomatoes.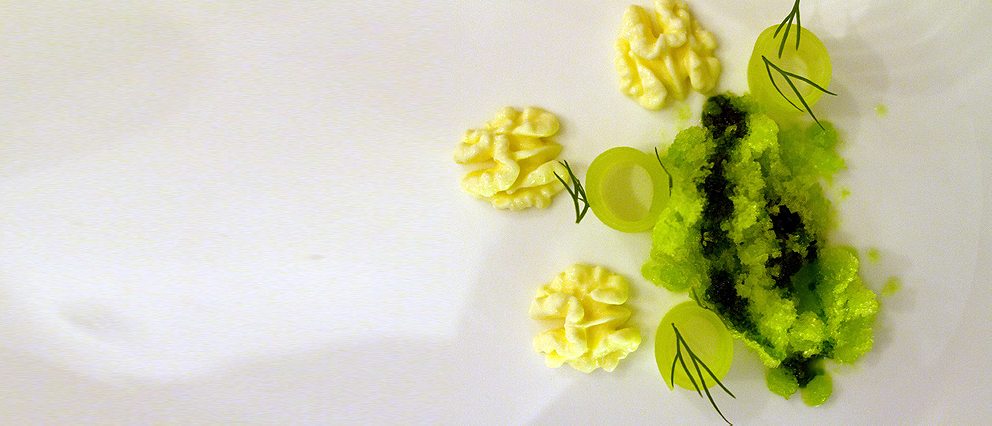 Nuggets of fried sweetbreads are draped in a crispy blanket of caramelized milk skin, then bathed in a stock of toasted onion and thyme oil. It's hard to imagine a more intensely savory bite then the one you get when allium and scaled milk and tender thymus meet on the fork.
Each new dish has you grasping for the right taxonomy: "It's modernist!", "it's techno-emotional!", "it's neomolecularsensorynordic!" "it's… it's". But it doesn't need some lazy shorthand description; it just needs to be tasted.
Run your spoon through the warm puddle of confit egg yolk and mussel stock and dill seed, or dip that huge, insanely sweet hunk of langoustine into the smoked mackerel mayonnaise, then coat it in crispy cod-skin breadcrumbs and try to come up with a name for what Emborg is doing. Pointless.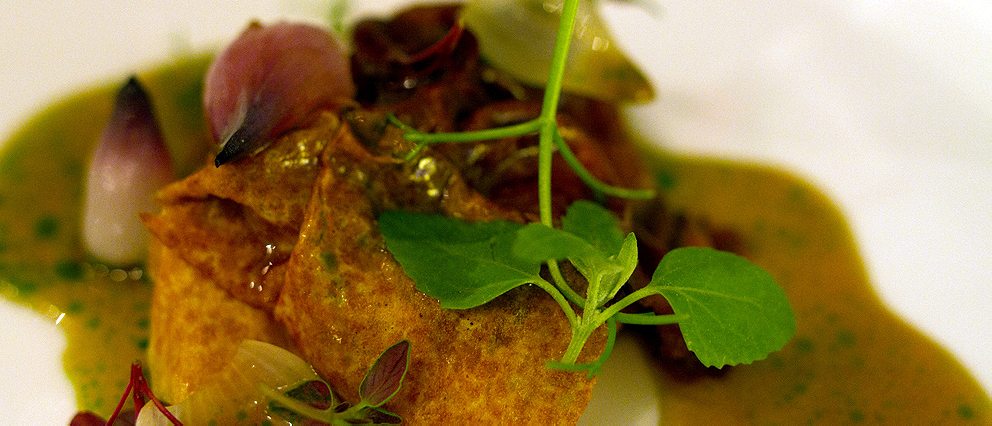 The most confounding and impressive part of the meal is saved for last. Emborg, in his quiet, humble way (looking like a shy, Scandinavian Keanu Reeves), says he needs to bring in a dedicated pastry chef, but judging by the flight of desserts he sent out, it's hard to imagine much room for improvement.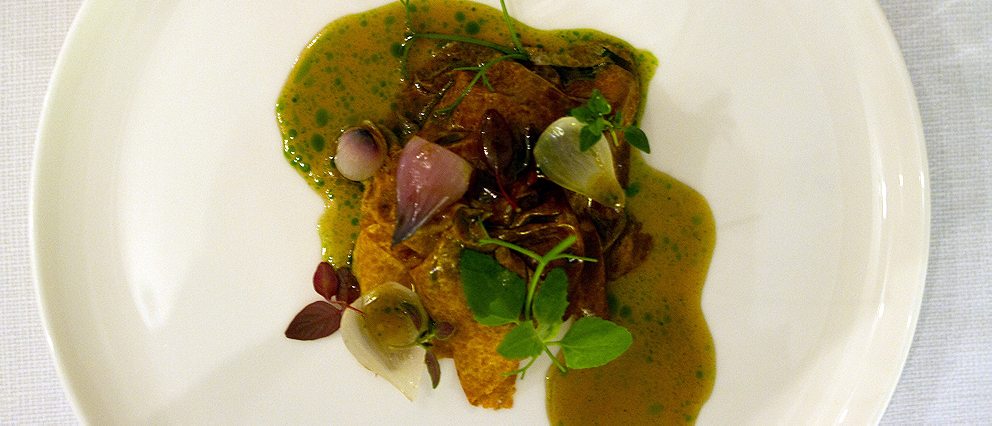 Juiced celery is frozen and shaved into a feather-light granita, doused in emerald puddles of dill oil, and paired with two magical walnuts sculpted out of walnut cream. Moving forward, he rolls pear ice cream in black tea powder until it looks like a perfect river stone, then surrounds it on the plate with pebbles of lemon oil and hay ash.
Most stunningly of all, a scoop of buttermilk ice cream flanked by a wedge of yogurt spongecake and whipped salsify puree: a monochromatic marvel of staggering depth and deliciousness.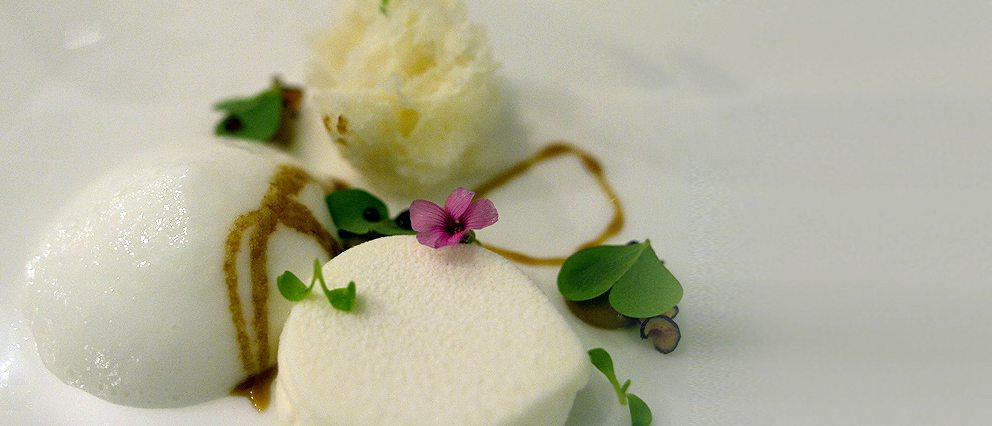 I could go on for hours, just as Emborg did when we stopped by earlier this week: 21 courses, four hours, a full-throttle fine-dining experience that puts him and AOC up there with the biggest fish in the Nordic pond. We heard the term "next Noma" thrown around by a few people in Copenhagen who know about these things, but it strikes me as sadly reductive and not fair to either restaurants. AOC is the next AOC, which is a pretty damn good thing to be.