A visit to the most controversial fast-food joint in New Jersey after an attempted terrorist attack.
Elmora Avenue and its surrounding streets in Elizabeth, NJ, are smattered with mom-and-pop shops: a nail salon filled with technicians peeking out the window to see the cause of a commotion across the street; a liquor store crowded with a men shooting the breeze, none too concerned about the scene unfolding outside; a tax service center down the street doing business as usual; and a Colombian bakery full of reporters jotting down notes.
Since Monday morning, news crews, gawkers, and locals have been crowded around the police barricade outside First American Fried Chicken. This unassuming chicken joint is owned by the family of Ahmad Khan Rahami, who is suspected of planting a series of bombs in the tri-state area this weekend, including one that left 29 people injured. After an emergency alert sent Rahami's name to millions of people Monday morning, a bar owner in nearby Linden, N.J. found him sleeping in the doorway of his bar and alerted the authorities. Rahami was captured after a shootout with the police shortly thereafter.
On that warm and humid Monday afternoon, the FBI and local police were carting items out of the restaurant to investigate potential ties to a terrorist attack, but the mood on the street outside wasn't somber. Teens reacted casually to the news and were more excited about seeing a news crew from Pix11 on the scene than they were concerned about the controversy itself. Locals chattered about how cool it was to be featured on the news. A few squealed when what appeared to be a black Labrador from the K-9 unit was let out of a police vehicle for a drink of water, and then led onto the scene.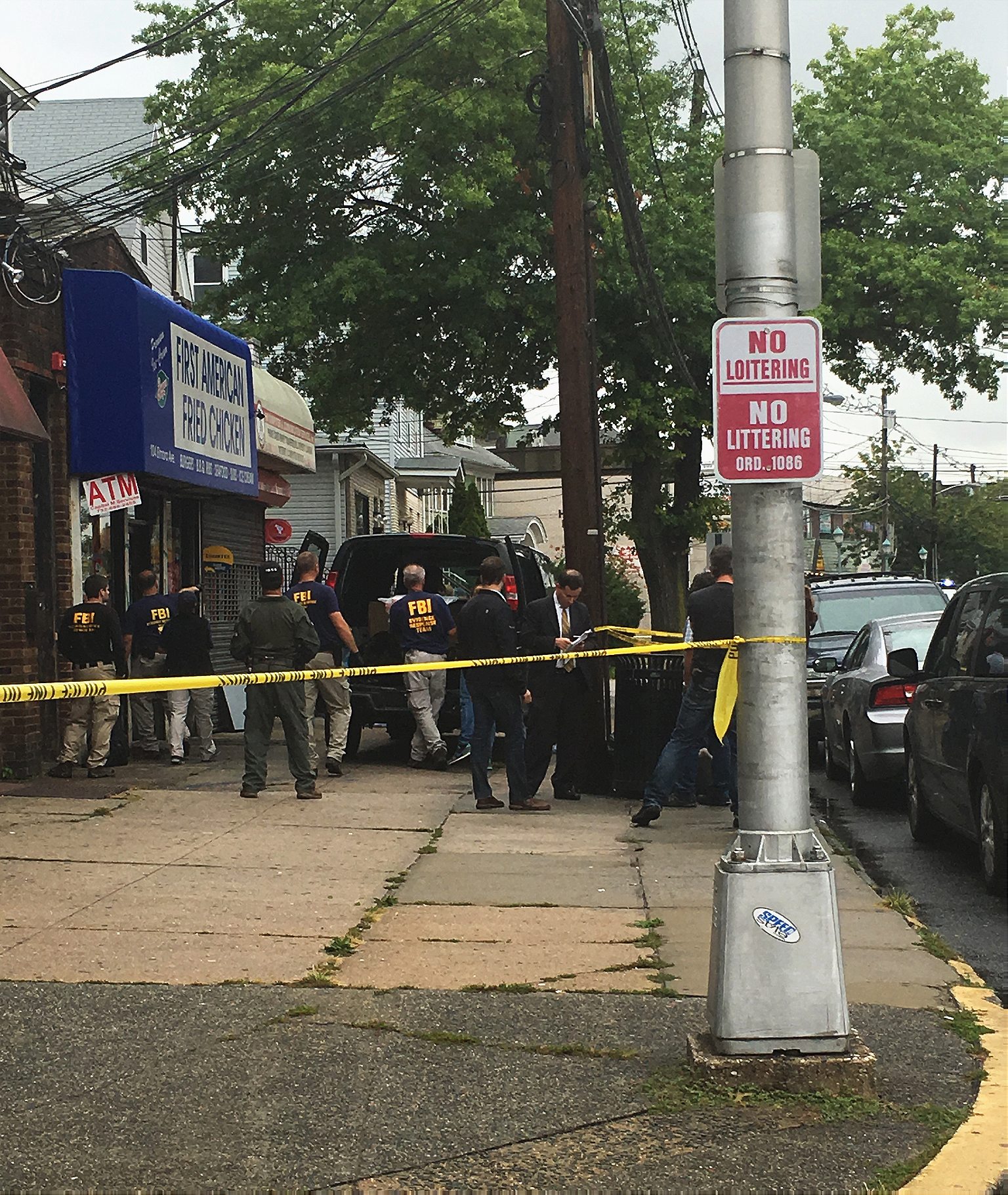 As FBI agents removed evidence from the Rahami family restaurant throughout the afternoon, families milled around, taking in the spectacle. A father, tattoos peeking out from beneath a gray tank top, held his children's hands as they curiously looked on. An elderly man in a brown suit ambled onto the crime scene shepherding three poodles before being shooed away by the police. A woman standing nearby with another dog said to no one in particular, "We own the real estate office!" gesturing to a building across the street.
Before the commotion began, you may have passed right over the storefront with its bright blue awning in this suburban strip of shops and restaurants. Nestled between a computer repair shop and a deli, First American Fried Chicken blended in until the police tape went up, a fried chicken spot that stayed open late, welcoming rap battles and youngsters through its doors.
The shop had been the scene of controversy before, if on a more local scale. Rahami's family sued the local government and police in 2011, claiming that they were being targeted by authorities because of their faith. They had faced a series of accusations concerning quality of life offenses; neighbors often called with noise complaints, and even after the city passed an ordinance requiring the business to close at 10 pm, court papers show that the restaurant continued to stay open past that time, exacerbating tensions between the Rahami family and authorities.
On Yelp, the restaurant's business page has become a hotbed for discussion and derogatory commentary about Rahami's family. Prior to Monday, First American Fried Chicken only boasted two reviews (largely positive), but the page now has over 200 Yelpers chiming in on their page, almost all condemning the owners and referring to them as terrorists. Racist comments, bad terrorism puns, and anti-Hillary Clinton memes now make up the bulk of the chicken shack's feedback. Yelp has become a de facto forum for discussing controversial events in the U.S. today, like a pizza restaurant refusing to serve gay customers, and a police officer injured by a glass-laden sandwich. Katrina Hafford, a PR specialist for Yelp, said, "We see occurrences of media-fueled reviews on Yelp several times a month, but not often to the scale of media coverage that First American Fried Chicken is currently undergoing."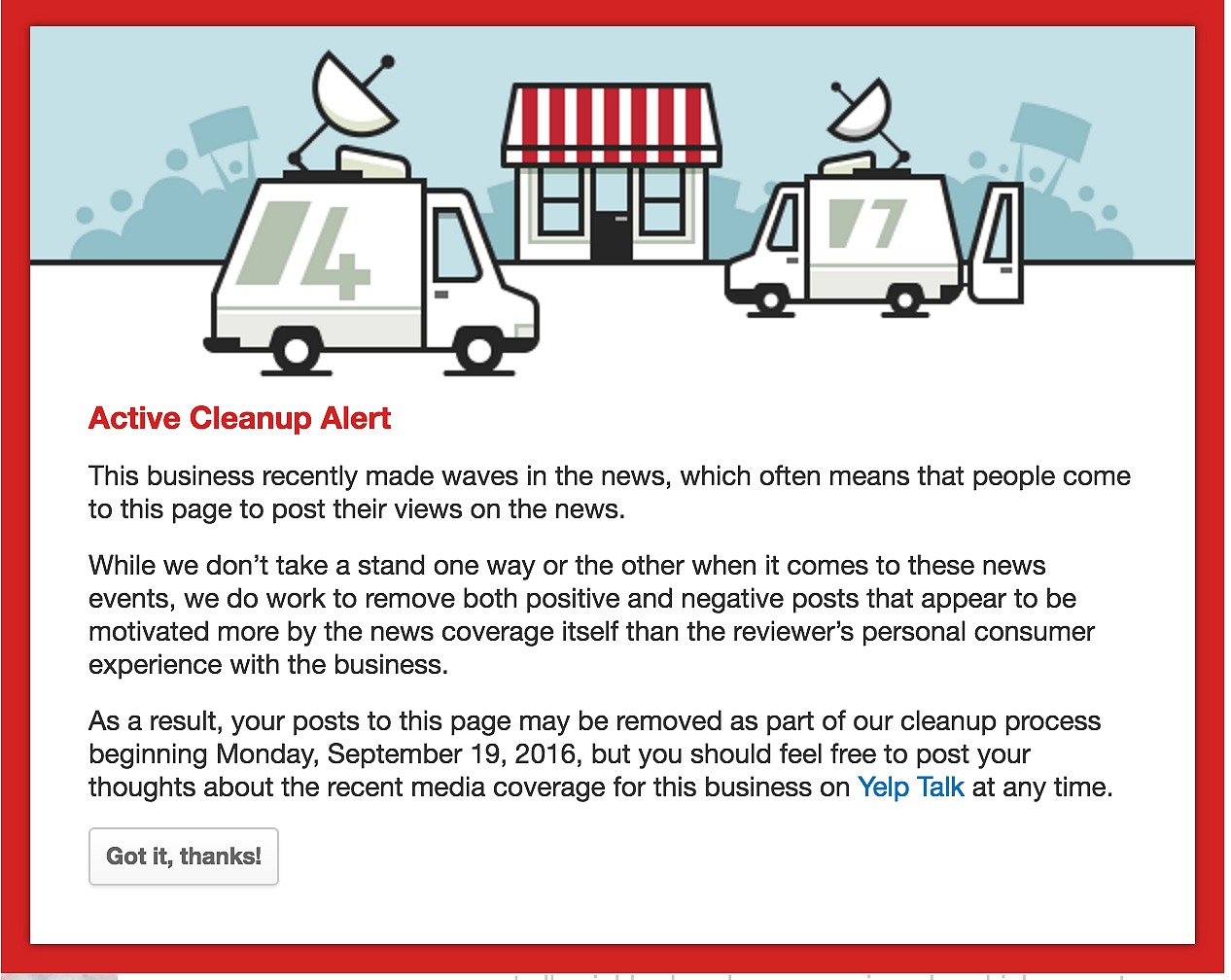 Hafford said that because a page may receive hundreds and thousands of photos and reviews in response to media attention, the removal process doesn't begin until a few days after the issue has been brought to Yelp's attention. "We apply this same policy regardless of the business and regardless of the topic at issue in order to avoid injecting our own varied viewpoints into the debate," Hafford said.
Some Yelpers have tried defending the restaurant, saying to leave media coverage out of it and focus on the chicken, like Katie G. from Arlington, VA who said, "I can't wait until they reopen after being harassed into closing due to the mob mentality going on here. Delicious fried chicken and sumptuous sides. Really friendly people who have contributed to this country. Shame about the son, but…"
But most of the people flocking to Yelp to flame the business have never ordered the leg-and-thigh special. There is real support from people on Elmora Avenue who called the Rahami family their friends and neighbors.
They wanted to offer me a job before all this happened
Local high school students—just out of class for the day and still wearing uniforms—observed the rush of activity, nervous yet amused, and pulled out phones to snap photos and videos of the scene. One of them, Lisa Castro, said she is friends with the family; the Rahami's daughter was one of her best friends until, according to Castro, the girl moved away. "They wanted to offer me a job before all this happened. They weren't really bad people or anything," she said.
Her friend Mark Jacob said he'll miss the restaurant if it shuts down because of the controversy. It's one of the group's favorite after-school hangout spots. "The restaurant is good," he said. "I mean, they had a positive energy and they always had a positive vibe. I used to talk to them, not a lot, but we would chit chat."
New Jersey's fourth largest city, Elizabeth is diverse, with a population representing more than 57 countries and 37 language groups, according to the city's website. The crowd at the scene showcased a broad range of cultures. Still, despite the feeling of community expressed by many on the scene, there were some doubters.
Linda Musso, who's lived in Elizabeth for three years said, "I've never been in there. I've seen a lot of people come in and out as far as Muslims, because they all have beards. That's part of their religion or whatever. I'm not saying they're involved, but I don't know. I'm Italian, I don't hang out with people like that anyway."
In the Colombian bakery one block down from the restaurant, a precocious young boy, perhaps eight years old, asked another customer, "Does anything seem different to you today? This restaurant is getting so much more business than usual because of the bombings that happened in New York City." He continued to explain the news to a nurse sitting down to take a break with a pastry, possibly the most concerned citizen in Elizabeth despite his young age. He later returned to the crowd outside First American Fried Chicken, curiously asking questions of reporters and other residents alike until his father quietly put his arm around his son and led him away.