Copa América gives the world everything it could handle: dramatic comebacks, shocking suspensions, and acts of idiocy and manslaughter off the pitch.
Copa América, the South American soccer championship, is in its third week in Chile, and has given the world everything it could handle from a tournament: dramatic comebacks, shocking suspensions, all-out scoring feasts, and acts of idiocy and manslaughter off the pitch.
Now, after the end of the group stages, eight of the original 12 teams remain, and they will begin the direct elimination rounds today. There is still plenty of action to catch—with some potential classic matchups coming up—and as we wrote during the World Cup, there is no finer place to watch international soccer than New York City. So if you aren't able to make your way over to Chile, your next best shot at living the fever of South American soccer is right here, in the almost impossibly diverse borough of Queens.
From Astoria to Sunnyside, bars, bakeries and butcher shops are turning their establishments into prime viewing spots. Here are the upcoming matches and the best places to catch them with diehard fans from each country:
Chile vs. Uruguay. Wednesday, June 24th, 7:30p
The teams:
Chile qualified to this round as the winners of Group A, despite a slow start against Ecuador, and a small setback against Mexico's B squad in a thrilling 3-3 draw. But after destroying Bolivia with a 5-0 win in their last group match, and with the loud, loyal home support working for them, they look like the favorites to take this match.
For their part, Uruguay finished third in Group B after a quiet victory over Jamaica, a defeat against Argentina, and a tough draw with Paraguay. With their superstar Luis Suárez banned for the whole tournament, the Charrúas haven't been able to get one of the flashy performances they have used us to in recent tournaments. Their highlights have mainly come from striker Edinson Cavani, who began the tournament by confusing Jamaica for an "African country" and who is under the spotlight now for his father's reckless driving. But you can never be too careful when playing Uruguay in a knockout round.
The places:
Chile might be the South American nation with the least representation in New York City. But what they lack in number is more than compensated for by having the most incessant and indefatigable chant of all South American nations. So if you want to hear "Chi-Chi-Chi! Le-Le-Le! VIVA CHILE!" until your ears bleed red blue and white, the best option is San Antonio Bakery in Astoria, just a few blocks away from the Astoria Boulevard stop on the N/Q train. This neighborhood spot will be packing with flag-waving, chest-pounding Chilean fans, who will expect you to join in the chant-fest. The real star of the visit, however, might be the completos, the gaudily overstacked Chilean version of the hot dog.
On the other hand, despite Uruguay's total population of 3.3 million—Queens' population is 2.3 million, in comparison—Uruguayans have plenty of spots in New York. But if you want to support La Celeste in their quest to retain their Copa América title, your best chance is La Gran Uruguaya Bakery in Jackson Heights. This place is half dedicated to dessert, half to meat, and will be packed for any Uruguay games. Fitting in is easy: just go out of your way, perhaps during a television break, to point out how much better Uruguayan cuisine tastes than Argentinian food.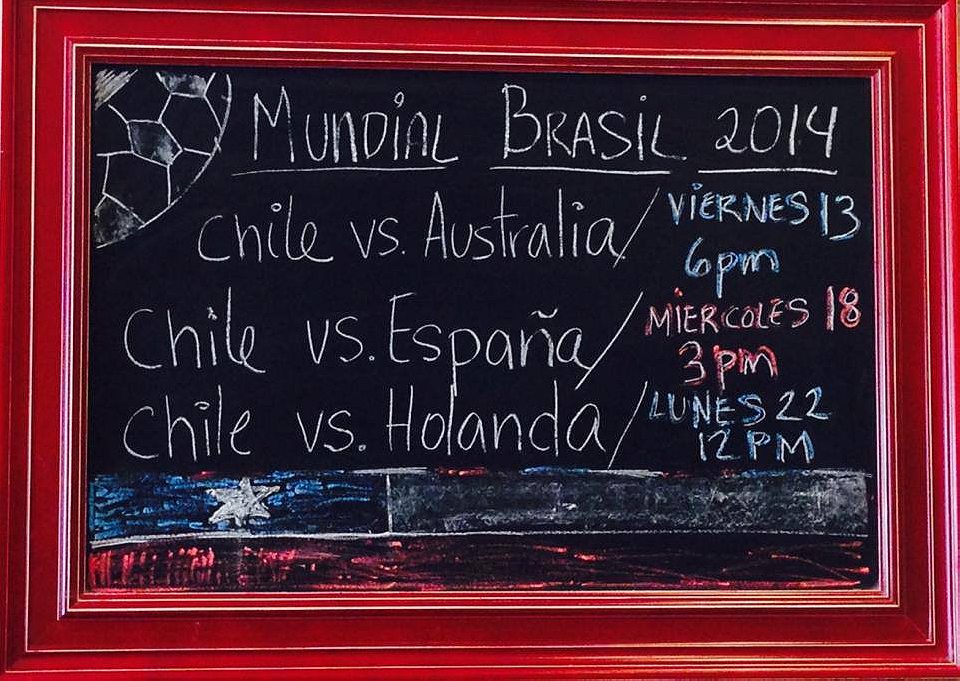 Bolivia vs. Peru. Thursday, June 25th, 7:30pm.
The teams:
Bolivia surprised everybody, maybe even their own fans, by securing a second-place finish in Group A after drawing with Mexico and beating Ecuador. There is nowhere to go but up for them and maybe another shock result is in the cards for the Bolivians.
It won't be easy, though, as they will face their neighbors once again. Peru, even if not the most effective team, have looked like one of the most organized teams in the tournament. They managed a second-placed finish in Group C, despite facing heavy favorites Brazil (who only beat them with a last minute goal) and Colombia (who only managed a 0-0 draw against them), thanks in part to their victory against Venezuela.
The places:
Bolivians are another nation with few outlets in New York City (most Bolivian immigrants in the United States live in the D.C. area) and it's hard to find a truly Bolivian spot in the city. If you go to Jackson Heights, any of the bars along Roosevelt Avenue and 37 Avenue will be showing the game, and surely one or two Bolivians will show up. But, if you want to enjoy the game accompanied by a proper salteña (the Bolivian version of an empanada), go to Mi Bolivia in Sunnyside.
Peruvian immigrants to the U.S., on the other hand, are concentrated in the New York metropolitan area. There are plenty of options to choose from, particularly in Sunnyside and Jackson Heights, but my suggestion, for the best soccer atmosphere, is Amaru Pisco Bar. They have the screens. They have the pisco. And, if Peru wins, you are already where the dancing happens.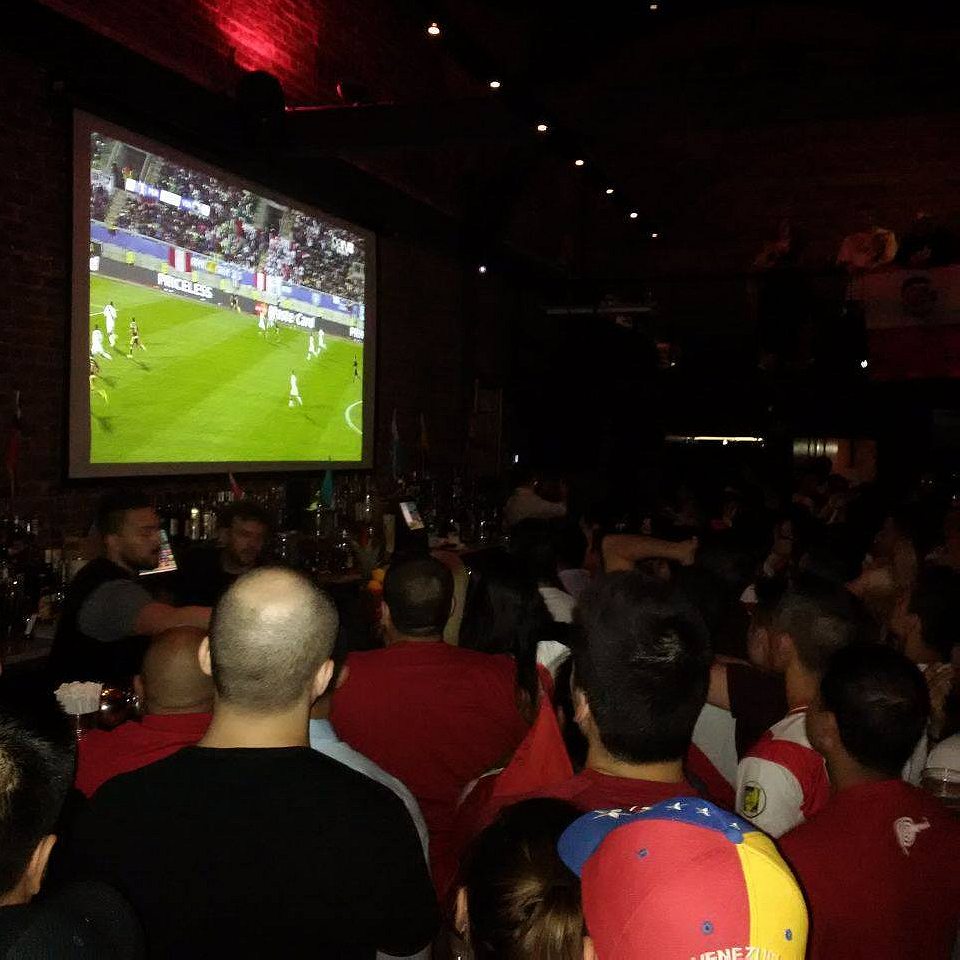 Colombia vs. Argentina. Friday, June 26th, 7:30pm
Thanks to their historic run in the World Cup last year, Colombia were heavy favorites for this cup. But recent retirements (particularly that of CB Mario Alberto Yepes), paired with injuries and less than ideal club seasons from many of the team's stars, left the Colombians with a subpar performance so far. After losing to Venezuela, beating Brazil for the first time in 24 years and drawing Peru, Colombia managed a good-enough third place finish in Group C, which has kept them alive for now.
In contrast, Argentina won Group B, despite losing a 2-0 lead against Paraguay, who ended up drawing the game. They haven't looked invincible, but they have been effective, rapidly closing down victories on Uruguay and Jamaica. They also came with all of their arsenal, Lionel Messi and Javier Mascherano included, and are the definite favorites for this game.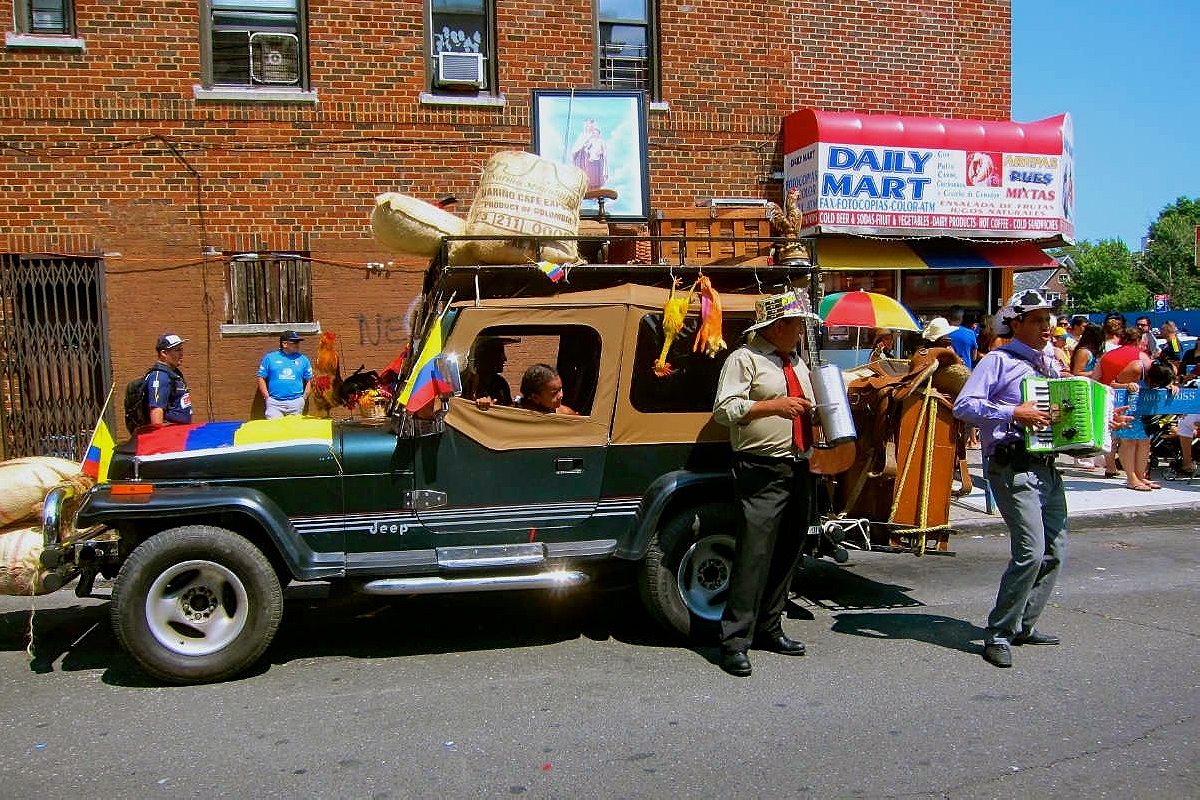 The places:
If you took all of the Colombians living in New York, they would probably make up the fifth biggest city of the South American nation. You might spot Colombians watching the game everywhere around the city, especially in Jackson Heights, the classic NYC Colombian neighborhood. But my suggestion is to go to southern Astoria, to the strip of Steinway Street between Broadway and Northern Boulevard, where every bar will be overflowing with Colombian fans. If you go early, try to get to El Basurero, which has some of the best screens and some of the best Colombian food around, as well as some very kitschy decoration to go with it. But, if you're left out, try any of the other bars in the area, especially Ritmos 60 or Twist and Smash'd Sports (which is not properly a Colombian bar, but will be full of Colombians, regardless).
To watch the Argentinian side, the best suggestion is the Boca Steakhouse in Elmhurst. But, if you don't manage to find a spot there (which will very likely happen for big games), I recommend going to the corner of Corona Avenue and Junction Boulevard. Granted, it is a bit of a walk from the subway, but the three Argentinian restaurants there—El Gauchito, Río de la Plata Bakery and Criolla Esquina—are all wonderful places for an Argentina game. During last year's World Cup final, this corner was filled with a sidewalk crowd, accompanied by a full-size band of horns and drums cheering for La Albiceleste. Even if the fever doesn't quite reach those heights this time, there are always the fine meats, sandwiches and especially empanadas to leave you glad you made the trip.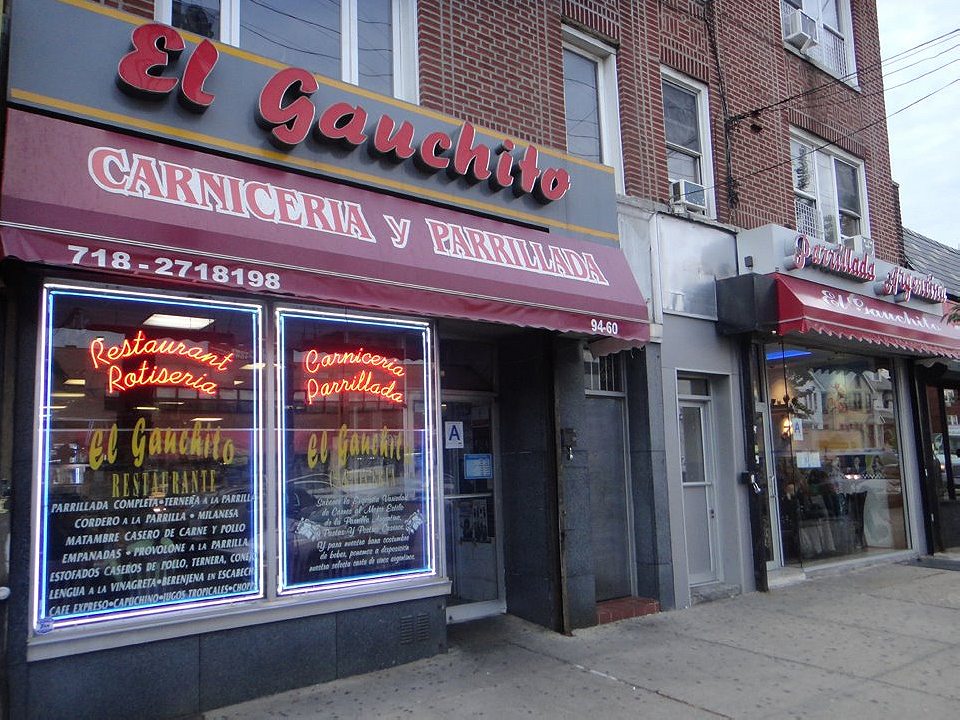 Brazil vs. Paraguay. Saturday, June 27th, 5:30pm
The teams:
After an embarrassing end to their World Cup last year, the Brazilian team has undergone a period of transition under new coach Dunga. In this cup, they barely beat Peru with a last-minute Neymar goal, lost against Colombia, and then beat Venezuela, earning the first place of Group C. But after a confrontation at the end of the Colombia game in which Neymar ended up insulting the referee and headbutting an opponent, the Brazilian star was banned from the rest of the cup. He has already left Chile and is back home taking selfies with his mom once again.
Paraguay, after having some of the most disappointing World Cup qualifiers in recent memory, seem to be coming back. They rallied against Argentina to win a point in a thrilling match, beat Jamaica and tied against Uruguay to earn a second-place finish in Group B. With nothing to lose, they'll face a still confused Neymar-less Brazil, and will resume trying to best their feat from four years ago, in which they reached the Copa América final without winning a single game.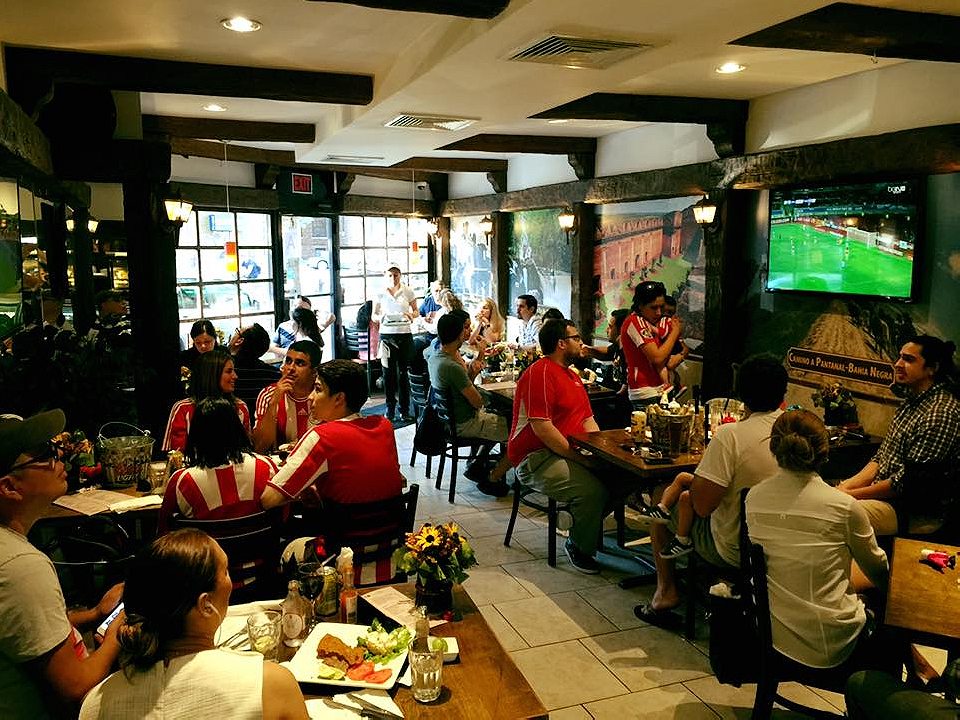 The places:
Disregard that small street sign in Midtown Manhattan: Little Brazil in New York City is really southern Astoria. The option where to catch the game while ordering a caipirinha or enjoying a feijoada (or more exquisite Brazilian delicacies) are plentiful here. But my suggestion is Carioca Grill. Good food, good people, good screens and wonderful cursing.
For Paraguay, the best option is I Love Paraguay in Sunnyside. Not only is this place the best option to try Paraguayan chipas—cheese-flavored bread rolls—but also one of the few Paraguayan places in the city where you can catch the game in company of Albirroja fans.
Top image: Argentina's fans in Rio. Photo by: Eduardo Leal