After contracting a deadly disease, these gold miners in South Africa and Lesotho are fighting for compensation.
UPDATE: On May 13, 2016, South Africa's high court approved the class action lawsuit against South Africa's gold mining companies.
Imagine finding out the job that you had done for 35 years had made you sick. And that the sickness meant you were no longer employable in that industry. And that the skills you had learned, after being denied a formal education, were of no use in any other job. You are in your early 50s with no way of making money. And you are sick, so sick that you cannot walk to the end of your garden without having to stop to catch your breath. Imagine that and then look me in the eyes and tell me you don't deserve compensation.
Over a 20-day period in September and October 2015, I traveled around South Africa and Lesotho to photograph the miners and widows named in the application for a groundbreaking class action lawsuit against 32 South African gold mining companies. The people I met had contracted silicosis, a preventable but incurable disease that causes shortness of breath, lung infections, respiratory failure, and tuberculosis. I wanted to show that they were more than just names on a piece of paper.
My journey involved driving a total distance of 3,100 miles and photographing between two and six portraits each day. I started in the Eastern Cape countryside, one of the most beautiful sights in South Africa and home to many of the former gold miners. There, hills roll into each other, spotted with colorful houses and the winding roads teem with school children, cows, goats, and donkeys.
Navigation in these rural areas is difficult. Distances are vast. A single place name can encapsulate an area spanning hundreds of miles, and the concepts of near and far are relative. When I stopped to ask directions I was often assured the home we were looking for was nearby, only to arrive hours later at a tiny house perched on the top of a distant hill.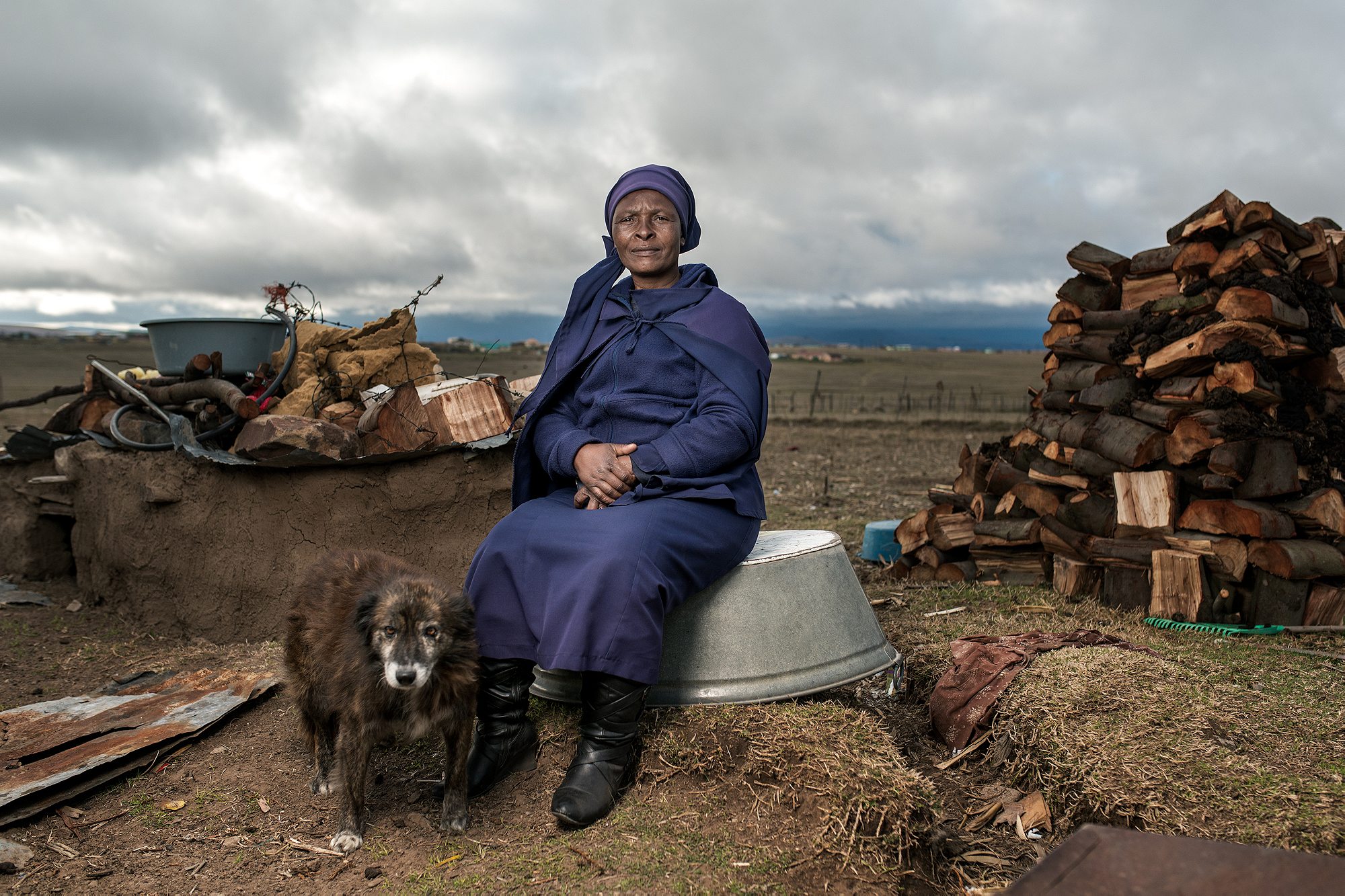 The one place a young black man from a rural area was likely to find work during apartheid was in the mines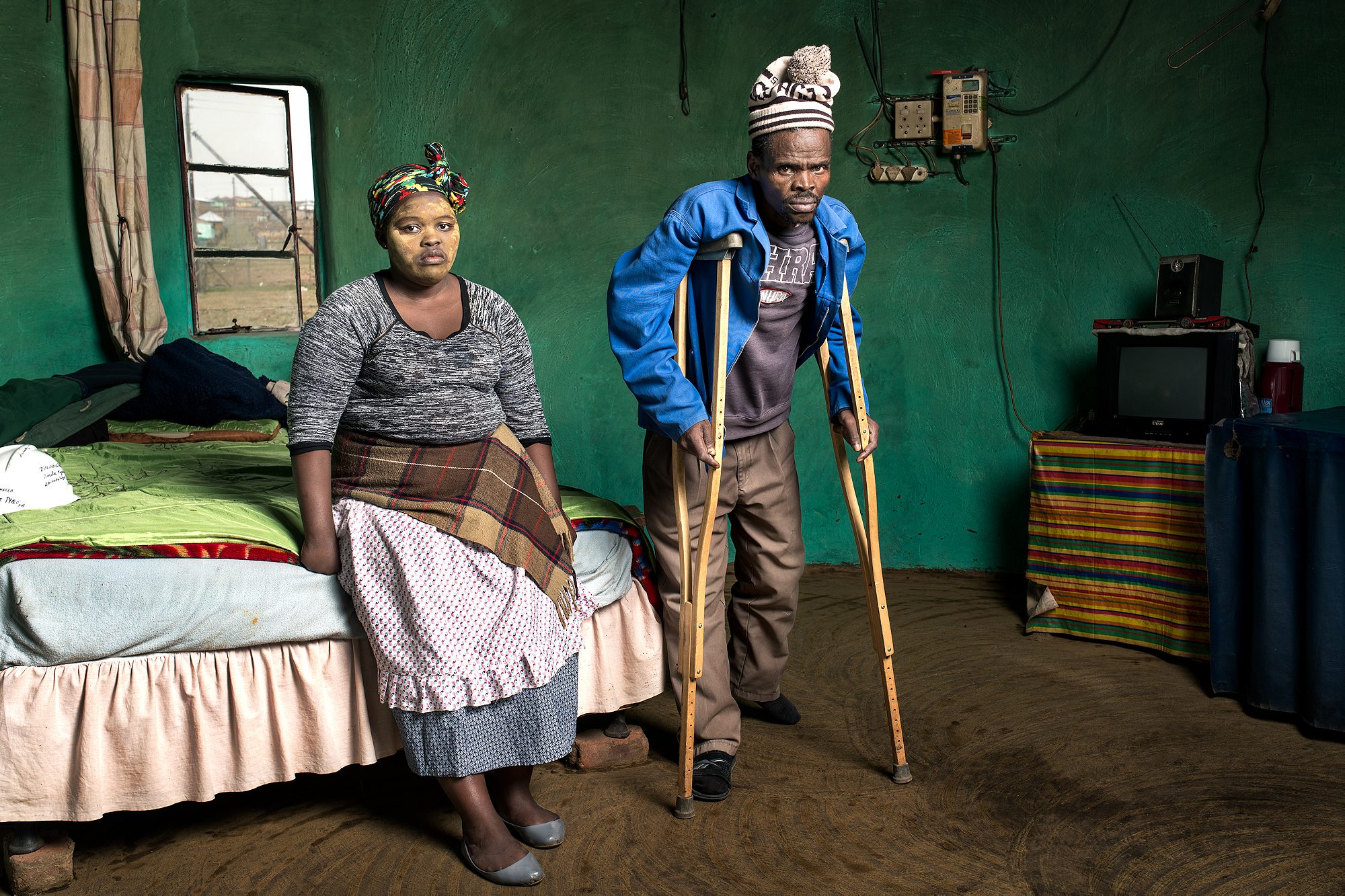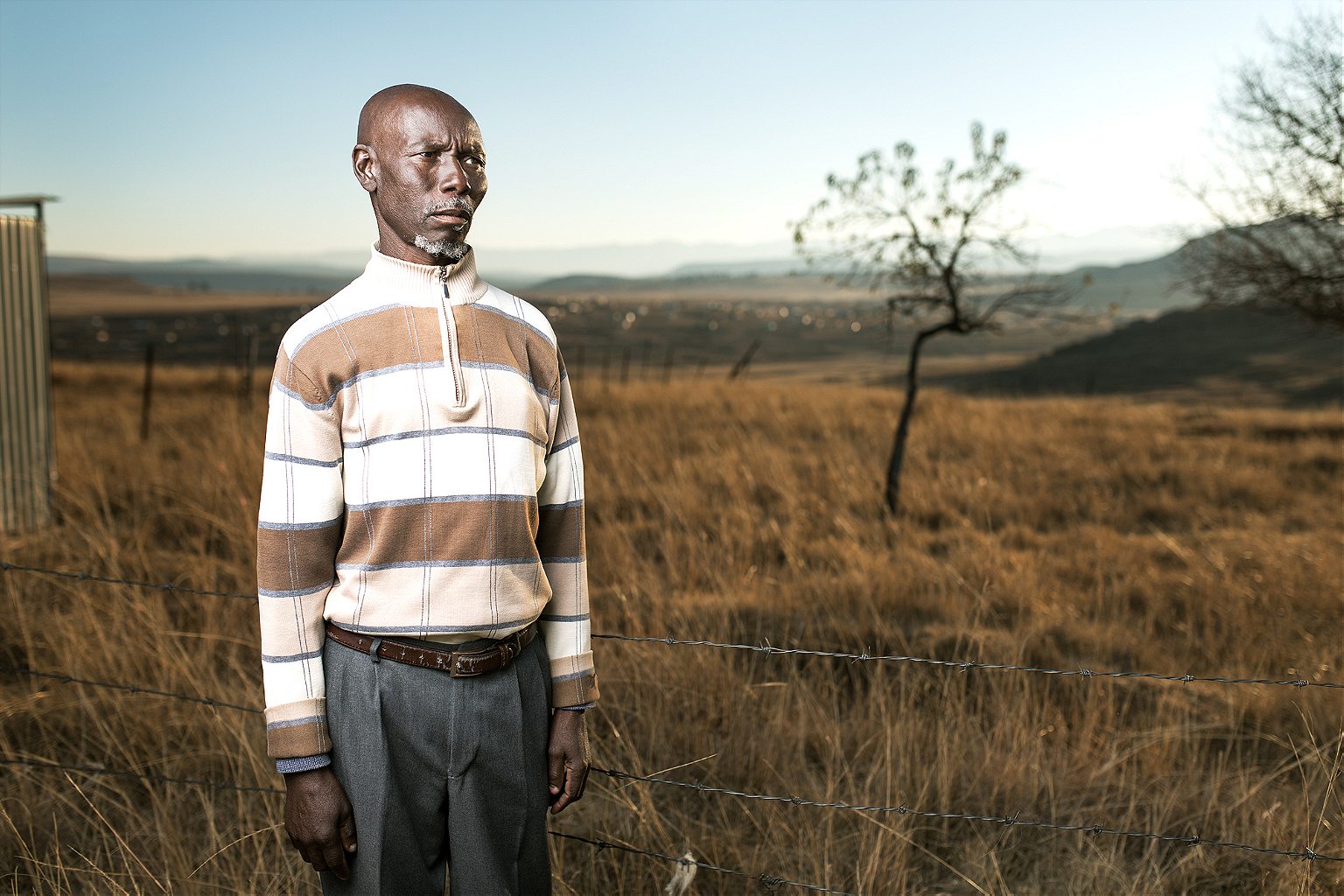 I spent at least an hour with each person before taking their portrait, talking and asking questions about their lives. The majority of the miners I met started working there out of a sense of desperation. They were denied a good education and many needed to start supporting their families early on. A job was hard to come by, but the one place a young black man from a rural area was likely to find work during apartheid was in the mines.
As soon as we crossed the border into Lesotho, the landscape changed. Many of the houses there are made of stone and horses are a common form of transport. The roads are windier, and people seem to drive more slowly, but the distances are just as vast. If you want to find someone in this country of hills and valleys, you simply ask a passerby to shout across the valley at the top of their voice. Someone else will reply at the top of their voice, and it goes on like that until the person in question has been located.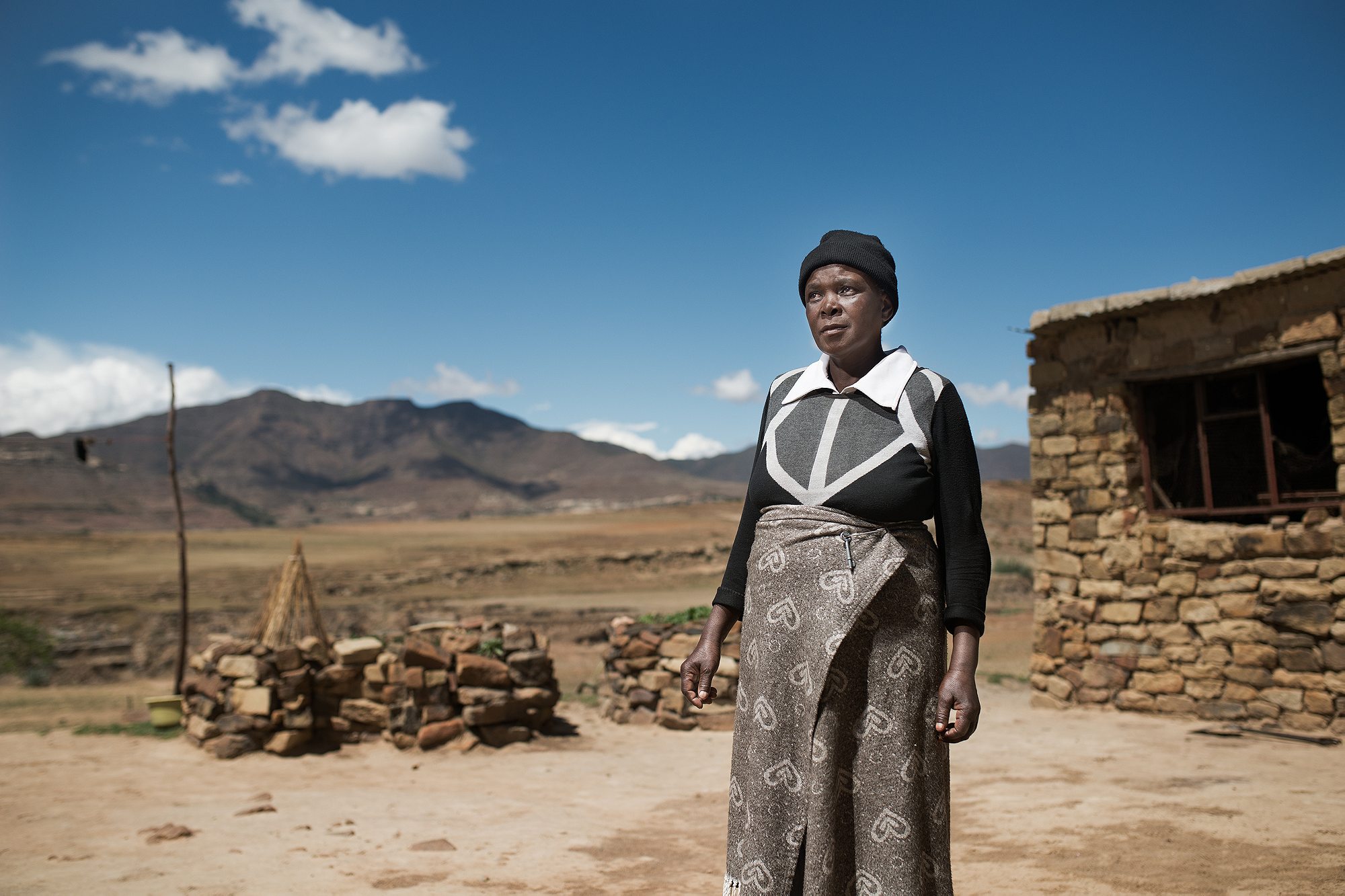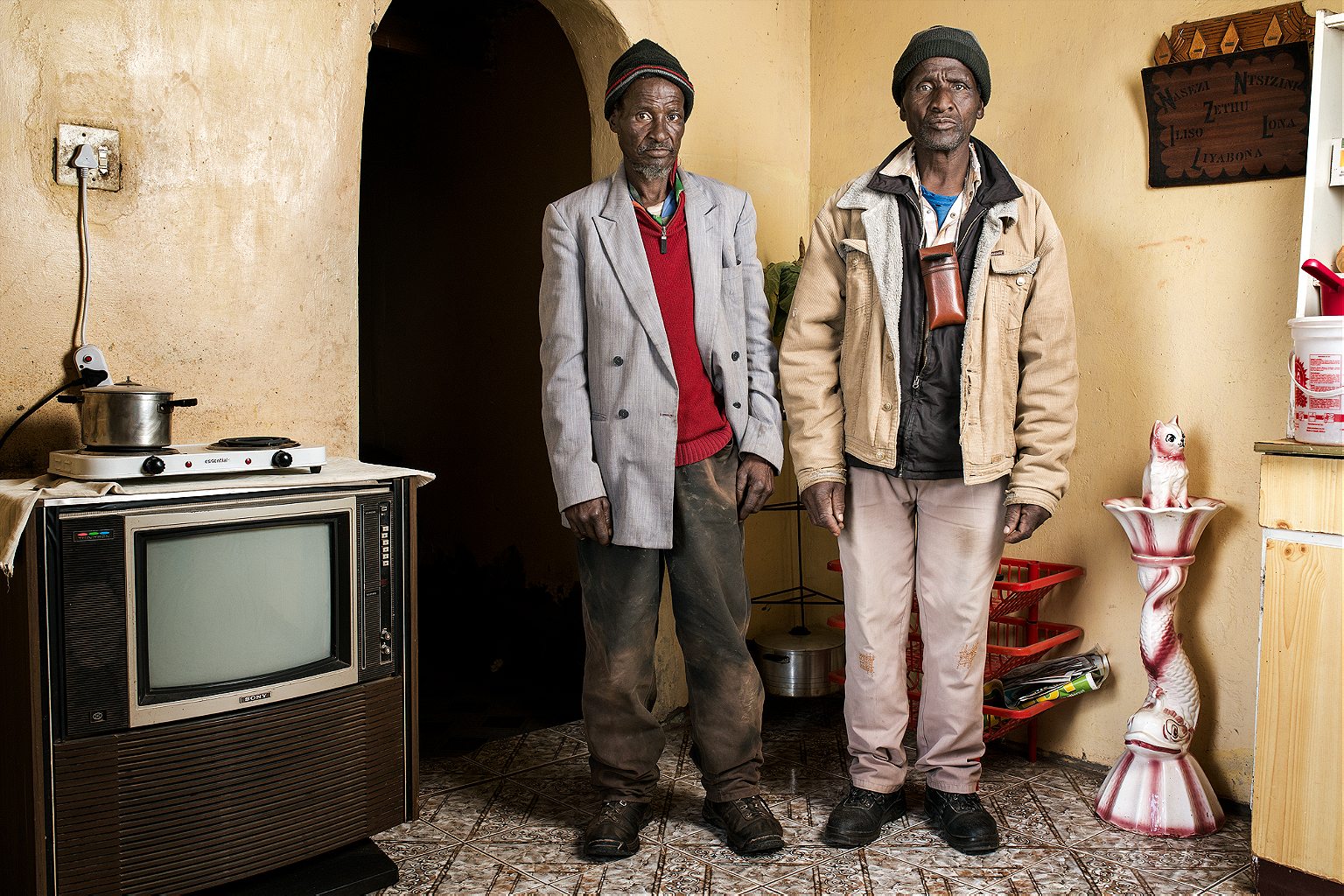 The images were hung in a pitch-black room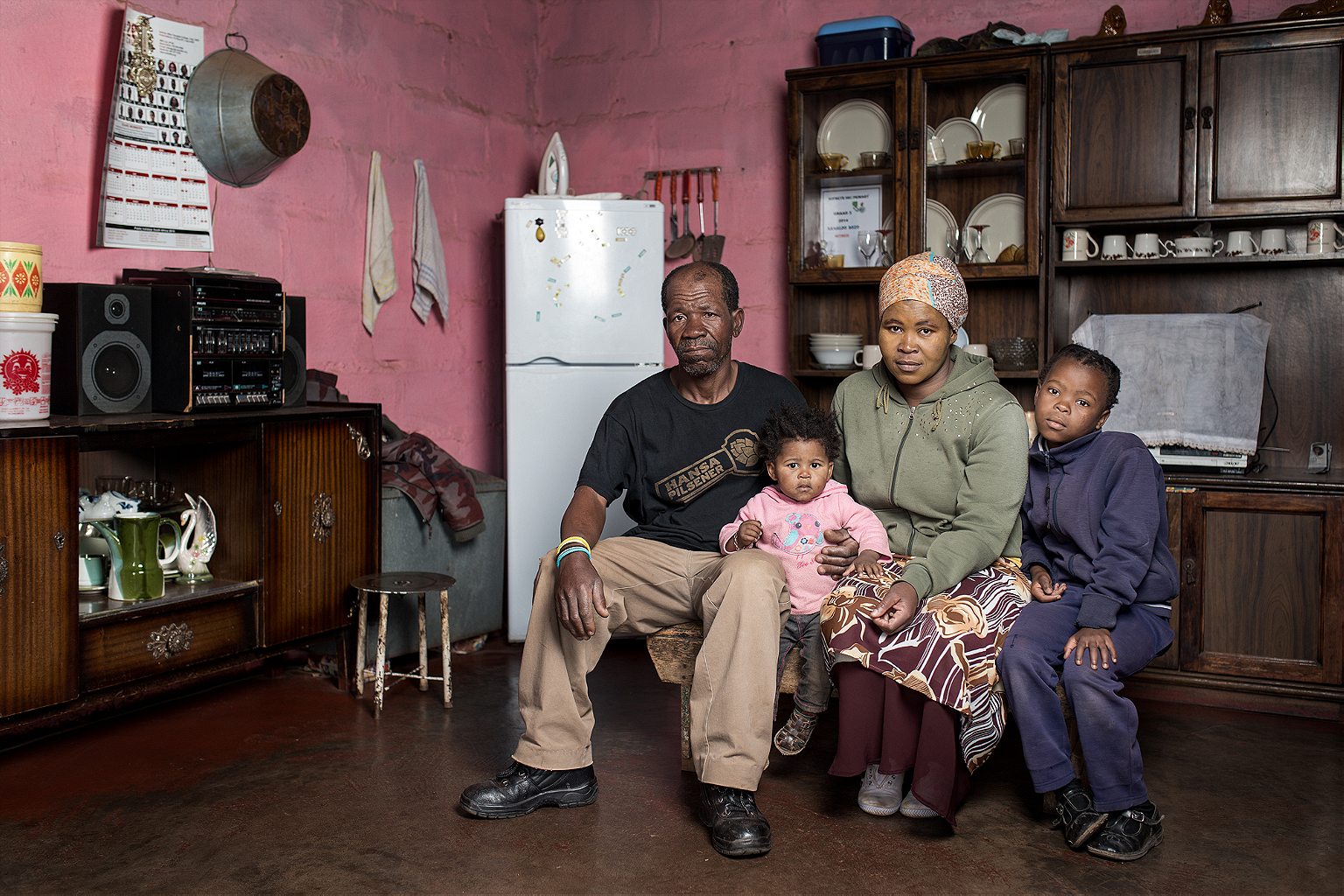 We had a long list of people to visit. In some cases, we photographed the widows or children of the men who had died. In Lesotho, we spent hours trying to find one of the miners, talking to his neighbors, shouting across the valley, hiking up and down the hills, asking everyone that we could find in his village, but in the end we had to give up. I felt like I had let him down. The value of the project for me was that it gave everyone a voice.
Four days after the end of my journey, I put on an exhibition of 56 portraits with the help of volunteers from the Treatment Action Campaign in the basement of the Central Methodist Church in Johannesburg, next door to the High Court where the hearing was taking place. Everyone attending the court case, including those representing the mines and the miners, were made aware of it. In the evenings, lawyers, court clerks, and members of the public came through to see it. The images were printed in large format and hung in a pitch-black room with only the light from miners' helmets to view the images. A soundtrack of them breathing, which I had recorded in the field, was played over speakers to complete a fully immersive installation.
The hearing ended two weeks later. Judges from the High Court are currently deliberating their decision, which is expected imminently. If the class action is granted, the number of potential claimants that it will represent is estimated to be over 250,000.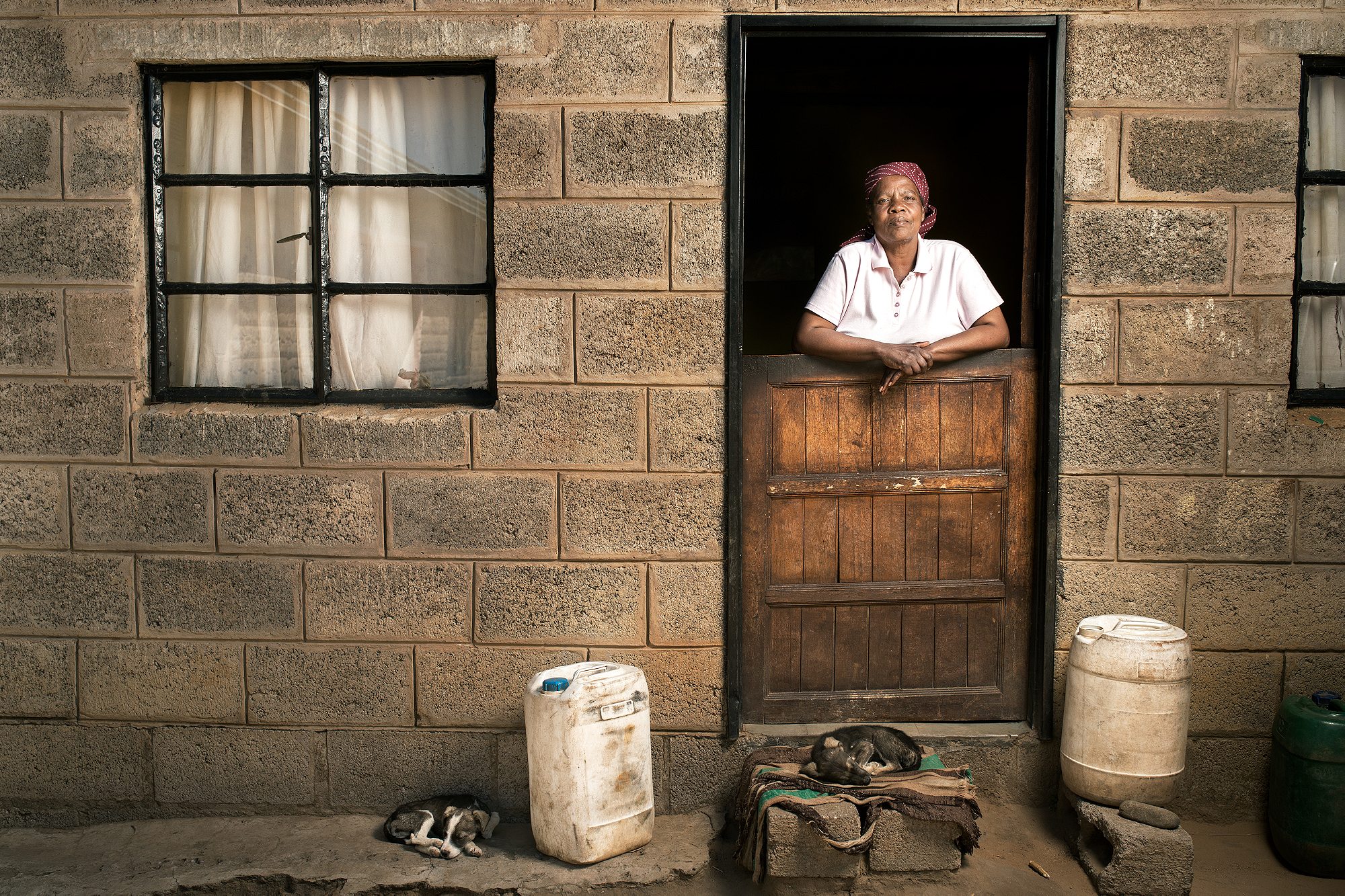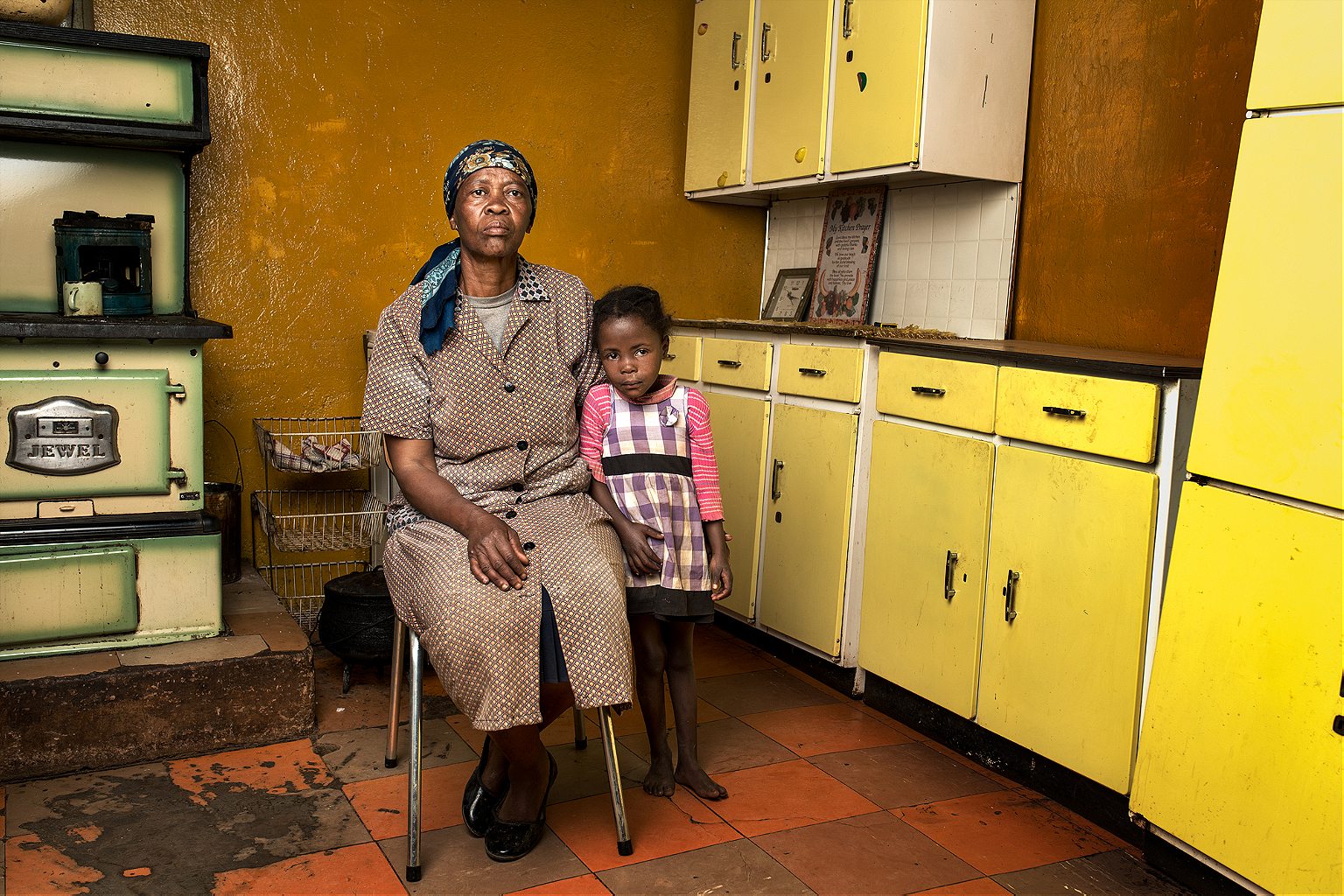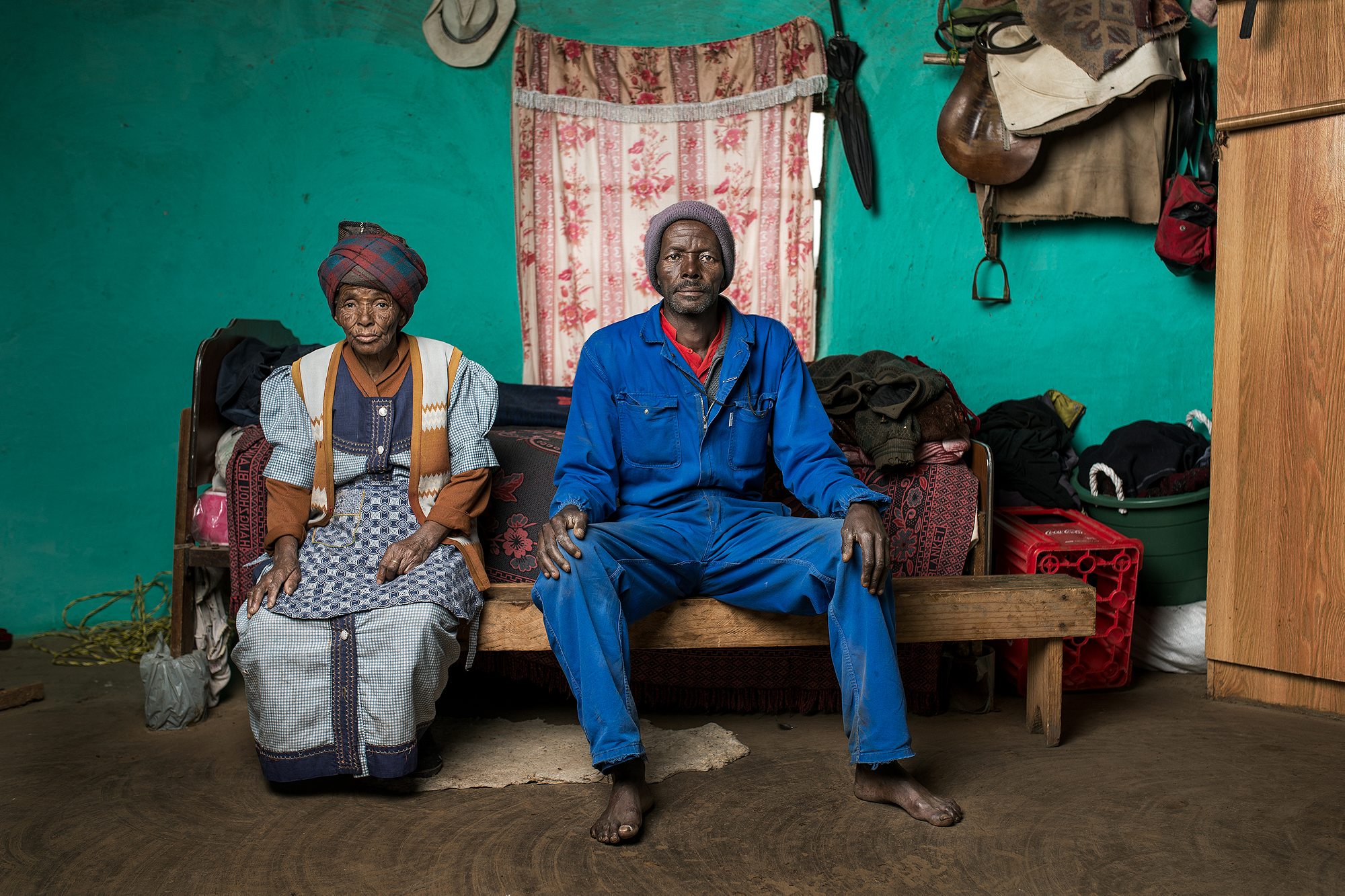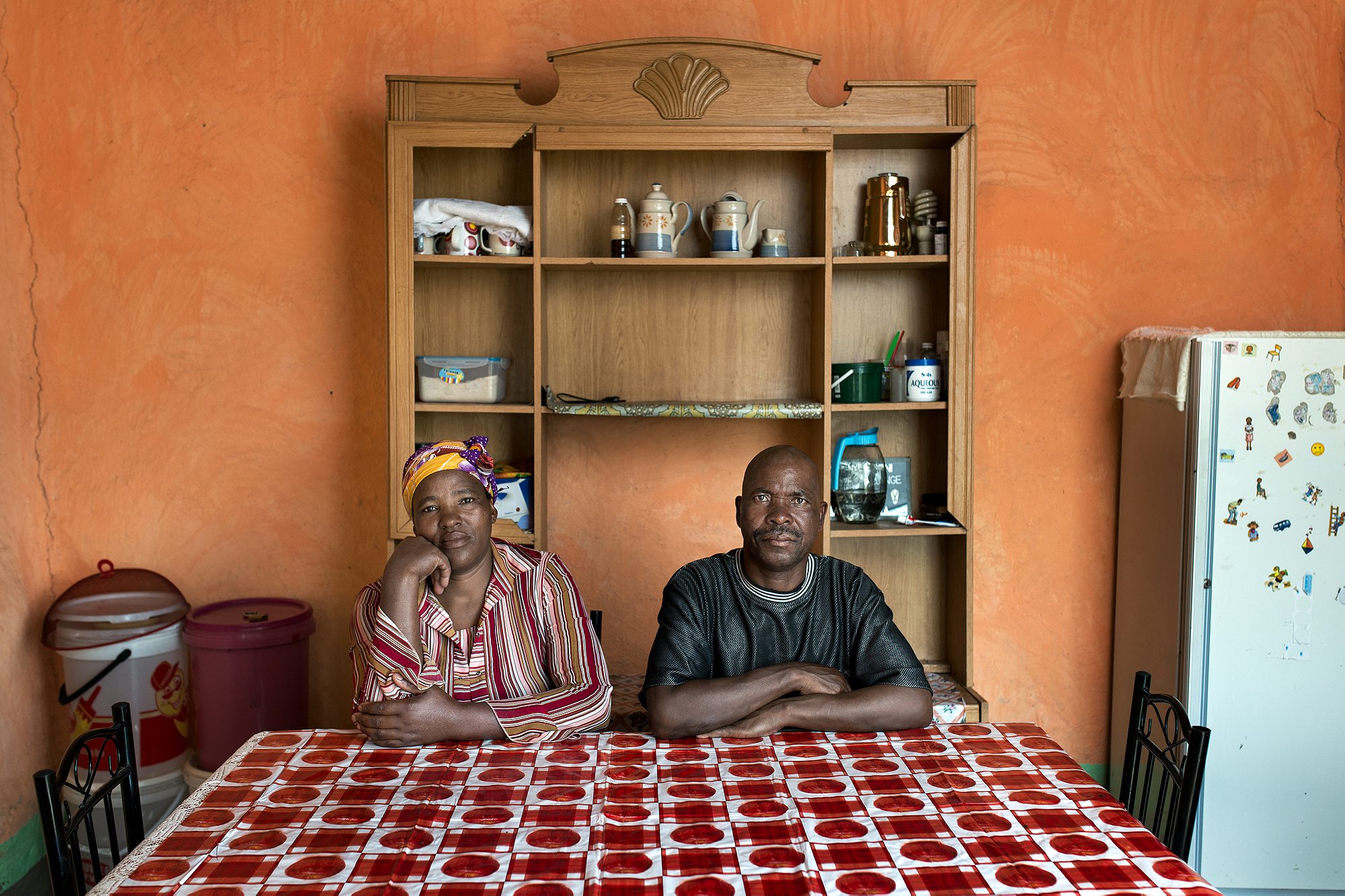 Visit www.thompierce.com/tpog to view the series in its entirety.