Moscow Mules in the Middle of Nowhere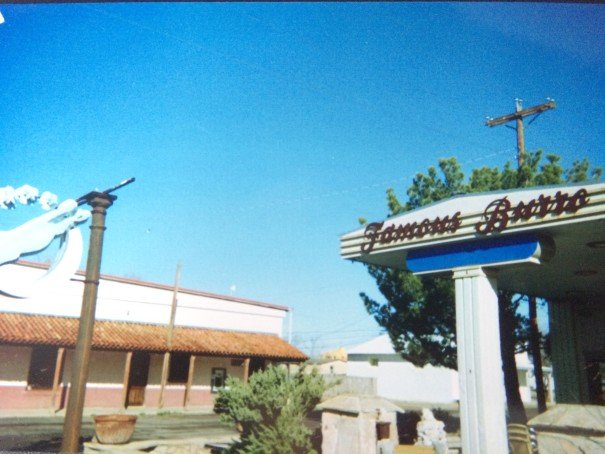 Moscow Mules in the Middle of Nowhere
Vodka and Ginger in Marathon, Texas
Somewhere between Ozona and Fort Stockton my boyfriend gripped the steering wheel and tapped the brake to re-engage control of the car. Large yellow signs indicated danger: "Caution, Strong Cross Winds". You could hear it whistle. Eighteen-wheelers whipped around. Fearless crew cabs passed on the left, their wheel wells as high as the roof of our crossover hatchback. We weren't in Austin anymore.
A few minutes after noon earlier that Friday, we hit the road and headed west from the capital of Texas. Destination: Marathon. Tires full and the back seat a jumble of Valero's finest gas station fare, I manned the radio and he kept his eyes on the road. The trip would be quick. We'd explore a bit, and be back in time for Super Bowl kickoff that Sunday.
A few hours after leaving home, signs of life dwindled. Our journey bordered on high-speed circumvention of rocky outcroppings and thousand-acre ranches. Dusk settled and in the distance, flickers of light suggesting a tiny spit of town came into view. We pulled in. On one side, unguarded wire racks with koozies and wooden figurines, an art gallery showcasing dramatic black and whites, The Gage Hotel, and a hole-in-the-wall called the Famous Burro. On the other, 656 miles of scrubland before Mexico. We set our bags down, checked into the hotel and headed towards the Burro.
The Famous Burro is a stucco building two blocks away from the end of the main strip in Marathon. Open from 3pm to 11pm on good days, and TBD during slow times or when the owner's been over-served, the Burro dishes out fried pickles, chicken wings, and their famous Blue Burro Burger. From what I could tell, we were visiting what appeared to be the county seat for eating, drinking, and good gossip.
The town of Marathon is a one-road, two-lane stretch of interstate running parallel to a now-defunct trans-continental railroad line in Brewster County, Texas. In the early days of the Wild West, the railroad regularly delivered people, provisions, and prosperity. These days, things are a little different. Marathon's connection to the outside world is limited to spotty cell service, and the USPS that sits sentinel at the end of the town's main drag. News is delivered on more of a need-to-know basis than we're used to back home, and most folks are alright with that.
My boyfriend and I wandered through a colorful patio of mosaic tables to the front door of the Famous Burro. We heard jukebox music from behind a neon "Open" sign, and marveled at the similarity between the awning column and something you'd see inside a Greek restaurant. "Famous Burro" in scripty letters on the architrave illuminated the stretch of sidewalk below. Naturally, a blue stucco burro jumped over a half-moon.
"After you." My boyfriend held the door open and we were welcomed into a dimly-lit room with exposed wooden beams and low, sticky tables with mismatched chairs that backed up to the bar. The clock was a few minutes off.
"Sit wherever you like." Four Marathon residents were the only other patrons at the bar. The bartender rushed around the bar with two plastic menus and made his suggestions. "We've got beer. And really good Moscow Mules."
We went with the Mules.
Delivered in pint glasses and heavy on the vodka, the ice melted quickly. It went without saying you sipped these Mules slowly—Burro-style. "Cheers." Clink.
That night, local shop workers, artists, and sous-chefs drank and laughed to the sound of college basketball and Merle Haggard. A woman with wild hair and a handicraft-style shawl hunched over the bar next to a leather-faced man in Wrangler jeans and roper boots. A younger man joined a little later, followed by the woman who, from what we overhead, worked at the gift shop. Foot traffic had been low that day and she'd been in and out of the bar all afternoon. Not drinking, just catching up. The group sampled saccharine shots like connoisseurs evaluating fine wines. Raucous laughter. A bag dropped to the concrete floor. More laughter and calls for the offending neighbor to pick up the next round. They'd be here all night.
Travelers are put to the test here. Running like clockwork isn't an aspiration, and visitors have no choice but to slow down. When we arrived, we were ready to fill our short time in town with as much as we could–art museums, hikes, afternoon bocce ball competitions, postcards, and those books we'd been meaning to read. What we discovered was a destination that demanded we suspend our expectations. It was hard. But we had 398 miles of cruise control to let go of the last emails we'd sent, the Slack messages and push notifications that we hated to leave unacknowledged–the frustrations of the day-to-day as low-level software employees. At first, the miles felt like an eternity. Cell service dropped. I flipped through dwindling radio stations. But as the lights dimmed behind us, we let time slip a little and settled into something more circadian.
Back at the Famous Burro, we ordered another round. Our voices mingled with laughter of the locals. A storm rolled in. There wasn't much to do but wait it out.