Don't ask for BBQ sauce at Smitty's or for a fork.
The people who run Smitty's were echt Germans once, the same as my people. One of my forefathers was a teenaged stowaway on a steamer from Bremerhaven that docked in Galveston; before long he lived in the Texas Hill Country as did his descendants. We don't actually know much about that part of the family, except that they drank.
I so wish that they were eaters, not drinkers: Brisket Germans, not Beer Germans. Then they would have been the kind of Germans that these Schmidt and Mueller and Kreuz people were, the people of Lockhart, Texas.
The Texas BBQ tradition began in the backrooms of butchers and grocers throughout the state. In the days before refrigeration, they would slow-cook unsold meat that they otherwise would have had to throw away. Now, Lockhart—named for the first Anglo who set foot in the Caldwell County—isn't much known for its grocery stores. But it has three of the most famous BBQ joints in the state, or perhaps the country: Kreuz, Smitty's, Black's. And at 30 miles outside of Austin, they are quite possibly the perfect pilgrimage for anyone trying to escape the hype-swamp of SxSW.
I've now been to all three of these titans—Smitty's twice and Black's and Kreuz once—over the past two years, and I'm ready to deliver the verdict that will end this post: the winner is Smitty's*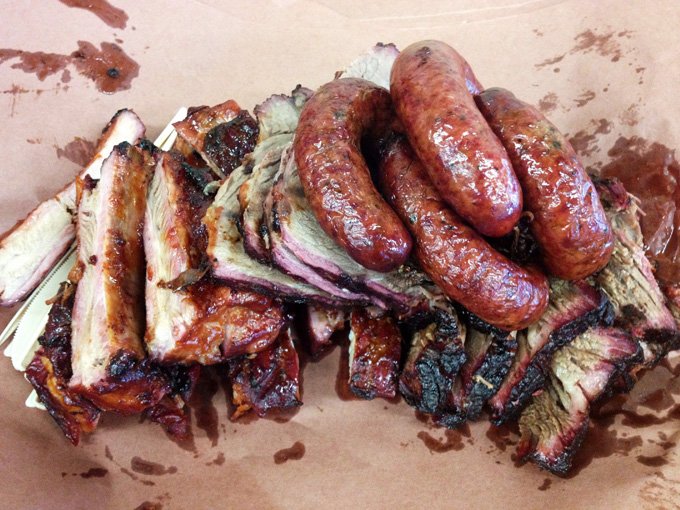 *And now for the overlong qualifier to that ruling. Black's deserves a co-prize, or perhaps a separate category, because it serves chicken, and Smitty's doesn't, and the chicken at Black's is of a moistness that cannot be explained by standard chicken-physics. Kreuz is not bad, but it's cavernous in its new location, and it has such heavy heavy competition that to be third in the race of three is actually not nearly as bad as you might think. And Smitty's does get a boost from mere atmospherics alone. I love the long hooded firepits of Kreuz, but Smitty's actually makes all its customers tiptoe past an open mesquite fire, as if to engender some sort of empathy or deeper connection to the brisket you're about to eat. The customer is half-smoked by the time he or she reaches the counter. And in an age of liability laws and lawyerdom, an open fire without so much as a grate protecting all who come is itself a thing of beauty, a throwback. As is the Lockhart way of serving meat, bare on butcher paper, with a halfloaf of wonderbread and perhaps a block of cheddar. In our party, there were differing opinions about which part of this meatpile was the best. There were sausage devotionalists—I do believe Matt Bean Kelly Hines suggested making a necklace out of it and Matt Bean thought it would make a nice present for his girlfriend. This brisket, and its perfect balance of meat and fat, was my favorite; my daughter was likewise smitten. The ribs themselves won my wife over, because they are like ribs you might find elsewhere in creation, just better. Don't ask for BBQ sauce at Smitty's or for a fork: anything that would stand in the way of the intimacy between mouth, fingers, and beef is, as my people used to say, verboten.
UPDATE! I could blame the retrograde amnesia caused by such massive protein overdoses, but I falsely identified the progenitor of the beef-sausage-necklace idea. It was Kelly Hines, our host and friend, who first suggested putting a Smitty's sausage on one of those SxSW lanyards. So patent lawyers, sharpen your pencils: the idea was Kelly's first (as was the idea for the whole trip to Lockhart this time, for which we are deeply grateful, even if we have funny ways of showing it at times).