Bourbon and brisket, pork jowl and picklebacks: London is diving deep into barbecue at the moment.
Britain has a dirty little secret: it's binging on barbecue.
I'm acutely aware of this craze as I stand outside Pitt Cue Co, a tiny barbecue joint tucked away on a street corner in Soho. Dozens of people have assembled in a queue that wends its way from the wooden front door down a cobblestoned street. Apparently the restaurant's no-reservation policy hasn't deterred the mass of happy people smoking and sipping cans of cider curbside.
These eager punters are here for the magic that is Tom Adams' grilling. Pitt Cue's 25-year-old English chef has taken up the tongs to deliver a uniquely British barbecue experience in a city that is currently experiencing a cult-like obsession with all things smoked. Despite Adams' age, he's been at this business for a while. At 16, Adams built his first smoker out of old dustbins at his family's farm in Pitt, Hampshire—the restaurant's namesake—where he was raised.
"I had no idea what barbecue was then," Adams said.
What started as a hobby led to a food truck and a renowned restaurant in Central London.
What started as a hobby—an interest in butchery, charcuterie and curing meats—led to a popular food truck and blossomed into a renowned restaurant in Central London, which was just rated best value menu in the city by Zagat.
Pitt Cue is one of the many restaurants wrapped up in London's current barbecue wave. Pub menus, festivals, markets, and street food dedicated exclusively to "American-style" meat menus are cropping up across this city. Barbecoa, Bodean's BBQ, The Rib Man, Blue Boar Smokehouse, Red Dog Saloon, Porkys, Miss P's Barbecue, Smoke Stack and Texas Joe's are just a handful among a groundswell of recent barbecue upstarts.
Adams' restaurant is a gem among this pack of purveyors. Pitt Cue began modestly in 2011 as a food van underneath Hungerford Bridge, on the South Bank of the Thames. After setting London's street food scene on fire, the restaurant has successfully transitioned to its hip brick-and-mortar space that sits steps from London's popular shopping district, Carnaby Street.
Peeking through the white lace-curtained windows at the swarm of customers crowding the first-floor bar, it strikes me that this establishment is undeniably trendy for a place where you eat with your hands. A server tells me that it's an hour wait until the next available table downstairs, but to come inside and hang out at the bar.
In a show of what can only be described as Southern hospitality, the bartender pours me a pickleback: a shot of Heaven Hill's sweet, smoky bourbon, followed by a shot of tangy pickle brine. I like it.
The drinks menu is dominated by bourbon mixology, a nod to the Georgia-roots of Adams' business partner Jamie Berger. I opt for a "Camp America" cocktail with the idea that it will weave into a narrative of US-inspired fare, but Pitt Cue turns out to be anything but.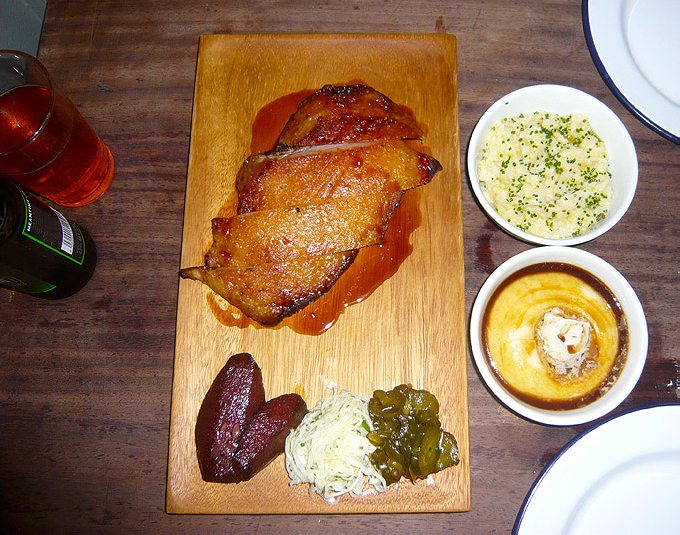 Starters on white tin plates stack up in front of me, all of them unexpected: a pork jowl scrumpet (read: piggy fish-finger) served with apple ketchup; sourdough slathered in a beef and bone marrow spread made of feather blade and ox cheek and topped with pickled shallots; fat strips of bacon cured for three days and smoked for six; and sticky caramel beef ribs.
After gorging on appetizers, I'm guided into the cozy dining space downstairs, where two-dozen people sit cheek by jowl at wooden farm tables. Before ordering, I sneak into the cramped kitchen quarters where I corner Adams with a few first impressions. Adams shows me around the gleaming stainless steel interior, which boasts a wood smoker, charcoal grill, and freezer.
"There is no real culture for barbecue in this country like there is in the States, but there is an appreciation for it," Adams says, while plating a pig's head sausage with a side of green chili slaw. "For us, it's as much a technique as anything else. That's the kit that we have, so that's what we do. And we do every around that."
To understand Britain's relationship with barbecue, it is worth looking back at history. According to Robert F. Moss, in his book "History of Barbeque in the US: An American Institution," British colonists' adopted barbecuing techniques from Native Americans in the 16th and 17th centuries. The cooking style, which quickly spread across the English colonies, never took on the same cultural connotations back in the British Isles. While barbecue became engrained in local gatherings and regional American traditions, it fell flat in the UK—that is, until recently.
The US may be criticized for its "fast food nation" status in the rest of the world, but in London, American staples from burger joints to hot dog stands have found a niche. Barbecue is just the latest in a line of high-calorie comfort food to be popularized and pawned off on consumers here. Brits have managed to make these downhome food standbys posh, and gourmands can't get enough.
"Europeans have been roasting meat over spits for a while," Moss said. "But this way of cooking whole animals over an open fire for long periods of time was something new, and was described as a most un-British feat."
While some in the UK may still describe barbecuing as "a most un-British" pursuit, Tom Adams is putting his own uniquely English stamp on the American tradition.
Case and point is the dish he selects for our main course: cured and smoked jowl for two. The massive pork cheek collapses on contact with your fork. Paired with bone marrow mashed potatoes, this meal makes American barbecue look restrained. Between bites, I catch the eye of a bearded man sitting at an adjacent table, who has bits of pulled pork in his whiskers. He smirks as if to say: "I know, but I don't care."
There's no point trying to replicate 'Americana BBQ' in London.
As I sit and digest, I think about a previous conversation that I had with Adams about a reconnaissance trip he made to the Southern states. After one meal at Smitty's, a Texan barbecue mecca that features concrete pits and open fires, he concluded that there's no point trying to replicate "Americana BBQ" in London.
"It was important to go there just to see what we shouldn't do, to show us we should be British," Adams said. "If you try to do a copycat Americana thing straight up you're just going to look like an idiot."
This became apparent to me as I sifted through the menus of Pitt Cue's competitors, stopping in for bites at a variety of "Deep South" inspired barbecue joints across the city. Many of these eateries offer chargrilled cuisine with recipes splintered along regional American lines: like Texas, Tennessee, and Atlanta. Among these was Memphis-themed Porky's BBQ in Camden, which is decked out in Americana kitsch—think posters of Johnny Cash flipping the bird and Motown stars.
Despite cooking their meats low and slow in a smoker imported from Oklahoma, the tough pieces of pulled pork arrive in a pile of hunks and lack the juicy quality of traditional caramelized strands. The St Louis cut pork ribs underwhelm with a mildly sweet, red, sticky sauce that can't hide the blandness of the meat below. Memphis is famous for its pulled pork-shoulder drenched in a sweet tomato-based sauce, and Porky's makes a valiant attempt at that. But as Adams cautioned, it's just not the same as the real thing.
The risks are sizeable for restaurateurs trying to recreate traditional American barbecue on UK soil. A lot can be lost in translation from one side of the pond to the other, especially when focusing on regional barbecue styles. If your final product smacks of imitation, it's easy to lose a following fast. But for US transplants like "Texas Joe," the market is ripe for the picking.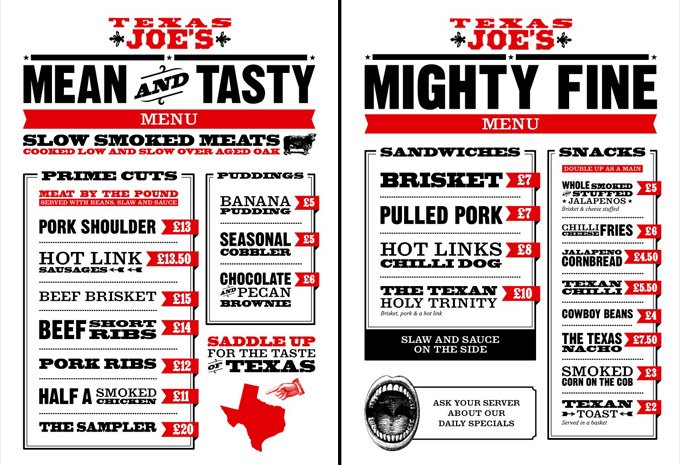 Texas Joe's menu, Shoreditch
Joe Walters, a Dallas native, is sitting casually in a booth at an east London bar when I meet him for the first time. Wearing jeans, a blue shirt dotted with white stars and a Stetson, he's not difficult to spot. Walters capitalized on his Lone Star State roots by introducing the first Texas-style barbecue to Britain with his pop-up restaurant at BrewDog bar in Shoreditch. After appearing on BBC's reality television show "Dragon's Den" in August wearing a rhinestone suit, Walters has gained a lot of notoriety. Despite successfully pitching a business plan to a host of venture capitalists on the show, his funding was never secured. But in October he struck out on his own to launch "Texas Joe's" beef jerky business. As Britain's love affair with barbecue grows, Walters has high hopes for Texas Joe's to become a retail and dining destination across the UK; with menu items including a killer "cowboy" brisket it's easy to see him achieving this goal.
While Walters believes that this trend is here to stay, he predicts that restaurants and food trucks riding the barbecue bandwagon will start to fall by the wayside as more qualified chefs enter the London scene.
Back in Pitt Cue Co's snug dining room, Adams laughs at the idea that he's a trendsetter. Despite the wave of barbecue places that have popped up since his restaurant first opened, he says he finds it hard to believe that Pitt Cue kicked off all the hype.
"The strength of the trend will depend on what people do," Adams says. "If people just try to replicate exactly what they see in America, then that trend will be easy to extinguish. But if people sort of use it as a technique and then do whatever the hell they want to do with it, I think it will become something a bit more exciting."