Inside China's booming purebred dog show scene.

HENGDIAN, China–
At 8 a.m. under a cloudless blue sky, visitors streamed onto the grounds of Hengdian World Studios, the largest movie back lot in the world. The 330-hectare site sprawls over several sets, each built to resemble certain historical periods or geographical locations: nineteenth century Guangzhou, twentieth century Hong Kong, a Qin dynasty palace. It includes a one-to-one scale replica of Beijing's Forbidden City. The lot's first movie set was built in 1996 for the film The Opium War. Subsequently, it has hosted shoots by such famous directors as Zhang Yimou and Chen Kai-ge.
A small city in Zhejiang province, 200 miles from Shanghai, the back lot is pretty much all Hengdian has going for it. "Go to Hengdian to see the stars," the studios' tagline reads, but on this autumn morning, the crowd of tourists making their way to the imitation Tiananmen Gate missed the 27 furry ingénues nearby awaiting their moment in the spotlight.
Under a cluster of red canopies, small tables were set up, equipment unloaded, electric fans and hairdryers plugged in. A golden retriever, a chow chow, and a miniature schnauzer each stood, patient and unflappable, as groomers pored over them with brushes, scissors, sprays and blowers.
A 12-foot banner proclaimed the occasion: "the 367th through 370th installments of the National General Kennel Club (NGKC)'s China National Purebred Dog Super League," landing at the Hengdian World Studios this weekend. Held in a different city each week, the Super League had just come from Suzhou and Nantong to the north, and would travel through Wuhan, Beijing, Guiyang, and Shanghai in the following weeks. Since the NGKC was established in 2005, its membership has increased every year. In 2015, it had about 3,500 members, mostly commercial breeders. The NGKC has been formally affiliated with the largest kennel club in the world, the American Kennel Club (AKC), since 2008.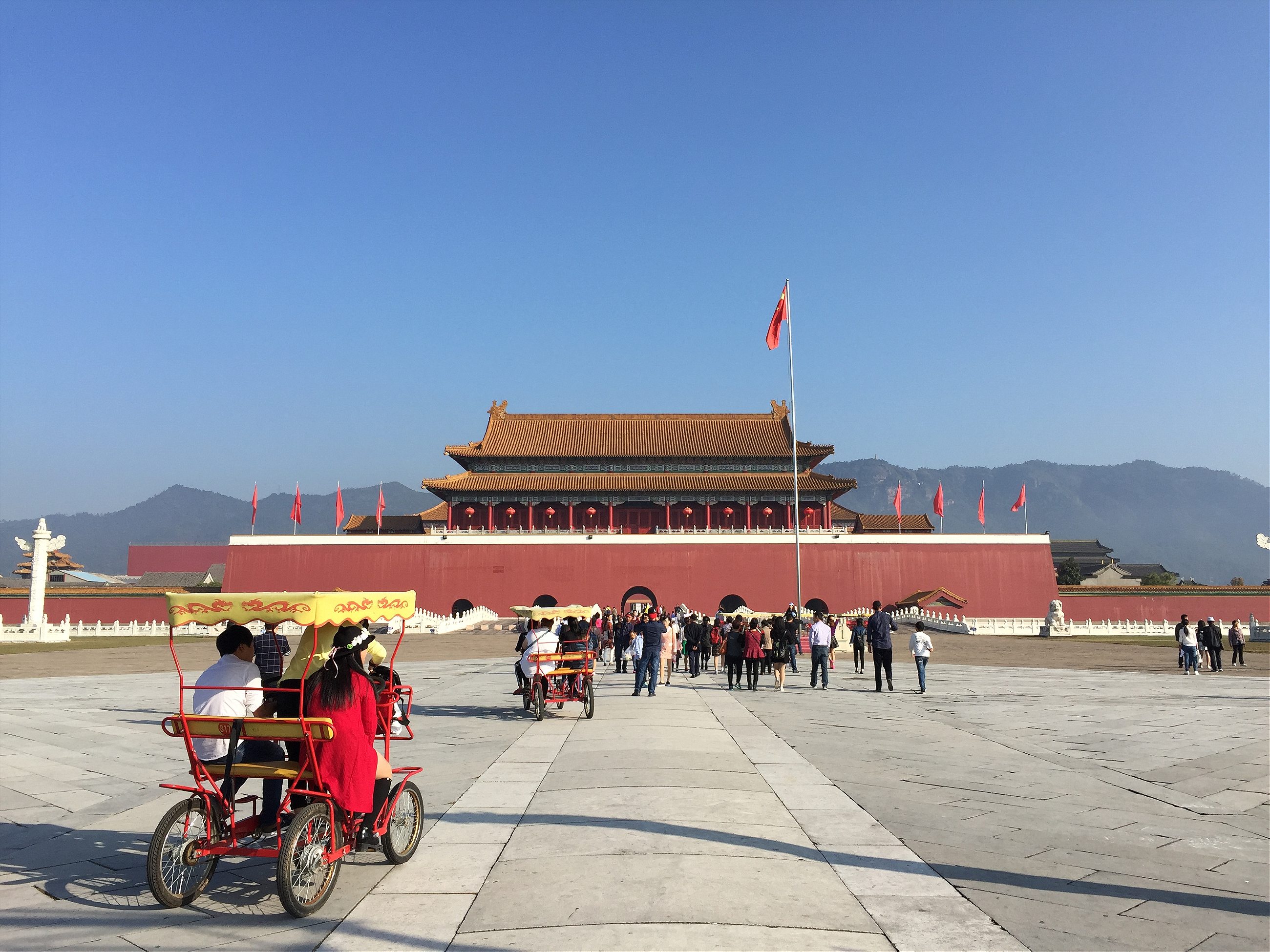 As China's middle class has grown, pet ownership has also soared. Approximately 534,000 pets were registered with the Beijing Public Safety Bureau in 2006, rising to over a million in 2011. In 2015, 100 million pets were registered in China, which means about one in 13 people own pets. Interest in dog shows has boomed as well: According to Vicky Zhao, the NGKC's translation department manager, the organization planned more than 400 shows in 2015, up from about 200 in 2012.
At the NGKC Super League, the dogs are called out in turn to the ring, to pose and trot before the judges. After studying each dog, judges rank them according to how well each "conforms" to the published "breed standard." The awards later conferred (i.e. "Best in Group," "Best in Show) translates to points. A dog that has earned the requisite number of points from different judges is eligible for the prefix "CH" before its name indicating that it is a "Champion of Record."
Under the canopies—among the grooming equipment, bright squeaking toys, and camper chairs—heavily-pregnant Wang Yi and her three-year-old daughter passed the time on their phone and tablet. Wang and her husband, who live in Huzhou in Zhejiang province, used to own a pet shop but were now moving into commercial breeding. This was their first foray into competitive dog shows, she said, although they had participated in non-competitive, recreational pet shows over the last six years.
Zhao of the NGKC noted that most NGKC members and competitors were commercial breeders. A winning dog bolstered its breeder's reputation; its offspring could fetch better prices.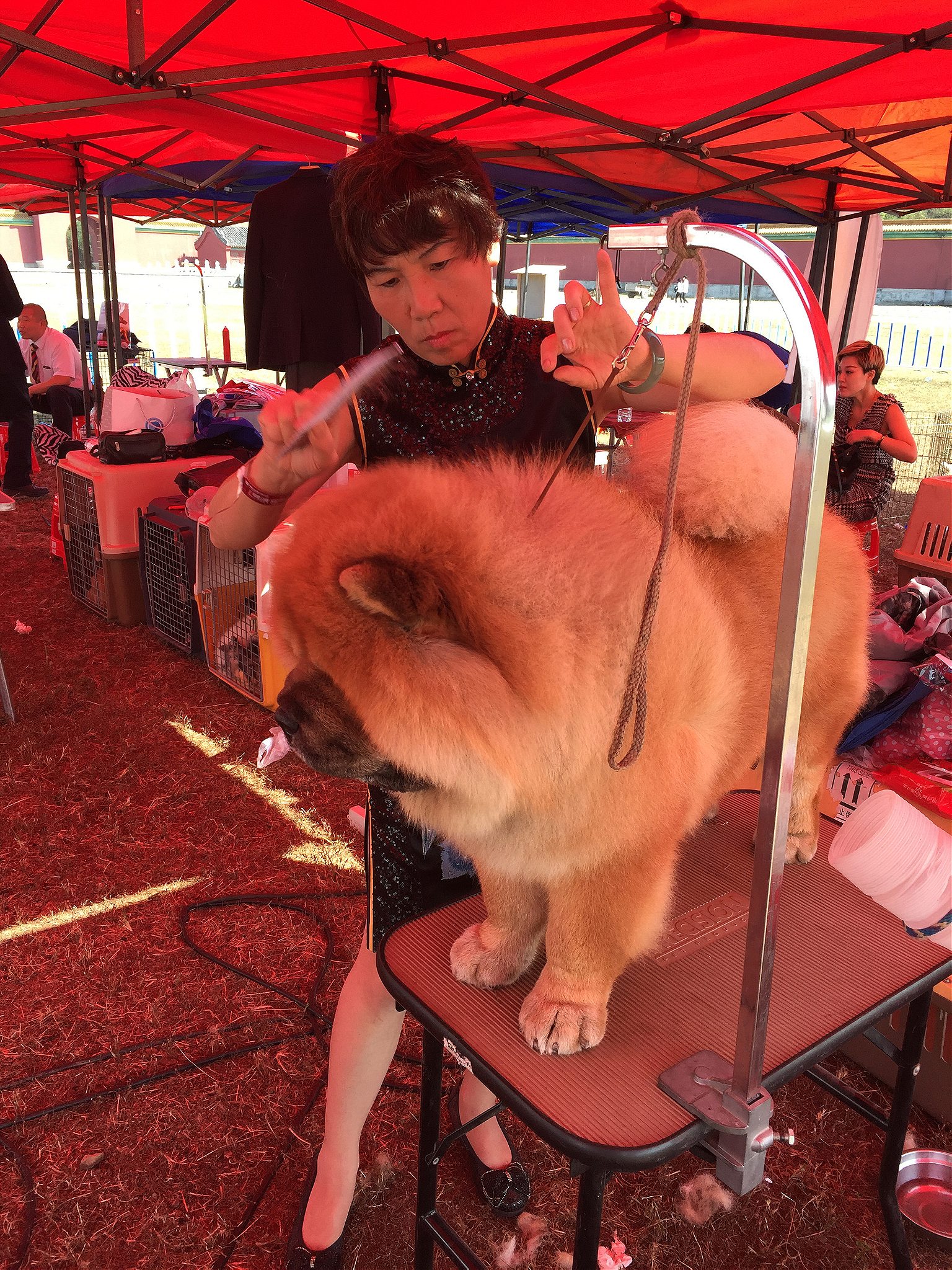 At the uncovered arena, the competition was underway. The golden retriever lopped effortlessly around the ring; the bichon frise twinkled along, light and white as marshmallow puff; the Pekingese, top dog on the NGKC table in 2015, ambled after its handler, its fur coat rippling like a sinuous manta ray. The judges awarded gaudy rosettes of blue, yellow, red and purple in snappy, business-like exchanges.
Zhao added that there was a minority of competitors who were not commercial breeders. She compared them to owners of racehorses: they cared about status and ranking, not so much commercial gain.
Manfread Chan, the Hong Kong owner of Golden Leader Kennel, agreed that some people viewed show dogs as a "commodity." In his case, he said, the kennel was not his primary source of income and his interest in these competitions was personal, not commercial. He spent most of his morning smoking backstage, emerging now and then to watch his golden retrievers put through their paces by his partner Lin Shengyang and an assistant.
When not competing, the dogs rested in crates backstage, where the shade glowed a deep red from the climbing sun. They took the constant grooming, fussing and manhandling in stride. A perfectly combed spaniel was forbidden to roll over. Clumps of fur floated to the ground.
Dog shows might be beauty contests for dogs, but their human handlers must also be presentable supporting actors. Lin, running alongside Robben the golden retriever in the ring, was carefully put together in a suit and bow tie, slick hair, black glittering sneakers. Wang's husband was as impeccable as their miniature schnauzer in a slim suit and ponytail. The male handlers wore suits, sweating in the heat. Women wore the traditional Chinese qipao.
To complement her Chinese breed, the sturdy chow chow, Yang Ling wore a black qipao with yellow trimming. She was a dog show veteran from Beijing. Her dogs have been competing since 2000, and have placed top in Chinese and American competitions. Come February 2016, they will be at the 140th Westminster Kennel Club Dog Show in New York.
Sunburnt handlers squeezed into evaporating slivers of shade to watch the competition. Yuan Bao the chow chow was on a stately promenade with Yang; heavy-coated and dignified, it cannot be hurried. Many competitors were familiar with one another after years on the dog show circuit. They judged the judges of their dogs.
"What kind of judge is this?" groused an aggrieved handler. "He barely looked at the dog!"
This weekend in Hengdian marked the conclusion of Patti Neale's third visit to China and her husband Christopher Neale's first visit. Based in Florida, the Neales are breeders of borzois as well as two of the judges invited to judge this weekend's NGKC Super League.
Patti Neale visited China for the first time in 2012, when she was invited to Beijing to celebrate the cementing of NGKC and AKC's relationship, which established the AKC Global Services DNA testing for purebred dogs in China. (NGKC members can have the DNA of their purebred dogs tested by AKC, and after that, register and include them in the AKC registry.)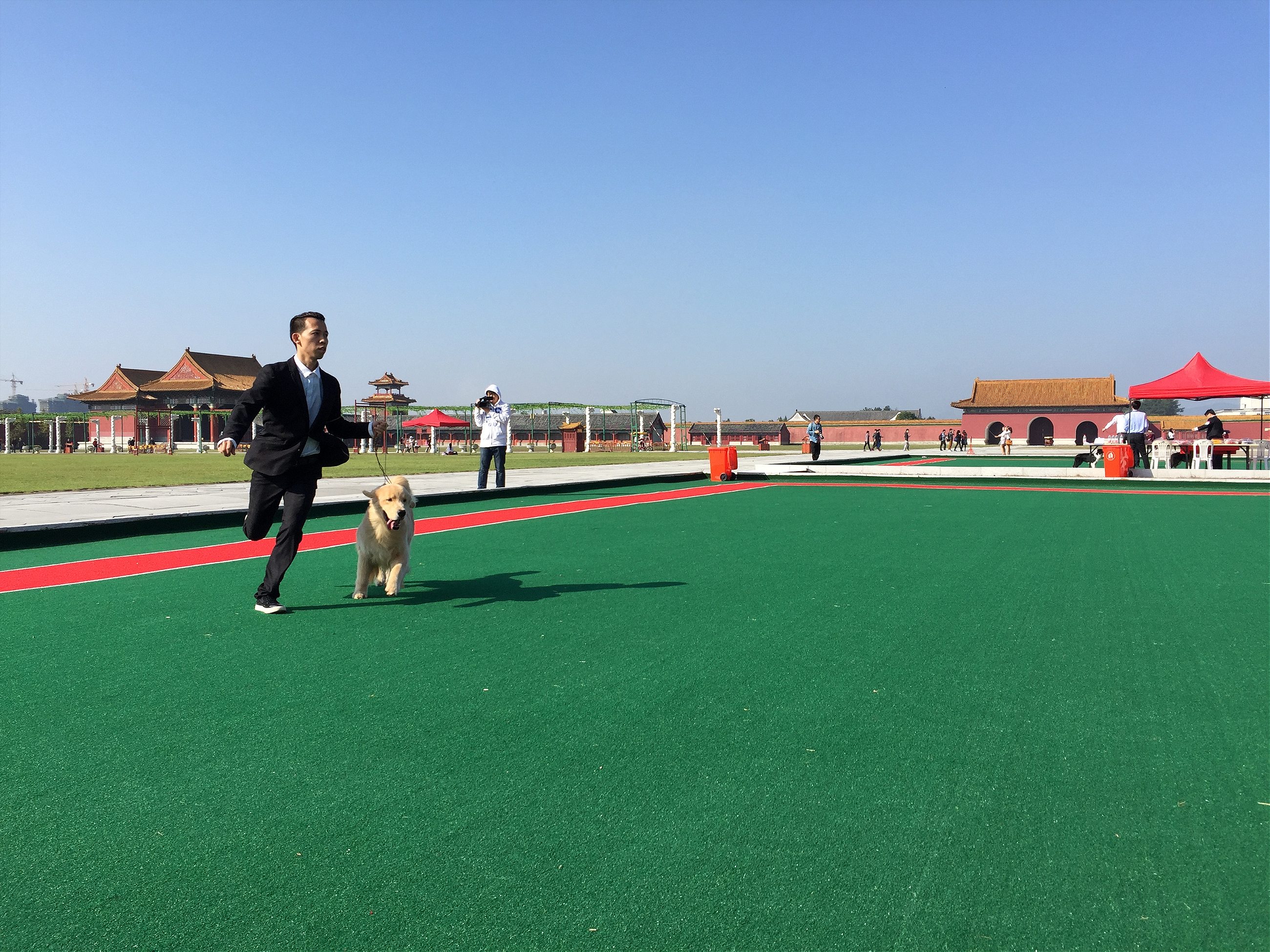 Neale noted that dog shows are still in their "infancy" in China, but that with the rise of the leisure class, "the big money is in China" these days, even for American breeders. In many parts of the world, she and her husband agreed, the sport of dog showing is struggling to win the attention of young people. In China, they were gratified by the signs that it was a sport on the rise.
In Milan in June 2015, at the Federation Cynologique Internationale (FCI) General Assembly, "a large majority" of the 68 member countries present voted to hold the 2019 FCI World Dog Show (WDS) in Shanghai. This decision, however, immediately caused an uproar among FCI member countries as well as within the international dog-lovers community.
The Canadian, Swedish, and Finnish Kennel Clubs all voiced their concerns and opposition. Kennel clubs and dog lovers alike argued that China should not host the competition until it banned a dog meat festival in the southern city of Yulin in Guangxi province, observed annually during the summer solstice. The festival has been the source of much controversy in recent years, with opponents incensed by the treatment of dogs and supporters arguing for the recognition of different cultural norms.
He knew that no dog he was selling to a Chinese buyer was going to end up on the dinner table
A petition circulated online entitled "Don't let China host the 2019 World Dog Show unless it stops Yulin's dog-meat festivals!" By January 2016, more than 420,000 people had signed it. Meanwhile, a Facebook page named "No for China World Dog Show 2019" had more than 18,000 likes.
Christopher Neale said that he knew that no dog he was selling to a Chinese buyer was going to end up on the dinner table. He considered it "old thinking" to assume that all Chinese were dog-meat eaters and that it was a "knee-jerk reaction" to boycott the FCI World Dog Show because of one festival.
Even so, it seemed poor timing for the FCI to announce the 2019 host in June, the very month when the emotions of dog lovers worldwide were boiling over as a result of the Yulin festival. The Finnish Kennel Club issued a statement in August, arguing that the 2019 competition should not take place in Shanghai, pointing out that "China has only been a full member of the FCI for a few years," whereas many "FCI member countries have had to wait for years—sometimes decades—before earning the right to host this prestigious show."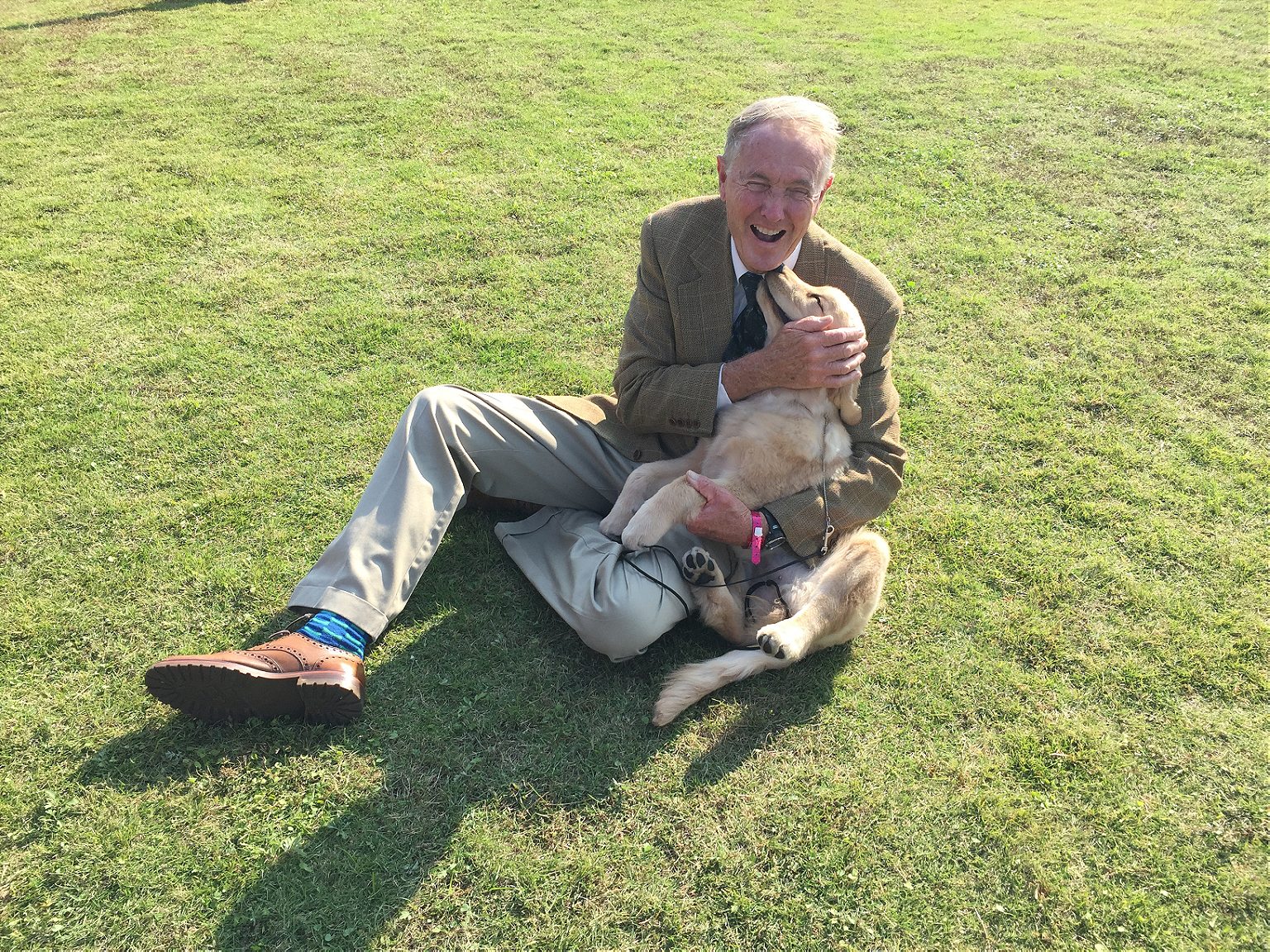 Among the Chinese competitors in Hengdian, there was little interest in discussing the Yulin festival, an event that took place a few months ago more than 600 miles from Hengdian. Yulin and the NGKC Purebred Dog Super League were two different worlds that hardly seemed to intersect. In Hengdian, dogs were picked up after their walk in the fields, their soiled paws washed, fur blown-dry. At noon, handlers worried aloud that the arena's surface was getting too hot for their dogs' paws; they were so concerned about the dogs competing under the midday sun that more canopies were moved to the arena to shelter them.
As the event got underway, it began to attract a crowd of curious onlookers, peeling away from their trek to the Forbidden City. It was an appreciative crowd, effusive in its admiration. Young women were taken by the pertness of the Pomeranian, the confectionery of a bichon frise. Photographs were requested and granted. The handlers wore their dogs' celebrity status lightly, their faces serious and preoccupied. They knew, not least in a place that's been called "China's Hollywood," that making a star was hard work, and their work was not yet done.