The Best Little Arepa Stand in Cartagena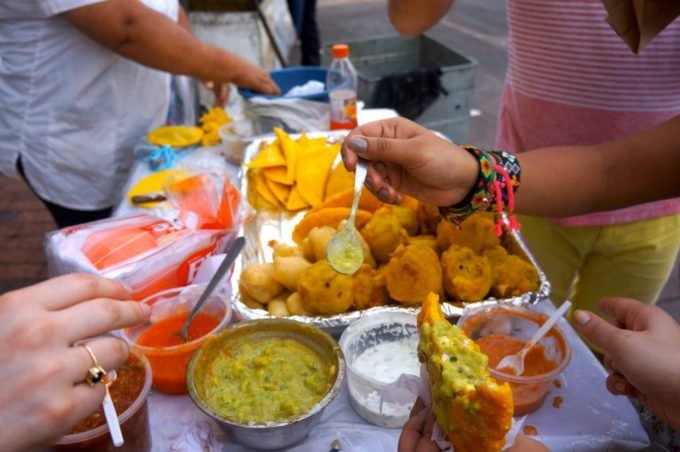 The Best Little Arepa Stand in Cartagena
Arepas in Colombia
Mornings in Cartagena—Colombia's Caribbean seaside gem—and the sun lights up the spectrum of colors that paint the Old City. As the cobblestone streets come to life, vendors are seen rolling their humble carts nearby: some wielding fresh fruit from the Islas del Rosario, others pushing a wheelbarrow filled with coconuts and a machete, and many cooking arepas. One of these local vendors is Elaine Gomez Lozano, the Arepa Lady (as I have come to call her).
Everyday, Elaine sets up her cart on the corner of Carrera 11 and Calle 38 and gets to work making handmade arepas. With her stand positioned in front of the crumbling wall surrounding the city's historical district, Elaine caters to both locals and tourists looking for a quick bite. For 40 years, Elaine has whipped up her arepas by flattening and shaping the maize, tossing the arepas in a vat of hot oil and serving them alongside colorful salsas in vibrant hues of green and red.
The arepa—a staple of Colombian and Venezuelan cuisine—is a type of flat bread made of cornmeal. Usually eaten for breakfast or lunch, arepas con huevos are traditional in Colombia and can be likened to a crispy, round pocket with a sweet, corn exterior and cooked egg—often mixed with meat—on the inside.
Elaine, for whom the process has become second nature, kneads out the cornmeal, slaps the yellow dough between her bronzed hands, drops an egg into the fold and tosses the arepas into bubbling oil until the precise moment they're ready. The first bite is fragrant and savory, the crisp maize mingling with the taste of egg and beef. The accompanying homemade condiments range from fresh guacamole to a fiery red salsa to a cooling white sauce reminiscent of tzatziki, each one changing the flavor of the arepa and creating a new symphony of flavors.
Colombia offers up many bites to start the day, be it fresh pan de bono with Colombian cafe or a heavy breakfast of eggs with chicharron, but it is the arepa that leaves my palate teeming with excitement. It is filling but light, delicious but quick; for less than the cost of a New York subway ride, anyone passing by can enjoy a true Colombian treat.