A Love Affair With Empanada Is Uncomplicated and Always Fulfilling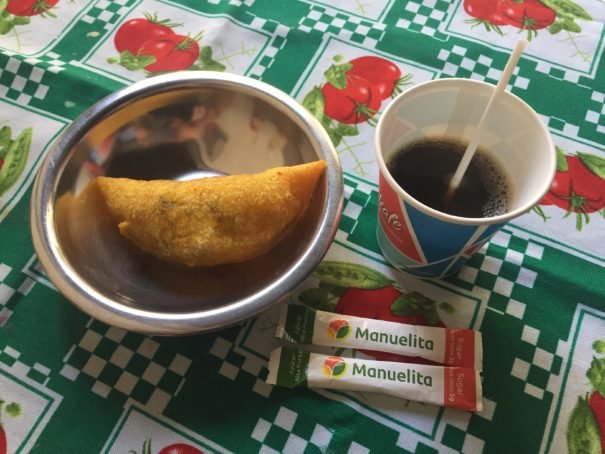 A Love Affair With Empanada Is Uncomplicated and Always Fulfilling
Tinto and Empanadas in Medellín
I stared down longingly into my second empty cup of tinto, the black coffee served all over Colombia, always steaming hot in a short, plastic cup with at least two packets of sugar. It was early, and the City of Eternal Spring was still waking up, as was I, but the waiting area across from the emergency room where I found myself on this morning was bustling with activity.
I was seated in a row of hard plastic chairs, wedged between a pile of wheelchairs on one side and gurneys on the other. I silently observed as doctors greeted each other in passing with fist-bumps, orderlies stood conversing amongst themselves until called to wheel a patient from one wing to another, and a man with his hands clasped in front of his face paced anxiously around the room. I was waiting with heavy eyelids for my girlfriend, who had awoken me while it was still dark that morning, barely able to utter a sound due to her resurgent tonsillitis. Hence, the trip to the emergency room and my urgent need for as much tinto as I could drink.
I picked up my empty coffee cup and walked out into the first rays of the day's sun, and made my way towards one of the many vendors stands lining the block outside of the hospital to refill my cup.
As I handed over some pesos and dumped sugar into my fresh cup of tinto, I became aware of my growling stomach and realized I was going to need more than coffee before I headed back to the hospital. When I looked up and down the sidewalk and my gaze landed on a woman selling empanadas, the decision was easy.
My love affair with empanadas was uncomplicated and always fulfilling, the ideal relationship. Empanadas are a stuffed bread or pastry found throughout Latin America, either deep-fried or baked depending on the country, and filled with (more) carbs or protein. Even in Colombia, where the external appearance of empanadas doesn't vary much, I wasn't always sure what I would find inside one of the hot, deep-fried pockets of deliciousness. Like tinto, you don't have to go far to find empanadas in Colombia, and you can pretty much be sure that they will be available any time of day.
I ordered an empanada filled with rice and ground beef and stood eating it in front of the small cart, as is customary, dousing it with a fresh spoonful of aji picante—Colombia's signature hot sauce—after every bite. I repeated the process with a second before making my way back to the hospital, tinto in hand, past all the pedestrians headed the opposite way to the metro station to begin their days.